The time has come for the next chapter in our family's travels. If you read our family's last update at the beginning of the year (you can find it here, in case you missed it), you know that we've spent the last few months enjoying the Southern hemisphere's balmy summer temperatures while all our family and friends were stuck between a mix of rain and snow up north. So what have we been up to since our last update? And, as many have asked recently, what's the plan for the rest of the trip? Glad you asked! (Hint: we've switched things up a bit, which happens when you're trying to plan a year's worth of travel at once!)
If you aren't already following us over on Instagram and Facebook, those are the best places to see daily updates!
Turning Kiwi
Shortly after we hit 2018, we wrapped up our time in New Zealand. We haven't gotten around to writing much about it yet, but it was our favorite part of New Zealand! We spent New Year's at our amazing HomeExchange home – a working sheep farm! – just outside of Christchurch, with our new Travel buddies Xavier, Amandine and their son. We met initially at Piha Beach on the north island (check out our favorite north island beaches) and were fortunate to spend more time together throughout our time in New Zealand and even once in Australia (and we'll see them this coming week in Thailand!).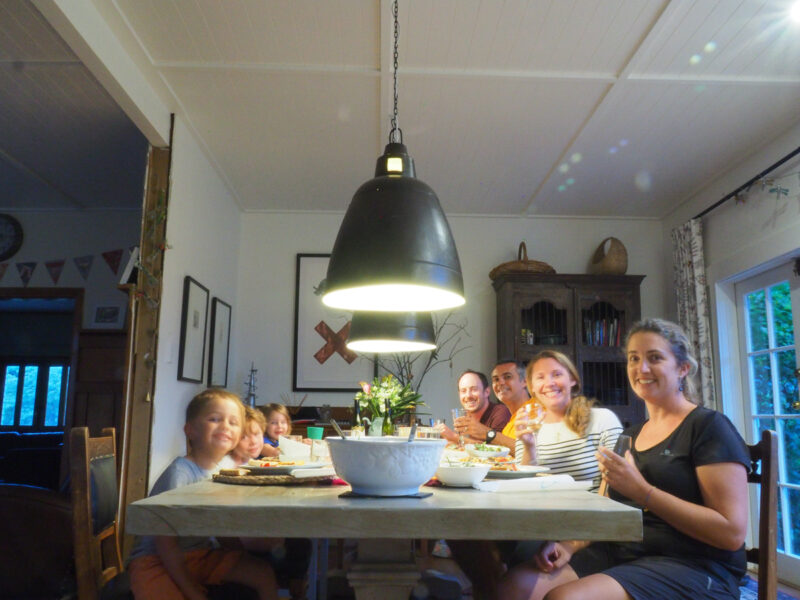 Our next stop in New Zealand was at Mt. Cook, where we did a few great days of trekking – always a family favorite. We had amazing, if unseasonably hot, weather for the spectacular Hooker Valley track. It was so nice to dip our legs in the frigid glacial lake at the end while we basked in the summer heat. Shoshana accomplished her first real hike on her own, the Governor's Bushwalk – in the rain, no less. She was a total champ and was suitably rewarded with cocoa. A real highlight was staying at the Mt. Cook Lodge – it was clean and cozy without being fancy, but the communal feel was such a nice change from staying in homes on our own. We even made some great travel friends from Chicagoland, Shaun, Padma and their three wonderful sons.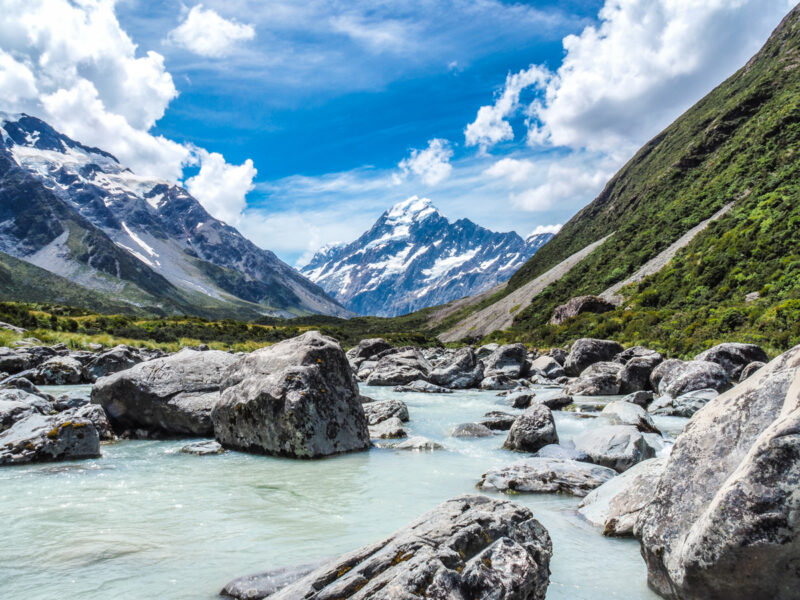 We continued on to Wanaka, where we conquered our first ever "super maze", did a very hot hike that earned us some lovely views, spent nearly every evening on the nice lake-side playground, drank wine and even took a scenic drive into Middle Earth.
Our New Zealand road trip took us next down to a suburb of Queenstown. Most people go to Queenstown for adrenaline-pumping, death-defying activities… not us. We went for things like hiking Queenstown Hill (which I swear is really a mountain, not a hill), drinking wine in Bannockburn and biking the Otago Central Rail Trail with our awesome partners at Bike It Now. One tip I'll share is that in retrospect we should have stayed somewhere like Clyde (home of Bike It Now) or in neighboring Cromwell or Alexandra – they're small, charming towns away from the congestion of tourist-heavy Queenstown. Our saving grace was that we actually stayed in Lake Hayes Estates just outside of the city, a nice way to avoid the traffic and a little closer to the best things to do in Otago Central.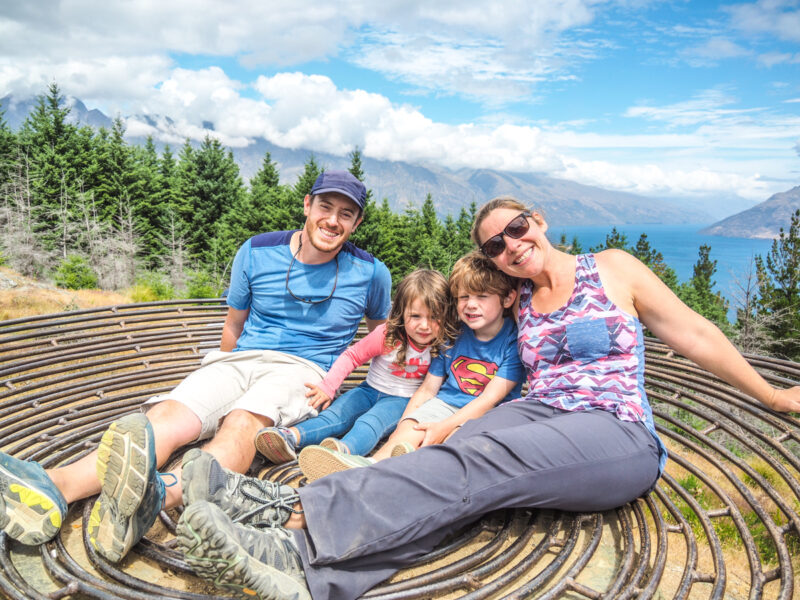 Our final stop on our New Zealand South Island road trip was Te Anau, which was our launching point for a day trip to see Milford Sound by boat. Most people go for the day from Queenstown, which involves an eight hour round trip bus ride to take a two hour boat ride in the middle. I'm so glad we (by which I mean Ronnie, travel planner extraordinaire) decided to stay a few night is sleepy-but-sweet Te Anau! It was a great choice for us for so many reasons. First, we got to spend a morning checking out the glowworm cave on the other side of the lake. We even made friends with another traveling family, and mom Kristie and I recently worked together to showcase some great things to do in Nelson, NZ! Second, using Te Anau as our base allowed us to take the last boat of the day – there were almost no other boats out on the water at the time, and our Captain didn't feel rushed to get back to port… meaning we got plenty of extra time with the pod of dolphins that came to play with our boat!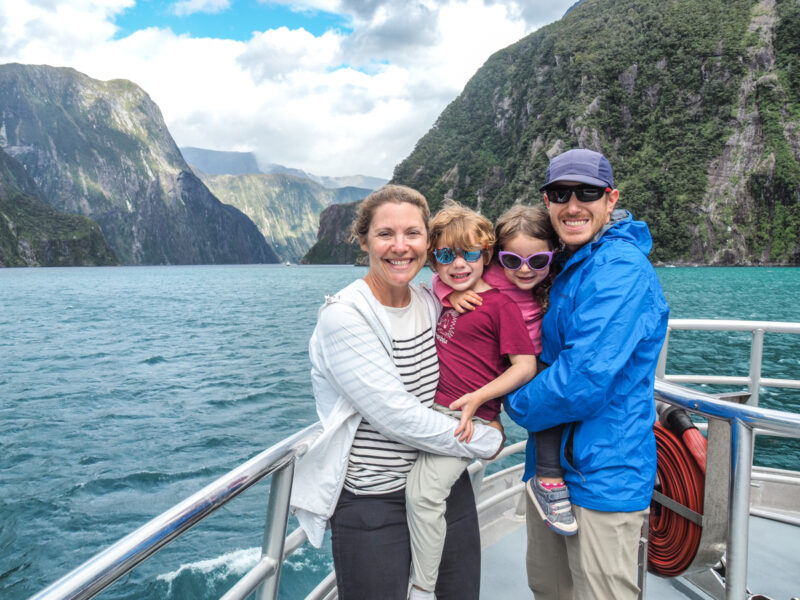 Well, that was longer than I expected. But as you can see, our final two weeks in New Zealand were absolutely action-packed. At the same time, the country's expansive scenery and quiet vibe meant we never felt fatigued. We really had a wonderful time on our New Zealand family trip, and our final two weeks were a highlight.
Our epic Aussie adventure
There's probably no way I can ever fully detail how amazing our adventure here in Australia has been. We visited five of the country's six states, drove over 3000 km, saw creatures we had only dreamt of before and splashed at more beaches and pools than we can count. This country is stunning, fun and extremely easy to travel in. Australia is one of my favorite countries that I've ever visited – I love the beautiful scenery, the quiet and the friendly people; my heart is truly heavy now that we're leaving, and I hope that we can return one day soon. Not to get too political, but being here in the wake of the tragic shooting in Parkland, FL also brought into sharp focus just how safe Australia is and showed us that there is a potential way forward for our own homeland if America's politicians can demonstrate the same courage as Australia's did over two decades ago.
Back to travel… we'll have dozens of blog posts to write about our experiences here in Australia and can recommend so many wonderful options to others who are planning their own trips to Australia. Its land mass is almost as large as that of the United States and perhaps even more diverse. Since I can't possibly write as fast as we travel, I'll give you a few highlights of some special experiences we've had here.
Tasmania road trip
Our Australia family trip started with 10 days in Tasmania, or Tassie as Australians like to call it (since they shorten every single word – truly amazing; even "afternoon" is somehow magically shortened to "arvo"). In truth, that time wasn't nearly enough to see all, or even most, of Tassie. We got a pretty fine sampling though!
We started in Hobart, which is a charming little city of which we honestly saw far too little. But we did see plenty of amazing stuff in the area! We met and played with rescued animals at Bonorong Wildlife Reserve on our very first day, fulfilling Jacob's every wish for our trip to Australia. He still tells most strangers we meet that he's the luckiest little boy on the planet because a baby joey touched him and they were basically nose-to-nose. People wonder how much of our travels the kids will remember, and I guarantee that will top his list! We also saw a three-legged echidna, Willow the wombat, a Tassie devil and Bert the koala (who knew they were so soft!). Shoshana seems to have an affinity for koalas (who can blame her?) and fancies herself a koala joey, constantly climbing on our fronts, backs, sides and everywhere else.
We rolled further north to the Tamar Valley, just north of Launceston. Beautiful! We stayed right across the street from the Tamar River, which was absolutely lovely apart from the mossies (that's Aussie short for mosquitos). Our place in Rosevears was a great base for wine tasting, riding the chairlift across Cataract Gorge and visiting Platypus House to learn about marvelous monotremes (the craziest creatures in the world, in my humble opinion – part mammal, part reptile, part bird).
Melbourne and beyond
We took the short hop up to Melbourne, where we were fortunate to stay with our friends Alice and Peter. We met back in Argentina over a shared love of feeding bread to ducks at a winery lunch, and in the course of helping us plan our subsequent travels our new friends offered us a place to stay in their lovely but pricey city. Sold! We had an awesome and relaxing wine-filled week with our new friends, and after the hard-charging schedule through South America, New Zealand and Tasmania it was nice to slow the pace down a bit. Melbourne even offered such exciting experiences as haircuts, dental cleanings and shopping for a new camera bag (see which one I chose).
Ok, we also got to do some cool touristy stuff in Victoria. The Australian Center for the Moving Image (ACMI) is cool for adults and kids alike, and we were fortunate to catch the very last day of their excellent exhibit Wallace & Gromit and Friends, which prominently features kid-favorite Shaun the Sheep – and gave us ideas for heaps of movies to stream (note: "heaps" is another Aussie slang word for which Ronnie makes fun of me). A highlight of our time in Victoria was a very quick drive out to the Twelve Apostles. I'll let them speak for themselves:
It was hard to say goodbye to our friends in Melbourne and to the lovely city itself, but we had some serious tourist business to attend to: the epic roadtrip from Melbourne to Sydney along the coastal route. You can read all about it here and enjoy all the pretty pictures too! If we had more time, we would have done it at an even slower pace! This drive is one of the best things to do in Australia.
Reunion in Wollongong
Every Aussie we talked to in our planning and early travel stages had the same question: "why on Earth are you spending five days in Wollongong?" Easy. Because some of our dearest friends, Jenny and Rich, live there! Jenny and I were college roommates and have stayed close despite never living in the same place again. We even traveled to Croatia together in May 2017. They'd been after us to visit Australia ever since they moved five years ago, so we made sure to have some quality time together. They took us to some lovely regional favorites, but a standout for all of us was the lovely bike ride up the coast. We managed 22 km in all – with a relaxing lunch stop in the middle – and Jacob completed it all with a huge smile on his face, despite a pretty major wipe out. It was a great opportunity for Jacob to learn some great biking skills and etiquette from Rich, who is a triathlete!
Family time in Sydney
Continuing our theme of spending time with loved ones, we headed just up the coast to Sydney to explore the city and spend time with Ronnie's Aunt Debbie and her family. It was so nice to finally visit her after so many years, and especially for the kids to get to know her and her family better.
Of course, we also  did the whole Sydney tourist thing. We loved going to the Royal Botanical Garden for the best view of the Sydney Opera House, and then getting a different perspective later in the week by taking a Sydney Harbour ferry from Darling Harbour back to Circular Quay (do it in that direction to avoid the massive lines at Circular Quay!).
So many things to do in Port Douglas… and we almost did them all!
After a too-short visit with the family in Sydney, we flew up to Cairns in far north Queensland – our first flight in weeks! We gave ourselves five days to explore the area's many offerings and that was juuuust enough – we all agreed at the end that we could have used two more full days on the ground. You'll be seeing a lot about our adventures in Port Douglas, a fairly quiet town an hour north of Cairns, in the coming weeks – there is so much to do in the region, and we think it's one of the best places for families in Australia who are interested in exploring what makes this country unique.
We learned about crocs and other reptiles at Hartley's Crocodile Adventures and Ronnie even conquered his phobia and held a black-headed python!
We snorkeled on the Great Barrier Reef.
The population density of Western Australia, the last stop on our action-filled Australia itinerary, is a whopping 1.0 person per square km. The density of Australia overall is 3.1 people per square km, and for Santa Monica, CA it's nearly 4000 people per square km. Even in Perth, the capital of Western Australia and its biggest city, you can just feel the difference. Perth was described to us as an overgrown "country town" and that seems about right. There are certainly a few tall buildings in the imminently-walkable CBD (that's "Central Business District" for those of you who don't speak Aussie), but overall it feels rather sleepy compared to basically any other city we've ever visited. And, to be honest, we were digging it.
Congratulations if you made it this far! And if you used the Table of Contents above to jump to this point… as they say here "good on ya". As this goes live, we'll be en route to Thailand! It will be a visit of firsts for our family. The first time in Asia, and the first time in a truly developing country. We've barely even visited countries where we have a major language barrier. There will be a lot of cultural adjustments for us all, and we'll have to figure out how to wake up early enough to beat the heat (and remember to bathe ourselves religiously in DEET to ward off the mossies). On the flip side, the kids are excited that I've promised they can order Tom Kha Gai for every meal if they can find it, we're all looking forward to hanging out with an elephant or two, Ronnie can't wait to learn how to cook Thai food and I'm really fascinated to see some beautiful temples. We've heard that Thai warmth and hospitality are legendary, and we can't wait to experience them first-hand. Our time in Thailand will be split between three locations: Chiang Mai and Chiang Rai in the north, and Bangkok (in a swanky HomeExchange apartment, no less) in the center. We'll have a total of two weeks, which is less than we originally planned because…
We're going to Vietnam! It had originally been a "maybe, but probably not" location in part owing to my own trepidation, if I'm being totally candid. But as we've been traveling we heard so many amazing things about Vietnam's scenery, culture, history and food that we decided it was worth adding to our itinerary. We also heard from some people with heaps of experience in Southeast Asia (including my good buddy Kyla over at Where Is the World? who is on an amazingly adventurous family gap year trip right now) that they like Vietnam so much more than Thailand. So, off we go. And in the spirit of "go big or go home" (which I haven't heard once in Australia), we'll be winding our way through Vietnam for a whole month. Way to go, Vietnam! You went from "probably not" to "third longest visit on the trip". We're very excited for that leg, and all for different reasons. Ronnie wants to learn to cook Vietnamese food (do you see a theme?), I can't wait to see the Karst terrains that I first learned about twenty years ago and the kids are really pumped to spend three days on "Destiny's Bounty" (which is what they're calling the Aphrodite Cruises junk boat that we'll be taking to sail through Halong Bay). We'll be staying in six different places in just over a month, so hopefully we'll find that the itinerary we've crafted leaves us fulfilled without being exhausted.
Of course, when traveling and travel planning it's nearly always necessary to make some tough decisions. It wasn't an easy one in this case, but we decided that adding Vietnam to our itinerary meant putting Japan off for another time. We're both still fascinated by so much of the history and culture (and missing sushi, since the kids refuse to try it), but we just felt like it would be too much hustle and too much money. Three months in New Zealand and Australia don't come cheap, after all. We look forward to visiting Japan in the future on a dedicated trip!
By the time we leave Asia in late April, it will be time to start heading west toward Europe. The nice thing about a trip like this is that we have flexibility to go wherever we want to go and whenever we can make the logistics and finances work out. In this case, that means flipping things around from our original map-based plans. We will absolutely visit Israel again on this big family trip around the world, as we have family and friends we miss terrible and the country is just such a special place for us all. When we thought we'd be going from Japan to Israel, we diligently scoped out award tickets on United (we have a few hundred thousand miles to use thanks to Ronnie's United Explorer credit card!). But flying from Hanoi is a totally different story – there were no good itineraries to Tel Aviv, and certainly none that we could get for free with any of our points and miles. We also peeked at HomeExchange availability for Greece and found it to be much more robust for late April than mid May. So we'll be doing a great, budget-friendly (we hope) visit to Greece beginning in late April! We're still firming up some of the details, but you can expect to see adventures in Athens, Naxos and Crete. We're skipping some of the beautiful, famous islands that are further afield because we don't care to deal with the long ferry rides and we think we'll get a wonderful taste of what Greece has to offer with the combination we've chosen.
The final leg that we've planned so far is Israel. We always knew we'd be visiting, but we'll be going nearly two months later than our first draft itinerary showed. Fortunately we found another great HomeExchange apartment – this time just a few blocks from the beach in Tel Aviv. We expect lots of falafel, matkot and time with family and friends. There should be some brief side trips to other parts of the country as well.
We'll have approximately one month remaining to hit a few spots in Europe, but nothing is firm yet. We'll start working through the details soon! What do you think – where should we spend the last month of our travels? Leave a comment or drop us an email to weigh in!
And while you're at it, make sure you've subscribed to our mailing list to find out what we decide! For more daily updates, follow us on Instagram and like our page on Facebook.
"Blog-i-what?"
This week marks the "blogiversary" of The Family Voyage! It's hard to fathom just how much I've learned from the experience over a full year. At the start I didn't know the difference between hosting and WordPress, and now I'm sitting here with an actual audience! While I'm certainly not one of "the big guys", I can say with confidence that I'm just eeking into the medium category and I'm happy to report that more people are reading every month and finding the answers they need. Thinking of starting your own travel blog? Learn how from the best in the business.
I don't expect that anyone who isn't related to us will ever make it through the full 4000 words to which this post has grown, but for those that do I want to say a hearty THANK YOU for all your support. It's been an amazing endeavor and one that I truly enjoy. Most importantly, I'm touched when I hear from other travelers and parents that I'm helping them feel more confident in exploring this great big world of ours. So I'll keep writing, you keep reading, and please share with your friends and family if you think they'll dig on what we do!