With every turn the stunning beauty of the South Island of New Zealand is ever present. The towering mountains that lift up from the earth and touch the sky. The numerous lakes that are like mirrors dotting the landscape. The trees and foliage that make you feel connected to nature. Amidst these iconic images you will find the arid landscape of New Zealand's only desert: Central Otago. Rather than fly through on an epic New Zealand road trip, take the opportunity to slow your pace and bike the Otago Central Rail Trail – we promise, you won't regret it!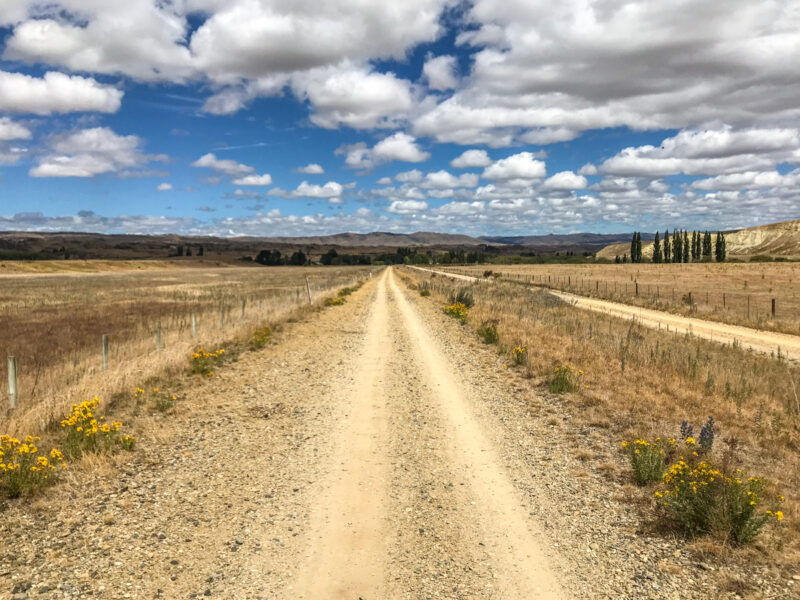 History of Central Otago, New Zealand
The area has a rich history that includes Maori tribes settling the land uninterrupted for hundreds of years, but when the European settlers arrived in the mid 1800s they discovered that the valleys of Central Otago were filled with gold. The New Zealand gold rush brought a wave of migration to the region as people sought fortune. With the arrival of the gold rush along came towns, hotels and a railway to transport gold and other goods through the valley. We were shocked to learn that gold mining only ended in this area three years ago!
An engineering marvel, the Central Otago railway spanned 236 km and took 44 years to build in twelve sections. It was built avoiding the steep grades that exist throughout Central Otago. When gold was discovered in neighboring Australia, many of the speculators left the area. Over time, the railway no longer provided an essential service and eventually it was closed. In 1990, New Zealand made the decision to convert the old railway into the Central Otago Rail Trail.
Read more: 10 things to know before you visit New Zealand
Exploring the Otago Central Rail Trail with Bike It Now!
This 150 km NZ cycle trail is a slice of heaven, as evidenced by the nearly 15k people who come to visit every year (mostly from October to April, when the weather is ideal). No cars, well maintained path, and incredible South Island scenery all around. We were fortunate to partner with Bike It Now! located in Clyde, a town near the beginning of the trail. What sets Bike It Now! apart from other companies is their incredibly attentive and passionate staff and their state-of-the-art- bikes; the equipment was the best rental gear we've had in our many family bike adventures. While most of the local bike hire companies have a fleet of 300-400 bikes, Bike It Now! has 120 bikes for rent. The smaller company size allows for extremely personal attention, as we discovered on our New Zealand bike trip.
When we arrived in Clyde, we were greeted by Fletch, one of the company owners. We were all fitted for our bikes and had adjustments to ensure the perfect fit. They had a great rear-mounted child seat for our little one (3 yo) and a WeeHoo tag along bike trailer for our older son (6 yo) – we have one back in Los Angeles and all love using it, the perfect transition for kids who aren't quite ready to tackle a long bike trip on their own. For young independent riders they offer 20″ and 24″ bikes.
If you want to try something different and need an occasional break from pedaling, they have a whole outfit of top-of-the-line electric bikes. Their bikes are extremely well maintained and are equipped with large tires for stability and comfort. They even included waterbottles and cages (we're we're still using those high quality Sistema water bottles months later!). The bikes came with a Central Otago rail trail map and a computer mounted on the handlebar – perfect for navigation and seeing just how slow we were flying down some serious hills! Of course, helmets for all ages and sizes are provided and adjusted for safe wearing.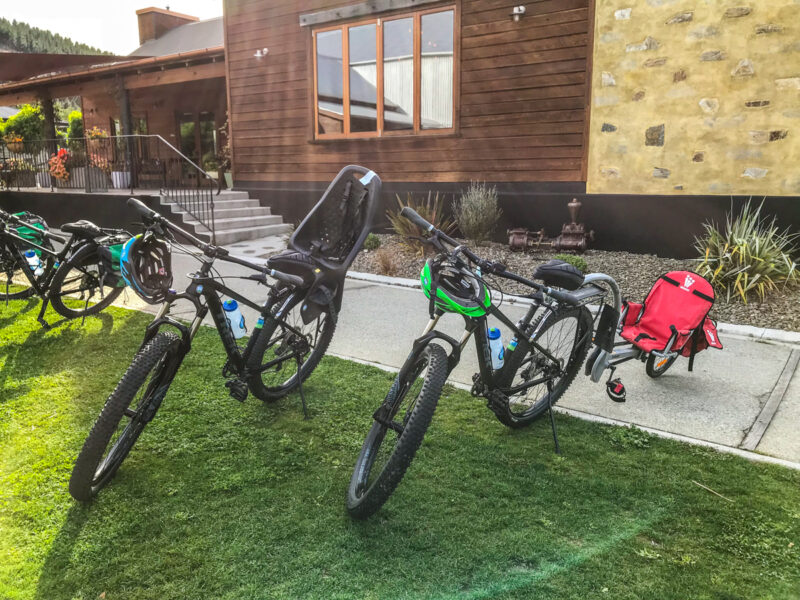 When cycling the Otago Central Rail Trail you have many options for rail trail bike tours. You can do a multi-day (2, 3, or 4) day trip and traverse the entire trail. Alternatively, you can also complete part of the trail on a one day trip. The nice thing is that regardless what package you pick, Bike It Now! will transport your belongings from one stop to the next, and arrange your Otago rail trail accommodation as well. Given our time constraints we elected for the one day trip, but the longer options can also make for great family cycling holidays.
Prior to departure, we received a full briefing from co-owner Duncan of our route including interesting sites, places to stop and suggestions for lunch. The briefing also included an emphasis on safety and what to do in case there were any issues with our bike. We appreciated the attention to detail and the value placed on safety. The tips and suggestions definitely came in handy when we were out on the trail.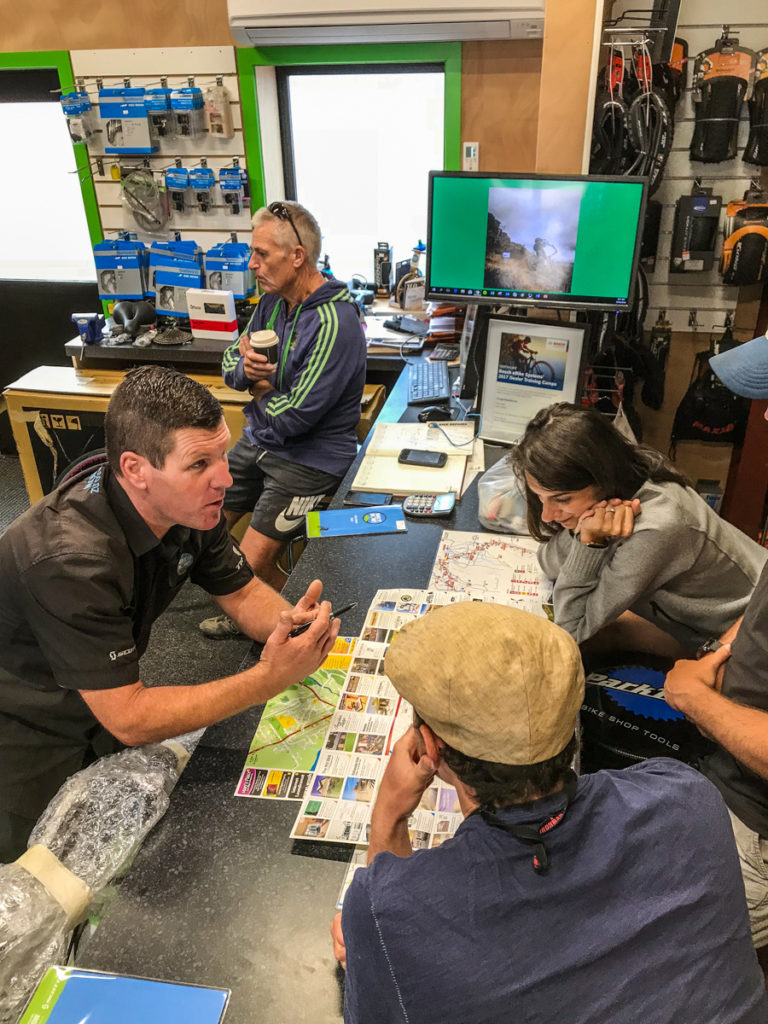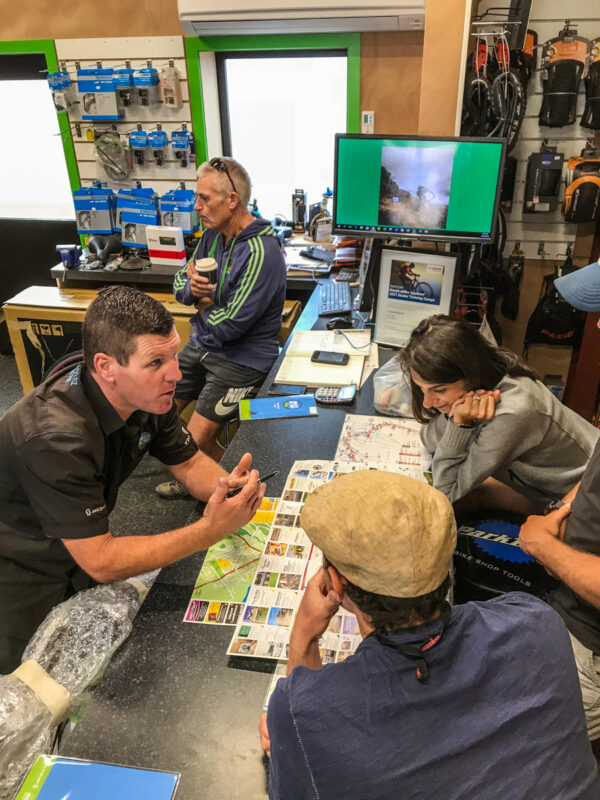 Our bikes were loaded on a van and we were driven out about 45 minutes to the starting point of our ride for the day in Auripo. The van itself was very comfortable and featured adjustable lap-shoulder seatbelts and interesting history and narration by our driver Peter. We brought our own travel car seats for the kids (this one for our 6yo and this one for our 3.5yo), but if we hadn't brought them then Bike It Now! had them available – talk about family-friendly!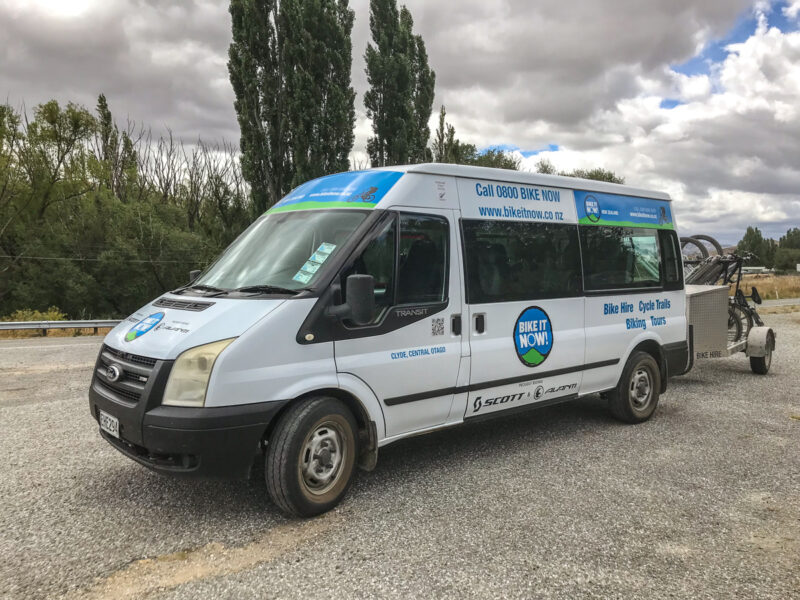 One of the most interesting areas we passed through is the small town of Ophir, NZ. The bridge is around 135 years old and has had very little work done, but is still functional today. The Ophir post office is the longest currently serving post office in New Zealand, though pickup isn't as frequent as it once was. The town has many preserved building from its early history, some of which have been converted to modern restaurants and hotels.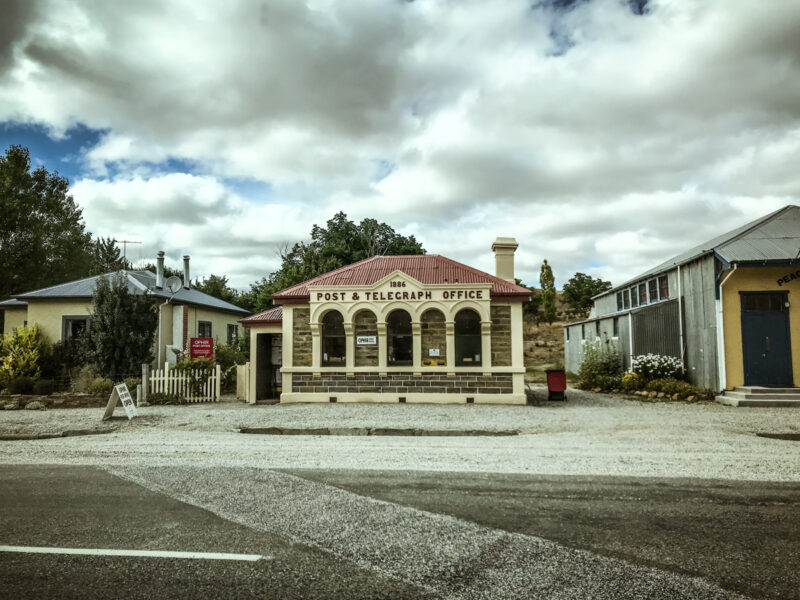 On the trail: Cycling the Otago Central Rail Trail
We appreciated the Auripo to Chatto segment that was selected for our ride for multiple reasons. First, we hit a particularly scenic and interesting segment of the trail. Second, we mostly glided down hill on a gentle slope, while watching those in the other direction huffing and puffing up hill constantly. We are active people but we liked the fact that we could enjoy the scenery without struggling the whole time with the kids in tow.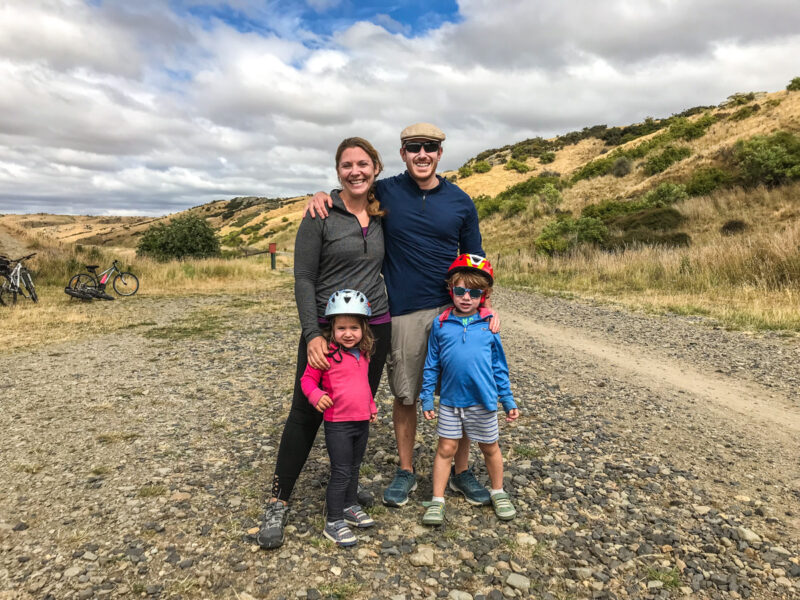 On our ride we stopped a couple of times to read information panels and learn about the history of the area. We crossed an old rail bridge which was pretty neat. Also, we saw the remnants of the camps used by the workers who built the railway. The part our kids loved the best was going through the railway tunnels. We took the suggestion of Bike It Now! and dismounted our bikes and walked the two tunnels. As you walk through the dark spaces you can begin to imagine the train powering through carrying workers and gold.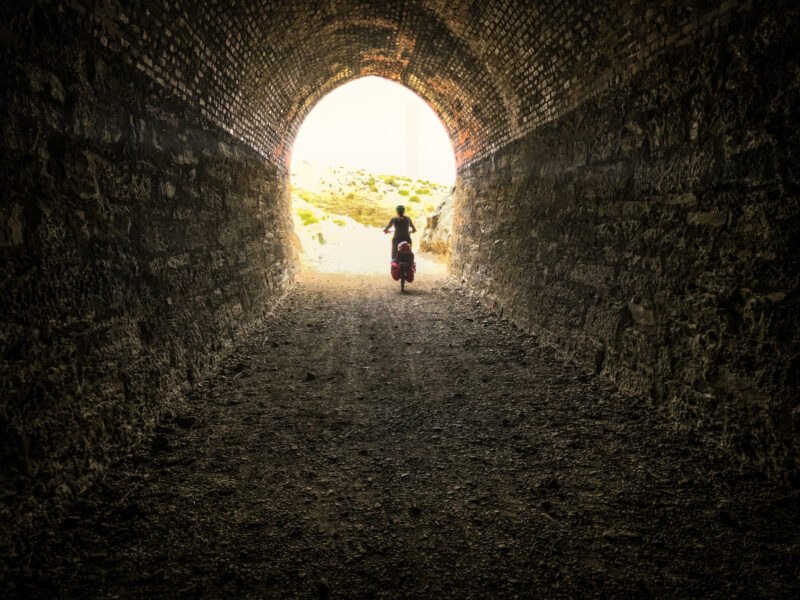 The trail itself is mostly packed dirt and gravel gravel which makes for smooth sailing. There were a few points where we noticed erosion on the trail so be mindful of a couple potholes. The scenery along the trail was incredible. We appreciated the rolling hills, tons of sheep and beautiful birds flying in front of us.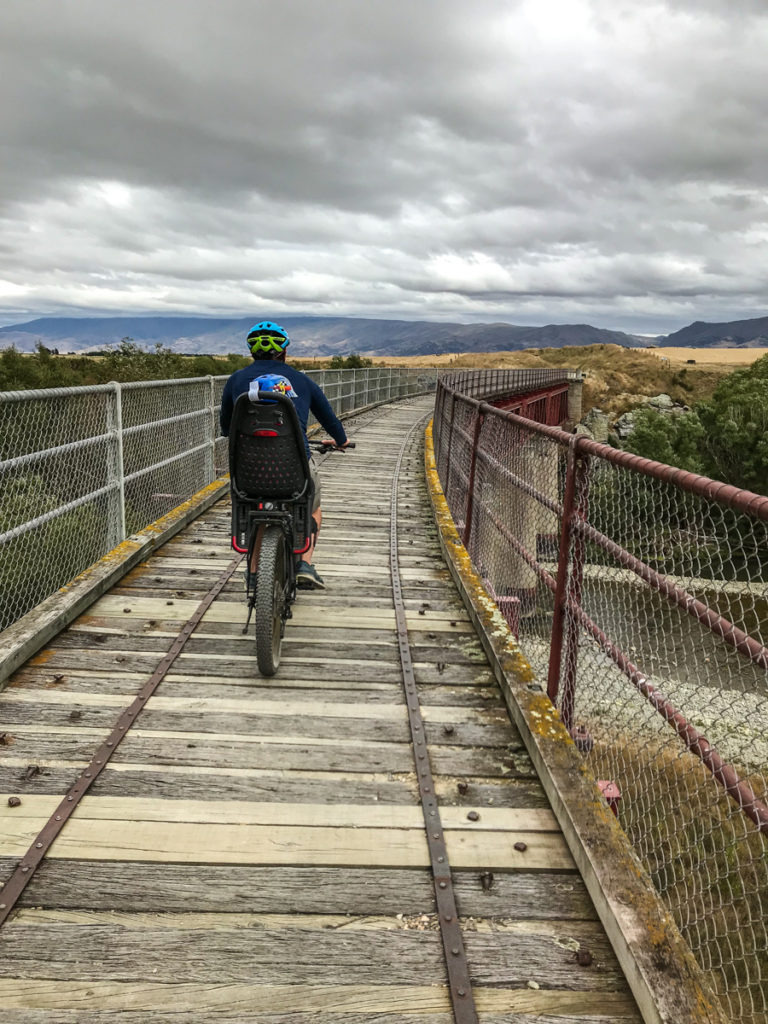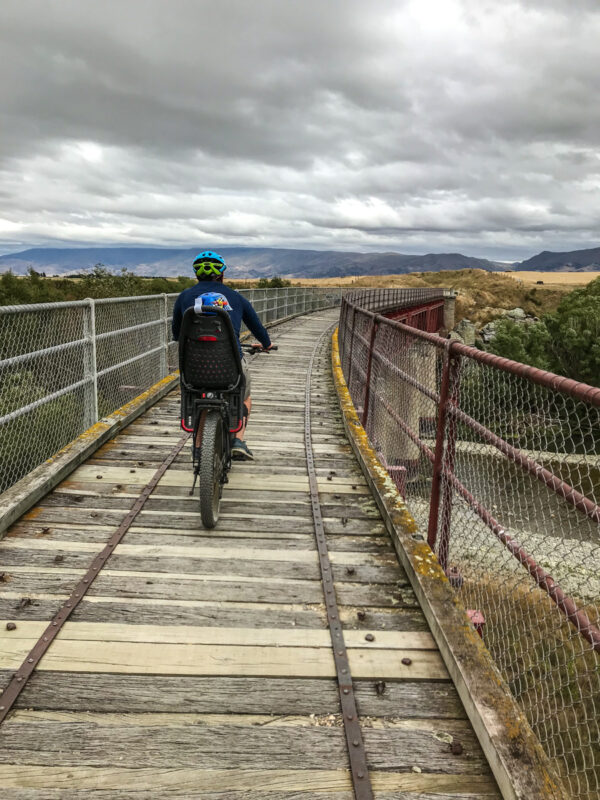 After working up an appetite, we decided to stop in the town of Lauder. The town is cute with one main street with cozy Stationside Cafe. The cafe serves riders on the trail and we found the service to be quick and friendly. We also appreciated the toys available for the kids to play with while we enjoyed our nice refreshing beverages, sandwiches and treats. We would highly recommend this cafe. Other good options for where to eat on the Otago bike trail are the Omakau Commercial Hotel (look great for fish and chips!) and Muddy Creek for ice cream and savory pies.
After we had our bite to eat, we continued along the trail until we reached our final stopping point of Chatto. We had warm weather (make sure to apply sunscreen even if it's overcast) and we were grateful that Bike It Now! provided us with cold water for the ride. At the end of the ride we treated ourselves to some ice cream at Chatto Creek Tavern while we waited to be picked up by Bike It Now! The kids were laughing and talking about all the different things they saw along the way.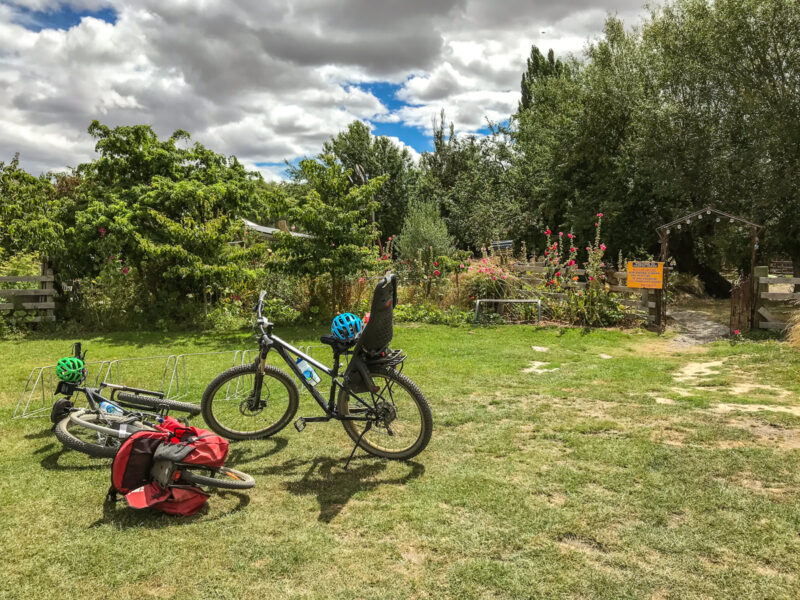 Biking The Central Otago Rail Trail was one of the most memorable experiences we had during our time in New Zealand. There is no better company to lead you than Bike It Now! We loved their staff, bikes and full service package. Our only regret is that we didn't have more time to cycle more of the trail.
NZ cycle trail of the future
Tourism is the biggest economic driver in New Zealand, and the Otago rail trail has only gained in popularity. The government of New Zealand has plans and funding to begin building additional trail connections to Queenstown and Wanaka, with the Bike It Now! home in Clyde as the hub. While there are already some Queenstown bike trails, cycling in New Zealand will be absolutely world-class once those connections are complete!
In addition, there is further work to expand the Nelson, NZ cycle trails using the same model as the Central Otago rail trail. Check out these awesome NZ cycle tours and other adventures in Nelson and the rest of the Tasman region.
Tips for arranging your Otago bike trail tour
If traveling to New Zealand during peak season (December – February) make sure to book your Otago rail trail tours with Bike It Now! well in advance.
If you have the time, try the multiple day adventure. We loved the small towns along the way and felt like we missed out on staying overnight and getting the full experience.
Bring plenty of water. You are biking through a desert which is an arid climate. We definitely felt the sun when we cycled in peak season. This is less of an issue if you go during the colder months, but it's still easy to get dehydrated before you realize it. Bike It Now! provided us with some great water bottles, and we brought our refillable Hydaway collapsible water bottle for backup (and used them) – check out our Hydaway review to see why we chose to bring them on our family gap year trip around the world!
Stop and enjoy the sights. Do not view the rail trail as a race. Make sure you stop occasionally and read the info panels, or have a coffee or beer at a small town pub. It is all part of the experience!
Cycling the Otago rail trail is a family-friendly activity. Our kids loved being on the trail and learning about the history of the area. I mean, how can any kid not love the fact that you are cycling on an old rail road? Bike It Now! made sure that our family's needs were met and the the kids were comfortable. If our kids were a bit older they would have cycled the path on their own. The grade is not very steep and it is manageable even for the novice cycler, though we'd recommend a WeeHoo bike trailer attachment for kids who haven't yet built up their endurance for the two sizable hills we encountered.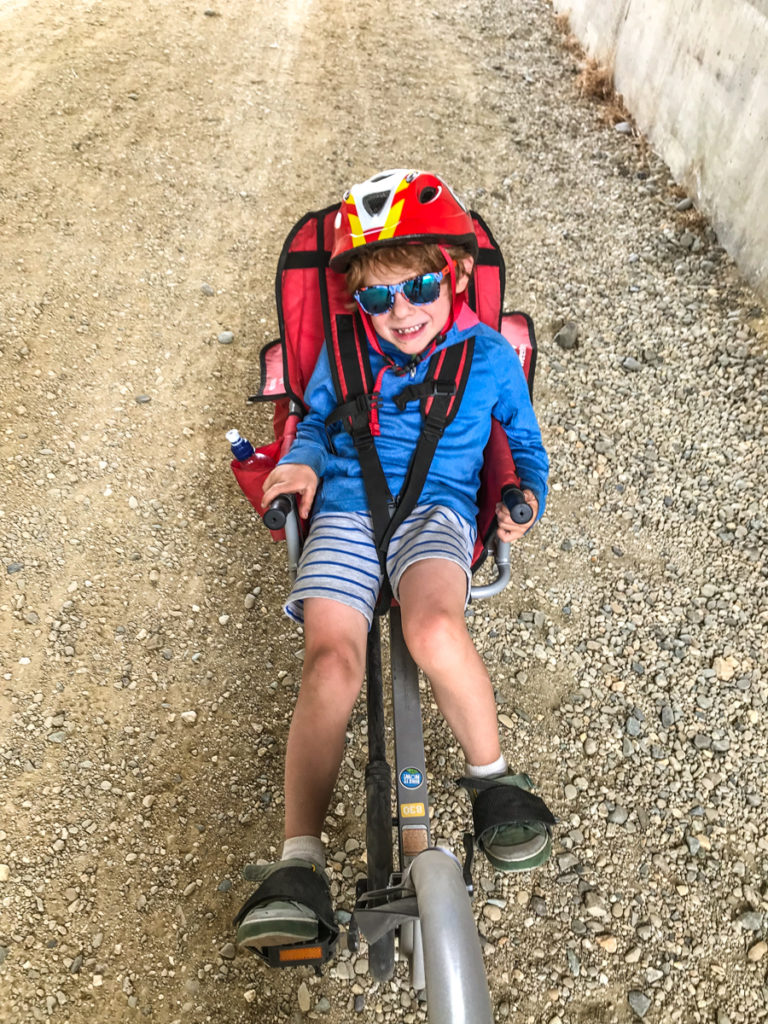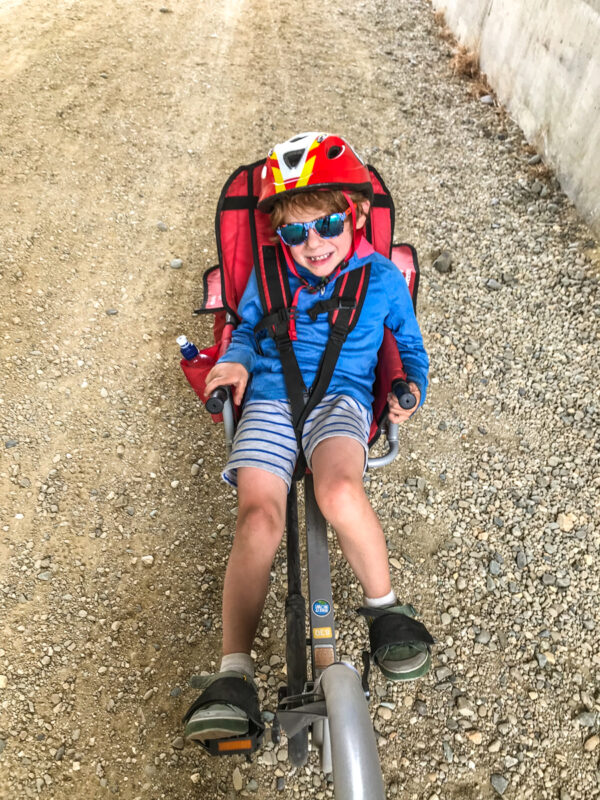 What to bring for Otago Central rail trail bike tours
Bike It Now! set us up with all the basic needs for our Central Otago bike trail journey, but there were a few things we were glad to have with us.
-High quality non-toxic sunscreen
–SPF lip balm (a huge need for us!)
–Extra water bottles or a Camelbak (we use this one when we're back in the US) or a bladderto put in your regular daypack (check out these great choices)
-For longer Central Otago rail trail tours, I recommend a nice pair of cycling gloves
-A lightweight merino wool pullover makes a great choice for sun and wind protection without getting sweaty
Where to stay when you bike the Otago Central Rail Trail
The Central Otago rail trail is accessible from several areas of the South Island of New Zealand. Bike It Now! is based in the lovely small town of Clyde, NZ, nestled in the valley between Wanaka and Queenstown. While we visited Central Otago from Queenstown, we quickly realized that staying in Clyde (or one of the other peaceful towns in the area) would have been a better choice thanks to its proximity to both the best NZ cycle trail as well as the Central Otago wine growing region. Clyde offers many wonderful places to stay in Central Otago, including guest houses, B&Bs and motels to suit every price range. Check availability here for this top-rated Clye bed & breakfast, the perfect place to relax and clean up after your amazing day on the trail!
Use the interactive map to find vacation rentals and hotels near Otago Central Rail Trail
---
Planning your trip to New Zealand
Are you getting ready for an epic trip to New Zealand? Don't miss these articles to help you plan:
If you prefer to explore New Zealand on foot, check out these awesome hikes throughout the country!
Disclosure: We were graciously hosted by Bike It Now! for our Otago Central rail trail tour; all opinions are our own.