Queenstown is easily one of the best places to visit in New Zealand. Somewhere between the towering mountain peaks, endless number of adventure activities, and the vibrant little town, Queenstown has a way of stealing its visitors' hearts.
The only problem is, with literally dozens of different things to see and do in Queenstown, it's hard to know how to plan your valuable time. Planning your Queenstown itinerary can be a little tricky when you're limited to only two or three days in the area.
For that reason, I've written this blog about how to spend 2 days in Queenstown to experience the best of the area. Since most people only have about 48 hours to enjoy Queenstown, this detailed Queenstown itinerary is a great place to start! Plus, in case you've got a little extra time, I've added on an extra day itinerary for anybody who plans on spending 3 days in Queenstown too!
Read more: 10 things to know before you visit New Zealand
---
Where to Stay in Queenstown
There are endless options when it comes to choosing somewhere to stay in Queenstown. In my opinion though, it's best to choose a centrally located hotel (finding parking in downtown Queenstown can be a nightmare, so walking from your hotel is definitely easiest!)
The Crowne Plaza Queenstown is Queenstown's best located luxury hotel. With lake views and all of the amenities you'd expect from a 4-star hotel, the Crowne is a top choice for those who don't mind a little splurge.
If you're looking for something a little cheaper, Mi-pad smart Hotel is a top choice. This clean and comfortable hotel is one of the best value hotels in Queenstown. Plus, its location is perfect!
Another great option is to rent a holiday home in Queenstown. There are plenty to choose from, spanning all price points and sizes. Just be sure to verify that the owner has a resource consent (local permit) if the neighborhood requires one – it depends on which are of Queenstown they're located in. I also recommend choosing a place with free parking included.
Use the interactive map to find vacation rentals and hotels in Queenstown
---
Getting Around Queenstown
Like much of New Zealand, Queenstown is easiest and most beautiful to access with a rental car. If you've flown to Queenstown from elsewhere, you'll probably want to rent a car from the airport to explore the region. Check pricing here.
Driving in Queenstown isn't difficult but the center of town can be very congested and you may need to search for parking for a few minutes. Be sure that your accommodation includes parking.
Downtown Queenstown is very compact and easy to walk around, especially if you're staying in the center. There's are also several local buses and shuttle buses available to explore a little further if you aren't comfortable renting a car.
---
1 Day in Queenstown – The Great Outdoors
Day one of this Queenstown itinerary is all about exploring the great outdoors. Getting outside and taking in that fresh New Zealand air is what Queenstown does best! So, lace up your boots and get ready for a day packed with outdoor adventures!
Hike Queenstown Hill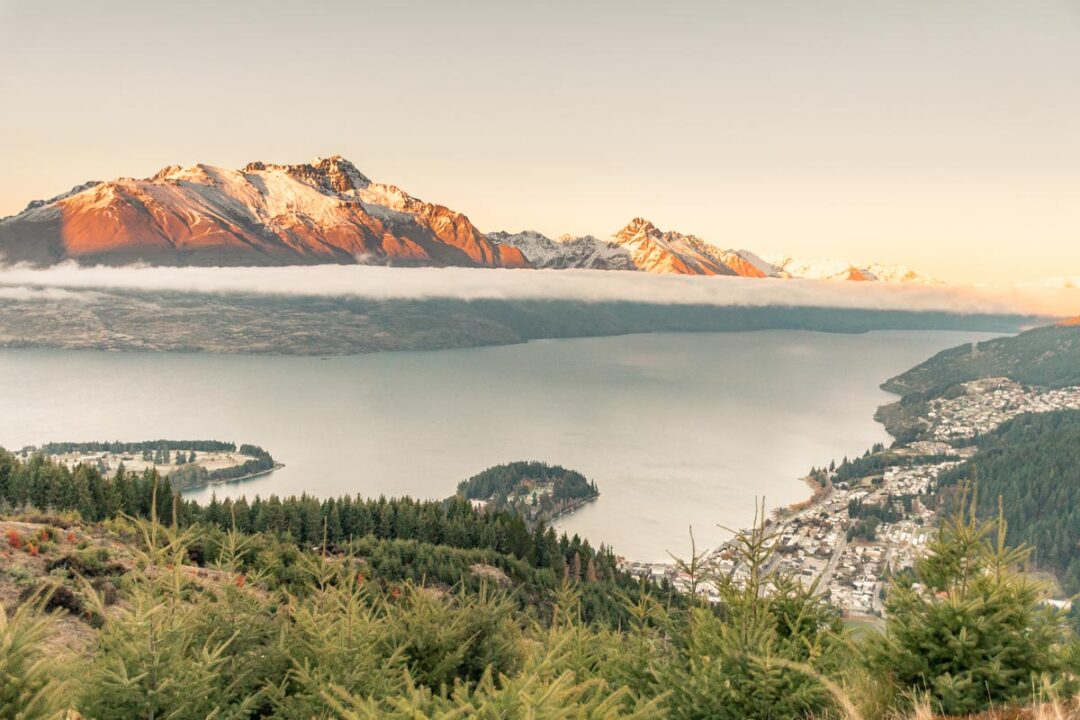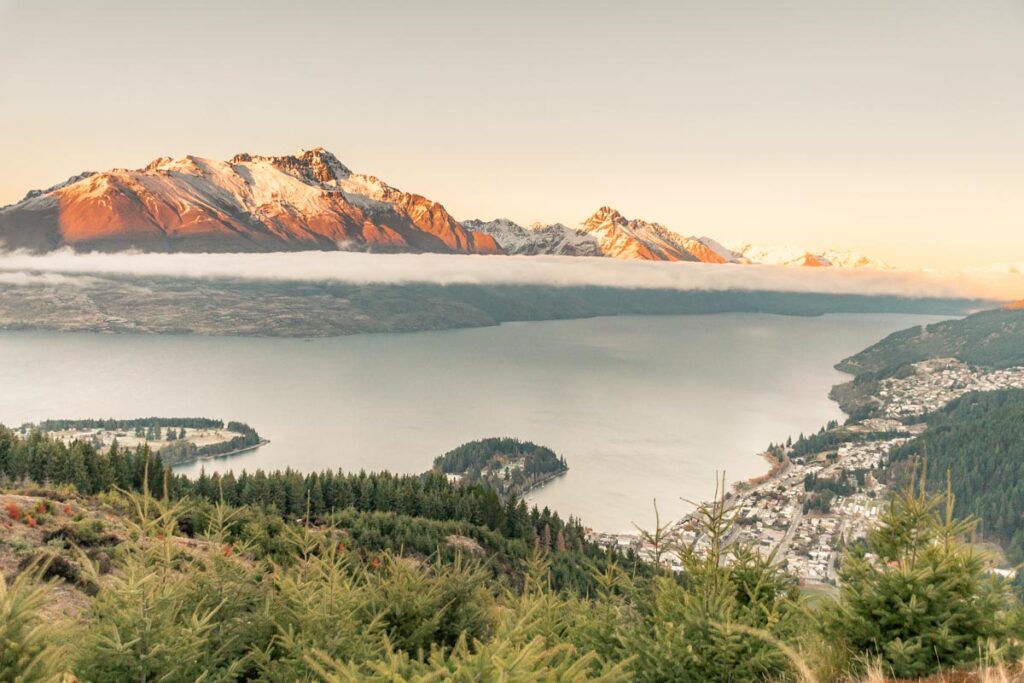 Start off your first day in Queenstown early. In fact, if you can manage getting up before the sun, then I highly recommend hiking Queenstown Hill for sunrise. Grab a quick bite to eat before you set off, or better yet, pack some snacks to enjoy on the trail.
Queenstown Hill is one of the most popular hikes in all of Queenstown. Not only are the views from the top incredible, but the hike is easily accessible and suitable for most fitness levels. From the trailhead on Belfast Terrace, the track climbs more than 400 meters (1300 feet) in elevation over 2.5 kilometers (1.5 miles each way) to reach the summit. Allow between 2-3 hours to complete the entire trail with enough time for stops along the way.
Note from Melissa: We successfully managed the Queenstown Hill hike with kids, but YMMV. Our 3 year old rode in a toddler carrier and our 6 year old walked it himself, but he was already an accomplished hiker and the steepness was still tough for him. But we made it, and here's the proof!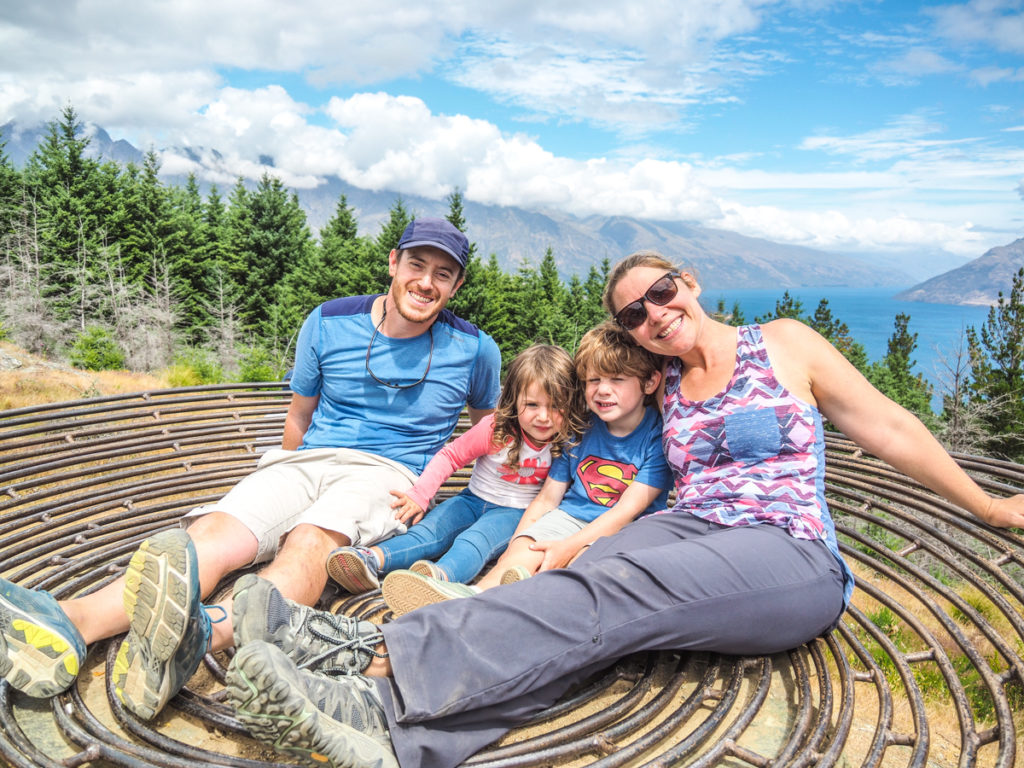 From the top of Queenstown Hill, you'll have panoramic views of the Southern Alps, Lake Wakatipu, Queenstown, and of course, The Remarkables!
Because of its popularity, Queenstown Hill Track can be quite busy, and getting parking at the trailhead can be challenging (thanks to a super tiny parking lot.) If this is the case, you can walk to the trailhead easily from town center, it just adds an extra few minutes onto your hike. Otherwise, take my advice and hike up for sunrise when you'll pretty much have the entire trail to yourself!
Want to get more helpful travel tips like this? Sign up for our email list!
Lunch at Fergburger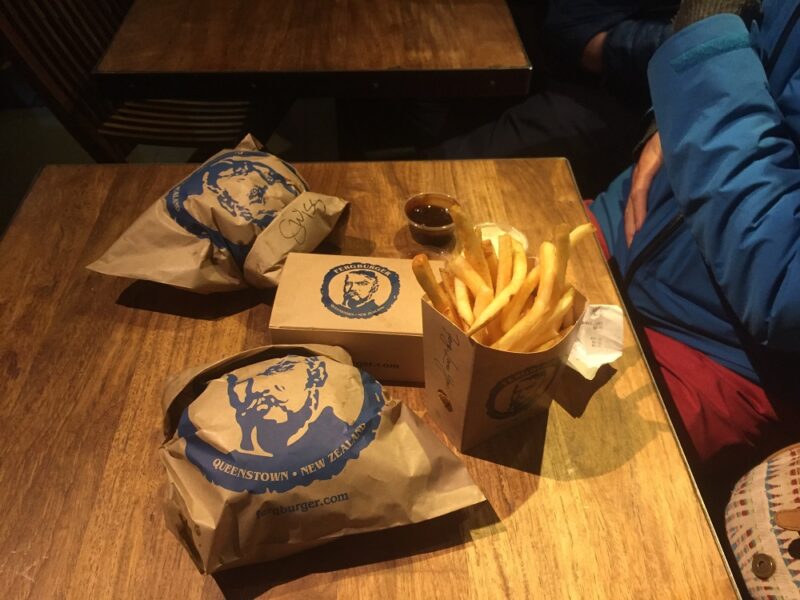 After a morning of hiking Queenstown Hill, you're going to be hungry. There is no better place to grab lunch in Queenstown than at the world-famous Fergburger. That's right, I said it – "world famous" (just ask Ed Sheeran!)
Fergburger is easily the most famed burger joint in all of New Zealand. In fact, did you even visit Queenstown if you didn't line-up for an hour to try one of their burgers (and take a selfie with it too!) Fergburger is so popular that nearly anytime of the day you'll find a queue out their door and down the street.
The local secret is to phone in your order to skip the line!
Fergburger has a large burger menu including just classic beef burgers, bison burgers, vegetarian burgers, and even chicken! You can choose between a variety of cheese to add as well as sides such as fries.
Fergburger is open daily from 8 am to 4:30 am and you'll find it centrally located on Shotover Street. Expect to pay $12+ NZD for a burger.
Note from Melissa: If you love sweets, head around the corner and stop in at Cookie Time. You can grab cookies and milk or even a bespoke ice cream sandwich!
Afternoon Half-day Tour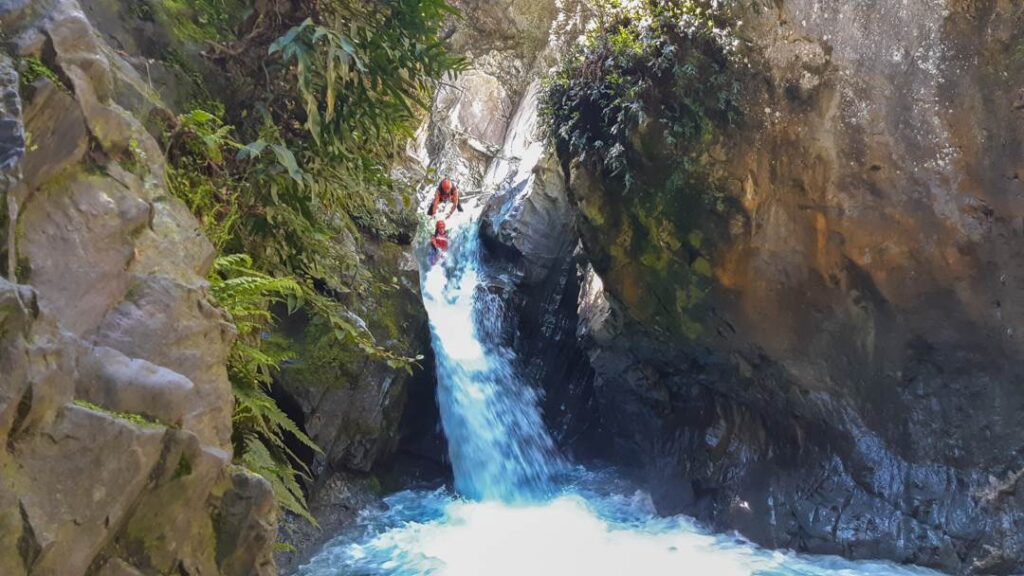 You can't come to Queenstown without joining at least one organized tour. This town is jut crawling with guided tours and experiences that you simply can't skip out on completely.
There are a few really amazing half-day tours to choose from in Queenstown, but my personal favorite include:
Canyoning
Canyoning in Queenstown is perfect for anybody who loves a bit of adventure (and isn't scared of the water!) On a canyoning tour, you'll make your way through a gorgeous canyon by jumping off waterfalls, repelling, floating, swimming, ziplining, and more. It really is an exciting adventure that is one of the best things to do in Queenstown.
A half-day canyoning experience in Queenstown starts at $99 NZD per person.
Whitewater Rafting
Whitewater rafting in Queenstown is a great family-friendly adventure tour. You can choose between a few different rafting experiences, some are more extreme than others. With that said, they all promise a fun half-day activity with really scenic views along the way.
The company called Family Adventures offers a very tame whitewater rafting tour that it suitable for children as young as 3. However, if you're looking for something more extreme, the other end of the spectrum is going on a rafting trip on the Shotover River with class 3 and 4 rapids!
Skydiving
One of the best ways to take in the views from Queenstown is from the air, and as such, skydiving is easily one of the most popular experiences in Queenstown! From up above, you'll have a scenic flight before testing how brave you are by jumping out of a plane! Depending on how long you want to free fall, you can choose between a 9,000 ft, 12,000 ft, and 15,000 ft jump.
Skydiving in Queenstown starts at about $300 NZD per person for the shortest jump.
Gibbston Valley
If you're not an adrenaline junkie, all hope isn't lost. Touring the Gibbston Valley is a nice half-day scenic tour in one of the most beautiful places – Queenstown's wine region! The Gibbston Valley is famous for amazing boutique wineries that have produced a range of world-class wines. Pinot Noir is their specialty and on a tour of the area, you're sure to try a few different bottles!
Although a tour through the Gibbston Valley is typically a wine tour, you can also choose family friendly tours too that include fun stops along the way. The Gibbston Valley Winery is home to New Zealand's largest wine cave, and the region sits along the Kawarau River and Gorge.
Gibbston Valley tours really range in price depending on the group size, length of tour, and tour inclusions.
Dinner in Town
After enjoying your afternoon get toured around, it's time to eat again! But instead of grabbing a burger to-go, this time I recommend visiting one of Queenstown's best restaurants. You're really spoiled for choice when it comes to dining in Queenstown, but some of my favorite restaurants include:
Italian – Farellis is my favorite Italian restaurant in Queenstown. Located right on Steamer Warf, this boutique restaurant offers lake views and some of the best homemade pasta ever!
Steak – Jervois Steakhouse is a fancy steak restaurant in central Queenstown. It is so popular that you'll need to ensure you have a reservation to eat here! It's also a little pricey, but for a fine-dining experience, it can't be passed up!
Pizza – The Cow is Queenstown's oldest restaurant established in 1977. This tiny restaurant offers unique décor with exposed wooden beams and a fireplace. It also serves huge delicious pizzas at a reasonable price! The Cow is an excellent choice for families.
Pub food – Smith's Craft Beer House is the perfect place to go for a typical pub-style meal with a beer. They actually have a huge bar with rotating taps that feature local craft beers from around Queenstown and New Zealand. Also, their burgers and poutine (cheese, chips, and gravy) are seriously delicious.
---
2 Days in Queenstown – Scenery and Town
Day 2 of this Queenstown itinerary is all about taking in the best views of Queenstown. From out on the lake and up at Bob's Peak, you'll have some of the best vantage points possible for appreciating the natural landscapes around Queenstown.
Today, you'll also have time to enjoy some of Queenstown's most famed activities as well as hitting the town in the evening for a few drinks!
Lake Cruise and Lunch Farm Experience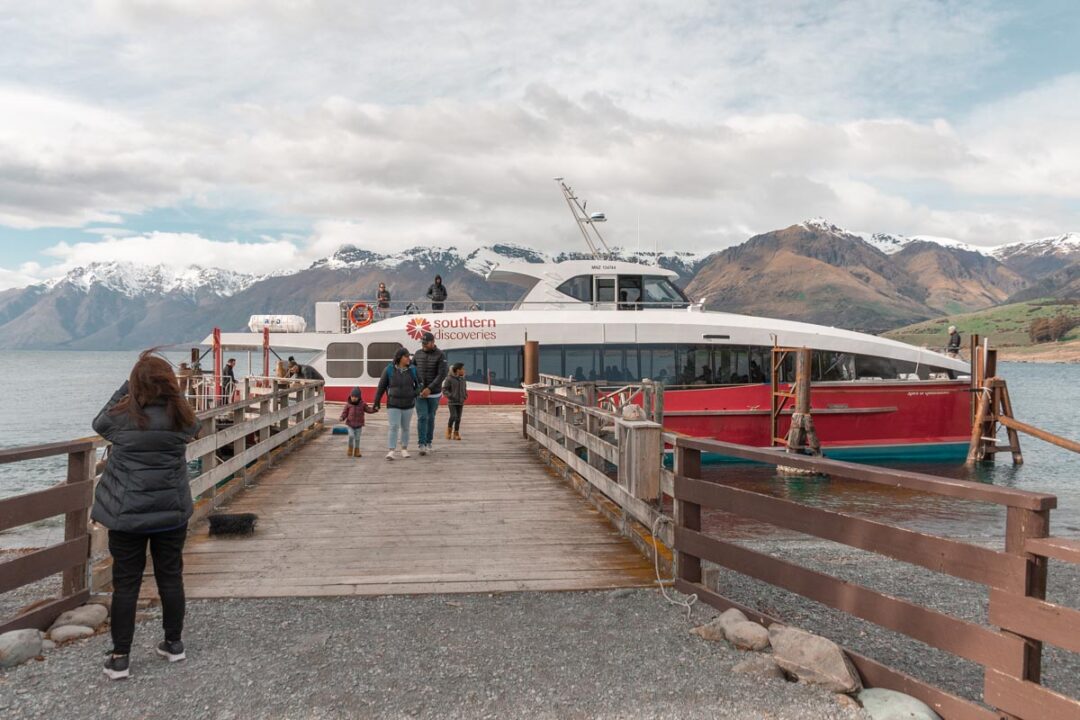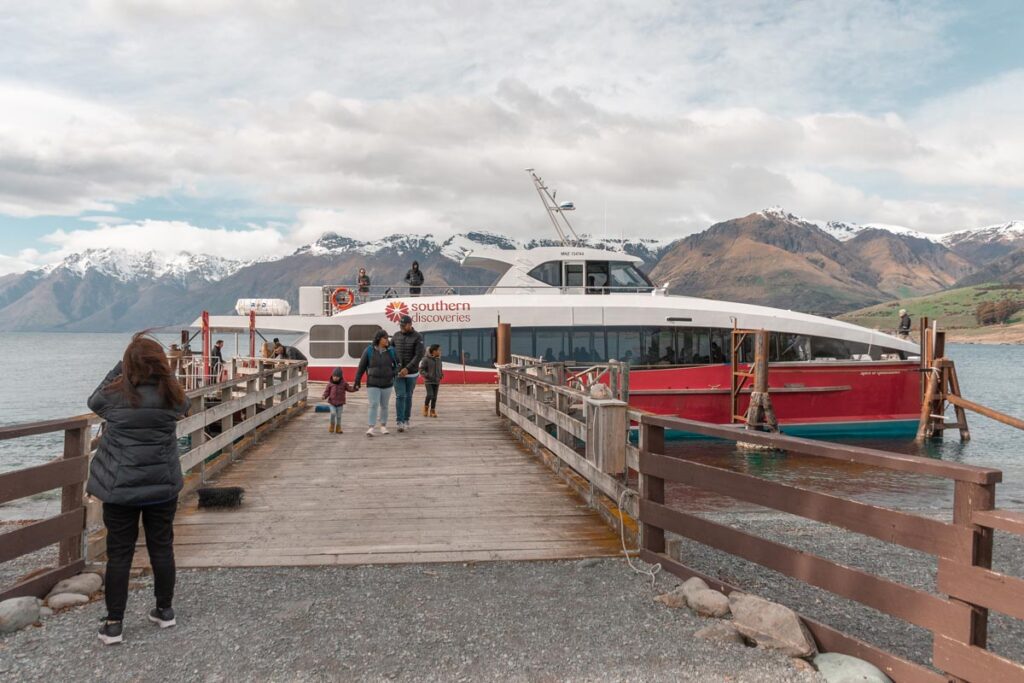 One of the best experiences in Queenstown is getting out on Lake Wakatipu on a scenic lake cruise. A Queenstown lake cruise is the perfect morning activity for any traveler including families or those on a tighter budget!
You can ride the Spirit of Queenstown catamaran for as little as $39 NZD for a 90-minute lake cruise. Or, for something a little more unique, jump on the historic TSS Earnslaw steamship for $79 NZD. Both cruises offer epic views and have ample seating with a snack bar (and fully-licensed bar) on board.
To really round off the experience, I recommend pairing the cruise with a farm tour and lunch too! Both cruises can easily be upgraded to enjoy lunch at one of Queenstown's most beautifully located farms! At the farms, expect to meet some of the local animals including friendly sheep!
Ride the Gondola and Explore Bob's Peak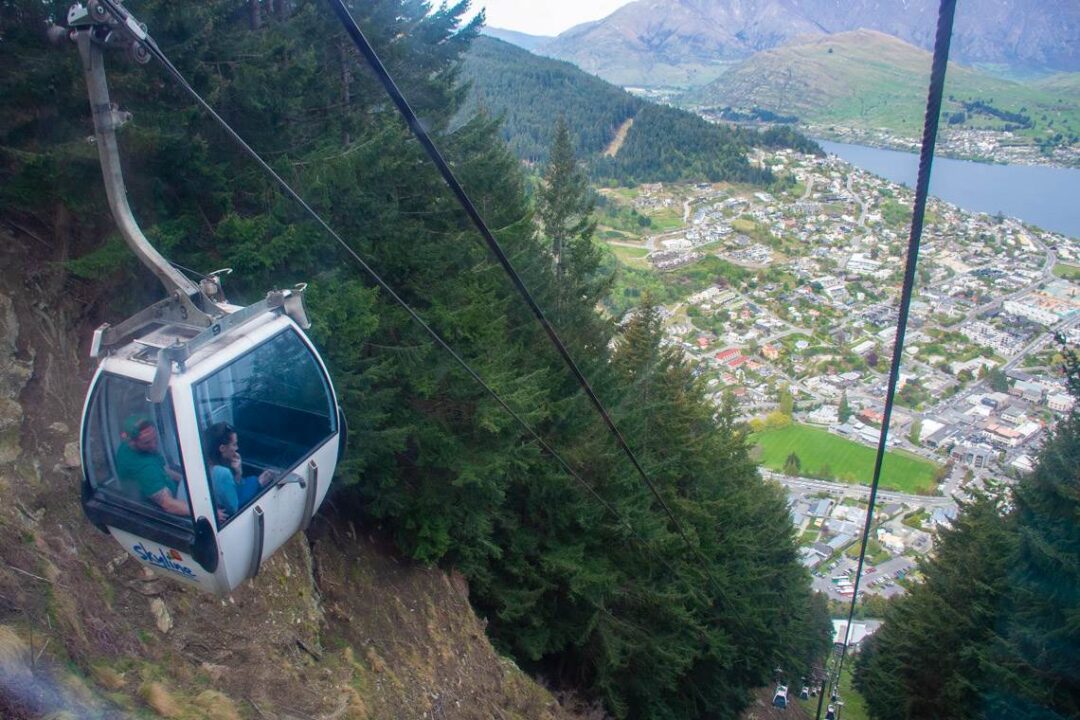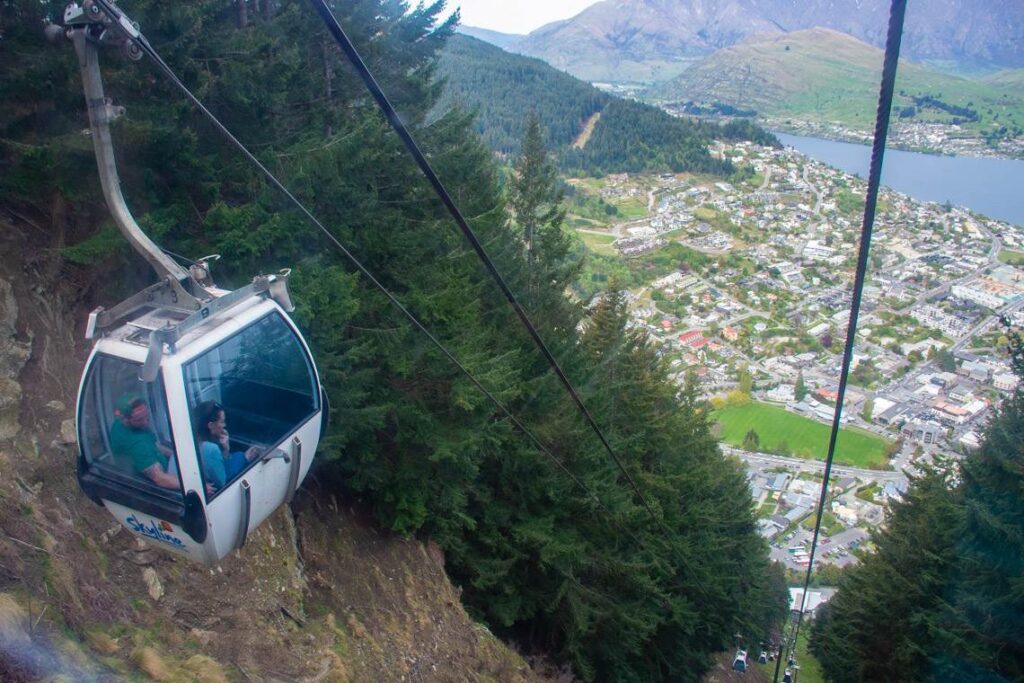 The gondola in Queenstown takes you 400 meters up above town to Bob's Peak. The gondola itself is only a 5-minute ride that although very scenic, is only just the start of your afternoon adventures. The gondola ride costs $44 NZD per adult which includes your round-trip ride.
Once at the top of Bob's Peak, there are a ton of other fun things to do and explore to keep you busy all afternoon.
First of all, ride the Luge. The Luge is a gravity-fed go-kart experience that is fun and exciting for the whole family. Believe me on this one, although it may not look like much, you can get some serious speed! Do yourself a favor and ride the Luge at least twice (once is just never enough!)
There are a couple of other adventure activities you can do at Bob's Peak too. The Ledge Bungy operates here and although it's Queenstown's smallest bungey jump at 47 meters high, it is very scary since it operates over the edge of Bob's Peak!
For something a little less extreme, consider ziplining! You can choose between a variety of lines to ride, including the world's steep zipline! Otherwise, paragliding and hang gliding are also popular activities up here too.
If you're a hiker, head to Ben Lomond Summit. From Bob's Peak, you'll need to allow a couple of hours to get to the summit and back. With that said, even just walking the trail for an hour will showcase some really spectacular views.
Dinner at Stratosfare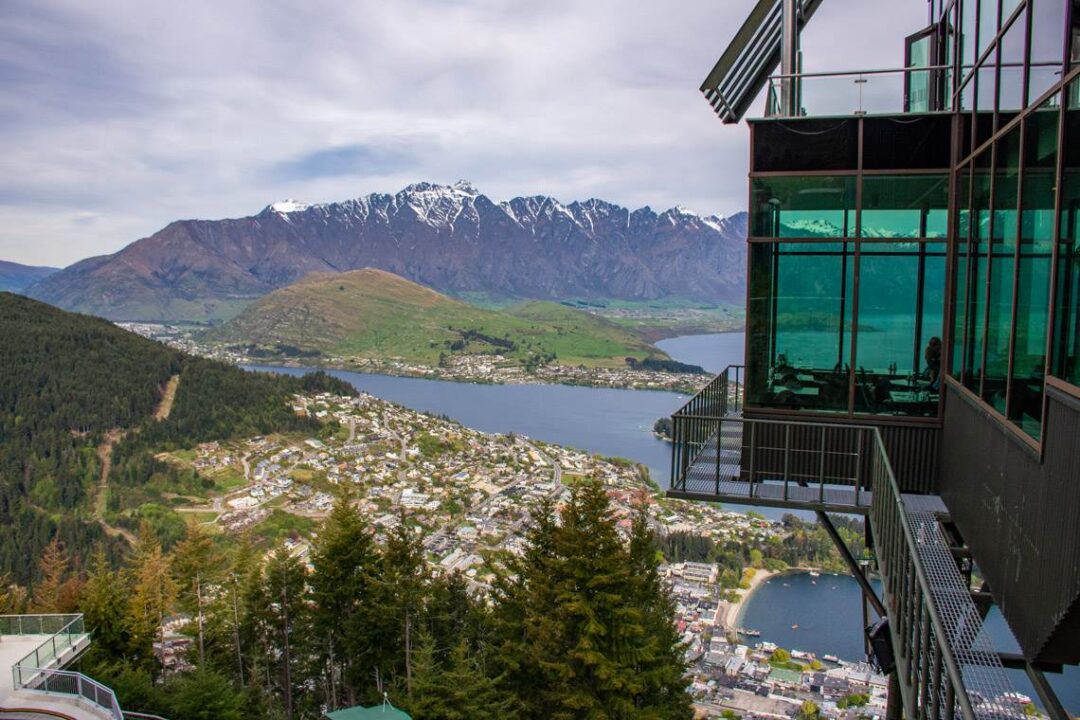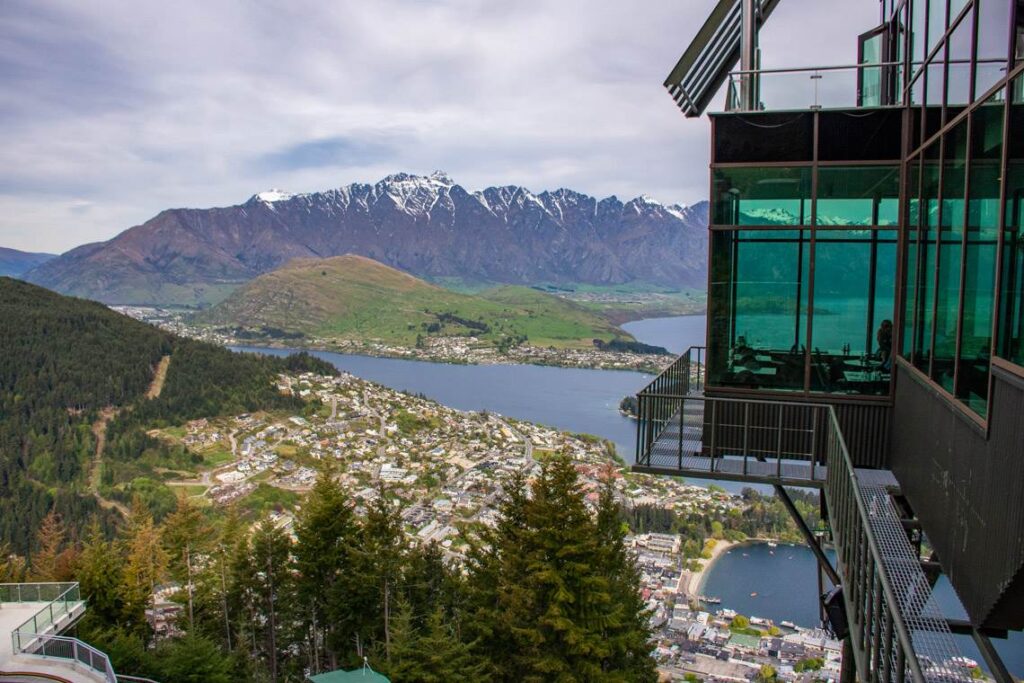 After all of the excitement, it isn't time to head back down to Queenstown quite yet – you're going to enjoy a gourmet dinner up at Bob's Peak at the famous Stratosfare Restaurant! Here, you'll enjoy an all-you-can-eat buffet featuring fancy dishes from all over the world. Expect sushi, meat, cheeses, seafood, and so much more. Oh yah, did I mention the dozens of desserts?!
From the Stratosfare Restaurant, you'll also have one of the best views of Queenstown and Lake Wakatipu possible. Be sure to book a table in advance to secure your spot. Also, try to book around sunset so you can really enjoy the view and the sky glows hues of orange and pink.
Drinks in Town
If you're not already tired, after taking the gondola back down to Queenstown it's time to hit the town for some drinks! Queenstown has a vibrant nightlife and you'll easily be able to dance the night away at bars such as 1876, World Bar, Cowboys, or even the Bunker.
For something a little more unique, head to one of the ice bars in town! Here, you can have a cocktail or mocktail in a bar made completely of ice! No joke – even your cup will be entirely ice.
---
3 Days in Queenstown – Day Trip to Glenorchy
If you're lucky enough to be spending three days in Queenstown, then you're in for a treat! One of the best ways to spend a day in Queenstown is to actually go on a day trip to the nearby small town of Glenorchy. Glenorchy is home to only about 200 people and sites on the edge of Lake Wakatipu, Mt Aspiring National Park, and Fiordland National Park.
It's a gorgeous outdoor playground and the perfect place to spend a day.
Scenic Drive to Glenorchy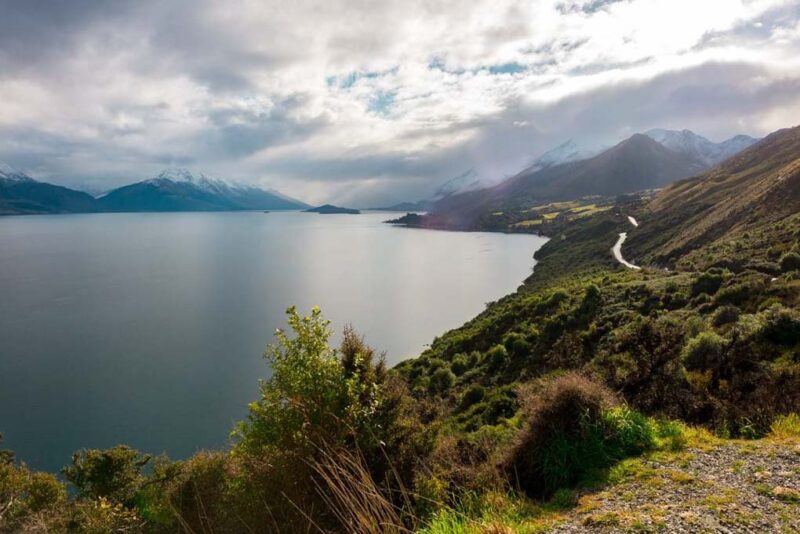 The drive from Queenstown to Glenorchy is memorable in itself. This short 40-minute drive can easily turn into hours if you stop at the right places along the way. Hike the historic My Crichton Loop Track, swim at Bob's Cove, or even explore Moke Lake! Regardless of what you choose to do, you're sure to have a good time.
Getting to Glenorchy: For today, I recommend driving yourself if possible. You can rent a car in Queenstown for an affordable price. Otherwise, there are plenty of half-day tours can choose from that take you to Glenorchy from Queenstown!
Glenorchy Jetty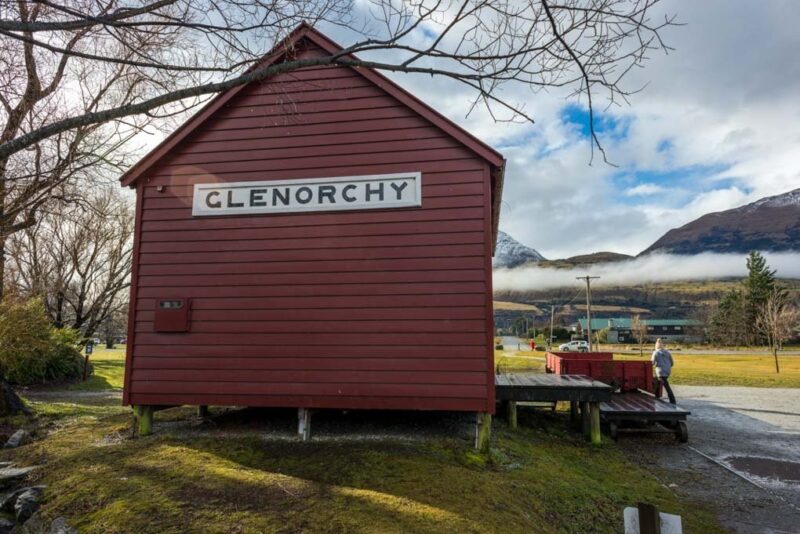 Once in Glenorchy, be sure to visit the famous jetty. Here you can wander the foreshore, feed the ducks, visiting the iconic red "Glenorchy Shed", or even walk the Glenorchy Walkway.
For even more of a hike, drive out to the Routeburn Track trailhead at Routeburn Shelter and walk to the Falls Hut and back. This makes for a fun day hike on one of New Zealand's famous Great Walks!
Glenorchy Animal Experience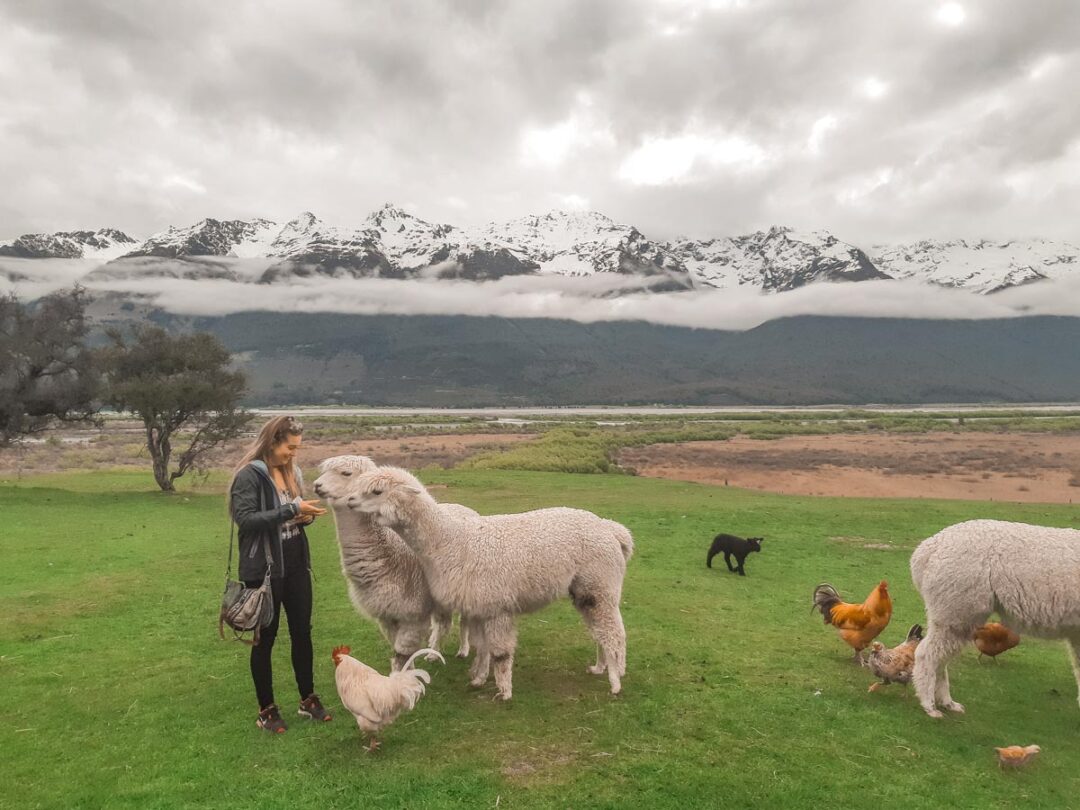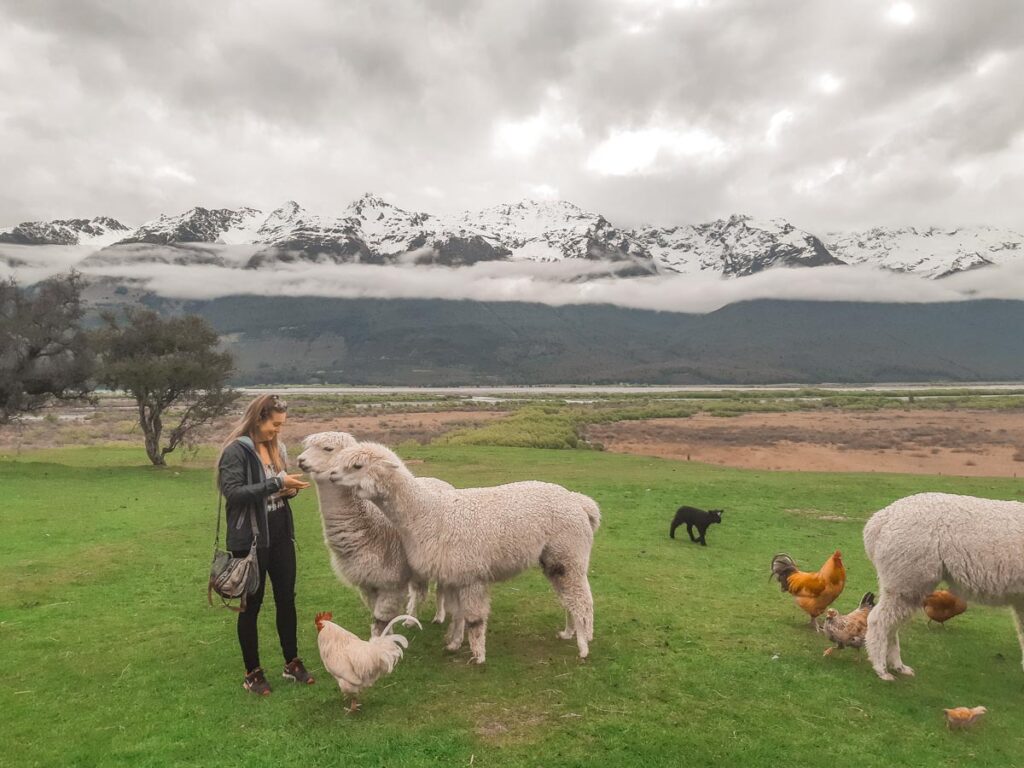 The Glenorchy Animal Experience is one of my absolute favorite things to do in Glenorchy! Here, for only $20 NZD you can wander around a real New Zealand farm meeting the animals. You can choose to also feed the animals on this self-guided tour. If you visit in Spring, be ready to meet the tiniest lambs you've ever seen!
There you have it, an ideal way to spend 2 days or 3 days in Queenstown! These itineraries feature some of the absolute best attractions in Queenstown and are sure to keep you busy while having the best time possible.
About Bailey
Bailey is a Canadian travel blogger who, after traveling the world for several years, decided to settle in the adventurous town of Queenstown, New Zealand. On My Queenstown Diary, Bailey shares her passion for Queenstown and New Zealand in the form of detailed travel guides!
Planning your trip to New Zealand
Are you getting ready for an epic trip to New Zealand? Don't miss these articles to help you plan: