Looking for a fun activity near Playa del Carmen that's great for adults and kids alike? Look no further than Xcaret Park, often rated as the best theme park in the world.
Our family's Xcaret Mexico park review is overwhelmingly positive and we're all excited to return in the future to check out some of the adjacent parks (especially Xenses and Xel-Ha).
But planning a visit to Xcaret Park in Mexico can be a little overwhelming. Be sure to read all of our Xcaret tips and tricks to make the most of your visit and enjoy all the best Xcaret activities without the stress!
Read more: In-depth Xcaret Hotel review
Park Xcaret Tips & Tricks Before Your Visit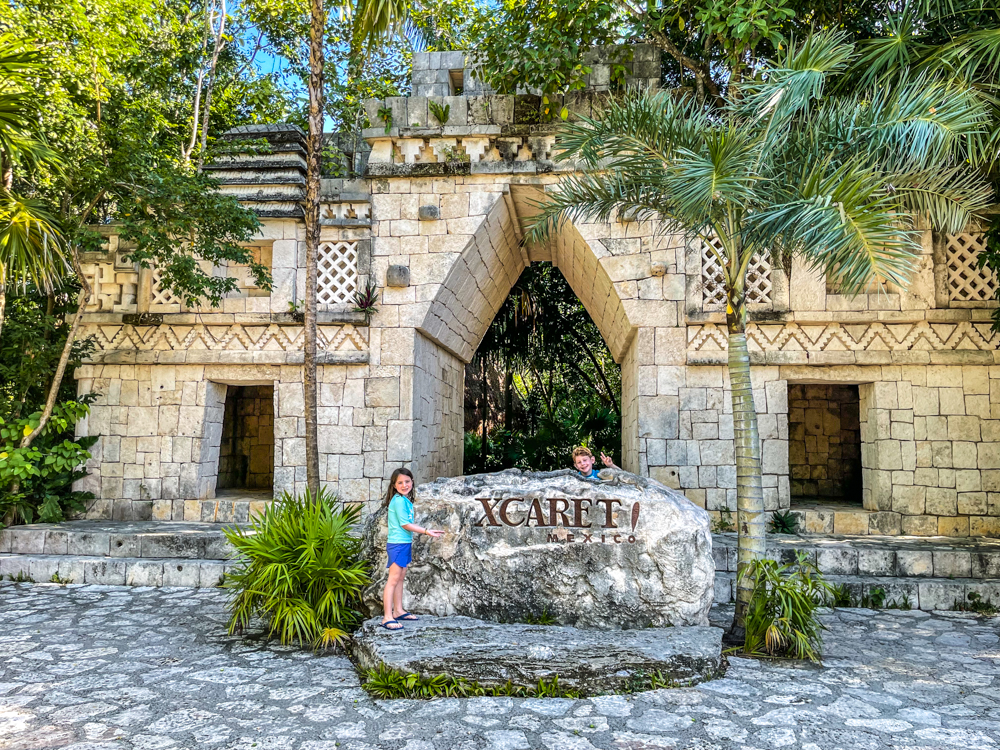 Before you visit Xcaret Park, it's important to understand what it is and what it isn't. You can think of XCARET! Park kind of like a Mexico theme park, but instead of focusing on illustrated characters and thrill rides the attractions are centered around Mayan culture and Yucatán peninsula wildlife. That doesn't mean it's all fake: the Mayan ruins within the park are genuine remnants of the ancient seaport town, while the cemetery contains recreations of unique and colorful graves from around Mexico. Visiting Xcaret isn't a substitute for exploring the Yucatan peninsula but it's an extremely fun way to get a taste of the Indigenous culture and nature. It's part theme park, part eco park, and part water park. A good way to describe it is the Xcaret adventure park!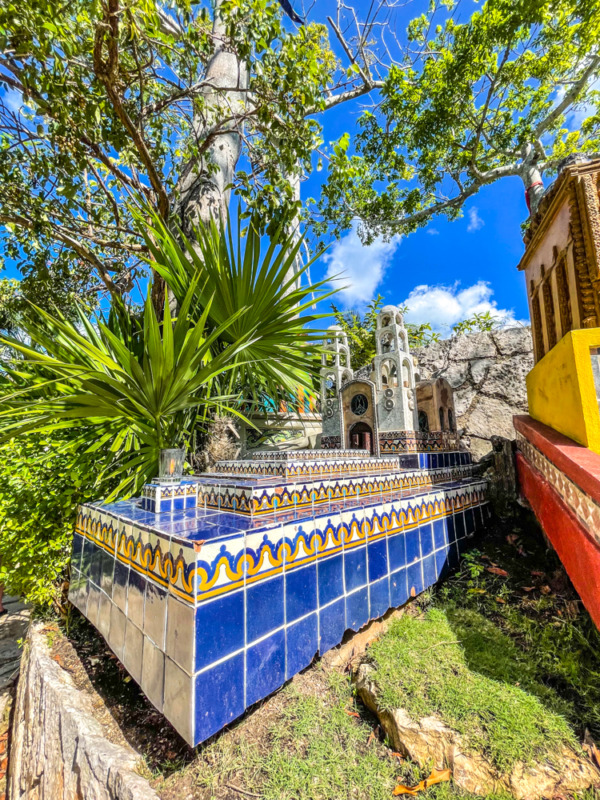 Expect crowds, especially during holiday periods. We visited the week before Christmas and it felt packed. The crowd was a mix of Mexicans and Americans with a smattering of other nationalities thrown in. It's popular with everyone who vacation in the area, especially those visiting Riviera Maya with kids! If your travel crew includes any small children, be sure to explain to them how important it is to stick together. If you're blessed with a runner, you may need to use all the tricks up your sleeve!
Try to arrive as close to opening as possible – 8:30 as of this writing. It won't be as crowded and you'll be able to see and do more!
Xcaret Park Tickets
If possible, buy your tickets in advance rather than buying Xcaret tickets at the door. We didn't because we'd had some stomach upset in the family and weren't confident everyone would be up for such a big day, and it cost us an extra $10 per adult and $5 per kid. Ouch! Sometimes you can even get additional promotions here. In addition, the line to enter was quite long – about 20 minutes. There are also additional ticket booths inside, and you can try your luck with those to see if they're faster.
Annoyingly, you have to walk alllllllll the way through the gift shop to enter. This is an easy place to get separated, especially with small kids. If you have young ones who can't resist the power of a souvenir, you may want to carry them. Just power through and find the exit so you can get to enjoying the park!
---
What to Bring to Xcaret Park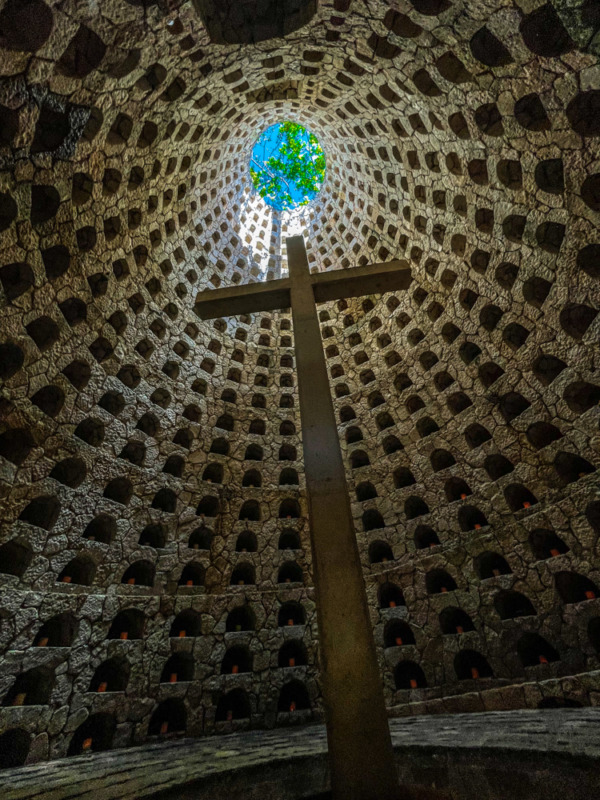 Prepare to walk a ton! We clocked about 15k steps. I was fine in my favorite flip flops because they're very supportive but if you have grumpy feet, wear something comfortable.
Wear your swim suit instead of (or under) regular clothes. My daughter and I wore two-piece suits topped with a rash guard and shorts, while the boys wore trunks and rash guards. That saved us time so that we didn't have to change for water activities. We packed everyone's dry clothes and our travel towels in these wet bags, so at the end of the day we had the perfect spot to store our wet swimsuits.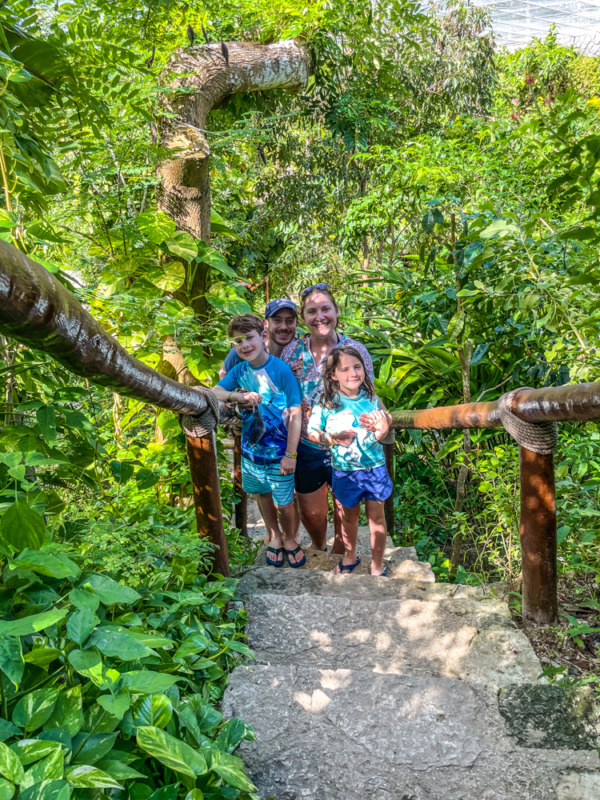 Bring sunscreen and bug repellant. We made it just fine with a single application of sunscreen, but if we'd spent more time in the afternoon sun we probably would have reapplied. We didn't find the mosquitos too vicious but perhaps that's because we preemptively wiped our legs down with these. They're super handy and I just wish I'd done another round in the late afternoon!
There are water bottle filling stations everywhere. Just bring one bottle – I recommend this insulated bottle, which we bring everywhere!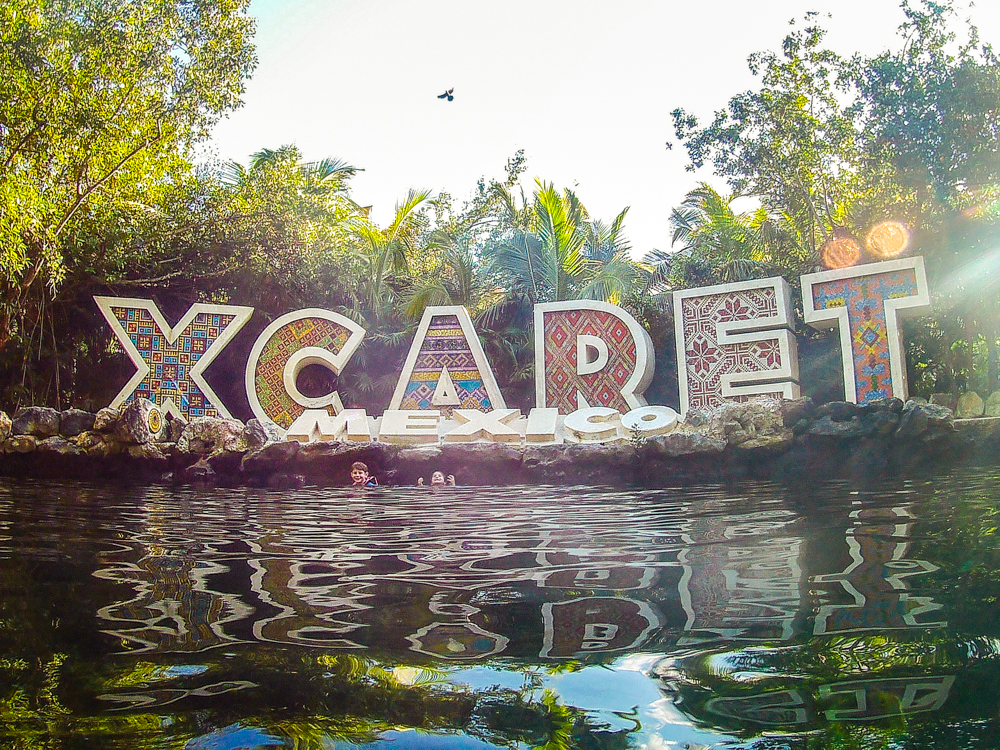 If you plan to experience the underground rivers (which you should) I recommend bringing a waterproof pouch for your smartphone. You'll definitely want Xcaret park photos and videos of the experience!
Read more: Your ultimate Mexico packing list
---
Xcaret Activities: The Best Things To Do In Xcaret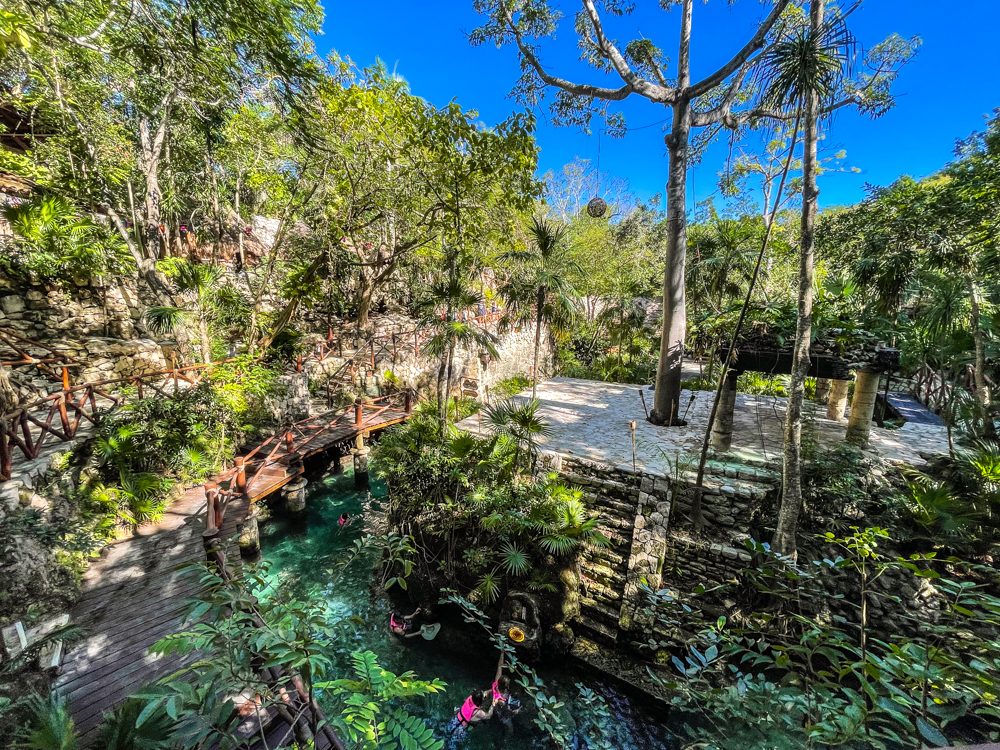 There's a giant Xcaret park map when you enter with a QR code. Open it and save it to your phone. You'll need it! We found the park to be pretty confusing to navigate, even with the map. There are signs everywhere but they don't always work out exactly as you plan. We managed to get ourselves lost a few times unfortunately and definitely burned some much-needed time that way.
The different zones are broken up by colored lines on the ground. Our recommended Xcaret park itinerary is to start your day with the white line, which takes you to the Mayan Village (including the birds, butterflies and jaguars). Pro tip: start with the aviary when you get here. There's strong directionality to it and it feeds you in to the butterflies. Of course don't miss the cultural attractions in this section as well! Next, try to find your way to the blue line for aquatic creatures. Then hook up the the green line (Playa) to make your way to the "snack bar." After lunch, go back toward the park entrance to begin the underground river.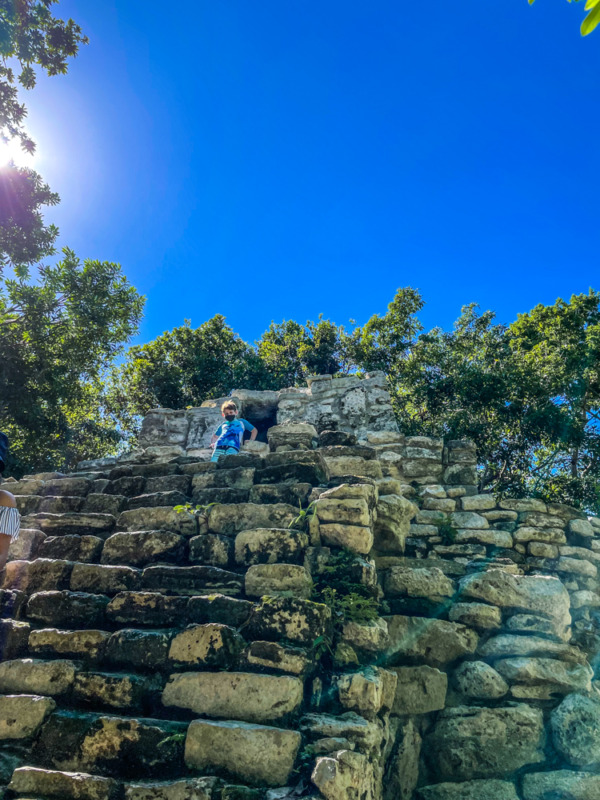 Speaking of snack bar… clearly the definition isn't the same as in America. This is a sit-down eatery with waiters bringing hot food and cold drinks. It can be extremely hard to find, but is worthwhile. Why? Because in the blue section you'll encounter an extremely crowded buffet restaurant that charges $35 USD per person (same for kids) for a crowded and heavy buffet lunch. By contrast, the snack bar offers a la carte option like chicken fajitas for $10 USD and a hamburger for $12 USD. It also has a fantastic view out to the water! It can be hard to find but it's worthwhile if you're put off by Xcaret food prices; just follow the green line and if you aren't sure, ask a staff member. Note that guests of Hotel Xcaret have access to the buffet for free and it's also included in the Xcaret Plus package.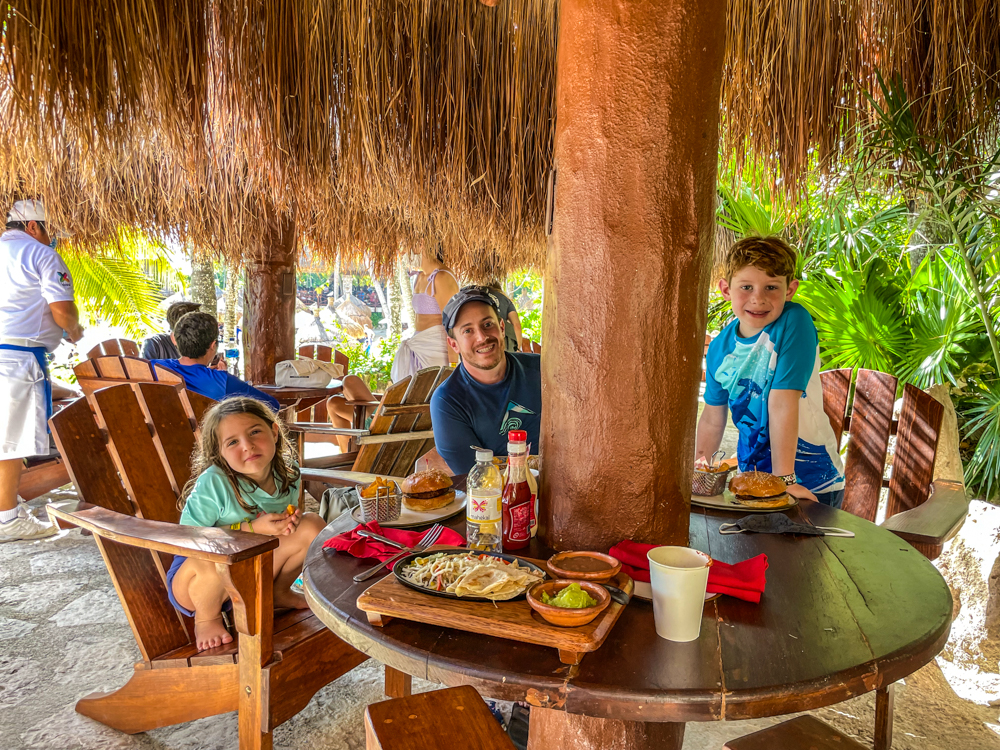 Don't plan to do everything, you'd really need two days for that. The Mexico Xcaret park offers far too much to fit in one day! We plan to return again a different year to experience even more. For example, our kids were really excited to do the cacao workshop, but it's a 45 minute experience and the timing wouldn't have worked out for us this time. We didn't make it anywhere near the Children's World either!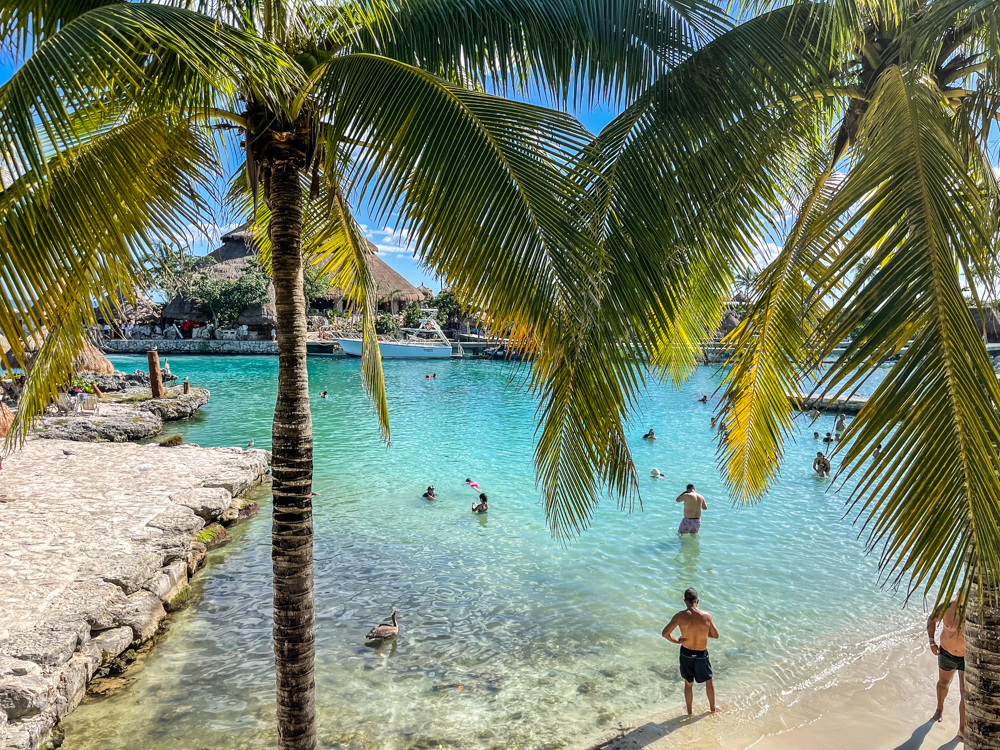 One activity we deliberately skipped (and we hope you will too) is Xcaret's extensive dolphin encounter program. They have several options that range from hanging out in the water with dolphins in a group of 10 people to actually riding on the dolphins. We don't consider ourselves zealots, but can't get on board with that kind of forced up-close animal interaction. If you're on the fence, please research carefully before you book one of these experiences. Our kids were pretty upset to see the dolphins being handled by other visitors.
We brought our own snorkel gear, but honestly the snorkeling inlet (near the snack bar, in the green section) didn't look that great. It's also extremely crowded and when we walked to the steps fully geared up we could see that there were very few fish. We didn't end up using our gear despite lugging it around all day. When we return to Xcaret in the future, I'll consider the add-on snorkel tour that goes out to the reef. We're probably just spoiled by all of our experiences snorkeling on Oahu and Big Island but we couldn't get excited about this one, and our snorkel tour on Isla Mujeres the following week was a much better experience.
The family favorite was the underground river. If your kids are school age on up (or you're going without kids), don't miss this! It worked well as our last daytime activity, but you really need to allow yourself tons of time for it. We went from beginning (near the park entrance) to end (right back at the playa) and wouldn't have done it any other way but in total all of the preparation, swimming and then changing afterwards will take you at least an hour and a half – it took us a little longer even since we lingered.
You need to go down to the river entrance first to deposit your belongings. Go to the cashier in the center and pay to rent a bag and fins. Trust me, you want the fins! Life jackets are free. Additional snorkel gear isn't necessary. You'll put everything you don't want to take in the water in the giant bag – we just put our whole backpack in there along with our flip flops. Keep your phone with you in its waterproof pouch! They gave us a locker key but we didn't bother with it, as we had the only key to the bag (Ronnie wore it around his neck). Thankfully the bag gets transported up to the end of the river so that you're met with your flip flops and towels! When you're done there are changing rooms through the gift shop, and feel free to enjoy the stunning views at the top from a hammock while you warm up.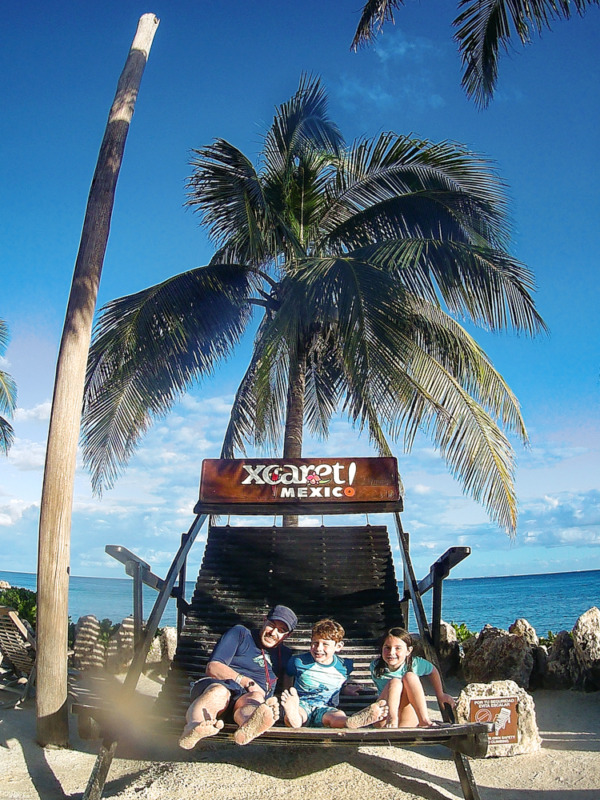 At least during our visit, most of the live performances were late in the day – around 5-5:30pm. Unfortunately that means you'll have to choose what you want to see. Those shows do get busy, so you may have to jockey for position if you don't arrive in advance. We opted to watch the horse exhibition, which was wonderful and featured live mariachis and bilingual narration.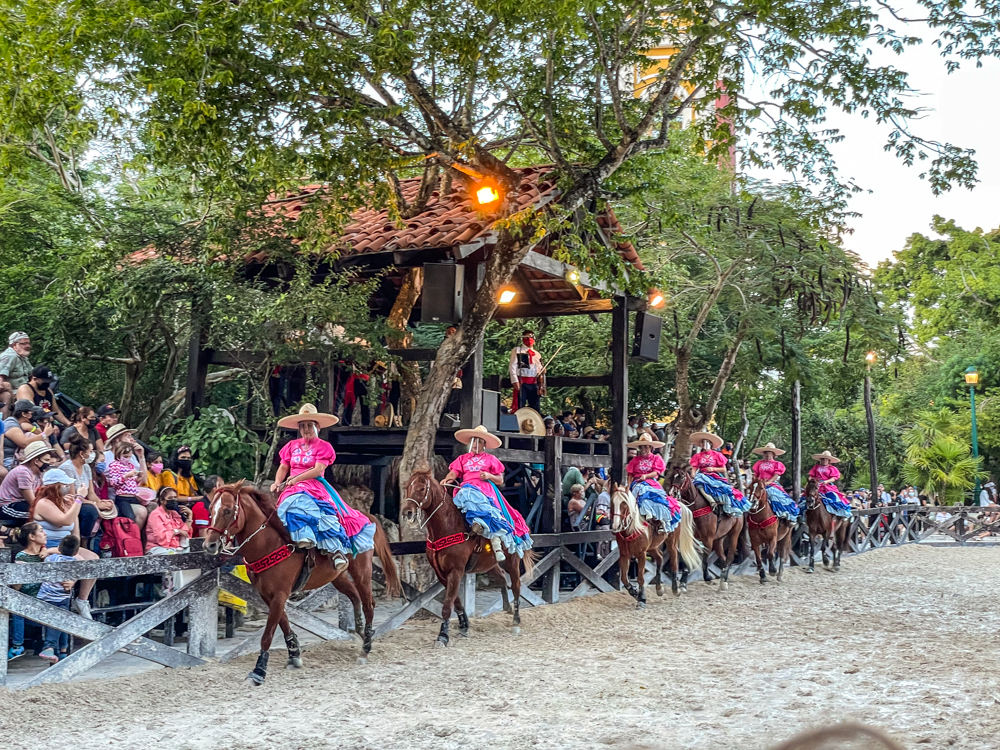 ---
Xcaret Mexico Espectacular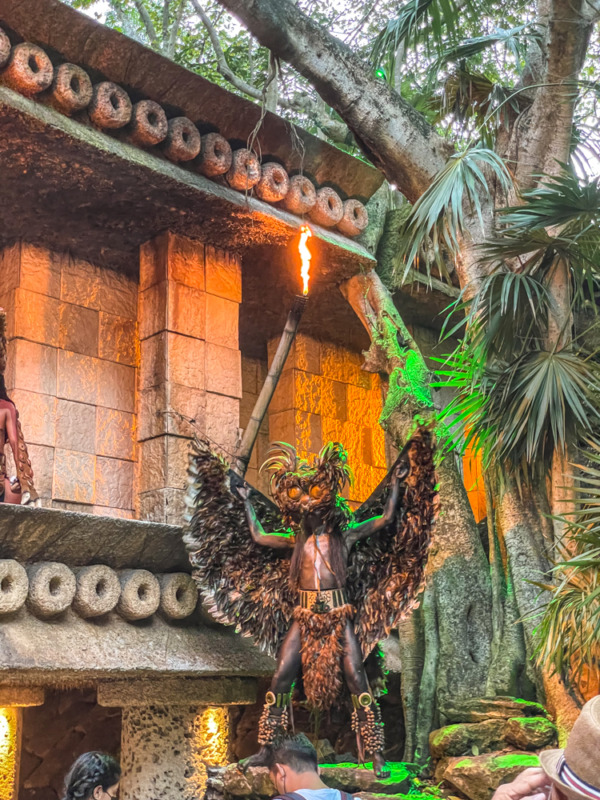 Speaking of jockeying for position… the evening spectacular begins at 7, but I recommend that your group starts heading that direction after you finish watching the live performance. Catch a glimpse of the horses as they cool down, poke into the art museum and church and slowly make your way to the massive open-air theater. There are costumed performers along the way showcasing Mayan costumes and music, so take your time as you go. Unless you've purchased dinner or an Xclusive ticket, seating is first-come, first-served.
If you don't purchase dinner, there are snacks available for purchase as you enter the theater. Most of them weren't that great (especially the paletas and nachos), so I'd save your money. The popcorn is a solid option and you can buy it from your seat with pesos before the show begins.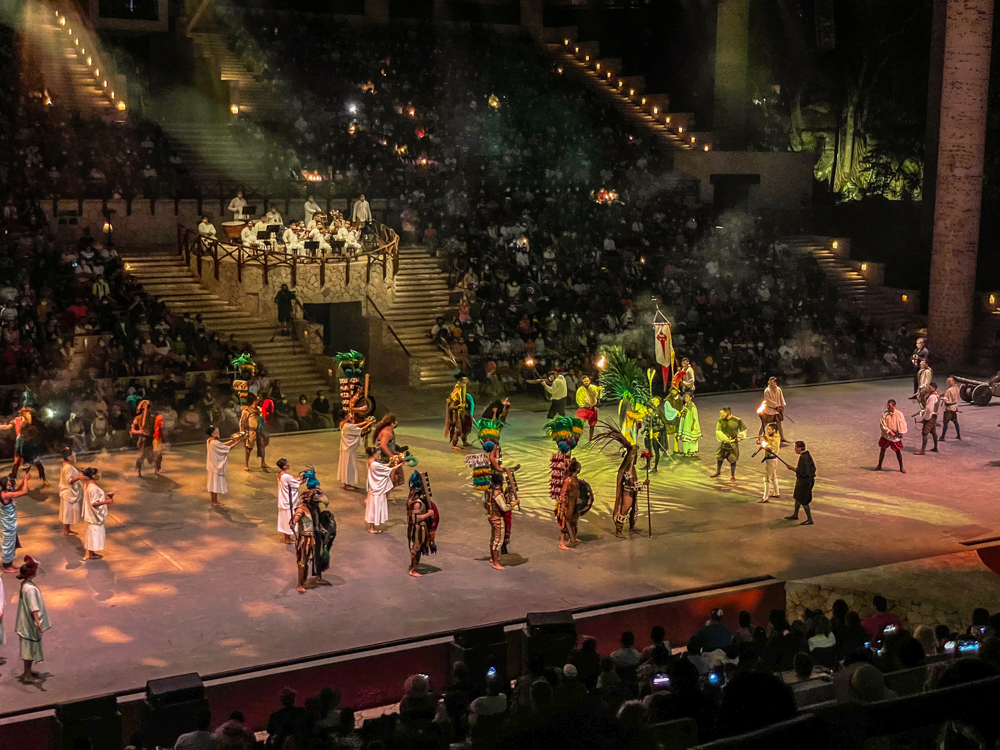 The evening spectacular at Xcaret eco theme park runs 7-9pm, which is prime dinner time at most resorts. Even if your resort serves food until 10, staying until the end of the show guarantees a massive crowd upon departure – through the park, the gift shop and the parking lot. I can't imagine being able to stay for the entire show and still arriving in time for dinner. We left shortly after intermission during the state-by-State cultural performances. I was sad to miss some of them, but we walked through the positively empty park and faced no challenges getting our car out. We made it back to our hotel just in time for dinner! Next time we go, I'd book the dinner package and stay for the evening to avoid stressing about it.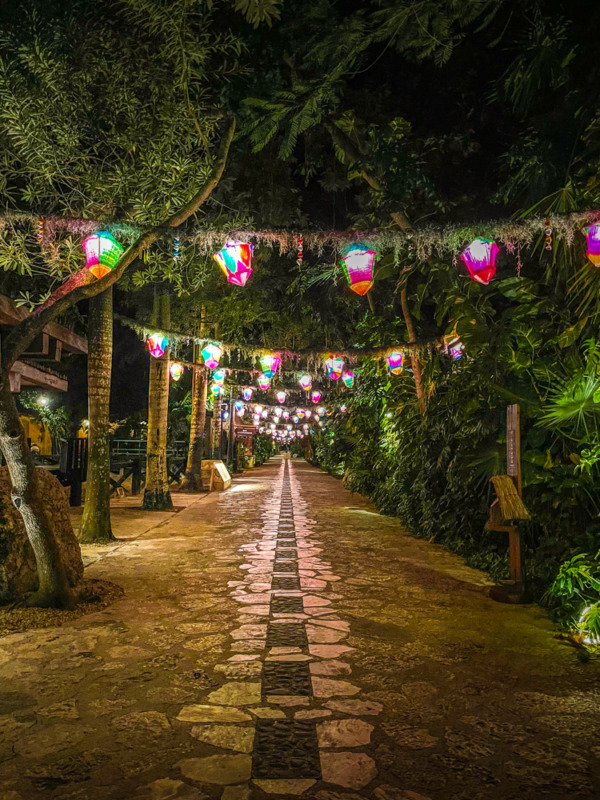 ---
Xcaret Park FAQs
What is Xcaret?
Xcaret is a Mexican theme park showcasing local culture, nature and adventure.
Where is Xcaret?
Xcaret is located just south of Playa del Carmen along the Riviera Maya.
How far is Xcaret Park from Playa del Carmen?
Xcaret Park is about 10km south of the heart of Playa del Carmen, which will take about 20 minutes by car. If you're taking a taxi, plan to spend about $10-15 US each way. We drove our rental car and it was extremely easy to navigate there.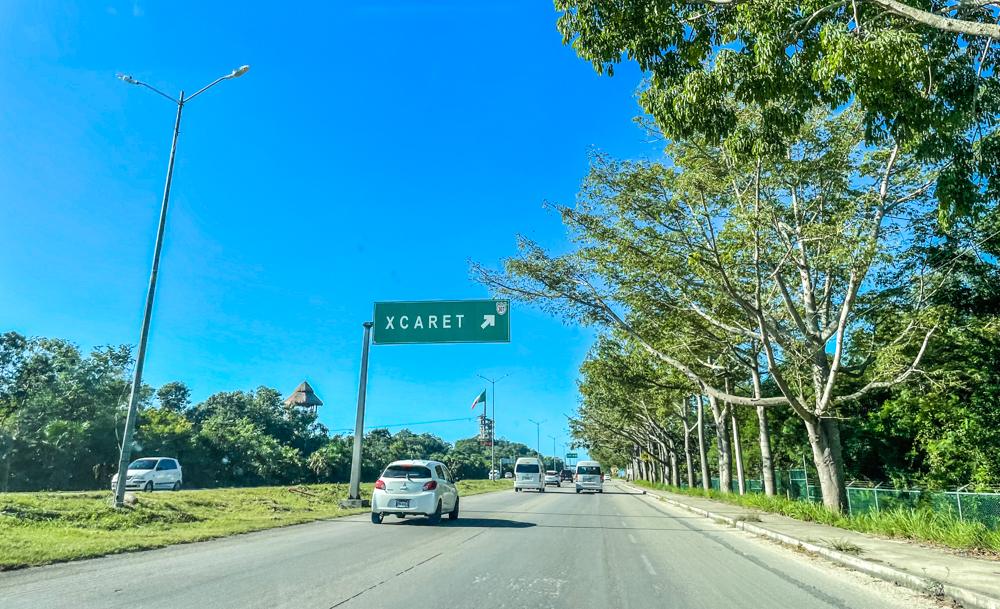 How big is Xcaret Park?
It covers 200 acres and boasts over 50 attractions ranging from cultural performances to wildlife viewing to aquatic adventures.
Is Xcaret kid friendly?
Yes, Xcaret is extremely kid-friendly. Children 6+ will enjoy everything the park has to offer, while younger children will enjoy most of it. There are no Xcaret age restrictions for park admission, though some add-on experiences have a minimum age and/or require parents to come along.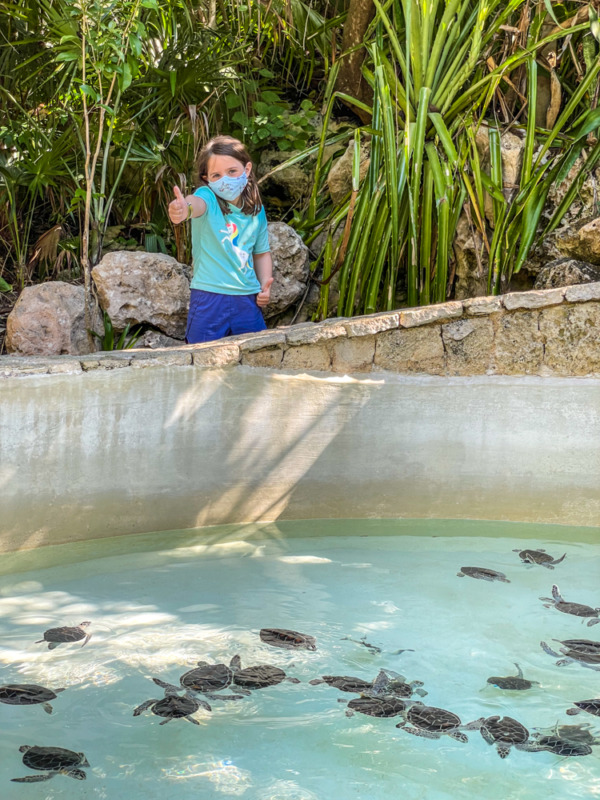 What is there to do at Xcaret Park?
There are more fun things to do at Xcaret Park than you can fit into a single day! You can explore a recreation of a traditional Mayan village and try your hand at various crafts ranging from candles to coconuts to cacao. There are opportunities to see many native animal species in the air, on land and in water. Xcaret Park also has adventurous options like swimming in an underground river and a kid-oriented section with waterfalls, bridges and more.
How much is food at Xcaret?
During our visit in December 2021, the buffet lunch was $35 US per person with no discount for kids. We ate at Snack de la Playa instead, which served excellent chicken fajitas for just $10 US. Check out the menu (prices in pesos as of December 2021):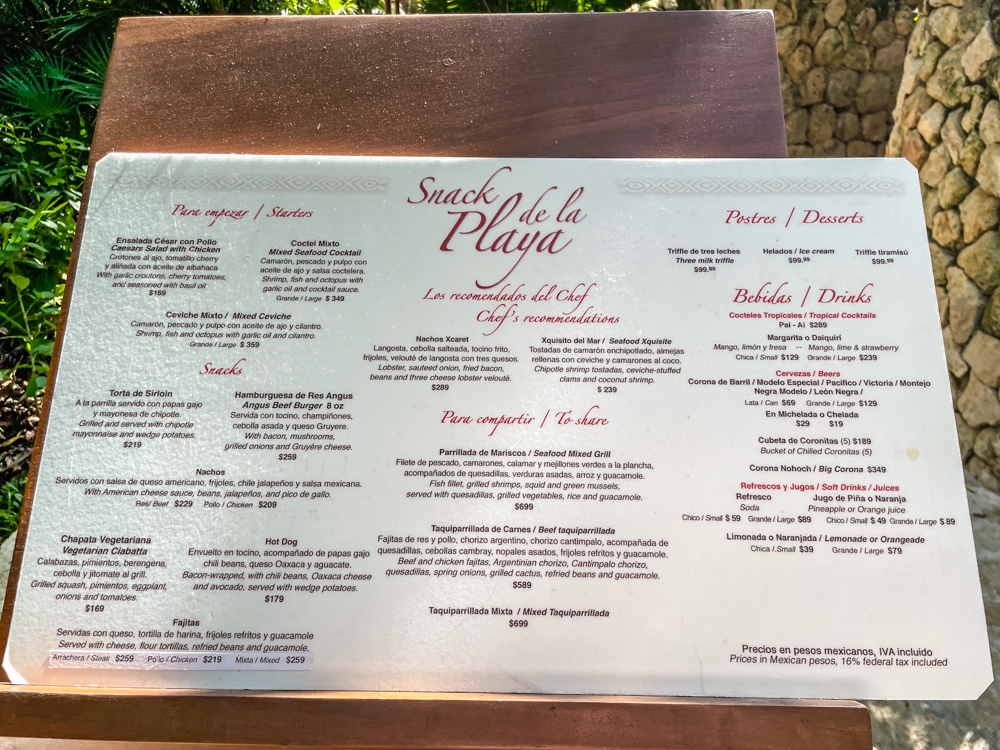 What are Xcaret prices for single day tickets?
Xcaret Park prices are $120 for adults and $60 for kids 5-11; children 4 and under are free. You can decrease your Xcaret cost by buying tickets here in advance.
Planning your trip to Riviera Maya with kids
Still planning? Pin this for later!