Playa del Carmen is among the most popular destinations to visit in Mexico's pristine Riviera Maya. While there are plenty of things to do in Playa del Carmen even if you just want to hang out at your amazing resort, there are also a number of great day trips and weekend excursions to experience! One of the most popular options is to head on a Playa del Carmen to Cozumel day trip.
On the Mexican Riviera Maya, Cozumel is an island 34 miles long. Unlike the mainland, the island is largely undeveloped with jungles and untouched shores. According to our guide on Cozumel it's what Playa del Carmen was 30 years ago, with plenty of tranquility to go around.
Tourists don't come to party, play beach volleyball, and shop for designer clothing. Rather, it's a time to unplug and enjoy basking in nature.
Besides the beach, Cozumel offers a wide range of activities. The city of San Miguel is super laid-back, with the eastern and southern shorelines engulfed by stunning, untouched nature. Here we'll cover everything from things you can do on Cozumel to when to visit the island.
In this article you'll find the best things do to on Cozumel, and Playa del Carmen to Cozumel day trip logistics you need to know before you go and more.
Best time to visit Cozumel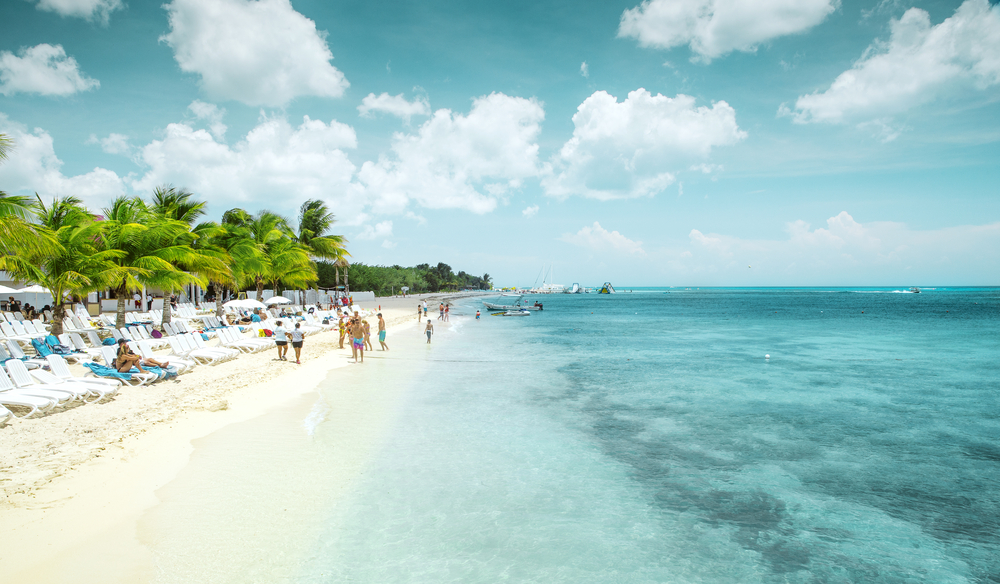 Cozumel has very little variation in average temperatures. Due to the humidity, temperatures feel hot for about half of the year. Otherwise, the weather is pleasant with sporadic rain showers. If compared to tourist destinations worldwide, the area has somewhat temperate weather – equal to the 55th percentile.
Cozumel is warmest in August, July, and June, so if you're into sweating, those are the best months to visit. Temperatures stay about 89°F (32°C) throughout early to mid August, with nighttime temperatures rarely dropping below 75°F (24°C). This is also the best time to swim with whale sharks near Cozumel.
If you are looking for dry weather in Cozumel, the best months to visit are January, February, and March. Early January is the time when there is the least chance of precipitation. On the other hand, late June tends to be the time with the most rainfall.
January, February, and March are the months that see the highest influx of tourists throughout the year. Prices for accommodation and tours reflect the area's high season.
---
Is a day trip to Cozumel worth it?
If you're planning a vacation on the Riviera Maya or the Yucatan Peninsula, then Cozumel is definitely worth a day trip.
Located just a 40-minute boat ride from Playa del Carmen, it is arguably the most iconic diving and snorkeling trip in all of Mexico. A Playa del Carmen to Cozumel day trip is about as easy as they come, leaving little room for travel hiccups or things to go wrong. Due in part to the easy accessibility around the island of Cozumel, you can fit a lot into a single visit, from the ancient ruins of San Miguel to San Miguel de Cozumel's buzzing town center.
---
How to get from Playa del Carmen to Cozumel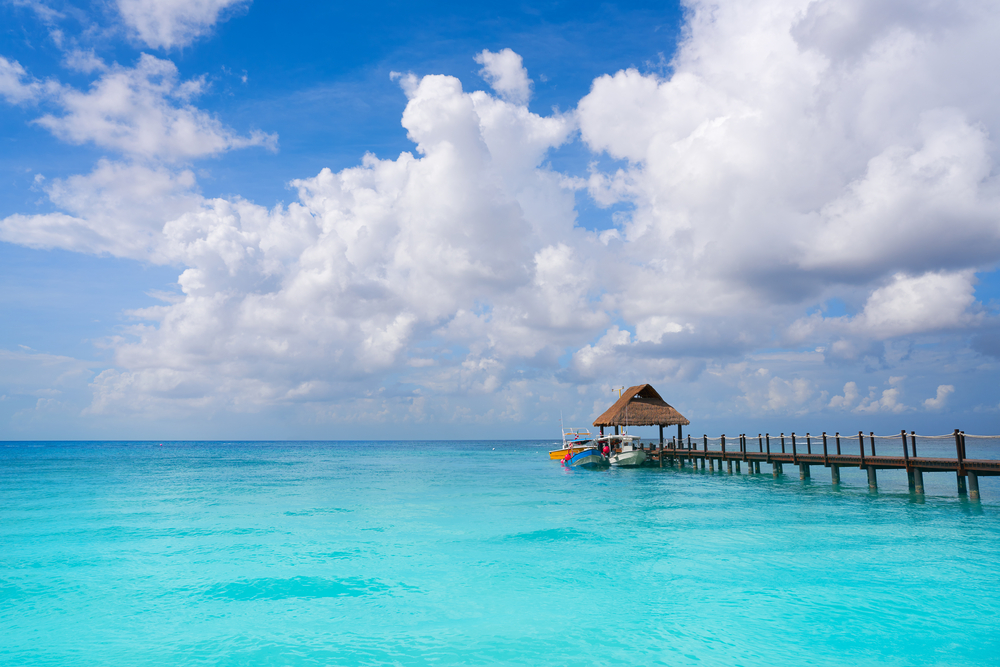 Considering it's an island, Cozumel is only accessible by boat from Playa del Carmen. Tourists usually take a passenger ferry, which takes about 40 minutes. A one-way, adult ferry ticket costs between 210 – 290 MXN ($10 – $14). Roundtrip tickets are also available. The local rates are only for Mexican residents.
Playa del Carmen ferry pier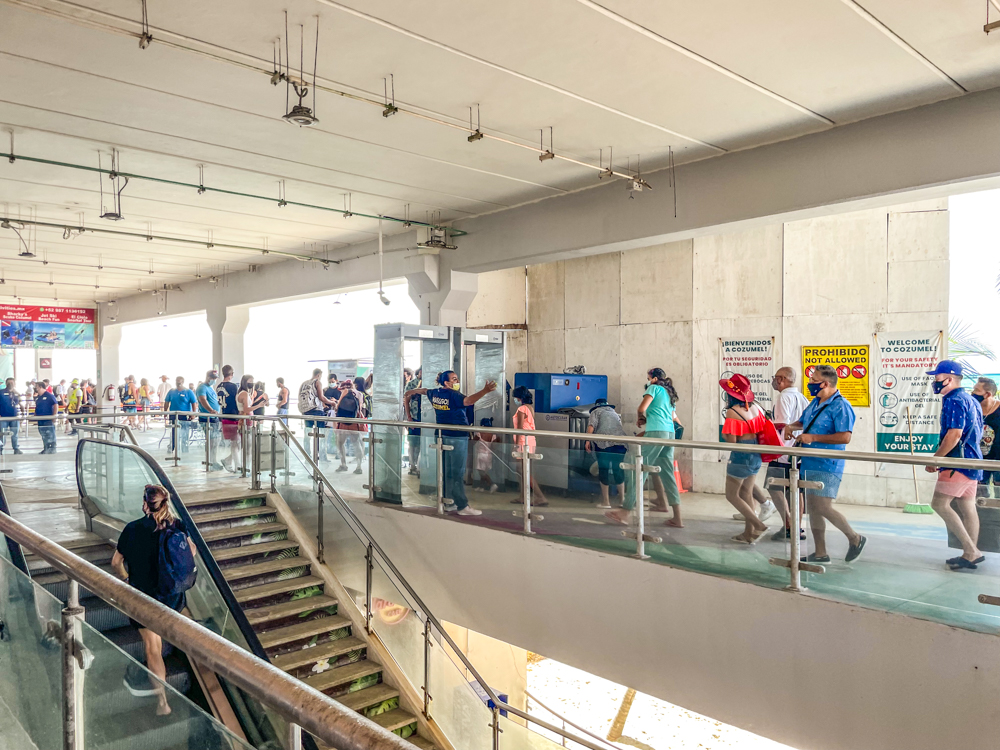 Playa del Carmen's ferry terminal is right in the middle of downtown, about one and a half blocks from the main square and Plaza Playacar. A short walk from the ferry pier are two street-level parking lots and an underground parking garage.
There are kiosks near the ferry pier for both ferry companies. It's not common to make reservations – most people just get on the next boat leaving.
There are one-way and round-trip tickets available. The best thing to do is purchase a one-way ticket and then purchase another one when you are ready to return. This will allow you to avoid waiting around or rushing back to the ferry pier since the two companies run ferries at different times.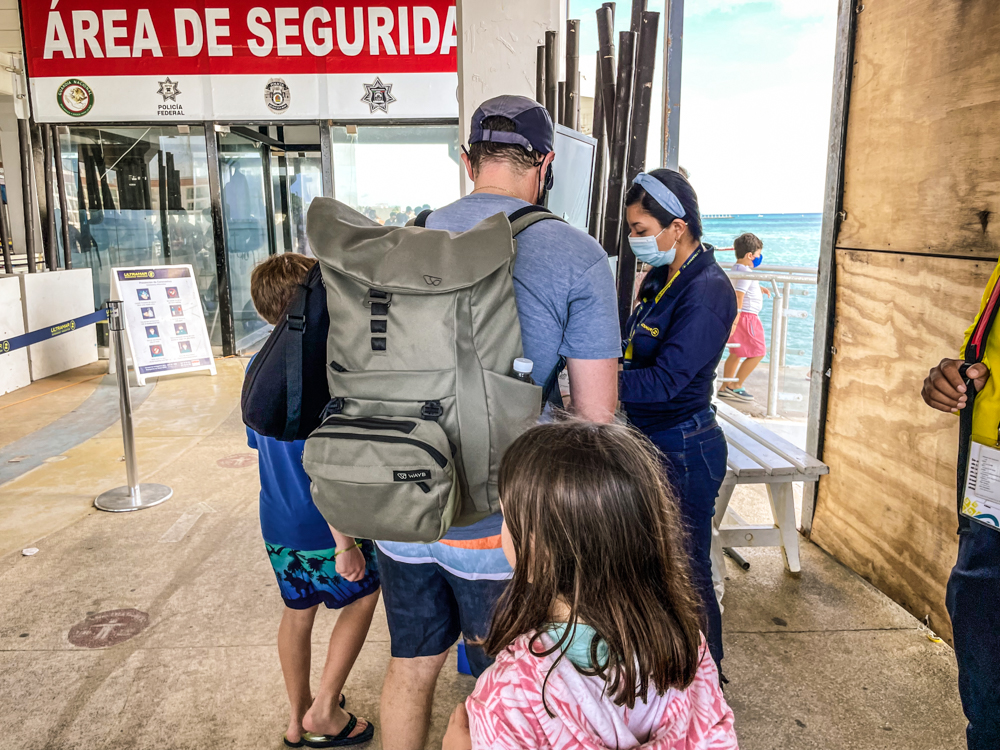 Give yourself ample time to buy tickets and board the Cozumel ferry in Playa del Carmen, especially if you're visiting during peak tourism season. To board our Ultramar ferry, we went through a security line (bag scanning machine + walk-through X-ray as at an airport), up an escalator to a long snaking line of people waiting to show tickets and then back down a ramp to the actual dock. The whole process was efficient but took about 20 minutes from when we arrived at the ferry terminal due to the peak crowds.
Ferry companies servicing Playa del Carmen and Cozumel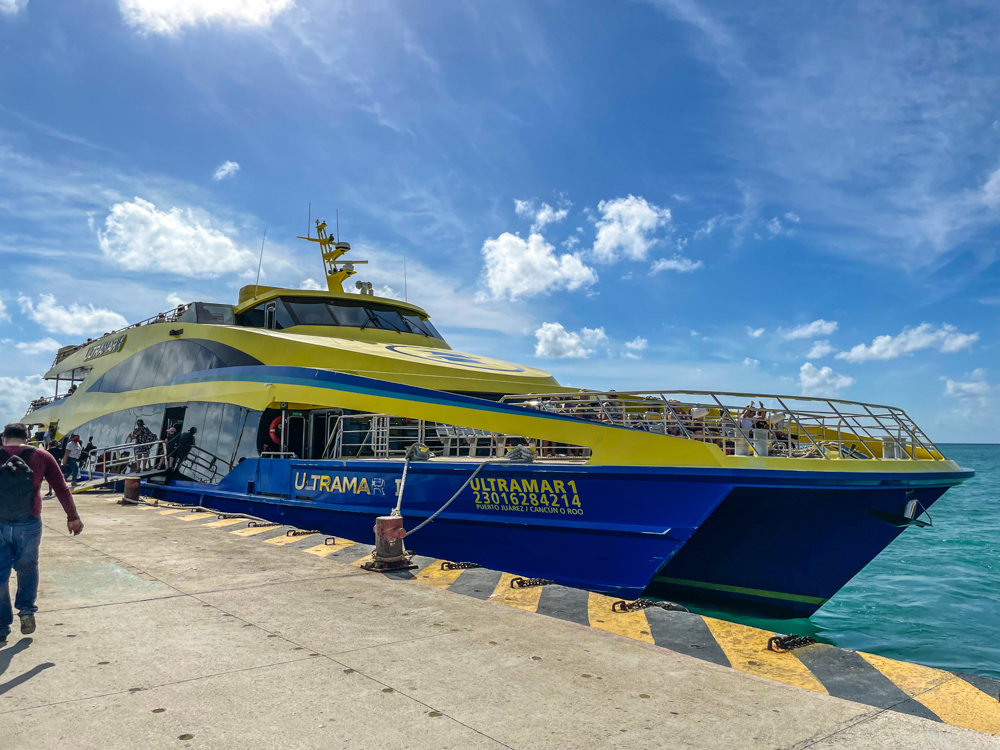 The two ferry companies that have service between Playa del Carmen and Cozumel are Ultramar and Winjet.
Both companies have boats departing Playa Del Carmen between 8:00am and 10:00pm and Cozumel between 7:00am and 10:00pm. Make sure you check their respective websites for seasonal hours or cancellations if you've opted to make a reservation. Again, I'll emphasize the fact that reservations are not necessary!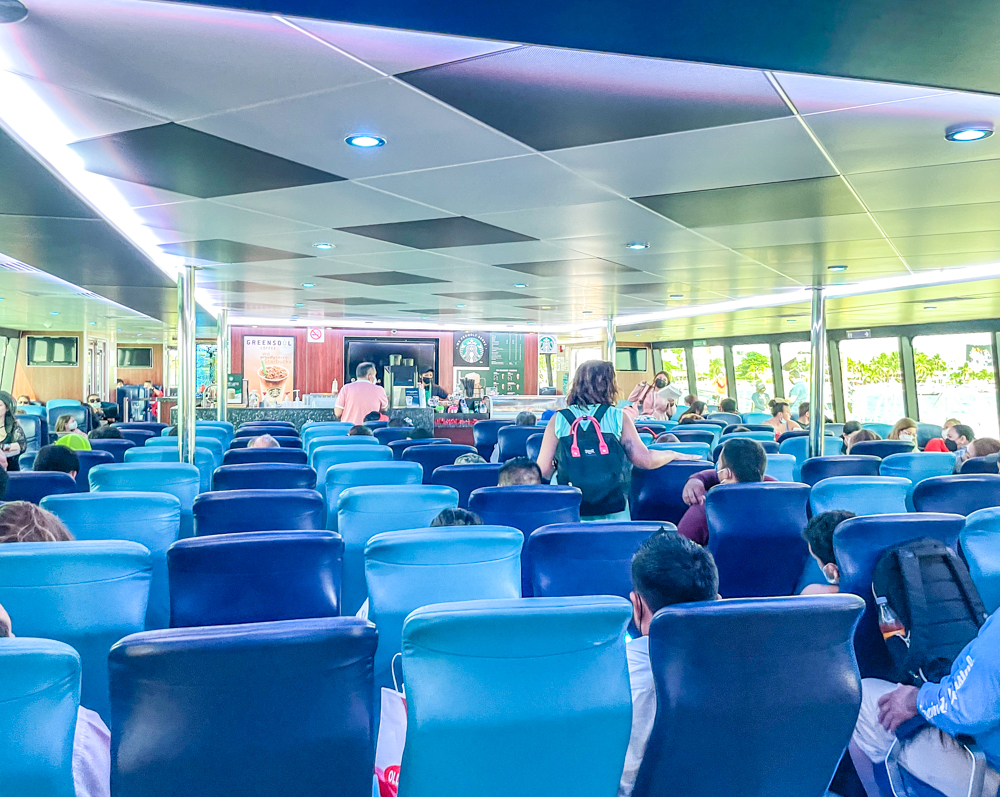 Both ferries are quite similar both in experience and price, so it really just comes down to when the next boat leaves. Food and restrooms are available on both ferry lines as well. The ferry interiors' have air-conditioning, and both have ample deck space to take in the fresh, salty air outside.
Cozumel ferry pier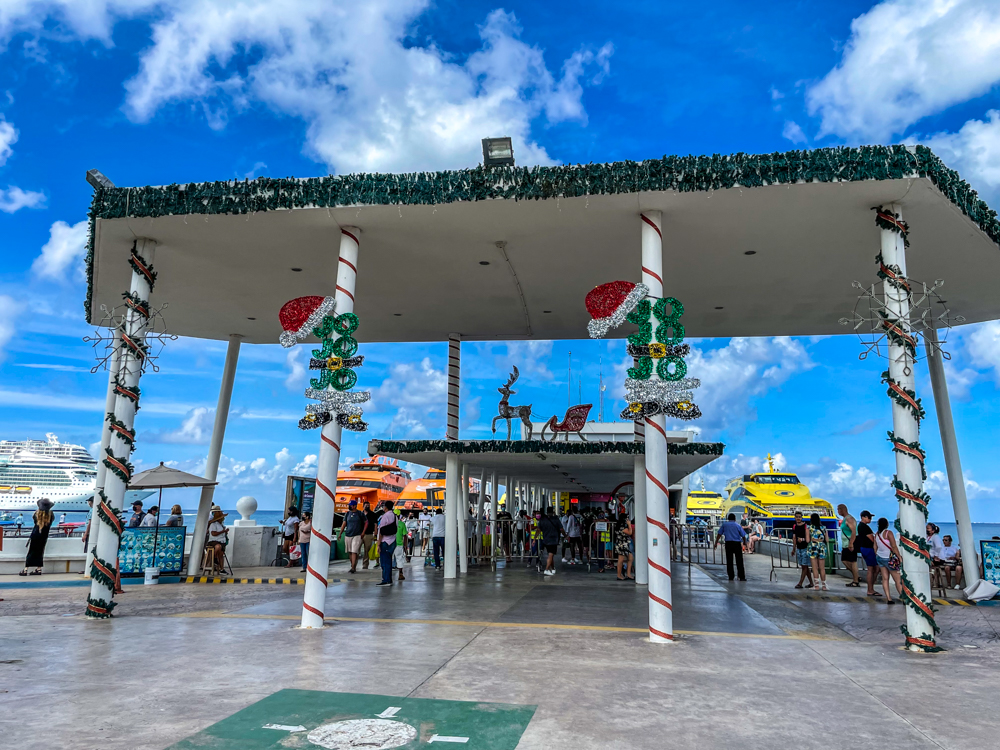 Once your journey to the island has finished, you'll find bathrooms, snacks, taxis, and plenty of tour operators at the Cozumel Ferry Pier. These days there's even a COVID testing kiosk, along with signs notifying visitors that masks are required in public spaces (even outdoors) in the populated parts of the island.
Given the fact that there are so many people offering everything from rental cars to dive tours, it's wise to research different companies beforehand. This is especially true if you want to rent a vehicle. This way, you'll avoid any scams, be able to check reviews, and have an idea of how much things should cost.
For your return journey, you'll again need to allow around 15-20 minutes to buy tickets, run your bag through the security check and go up the escalator to have your ticket scanned.
---
Getting around the island of Cozumel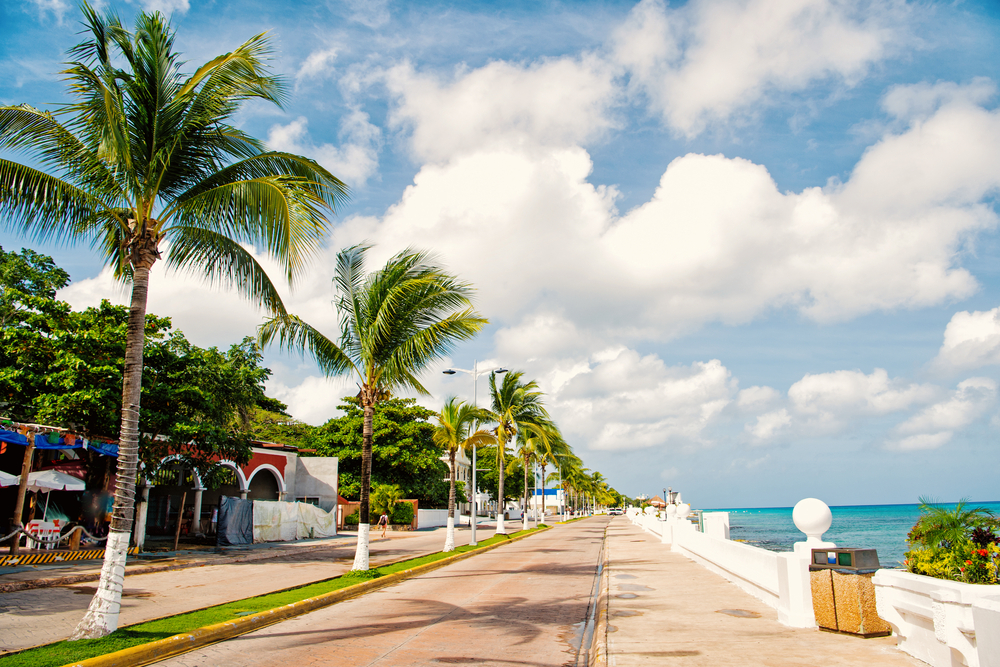 Cozumel may be one of Mexico's largest islands, but most of it is uninhabited. The town of San Miguel in Cozumel is definitely walkable and pedestrian-friendly if you don't want to rent a moped or a car.
If you don't feel like walking or plan on venturing to some more remote areas of the island, car and moped rentals are both widely available. For a car, expect to pay around $50 USD per day for a VW Bug or around $90 USD per day for a Jeep Wrangler.
Moped rentals are available, but I personally would not recommend opting for this unless you're confident on a moped. Traffic in Cozumel has risen considerably alongside moped popularity. Accidents involving motorists with tourists on mopeds are not uncommon.
A moped rental starts at around $30 USD per day and includes a helmet, with insurance being an additional $15.
Taxis are also widely available, and affordable. The rates are set most drives, there is no haggling of ride prices for close destinations. Cozumel's taxi drivers are members of a lucrative union, which makes their jobs very valuable – you're not likely to get ripped off. Almost all of the drivers on Cozumel are bilingual and friendly, and many are also trained tour guides, taking great pride in their island home and showing visitors around.
If you're choosing to visit Punta Sur or another location that's further from San Miguel, it's considered a "tour" rather than a standard taxi ride. That rate is somewhat negotiable in both the price and the number of hours.
---
Things to do in Cozumel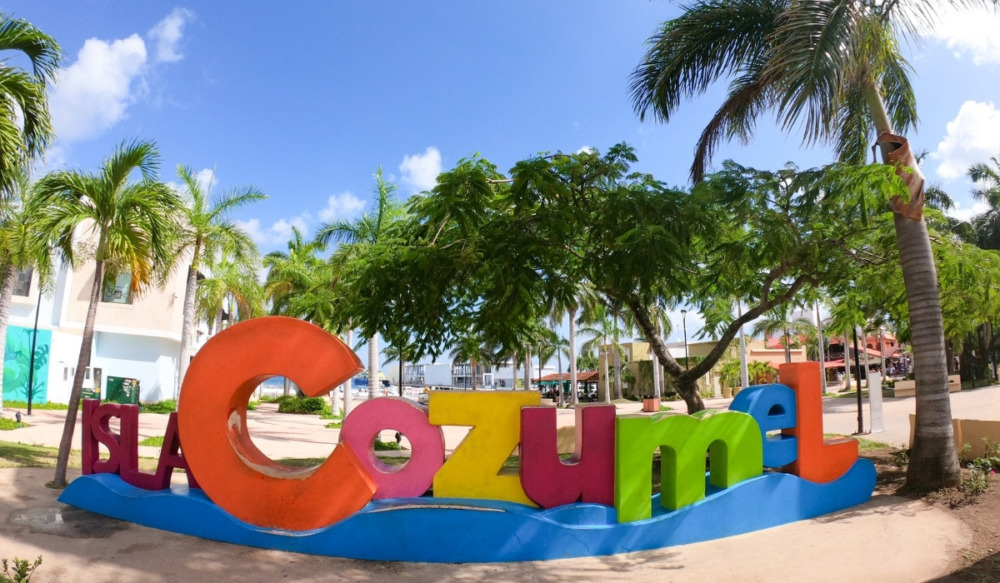 Snorkel or dive
Cozumel is among the top snorkeling and diving destinations in the world, and it's easy to see why.
Among the many underwater attractions are the protected coral reefs, submerged vegetation-covered walls, and drifts, all within minutes of the shore. There are even shipwrecks to explore!
The Cozumel waters are suitable for newly qualified divers and advanced divers alike (this tour is awesome for certified divers, while new divers should sign up for this full day Discovery Dive). PADI drift divers can explore the Santa Rosa Wall. This is a 15-meter wall punctuated by overhangs and ledges populated by sponges, spotted eagle rays, and pelagic fish.
Getting close to parrotfish and butterfly fish is easy in Palancar Garden, which is accessible to snorkelers and divers of all experience levels.
Divers who are open-water certified can get close to sharks off Cozumel between November and March. Snorkeling equipment can be rented on most beaches, but to save money, I suggest bringing your own if you know you'll use it often! This is especially important if you need snorkel gear for kids, as some outfitters will (wrongly) try to give them adult-sized sets.
To see the best of Cozumel when snorkeling, you may want to sign up for this Cozumel snorkel tour.
---
Punta Sur Ecological Park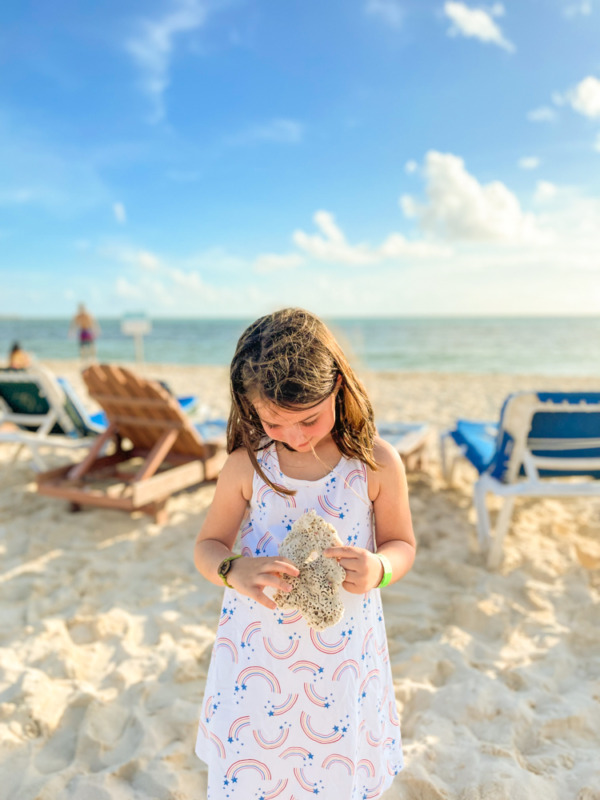 Punta Sur, Cozumel's largest eco-park, is home to a lighthouse, a lagoon and one of the best beaches on the island. Beach goers love to bask in the sun, on the powdery sand with hammocks and cabanas surrounding them, freely dashing into the perfect waters. If you're taking a Playa del Carmen to Cozumel day trip and aren't exactly sure what to do, grab a day pass to Punta Sur for some tranquility.
We opted to head down to Punta Sur and found it to be delightfully empty despite the intense crowds back in Playa del Carmen. It's the perfect way to relax on Cozumel! There are several beach clubs along the water where you can set up camp for the day while you frolic and enjoy food and drinks on the beach. Be sure to bring pesos as "the credit card readers are down" seems to be a common refrain.
If you want to snorkel in Punta Sur, know that it's a pretty far swim to get out to the reef and the surf can sometimes be intense out that far. I swam out there – with no fins and with a 7 year old riding on my back – and didn't see a whole lot. Some snorkelers opt to have a guide paddle them out to the reef and then they hop off to explore; I recommend this option if you're interested in snorkeling at Punta Sur.
Be sure to wear reef-safe sunscreen, and using a rash guard is an even better way to minimize your impact on the delicate reef ecosystem.
If you want to stay busier, you can take a cruise across Laguna Colombia and climb the 135 steps to the top of the Faro de Celarain lighthouse for a spectacular view. See how many crocodiles you can count in the lagoon. Also be sure to keep an eye out for the vultures, pelicans and iguanas that live there in their natural habitat.
On the practical side, we were glad to be escorted there by our driver Edgar. He has spent most of his life on Cozumel and knows the island well. The road within Punta Sur is very rugged but he handled it safely and unflinchingly. We paid $80 US for him to drive us for the day, which included nearly an hour each way to and from from San Miguel and as much time as we wanted to stay at the park.
---
Swim with whale sharks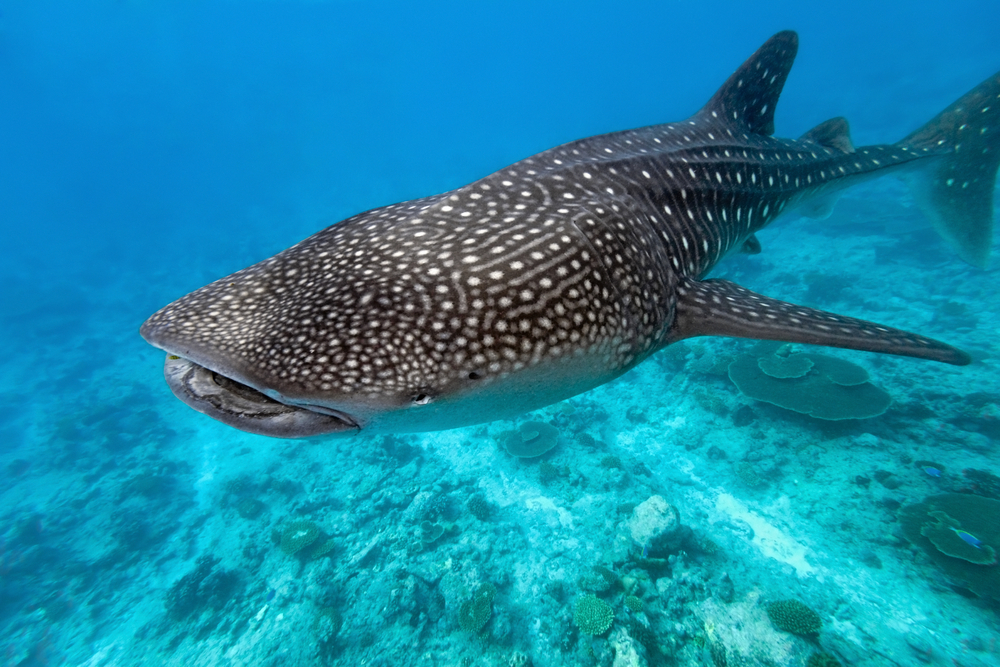 We try to avoid activities that involve commercial animal exploitation. However, swimming with the whale sharks in Cozumel is a minimally invasive, ethical experience if done properly and with the right tour company.
Whale sharks make their way to the waters near Cozumel and Playa del Carmen each year during their annual migration. You can usually book whale shark tours between the months of June – September. Since we visited in December, it wasn't an option for us – this is one thing that's on our Mexico bucket list for a future visit!
Some factors to consider if you're wondering whether or not a prospective tour company gives ethical whale shark encounters include:
Tour operators should not be able to guarantee sightings (this usually means they feed the whales, which is a no-no)
Reef-safe sunscreen should be required
No touching of the whale sharks
Maintain a respectful and safe distance (16 feet or approximately 5 meters)
No flash photography permitted
---
Explore a shipwreck by submarine
You don't want to get wet, but still want to explore under the surface of the water? An underwater submarine tour might be right up your alley. As the submarine descends 100 feet (30m) below the surface, you'll have the opportunity to see incredible marine life, a sunken shipwreck, and even a 400 foot drop-off aptly called The Wall.
This is the perfect activity for those who aren't quite ready for diving, especially if you're visiting Cozumel with kids ages 4+. Just be sure no one in your group is claustrophobic!
Prices at Atlantis Submarine start at $79 USD per adult and $49 per child.
---
Try helmet diving
Take a 'helmet diving tour' with Seatrek to discover the underwater world lying just offshore from Cozumel. During a Seatrek tour in Cozumel, you descend to a depth of 20 – 25 feet wearing a helmet that is connected to a breathing tube. If you're interested in the experience of diving without the training, this may be a great option for you!
Almost like walking on the moon, walking along the seafloor is a unique experience that will make you feel like you're an astronaut.
Prices start at $79 USD.
---
Spend time on the water
One of the best ways to discover the reefs of Cozumel is to take a boat tour. Among the amazing wildlife that you can see on these reefs are manta rays, sea turtles, starfish, puffer fish, moray eels, and turtles.
When the north wind is calm, the seas on this side of the island are calm and many of the tours give snorkeling equipment and allow you to dive right in.
Glass bottom boat tours offer a view of life on Dzul-Ha, Paradise Reef, and Villa Blanca, while sunset cruises complete a dreamy day in paradise, with the option to snorkel if someone in your group wants to. This is a great option for a family trip to Cozumel thanks to the flexibility and affordable pricing!
If you don't want to take a boat tour but still want to explore the island from off-shore? Rent a kayak or paddleboard for a more DIY experience.
---
Check out San Gervasio archeological site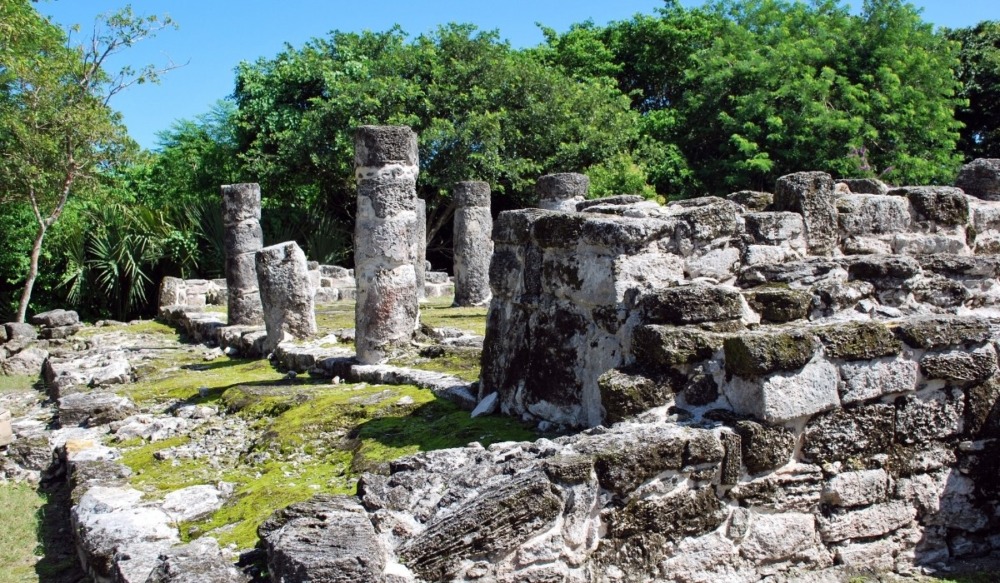 In Cozumel, there are more than beaches and reefs. You can also explore the vestiges of a site of great cultural value to the Mayan people, the San Gervasio ruins. This is among the top choices for people taking a Playa del Carmen to Cozumel day trip.
Dedicated to Ixchel, goddess of childbirth and fertility, the complex dates from around 1,500 years ago in the early-Classic period.
Therefore, all Mayan women were expected to make a pilgrimage to the site and make an offering once in their lifetime.
It's likely that sacrifices took place at Ka'na Nah, the largest structure on the site, while the "Central Plaza" is an ensemble of buildings around an elevated central altar.
The ruins are open daily between 8:00-15:45, and there is a small admission fee of roughly $9.50 USD. The venue has restrooms, a snack bar, free parking, as well as souvenirs for sale.
---
Learn about pearl farming
Since 2012, the family-run Cozumel Pearl Farm has welcomed visitors from around the world. Similar to Isla Pasión nearby, you can only get to this isolated spot in the north by boat. The boats depart from the San Miguel pier.
On average, visitors spend six hours at the farm, meaning this activity would best be left if you've already experienced much of what Cozumel has to offer (or you're really into culturing pearls)! Over the course of your visit, you'll learn how pearls are made, snorkel and relax on the beach, eat and drink, and shop for unique pearl jewelry.
The price includes lunch and drinks ($110 USD for adults). For the ultimate experience, you can stay on a deserted beach the following night, like a castaway. Rates for the overnight experience start at $225 USD per person (adults).
The Cozumel Pearl Farm is open from 10:00-17:00 Monday thru Saturday, closed on Sundays.
---
Experience a Temazcal ceremony
A unique experience in Cozumel is taking part in a Temazcal Mayan ceremony. A Shaman will help you cleanse and purify your body and soul during your journey, making for a very spiritual experience.
Small brick huts are used for these ancient Mayan ceremonies, which are very hot and dark inside. The term temazcal refers to a hut that is filled with intense heat and almost total darkness. After release from the muggy hut, cool off by taking a swim.
Although it is quite intense, it is a one-of-a-kind experience to commemorate your time in Cozumel.
---
Sample exquisite Mayan chocolate
While the Mayan Cacao Company is a typical tourist trap, it is at least educational and stocks local souvenirs and gifts for sale. It's a great activity option for a Playa del Carmen to Cozumel day trip. Plus….. chocolate!
Designed like a Mayan village, this attraction combines an outdoor museum and a chocolate shop that charts the role of cacao in indigenous cuisines.
A Mayan vessel and figurine collection is on display for visitors to see. You'll also find information about the history of cocoa trading routes and videos of cocoa being harvested.
Discover ancient customs and agricultural practices, as well as try a tortilla smothered in typical chocolate sauce.
After the tour, you can sample different chocolate bars and chocolate drinks before buying.
---
Explore San Miguel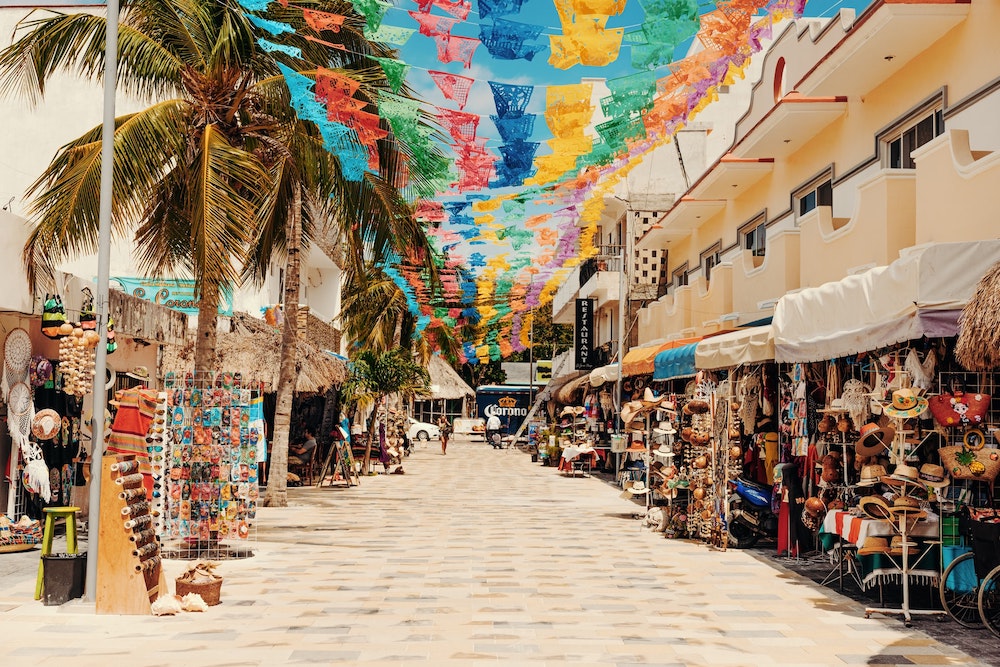 Visit San Miguel, Cozumel's 'capital' and main town, to get a sense of the island's laid back personality. A visitor to Cozumel is almost certain to pass through San Miguel at some point during their visit.
San Miguel offers a number of interesting sights and activities. It is particularly enjoyable to walk along the scenic boardwalk during sunset. If you are interested in snorkeling or scuba diving, there are many dive shops around, or tour operators with which to book an excursion.
Some popular options in San Miguel were at Burritos Gorditos (try a breakfast burrito once you get off the ferry!) and El Amigo Abelardo.
---
Planning your trip to Cozumel & Playa del Carmen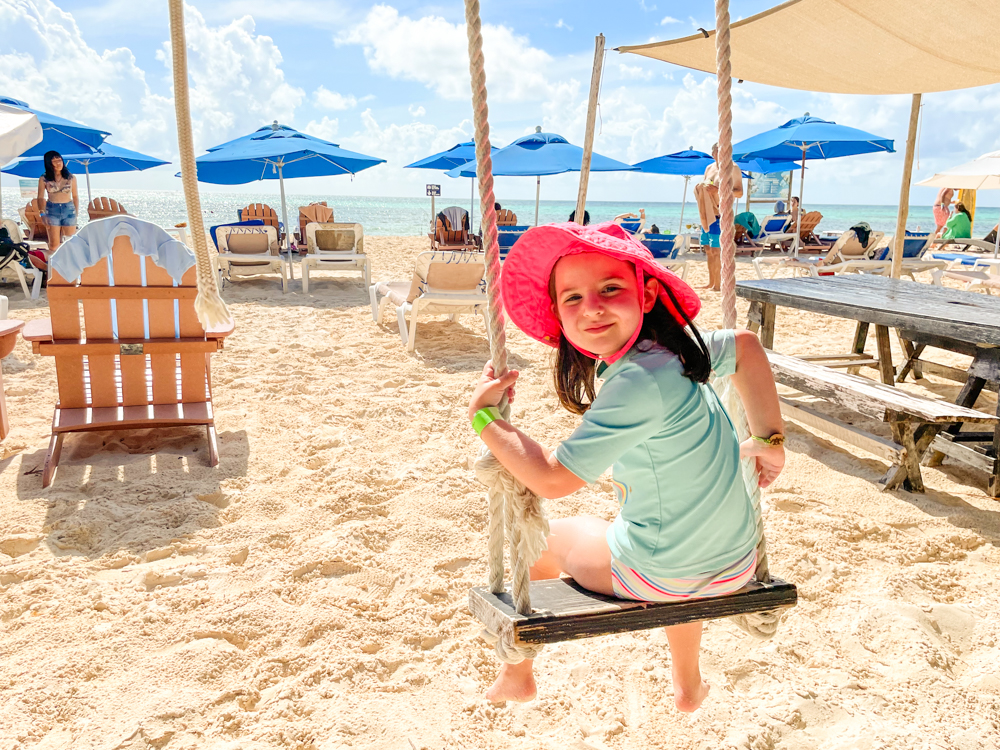 Don't miss these articles as you continue planning your trip to Cozumel and Playa del Carmen: