Trying to decide between Playa del Carmen vs Cancun and other beach towns like Tulum for your family vacation?
Even though Cancun, Playa del Carmen, Tulum, and Costa Mujeres are all pretty close to one another, they are all extremely different and each offers a unique experience.
If you're wondering whether to visit Playa del Carmen vs Cancun or other destinations in the region, here are's our guide on how to choose the best spot for your family depending on your interests, travel style, and budget. After reading this article you'll have a better handle on which Cancun & Riviera Maya resort areas are right for your family!
Playa del Carmen vs Cancun vs Tulum vs Costa Mujeres: Pros and Cons of Each
Pros and Cons of Cancun for Families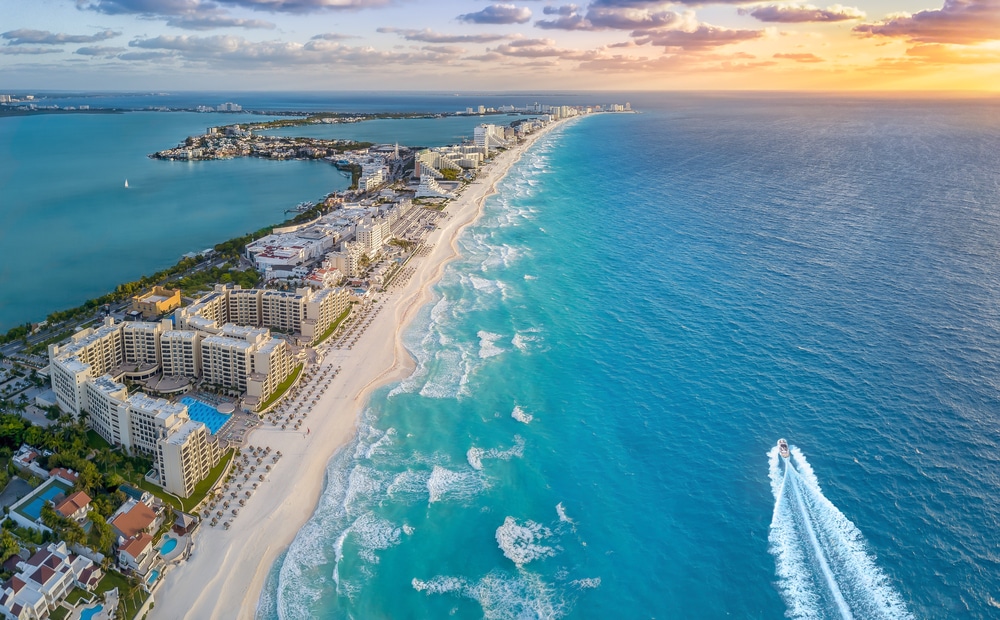 Cancun is one of the best places to visit in Mexico for families, especially if what you're after is to be in the middle of the action and have access to major attractions and tours.
Pros:
Beaches: Cancun has some of the most beautiful beaches in the area and also offers lots of them, so you'll be spoiled for choice when it comes to choosing where to spend your beach day.
Activities: The list of activities and things to do in Cancun is pretty much endless, so you can plan an action-packed itinerary.
All-Inclusive Resorts: Cancun has many all-inclusive resorts that offer meals, drinks, and activities all included in the price. This makes it great if you want to plan a family vacation where you don't have to stress at all.
Shopping: Cancun has many shopping options, from luxury malls to local markets. You can find everything from souvenirs to high-end fashion.
Cons:
Crowds: Cancun is a popular destination, which means it can get crowded. This can make it difficult to find a spot on the beach or to enjoy some of the activities.
Nightlife: Cancun is known for its nightlife, which may not be suitable for families with young children. Some areas can get loud and rowdy, especially during spring break. Still, if you choose the right place to stay, this should not be a huge issue.
Cost: While there are all-inclusive resorts that make it easy to budget, Cancun can be an expensive destination. Activities and dining out can add up quickly.
Where to stay in Cancun with kids
Hyatt Ziva Cancun
One of the most popular Cancun all-inclusive resorts is Hyatt Ziva Cancun, located in the Hotel Zone. It's extremely well-regarded and offers a great balance of beach and pool, along with evening entertainment and 17 restaurants. With around 550 rooms, this is a little larger than Moon Palace The Grand.
The real "trick" with Hyatt Ziva Cancun is that so many guests don't pay for it. The key is to grab a Chase Sapphire credit card or a Chase Ink Business preferred credit card and transfer the sign-up bonuses to Hyatt. Rooms range from 21,000-29,000 for two people, and if you're a family you can book two rooms, pay the occupancy supplement with points or call and pay the occupancy supplement with cash.
Read more: Looking for the Best Credit Cards for Family Travel? Check These Choices
Moon Palace The Grand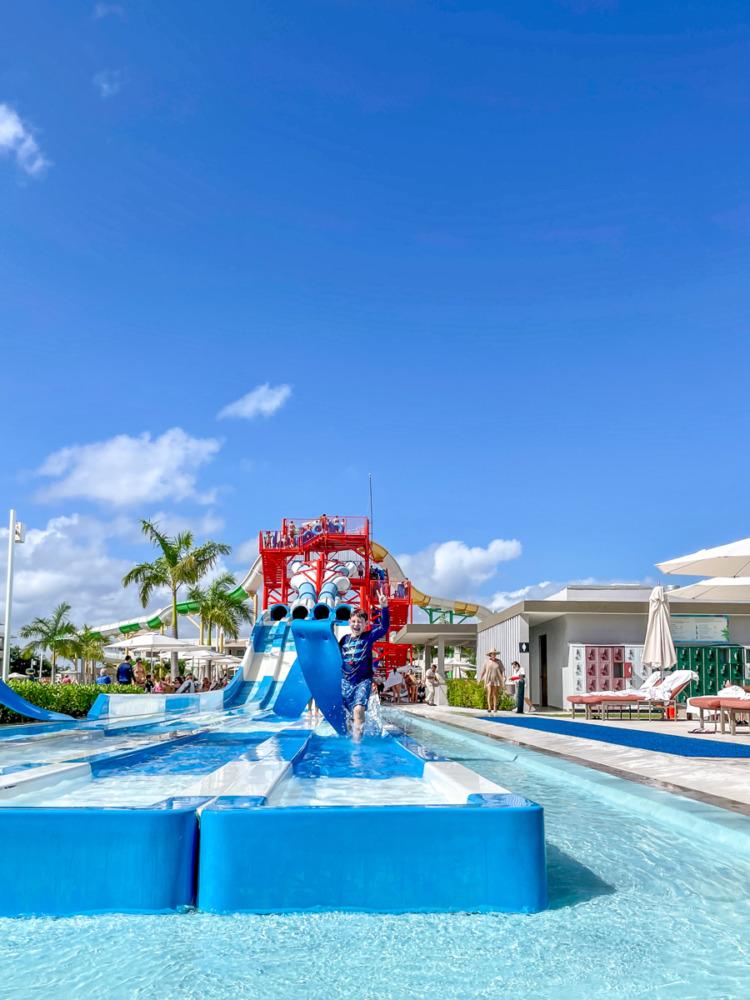 We stayed next door at the "regular" Moon Palace (full review here) but the real joy for a trip to Cancun with kids is at Moon Palace The Grand. It has tons of great restaurants to choose from and a full water park on site! Thanks to its proximity to the Cancun airport, this is an ideal choice if you want to stay at your resort the entire time.
Keep your eyes peeled, as Palace Resorts often runs "kids stay free" deals that can offer huge savings for families.
---
Pros and Cons of Playa del Carmen for Families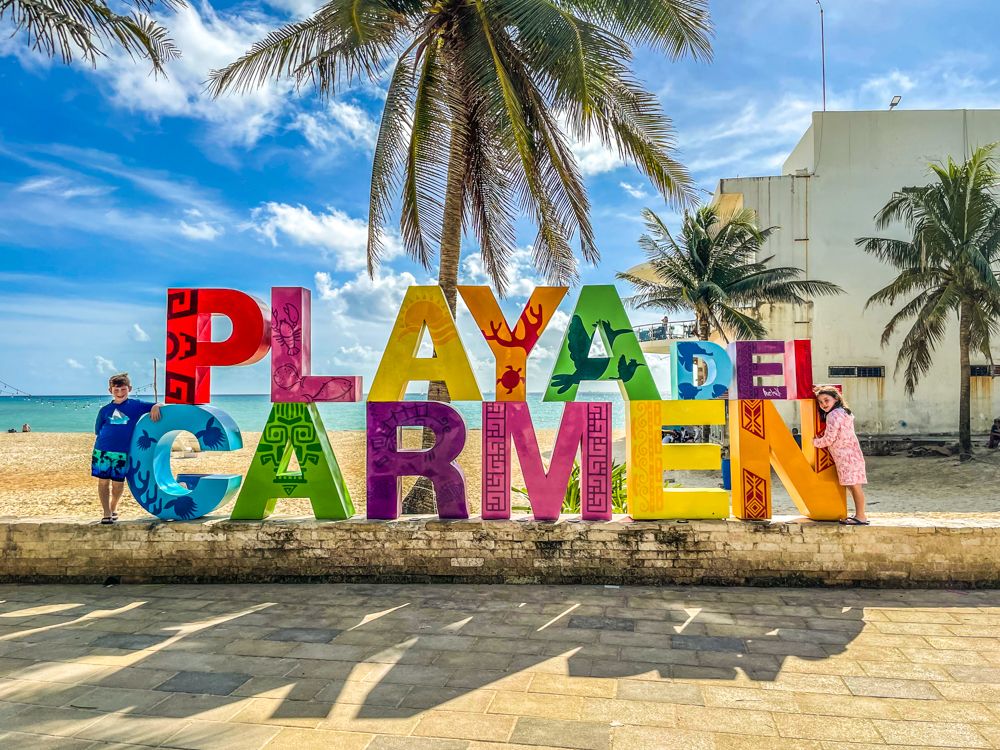 Playa del Carmen is a great destination for families who are looking for a relaxed, affordable vacation with plenty of activities and attractions.
While it may not have as many all-inclusive resorts or dining options as Cancun, it makes up for it with its beautiful beaches and family-friendly atmosphere. If a quiet vacation is what you're after, Playa del Carmen is definitely the go-to if you're trying to decide between Playa del Carmen vs Cancun.
Pros
Family-friendly atmosphere: Playa del Carmen is known for its laid-back, family-friendly vibe. You'll find plenty of activities and attractions that are suitable for children of all ages, from beach days to water parks to cultural experiences.
Mix of city and beach experience: It's easy to walk around the city in Playa del Carmen to enjoy shopping and dining options.
Convenient location: Playa del Carmen is located in the heart of the Riviera Maya, making it easy to explore other nearby destinations like Tulum, Cozumel, and Cancun.
Affordable: Compared to other destinations in Mexico like Cancun, Playa del Carmen is relatively affordable. You can find plenty of budget-friendly accommodations, restaurants, and activities that won't break the bank.
Beautiful beaches: Playa del Carmen is home to some of the most beautiful beaches in Mexico, with crystal-clear waters and soft, white sand. There are plenty of beach clubs and restaurants where you can relax and soak up the sun.
Cons
Crowded: Playa del Carmen is a popular tourist destination, which means it can get crowded, especially during peak travel seasons. If you're looking for a super quiet and, secluded vacation, Playa del Carmen may not be the best choice.
Limited all-inclusive options: Unlike Cancun, Playa del Carmen doesn't have as many all-inclusive resorts. If you prefer the convenience of having all of your meals and drinks included in your vacation package, you may need to do some extra research to find the right option for your family. As a tip, look into the PlayaCar area for all-inclusive resorts near Playa del Carmen.
Where to stay in Playa del Carmen
Grand Hyatt Playa del Carmen
If you want to stay in the heart of Playa del Carmen and enjoy a mix of beach and city activities, consider the Grand Hyatt Playa del Carmen. It's right on the beach and a quick walk to the ferry for a day trip to Cozumel. For some adults-only time, there's a kids club available as well. You can opt for a Club Level room to get free breakfast and evening hors d'oeuvres or spend your visit hopping through the many great choices nearby.
Like the Ziva above, many families use the sign up bonus from a Chase Sapphire credit card or a Chase Ink Business Preferred credit card to cover their hotel stay after transfering. the points to Hyatt. Those award stays also don't have to pay for the resort fee, which is a huge perk! Each night costs 21,000 to 29,000 but thankfully rooms accommodate 2 adults and 2 kids without any extra fee.
Mahekal Beach Resort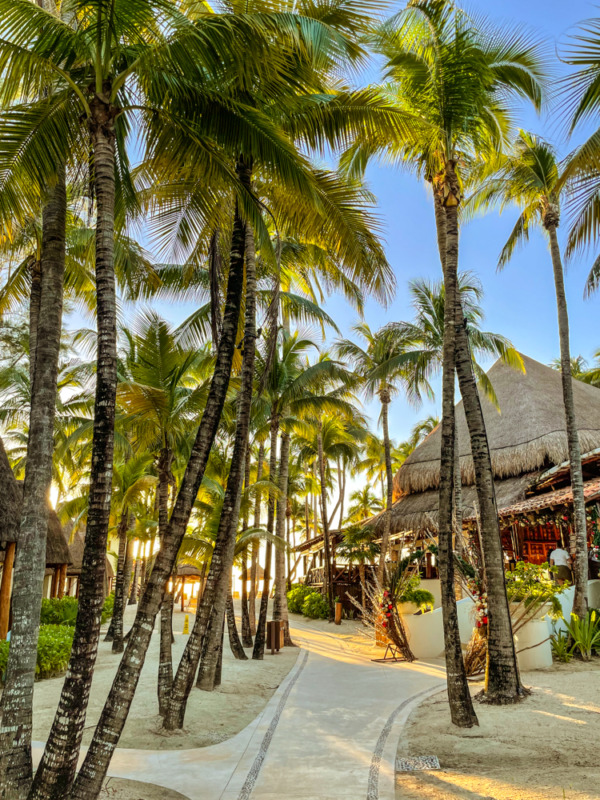 If the thought of being around so many people gives you the hives or you're a more DIY type of traveler tying to balance resort life with exploring, consider Mahekal Beach Resort in Playa del Carmen. It only has around 200 rooms and you won't find water parks, kids clubs or dozens of dining options – it's not the right choice for everyone.
But you will find a laid-back atmosphere, attentive service and a price tag that doesn't require a second mortgage. The photo above was taken about a 60 second walk from our room (in the least expensive category) and I had already arrived at the restaurant for my morning coffee before walking another 15 seconds to the beach. You can read my full Mahekal Beach Resort review for tons of information.
We visited Mahekal in December 2021 and had a fantastic experience. The location made it easy to explore all of the fun things to do in Playa del Carmen. We even rented a car while we were there – be sure to read these tips.
Hotel Xcaret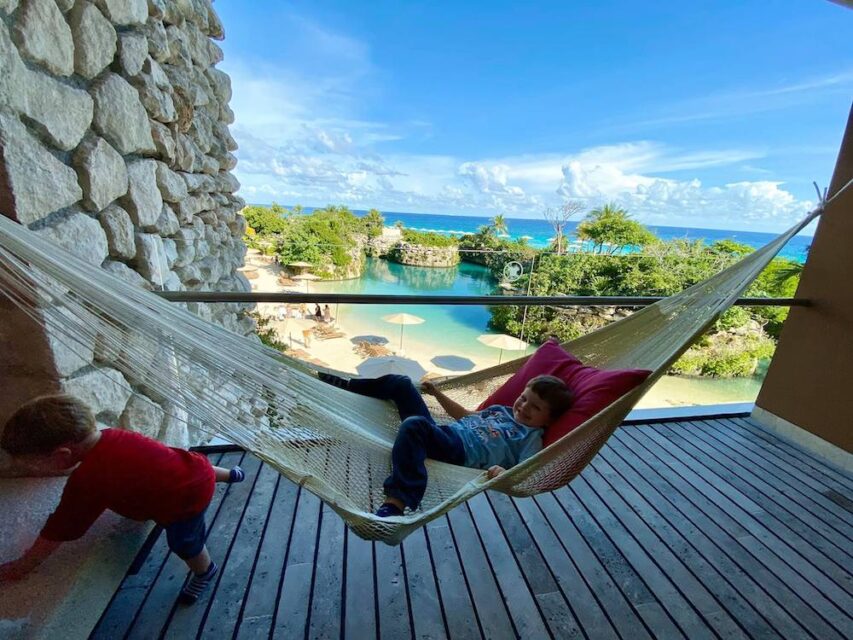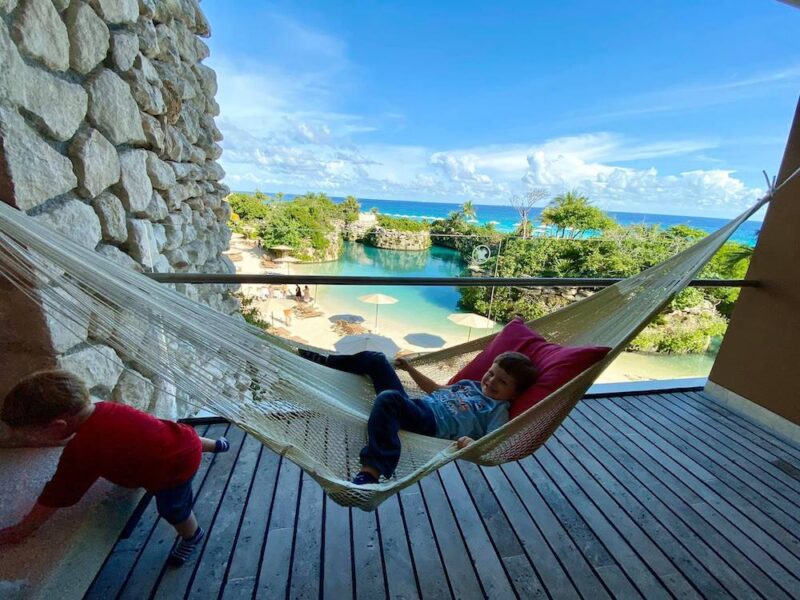 One of the most unique options around Playa del Carmen is Hotel Xcaret. This wonderful resort offers a great on-site experience and unlimited access to all of the Xcaret parks. While the price tag is high, it's an action-packed couple of days for families with school age kids and older. You can read our contributor Jordan's detailed Hotel Xcaret review after her family's visit.
---
Pros and Cons of Tulum for Families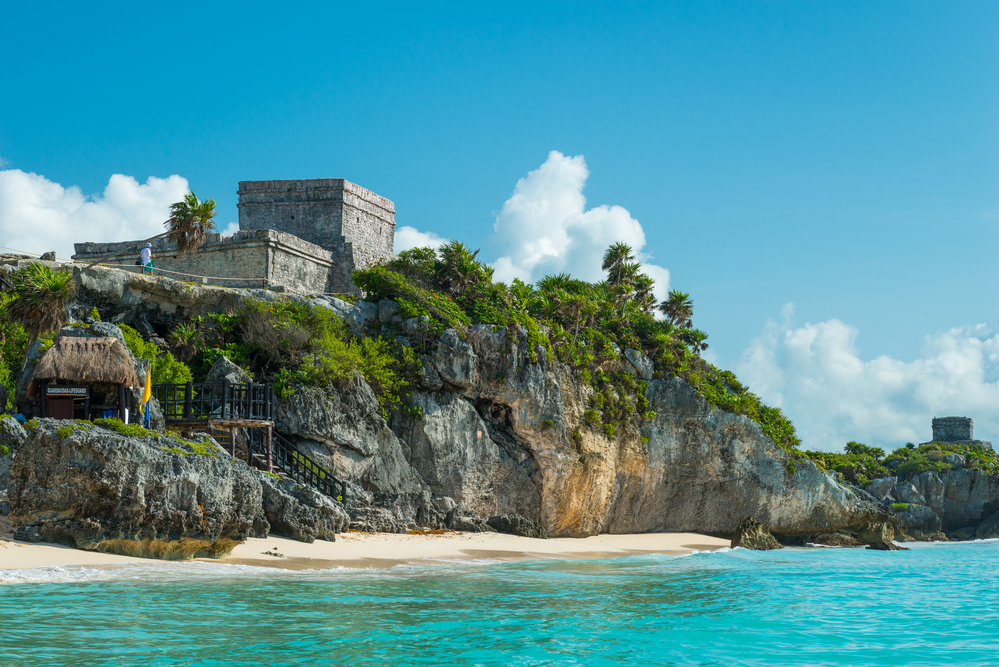 Tulum has always been known for its boho chic vibes and eco-friendly atmosphere. In recent years, it has become a destination that caters more to adults. You'll still find plenty of hotels and activities that cater to kids, but we usually think it's best for a romantic vacation with your partner or a girls' getaway.
Pros:
Beautiful beaches: Tulum is known for its stunning beaches with crystal-clear waters and soft white sand but keep in mind that sargassum (seaweed) is particularly bad here during certain times of the year.
Eco-friendly: You'll find many eco-friendly hotels and restaurants that use organic and locally sourced ingredients.
Cultural attractions: Tulum has many cultural attractions, including the Tulum Ruins, which are some of the best-preserved Mayan ruins in Mexico. You can also visit the Sian Ka'an Biosphere Reserve and adjacent Muyil ruins, a UNESCO World Heritage Site.
Cons:
Limited activities: While Tulum is a great destination for relaxation, it may not be the best choice for families who want a lot of activities and entertainment in town. You will still find plenty, but these days, Tulum is more of a place that caters to adults rather than kids.
Higher prices: Tulum is a more expensive destination than some other places in Mexico. You may find that prices for food, accommodations, and activities are higher than you expected.
Limited accessibility: Tulum is located about 90 minutes south of Cancun, which means that it may not be as accessible as other destinations. You'll need to drive there, take a taxi, or a bus to get there once you land at Cancun airport.
Tricky layout: The town of Tulum (and its lush jungle surroundings) sits atop a high bluff and is a nearly 2 mile walk from Tulum Beach. While you can get a nice balance of town/culture and beach/relaxation, you'll need to plan for the logistics.
Where to stay in Tulum with kids
Ikal Hotel Tulum
For a boutique beach hotel in Tulum, try the tiny Ikal Hotel Tulum. It's located on the beach, but set back against the jungle and technically in the archeological zone! Ikal was conceived as a wellness retreat but it welcomes the entire family: on weekends they have kid-focused activities like yoga, music and more.
Ikal offers a 2-bedroom bungalow for families (book this early if you want it, though it may be cheaper to book two 1-bedroom bungalows instead). Breakfast and bike rentals are both available, though breakfast isn't included in the basic room rate. Thankfully the 2-bedroom bungalow is fully-equipped with a refrigerator, stove and dining area.
Hilton Tulum Riviera Maya
If you're more concerned with r&r but still want access to the Tulum ruins and vibe, Hilton Tulum Riviera Maya All-Inclusive Resort is a good compromise. It's a fun, family-friendly Tulum all-inclusive just north of town with pools, beach, activities, restaurants and everything else you could want… while still being close enough to explore Tulum Mayan ruins (and avoid the Tulum party scene, if that's your preference.
It also has the Family Zone spaces to keep visitors of all ages entertained! There's a Kids Club for ages 4-12 that offers a beautiful indoor space for art, games and other activities plus its own splash zone and playground. The Teen Club has a movie room, ping pong, video games and more.
---
Pros and Cons of Costa Mujeres for Families
Costa Mujeres is a bit of a new location that lies just north of Cancun and offers a peaceful retreat from the bustle and hustle of the city. The town is surrounded by quiet beaches and lush greenery that create an incredibly calm atmosphere perfect to relax in, all while still having the main attractions of Cancun just a stone's throw away.
Pros:
Beautiful beaches: Costa Mujeres is known for its stunning white sand beaches and crystal clear waters. It's a great spot for swimming, snorkeling, and other water activities. Since it's protected by Isla Mujeres, sargassum isn't nearly as much of a problem.
Family-friendly resorts: Many of the resorts in Costa Mujeres cater specifically to families, offering activities and amenities for kids of all ages.
Less crowded: Compared to Cancun or Playa del Carmen, Costa Mujeres is a quieter and less crowded destination. This can be great for families who want to avoid the hustle and bustle of more touristy areas.
Close to attractions: While Costa Mujeres itself is a relatively small area, it's located close to many popular attractions such as Isla Mujeres. The hotel zone of Cancun is also close by, so you will get lots of quiet time while still being close to the major things to do in the area. This excellent snorkeling tour is right nearby!
Cons:
Limited dining options: While there are some great restaurants in Costa Mujeres, the selection is more limited than in other areas. If you're a foodie, you might find yourself wanting to venture out to nearby towns for more options.
Limited shopping: Similar to dining options, there are fewer shopping options in Costa Mujeres compared to other areas. If you're looking for a shopping spree, you might want to consider staying elsewhere.
Where to stay in Costa Mujeres with kids
Finest Playa Mujeres
Everyone loves Finest Playa Mujeres! It's a top-notch all-inclusive with 450 huge rooms – they start at 750 square feet and go up from there – and nearly a dozen pools. The kids' pool has a water play area that mimics features found at Chichen Itza as a nod to local history.
There are actually three different kids clubs: Mini (up to age 6), Maxi (7-11) and Teens (12-15). They also offer childcare during breakfast and dinner in case you want to have a "date" while you're there. Finest is a great opportunity for everyone in the family to get some true relaxation.
Dreams Playa Mujeres
If you want a luxury Mexico vacation on a budget, look closely at Dreams Playa Mujeres. The rooms are just a hair smaller than Finest, starting at 600 square feet, and the whole property is plenty gorgeous. It also boasts several huge water slides and a smaller kids water structure, plus a lazy river.
What makes this a budget-friendly Mexico resort? Like the Hyatt Ziva, Dreams resorts can now be booked through Hyatt! You'll want to open a Chase Sapphire credit card to get the sign-up bonus and then transfer it to Hyatt to cover several nights for free. If you are traveling with two adults who live at the same address, you can each open that card and then pool your points! Be sure to book early, as award dates are limited.
---
Playa del Carmen vs Cancun: Which one is better for families?
Here are some factors to consider when deciding between Playa del Carmen vs Cancun:
If you're looking for a quieter, more relaxed beach experience, Playa del Carmen might be the better choice for your family. Both Playa del Carmen and Cancun have beautiful beaches with crystal-clear waters and soft sand. However, Cancun's beaches are more crowded and touristy, while Playa del Carmen offers a more laid-back atmosphere.
When it comes to activities, Cancun has a plethora of family-friendly activities available, including water parks, snorkeling, zip-lining, and more. Playa del Carmen also offers a variety of activities and is better located for many day trips, including exploring Mayan ruins and visiting eco-parks like XCARET. Both destinations have something for everyone, so it really depends on your family's interests.
When it comes to prices, Cancun tends to be more expensive overall, so if you're on a tight budget, Playa del Carmen might be the more affordable option.
---
Costa Mujeres vs Cancun: Which one is better?
One of the main draws of both Costa Mujeres and Cancun is their stunning beaches. Costa Mujeres is known for its pristine white sand beaches and crystal-clear water. The beaches in Costa Mujeres are less crowded than those in Cancun, making it a great option if you want a more relaxed atmosphere. Costa Mujeres also has much less seaweed!
Cancun, on the other hand, has a wider variety of beaches. Some are more crowded and lively, while others are quieter and more secluded. If you're looking for a beach with lots of activities and amenities, Cancun is the better choice.
Both Costa Mujeres and Cancun offer plenty of activities for families. Because they're so close to each other, the activities and tours available are very similar. Cancun does have a lot more dining options as well as shopping malls, though!
When it comes to hotels, both Costa Mujeres and Cancun have a wide variety of choices. In Costa Mujeres, you'll find several all-inclusive resorts that cater to families. Cancun also has a great selection of all-inclusive resorts, as well as hotels and vacation rentals.
---
Playa del Carmen vs Costa Mujeres: Which one is better for families?
Playa del Carmen is known for its bustling yet laid-back atmosphere, while Costa Mujeres offers a more laid-back experience. If you're looking for a family-friendly destination that's still lively and fun, Playa del Carmen might be the better choice for you. However, if you're looking for a quieter, more relaxing vacation, Costa Mujeres might be a better fit.
In terms of activities, both destinations offer plenty of options for families. Playa del Carmen has a wide variety of water sports, including snorkeling, scuba diving, and parasailing. There are also plenty of family-friendly attractions nearby, such as the Xcaret eco-park, where you can explore underground rivers and experience cultural performances.
Alternatively, Costa Mujeres is known for its pristine beaches and crystal-clear waters. If your family loves spending time on the beach, Costa Mujeres might be the better choice for you. Costa Mujeres is a newer destination, but there are still plenty of options for where to stay for families, including all-inclusive resorts and boutique hotels.
---
FAQs
Is Cancun and Riviera Maya the same thing?
Cancun is a major city at the eastern tip of the Yucatan Peninsula, and the Cancun area broadly includes Costa Mujeres to the north.

Riviera Maya begins south of Cancun in Puerto Morelos, extending all the way past Tulum to Sian Ka'an bioreserve.
Is it better to go to Cancun or Riviera Maya?
Which area is better depends on your needs, timing and budget! If you're taking a quick trip, it's better to stay in or very near Cancun, while travelers seeing to escape the crowds often prefer Riviera Maya.
---
Planning your trip to Mexico with kids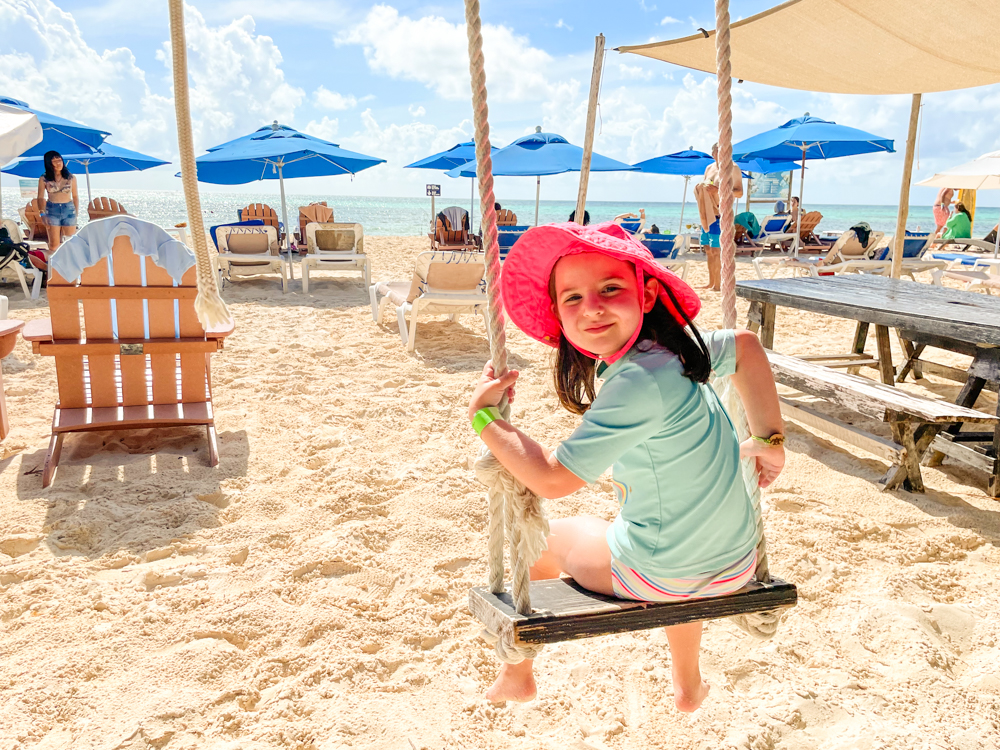 Don't miss these helpful articles as you plan your family trip to Mexico: