Many people are intimidated by the idea of renting a car in Mexico, but I'm here to tell you that it can be a great experience and you don't have to be afraid of it!
During our recent trip we had a rental car in Mexico for about half of our time and we really appreciated the flexibility to get out and explore away from the major resorts. However, it's important that you go into it with eyes wide open and armed with an understanding of what to expect.
That's why I've asked my fellow travel blogger and fellow Melissa to share her best tips for renting a car in Mexico. Though British-born, she has traveled the world and now lives in Mérida where she writes Mexico Travel Secrets. Below she shares Mexico rental car tips as well as must-read tips for driving in Mexico to have a fun and safe trip. You won't want to miss this info on car hire in Mexico!
---
Renting a car in Mexico is a great way to get around during your Mexico itinerary. Opting to do so gives you a lot more freedom and flexibility than depending on public transport, which often leaves a lot to be desired even in the more touristic parts of the country.
When you mention to people that you plan on renting a car in Mexico, you are often met with concerned looks and comments. But driving here is not as daunting as it may sound!
Road rules are in place here, just like anywhere else in the world. Ultimately, you may find that driving a rental car in Mexico is not all that different to driving in your home country. I've divided this guide into two main sections: tips for renting a car in Mexico (including arranging your rental, Mexico rental car insurance questions and more) and actually getting on the road and driving in Mexico on vacation.
The best way to have a positive experience driving yourself in Mexico is to go in with a full understanding of what to expect. Be sure to read through this article to make sure you're prepared!
Tips for Renting a Car in Mexico
Several reputable international rental firms operate in Mexico including Europ, Avis and Rent-a-Car. You can use comparison websites to review the different deals and prices available, but generally speaking it is better to go with a well-known global brand as opposed to a small, independent rental company.
You should expect to pay around $30-$40 a day for your rental including full-coverage insurance.
As you browse around various rental booking platforms, you may find deals for as little as $5 a day. If something seems to good to be true, it usually is. Once the mandatory insurance is added, that cheap car rental in Mexico will be priced just a little less than in the US.
RentalCars.com is a great platform for arranging your Mexico rental car because you can see the details of each car that's available and customer ratings for the rental agency. Expedia also offers excellent deals from reputable suppliers.
Another option to consider is joining AARP. The membership costs about as much as a Starbucks run but can save you up to 30% on rental car rates (in addition to discounts on some hotels)! Surprisingly, you don't have to be a senior or retired to join AARP.
Should you rent a car in Mexico?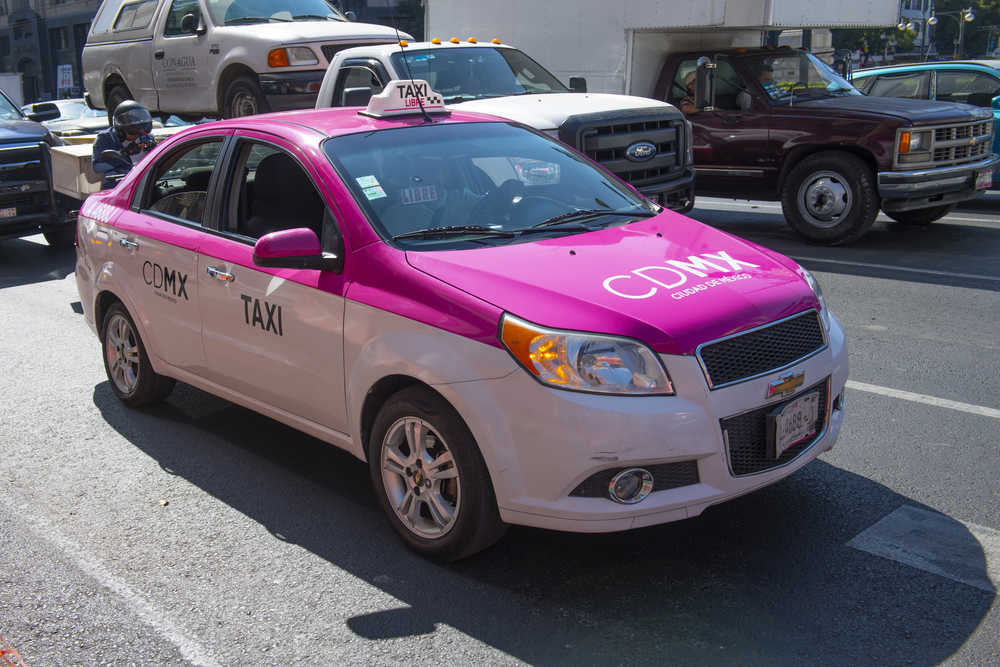 Whether or not to rent a car in Mexico depends on your vacation plans. If you're expecting to sit by the beach at a resort the whole time or you'll be in a big city like Mexico City, you can probably skip the rental car and get around with taxis or on foot. Mexico City even has an extensive metro system that's incredibly popular and affordable.
That said, there are many wonderful day trips within an hour or two of the major populated areas and exploring them on your own with a rental car can be a much more liberating experience than going on a huge tour bus. For instance, you can stay near Chichen Itza to arrive as soon as it opens and have the whole place to yourself before the tour buses arrive from the coast. You also have the flexibility to spend a few days in a smaller city like Valladolid to use it as a base for exploring special places like Rio Lagartos. If you hire a car in Mexico, you can also easily combine two experiences of your choosing rather than relying on a pre-determined tour itinerary.
Renting a car in Mexico doesn't have to be an "all or nothing" choice. For instance, if you're planning a 10 day trip to the Yucatan Peninsula you can easily spend the first few days relaxing at a resort in Playa del Carmen, taking a day trip to Cozumel and exploring Xcaret Park before renting a car in town to go explore further from town and make your way inland.
Understand the basic requirements of renting a car in Mexico
There are a few basic requirements that you must meet if you want to rent a car in Mexico. You must be aged between 21 and 75 and have a full drivers license in your home country.
Some rental companies require you to be aged 25 and above so do read the fine print. If you are between 21 and 25, you may be charged a premium for the rental for almost every Mexico car hire.
If your drivers license is written in the Latin alphabet (i.e. this one), you do not need to obtain an International Driving permit and you can simply use your license from your home country. This includes American, Australian, Canadian, British, New Zealand and most European driving licenses.
If your drivers license is written in another alphabet (e.g. Cyrilic, Hebrew, Korean, Japanese, etc), you must obtain an International Driving Permit. The process for acquiring one varies depending on your home country so do research this well in advance of your trip.
Consider your collection and drop-off point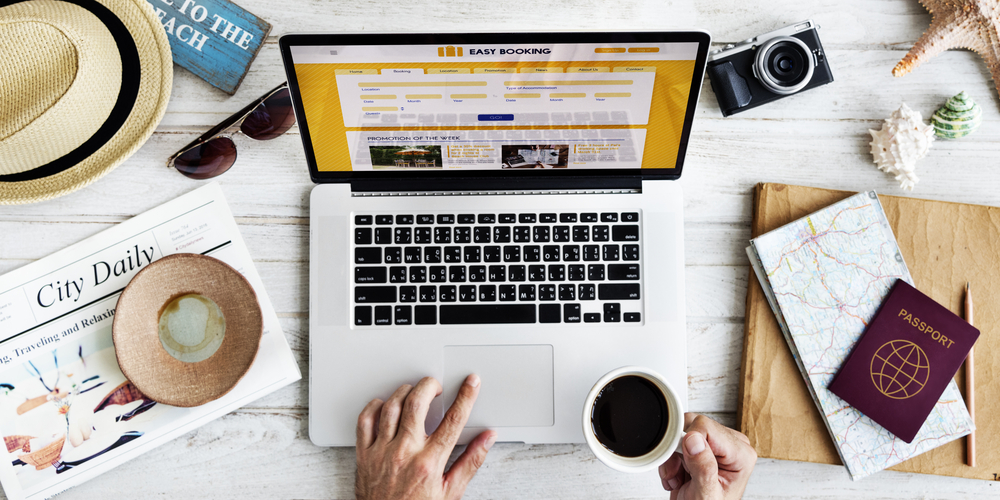 Think carefully about the collection and drop off point for your vehicle based on your itinerary. One-way car rentals in Mexico (i.e. picking up your vehicle in one city and returning it to another) usually work out far more expensive than collecting and returning your vehicle to one place.

Similarly, it is usually more expensive to pick up the vehicle from the airport than it is in the town. This may be a marginal difference or it may equate to quite a lot.
Play around with the RentalCars booking tool to see what works out more convenient and economical for you. For instance, if you are flying into Cancun, you may find that it is much cheaper to take a shuttle to your hotel and then pick up your rental car from downtown Cancun rather than from the airport.
Note from The Family Voyage: If you decide to pick up or drop off at a location other than the airport, check the location and its hours carefully and allow plenty of extra time. When we returned our rental car to a Cancun city location on Christmas Day, the location we had arranged put up a sign in the window directing us to a different location. If we hadn't allowed tons of extra time, we would have missed our ferry to Isla Mujeres. You're also less likely to find a taxi to drive you from an off-airport location, so we had to bribe the attendant to drive us in our just-returned rental car to the ferry terminal.
Inspect the vehicle thoroughly before driving off
It is prudent to always check the condition of your rental car before driving off into the sunset with it. You will usually be asked to sign an inventory confirming its condition.
Be sure to thoroughly inspect the interior and exterior of the vehicle, making a note of any nick or scratch. It is a good idea to take photos of the vehicle when you pick it up, and a video with your smartphone is even better. Do the same when you return the car too. That way, you are covered if someone later tries to claim that you damaged the vehicle.
Rental scams in Mexico are not commonplace but they are always a potential risk when you rent a car anywhere in the world.
Purchase full-coverage Mexico rental car insurance
This is an important one, so read closely!
Purchasing full-coverage rental car insurance in Mexico is not required but it is a good idea. This is the maximum level of insurance that you can purchase and it usually means that there are zero deductibles.
Even so, it is imperative that you read the fine print. Some full coverage policies are sneaky and exclude some of the smaller things like tires, keys, minor damages and windows.
When you buy full coverage insurance you are usually exempt from having to put down a deposit on your vehicle. Meanwhile, if you only have limited liability insurance your deposit can be as high as $800-$2000 depending on the rental company!
Unfortunately there are a lot of Mexican car rental insurance scams. Most companies will insist that you purchase their insurance and refuse to let you take the vehicle without their insurance. They don't care how good your Chase credit card policy is, they'll tell you that you must buy their policy or risk a substantial fine or a visit to a Mexican jail if you get pulled over by the police.
If you purchased a policy online prior to your trip, you may find yourself having to pay twice. For that reason, it is usually better to book your Mexico rental car and wait until you arrive in Mexico and then purchase your insurance through the rental company.
How much does Mexican rental car insurance cost? Budget about $10-20 per day for full coverage.
Be informed of the road conditions in the area you are traveling
Road conditions in some parts of Mexico are excellent and perfect for a road trip. For instance, the Yucatan peninsula (Yucatan state, Quintana Roo and Campeche) is very popular among tourists and so, the roads here are relatively new, well-maintained, and free from damage and potholes.

When you start going off the beaten path to hidden cenotes and remote beach towns like El Cuyo, conditions get a little worse. However, the roads in Mexico are generally pretty good.
Conversely, when you travel to places like Veracruz or San Cristobal de Las Casas in Chiapas, roads are often filled with pot-holes and cracks, and are very poorly maintained. Try and do a little research about road conditions in the area that you plan on traveling to before you embark on your trip. If you are headed to touristy areas like Cancun, Tulum or Playa Del Carmen, you will be fine.
Understand the rules and limitations of your rental company
Most Mexican rental companies do not allow you to take their rental cars across the borders. If you are planning on doing a wider Latin America road trip and crossing into Guatemala, or you want to drive to the United States, you should clarify whether this is possible with your rental company before making a reservation.
It is possible to drive from the United States to Mexico and back with US plates. However, if you try to cross the land border from Mexico to the US with Mexican plates, you are likely to be stopped. Most rental companies will not allow you to take their vehicles to the border.
If you're trying to cross the border from Chetumal, Mexico to Belize it's better to take a taxi to the border, walk across and then pick up another taxi in Belize.
Try to book your Mexico car rental in advance during the peak season

Some parts of Mexico get extremely crowded during the peak season, especially the coastal areas. You can consider the peak season as the period from October to late April, with a surge in tourists during US spring break.
It's a good idea to book your rental car (and all aspects of your trip) several months in advance if traveling during these times. While it is unlikely that firms will completely sell out, booking in advance allows you first pick of the car you want.
A lot of Mexican rental companies stock predominantly manual cars and the automatic ones are the first ones to go. Trying to learn to drive a stick shift for the first time in Mexico is not a good idea! And the closer you are to your departure date, the more expensive things become.
---
Must-Read Driving in Mexico Tips
Mexico is a safe country to travel to for the most part, despite the country's often less than favorable portrayal. The driving rules here are not all that different to driving elsewhere.
People tend to have an image of Mexican roads as being filled with speeding drivers acting like they are operating a getaway vehicle but this is not the wild west, or corrupt Mexican police officers pulling over as many tourists as they can to demand cash bribes. In reality, the fines and punishments for speeding or endangering others are severe in Mexico so most people drive more carefully.
Be aware of driving rules and speed limits in Mexico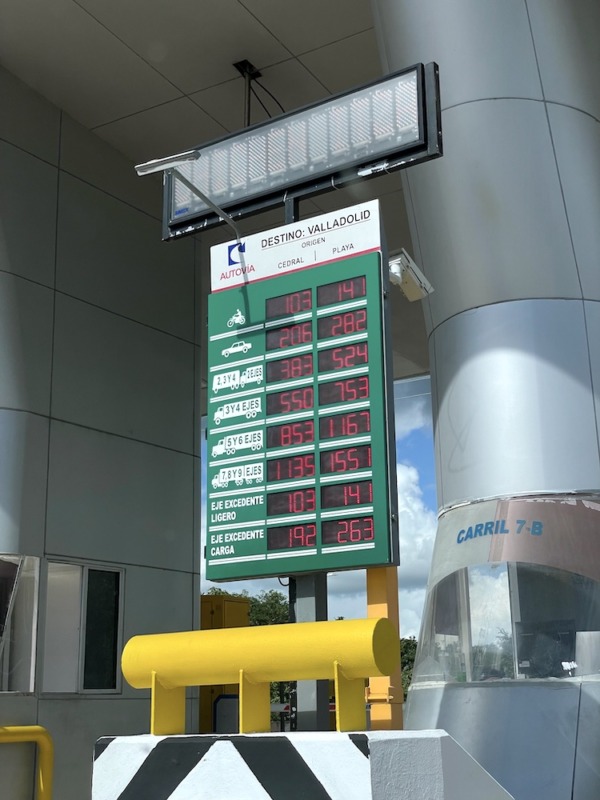 In Mexico, people drive on the right hand side of the road like in most of the world. If you are traveling from the US, you won't have to make many adjustments.
Cell phone use with your hands – even holding it – is strictly prohibited while driving.
Speed limits vary depending on where you are driving. Typical speed limits in Mexico are:
Highways: 110 km/h
Main roads: 70 km/h
Towns: 40 km/h
Near schools and pedestrian: 20km/h.
Many major inter-city roads are toll roads (carrtera de cuota). These are better maintained then free roads (carreteras libres) and usually offer a more direct route to your destination.
However, some of them are actually quite pricey as you can see above! Tolls can often be as high as 100-200 pesos ($5-10) and they can only be paid in cash so always make sure that you have plenty of lower denomination notes and change on you.
Expect traffic along busy routes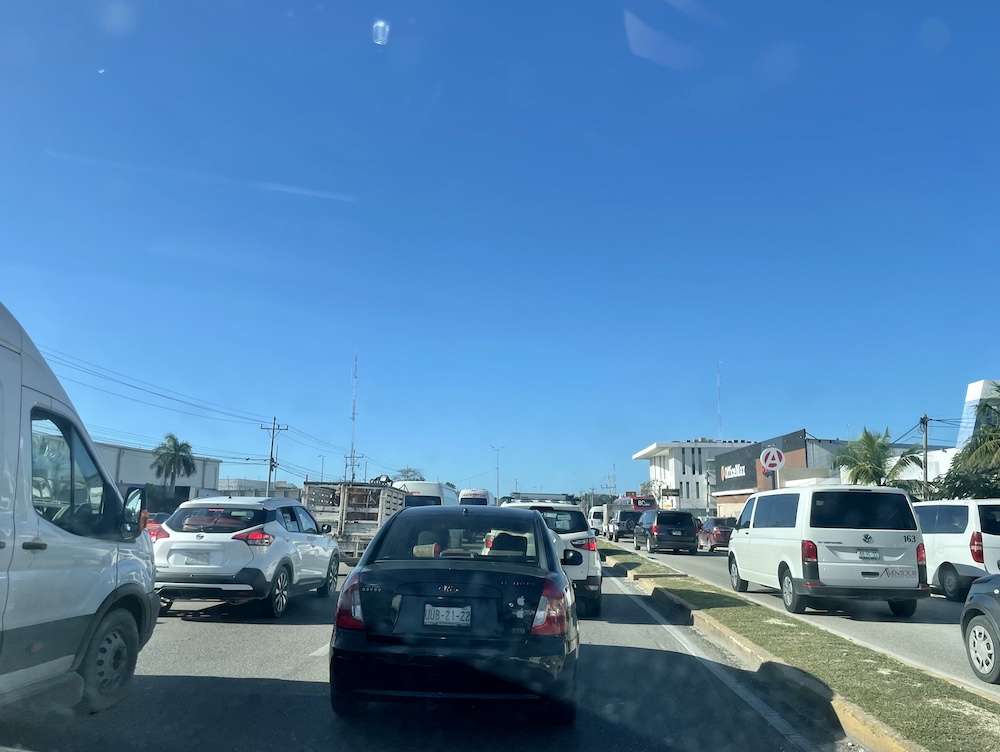 It should come as no surprise in a country of almost 130 million people that many roads have traffic, and plenty of it. Just as in the US, if you're traveling along popular corridors (like Cancun to Tulum) or in big cities (like Mexico City) bring your patience and allow for extra time.
Once you're outside of the major population centers, sometimes you can go for miles without seeing another car.
Know how to use your car seat in Mexico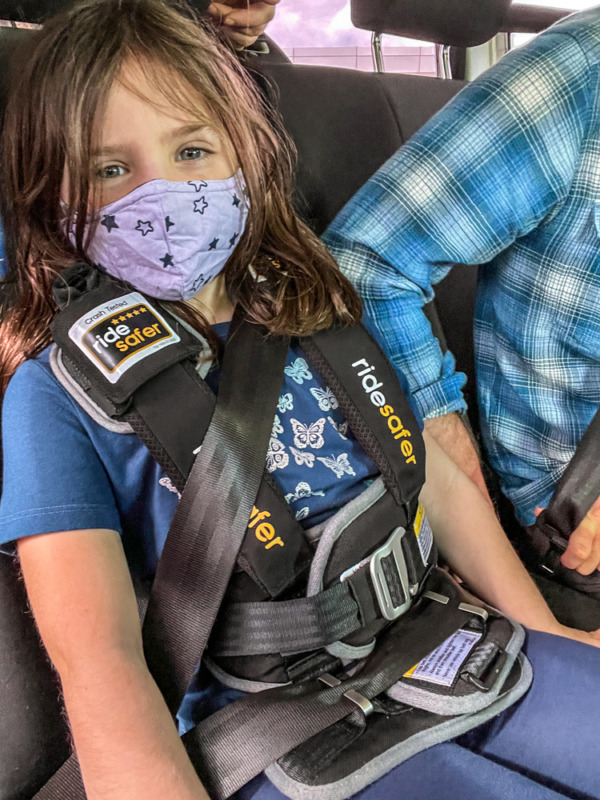 Note from The Family Voyage – read this if visiting with children
If you're visiting Mexico with kids, it's just as important that they use car seats on vacation as at home. Unfortunately the situation is a little more complicated.
I can't recommend renting a car seat, as the history and quality of Mexican rental car seats is unknown. Importers can bring in US car seats, but they can also bring in generic "car seats" made in overseas factories and pay an extra $1 to slap a U.N. universal approval label on them. You're entirely subject to availability and may be offered a generic, outgrown infant car seat for your 2 year old or an expired booster seat for your immature 3 year old.
You should bring your travel car seat from the United States, and also be prepared to bring and use a locking clip if you need it. You can read all about using a car seat in Mexico to understand what to expect and how to be prepared to transport your child safely. It's not a glamorous part of traveling, but still your #1 job.
If your child is at least 5 years old and 40lbs, you can bring a travel booster seat to use with any functional lap-shoulder seatbelt. You can't use it with a lap-only seatbelt!
Download an offline map
You will often find that you completely lose signal when you are driving to ruins and historical sites in Mexico – even in parts of the Yucatan. Not only do you have no 3G/4G, you also have no signal to make a call. Download an offline map in the Google Maps app so that you can easily navigate and get to where you are going if you lose signal. 
Look out for topes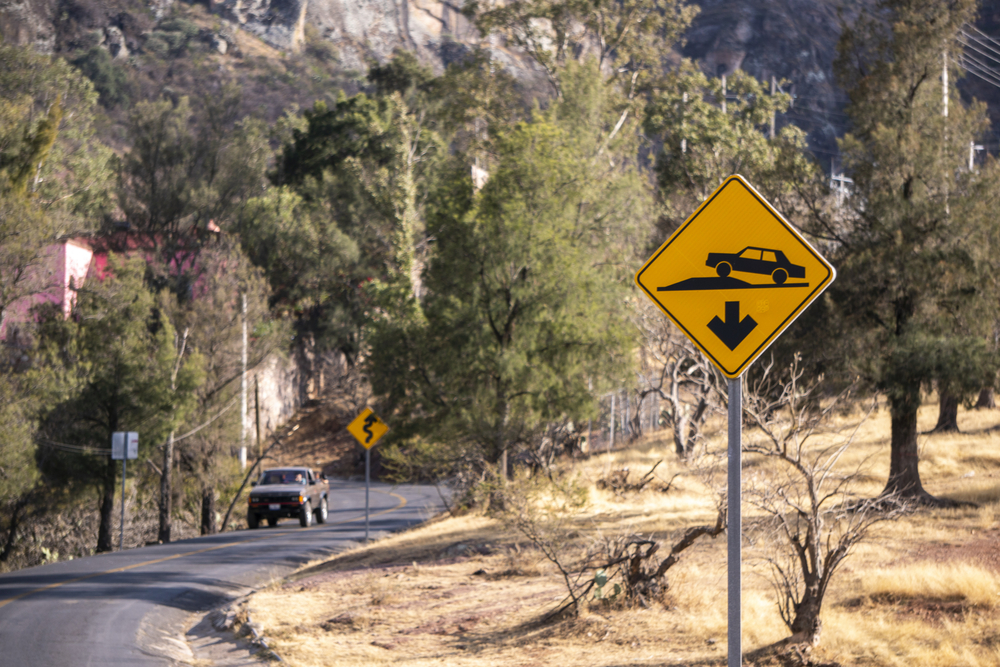 Topes (pronounced "toh-pays") are Mexican speed bumps and they will likely be one of your biggest headaches when driving in Mexico.
Topes are only sometimes sign posted and some of them are ridiculously steep. Keep your eyes peeled for them and slow down when you see one in the distance!
Have cash and coins for parking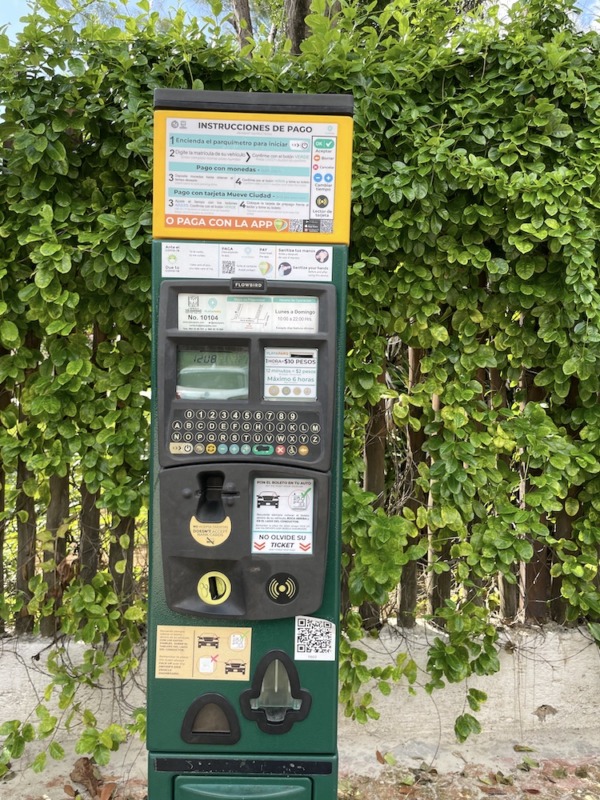 While the parking situation varies around Mexico's 32 states, be prepared to pay for parking with cash and coins. Even in places where there are app-based parking meters, they often can only work with a local Mexican cell phone number. In lots with a parking attendant you will generally be expected to pay cash as well.
Some touristy areas have ATMs offering US dollars and/or Mexican pesos. Be sure to withdraw money from a machine giving pesos so that you can pay for parking and tolls.
You probably won't pump your own gas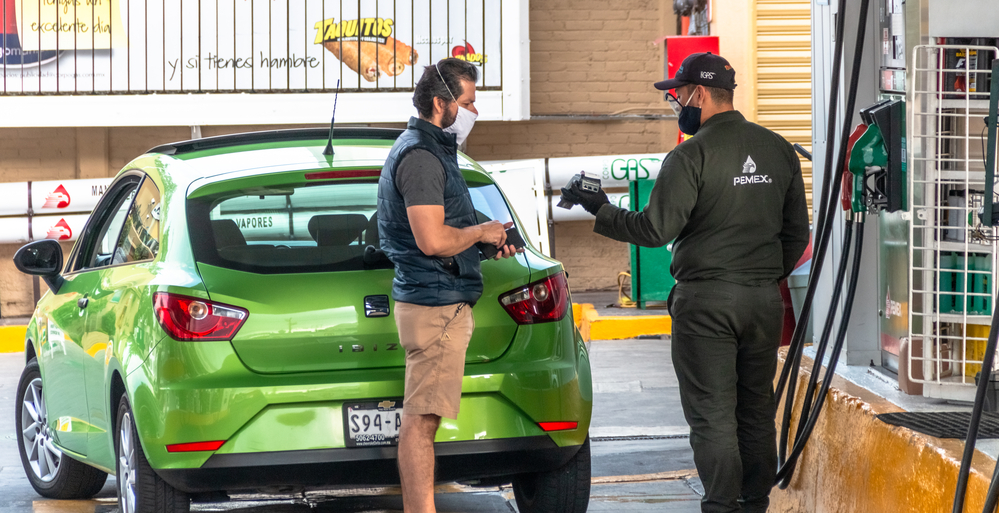 Many gas stations in Mexico are "full service" though sometimes the attendant pumping your gas works for the station and sometime he could be considered an… independent contractor. Have cash on hand to pay in case credit card is not an option, and be sure to tip the person who pumps your gas ($1 US, or the equivalent in pesos, at a minimum).
It's also worth noting that gas price signs are listed in pesos per litre. For US travelers, you can divide the listed price by 5 to get a rough estimate of the price in USD per gallon.
Don't drive at night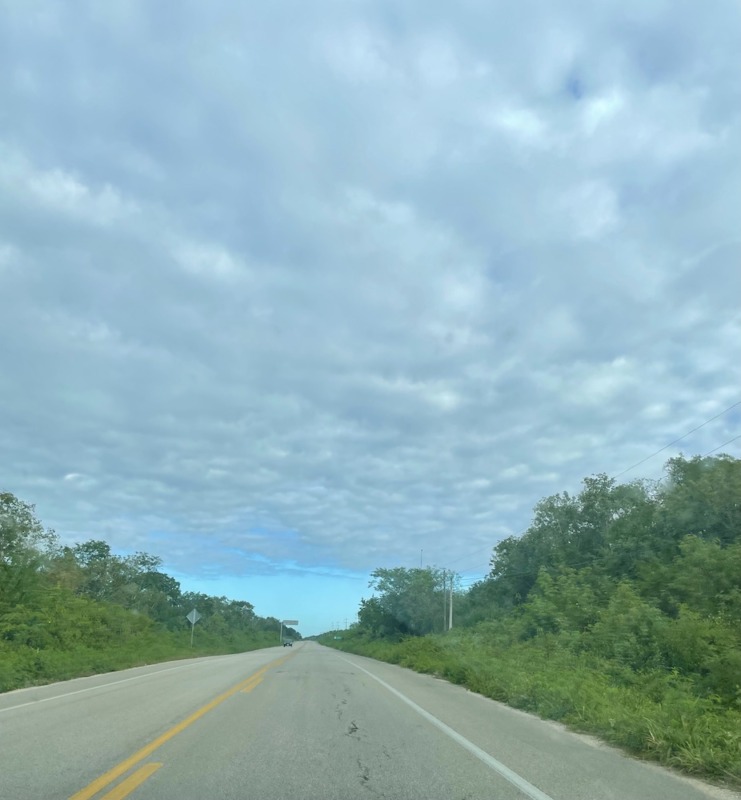 It is best to avoid driving at night in Mexico when possible. This is not strictly because there may be sketchy people around at night, but because streets and roads across the country are usually very poorly lit. This makes it difficult to see hazards, people and wild animals that wander into the roads, and dreaded topes!
Summary of Mexico Car Rental Tips
If you read nothing else, keep these quick Mexico car rental tips in mind:
Book your rental car well in advance
Expect to pay extra for insurance when you pick up the car
Carry cash with you at all times (for tolls, parking, fines or gas stations with broken card readers)
Drive carefully and and follow laws
Stick to daytime driving if possible
About Melissa
Melissa Douglas is a British Travel Blogger based in Merida, Mexico. She runs the Mexico travel blog Mexico Travel Secrets.
Plan your trip to Mexico
Ready to keep planning your Mexico vacation? Read these articles next: