We searched long and hard before selecting Mahekal Beach Resort but it was worth taking our time – the whole family loved it! Is it the best family resort in Playa del Carmen? That depends on what you're looking for.
In this Mahekal Beach Resort review you'll learn what we think makes it one of the best all inclusive resorts in Playa del Carmen for families. I'll share an honest assessment of its strengths and weaknesses so that you can decide if it's the right choice for your family.
What makes Mahekal Beach Resort so unique?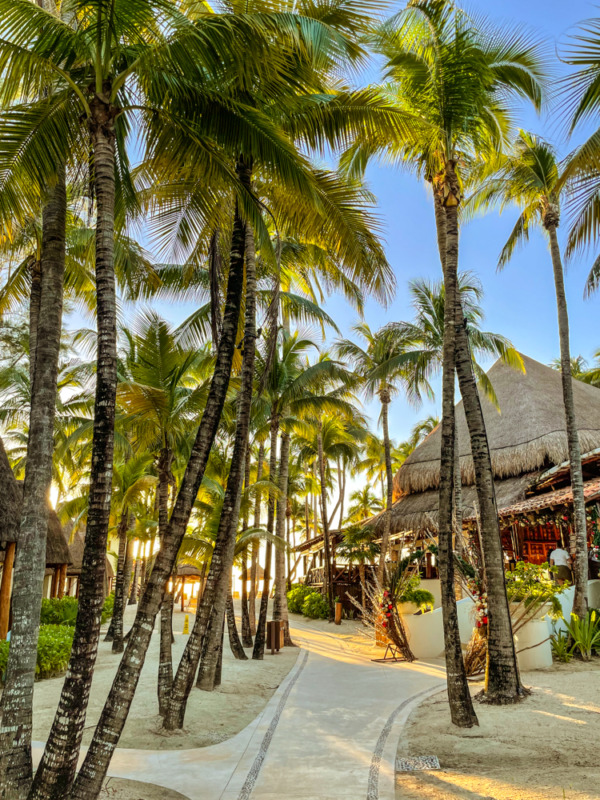 In a region full of all-inclusive resorts, it can be tough to stand out from the crowd. Website after website shows photos of chic, modern hotel rooms and boasts of more restaurant choices than you could ever try during a single stay.
Fortunately for us, Mahekal is none of those things.
Instead of a massive concrete hotel building, Mahekal houses guests in small thatched-roof buildings with just one or two guest rooms in each. Most are two-stories, with one room on each floor. Why does it matter? Because the minute you open your door, your greeted by lush gardens or stunning ocean views. Every moment at Mahekal truly feels like a tropical paradise!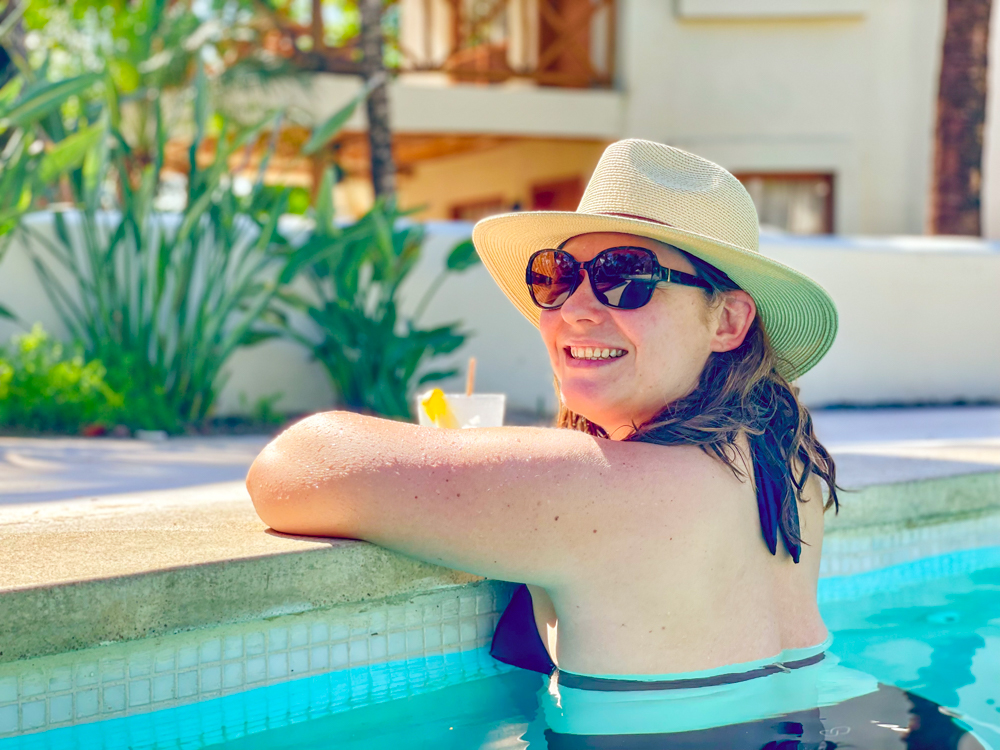 Mahekal's intimate size is another huge advantage versus many Riviera Maya all-inclusive resorts. You could walk the entire resort end-to-end in about five minutes, so nothing is ever too far to be convenient. Hanging poolside and need a book from your room? No biggie. Done with your day at the beach and ready to go back to your room? No worries, it's just a few steps away.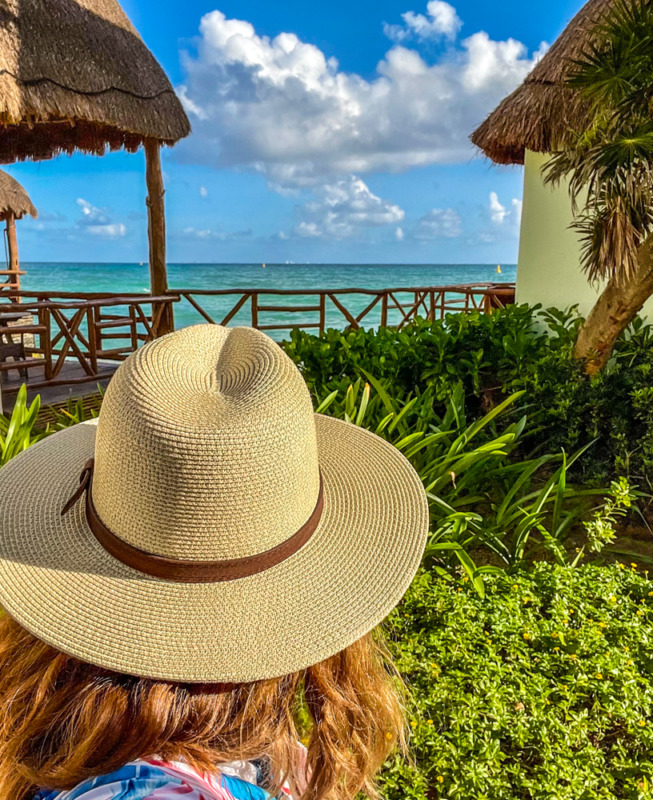 Despite its tranquil, secluded feeling Mahekal is conveniently located within the center of Playa del Carmen along lovely Calle 38, home to many excellent restaurants.
---
Rooms at Mahekal Beach Resort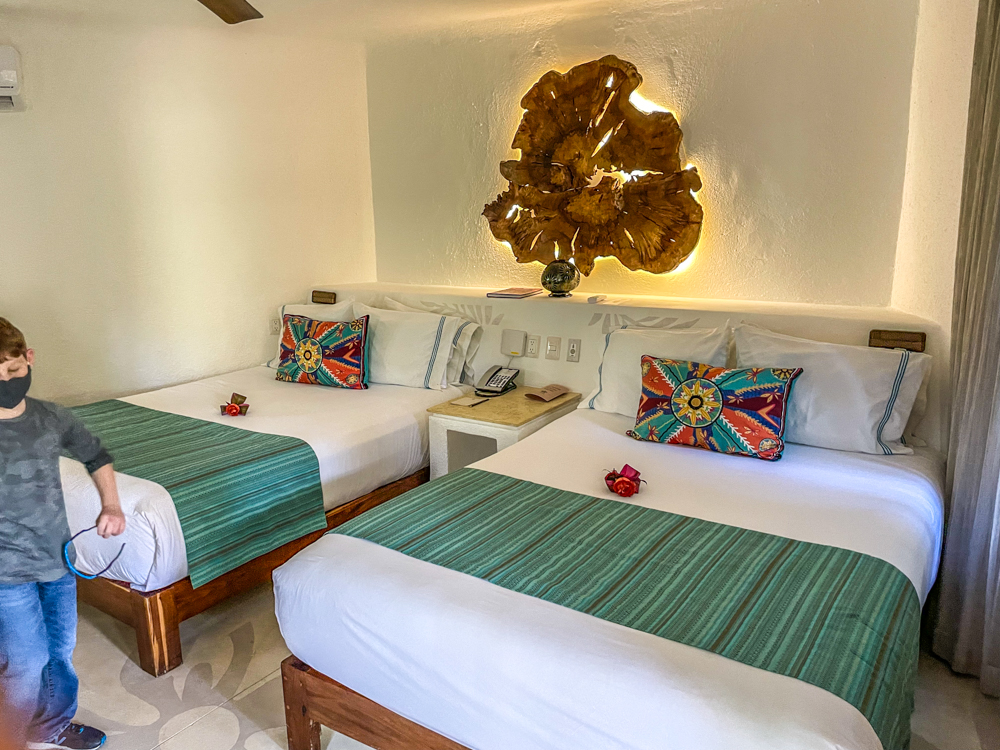 Staying at an all-inclusive resort in Playa del Carmen was a big splurge for our family, so we stuck to the most basic room. Thankfully it met all of our needs and then some.
The garden rooms are the least expensive but they're also a decent size at around 230 square feet square feet. Our room featured comfortable two beds, a small table with chairs and lots of open space. Just like all the rooms at Mahekal, we had our own porch with a hammock – it was the perfect spot to pass a little time while we alternated turns showering before dinner. The photo above doesn't do justice to the huge open floor space outside of the frame (but the kids had already started opening luggage, so it was no longer photo-worthy).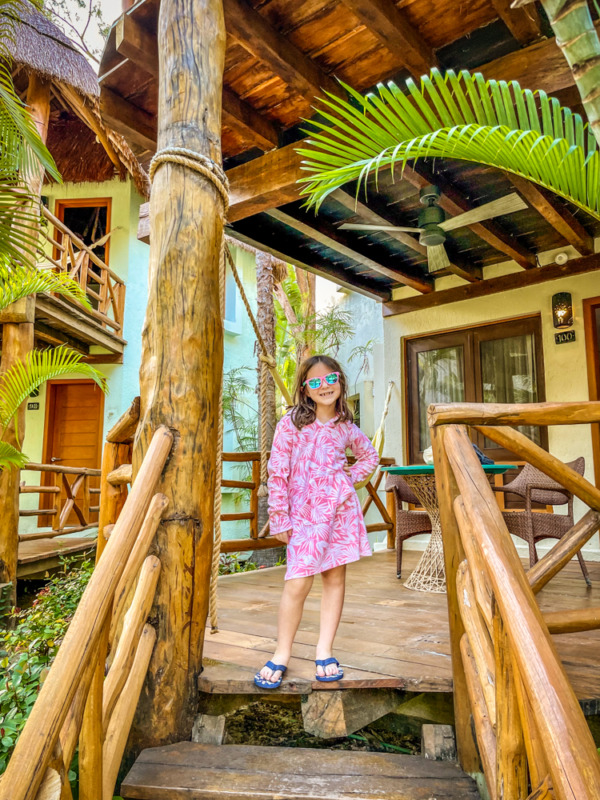 For those who want an ocean view, there are several rooms that walk right onto the beach. If you prefer to have several sleeping areas for your group, your best option is La Residencia. You can book it as a one bedroom apartment (bedroom, living room, playroom, kitchen and even laundry) that sleeps 6 people or even book an additional connecting bedroom that brings it up to 8 adults and 2 children. Those larger room options are extremely limited, so be sure to book early if that's what you want!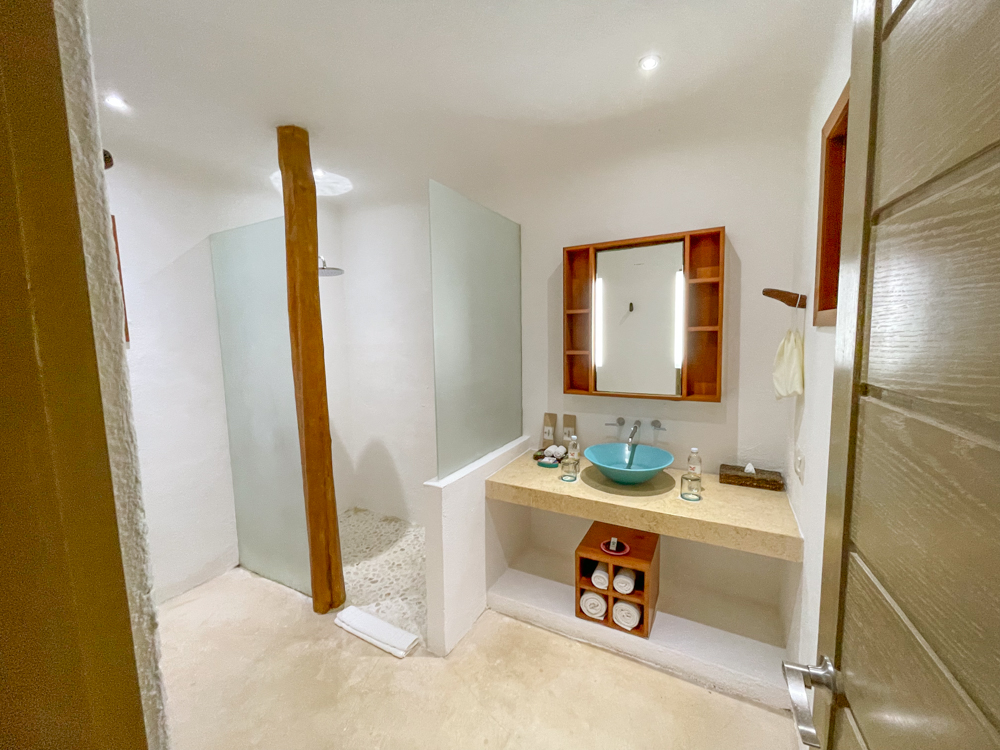 If I had any complaints about our room, I'd say there were two small ones: first, there weren't enough hooks to hang all of our swimwear. We ended up hanging some of our suits and rash guards from the hammock, some in the shower and some in the closet. Next time, I'll bring one of these instead! I know that's a common issue, but it's an important one to address at a property focused on water activities.
My other complaint is an inadequate number of towels, which is also extremely common. We booked our room for four people but there were only two towels when we arrived and it took a day or two before we consistently had four towels.
---
Mahekal Beach Resort food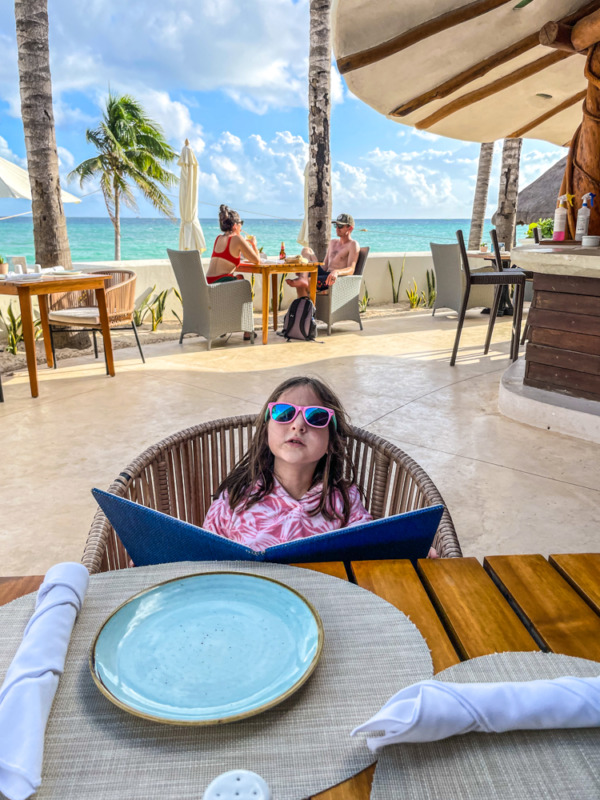 The only word I can use to describe the food at Mahekal Beach Resort is excellent. Though the Mahekal dining options aren't as extensive or varied as other resorts in the area offer, we were nonetheless impressed every single time.
Almost all of the food at Mahekal is Mayan or Mexican, or at the very least pays homage to those cuisines. You'll always find tons of beautiful, fresh produce, delicious baked goods and a variety of meats. There are also plenty of interesting vegetarian options at Mahekal, which generally incorporate traditional foods like yucca. What you won't find is an Italian or Japanese restaurant at this very traditional Mexican resort; they wouldn't fit with the ethos of the place.
There are four Mahekal restaurants: Fuego, Cocina, Las Olas and Itzi snack bar. There are always two restaurants open for each meal and sometimes a third. Reservations are only required for dinner Fuego, and even during the busiest time of year we were able to make a same-day reservation (sometimes you need to call the day before). Just like so much at Mahekal, the dining experience is relaxed and low stress!
Breakfast at Mahekal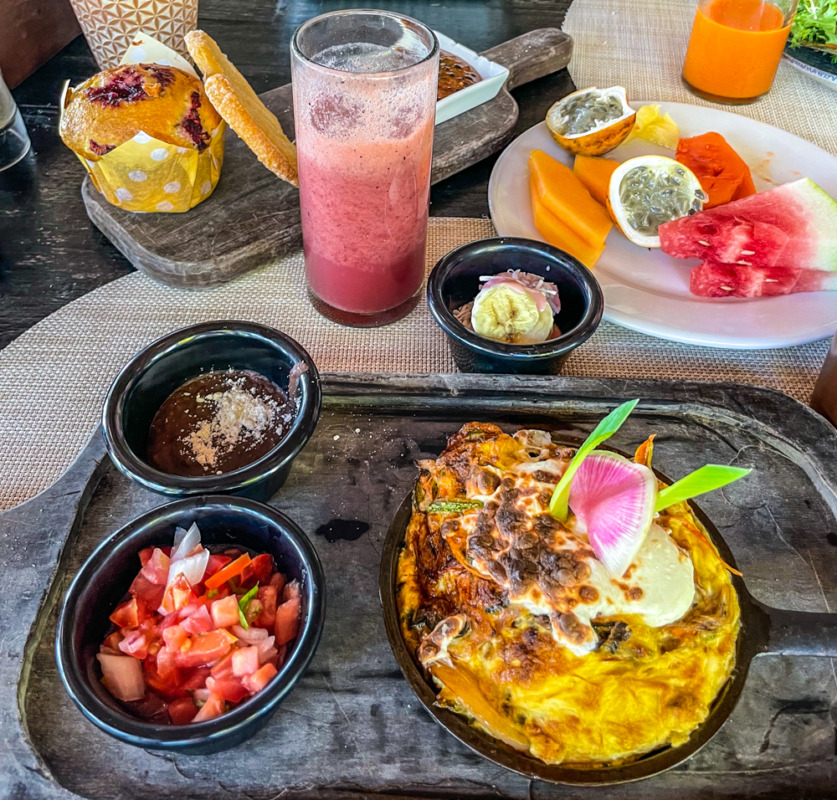 Guests can grab breakfast at either Las Olas or Fuego, and much of the food is the same. Fuego is smaller and tends to be less crowded, with more table service and a smaller buffet; Las Olas is primarily a large buffet but with the option to order some specialty dishes from the menu. Wherever you take your breakfast, make sure you try some of the local specialties and smoothies!
Our kids were huge fans of Las Olas, while we preferred the atmosphere of Fuego. Fortunately the kind staff can bring food over from Las Olas to Fugo if there's something special you're looking for. They can also handle custom requests like hard-boiled eggs.
For guests who have chosen the breakfast & dinner package (which I suspect is almost everyone at the resort), pretty much everything is included except alcohol and certain specialty juices.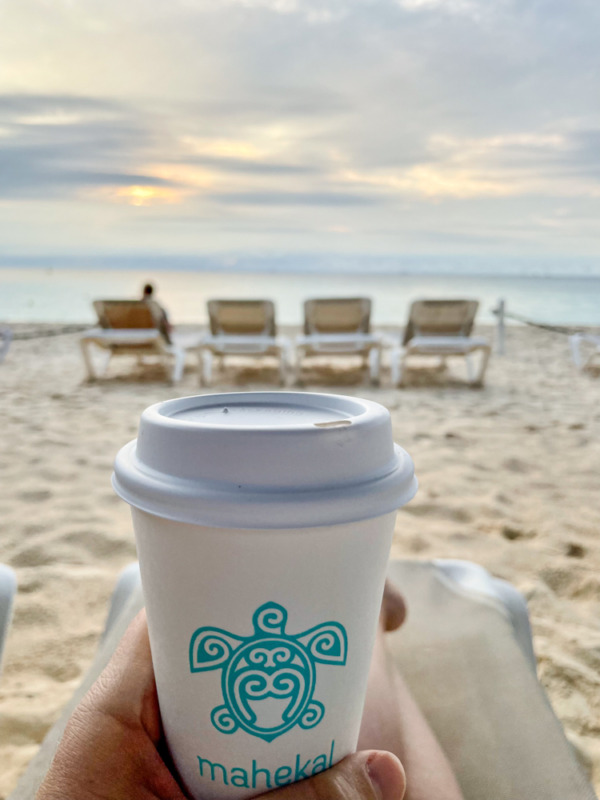 Pro tip for the early risers: Fuego has self-serve coffee out on the bar very early! Even if your travel companions like to sleep in, you can always grab a cup and go out to the beach to catch the sunset from a lounge chair or a hammock. It's one of my favorite things to do at Mahekal Beach Resort!
Lunch at Mahekal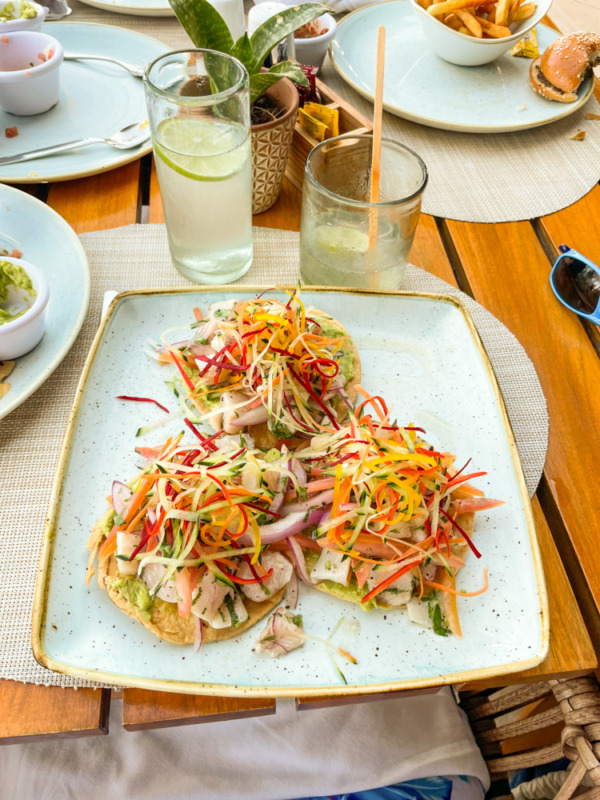 We wound up eating lunch at Mahekal a few times when we were having lazy resort days. The warm and friendly crew at Fuego will serve you at a table inside or they can bring everything out to the pool deck! I'll let you guess what we chose…
Las Olas, on the other side of the resort, also offers lunch service (pictured above). At both restaurants you can choose from items like tacos (I highly recommend the fish tacos!), ceviche, hamburgers and more. We didn't eat there, but the Itzi snack bar (at the tiny zero-entry Itzi pool) offers similar fare.
Whether or not to eat lunch at Mahekal is a point of disagreement between be and my better half. While he loved the utter relaxation of letting the kids play in the pool while delicious food and adult beverages came our way, I didn't appreciate the high bill we invariably racked up. A balance is always good, and next time we'll probably check out a few of the awesome restaurants in Playa del Carmen (you can read about them here).
Pro tip: One option I'd also consider next time is swapping some included dinners for lunches. Spend the day lounging at the pool or beach and enjoying lunch there, then after you clean up head to an excellent local spot for dinner as you stroll around La Quinta.
Read more: What to pack for Mexico
Dinner at Mahekal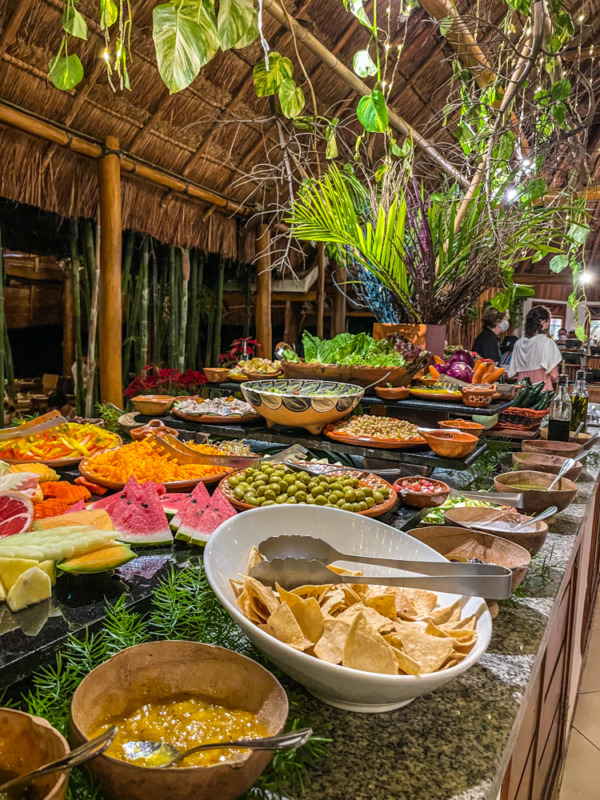 Dinner is quite an event at Mahekal! Nearly all of the resort guests dine at either Cocina (which offers a huge buffet and nightly specials from the menu, everything included except soda and alcohol) of Fuego (a la carte with a credit of $27/adult and $16/kid for those on the meal plan). While Fuego requires a reservation a day or two in advance, you can just walk right into Cocina and we never waited more than 5 minutes for a table despite visiting just days before Christmas.
Every now and then Las Olas is open for dinner as well – the evening it was open during our stay even featured a magician, though unfortunately we weren't able to attend because we came back very late from our trip to Xcaret Park.
As anticipated, the food and service at both restaurants was excellent. Many evenings there's live music at one or both restaurants as well. Overall we preferred Cocina for our dinners. Our whole family always found plenty of delicious choices, from the taco bar to the numerous Mayan-inspired entrees to the extensive dessert spread. The kitchen was always willing to accommodate special requests and our kids declared the steak the best they've ever had!
---
Mahekal Beach Resort activities
Unlike so many Playa del Carmen all-inclusive resorts, Mahekal doesn't have a kids club or a water park. If those things are important to you, Mahekal won't be a good fit.
What is there to do at Mahekal Beach Resort? Plenty!
For starters, Mahekal maintains a gorgeous stretch of beach just in front of the resort. There's an area for guests with palapas and lounge chairs and then a few meters of sand at the shore for public use.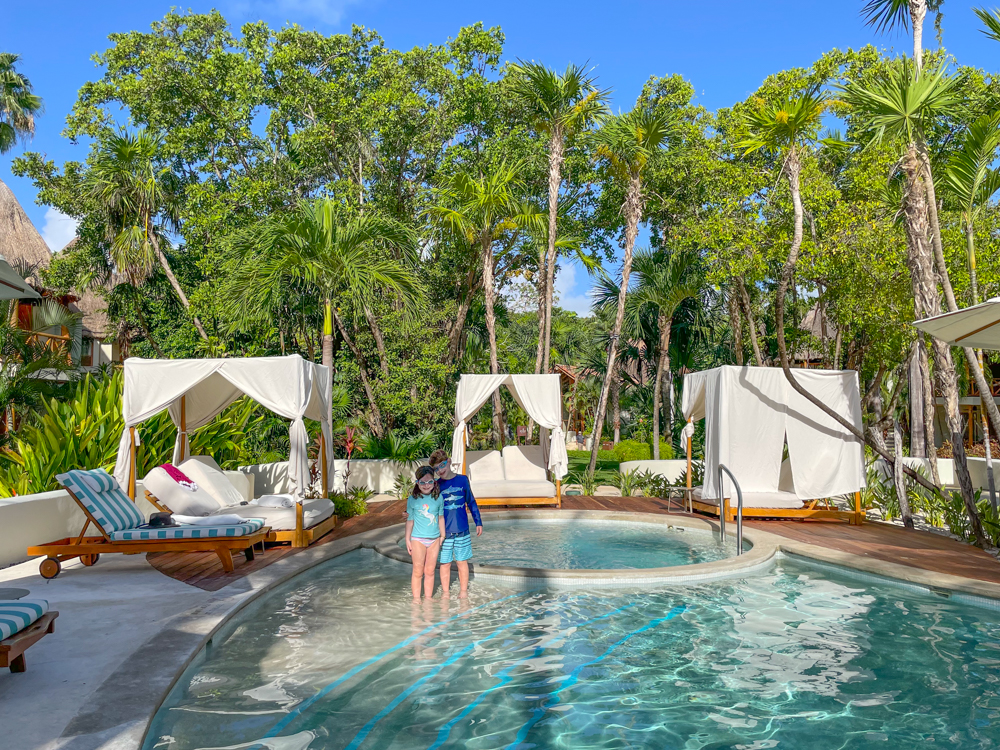 Within Mahekal there are three different pools, two with hot tubs. They all have different features and vibes. The pool at Las Olas has an amazing sea view and frequently has music playing in the afternoon and evening; it's also the location for happy hour and various tasting events. The Itzi pool features a swim up bar and fun swings on the deck. But our favorite by far (which is obvious from my photos) was the pool at Fuego. It's a little smaller than the pool at Las Olas and has a gorgeous garden setting, plus a fun water feature. The kids even snagged one of the (free) cabanas one day!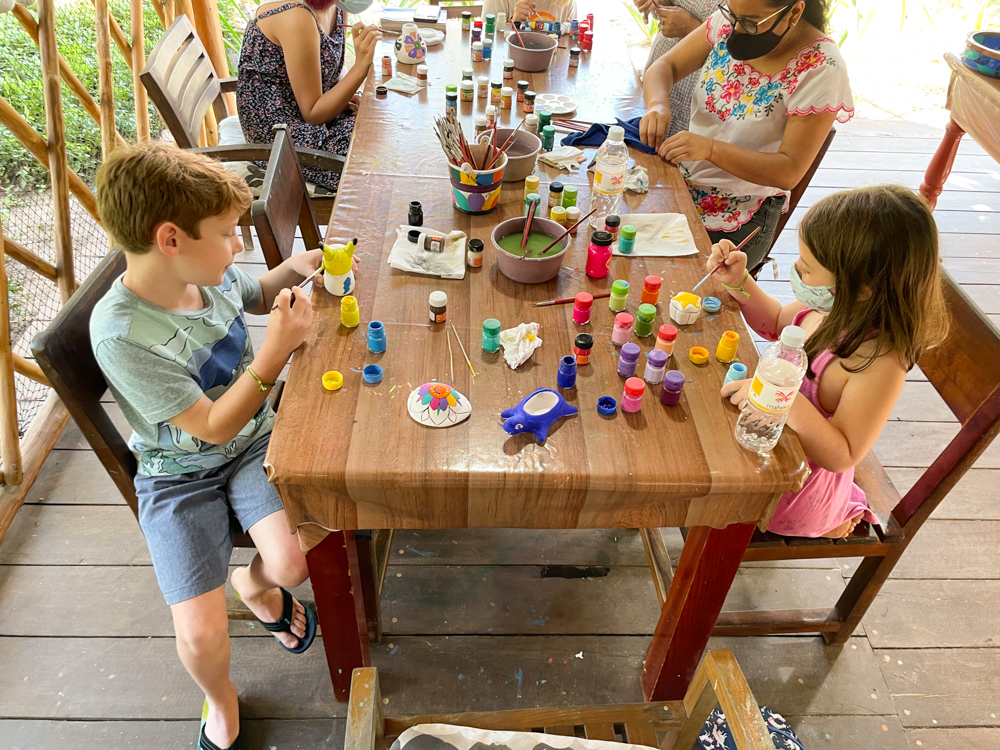 If parents want a little quiet time – or some creative time for themselves – the pottery studio is a wonderful feature of Mahekal. The ladies who run it have been painting traditional pottery for decades and it shows. They're also incredibly kind and patient and function as the de facto Mahekal kid's club. But honestly I recommend that adults participate in the painting too. It's very relaxing and makes for the best souvenir money can buy (you just pay for the pottery you want to paint, which starts around $7). Don't let the kids have all the fun!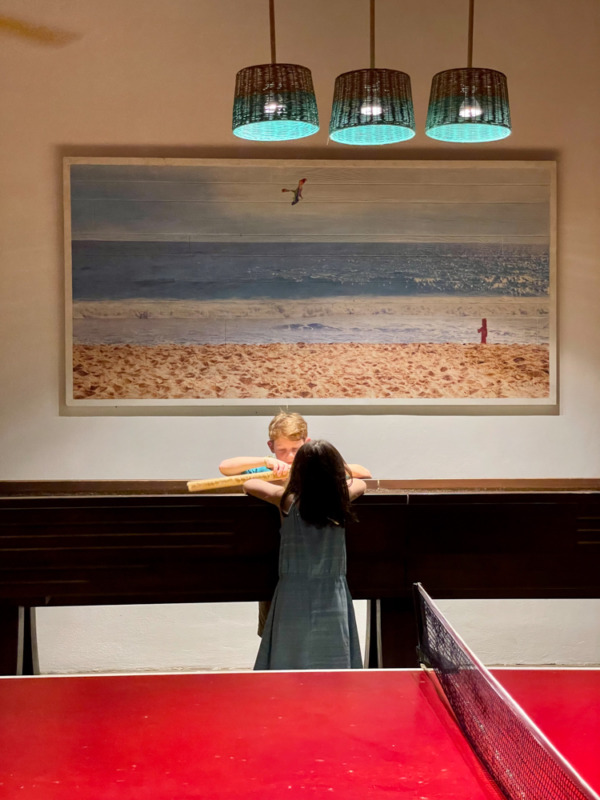 Since Mahekal is a small, relaxed resort the evenings are fairly quiet. Many guests of all ages head to Agave Bar and the attached game room after dinner to enjoy live music, a cocktail, pool tables, ping pong and shuffle board. It's a great way to wind down at the end of the day!
If you want additional activities, check out all these great things to do in Playa del Carmen or consider a day trip to Cozumel or Xcaret Park! Trust me, you won't be bored – especially if you rent a car for a day or two and go explore.
Pro tip: Speaking of cars, Mahekal doesn't have any parking. It costs a very reasonable 10 pesos per hour to park on the street in front and you only have to pay 10am – 10pm (you'll have to feed the meter again after 6 hours). We never had any issue finding a spot, but you do have to pay for parking with coins unless you have a Mexican phone number to set up the Mueve Ciudad app. I promise, it's fine once you know what to do.
One thing you can't easily do unfortunately is take professional photos on the resort's gorgeous grounds without paying a hefty fee. They aren't unique in that restriction, but it really irks me when it applies to overnight guests at a hotel or resort. That said, you can just meet your photographer at the public beach right in front of the resort and still use it as a gorgeous backdrop. Our photos turned out great and I highly recommend Ana – you can book her here with a $25 discount.
Read more: Tips for amazing family photos in Mexico
Wrapping up: Is Mahekal the best family resort in Playa del Carmen?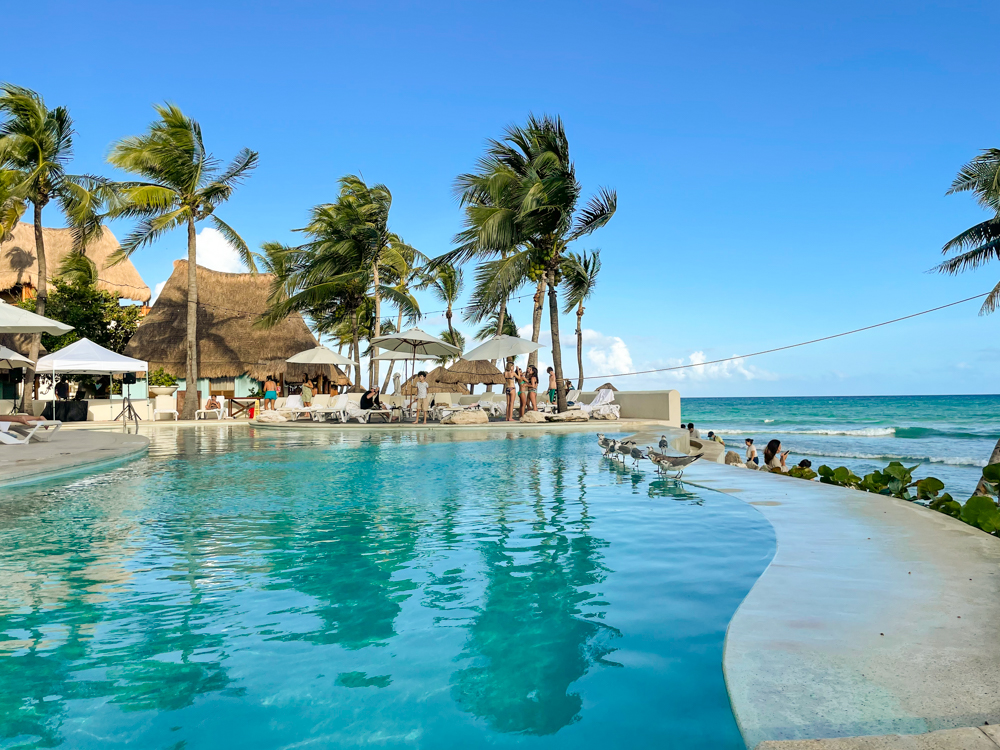 For families who want tranquility and a feeling of luxury without stuffiness, Mahekal is a great choice! It's also perfect for independent-minded travelers looking to splash out a little. We loved that it's one of the best Playa del Carmen resorts for families who want kid-friendliness without the chaos of a million little ones running everywhere. It's an especially good Riviera Maya resort for tweens who will enjoy the property's amenities and roaming its confines with a little freedom to paint some pottery, play games or grab an ice cream.
Will we be back? Don't tell the kids, but I've already booked it for next year.
Book your adventure here:
Check out these articles to keep planning your family trip to Playa del Carmen: