During our decades living in Los Angeles, we made plenty of fantastic weekend trips to San Diego with kids. What makes it "America's Finest City"? You'll find stunning scenery, fantastic year-round weather and more things to do with kids in San Diego than you can possibly fathom. As with any weekend trip, a San Diego family vacation always left us wanting more.
Reader Nicole and her family recently spent a full week exploring the best things to do in San Diego with kids and even tried out three different places to stay in San Diego with kids. Read this article for lots of candid feedback and helpful ideas to plan your own kid-friendly trip to San Diego!
Must-read money-saving tip for your San Diego family vacation
Before we get into Nicole's awesome recommendations, I want to share our family's favorite money-saving tip. There are tons of great kid-friendly activities in San Diego, but the cost for a family adds up fast.
Nearly all of the pricier activities you'll read about in this article are included in the GoCity San Diego Explorer Pass. Our family has used GoCity passes in many places including San Diego and they offer huge savings! Even if you just want discount tickets to the San Diego Zoo and USS Midway, a family of four would save $68. If you also plan to go on a whale watching cruise, your family's savings would jump to a whopping $167. I like the Explorer Pass structure because you can spread the activities over your whole family vacation to San Diego (up to 60 days, which is great if you're based in SoCal).
If your family is more of the go-go-go type, you'll save a ton of money with GoCity San Diego All-Inclusive Pass. With this option you pay by the day rather than based on the number of attractions. There are some very high-value options included like the Zoo, Safari Park and LEGOLAND. You have to use your days consecutively, so if you're planning to spend one week in San Diego with kids you might opt for the 3-day or 4-day pass to use in the middle. Your first few and last few days can be filled with free or inexpensive activities.
---
We recently returned from the best 8 night family trip to San Diego! San Diego hadn't been on our radar since we usually favor international travel, but felt more comfortable traveling domestically right now. While searching for a place to visit we narrowed it down to somewhere warm where we could make good use of our Hyatt points and globalist status. We decided on San Diego and are so glad we spent a week there.
This was our first time flying since the pandemic and we kept to only outdoor dining and activities – it's so easy to find kid-friendly outdoor activities in San Diego! It makes the perfect outdoor-focused winter trip.
Read more: 10 Amazing Things To Do In California With Kids
Where to stay in San Diego with kids
Where should you stay for your family vacation in San Diego? There are plenty of wonderful, central options to choose from in San Diego itself or you can seek out a true "getaway" feeling further north in La Jolla or Carlsbad.
Hyatt Regency Mission Bay
We wanted to take advantage of our Hyatt status and points, and San Diego is a great place to do that! The city is an ideal option if you are a Hyatt loyalist as they have several low category hotels to choose from. Our initial plan was to split our stay between Hyatt Regency Mission Bay and Grand Hyatt Manchester.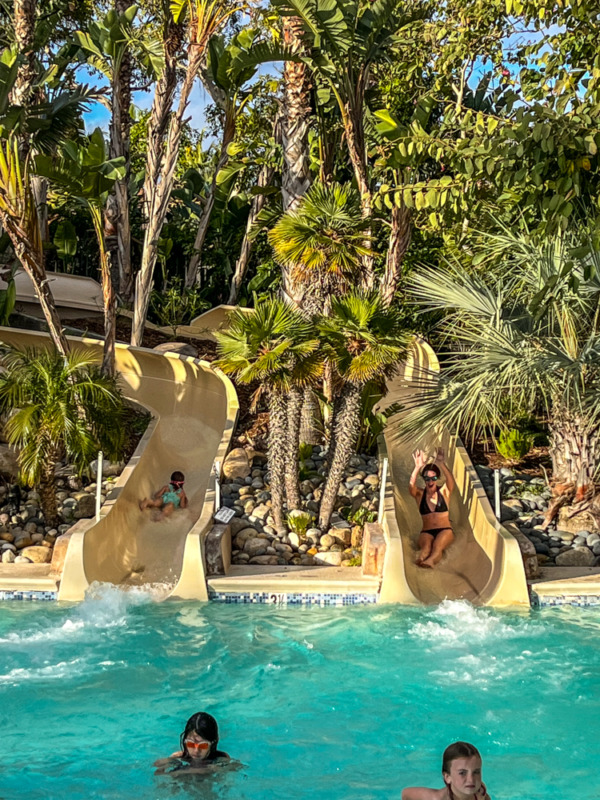 We spent three nights at the wonderful Hyatt Regency Mission Bay; it's a fantastic location right on the harbor with several really warm pools and waterslides. With kid friendly pools heated to 80 degrees, we spent a lot of time each day swimming even though it was only in the low 50s and cloudy while there. There's even two waterslides that didn't have a height limit that our 5 year old daughter loved.
Due to our status with Hyatt we were upgraded to a large harbor front suite, but all rooms have a nice view at this hotel. We also received free breakfast through our status at their onsite restaurant Red Marlin. Unless you are also receiving a free breakfast, head out to a nearby restaurant or bakery to enjoy breakfast there rather than staying onsite.
The hotel is older and could use a remodel, but staff were nice and we enjoyed the location and view of all the boats in the harbor. We didn't take advantage of their paddleboards, kayaks, jet ski, and sailboat rentals as it was so cold, but next time we will definitely spend time on the water! They also have bike rentals on site if you want to explore the area on two wheels.
Manchester Grand Hyatt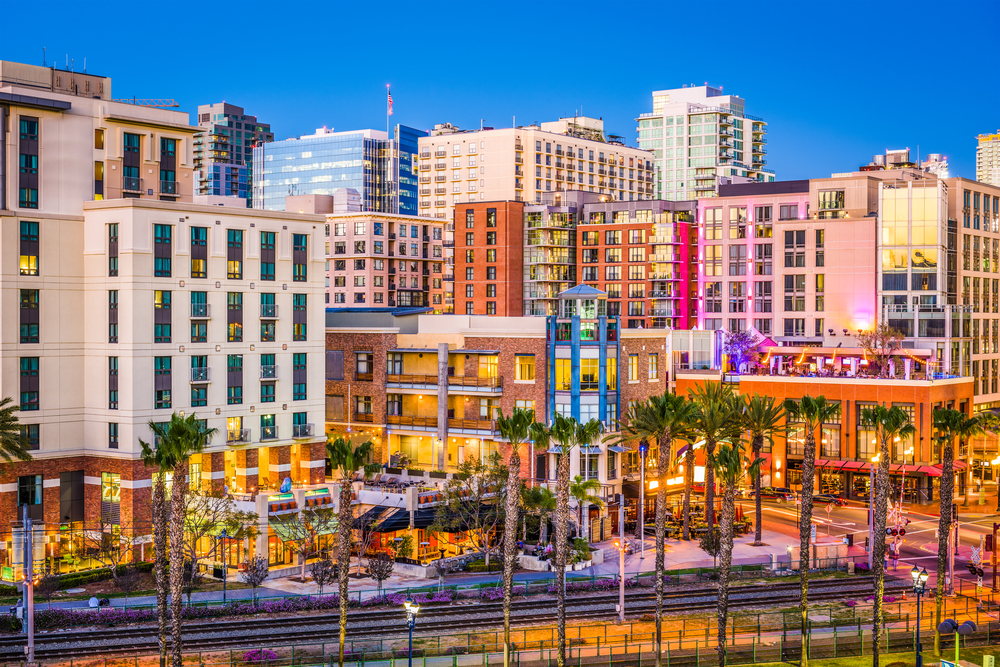 After our stay at Mission Bay we headed south to Manchester Grand Hyatt San Diego for three more nights. This location is very walkable in the Gaslamp District. This is a very large, updated hotel that is close to their conference center so be aware that it can become fully booked and loud. We asked for a quiet room and they gave us a corner room which stayed quiet despite being there over New Years.
There is a rooftop pool and hot tubs, although both were closed during our stay. We did overhear that the Grand Hyatt does not heat their pools to a warm temperature, so get your swimming in at Mission Bay!
Views at this hotel either overlook the water or downtown, ask for a high room to get the best view. We also received free buffet breakfast due to our status here. The buffet is quite large and staff are very welcoming. We opted to get it to go and eat in our room, or there is outdoor seating. They provided plenty of to-go boxes that we could fill up. If paying, again I recommend heading to a restaurant downtown to enjoy breakfast off site.
Park Hyatt Aviara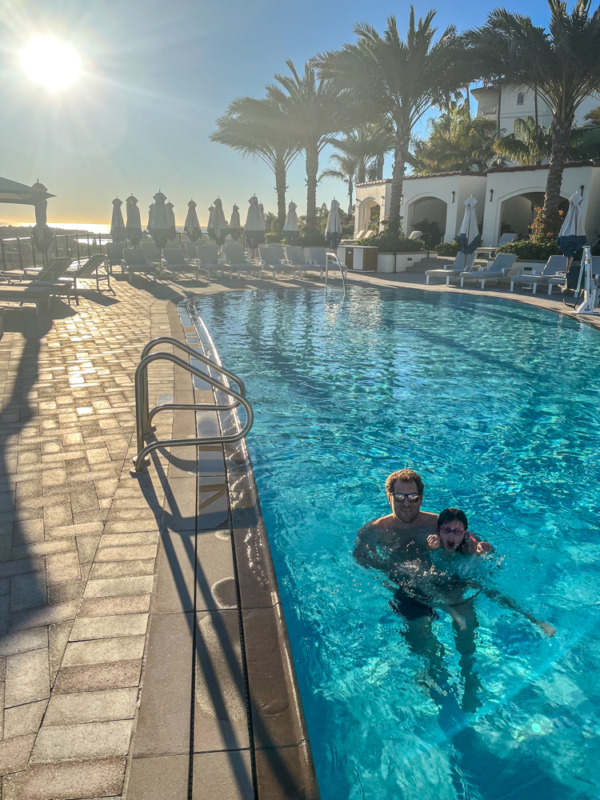 This was a last minute extension to our trip and we're so glad we ended it with two nights at the Park Hyatt Aviara Resort. It's located about 30 minutes north of San Diego in Carlsbad and offers a completely different experience than the other two hotels. The resort is beautiful with several large pools and hot tubs – it is a great escape from the city if you are looking to unwind for a few days. The Park Hyatt Aviara is also a convenient place to stay if you're planning to visit Legoland (15 minutes) or San Diego Safari Park (35 minutes).
With status, we were upgraded to their huge Pool Suite (800+ square feet) that had two large separate rooms, 2 balconies, and 2 bathrooms, including a large soaker tub. Next time I will request a garden view room as the pool can get loud.
Unlike the previous two hotels, the breakfast at the Park Hyatt is wonderful. I recommend eating here whether you get a free breakfast or not. I am still dreaming of their Shredded Beef Barria Benedict. With plenty of outdoor seating with a view of the ocean in the background, it is the perfect way to start the day!
Our goal these two nights was to relax, so our time was split between the pool and beach. Park Hyatt has complimentary lounge chairs, umbrellas, beach towels, and sand toys to borrow for the perfect and easy beach day. We headed to Moonlight Beach which was about a 15 minute drive for the resort. There was a small playground adjacent to the beach as well as clean bathrooms and a concession stand.
Family-friendly vacation rentals in San Diego & La Jolla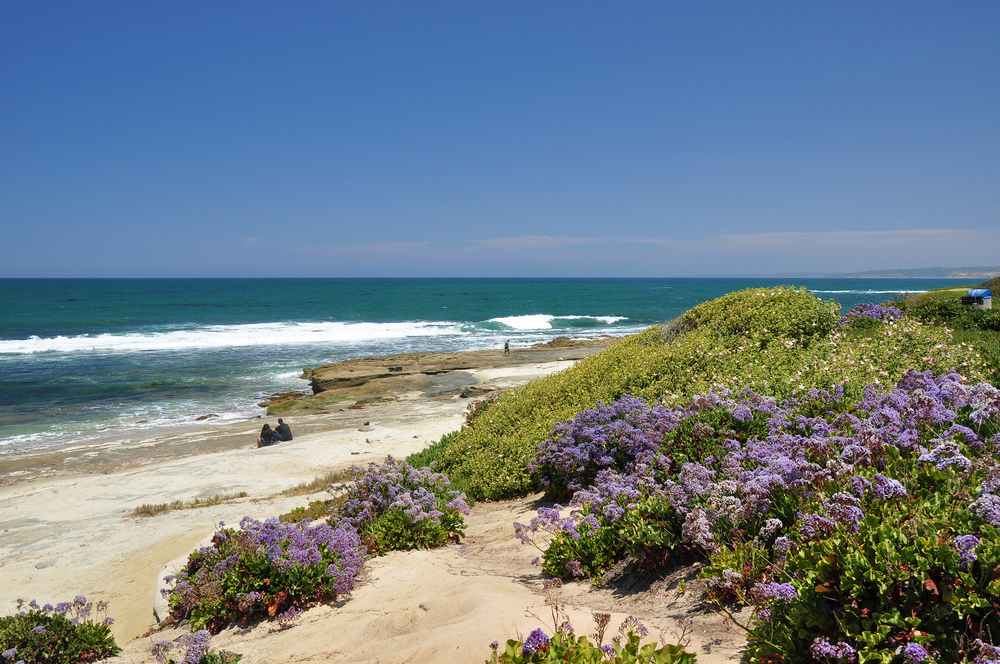 If you're staying in San Diego with kids for more than a few days and want room to spread out, the good news is there are tons of great vacation rentals in the area! Here are just a few stand-outs:
Want the best of both worlds? You can stay at an awesome vacation rental but still book an affordable resort day too! Check out all of the fun options for ResortPass in San Diego.
If none of these options appeal to you, I've shared even more insights on where to stay in San Diego with kids.
---
Getting Around San Diego with Kids

I highly recommend renting a car in San Diego. Although we typically choose hotels that are central so we can walk for a majority of trips, San Diego is very sprawling. You won't want to miss all the fun. From Coronado Island to La Jolla, or even further north towards Torrey Pines and Encinatas, you'll want to have the ability to explore.
Although we've heard traffic can get bad, we were traveling during the holidays and were pleasantly surprised by how little traffic there was. It took about 15 minutes to get anywhere we wanted to go.
This was also the first time we used RideSafer Travel Vest (full review here) which made it so easy in the airport to not lug around a heavy car seat. In case you're visiting from out of state, keep in mind that California requires kids to use a rear-facing car seat until at least 2 years old – read up on California car seat laws before your visit!
Upon exiting the airport you'll cross the street to wait in line for a shuttle to take you to the car rentals. It is about a 10 minute ride without a wait, so be sure to factor that in on your return.
---
Best Things to do in San Diego With Kids
San Diego is packed with so many outdoor activities! We felt we had the perfect balance of something fun on our itinerary each day while still having down time.
Belmont Park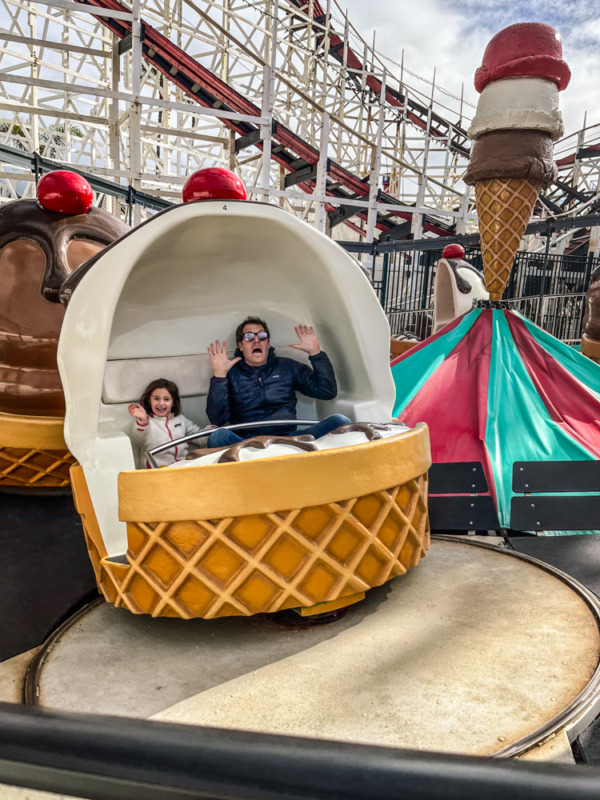 Belmont Park is a historic oceanfront amusement park and is located about a mile from Hyatt Regency Mission Bay. With free parking and pay as you ride tickets, we spent an hour here choosing a few fun rides for our daughter. After, head across the street to the Belmont Park Playground. A fun park with a huge climbing structure located right next to a beach.
Whale Watching
If you are in San Diego during whale migration (mid-December through April) a whale watching tour is a must! We opted for San Diego Whale Watch as we found a great deal on Groupon and the boat launches right outside the hotel at Mission Bay. We sat towards the front of the boat and got the best views watching two grey whales breach for over an hour! Even if you don't see whales, dolphins, or other wildlife, it is still a great view of San Diego from the water.
You can also book a San Diego whale watching through your GoCity San Diego pass.
Paragliding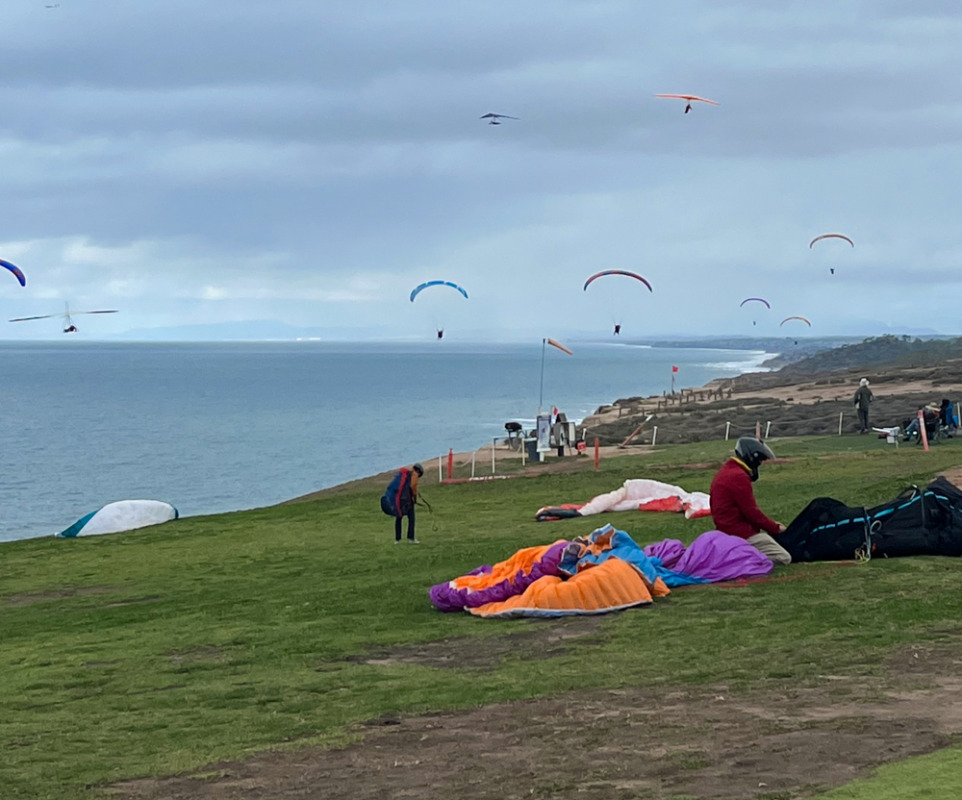 For our dare devil Dad, we bought him a gift certificate to go paragliding at Torrey Pines Gliderport. He had the best time and spent about 30 minutes in the sky as we watched. They even take kids up! If you don't have someone that adventurous in your family, it is still a fun place to stop quick and watch the paragliders take off, glide, and land. They have a small concessions stand with beverages and light food you can grab while there. Be sure to arrive early as spots fill quickly!
Pro tip: we arrived in the afternoon and had a 2 hour wait for my partner's turn. They took down our number and allowed us to go get lunch in La Jolla before returning.
Hiking in Torrey Pines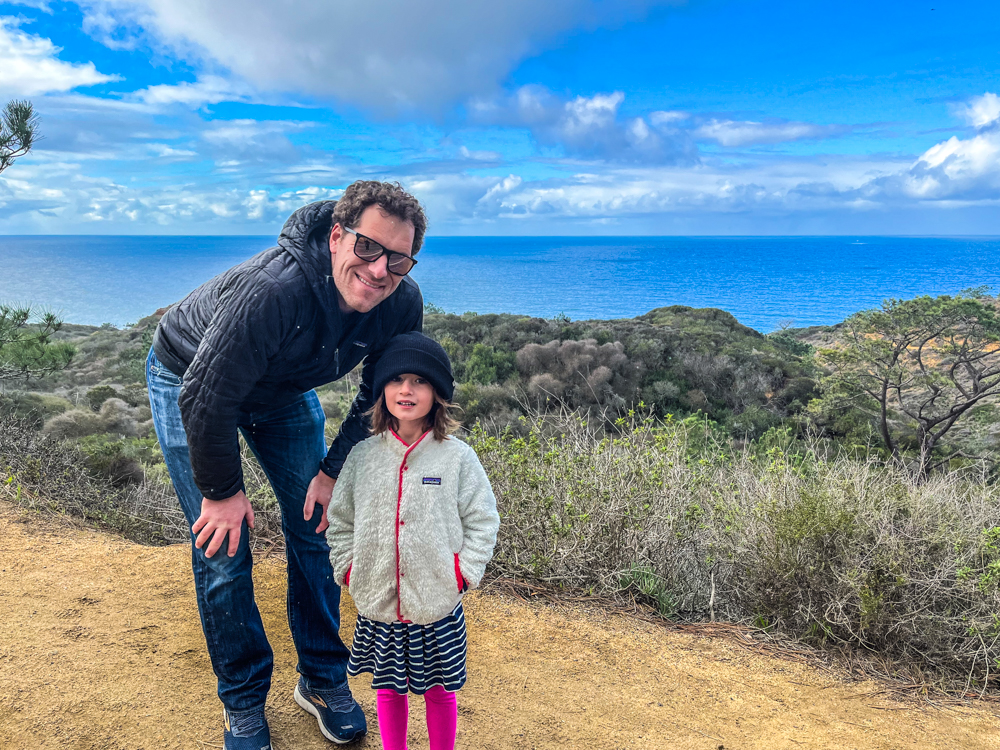 While at Torrey Pines Gliderport, you can't skip out on the beautiful Torrey Pines hike! We hiked a couple miles, but you can easily add in more with several paths twisting along the cliffs overlooking the ocean. You can also opt to drive up the hill and park close to the top. The view at the top is worth the hike! Another fun and popular hike is Annie's Canyon Trail located further north.
San Diego Zoo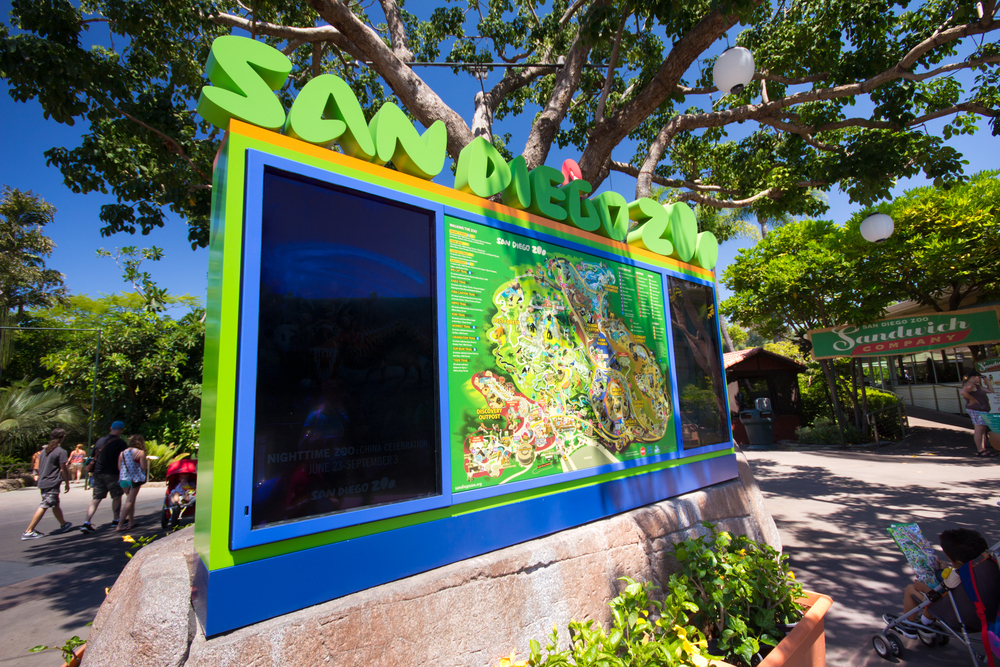 What is a trip to San Diego without visiting the San Diego Zoo? This is one of the most popular zoos in the world for a reason. Although advanced tickets are no longer needed, we recommend purchasing tickets in advance to get through the line quickly. Parking here is free!
We've been to several beautiful zoos, but this might be the most stunning zoo we've been to.
Each enclosure is thoughtfully planned, bringing their natural habitat to life. Our daughter most enjoyed seeing the koalas and elephants.
This zoo is quite sprawling, but included with your ticket is free use of the sky tram and bus tour. The bus tour is a great break or use at the beginning of your day to get a feel for the layout of the zoo. The tour guides are great and very knowledgeable!
You'll want to spend most of the day here, so bring plenty of snacks, water bottle, and sunscreen! You can also bring a lunch, but we opted to eat at the restaurant Albert's. Be sure to make a reservation as this is a popular place for good reason! Surprisingly good food for a restaurant in the zoo. We ate outside on their small patio.
Still have energy after the zoo? Head to adjacent Balboa Park that boasts 17 (!!) museums, or save it for a rainy day. There's also a playground if your kids have any energy left after a full day at the zoo.
Pro tip: If you're visiting San Diego in winter, plan to stay at the zoo after dark for the festive Jungle Bells program! Everything is beautifully lit from early December to early January and there are live musicians roaming near the zoo entrance.
La Jolla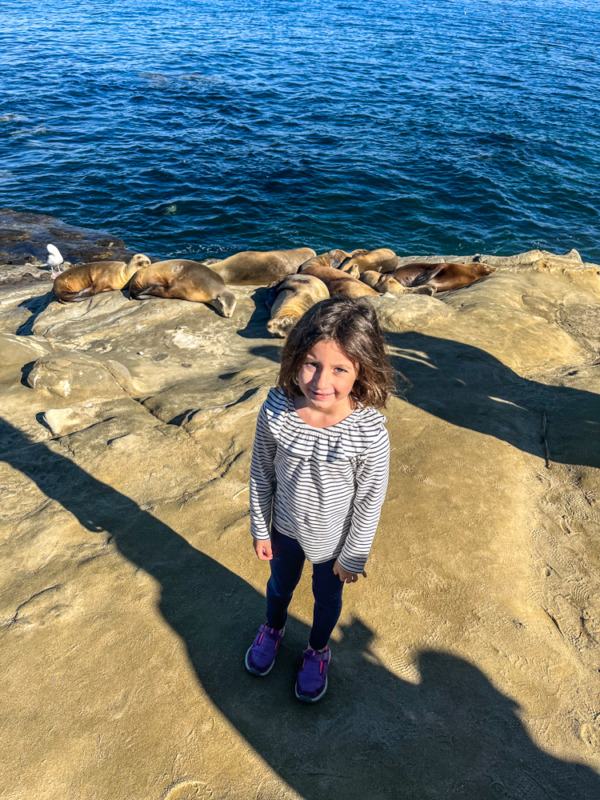 La Jolla is a beautiful area north of downtown San Diego. With sprawling views and cliffs overlooking the ocean, there is a beautiful view around every corner. Our favorite part here was La Jolla Cove to enjoy watching the dozens of Sea Lions sunning themselves and hunting for food. We stopped by a few times during our visit and also enjoyed a picnic lunch in the large grassy field. Don't forget to pack a ball or frisbee to toss around!
La Jolla also boasts boutique shops and restaurants downtown, making it a fun area to walk around. During a future visit we may look at staying at one of the many boutique hotels in the area or a cute airbnb for a few nights.
USS Midway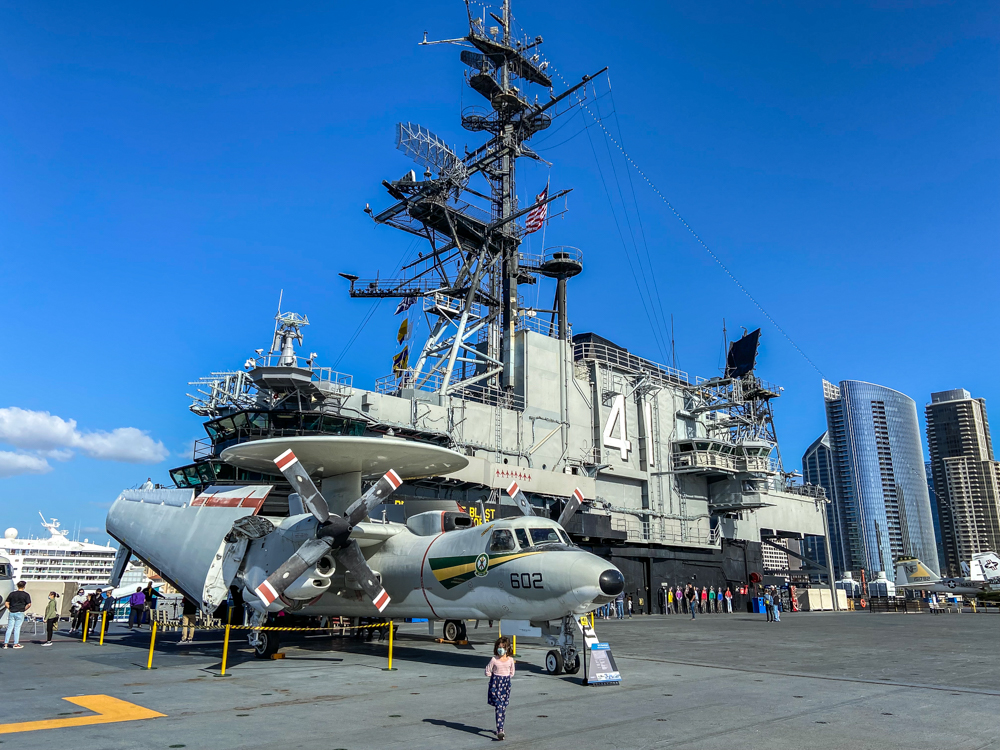 Easily walkable along the oceanfront path from Grand Hyatt, USS Midway offers an interactive aircraft carrier museum. Our daughter loved getting her hand on the control panels and walking among the aircraft on the hanger.
After the museum head a bit further on the path to Waterfront Park playground to run around.
Cabrillo National Monument and Point Loma Tide Pools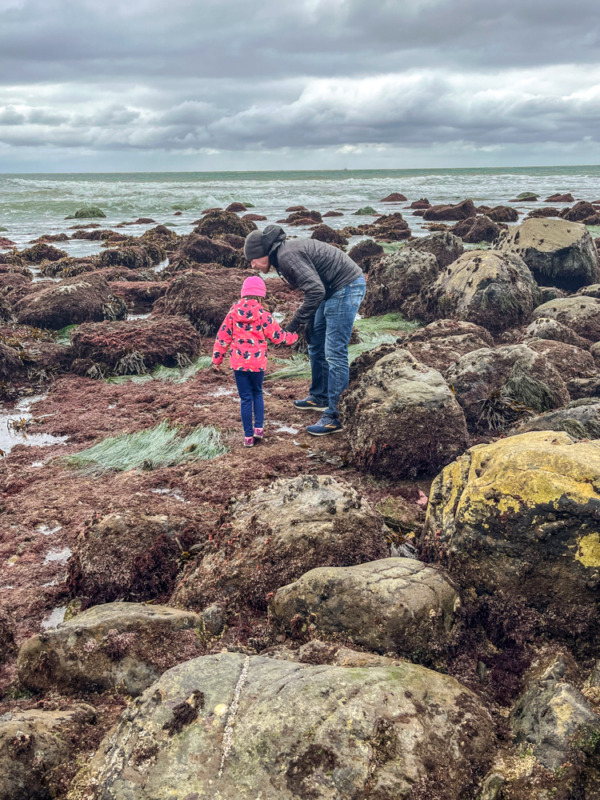 A must stop in our opinion is spending time at the Point Loma Tide Pools at Cabrillo National Monument. Be aware that there is often a long line to enter the park area, so bring car activities during the wait. Also check the tide predictions so you can plan to be there during low tide. The views are stunning while kids will love discovering critters in the tide pools.
Coronado Island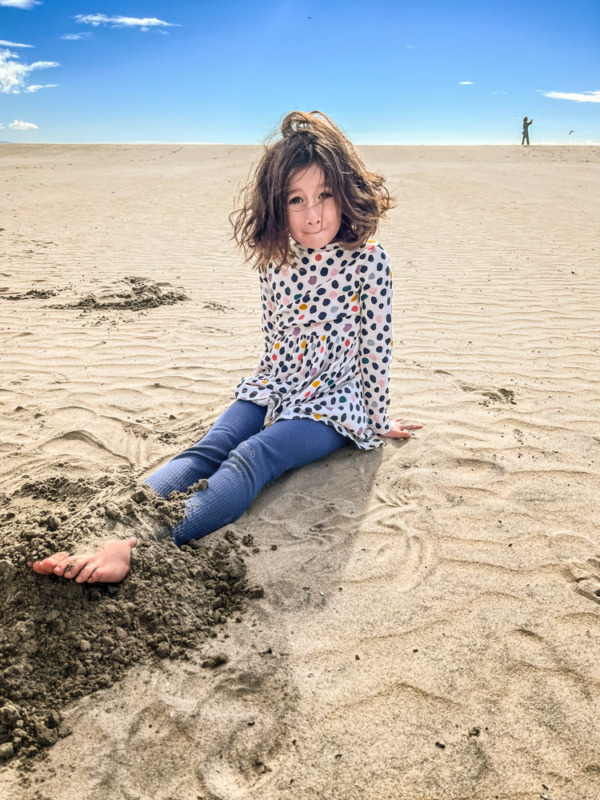 We drove to Coronado Island twice during our week long stay. Only a 5-10 minute drive from Grand Hyatt Manchester, Coronado Island is a great place to walk around, play at the beach, or walk through historic Hotel del Coronado. There's also a small playground on the island we stopped at before heading back to our hotel.
And now a few more suggestions from Melissa…
San Diego Zoo Safari Park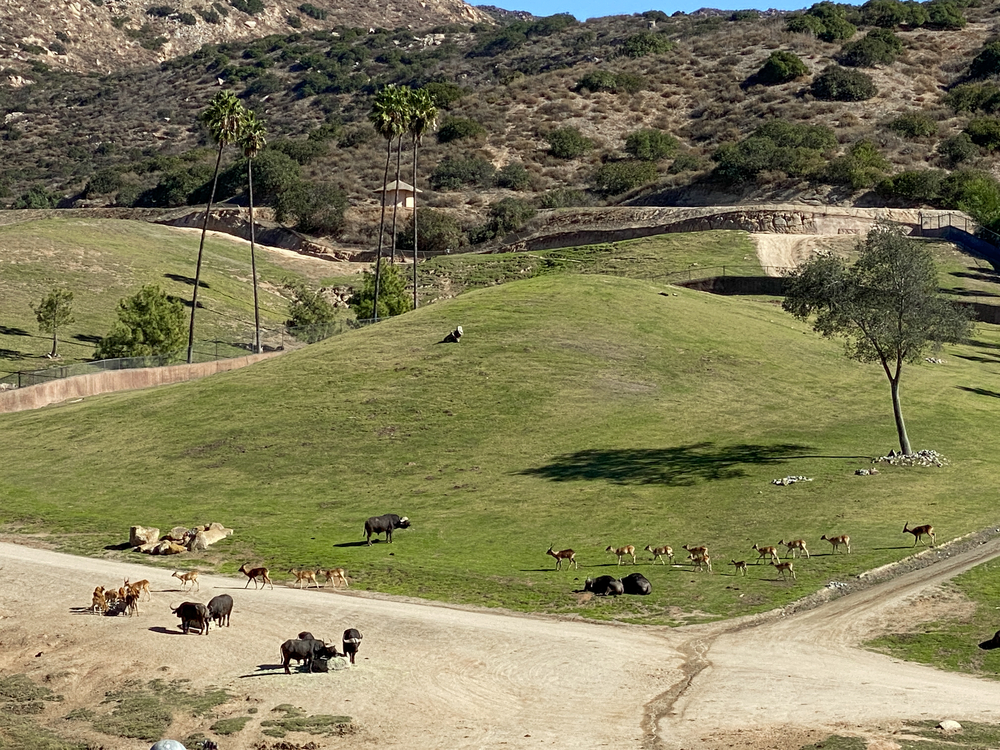 Formerly called the San Diego Wild Animal Park, the San Diego Zoo Safari Park is one of those iconic kid-friendly activities near San Diego. It's located in Escondido, about 35 minutes north of downtown San Diego and 30 minutes east of Carlsbad.
The Safari Park is unlike any traditional zoo you've been to. Rather than keeping each animal in a small enclosure while visitors walk from one to the next, the majority of the park is wide-open spaces with geographically-based habitats. The animals – at least the ones that won't kill each other – live together just as they would in the wild. Visitors can choose from one of several "Safari" options to visit the region that mosts interests them: African savannah (including lots of giraffes!), Asian savannah or a longer tour that combines them both. We opted for the African cart safari when our kids were 1 and 3 and it was perfect for the whole family!
There are also areas of the park available to explore on foot like the Australian habitat, Gorilla Forest and Tiger Trail. One unique feature of the Safari Park is its conservation-focused breeding program that has earned it a reputation as the nursery for America's zoos. This is a great activity for school age kids in San Diego because they'll enjoy learning more about the park's behind-the-scenes work.
LEGOLAND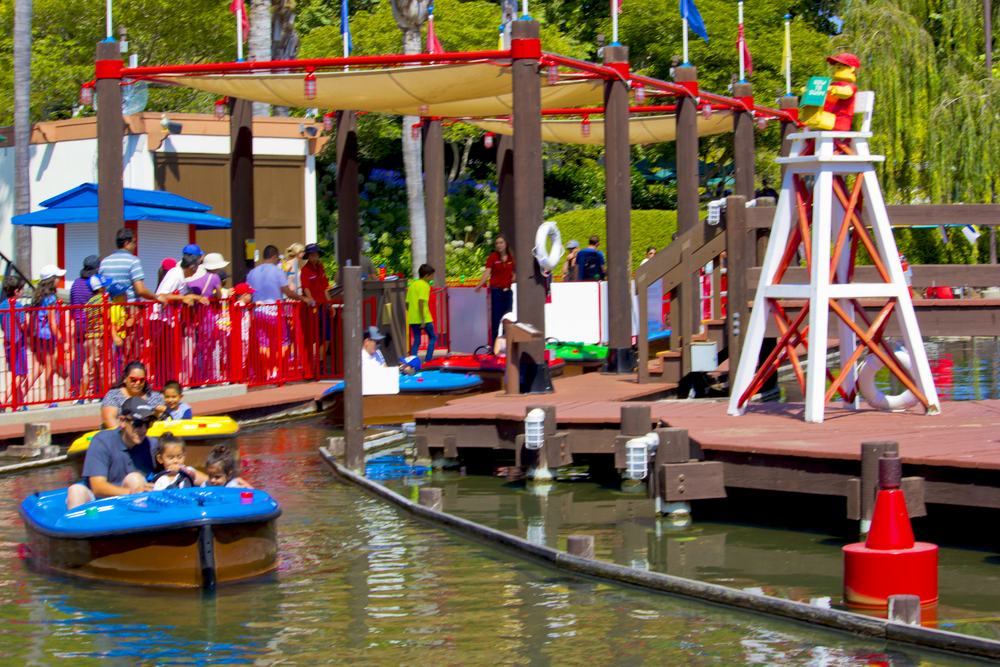 LEGOLAND California in Carlsbad could easily occupy its own article with tips and tricks, but if you have a young LEGO-lover it's a must-visit. There are great attractions for preschoolers on up including:
Race car building/testing
LEGO replicas of cities around America
Roller coasters and other thrill rides
DUPLO train for the young visitors
Play structures
Mini golf
Water park
SEA LIFE Aquarium
It's easy to spend a whole day at LEGOLAND and it's fun for the whole family, and kids who are at least 36″ will get the most out of it (and it's even better for kids who are 40″).
We haven't stayed on-property but I've heard from friends that staying at the LEGOLAND Hotel really ups the experience. Everything in the hotel is LEGO-themed, there's evening entertainment and it's right near the theme park entrance. It's also a great place to stay in San Diego for big families since each room has beds for five people and some suites accommodate seven!
I recommend grabbing discounted tickets here or getting them through the GoCity San Diego All-Inclusive Pass. Either of those options will save you at least $10 per ticket.
San Diego's Balboa Park with kids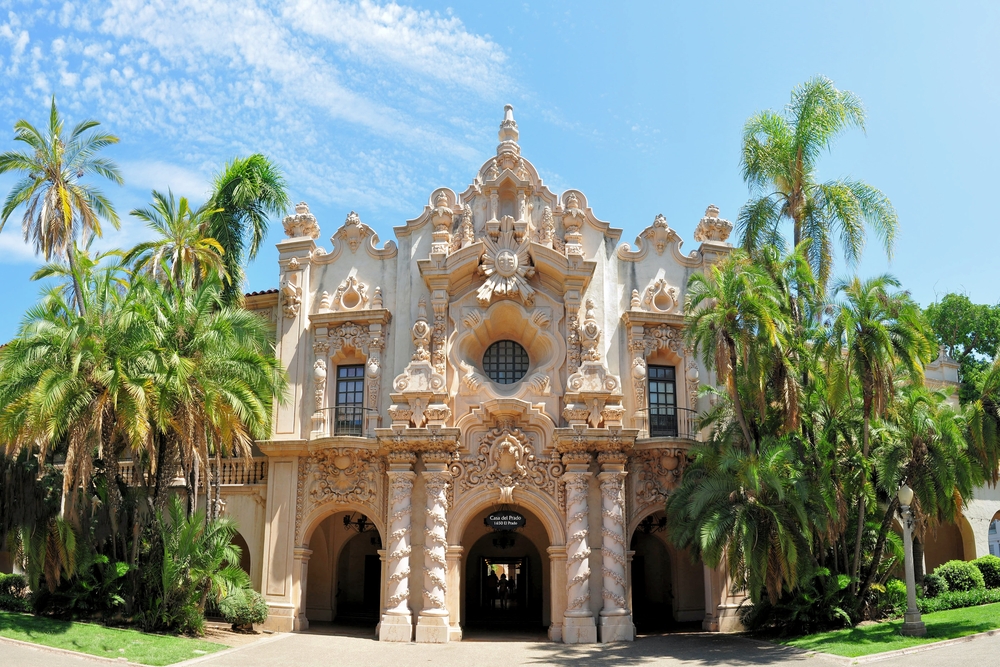 A visit to San Diego isn't complete without a little time tooling around iconic Balboa Park. It's 1200 acres of green space, gorgeous architecture and different museums. Thankfully, many of them are free or inexpensive!
If you have a train-obsessed kid, you'll want to stop by the San Diego Model Railroad Museum. It's a fun way to spend about an hour, watching the model trains as they roll through a wide variety of layouts. It's only open Thursday through Sunday 11am-4pm, so keep that in mind as you plan your time.
We really enjoy the Fleet Science Center, which offers hands-on discovery for kids of all ages. Members of any ASTC-affiliated science museum get in free, so you can easily pop in for a few hours and not feel guilty about the price tag.
Families planning a trip to San Diego with tweens should swing by the new Comic-Con Museum. It's an extension of the renowned Comic-Con event that takes place annually in San Diego, and highlights everything from fan favorites like Star Wars and Wonder Women to more current features like comics of COVID.
You'll find plenty of performing arts options for the whole family, the San Diego Junior Theater and the Marie Hitchcock Puppet Theater – be sure to check the schedules for your visit. There's also a carousel and a miniature train to ride around, making Balboa Park a fantastic place to spend a day with kids in San Diego.
---
Kid-friendly restaurants in San Diego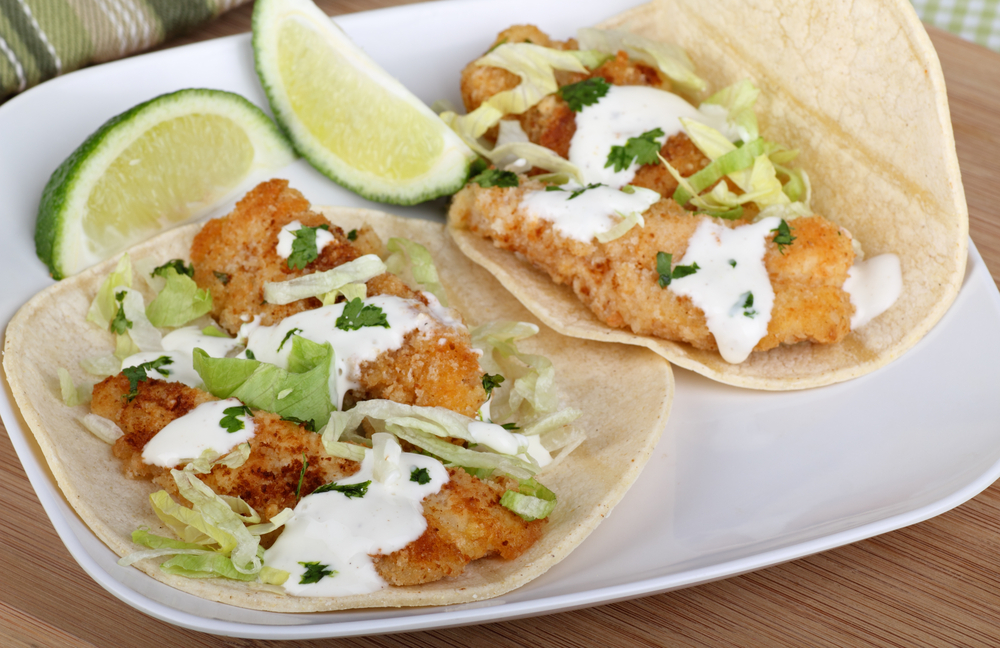 We love good food, and there are plenty of great places to eat in San Diego with kids! Be sure to get your fill on seafood and Mexican food while there. Below are some of our favorites.
Wayfarer Bread & Pastry in La Jolla: enjoy wonderful pastries and treats. Tip: order ahead as the line gets very long!
Puesto: with several locations and large outdoor patios, this Michelin star casual restaurant is a great choice. We stopped at both La Jolla location and their location right outside Grand Hyatt. Don't miss out on the quesabirria taco and frozen horchata. Hit up their happy hour for great deals on appetizers and their margaritas!
Lola 55: another Michelin star restaurant, this order at the counter restaurant is a great choice for a quick meal. We enjoyed their tacos and pozole verde.
Davanti Enoteca: Excellent Italian food in San Diego's Little Italy.
Ponce's: centrally located, great food and margaritas.
Mitch's Seafood: our favorite fresh seafood! This is a nice stop after your time at Point Loma tide pools.
Hidden Craft: surprisingly good food and local craft beers. Self serve beer allows you to try as much or as little as you'd like!
Ballast Point Brewery: good outdoor option with yummy food and beer.
Also… you can't leave San Diego without eating a fish taco. It just wouldn't be right! Local chain Oscar's is a reliable bet and has several locations including Mission Beach.
About Nicole
Hi! I'm Nicole, partner to Nick and Mom to our sweet 5 year old, Anabelle. We call Madison WI home, but our time together traveling is when we truly feel united as a family.
---
Mapping the best things to do with kids in San Diego
Wondering how to put all your San Diego kid-friendly activities together? Check out the map below to get the lay of the land:
---
Where to go next on your family trip to San Diego
Planning a longer trip to California with kids? Read these articles for all the insider details you need:
Still planning? Pin this for later!