We've visited zoos and aquariums all over the world, and these days we don't necessarily seek them out these days. So many of them seemingly offer the same experience and most aquariums don't have a meaningful "local flair".

But the Monterey Bay Aquarium is something entirely different. We've never been to a place with such an amazing emphasis on education. We spent our FIVE HOUR visit bouncing between observing animals on our own and hitting the jam-packed schedule of presentations – some with animals present for feedings or keeper talks, others in the auditorium with fascinating videos about how the Aquarium operates behind the scenes. Every single presenter was informative but also engaging. You can feel the passion of the people who make this their life's work!
Read on to find out why you need to take your kids – and yourself – to the world-famous Monterey Bay Aquarium at least once. It's might just be one of your memorable stops on a west coast road trip!
"Local" is the name of the game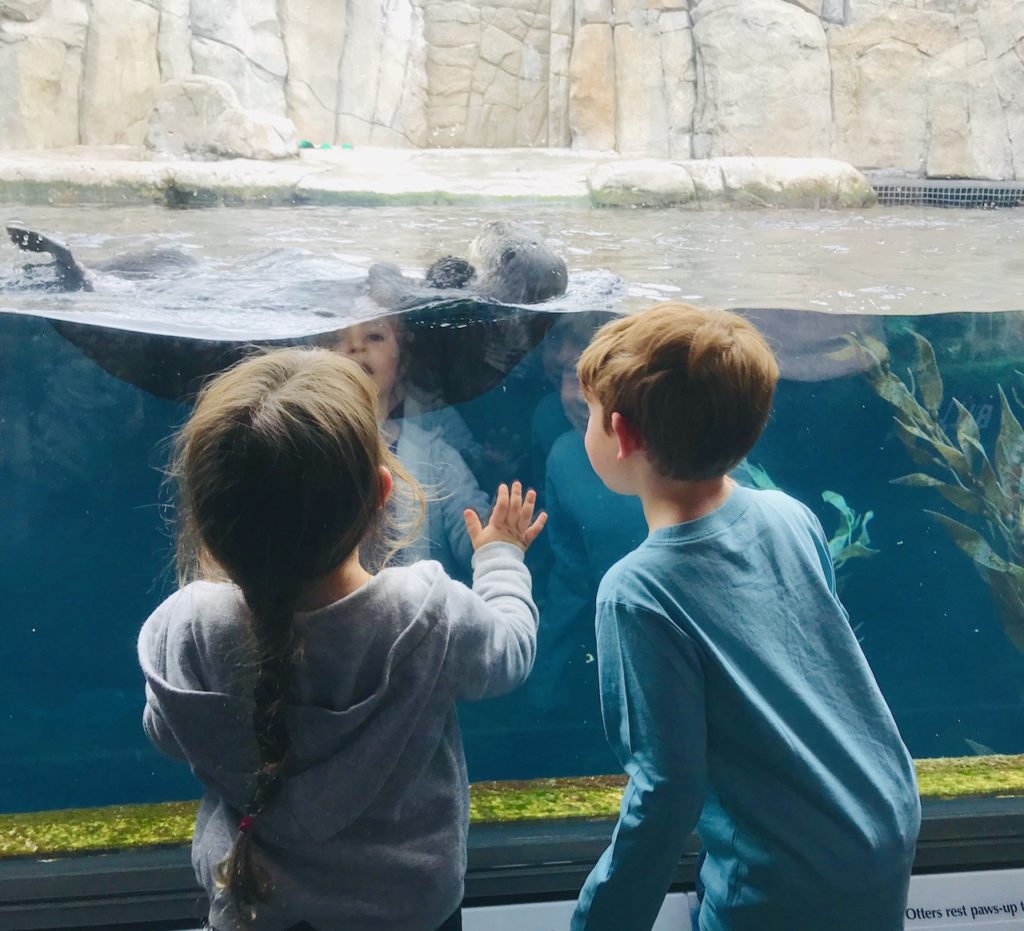 The name is more than just an address at the Monterey Bay Aquarium. So much emphasis is on the local environment, local animals and local ecological challenges.
The most wonderful creatures to see at the Monterey Bay Aquarium are the resident sea otters. The aquarium has a fabulous rescue, rehabilitate and release program that you can learn about in Luna's Story, presented several times daily in the auditorium. There are also several sea otter feedings throughout the day when visitors can learn more about the otters' habits and personalities.
Read more: 10 Amazing Things To Do In California With Kids
Why sea otters? Not only can you see the rescued animals enclosed at the aquarium, but if you head right outside you can often spot them frolicing free in the bay! We followed up our visit to the aquarium with a trip to Point Lobos and saw plenty of wild otters displaying exactly the behaviors we had learned about during our aquarium visit.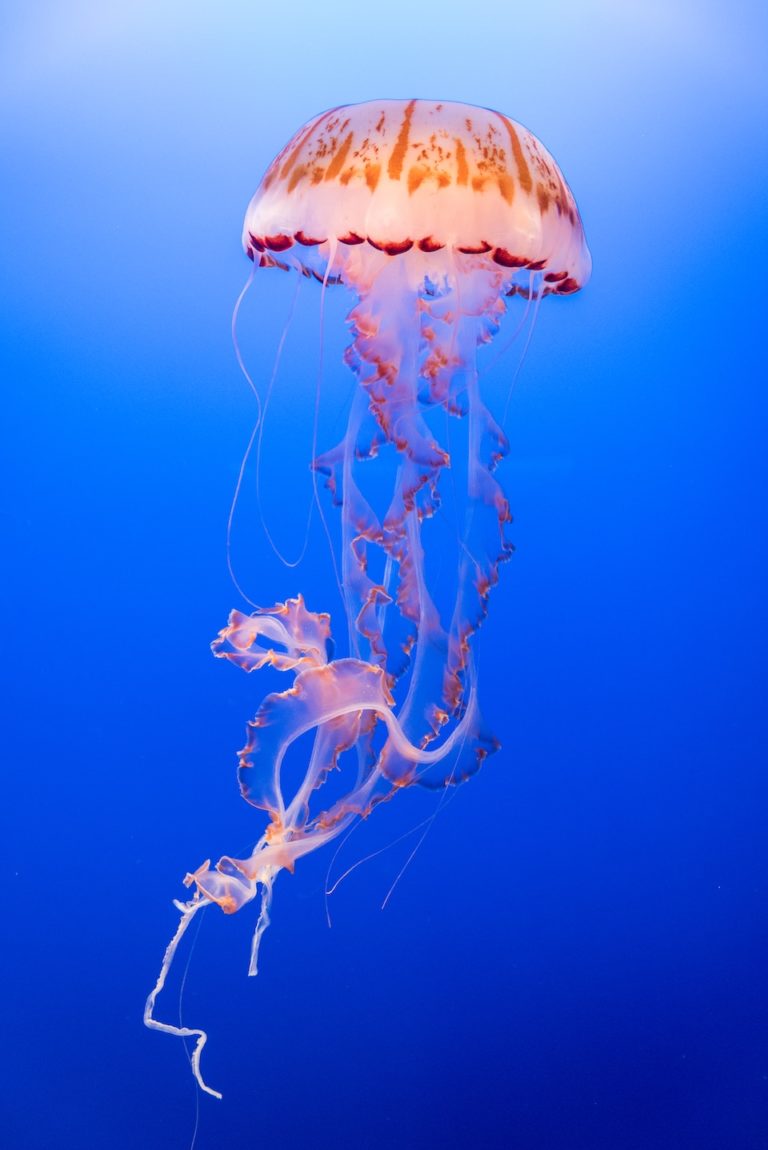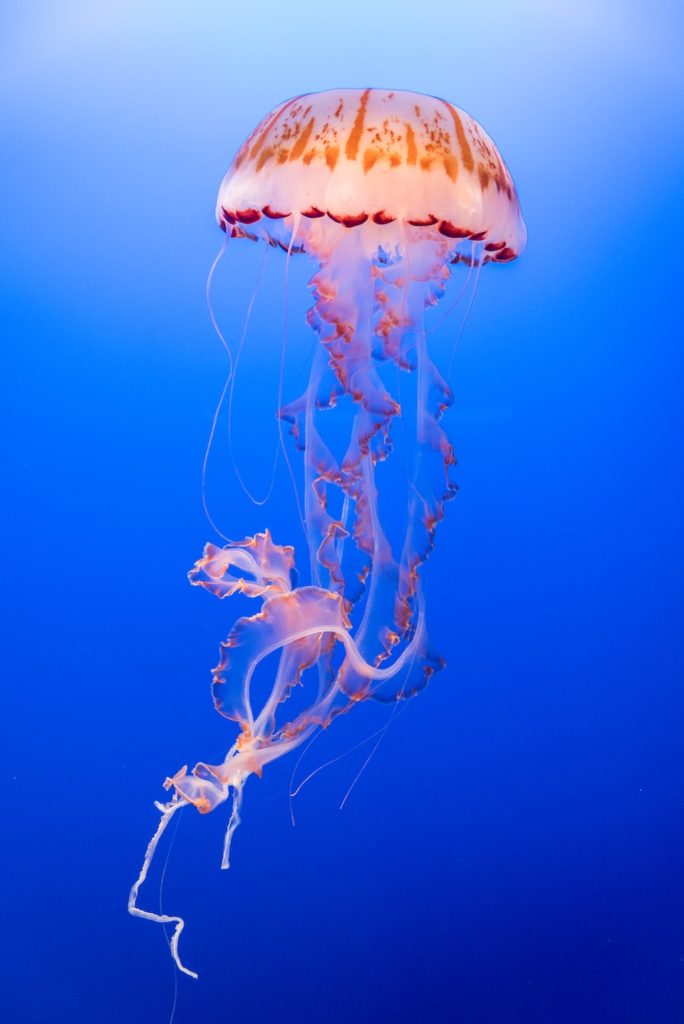 There are many other kelp forest residents to meet in the aquarium like leopard sharks, a red octopus, eels, sea stars and more. Fun fact: one way that the aquarium keeps its kelp forest and animals so healthy is by constantly exchanging tank water with the water in the bay! That means there are quite a few "stowaways" who come in as tiny fish and then grow within the aquarium's kelp forest. You can learn more about the inner workings of the aquarium during daily presentations (more on that later).
The local flavor is even clear in the aquarium's layout, which is centered around the Great Tide Pool. It's an opportunity to step outside and see the region's expansive kelp forest and all its inhabitants up close and personal.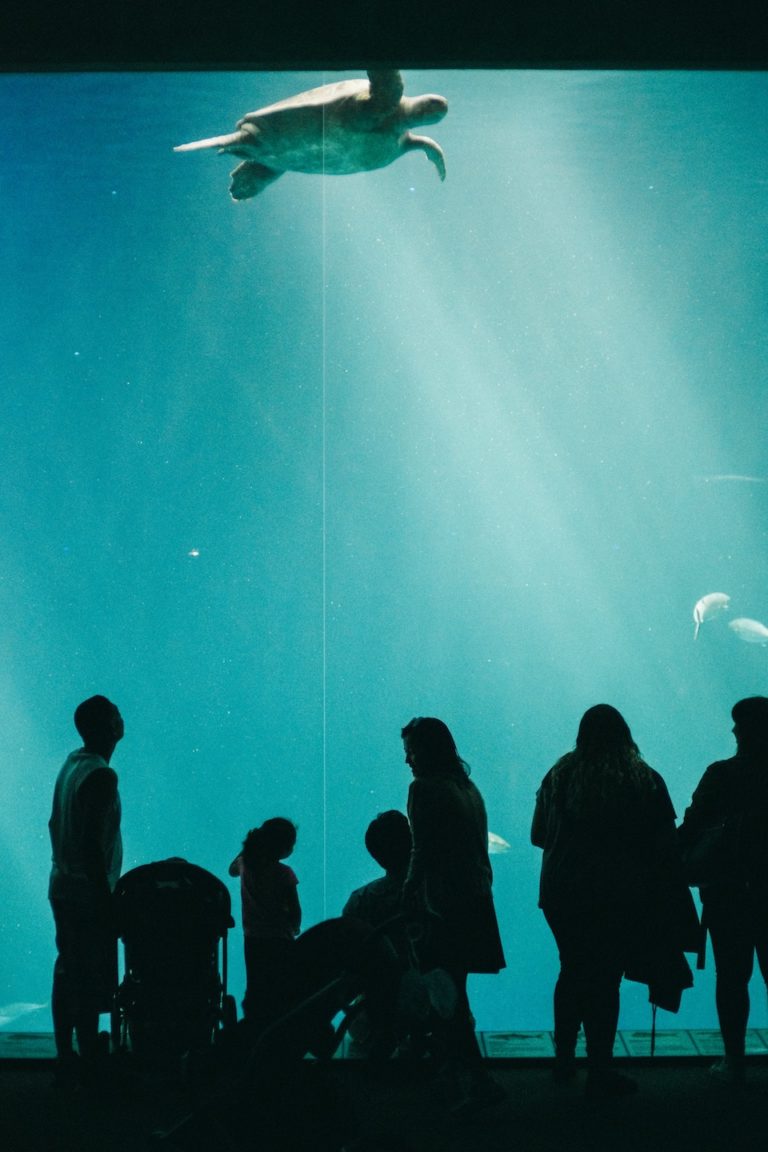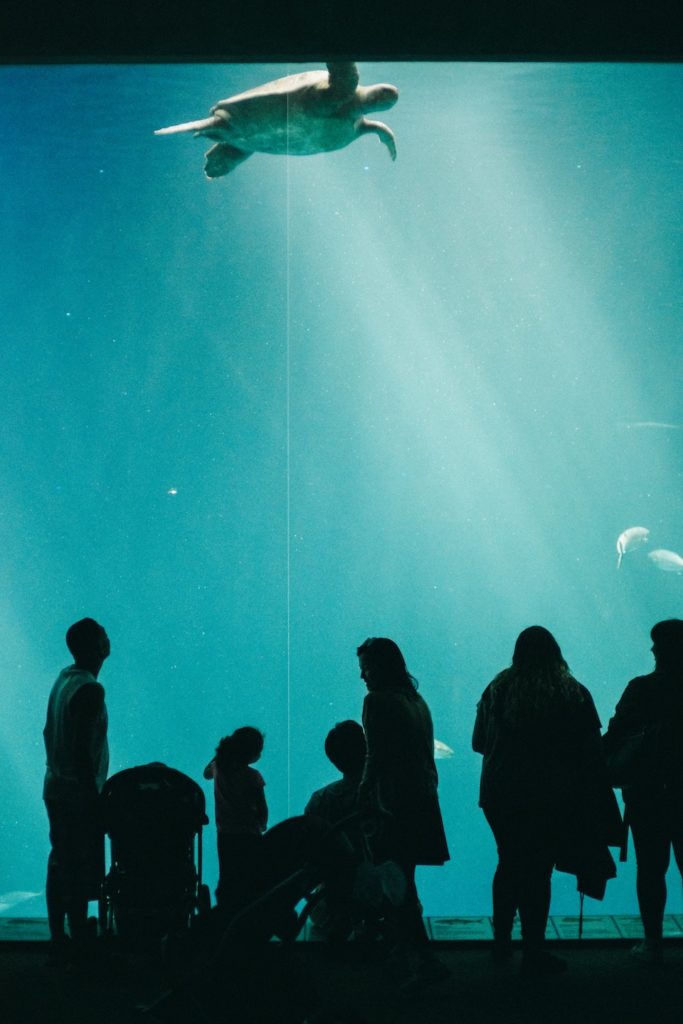 There are also several must-visit exhibits that have a more global flair. Our family loved watching the African penguins, who are at the aquarium as part of the Species Survival Plan administered by the Association of Zoos and Aquariums. There's also a new exhibit on the wildlife Baja California, where the Sea of Cortez meets the desert.
Read next: How to travel with a car seat (without losing your cool)
Education for all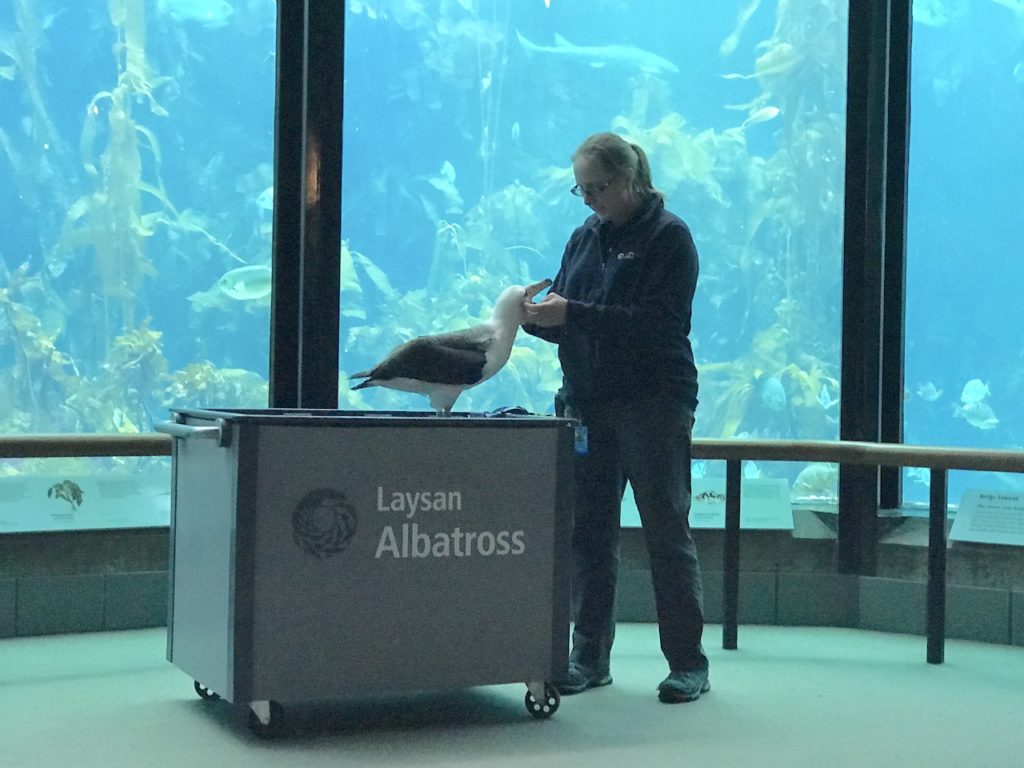 Unlike so many aquariums and zoos, there's a lot more to do at the Monterey Bay Aquarium than wander from exhibit to exhibit. You can do that, but you'd be missing out on the most enriching opportunities of your visit!
When you walk through the gate, you'll receive a copy of the day's schedule. Guard it closely and refer to it often! You can also see the full schedule here to make your plan in advance.
We attended a wide range of programs and they were all fascinating. The presenters brought humor, enthusiasm, passion and an amazing wealth of knowledge to every experience. We loved watching the playful otters and penguins during their feedings. The feedings are extremely popular, so make sure you get there 5-10 minutes early (or more) to snag a good spot.
The programs in the auditorium combine video footage with live narration and are perfect for visitors who want a more in-depth look at some of the aquarium's activities. Luna's Story is a sweet and fascinating story of the rescue, rehabilitation and release of an orphaned otter in nearby Monterey Bay.
One of the best programs offered at the aquarium is Behind the Glass, which shows how the aquarium operates behind the scenes. You'll get an inside look at the sophisticated water exchange system, food prep and more! Some of these programs are geared to visitors from school age through adults – many preschoolers would be happier to keep looking at the fish and the otters.
Monterey Bay Aquarium conservation programs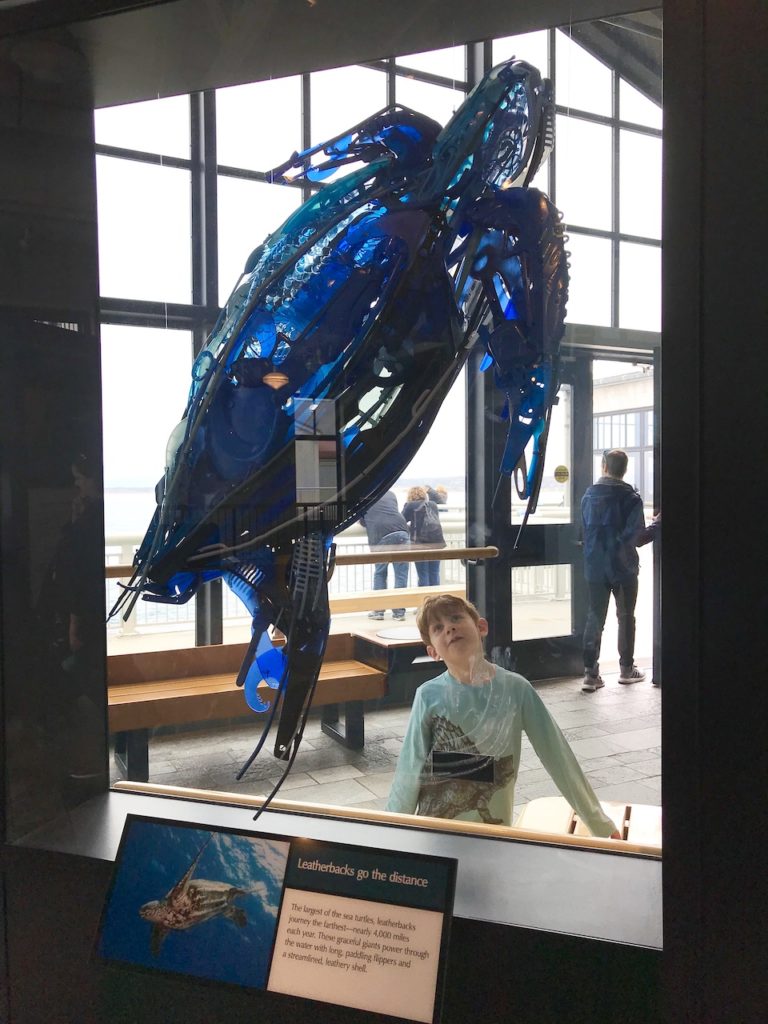 The Aquarium's work even extends beyond its walls, whether through their efforts to rescue, rehab and release injured or abandoned animals or to educate or influence fisheries and restaurants to commit to sustainable practices.
We knew about the aquarium's Seafood Watch program long before our visit. But that's just the tip of the iceberg. It's great to know that every admission and membership at the Monterey Bay Aquarium stretches further than the building's walls.
The Monterey Bay Aquarium does important work lobbying at all levels of government, participating in the AZA's Species Survival Plan, rescuing local animals in danger and more. There's even a chief scientist and a science staff who work on important ecological studies.
Read more: Free and cheap things to do in San Francisco with kids
Is Monterey Bay Aquarium worth the price? Are there any Monterey Bay Aquarium discounts available?
Monterey Bay Aquarium admission isn't cheap. Sorry. As of this writing, the cost is $49.95 for adults and $29.95 for kids 3-12 (save some time by grabbing your tickets in advance). What's a family to do?
If you think you'll visit more than once in a year, it's definitely worth considering a family membership or $250. It includes unlimited admission for two adults and all your kids up through age 21. That membership is also tax-deductible, so if you itemize your net expense could be substantially less.
For travelers planning just a one day visit, you can buy tickets online in advance for a 10% discount through AAA. Some employers and banks in California (especially in the Bay Area) offer discounts as well.
The aquarium also partners with several local hotels to offer Monterey Bay Aquarium packages that include admission tickets. Check out the convenient and family-friendly Embassy Suites in nearby Seaside, which has free food for guests both morning and evening and plenty of room for the whole crew in their newly-renovated suites.
Now that you know all about the ways to save money on Monterey Bay Aquarium admission, is it worth what you'll pay?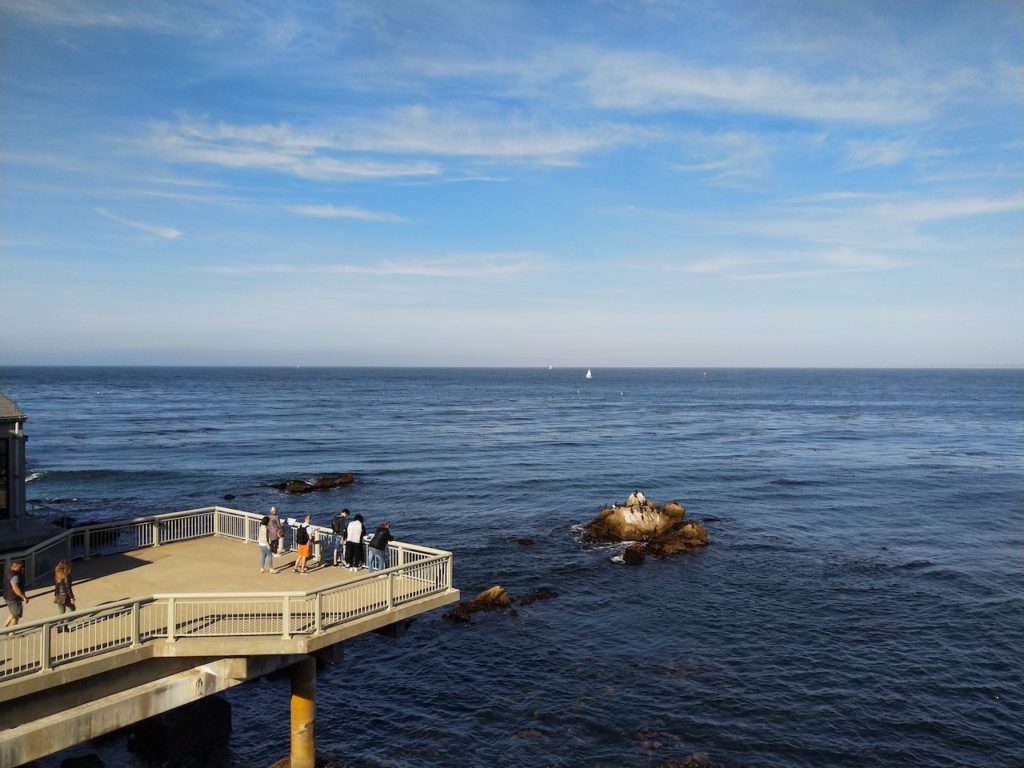 We think it's a resounding "yes". As you've already read, the Monterey Bay Aquarium isn't just a place to see a few creatures in tanks. It's a place to learn about the local environment, understand what conservation looks like behind the glossy advertising and support an organization that is empowering others to "know better and do better" in their impact on aquatic life.
The only caveat is to consider how much your child will gain from the experience. There are plenty of places where kids can go to see aquatic life at any age, but we think it's worth waiting until your kids are old enough to understand and appreciate at least some of the information and educational presentations that make the Monterey Bay Aquarium so unique. At ages 4.5 and 7, our Wild Kratts loving kids were in heaven and soaked up everything around them!
Practical tips for visiting the Monterey Bay Aquarium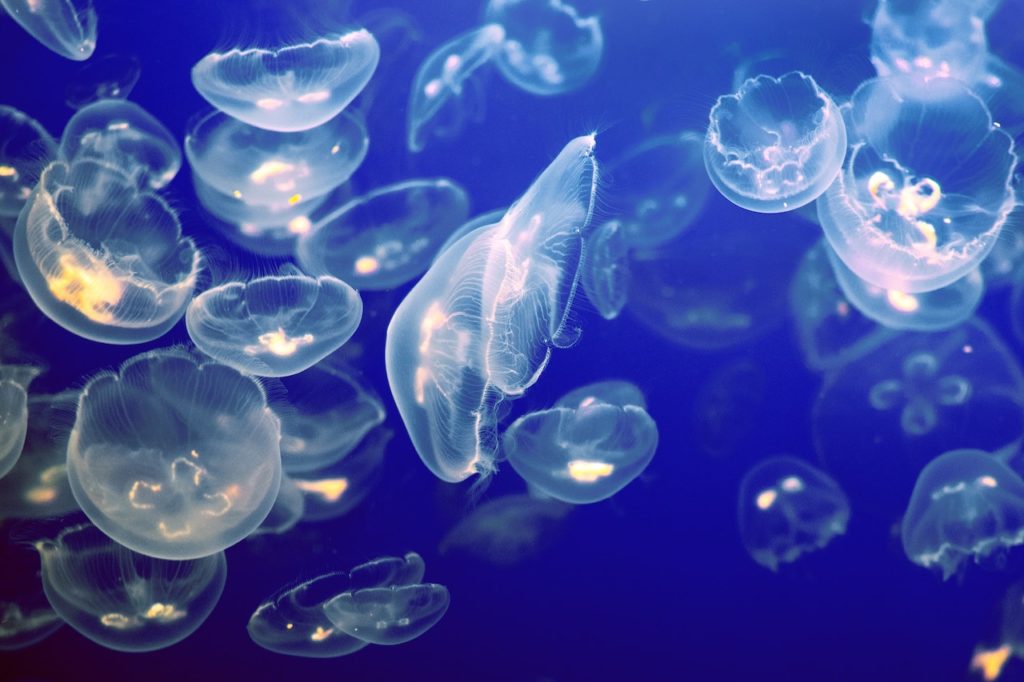 -Try to visit on a weekday and avoid school breaks if possible. The aquarium is justifiably popular and the admission line can be extremely long. Avoiding weekends and breaks also means you'll have an easier time getting around the aquarium and getting a front row seat for all the programs you want to attend.
-Look at the schedule for the day as soon as you arrive. I snagged a pen and circled the programs we wanted to attend to make sure we managed our time wisely. That plan was critical to fitting in everything that we all wanted to see and learn about!
-Some of the programs and exhibits are on opposite sides of the aquarium, and the two wings are not connected upstairs. Look at your schedule and allow a few extra minutes to get around, especially if it's a crowded time and you have to go downstairs, across and back up.
-Prepare yourself for a long day. We were "only" there from noon until closing at 5pm (in summer they don't close until 6pm) and it was exhausting be fulfilling. You and your kids will be on your feet almost the whole time, so don't plan anything too intense for the evening.
-If your kids are little, bring a comfortable carrier – we wouldn't recommend a stroller, as often stairs are the most convenient way to get up and down. For older babies or toddlers, putting them in a carrier situated high on your back also offers a better view of the otters and some other creatures if you can't get right up to the glass. But please don't bring a structured hiking backpack – you'll end up whacking the people around you at crowded programs!
-We didn't eat in the cafe but the food looked pretty good and the prices were within reason. Ingredients are locally sourced and seafood is responsibly caught – not that we'd expect anything less from an organization with such a focus on sustainability. Along the same lines, they minimize use of disposable items. Bring your travel mug for a mid-day coffee if you want to walk with it!
-There is no on-site Monterey Bay Aquarium parking. You can opt for either metered or garage ($7) parking nearby. There's even a free trolley to take you to nearby sites!
Other things to do in Monterey Bay and nearby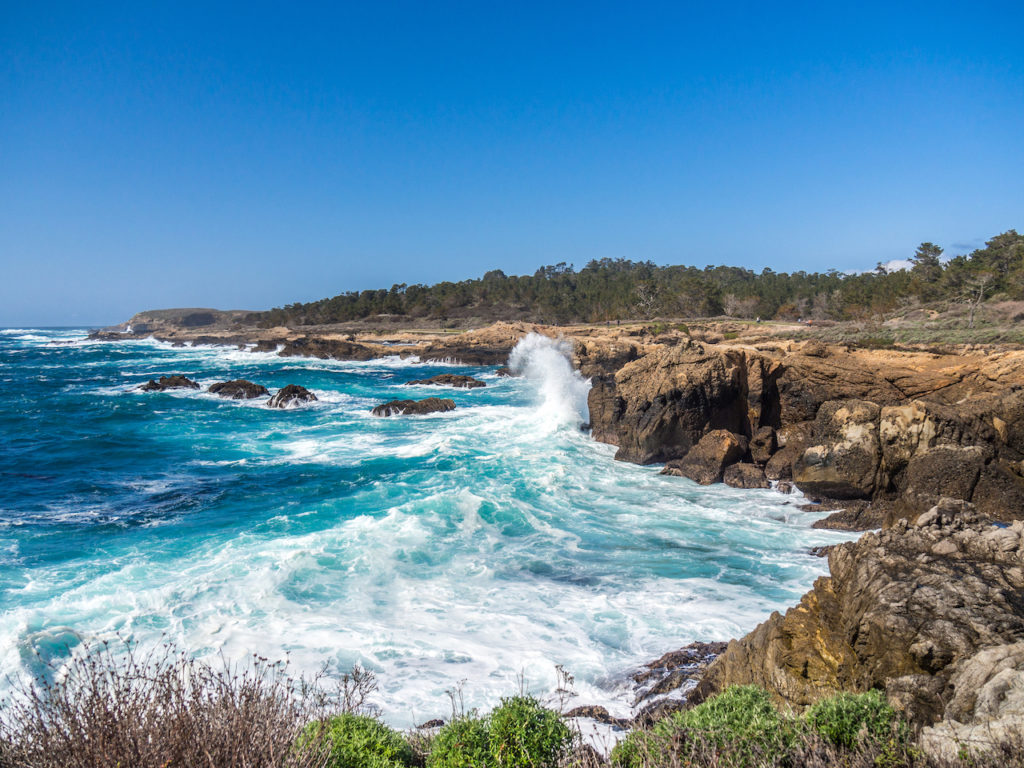 If you're already in Monterey, make sure to allow another half day (or full day) to see the local wildlife in their natural environment. One of the best places to do that is at nearby Point Lobos State Nature Reserve.
The park is often called the "crown jewel" of California's state park system, and it's special enough that in another place it might get the upgrade to National Park status. The park has miles of beautiful trails, most of which are basically flat. Check out this awesome guide to the park.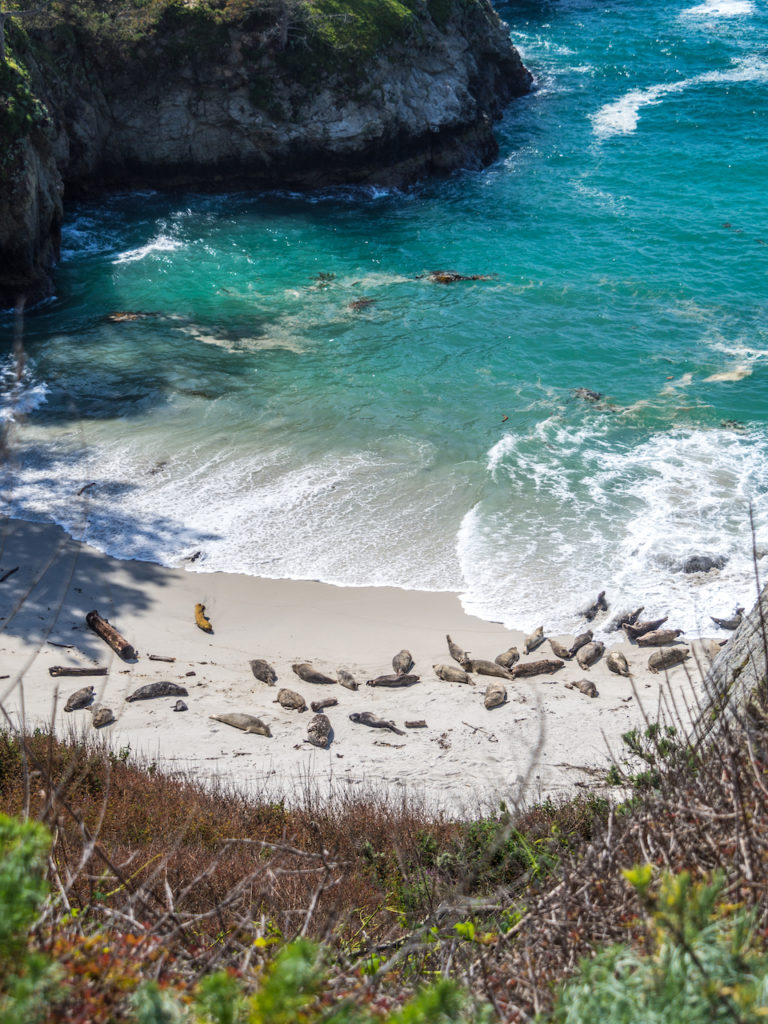 What will you see in Point Lobos State Park? This is the beginning of the stunning scenery for which California's central coast is famous. More importantly, it's a well-preserved habitat for so many creatures! We saw dozens of sea lions snoozing on the beach, otter moms and pups frolicking in the water as they used rocks to break open their food, and so many bird species nesting all around. After a full day of learning at the Aquarium, we were all amazed to see the animals in action in the wild just a few miles away!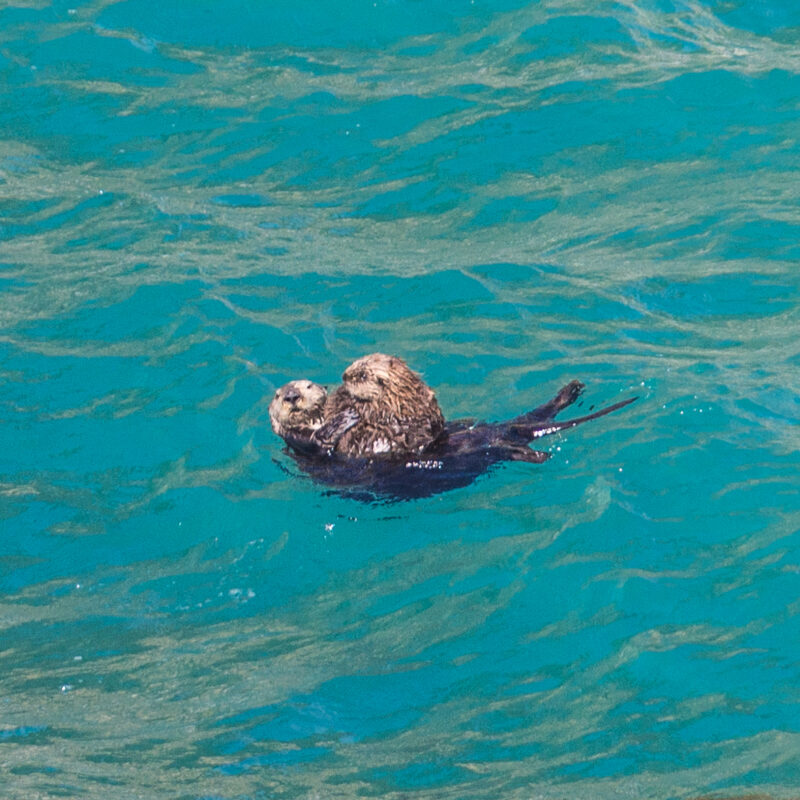 Psssst… don't forget to pack the binoculars!
We ran short on time, but one thing we'd love to do is go kayaking out in the bay. We love kayaking to get a different perspective on the places we visit, and in Monterey Bay you have the opportunity to get so close to the kelp forest and its inhabitants (while of course maintaining a safe and respectful distance). Check out this great company!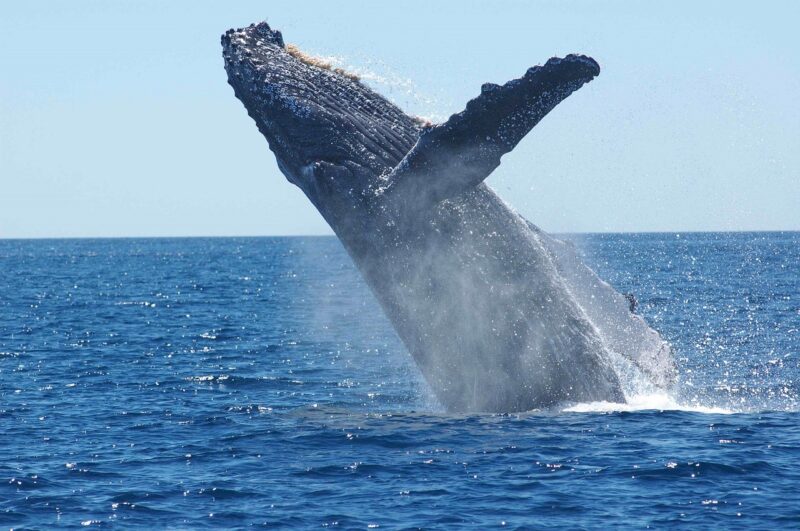 One of the coolest things about the marine wildlife in the area is that Monterey Bay whale watching season runs all year long! From January to March you can spot Gray Whales, while April to December brings Humpback Whales and Blue Whales. Did I mention that dolphins are out there all year long? Spend a half-day on this boat with just thirty passengers scouting these magnificent creatures. Check out all the details.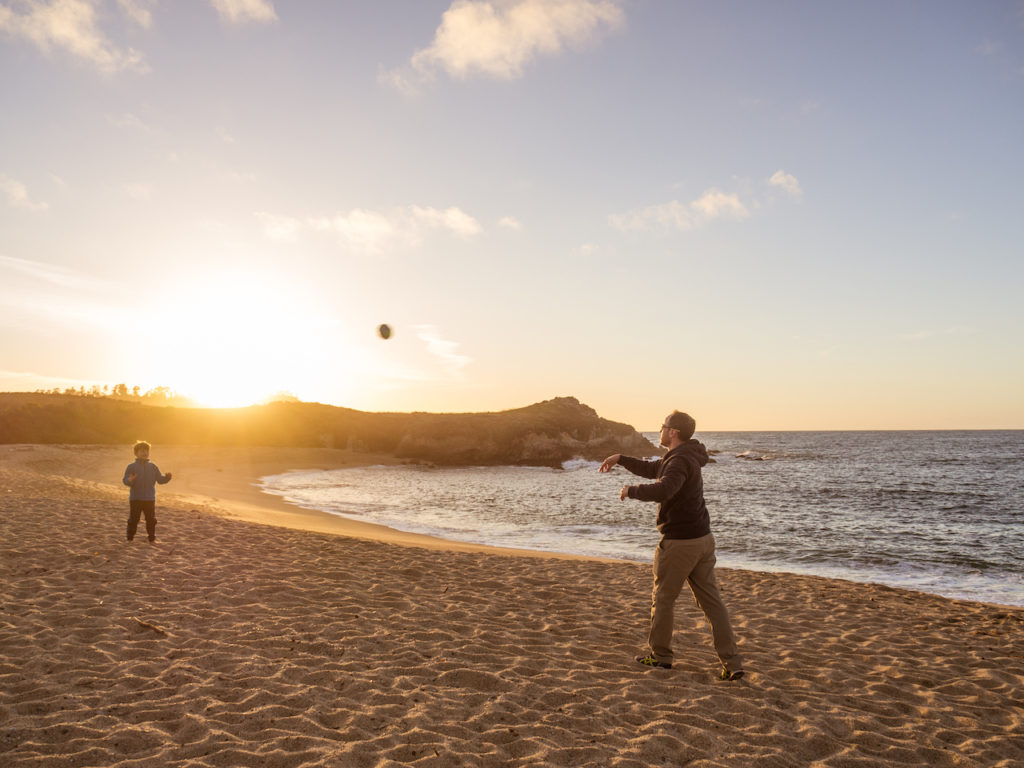 No matter how much time you spend on the Monterey Peninsula, make sure to head outside and capture at least one of those magical Pacific sunsets. The area's calm vibe, the gentle ocean breeze and the golden colors will conspire for an evening you won't forget.
Read more: Choosing the best convertible car seat for travel
Where to stay near the Monterey Bay Aquarium
The Embassy Suites is a great choice for families staying in the Monterey area for just a few nights. They offer packages that include your adult admission to the Aquarium, free breakfast and evening snacks, and indoor pool and more.
If you're traveling on a budget, it's worth considering an alternative way to travel: home exchange! With HomeExchange, you open your home to other travelers and earn points that you can use to stay anywhere you want in the network. Learn more here or sign up now.
Use the interactive map to find vacation rentals and hotels near Monterey Bay Aquarium
---
Where to go next
Planning a longer trip to California with kids? Read these articles for all the insider details you need: