After spending two decades living in the Golden State, I can say with confidence that there are more fun things to do in California with kids than most families will ever fully explore… but it never hurts to start trying!
In this article I'm highlighting some of my favorite things to do in California for kids (and their parents who bring them). This list isn't exhaustive, because there's no way it could be in a state that covers almost 165,000 square miles and is home to nearly 40 million people.
Best things to do in California with kids (that you won't find anywhere else)
Dive in to San Diego with kids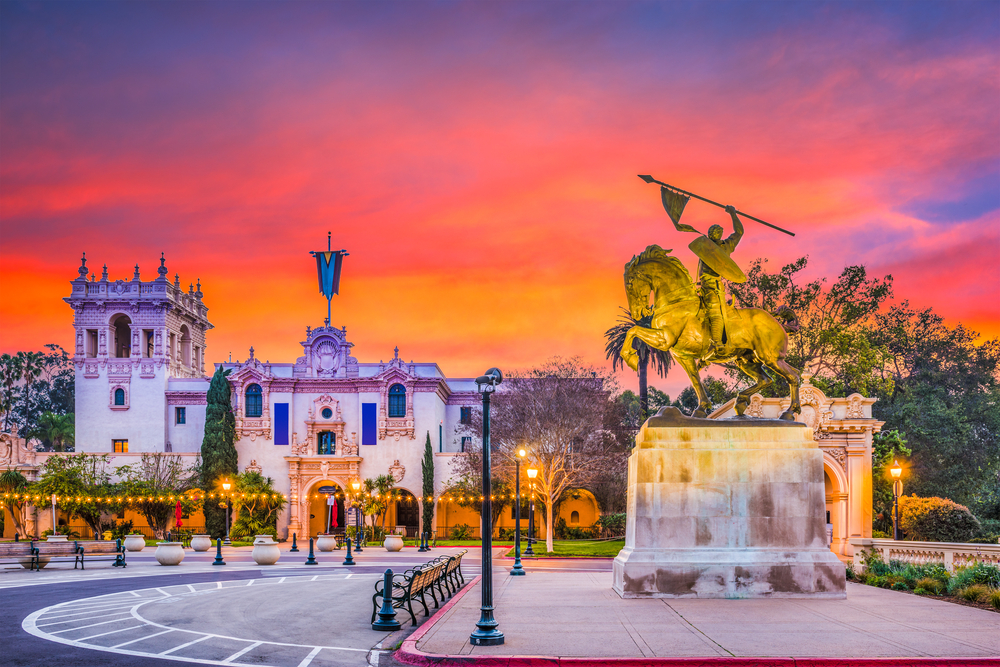 Why you should visit San Diego with kids
It's no stretch to describe San Diego as being like one big playground for kids. The city has it all: a world-class zoo, lovely beaches, family-friendly hiking, engaging museums and so much more. There's never a shortage of things to do in San Diego with kids, but at the same time the city's compact layout makes it incredibly welcoming and easy to explore.
While some of California's other cities might feel exhausting or overwhelming, San Diego is the perfect place to recharge while keeping the whole family engaged. You'll want to stay for at least a long weekend in San Diego, but you could easily stay for a week! During our years raising kids in Los Angeles, we took several wonderful trip to San Diego and there are still plenty of reasons to go back.
San Diego insider tips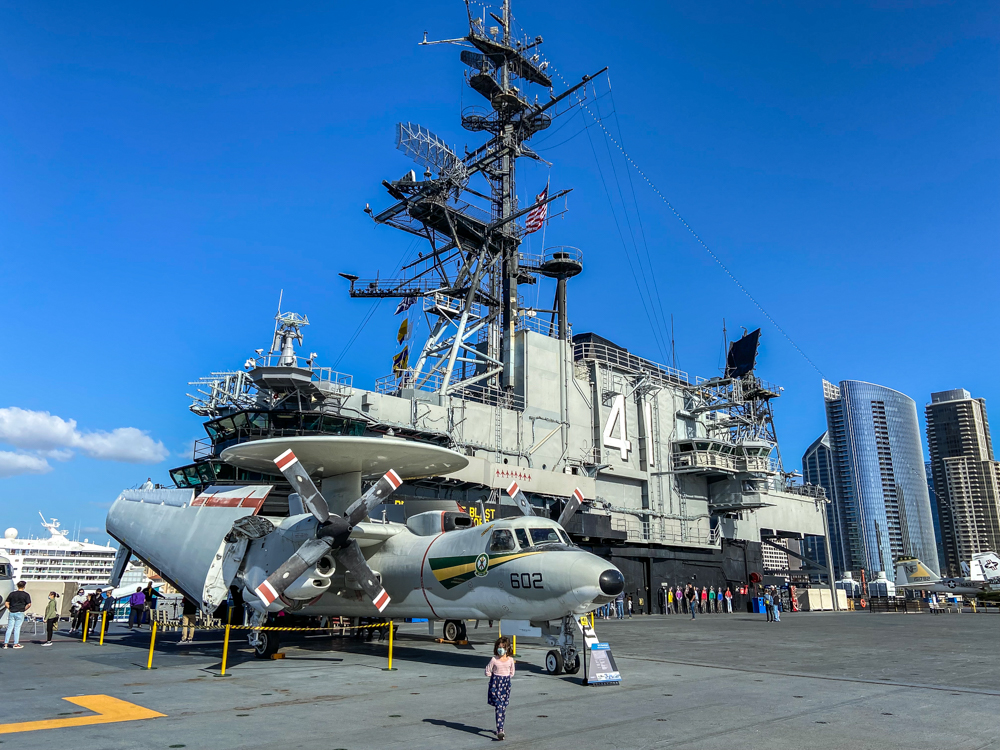 All of the fantastic kid-friendly activities in San Diego can get expensive, so pick up the Go City San Diego pass to save serious money. We've used it ourselves and found it extremely worthwhile.
While parts of San Diego are accessible with public transportation, it's much easier to explore with your own rental car. Just watch out for the price of parking at your hotel or (if you're a committed budget traveler) research nearby public lots that may be $10-30 cheaper per night.
Where to stay in San Diego with kids
With an epic beachside location, you'll want to stay somewhere near the water in America's Finest City. There are lots of great hotels along Mission Bay, which will give you access to some wonderful activities plus a beautiful area for strolling in the evenings.
Get more suggestions for where to stay in San Diego with kids
---
Don't miss Disneyland's magic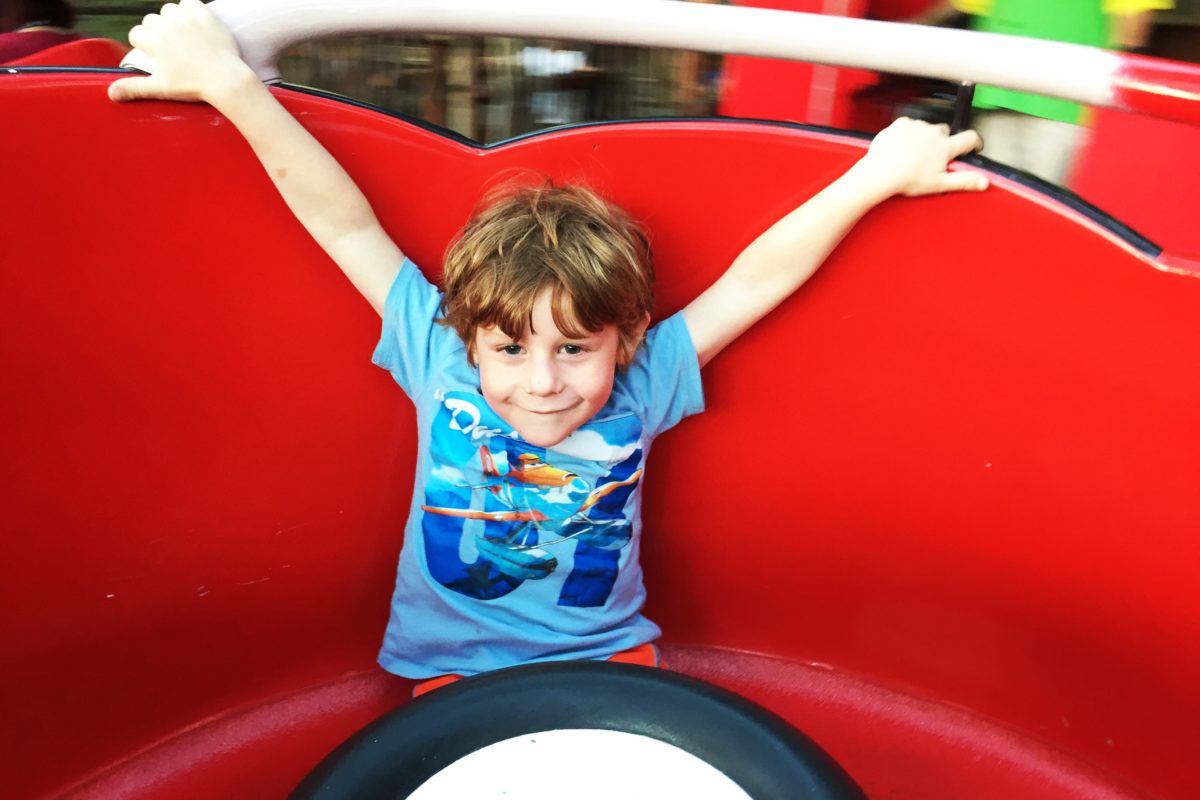 Thanks to Marcie of Marcie in Mommyland
Why you should visit Disneyland with kids
Disneyland is one of the magical family vacation destinations that's pretty incredible for kids of all ages. They have a ton of rides that even babies and toddlers can do. But there are still lots of thrills for tweens and teens.
Besides the rides, there are character meet and greets, Instagrammable spots, theatrical shows, parades, firework shows, and so much more. They also offer Disney character meals inside and outside that park, which is a great way to see characters without waiting in line. There are also really amazing immersive areas like Star Wars: Galaxy's Edge, Cars Land, and the Avenger's Campus.
And don't forget about Disney snacks! There are Mickey pretzels, churros, Mickey bars, Dole Whip, caramel apples, macarons, and so much more.
Disneyland insider tips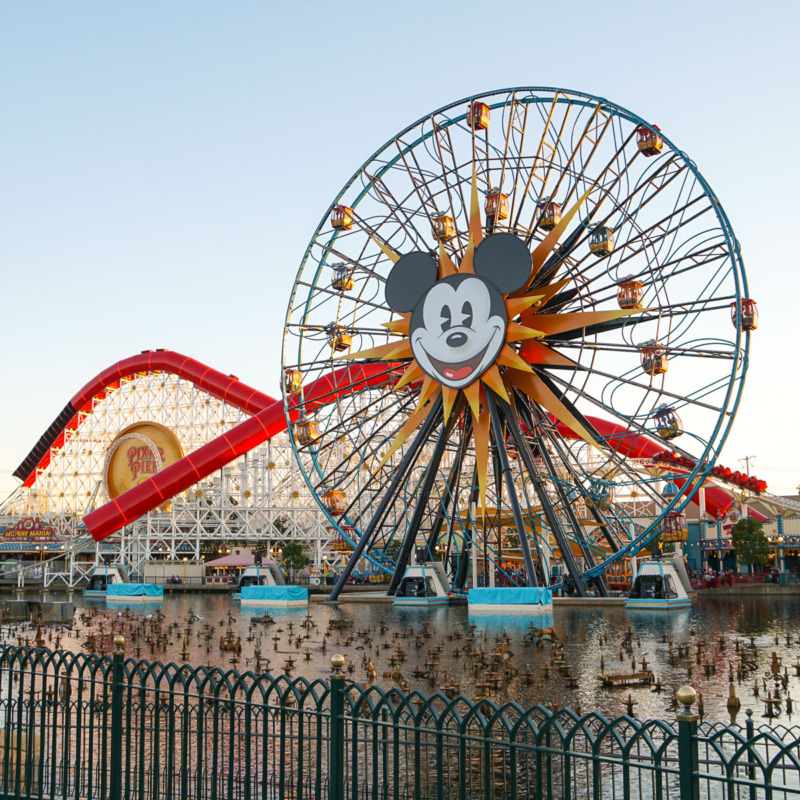 If you're staying on-property or nearby, you definitely don't need to rent a car. There are airport shuttles, Uber/Lyfts, or even transportation that comes with car seats and champagne!
Check out Undercover Tourist for discounted tickets. They're an authorized seller and offer great customer service.
Disneyland does a great job with offering seasonal events/experiences. October is one of the best times to visit because crowds are slightly lower than summer and the holidays and the entire park is decked out in Halloween decor. They also do a Halloween party that lets you into the park at night with fewer crowds and unique activities. It's great to book a Halloween party for a day where you aren't in the parks if you want to save a little money.
Disneyland is known for having amazing treats, but those can add up quickly. You can save a lot of money at Disneyland by purchasing Disney-themed treats at Dollar Tree, Target, or drug stores and give them to your kids throughout the trip.
There are also baby care centers at both parks that are perfect for changing your baby, nursing your baby, warming up baby food, or just getting a few moments of peace and quiet.
Where to stay at Disneyland with kids
There are three official Disney hotels on the property: Disney's Grand Californian Resort & Spa, the Disneyland Hotel, and Disney's Paradise Pier.
However there are also some great options right across the street from the Disneyland entrance. A few of our favorite places to stay year Disneyland include:
---
Explore San Francisco with kids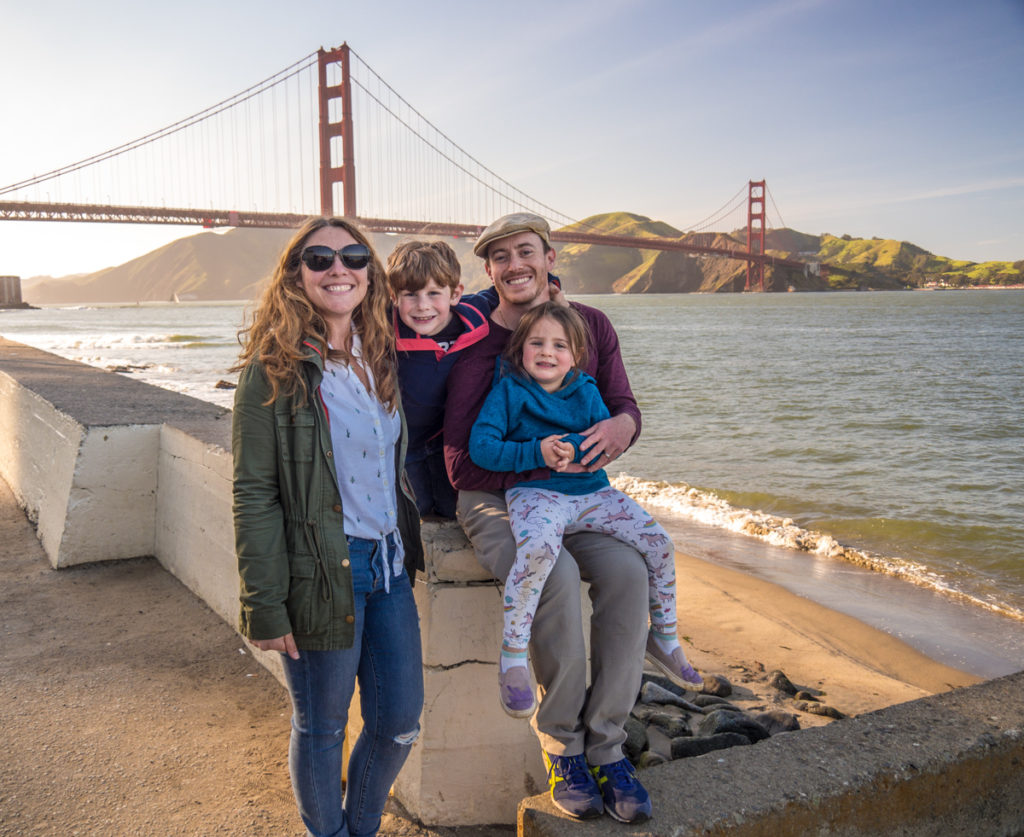 Why you should visit San Francisco with kids
San Francisco is as unique as they come in California. The city itself is very small, but so dense with people and sites. There are a few classic San Francisco with kids experiences you need to have: see the Golden Gate Bridge, visit Alcatraz, play at the Exploratorium, walk along Fisherman's Wharf, wander through one of America's largest Chinatowns and experience an entire rainforest ecosystem at the California Academy of Sciences. It's definitely worth calculating if the GoCity San Francisco pass will save you money – even for just the Exploratorium and Academy of Sciences, it offers a nearly 20% savings.
Of course, there's plenty more to do in San Francisco with kids depending on your interests. If you opt to rent a car for part of your visit, you'll have easy access to the giant coastal redwoods of Muir Woods National Monument and you can even consider an all-pleasing inland daytrip to the Jelly Belly factory in Vallejo and a family-friendly Sonoma winery.
San Francisco insider tips
Perhaps more than anywhere else in the Golden State, many challenges of modern society will stare you in the face in some neighborhoods of San Francisco. You may see people who are unhoused, battling substance abuse or struggling with mental health challenges. This isn't a warning to stay a way, but a heads-up as to what you and your kids might see (and what you may want to discuss with them in advance to prepare them). Our last visit was in 2019 and many families visiting more recently report an uptick in the visibility of these these challenges.
In that vein, you're more likely to encounter people struggling with housing, substance abuse and mental health when you use public transportation in San Francisco. That doesn't mean you shouldn't do it; we've used the Muni and BART with our kids and will continue to do so. Just recognize that public transportation gives you a much less filtered view of the city than driving around in your own rental car.
Where to stay in San Francisco with kids
We've been to San Francisco may times and stayed in many different places. Our most recent stay was in Hayes Valley near Alamo Square and it was lovely! It's a fantastic family-friendly neighborhood where your kids can ride their scooters by the famous Painted Ladies on their way to Buy-Rite for an ice cream. Check out The Grove Inn, which has rooms for up to four people in a great location.
If you'd rather stay in an area with top-notch public transit access at the expense of a little charm, Union Square is a very convenient option. The Westin St. Francis is an iconic choice on the Square.
---
Meet the creatures of Monterey Bay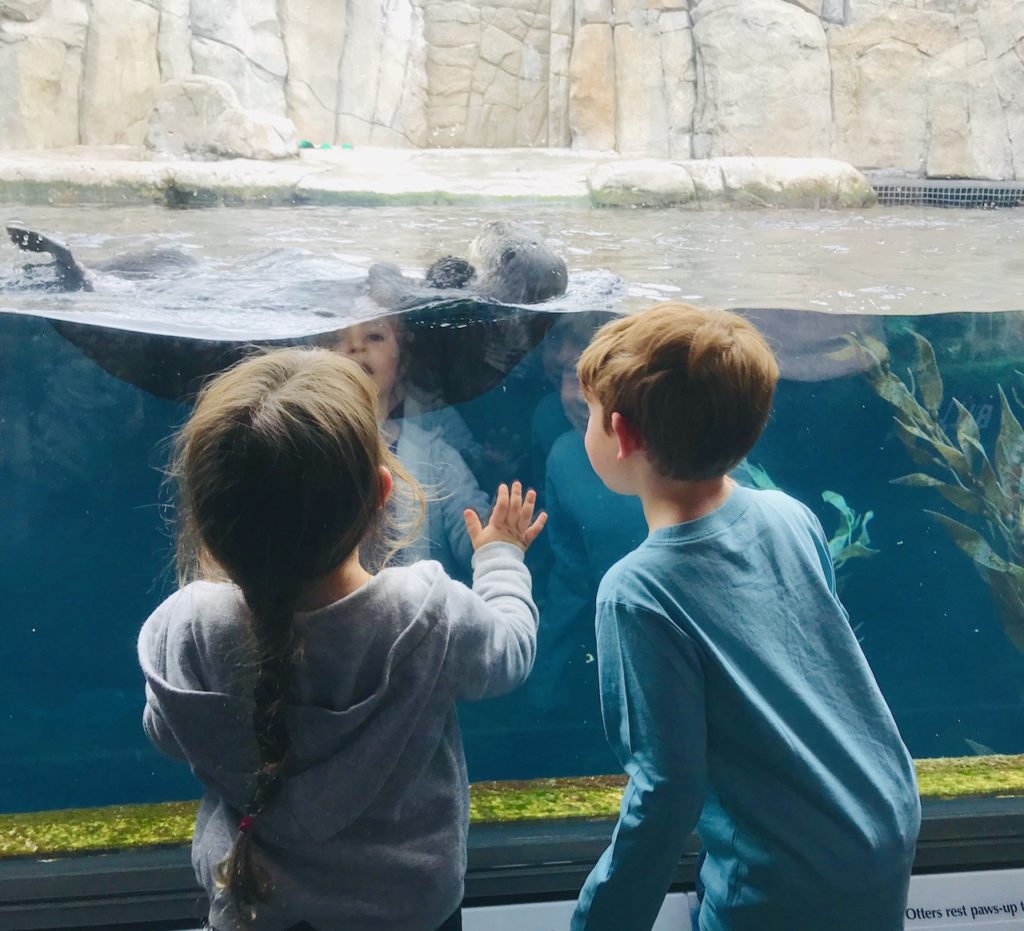 Why you should visit Monterey Bay with kids
The Monterey Bay Aquarium has earned its place as one of the best aquariums in the United States thanks to its excellent presentation of local marine life and its critical research and conservation work. Rather than just walking through tank after tank, you'll be treated to a huge range of live presentations that educate and entertain at the same time. There's a huge emphasis on life in Monterey Bay itself, from the otters to the kelp forests.
Once you've learned about life in the Bay at the Aquarium, you won't want to miss nearby Point Lobos State Nature Reserve. It's teeming with all the wildlife you saw at the Aquarium the previous day: otters, sea lions, birds and also often dolphins and whales. Point Lobos is a stunning place to hike along the crashing waves and linger, and the walking is nearly all toddler-friendly.
Monterey Bay insider tips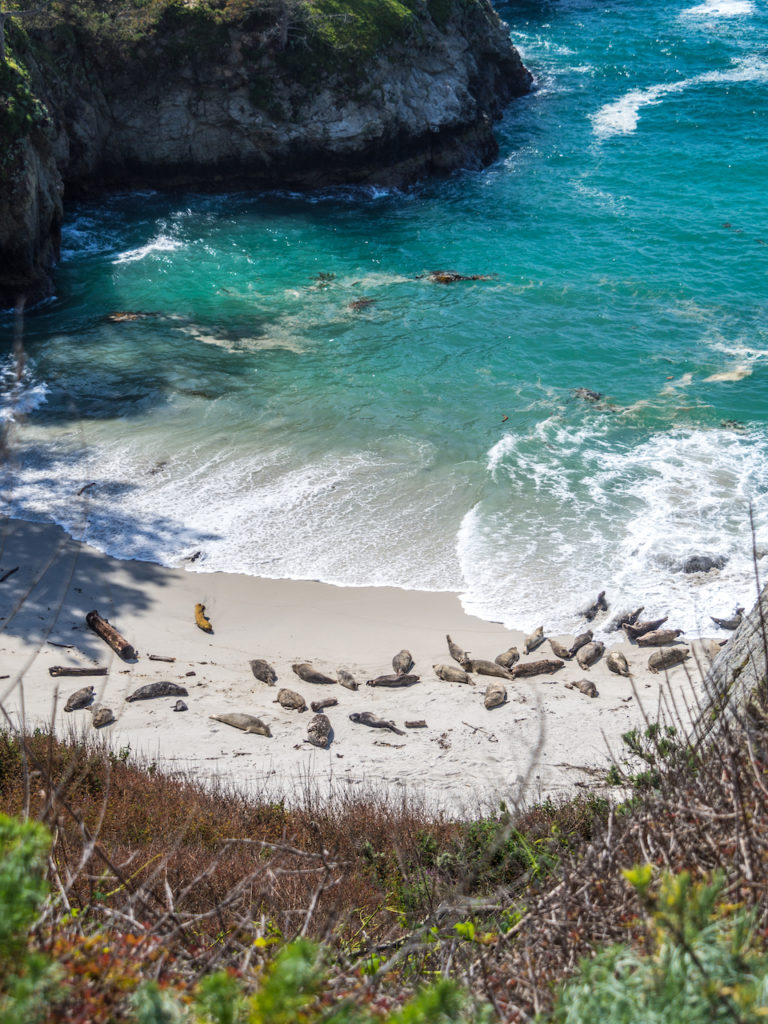 The best adjective to describe the adjacent towns like Seaside, Pacific Grove and Carmel-by-the-Sea is "quaint", while the nearby beaches of Monterey Bay earn "magical". Try to spend your evenings away from the more touristy area of Cannery Row, though staying there is sometimes the most practical option if you're just making a brief visit to the area.
The Monterey area is a great addition to California family vacations that start or end in San Francisco! Just rent a car when you're leaving the city and make your way south.
Where to stay in Monterey Bay with kids
While the many rental cottages in the area are tempting, local regulations generally require 30 night minimum stays. I wouldn't fault you for wanting to stay that long (or forever) but if you need a place to lay your heads for a shorter visit take a look at these family-friendly options:
Want to get more helpful travel tips like this? Sign up for our email list!
---
See it all in Los Angeles with kids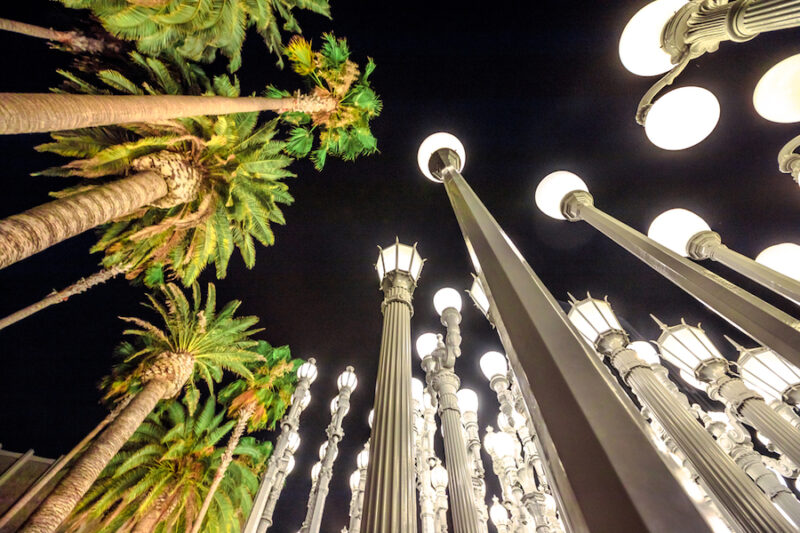 Why you should visit Los Angeles with kids
I spent half of my life living in Los Angeles, including many of my early years as a parent. If you love to be in a place where there's always something going on and you don't mind driving around, there's plenty to keep you busy in Los Angeles with kids.
In a single day you can ride bikes along the beach to the Santa Monica pier's Pacific Park, then grab lunch and shop your heart out at The Grove and end the day in downtown poking your head into the Bradbury Building, playing in Grand Park and choosing your own culinary adventure at Grand Central Market.
If you have time for a more relaxed pace of exploration, stick to one neighborhood per day. Families visiting LA with toddlers will love the new Cayton Children's Museum in Santa Monica, which is an easy walk to the ultra-modern play space Tongva Park (bring a swimsuit if it's warm!). To spend the day a little further north along the 405, pair Noah's Ark at the Skirball Center or a ride on the Getty Center tram with a hike at Temescal Canyon or Will Rogers State Park (toddlers will need a carrier for those!). Mid-city offers the one-of-a-kind La Brea tar pits (free), LACMA Urban Light installation (free), fountains at The Grove (free) and more.
Tired yet? The good news is that with how much running around you'll do in LA, your kids will nap hard in the car while you sit in the inevitable traffic. Find out which spots to see and which to skip in Los Angelels.
Los Angeles insider tips
Try to be strategic in planning your time so that you minimize driving. The last thing you want to do is criss-cross this sprawling metropolis more than absolutely necessary! While there are "rush hours" that extend through the typical time frames, they can last much longer than you expect.
Using public transportation in Los Angeles can obviously decrease the frustration of traffic jams and it's a lot cheaper than renting a car and paying for gas, but it's not generally a major time saver. Even worse, LA's "last mile" problem may really restrict your options. The last thing you want when visiting Los Angeles with kids is to spend 45 minutes on the light rail and then take two different buses to get to your destination. There are notable exceptions like taking the Expo (E) line from Santa Monica to the Natural History Museum or downtown to Universal Studios… but they're really exceptional.
If you're reading this article to plan for a far-future trip to California with kids, take heart: as soon as 2024, the public transportation landscape in Los Angeles is going to look a lot better. The city and county have been pouring massive resources into improving the network by extending lines and connecting existing routes. It will only get better moving toward the 2028 Olympics.
Since you'll probably want to rent a car anyway, book it in advance for pick up at the airport. Otherwise you'll have to take a shuttle to a secondary location for taxi or ride share pickup and then wait in line there too.
Where to stay in Los Angeles with kids
As a former Westsider, I may be biased but I think Santa Monica is the place to stay – especially with kids. We found our way there nearly every weekend, whether for outdoor activities, shopping, dining or some other entertainment. There are several nice new family-friendly hotels in the area, and if you want to dip your toe into public transportation you're right next to the Expo Line.
There are a million hotels in Los Angeles outside of Santa Monica too!
Feeling overwhelmed? Check out my complete guide to where to stay in Los Angeles with kids.
---
Relax in Santa Barbara with kids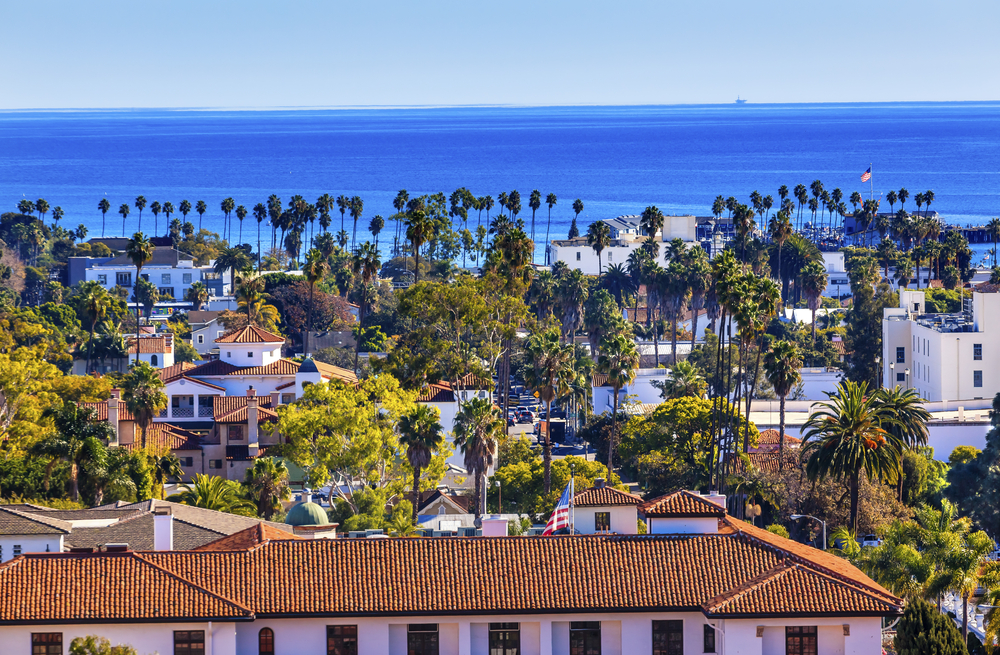 Why you should visit Santa Barbara with kids
Though it's barely 100 miles from LA, Santa Barbara couldn't be more different. This beautiful beach town plays host to UCSB from its coveted spot near the southern end of the Central Coast. In many ways, it epitomizes how many people imagine the entire state to be: a skyline of palm trees and red tile roofs against a back drop of the Pacific Ocean. Santa Barbara makes a fantastic day trip from Los Angeles when you need a true change of scenery and it's one of our favorite places to visit in California with kids.
For our family, the big motivation for a visit to Santa Barbara with kids was always the stunning Santa Barbara Zoo. While it may be smaller than some of the other top zoos in California, the grounds are absolutely perfect for strolling at any age. It's a beautiful place for adults to visit, and it has animals to entertain their kids. There are fun experiences available like giraffe feeding and a miniature train to ride.
We haven't gotten there ourselves, but family members have raved about the new Santa Barbara childrens' museum, MOXI. It opened in 2017 and offers fantastic modern hands-on exhibits ranging from music to science and beyond.
Other great family activities in Santa Barbara that we love include strolling along State Street or the waterfront and enjoying a picnic in the rose garden in front of the Mission. History and architecture buffs of all ages can even take a self-guided tour of the Mission (kids 4 and under are free).
Santa Barbara insider tips
Don't miss a stop at Los Agaves for tacos, but save room for McConnells ice cream for dessert (one location is on State Street while the other is close to the freeway).
If you're just going to Santa Barbara from Los Angeles on a day trip, be sure to check traffic before you depart and try to go on the early side. There's nothing worse than a 100 mile drive taking three hours with a cranky toddler in the car!
Where to stay in Santa Barbara with kids
If you're visiting Santa Barbara with kids and plan to stay overnight, you might as well stay by the beach! Check out these fantastic options, all walking distance to the beach, MOXI and State Street:
---
Scramble through Joshua Tree National Park with kids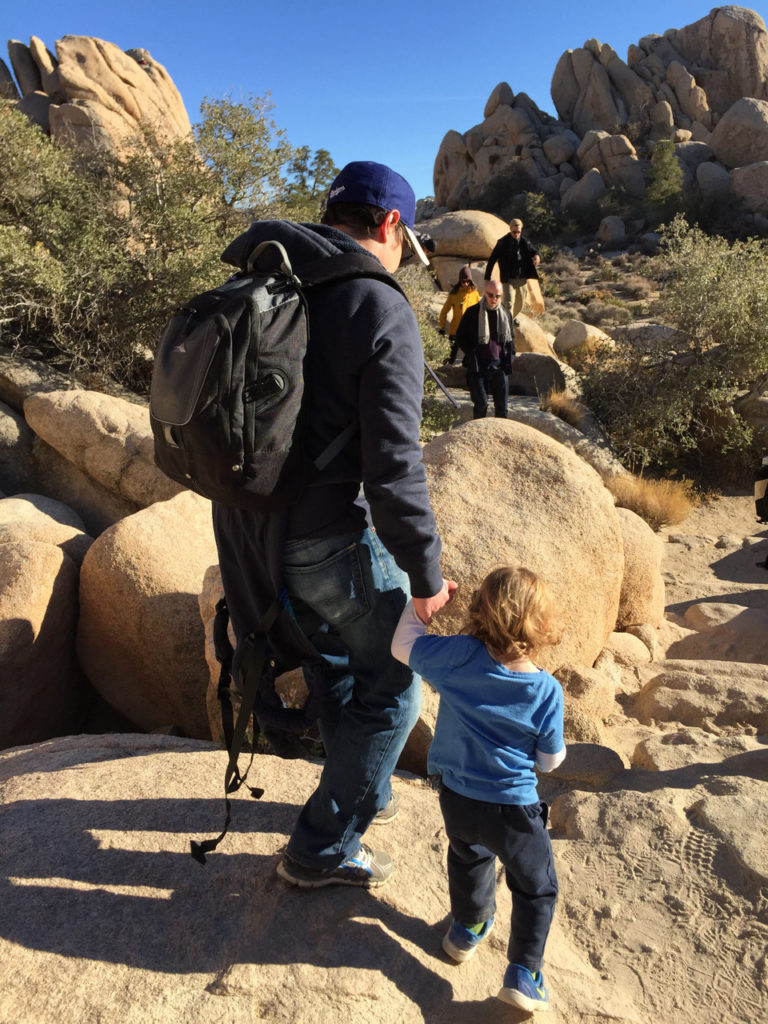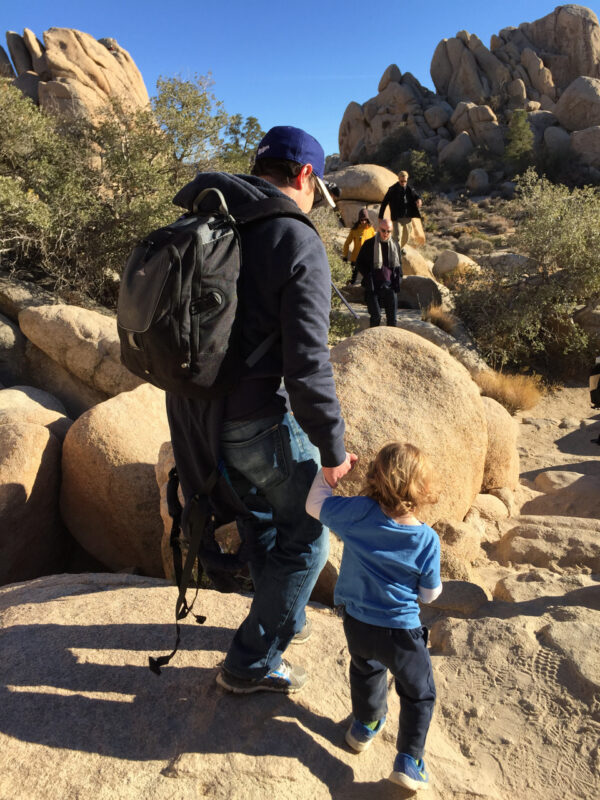 Why you should visit Joshua Tree with kids
Joshua Tree played a huge role in my love for National Parks after so many visits, and it really shines for families. When you're visiting Joshua Tree with kids you'll know that you're in a truly unique place. Dr. Seuss style Joshua trees fill much of the space, with a healthy sprinkling of cholla cacti, and the landscape is dominated by massive boulders.
There are plenty of kid-friendly hikes and stops at Joshua Tree. The easiest is a walk through the Cholla Garden nature trail, while Hidden Valley (above) has just enough challenge for preschool hikers with the welcome distraction of rock scrambles around every corner. If you're visiting Joshua Tree with tweens or teens itching for a challenge, take them up Ryan Mountain to fire them out.
For most families, one day in Joshua Tree will be enough. But there are plenty of things to do in the nearby desert cities! Check out the creature at the Living Desert zoo, ride the Palm Springs Aerial Tramway and at the right time of year (spring or fall) relax poolside.
Joshua Tree insider tips
Bring so much water with you. When we visit Joshua Tree I like to have a few spare gallons in the trunk regardless of season.
Be prepared for drastic temperature changes. The humidity is so low that temperatures drop immediately once the sun goes down.
Where to stay in Joshua Tree with kids
We like to stay in Palm Desert to visit Joshua Tree – there's an abundance of hotel and vacation rental options, it's close to the Park and you can easily enjoy the restaurants and activities in town.
---
Hike your way through Yosemite with kids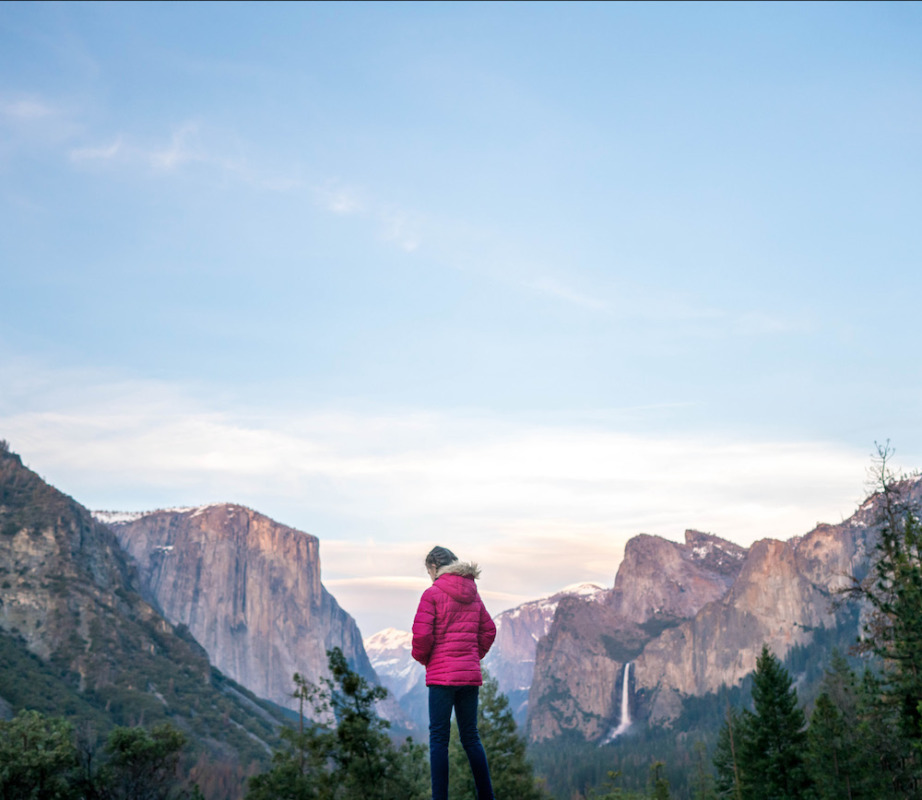 Thanks to Vanessa of National Park Kids
Why you should visit Yosemite with kids
Yosemite National Park is one of the best places to visit in California with kids. With over 1200 square miles of pure wilderness, wildlife, and beauty, it's a great place for exploring and getting away from it all. Yosemite is a great place for families to learn about California wildlife, indigenous history, and the story of conservancy in the state.
There are also abundant family-friendly hikes for all ages and ability levels, stunning waterfalls, and an educational visitor's center where kids can earn their Junior Ranger badges after completing their packets. Families can rent bikes in the village and explore Yosemite basin. Even if hiking or biking is not possible, Yosemite has great accessibility for those with mobility issues, strollers, or wheelchairs.
Yosemite is a great park to visit during any time of year. It is beautiful during the snowy winter months, the waterfalls are flowing powerfully during the spring, and in the summer there are plenty of opportunities for swimming and hiking. Some of the best things to do in Yosemite with kids are enjoy the views from Glacier Point, hike to Lower Yosemite Falls, catch a sunrise at Tunnel View, hike Sentinel Dome for views of Half Dome, be inspired by the massive sequoia trees in Mariposa Grove.
Yosemite insider tips
To save on accommodations and avoid crowds, try to visit Yosemite National Park during shoulder season, April-May or September-October. These days you may even need a reservation to enter the park during the busiest times.
When planning your day, keep in mind that just entering the Park from outside accommodations can be really time-consuming. At least the scenery is beautiful while you wait! If you want to be very prepared, you can print the Yosemite Junior Ranger book at home and let your kids get started while they're in the car.
You'll also want to review options for transportation within Yosemite National Park. Most of it is free, but some of it only runs seasonally.
Where to stay in Yosemite with kids
Tenaya Lodge is one of the most family friendly accommodations that lies just outside the park. There are plenty activities to do on site in both the summer and the winter. Be sure to book early, as it's extremely popular and may fill up!
---
Feel the wonder at Redwood National Park with Kids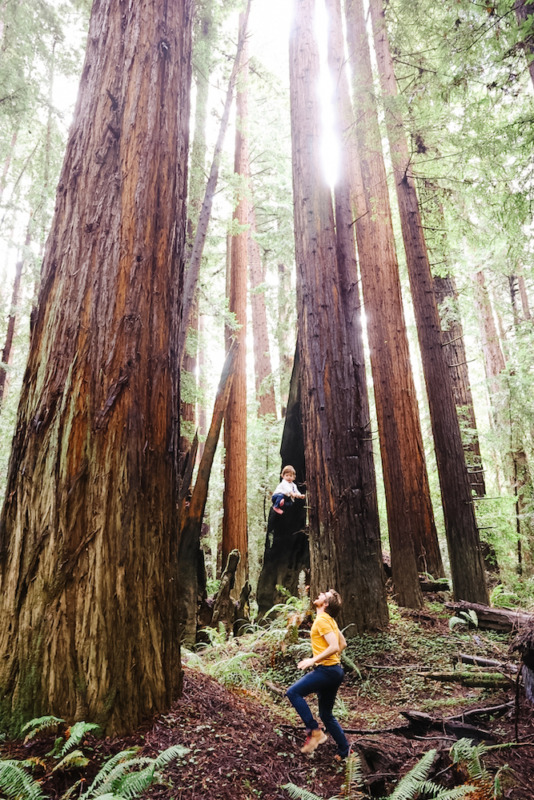 Thanks to Preethi of Local Passport Family
Why you should visit Redwood National Park with kids
There's something really inspiring about giant trees – especially when you're a tiny kid. The California coastal redwoods at the Redwood State & National Parks fit the bill perfectly and make the quintessential northern California road trip. Be sure to take a drive along the Newton B. Drury Scenic Parkway to be surrounded by these gentle giants, and take the 5-minute stroll to the Big Tree Wayside. Lady Bird Johnson Grove is mystical and stunning, and the 1-mile round trip hike to Trillium Falls is perfect for families. And finally, the otherworldly Fern Canyon is a must-stop (just be sure to check on seasonal permit requirements).
In addition to hiking, a few spots allow relatively easy access to tide pools! Consider spending some time at Endert's Beach or at Damnation Creek to spot a diversity of marine creatures in the shallow pools. Be sure to check the tide schedule in advance; low (or better, negative) tides are a must to be able to observe these magical creatures. Finally, check the events calendar for demonstrations put on by indigenous communities. It's a wonderful opportunity to learn about and support native cultures!
Redwood National Park insider tips
When visiting, keep in mind that the "park" is actually a series of parks that includes the National Park and several state parks. If you have time, plan to meander through several for a more robust experience. If you're short on time, consider just the Drury Scenic Drive with a couple of quick stops at big trees to get a gorgeous overview.
Redwood National Park is just an hour south of Oregon – most people don't realize how far it is when they first start researching! If your family trip to California is San Franciso based, you can easily pop up to Muir Woods National Monument for a half-day to get a taste of California redwoods (though it's not the same as going all the way up the coast!).
Where to stay in Redwood National Park with kids
Other than campground cabins, the national and state parks do not have any lodging options available. Instead, choose to stay in one of the nearby gateway cities – Brookings, Crescent City, Klamath, and Arcata all have a number of options available.
---
Find year-round adventure in Lake Tahoe with kids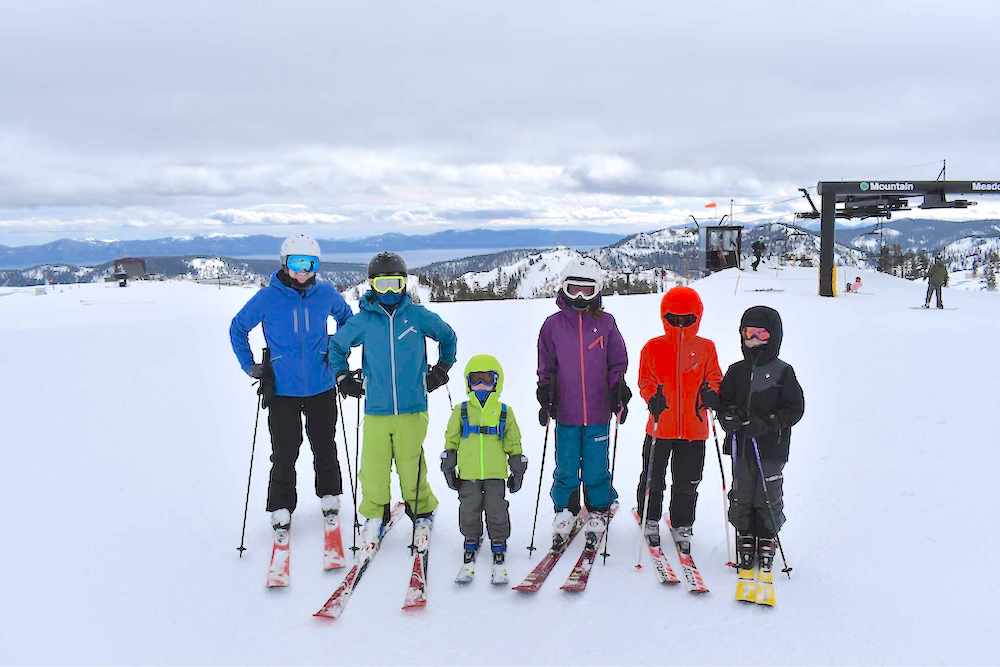 Thanks to Jess of Skiing Kids and
Why you should visit Tahoe with kids
No matter when you're thinking of going, Tahoe calls to adventurous families non-stop. If you love the outdoors you'll always find things to do in Tahoe with kids!
Summer in Tahoe with kids
There is no shortage of fun things to do with kids in Tahoe during the summer. The most obvious choice of activities is to head down to Lake Tahoe itself. With stunningly clear water and fantastic beaches, swimming in this cool lake is an incredible experience. Plan on renting kayaks or SUP for a day so that you can get to some remote beaches, or just let the kids paddle out farther into the lake. Sand Harbor is one of the most well known places to paddle on Lake Tahoe, but the crowds can get pretty large here, so plan on looking for other options as well.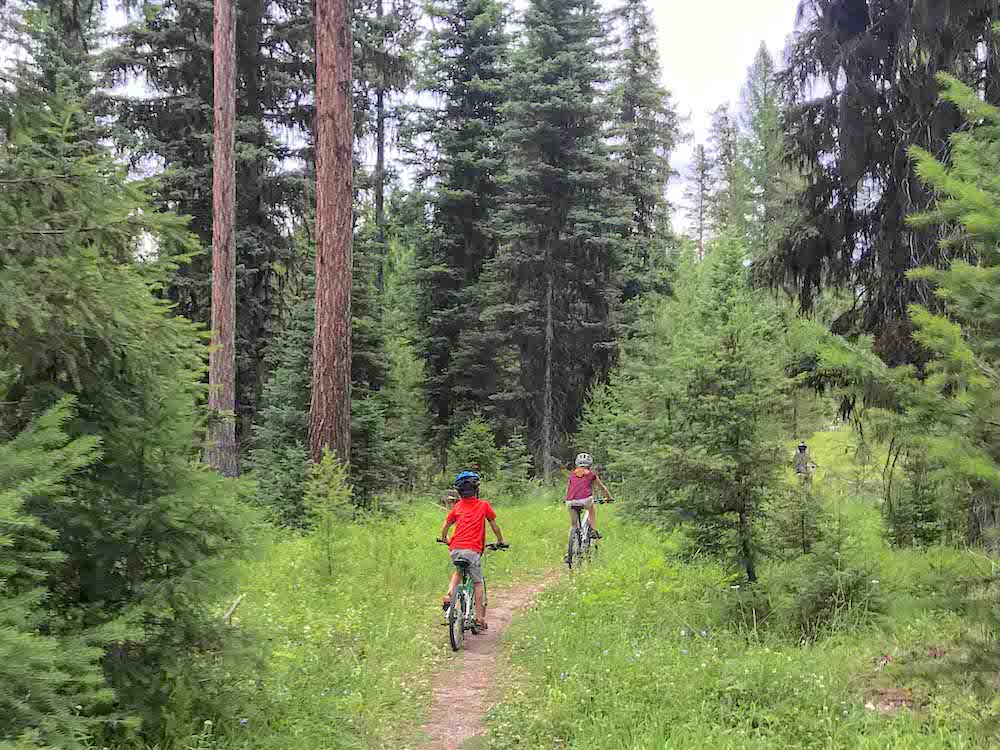 Biking Tahoe with kids is one of the easiest ways to see a lot without the effort of hiking. The views from many of the bike trails are absolutely stunning and you'll find kid friendly trails scattered all around the lake, with larger bike trails complexes in both South Lake Tahoe and Incline Village. If you're within driving distance, bring your own bikes. Otherwise, reserve bikes in advance because kids bikes rent out quickly.
Hiking is an incredibly easy activity and you'll find trails everywhere around Lake Tahoe. For easy hikes, we love hiking at Emerald Bay, Fallen Leaf Lake, and Spooner Lake Loop. AllTrails has incredible information and is the most up to date resource for the best Tahoe hikes with kids.
Winter in Tahoe with kids
Tahoe is one of the absolute best places to visit in the winter. The snow capped mountains are absolutely STUNNING and there is no shortage of winter activities that are perfect for kids. Without a doubt, you must try skiing in Tahoe with kids. There are a dozen ski resorts in Tahoe, so it's easy to find one that's a good fit for both your families skills and budget. If you're new to the sport, ski lessons are a fantastic idea, but need to be booked in advance, so plan ahead.
The easiest, and most affordable winter activity in Tahoe is sledding. Bring your own sled and visit the public sledding hills to save money (Taylor Park is a favorite, but requires a $10 pass). Tahoe is packed full of fantastic trails, many of which are groomed or packed down for winter use. There are several sections of the Tahoe Rim Trail that offer fantastic views of Lake Tahoe and are easy for winter hiking with kids.
Tahoe insider tips
The summer months can get very crowded at Tahoe. Reserve places to stay well in advance and get any lessons or activities booked ahead of time. September is when the crowds die down, but the weather is still great! Fall colors begin at the end of the month and peak in mid-October, which offers crisp hiking weather though there's a chance of snow then.
If you want to experience winter in Tahoe, the best months are January-February. The snow is best then and the crowds are smallest.
Where to stay in Tahoe with kids
We absolutely LOVED the Tahoe Ridge Resort. It had easy lift access to Heavenly but was away from the crowds of town so we felt like we had a more mountain experience there. It's a great base for visiting Tahoe in summer too!
---
Mapping your California family vacation
No matter your interest, there are just too many things to do for kids in California to feasibly see on a single trip (unless that "trip" is several months long). Realistically you'll want to narrow down your California family trip to one region of the state, and you'll most likely benefit from renting a car for at least part of your trip to California with kids.
This map will help you understand California's sprawling geography:
---
Planning your family vacation in California
Check out these helpful articles full of real-world tips and experiences to plan your family's unforgettable trip to California with kids: