Los Angeles can be an exciting place to visit for families. But figuring out where you stay while you're here can be an overwhelming first step. I lived in LA for 20 years, and I feel confident in my recommendations based on everything I know about this city.
Some of the best hotels in Los Angeles for families are on the Westside and Santa Monica. I love this neighborhood because you get away from that concrete jungle feeling of downtown LA, but you're still close to all kinds of things to do! There are also some amazing options further east and in Orange County that might be a great fit depending on what you want to do.
Trust me, with so many fabulous hotels there's something for you and your crew. Whether you want a hotel close to Disney or you're looking for a beachfront hotel that's welcoming to families, it's here! Check out my suggestions for places to stay in Los Angeles with kids below.
Where to Stay in Los Angeles With Kids: Neighborhood Options
Let's face it, Los Angeles is a big place with tons of options for where to stay. But as a long-time LA resident, I've got you covered. In this list, I've broken down hotels for families based on a few popular areas that are easy to navigate and great for first-time visitors:
Near the Beach: convenient for beach, dining and shopping; more driving for museums and entertainment industry sites
West LA: in the center of the action, for better or worse
Near Universal Studios: close to entertainment industry sites but far from the beach
Near Disneyland: ultra-convenient for visiting Disneyland, but not much else
I've suggested family-friendly hotels in Los Angeles that span the spectrum from budget-friendly hotels in LA (at least relatively speaking) to some of the most high-end boutique hotels in Los Angeles that are welcoming of young travelers. These hotels are all in prime locations so you're close to some of the best things to do in Los Angeles with kids!
If your family trip to Los Angeles is a week or more, you might want to consider a split stay – especially if you plan to visit Disneyland and/or Universal Studios. What does that look like? For example, you could follow this sample Los Angeles family trip itinerary:
A plan like the one above minimizes your time in notorious LA traffic with cranky kids, shows you some of the city's best highlights and has the added bonus of avoiding LAX in favor of smaller, easier airports. What's not to like?
If moving hotels every few nights sounds like a nightmare, consider staying for your whole trip to LA with kids at a centrally-located hotel like the Luxe Hotel or Mosaic Hotel. You'll have to drive a little more every day but can come back to the same bed every night.
In case you're more of a visual person, you can check out these amazing family hotels in Los Angeles to the map below, along with some must-see highlights in the region. You'll even find some Los Angeles vacation rentals in case you're looking to spread out!
Best Family-Friendly Los Angeles Hotels Near the Beach
You'll find some of the best hotels in LA close to the sandy shores of Santa Monica and Venice Beach. But there are also great options further down along Hermosa Beach and on the bluffs of the posh Palos Verdes Peninsula! Here are just a few options to start your search:
Loews Santa Monica – temporarily closed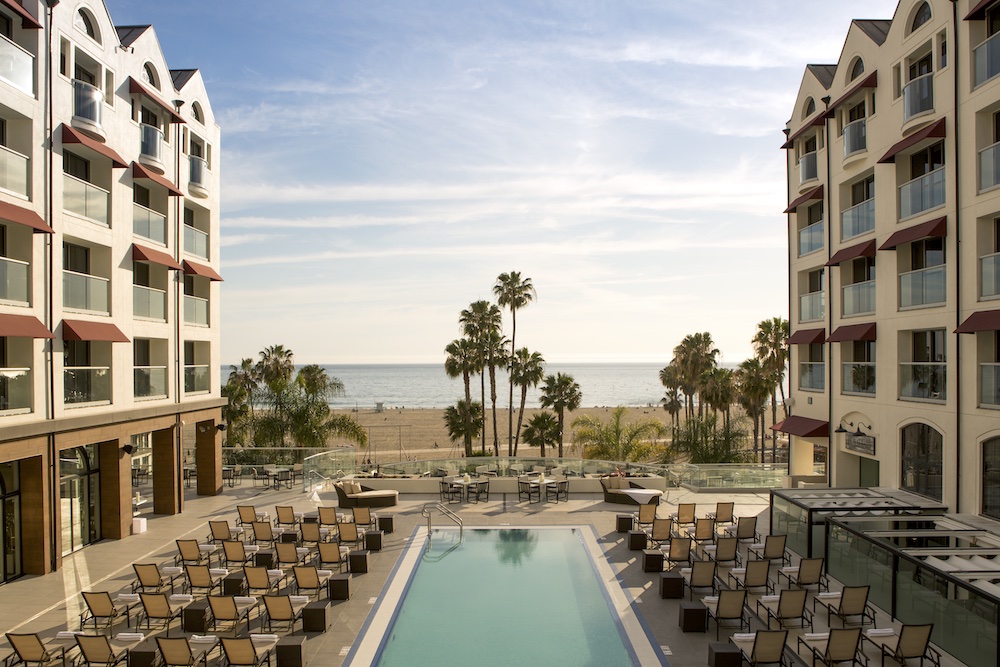 Important note: Loews Santa Monica is temporarily closed but will reopen in late 2023/early 2024 as Regent Santa Monica Beach Hotel.
If you're looking for a hotel on the beach in Los Angeles with kids, the Loews Santa Monica is a great place to start your search. It truly caters to families: they'll provide you with everything from cribs to strollers to baby bath products, plus games and balls to entertain older kids. The rooms and suites at the Loews Santa Monica feel like home, with sleek modern touches and optional multi-room set-ups in case you have a child who needs an early bedtime.
Enjoy the ultimate beachfront hotel with views of the Santa Monica Pier from the heated outdoor pool. The iconic Ocean Avenue Hotel is steps away from amazing restaurants. Loews even provides bikes for you to ride along Oceanfront Walk!
Shore Hotel
What makes Shore Hotel one of the best family hotels in Los Angeles is its amazing location and beautiful design. For a mid-range price (for LA) you get all the classic hotel amenities you'd expect, including a great Mexican restaurant. Lots of rooms have complete or partial views of the ocean so you can catch the beautiful Santa Monica sunsets.
Modern architecture and interior design plus warm details make Shore Hotel a stay you'll never forget. Relax in the stunning pool or walk right across the street to the Santa Monica pier and the beach. You'll also be close to all of the dining and shopping at 3rd Street and Santa Monica Place, the new Cayton Children's Museum, the sweet Heal the Bay Aquarium and more.
Hampton Inn & Suites Santa Monica
One of the best budget-friendly Los Angeles hotels for families is Hampton Inn & Suites Santa Monica. You won't believe the amazing location for a relatively low price for this part of LA! It's about two blocks inland from Shore Hotel but a lot less expensive.
The hotel is very new and was built to complement the Expo Line (now called "E line", but I'll never change) station that's just across the street. Part of what makes this a budget-friendly place to stay in Los Angeles with kids is that you can get away without renting a car! It's one of the best places to stay if you're visiting Los Angeles without a car.
Within a few blocks you can access the beach, Tongva Park's modern playground and splash pad, the Santa Monica Pier, the new Cayton Children's Museum at Santa Monica Place and 3rd Street Promenade. To explore more of the city, just hop on the Expo Line for a straight shot to Exposition Park; you can spend the day checking out dinosaurs at the Natural History Museum, the space shuttle Discovery at the California Science Center (free!) and enjoy the adjacent rose garden as well. You can even continue on the Expo line into downtown LA to catch a game at Crypto.com Arena, enjoy the buzz of LA Live or visit the Grammy Museum.
Even without leaving the Hampton Inn you can take advantage of complimentary breakfasts, and a heated outdoor pool. The hotel offers a variety of beautiful rooms and suites with balconies and bathtubs. The common spaces have a modern, fun, beachy vibe that makes it a memorable hotel to stay in with kids in Los Angeles even if you're on a budget.
Want to get more helpful travel tips like this? Sign up for our email list!
Terranea Resort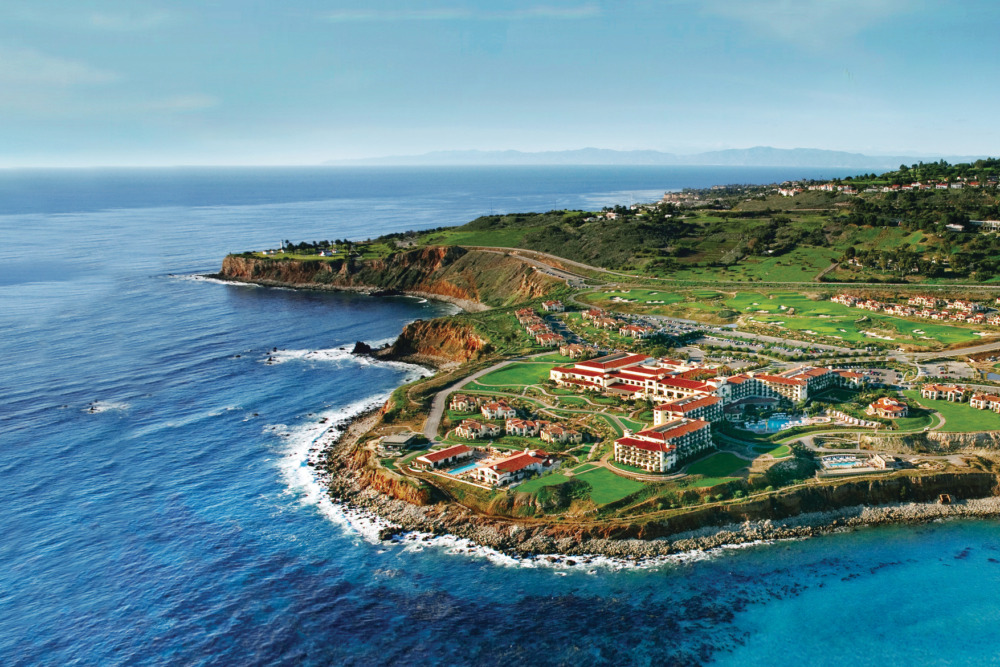 For even more luxury in an LA hotel for kids, stay on the exclusive Palos Verdes Peninsula. Terranea Resort offers a quiet retreat after a full day of exploring the most famous sights in Los Angeles. Come home to your choice of rooms, suites, villas, or stand-alone bungalows. But I won't blame you if you don't want to leave – Terranea is where many Angeleno families go for their own staycations!
Not only is there a full-service spa with saunas and steam rooms, but there are multiple pools. The kiddos will love the waterslide and splash area, and the alcove beach nearby is perfect for little ones! The front desk will provide you with a map of the beautiful on-property hiking trails to enjoy during your stay, or you can explore Terranea with a loaner Lexus. If you need a little grown up time to eat or get a massage, Terranea even offers a camp-style kids club for ages 4-12.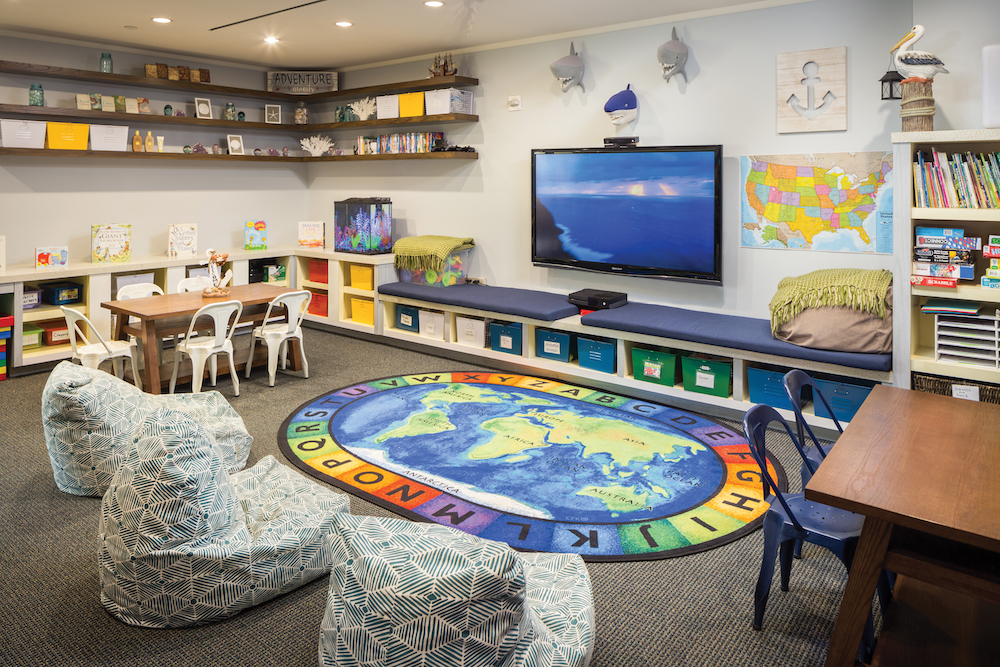 If you're looking for a relaxing getaway with just a taste of Los Angeles, Terranea is the place for you!
---
Westside Los Angeles Hotels for Families
Did I mention before that I love Santa Monica? The entire West Side has so much to offer, from beaches and boardwalks to shopping on Wilshire Boulevard and the Urban Lights. You'll have to drive, but it's a short trip to some of the best hiking in California and some of the most famous downtown landmarks.
Luxe Sunset Boulevard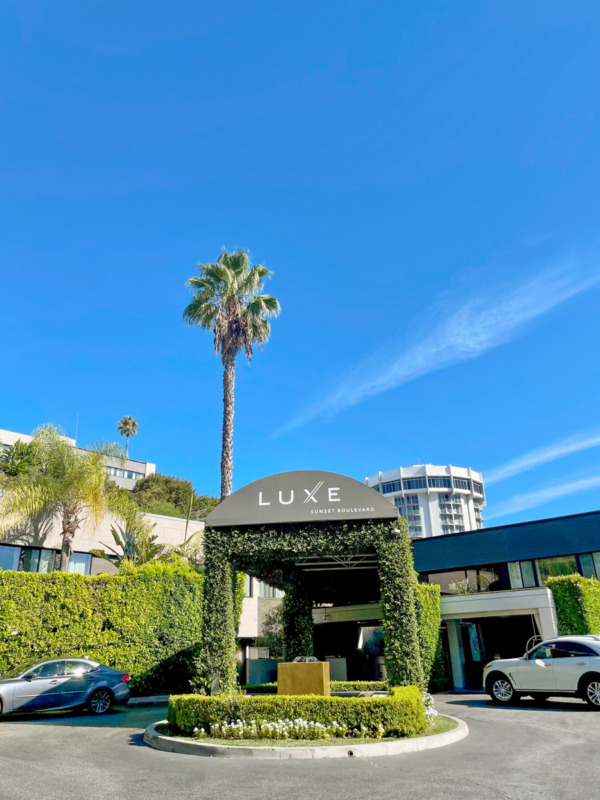 The chic Luxe Sunset Boulevard holds a special place in my heart since this is where we stayed out on our wedding night! We came back with our kids and you can read my full review of the experience here. Overall, I think the Luxe does an amazing job of feeling like a retreat while being right in the middle of Los Angeles!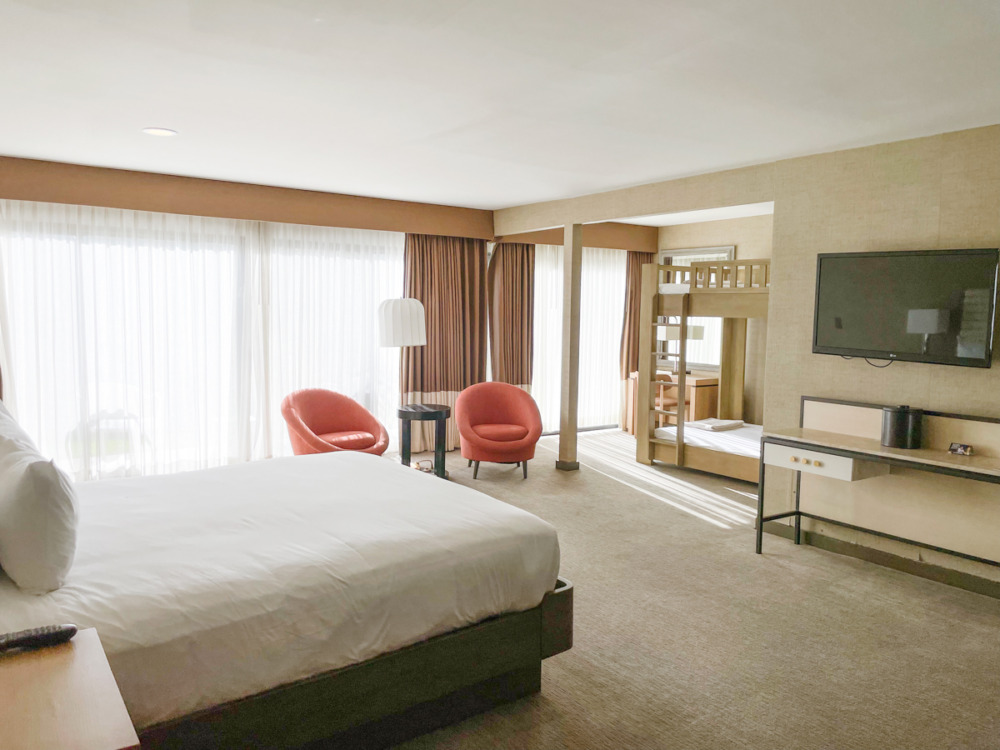 This is a great Los Angeles hotel with kids if you have a larger family. There are family rooms that fit up to 6 people (including bunk beds) without breaking the bank, as well as standard rooms and suites. Its location just off Sunset Boulevard and the 405 gives you easy access to much of what Los Angeles has to offer, from beaches to museums and more.
Oceana Santa Monica
The high-end all-suite Oceana Santa Monica, part of LXR Hotels & Resorts, has been redesigned along Ocean Avenue. It's a luxury resort that's ideal for families who love star treatment with spacious suites and tons of free amenities. Book a massage, enjoy free surf lessons or even arrange an included airport transfer. The hotel and its views are both stunning.
The Oceana is perfect if you're looking for a hotel close to the beach, but not directly on the beach. You can enjoy ocean views with Palisades Park in between – we've always loved picnicking and walking the paths in the park or visiting 3rd Street Promenade nearby for shopping and dinner.
Getting to the beach will either require driving or you can walk across the foot bridge over PCH. It's not a long walk, but it takes you down the steep bluffs and eventually you'll have to go back up (with your beach gear and children in tow) – that's why I've listed it here as a Westside Los Angeles hotel for families rather than in the previous category.
Keep in mind that Oceana is very much in the "splurge" category. It may not be right for every family, but if you want to splash out for a special occasion it's worth taking a look!
Mosaic Hotel Beverly Hills
There are tons of great things to do in the mid-city Los Angeles area of the Westside, and the new Mosaic Hotel could be a great option if you need a Beverly Hills hotel for families. It flies under the radar compared to its bigger, fancier neighbors but the location is really hard to beat (I should know – it's just 2 miles from where I lived for a decade). They say that "nobody walks in LA" but Mosaic is just 10-15 minutes on foot from the shops and restaurants of Beverly Hills (including the much more down-to-Earth Beverly Drive) and 20 minutes from the endless options at Westfield's Century City.
Most families will want to choose the Deluxe Room with two double beds, but if you're a party of three you could opt for a suite with a roll-away bed. Relax in the evening with a dip in the quiet but inviting pool or warm up by the adjacent fire pit (ICYMI, evenings can be pretty chilly in LA). You won't want to miss this boutique LA hotel for kids!
---
Family-Friendly Hotels Near Universal Studios Hollywood
Stay in the hills above downtown Los Angeles with amazing views and the perfect location to head into the Universal Studios theme park! Be sure to snag your discounted tickets. There are a variety great places to stay near Universal Studios Hollywood. Unlike Orlando, there aren't on-property hotels in Hollywood that get extra benefits.
This is also the best place to stay in Los Angeles if you want to check out the Warner Brothers Studio tour, Griffith Park and even drop into downtown LA. You can consider places to stay in North Hollywood, Burbank or Studio City.
Read my full Warner Brother Studio tour review + tips.
Hilton Los Angeles/Universal City
Hilton Los Angeles/Universal City is all about the presentation and it's definitely one of the best hotels in Los Angeles for families who want to visit Universal Studios Hollywood. Not only are you just a quick stroll to the gates at Universal Studios (check out the picture above to see just how close!), but you're set back above the Hollywood Hills with panoramic views of downtown LA.
When you're not at the theme park, you can enjoy a restaurant inside the sparkling glass atrium, a coffee shop, and a luxurious pool with private cabanas for rent. And you're a short drive to popular hiking trails and the famous Hollywood Bowl to add some variety to your trip.
The Garland
Just a mile away from Universal Studios in North Hollywood is The Garland. I'm already looking at rooms for our family's next trip back to Los Angeles!
Inside the mission-style building, you'll find a beautiful blending of SoCal craftsman architecture with Mid-Century Modern design touches. For larger crews, this hotel offers quite a few different room types including standard queen-queen rooms, rooms with junior bunk beds in alcoves for early bed times, and even family suites with bunk beds. And for pet owners, The Garland is a pet-friendly hotel in Los Angeles!
If you don't want to rent a car while you're in Los Angeles, The Garland is a great option. They have a free trolley shuttle to CityWalk at Universal Studios, as well as to the Red Line (now called "B") metro station nearby. That metro line will get you to all of the major sites in Hollywood as well as Downtown LA.
There are also on-site activities available to keep you busy when you aren't out exploring. There's a lovely pool and a family jacuzzi, plus a rotating calendar of activities that includes lawn games, local food pop ups, guided tours and hikes in the area and more. It all comes together to make one of the best places to stay in LA with kids!
Pro tip: If you do rent a car, head 5 minutes north to the NoHo Arts District and grab some amazing tacos or ceviche at newcomer Xécora. You're also just a stones throw from the excellent Warner Brothers Studio tour – discounted tickets here.
Magic Castle Hotel
A stay at the Magic Castle Hotel is magical for parents and kids alike! Not only is it 2.5 miles south of Universal Studios, but it's just a block north of Hollywood Boulevard. Enjoy all the classic Los Angeles charm in this apartment-building-turned-condo hotel. All of the rooms that can accommodate more than two people are actually suites – either one bedroom or two bedroom – but the prices are very reasonable by LA standards.
The entire place feels frozen in time in the last century, and it oozes charm. Enjoy fun amenities like 24/7 free popsicles and candy, admission to magic shows next door, and a heated pool! There's also free laundry service, and every sunny yellow apartment has a full kitchen and dining room.
Want to get more helpful travel tips like this? Sign up for our email list!
---
Best Hotels Near Disneyland
You can stay at the 3 onsite hotels at Disneyland, but there are also plenty of hotels within walking distance of the theme park entrance. Staying outside the park is also an easy way to save a little bit of money.
Disney's Grand Californian Hotel & Spa
Disney's Grand Californian Hotel & Spa is absolutely beautiful and you can't beat the convenience: it has a private entrance to the back side of California Adventure to give you early and quick access to the ever-popular Cars Land. It also hosts two of the three character breakfasts you can do outside of Disneyland – if you want to do character dining, I suggest doing it on your departure day at a hotel so that you don't use valuable in-park time!
While the common areas are made to resemble National Parks lodges, the rooms have subtle and sophisticated Disney nods. There are three pools on site, including one with a waterslide, to keep you cool if you need a mid-day break from the parks.
Courtyard by Marriott Anaheim Theme Park Entrance
One of the best hotels near Disneyland is the Courtyard by Marriott Anaheim Theme Park Entrance (sorry for the lengthy name, but there are several Marriotts in Anaheim and I want to be sure you snag the right one!). It's truly right at the entrance to Disneyland and Downtown Disney!
This hotel has two awesome features besides its proximity. First, it has a huge water park right on the property as you can see above. Second, the rooms have generous bedding – nearly all can accommodate 6 people and there are plenty that have separate sleeping spaces for kids and adults. You can even request a room with a Disney view to see the nightly fireworks!
Howard Johnson by Wyndham Anaheim Hotel & Water Playground
The HoJo at Disneyland is our favorite place to stay in Anaheim! It's reasonably budget-friendly and just a 10-minute walk from Downtown Disney and the theme park entrance – just a stone's throw further than the Courtyard mentioned above. It's actually the same distance as the (much pricier) Disneyland Hotel and closer than Disney's Paradise Pier Hotel.
There's a wide variety of rooms available ranging from standard rooms with two double beds to two room suites featuring a king bed, a junior bunk bed and a sleep sofa. They'll even help you coordinate stroller rental!
The party continues after you leave Disneyland with subtle Disney themes in each room. The best part of staying at the Howard Johnson near Disneyland is Castaway Cove, a pirate-themed waterpark that kids of all ages will love, but especially younger ones. It was a total hit when our family stayed there!
The Westin Anaheim Resort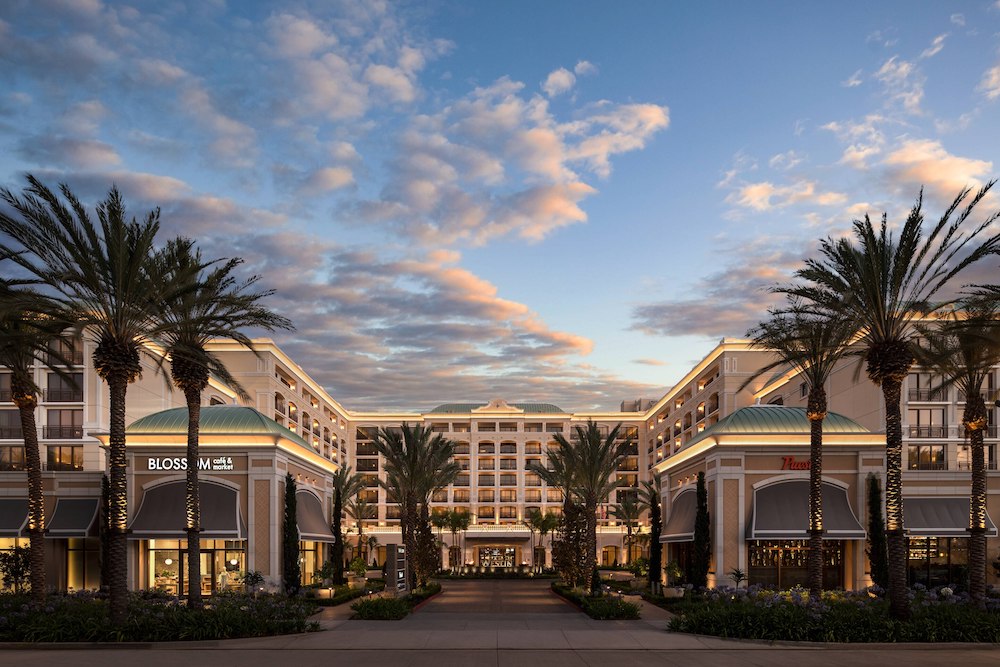 Westin is known for being family-friendly with every detail taken care of, and its Westin Anaheim Resort location certainly delivers. Guests have access to rooftop lounges, poolside bars, restaurants, cafes, and more. You can even book their babysitting services and head to the steakhouse & wine bar.
Every space at the Westin is striking with a modern, natural feel and a welcoming atmosphere. It's definitely one of the nicest hotels near Disneyland. Book a Park View room or suite for day and night views of Disneyland, including the nightly fireworks show! Walking to the Disneyland entrance would take about 20 minutes but there's a shuttle for the park is just across the street if you don't feel like hoofing it.
Anaheim Majestic Garden Hotel
Enjoy a fairytale stay at the Tudor-style Anaheim Majestic Garden Hotel! For those familiar the area, this used to be the Anaheim Sheraton. This very family-friendly, pet-friendly hotel offers free shuttles to Disneyland, just 10 minutes away. You can also enjoy beautiful gardens with water fountains and koi ponds, as well as a pool, game room and indoor playroom.
Eat at an elegant courtyard bistro or enjoy a hibachi restaurant with kid-friendly food items. Rooms and suites feature games and toys for little ones as well as elaborate headboards that will have you sleeping like a princess. The Castle Bunk rooms even have kids beds built to look like their own castles! There's some nice low-key Disneyland theming in the lobby and for on-site entertainment you can snag tickets to see magician David Minkin.
---
Planning the rest of your family trip to Los Angeles
Now that you've explored some of the best places to stay in Los Angeles with family near the beach and beyond, it's time to plan the rest of your trip! Read these articles for all the insider details you need:
Want to get more helpful travel tips like this? Sign up for our email list!
Still planning? Pin this for later!