We absolutely love love love visiting Barcelona with kids. I can't emphasize that enough. It was the first place we traveled overseas with a baby. When things got a little tumultuous during our family gap year, it's the place we went to get re-centered and find our mojo again. And writing this article has us looking at plane tickets to go back for another visit next year!
What's so special about it? Not to be cliche, but everything.
Read more Spain articles or get Europe travel inspiration
We love the laid-back vibe. Even though we don't eat pork, the food is wonderful. It's perfect for strolling with travelers of all ages. Night owl travelers like us never feel like we're missing out. And, perhaps most importantly, there are tons of things to do in Barcelona with kids that'll keep them engaged without resorting to typical "kids activities".
In this guide we'll share with you a little taste of what we love so much – what to do in Barcelona with kids, where to stay in Barcelona with kids and how to prepare for a visit to Barcelona with a baby, toddler or older kid.
Quick Barcelona checklist before you go:
> Buy tickets to Park Guell
> Buy tickets to Sagrada Familia
> Buy tickets to Picasso Museum
> Buy Hop-On Hop-Off Bus tickets for a fun and efficient way to get around
> Consider the Barcelona Pass for heavy sightseeing

Where to stay in Barcelona with kids:
> Mercer House – great location in El Born, with plenty of space in Lofts and Grand Suites
> Dali Apartment – extremely spacious for up to 8 people and equally convenient to both historic sites and the beach
> EnjoyBCN Colon Apartment – top-rated 3-bedroom apartment in centrally located Barri Gòtic with access to a beautiful rooftop pool and terrace
Best things to do in Barcelona with kids
There are enough things to do in Barcelona with a family that you could stay busy for months. But if you have to prioritize and want to make sure your kids have an amazing time, make sure to do these five things:
Wander the life-size art of Park Guell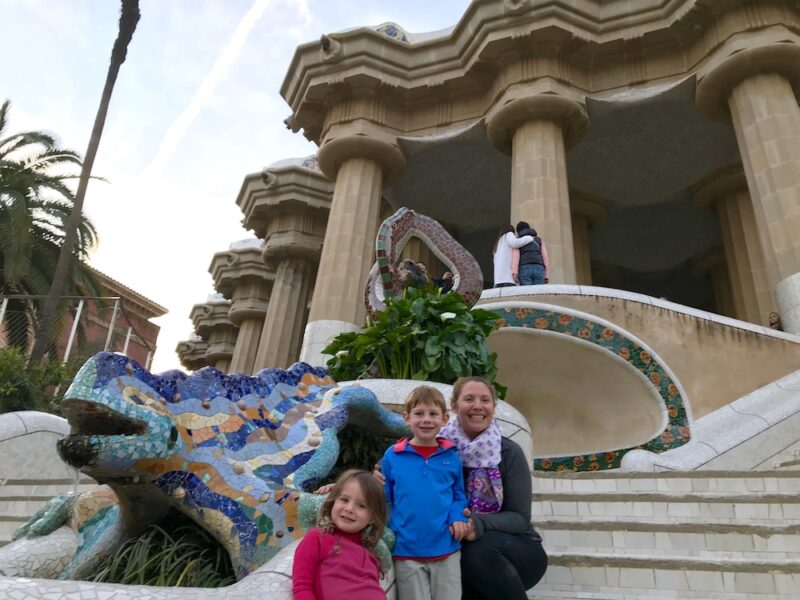 To many visitors, Barcelona is synonymous with the fantastical art and architecture of Antoni Gaudi. His work is everywhere you turn in the city, but you'll want to pick at least one site to fully explore with your kids.
We've visited several of Gaudi's works with kids and the best introduction by far is the world-famous Park Güell, perched atop the city. It has everything: amazing views, playgrounds, and a chance to get truly up-close with art. There are so many nooks and crannies that your family can easily spend hours enjoying the space.
Before you go to Barcelona, it's worth familiarizing yourself with some of the logistics of visiting Park Güell with kids.
First of all, you need timed tickets to visit the main viewing platform at the top. That wasn't the case in the past, so we showed up at what should have been a non-peak time and had to wait two hours. Oops! The sooner you get your tickets, the greater your chances of getting your preferred time slot. Check availability below:
You can access the rest of the park without tickets, but you won't be able to access the area with the most interesting tile mosaics. There isn't a whole lot for tourists near the main entrance to the park, but there is a nice playground for little kids within the free part of the park.
Second, Park Güell is technically stroller-accessible. But a stroller is honestly a nuisance. There are ramps that go "the long way around" on each side of the park, but you'd miss the stunning central staircase – which is a real highlight for kids! We recommend bringing a comfortable baby carrier (this is our favorite). Alternatively, you can bring a lightweight travel stroller that folds up tiny and then carry it as necessary.
Third, Barcelona is really spread out and Park Güell is no exception. We've walked it (pushing a stroller in the winter, no less) and don't recommend that unless you're extremely dedicated. It takes a really long time and you're essentially climbing an urban mountain.
A better choice is to take public transportation. Your Park Guell ticket includes the convenient Bus Guell shuttle from the Alfonso X metro. The trip to get there from anywhere in the city costs just €2.20 per person (kids under 4 are free). The other option is to hop in a taxi, which will cost around €10. Make sure to bring a folding car seat if you choose this option so that your kids car ride safely.
Perhaps the best way to get around Barcelona with kids is the Hop-On Hop-Off Bus! I wish this had been on our radar during our family's visit to Barcelona, because it makes transportation to the major tourist sites much easier. It offers two lines that visit over 40 locations, and you can choose between a one or two day pass depending on your needs. Even better, kids under 4 ride for free.
If Park Guell is a hit and you think your kids will be interested in more of Gaudi's architecture, consider a visit to the never-quite-finished Basílica de la Sagrada Familia. After 130+ years, this quasi-Gothic church is still a work in progress. It's a mix of plenty of different architectural styles and has a fascinating history, so it's definitely worth a visit with older kids.
Read more: Must-Read Travel Tips for Spain
Go to the top of Montjuic – and take your time coming down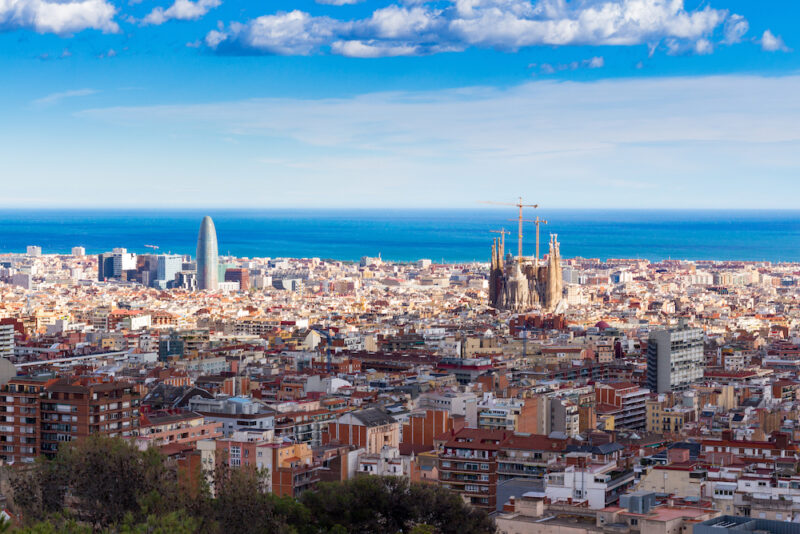 There's so much to love about a visit to Montjuic that I can't believe we didn't go up on our first visit to Barcelona. With a baby it wouldn't have been as much fun, of course, but we highly recommend it for kids of all ages and their parents too.
Start off at the base of the teleferic (aerial tramway) and buy a one-way ticket up. Everyone will love seeing the sweeping city views as they gradually emerge from the tree line. Once at the top, you'll be at one of the oldest areas of the city of Barcelona! For thousands of years, people occupying the region have used the hill as a strategic vantage point to defend their interests.
Currently the Castle of Montjuïc, dating to the 17th century, sits up there. It was used for military and judicial (and even extra-judicial) purposes all the way through Franco's dictatorship in the 20th century. Today you can explore the fort inside and out, including detailed exhibits that take you through the history and some pivotal points in Spanish history.
Thanks for the history lesson, but why am I bringing my kids here?
You don't have to go to the fort if you (or your kids) aren't interested. Even without a ticket, you can wander around the outer walls and enjoy the amazing views and fresh air. You can even see the Sagrada Familia popping up over the city in the distance.
Ok, nice views. What else?
If you listened to my wisdom and only bought a one-way tram ticket, start heading down the hill. I promise your kids won't complain! Because after just a few minutes you'll find the best spot to while away an afternoon in Barcelona with kids. Right there on the side of the mountain is a pair of he fastest slides you'll find anywhere! They aren't fancy or twisty, but they're crazy fun.
Even better, there's a cart just a few feet from the slides where parents relax over a beer or coffee while their globetrotters make friends with local kids and tourists alike! If you want to keep stretching your legs, you're just a stones throw away from lovely gardens and fountains that are open and free to wander.
Truly, Montjuic is a slow travel family's urban paradise.
If you still have more steam and want to ride another teleferic, you can hop on one that will take you to the beach neighborhood of Barceloneta. But more on that later…
Indulge in churros con chocolate (and other Spanish food)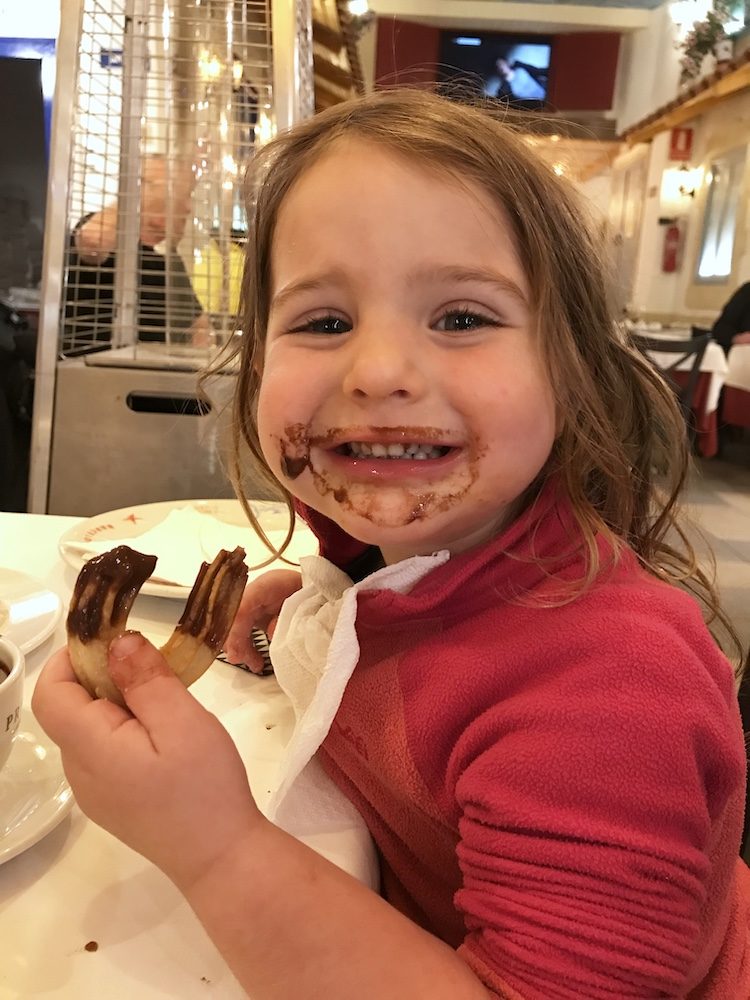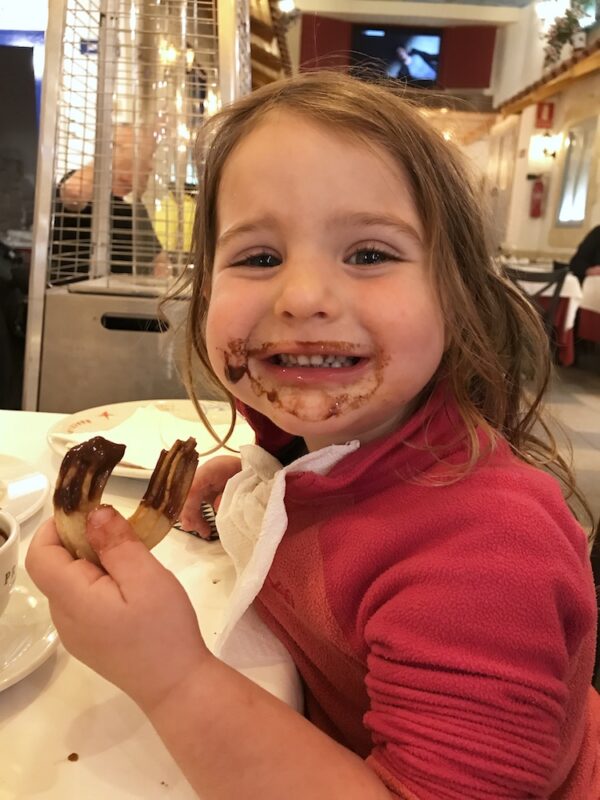 Exposing kids to new and unfamiliar foods out on the road is one of our great joys – whether they act like we've fed them rice laced with rat poison or the most delicious delicacy they've ever tried. It's all part and parcel of travel.
But in our experience the easiest way to open the gates to their young taste buds is a good old-fashioned local dessert. After all, if the dessert is that good maybe the rest isn't so bad?
In Spain, the king of desserts is churros con chocolate, usually spelled xurros in the local Catalan language. They're freshly deep-fried lengths of dough, sometimes sprinkled with sugar right before serving. On the side you'll receive a small mug of thick, dark, piping hot chocolate. The intention is to dip your churros in the chocolate before each bit.
The combination is downright heavenly. Crispy, sweet, warm, rich. There is nothing better in the world to convince kids (or their parents) that they should venture outside the familiar.
True, some say that the best churros are in Madrid (and I have to say that I agree). But your kids will be in heaven if you introduce then to the wonders of Barcelona through their full bellies. So go on a scavenger hunt to see how many of these top xurrerias you can find. It's also a great opportunity to talk with older kids about churros and the history of trade along the Silk Road.
Once you have the kids comfortable with Spanish desserts, see if you can get them to stretch a little deeper into Spanish cuisine like tortilla, manchego or even pan con tomate (a staple of Catalan cuisine).
Explore the many neighborhoods of Barcelona
Read more: What to wear in Spain in winter and why you should visit Spain in winter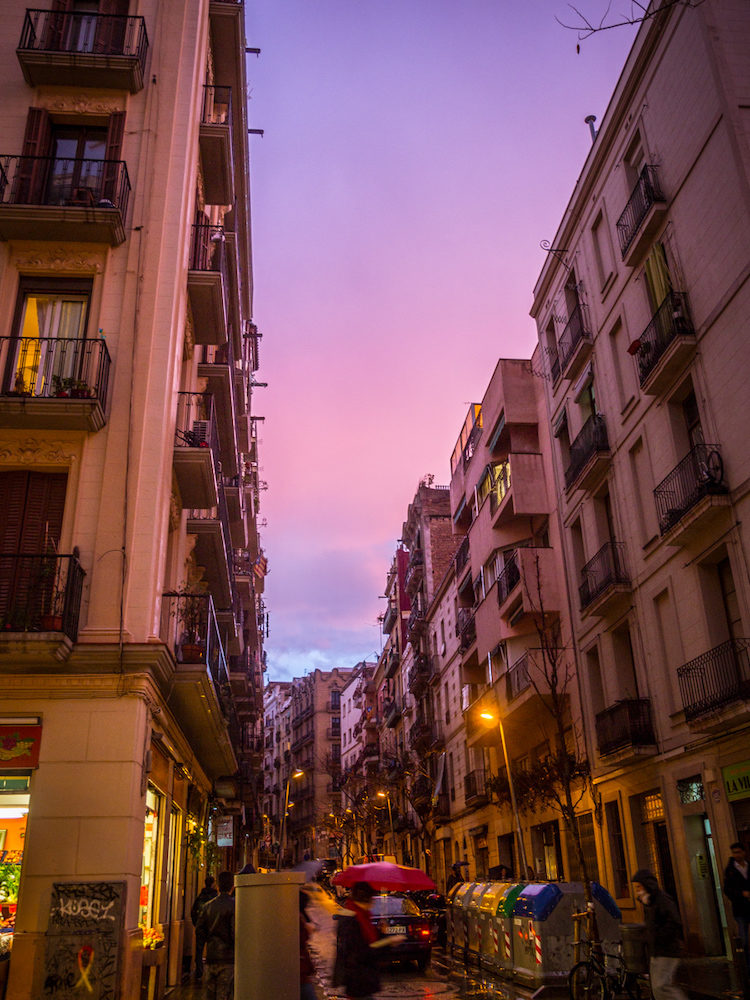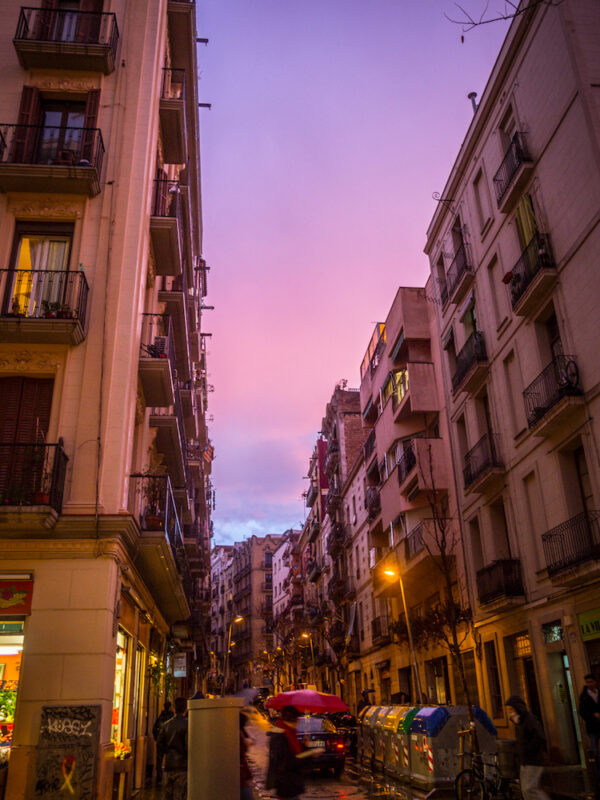 One thing you'll realize pretty quickly once you arrive in Barcelona is just how massive it is, but how distinctive each neighborhood feels. If you give yourself enough time to wander, it's easy to see many of these areas on foot.
La Rambla – La Rambla is probably the most famous area of Barcelona, and it's also my absolute least favorite. You kind of have to walk around once, for five minutes, or you may have to cross. But at this juncture it's short on charm and long on tourists, tacky souvenir shops and pickpockets. Sorry.
Two spots worth visiting along La Rambla are La Boqueria market and Plaça Reial. La Boqueria is a semi-enclosed market that's full of grocery stands – produce, bread, fish, cheese, sweets and more – and a few places to buy prepared foods. It's a good place to walk around and grab snacks and lunch food for the day. Plaça Reial is a lovely spot to walk around and take some photos, though be warned that most of the restaurants and cafes within its boundaries are squarely aimed at tourists.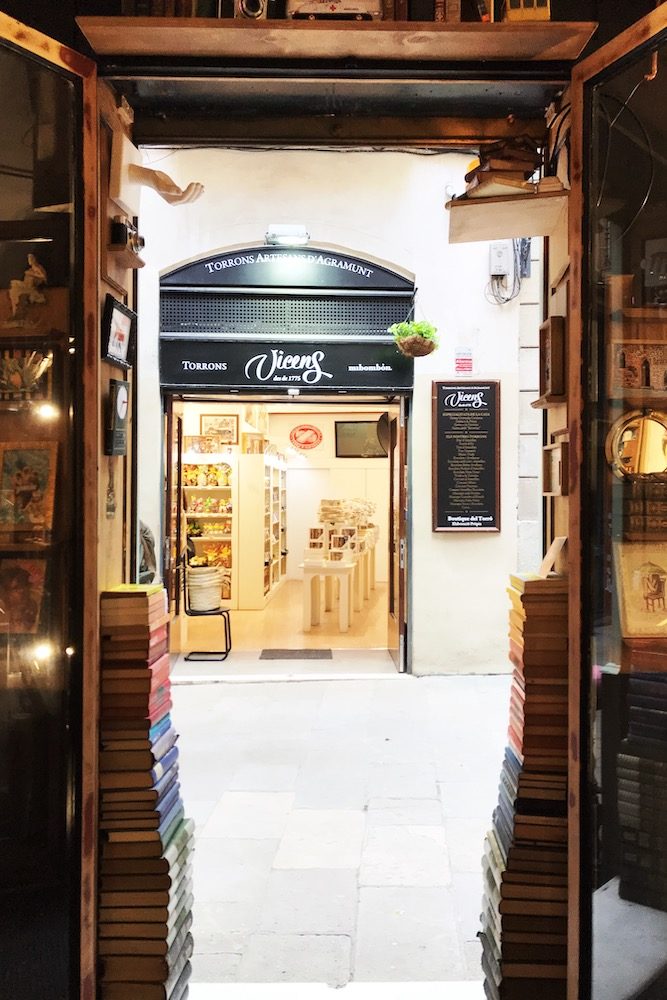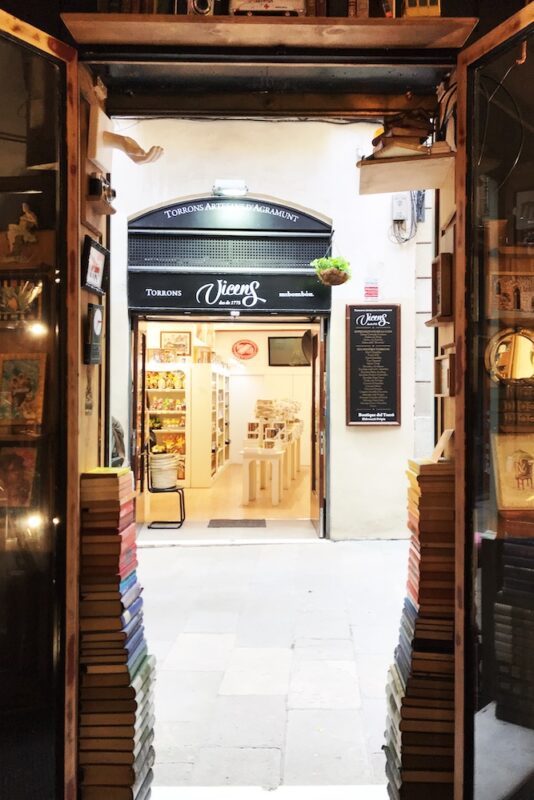 Barri Gòtic – Barcelona's Gothic Quarter is easily the city's most famous neighborhood for tourism. It was prettied up for the 1929 World Fair, so it's not quite as old as it seems on the surface but that doesn't make it any less charming. You'll find lots of tourists hanging around the narrow maze of pedestrian streets because they're attracted to both the neighborhoods charms and its convenience to top attractions. Within Barri Gòtic you'll find the Cathedral, ancient Roman walls, the old Jewish quartet, Plaça Reial plus thousands of small shops, restaurants, bars and cafes. It's bordered on one side by La Rambla, so you can check that off your list too.
El Born – El Born might be the best place to stay in Barcelona with kids. It's centrally located between Barri Gotic and Barceloneta and has both the lovely open space of Parc de la Ciutadella and the world-famous Picasso Museum. Public transportation connections are also easy thanks to the Jaume I metro station and the Franca train station if you want to take a day trip.
Eixample – Newer, fancier, more sophisticated. Eixample is all of those and more compared with its neighbors that comprise the historic core of Barcelona. You absolutely can't miss parts of Eixample, which includes most of Gaudi's famous works.
Gracia – The quiet neighborhood of Gracia is home to Park Guell but also lots of charming streets lined with locals-only restaurants and cafes. This is a great place to stroll for a bite or a coffee after visiting Gaudi's famous sites in Eixample.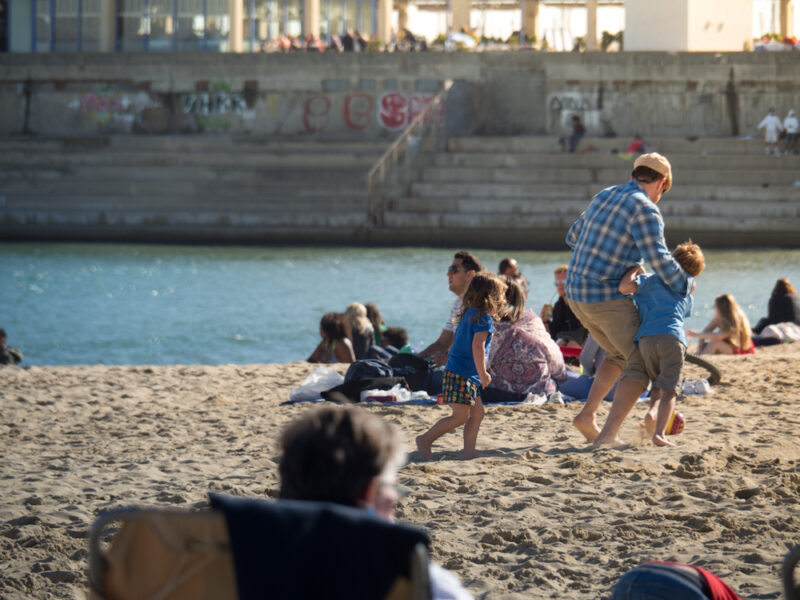 Barceloneta – This beachside community draws both locals and tourists when the sun comes out. If you don't have time for a full getaway to a town like Sitges, this is the perfect spot to spend an afternoon relaxing. You can dip your toes in the Mediterranean, play in the sand, or have a juice or coffee along the boardwalk.
Stay out late – like, really late
I'll be honest: Barcelona is not the place to work on your Babywise-level sleep routines. Dinner often doesn't start until 9pm!
What should you do if you're visiting Barcelona with a kid? Or trying to tackle Barcelona with a baby or toddler?
Just embrace it.
Late nights are a huge part of Spanish culture. Unlike the US, you'll see Spanish kids out at all hours. We made a point of bringing a stroller out for the evening so that little ones could snooze if they were tired, and that happened a lot. We always made sure to offer a decent snack around 5 or 6pm (even a 1 euro slice of pizza as we walked) so that if the kids were too tired to eat at 10pm they could sleep while we enjoyed some adult conversation. If you try to find a full dinner in the early evening, you'll mostly be relegated to tourist spots and you'll miss out on some of the best the city has to offer.
But often our kids were so jazzed by the city's late-night energy that they hung in with us the whole time. They couldn't get enough of the vibe and found their own love of travel walking the vibrant streets of Barcelona after dark. They loved seeing the beautifully lit buildings like Casa Batlló (which you need to see both day and night) and the mesmerizing fountains around the city. If you time it right, you can even see the stunning Magic Fountain of Montjuïc.
So leave the routines at home. You're all on vacation.
First time visiting? Check out these important Spain travel tips!
Where to stay in Barcelona with kids
Barcelona is a lot bigger than you might imagine at first. We've stayed in a few different neighborhoods of Barcelona with kids and honestly they haven't been ideal. Barri Gotic gets loud at night since it's full of young travelers enjoying nightlife at allllll hours. El Raval, on the other hand, offered a very local experience and was convenient enough but didn't have the same charms as some other neighborhoods (and it can be a little sketchy at night).
For our next visit, we'll be targeting El Born in our search for kid-friendly hotels in Barcelona (and Airbnbs too). It's relatively quiet, oozing with charm, offers great public transportation to the whole city and is convenient to Barceloneta beach in case we have great weather. There's also a a huge variety of family-friendly places to choose from! Check out these top picks for where to stay in Barcelona with kids:
Kid-friendly hotels in Barcelona
Mercer House – great location in El Born, with plenty of space in Lofts and Grand Suites
K+K Hotel Picasso El Born – central location across from Park Ciutadella, offers triple rooms and suites for families
Park Hotel – boutique hotel in a great location, rooftop pool, rooms can accommodate up to 3 people
Family-friendly Barcelona apartments
Olles Apartment – nice neighborhood location, 2 bedrooms, balcony, separate washer and dryer… what more could you want? (The correct answer is nothing, at least for us.)
Dali Apartment – extremely spacious for up to 8 people and equally convenient to both historic sites and the beach
1840 Serviced Apartments Barcelona – near the train station, 3 bedrooms and 2 bathrooms, washer/dryer, extremely spacious, rooftop terrace with pool and BBQ
Inside Barcelona Apartments Mercat – 1 and 2 bedroom options, across from Park Ciutadella
Decô Apartments Barcelona-Born Apt. – 1 and 3 bedroom options, just a little further from the Park in the heart of El Born
Inside Barcelona Apartments Esparteria – 1 and 2 bedroom options, very close to Picasso Museum
Use the interactive map to find vacation rentals and hotels in Barcelona, Spain
---
Tips for a Barcelona baby-friendly vacation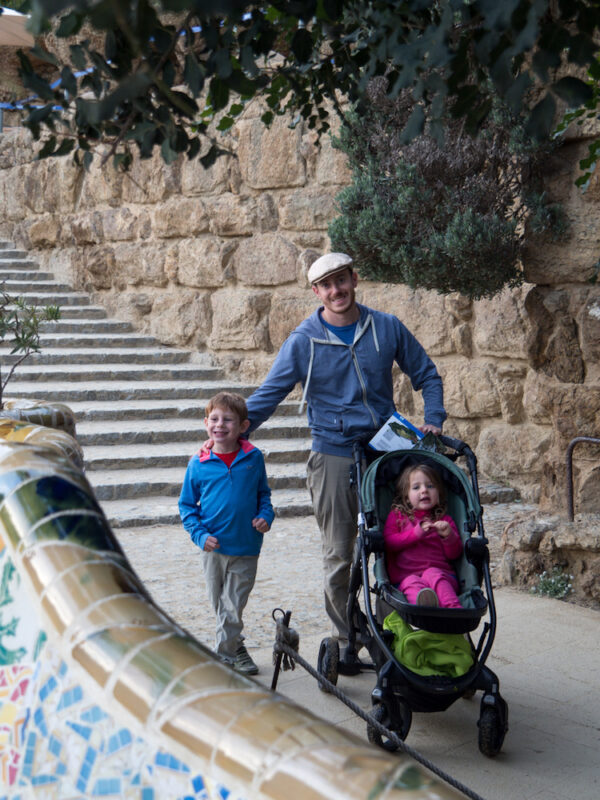 Barcelona was the first place we traveled overseas with a baby, and it was a great choice! The best thing about traveling with young babies is that they're usually happy to go along with anything you want to do as long as their basic needs are met. Here are a few things to know before you visit Barcelona with a baby:
-Breastfeeding in public is just fine. I usually used a cover like this one for my own comfort (especially since it was winter!) but Spaniards are just as laid-back about breastfeeding as about other things.
-If your little one is starting to eat solid foods, either bring a snack tray for your travel stroller or this travel booster seat and a suction placemat. We found that very few restaurants in Barcelona (or elsewhere in Spain) had high chairs (or they had ones that wouldn't work for our little one).
-If you need to stock up on baby food or diapers, you'll find everything you need at El Corte Ingles in Plaça Catalunya. There's an entire floor of grocery store where you'll find those kinds of consumables, but also in the department store above there's a great selection of high-quality European baby gear.
-Bring a baby carrier as a backup to your stroller. For some places like Park Guell it will make your life much easier!
-Get familiar with public transportation so you won't have to worry about toting a car seat around. Alternatively, a solution like this means you can hop in and out of cabs any time. For the ride to and from the airport, Welcome Pickups can provide a car seat if you don't have your own – book here in advance to ensure availability.
Tips for visiting Barcelona with a toddler or preschooler
Toddlers can make great travel companions, but sometime they require a little more patience and flexibility.
-Before you go, grab these two toddler-friendly books to give them some things to look for:
-Snacks are a great distraction when you want to enjoy a stroll through the neighborhoods. The snack trap was our savior when we visited Barcelona with a toddler of our own!
-If you think your kid will be hangry well before the 9pm restaurant opening time, there's no shame in grabbing a slice of pizza. Alternatively, you can bring one of these great divided containers to fill with fresh bread, cheese and grapes (all local!) before heading out each day.
-Even if you feel like you're beyond the stroller years, it's not a bad idea to bring a toddler sized carrier with you in case those tiny legs get tired of walking.
-Barcelona is full of awesome playgrounds! Make sure to allow time in your schedule to visit some of them to let your little companion blow off some steam.
-If you plan to take taxis around the city, make sure to bring a taxi-friendly folding car seat to keep your child safe. Otherwise the public transportation around the city works well. For the ride to and from the airport, Welcome Pickups can provide a car seat if you don't have your own – book here in advance to ensure availability.
Tips for visiting Barcelona with kids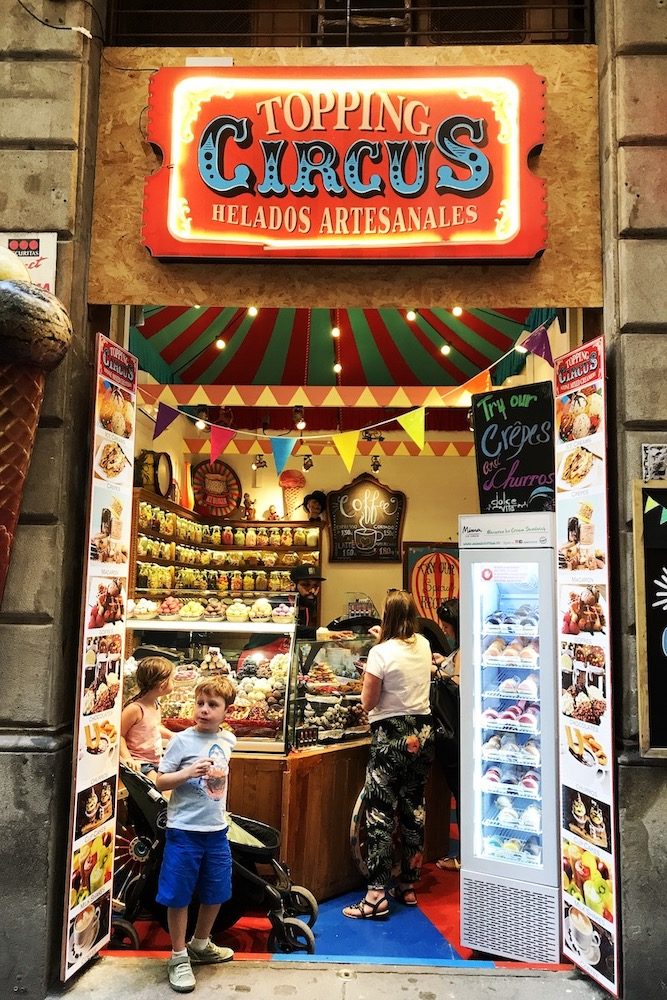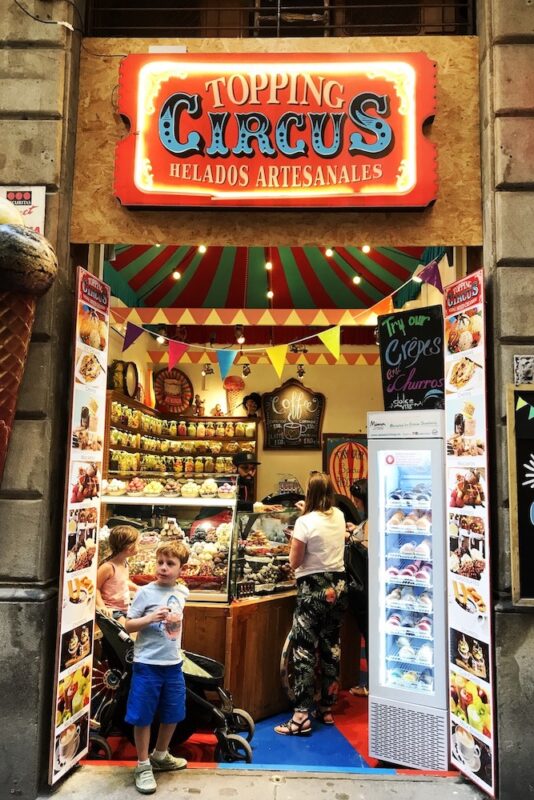 -Help your older kids get more out of your family trip to Barcelona by doing some advance reading together. There are even a few books on this list to bring with you to keep the kids engaged along the way!
-Let them help you plan! After reading some of the books above, ask them what they'd be interested in exploring.
-Since you're likely beyond stroller age, try taking the metro for longer distances. Trains are half the fun for our kids!
-Bring an ultraportable booster seat. You can use it to get to and from the airport in a taxi or for rides around town if you're heading back to your hotel late. Read our full review here.
Planning your trip to Barcelona with kids
Be sure to read these additional articles as you plan your visit to Spain in winter:
Still planning? Pin this for later!