Spain is one of our favorite places to visit in winter, in part because it offers many of the European winter festivities without the frigid temperatures. Even the coldest parts of Spain are warmer than much of the European continent! So what should you pack to wear in Spain in November, December and beyond?
Though it's more pleasant, the nicer weather means you'll have to come prepared for a wider range of possibilities when planning your Spain winter fashion. It could be pleasant and sunny in one area, and just a quick train ride away it could be snowing! Read this article to find out more about the weather in Spain in winter and what to wear to Spain in winter to be prepared and comfortable. Have an amazing trip!
Read more Spain articles or get Europe travel inspiration
Quick picks: where to go in Spain in winter
You can't go wrong when you pair two or three of these amazing cities to build your Spain winter itinerary! The secret is out and it's growing in popularity, so I suggest making your travel arrangements as early as possible.
Barcelona
Seville
Valencia
Malaga
The weather in Spain in winter
Like so many places around the world, the weather across Spain can vary dramatically depending on exactly where you are. The mountainous landscapes and long swaths of Mediterranean coastline combine to create a series of microclimates, so plan accordingly!
Check out how variable Spain winter weather is:
Barcelona
Madrid
Seville
Valencia
Granada
December
60F/49F
3 days rain
50F/38F
6 days rain
62F/46F
6 days rain
62F/42F
3 days rain
56F/37F
6 days rain
January
59F/48F
4 days rain
50F/37F
5 days rain
61F/43F
6 days rain
61F/41F
2 days rain
54F/36F
5 days rain
February
59F/47F
4 days rain
53F/39F
5 days rain
64F/45F
5 days rain
63F/42F
3 days rain
56F/38F
6 days rain
Coastal havens like Barcelona, Seville and Valencia rarely have any traditional "winter weather", while inland and mountainous cities like Madrid and Granada have colder temperatures and more variability. Though the table above represents averages, make sure you check the weather closely as you're packing for Spain winter outfits: our entire time in Madrid in January brought daytime highs in the low 40s and nights that dipped below freezing! Meanwhile we just needed thin t-shirts in Seville the week before.
Read more: Visiting Barcelona with kids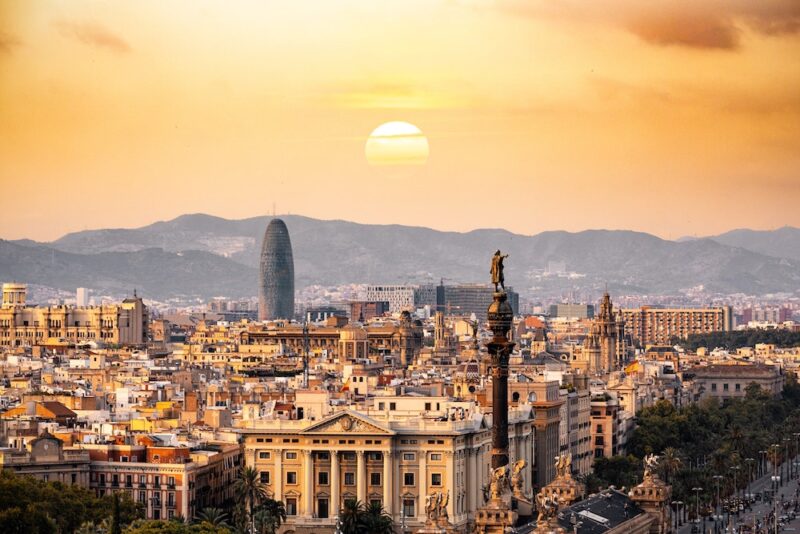 Winter travel capsule wardrobe: what to wear in Spain in winter
While temperatures will be more pleasant than in much of Europe, nights can still be cold throughout the country. Plan for layers to accommodate any weather that might crop up.
Most visitors to Spain aren't doing serious trekking, so you'll probably just need "smart casual" clothing for city exploration. During our visits to Spain we have found that locals always look put-together and leather shoes (even practical ones like my preferred simple boots) are the norm.
I'm a big fan of the capsule wardrobe concept – bring a small selection of clothing that can all be interchanged, focusing on one or two neutrals and one or two accent colors. Check out this article for more information on building a capsule wardrobe.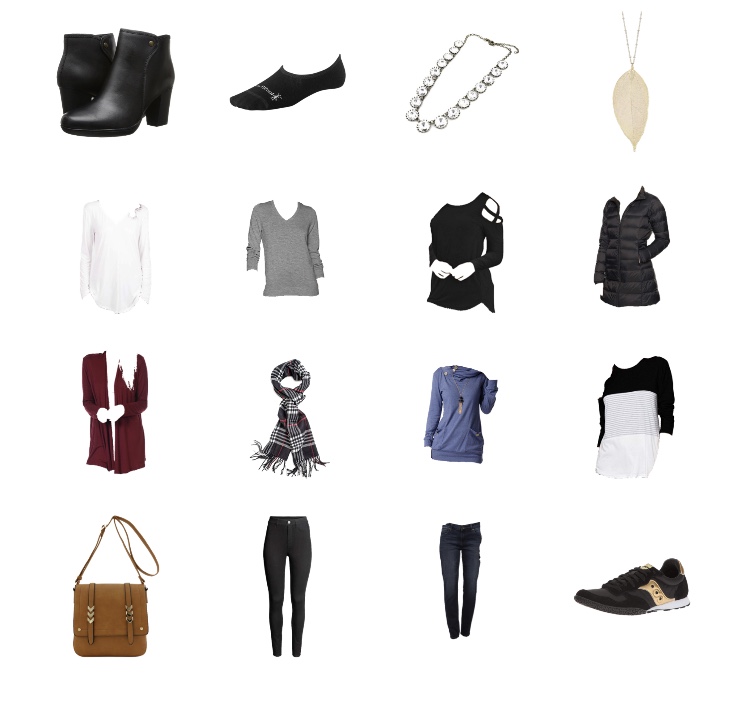 You'll want to pack the following:
-a mid-size purse to hold your essentials
-2-3 pairs of pants. Most Spanish homes do not have a dryer, so take that into consideration as you plan your wardrobe especially when it comes to jeans. If you're visiting for a week or two and bringing pants that dry faster than jeans, two pairs might be enough. But if you're like Brooke Shields in a Calvin Klein ad when it comes to jeans, do yourself a favor and bring three so that you'll be covered while your laundry air dries.
You can also bring one pair of these awesome wool leggings as a substitute for a pair of regular pants. They're wonderfully cozy even on chilly days, perfect for flights and can double as lounge wear.
-1 cardigan that can be layered with all (or at least most) of your tops
-5 tops, a combination of long-sleeve shirts and light sweaters that you can layer if temperatures drop unexpectedly
-1 long, lightweight packable down jacket. During our winter trip to Spain I brought a similar jacket but shorter and I was mighty cold in places like Granada and Madrid! If it's really cold, you can always layer the cardigan under your jacket as well.
-1 scarf
-gloves – I love these because they still give me access to my phone for Google Maps while I'm walking around
-1-2 necklaces (perhaps one long and one short, depending on the necklines of your tops and how much you like wearing your scarf)
-1-2 shoes/boots. I recommend bringing a comfortable pair of athleisure shoes (like these favorites – which pair perfectly with my preferred socks) for long days exploring the cities, and if you feel like you'll want something dressier then bring some comfortable, practical, low-heeled black leather boots. Don't forget cozy socks to go underneath just in case!
Read more: Can't-miss traditional foods of Barcelona
Spain outfits for winter
Check out these examples for how to mix and match your Spanish winter clothes capsule wardrobe to meet the diverse needs of your trip. You'll have lightweight layers from balmier cities like Barcelona but still feel nice and cozy when you head to Madrid or Granada.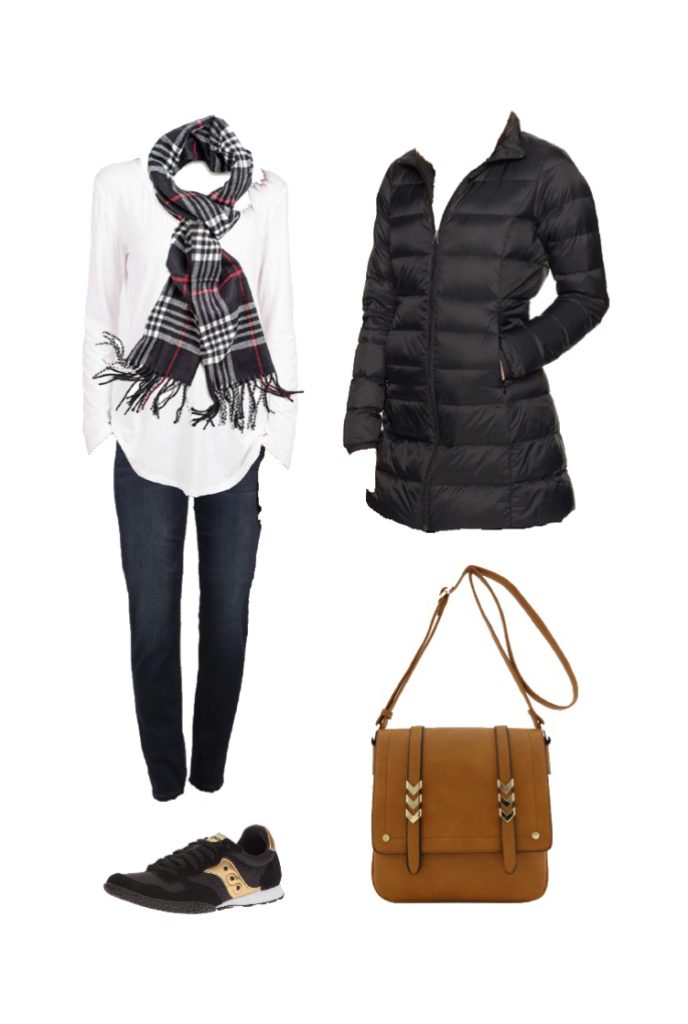 Read more: find out why you should visit Spain in winter
What clothes to take to Spain in winter?
The weather in Spain during winter can vary depending on which city you are visiting. Temperatures can range from pleasant on the coast to frigid in the mountains. Pack light layers to prepare for both.
What should I pack for Spain in December?
For clothing, pack several light layers in preparation for a variety of weather conditions. You'll also want basic travel essentials such as a camera, power adapter, packing cubes, and comfortable shoes.
What should you not wear in Spain?
It's best to dress on the conservative side when in Spain. Flashy or revealing clothing is frowned upon.
Read more: Must-Read Travel Tips for Spain
What to bring to Spain: travel essentials beyond the clothes
What else should you pack to bring to Spain during November, December and January? There are a few things you should add to your packing list to make your trip to Spain the winter go smoothly. Actually, these items are great to pack for September or October too – any month of the year really!
Travel umbrella
If you're embarking on a multi-city itinerary during winter in Spain, it doesn't hurt to bring along a little travel umbrella just in case. While Spain has less precipitation overall than many of its neighbors, in some places like Madrid you might encounter a few rainy days during your trip.
The latest innovation in umbrellas (yes, there's innovation in umbrella design) are these genius ones that collapse with the wet part on the inside so that they don't drip everywhere. Amazing! Click to get more info on how they work.
Spain power adapter
Of course you'll need a few travel basics for your trip to Spain, no matter the season. One of our favorite travel items these days is our USB power strip – we just need ONE plug adapter for European outlets, and then we can charge everything at the same time. Ours has been working great for six months and accommodates two iPhones, two tablets, the laptop and the camera. When you're deciding what to bring to Italy, make sure to put it on your list!
By the same token, we always find that our phones are running low on battery after a full day of Waze, TripAdvisor, photography and more. We love Anker's compact, high-capacity external batteries and always make sure to bring at least one with us (note: most airlines now require battery packs to be in your carry-on luggage, not your checked bag).
Read more: Where to go in Spain with kids
Spain SIM card
Want to use your American cell phone in Spain? It's easy! As long as your phone is unlocked, just use a paperclip to pop your SIM card out and replace it with this one. We used it in several European countries without issue (make sure to turn roaming ON once it's in if you want to switch countries).
The card includes 20 GB of data, 1000 texts and 120 minutes of talk time – plenty for a few weeks of travel. By default the card is active for two weeks, but if you plan to be in Europe longer you can just register it online and even purchase top ups! Unlike some cheaper Europe SIM cards, Orange even allows tethering – so you can potentially purchase just one card for your group and then share the pool of data. Check prices here.
Lightweight travel camera
Want to capture memories of the never-quite-done Sagrada Familia or the intricate details of the Alhambra? If you want something that's a big step up in quality from your smartphone, check out a "bridge camera". You'll get lots of manual controls (only if you want them) and tons of zoom in a compact, affordable package. Just make sure to bring a big memory card and a spare battery!
Spain guide books
When you're planning your travels, be sure to check out a comprehensive travel guide or two for building your itinerary. Check out these top picks, which you can buy in paperback or Kindle eBook format depending on how light you want to travel:
Organize your luggage
Make sure to grab a set of packing cubes to stay organized on your trip. Use the biggest one for clothing, the middle size for intimates and jewelry and the smallest to consolidate charging cables and other electronics accessories. EBags also makes a great flat-pack toiletry kit that hangs conveniently in your hotel bathroom to keep the counter uncluttered while still giving you access to your necessities.
Read more: find the best women's travel backpack for you
Planning your trip to Spain in winter
Be sure to read these additional articles as you plan your visit to Spain in winter: