As you know, we love packing light. It's just easier for us. One strategy I've adopted over the last year to streamline my own packing is the travel capsule wardrobe concept.
A capsule wardrobe is a limited set of clothing (you pick the size) from which you can build a huge set mix and match outfits for travel. A travel capsule wardrobe is just a narrower set that you'd use for travel, and you could conceivably have one streamlined travel wardrobe figured out for each season.
The advantages? Capsule packing means less luggage space devoted to clothing and less mental energy worrying about what to wear/what matches/what's clean. The key is to make sure that everything works together in color, cut and style for the ultimate mix and match travel wardrobe.
Read more: What to pack and how to pack it – our best tips
In some ways a travel capsule wardrobe is easier than a "regular" capsule at home: you go into it knowing what many of your activities will be, and living with limited clothes for a few weeks is less daunting than for a whole season! (Want to see how this worked out when I tried this strategy to pack for a whole year? Read all about it.)
Often you can construct your capsule from items already in your closet, so no need to run out and buy special "travel clothes". The most important advice I've heard for building a travel capsule is to bring clothing you love wearing – because you'll be wearing them a lot!
Related: Wondering what to pack your minimalist travel wardrobe in? Check out the best travel backpacks for women or my new favorite travel backpack for petite women.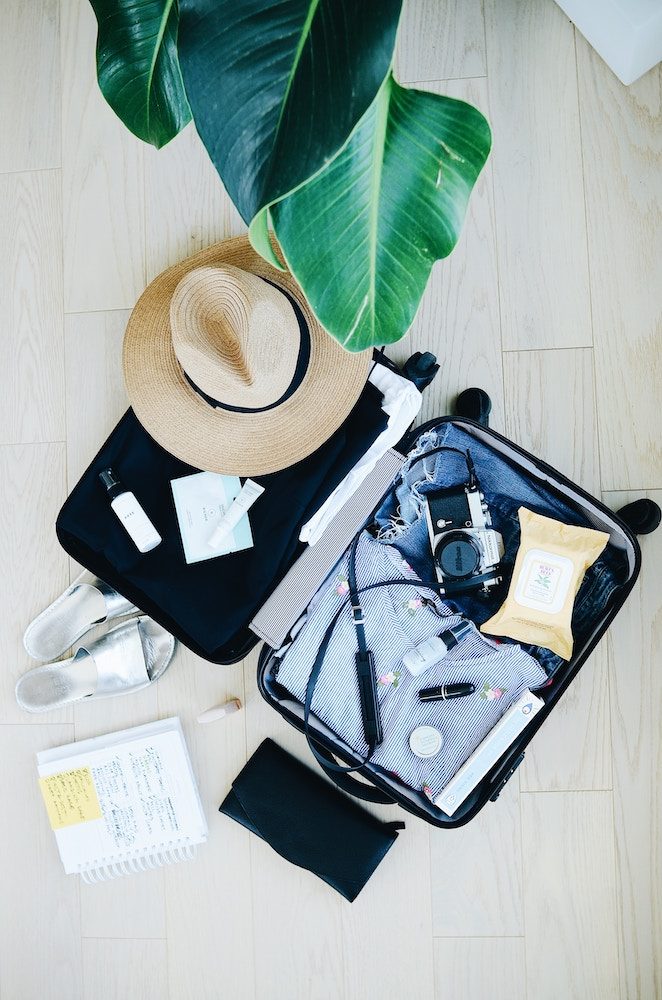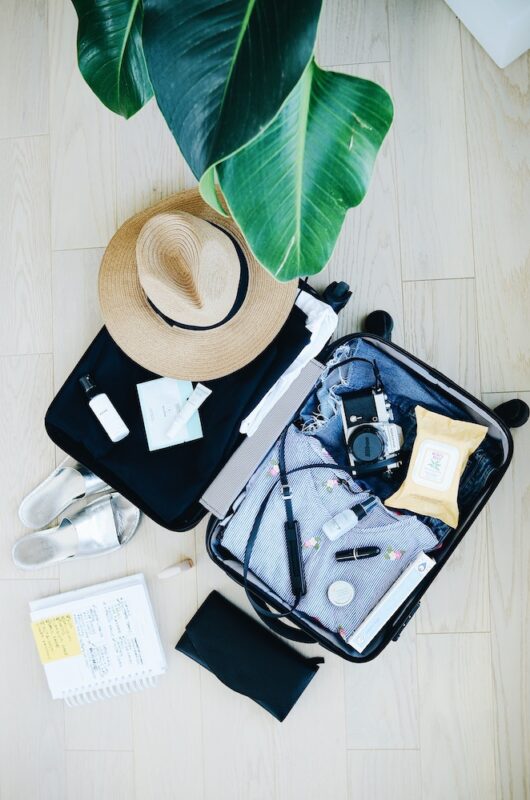 Planning your travel capsule wardrobe
When I start building a capsule for an upcoming trip, here are the questions I try to answer before I even touch a piece of clothing:
What are the parameters of the trip? Think about weather, formality, specialized activity needs, and especially what types of footwear will be appropriate.
What colors will you use as a neutral? What is your accent color?
How will you bring in color, pattern and texture while ensuring that you can mix-and-match travel clothes and accessories?
After answering these questions, I start planning. I've done it nearly every way: pen and paper, excel spreadsheet, and Stylebook app (for iPhone and iPad). There isn't one method that I strongly prefer and sometimes I'll use a combination of all three! Stylebook is a nice option if you can put in a little time to set up your clothing (even if it's just what you plan to bring for a trip!). You can build outfits you might want to wear and the app adds the right pieces to your packing list.
The big question, of course, is what specifically to bring. If you're going away for a week to a destination with decent weather you could probably get away with three or four tops, two bottoms, one dress, one outer layer like a cardigan or a light jacket and two pairs of shoes. Even if you're traveling to a colder climate, throwing on multiple layers can save you from bringing bulky outerwear.
Building your core travel wardrobe
Here's an example of the best travel capsule wardrobe for our upcoming trip to Paris. We'll be there five days and daytime weather will probably be in the 60s with nights in the 40s. We love to walk everywhere, which means comfortable shoes are a must. We don't have any special activities or fancy dinners planned (we are traveling with preschoolers, after all) so I'll be bringing casual clothes including a few pieces nice enough for dinner out. Black is the easiest neutral for me to work with in a capsule wardrobe for travel in Europe, and I'll incorporate some color with a nice springy scarf and my très Parisien tote bag.
Sample packing list for mix and match outfits for travel:
–short sleeve white tee
–short sleeve stripe tee
–long sleeve stripe tee
–black jeans
–black skirt
–black dress
–denim jacket
–slip-on sneakers
–patterned scarf
–interesting necklace
–colorful tote
That's a total of seven pieces of clothing and four accessories for five days (a 10 piece travel wardrobe, plus one pair of shoes). Not bad! If you're traveling for a few weeks, 13 pieces of clothing would be a great amount. For me that might be six tops, four bottoms, an outer layer and two dresses- but the details depend on the weather and your personal style. Here are some of my favorite travel outfits for Europe.
These are all pieces that I own and wear often, so I feel comfortable wearing them and I can avoid spending travel money on clothing. All three tops can work with either bottom and with the jacket and either the scarf or necklace. T-shirt dresses are ideal travel dresses for Europe because they're versatile and easy to care for, though I've been tempted to try this awesome travel dress as well.
I'll probably throw in a pair of tights to go under it (or the skirt) on chilly evenings. I even feel like I can get away with just bringing my TOMS Avalon slip-ons; they're very comfortable for walking, but because they're made of coated canvas they have a more finished look. Check out these other great travel shoes that will keep you walking all day long!
The best part? If I wear the jeans, a shirt and jacket on the plane I can fit the rest of the clothes in a medium sized packing cube with room to spare. More space for souvenirs!
If you're visiting a warm-weather destination, now you can get a travel capsule wardrobe already designed for you! With a few of the mix-and-match pieces from Vacay and one or two from your own closet, you'll be able to put together several weeks worth of outfits without bringing everything you own. I especially love this new mini-capsule!
Check out these travel capsule wardrobes for some of our favorite destinations
What to pack for Hawaii
What to pack for Paris in spring
What to pack for Greece in spring
What to pack for Morocco in spring
What to pack for Ireland in summer
What to pack for Croatia in summer
What to pack for a tropical island
What to pack for Italy in fall
What to pack for Paris in fall
What to pack for New York in winter
What to pack for Spain in winter
What to pack for Israel in every season
What to pack for a year of travel
Links
OneBag – my original inspiration for traveling light!
Stylebook app – Great closet organizer that help you build a travel capsule wardrobe and the associated packing list
Have you tried a travel capsule? Could you do it?