Packing for a trip is always a challenge, no matter the destination or duration. Packing for Ireland can be especially tricky because, as they say, if you don't like the weather, wait five minutes. So what to wear in Ireland in June? Regardless of the season, you probably won't need silk blouses or beautiful heels. During our trip to Ireland in June, we caught the tail end of a "heat wave" (though still much cooler than Los Angeles) but we knew there would still be chilly days and patches of rain. Read on for my suggestions on what to pack for Ireland in June.
Read the rest of our Ireland with Kids trip report or get more Europe travel inspiration
My challenges of summer packing for Ireland:
Multiple weather possibilities
(Almost) everything in one medium-sized packing cube since we like to pack light
Enough variety not to be bored after two weeks
Try to look somewhat put-together
Appropriate for carrying kids potentially covered in mud and/or peanut butter
Related: Why you should pack light and how to do it
Want to skip all the wondering and planning? Get the perfect 10 Ireland itinerary, ready for you go book from start to finish.
My strategy was to create a travel capsule wardrobe for the trip, mostly from items that I already owned. If you haven't heard of a capsule wardrobe, the basic concept is to come up with a limited set of clothes, shoes and accessories that all mix and match to create a wide variety of outfits (check out the full travel capsule wardrobe how-to). Sounds simple enough!
Usually you'd choose some neutrals, one or two complementary accent colors and throw in a pattern or two. Based on the suggestion of the fine ladies over at TheMomEdit when I asked about packing for Ireland in June, I chose neutrals in black, white, gray and light blue with pops of color in peach/blush. Some of the styles they suggested are a little edgier or funkier than I tend to dress, so I made it my own. I also went completely practical on the shoe front out of necessity – tromping in fields combined with sensitive feet, so no heels for me on vacation.
The best advice for what to wear in Ireland in June (or any other month, for that matter)? Make sure you plan for layers. The weather can turn on a dime and you'll want to be prepared. We started one day basking in the sun at the beach and ended the very same day in a torrential downpour.
Want to see how to pack for a whole year of travel?
I'll be honest: this was the first trip on which I felt like I packed well. Everything worked together, so I never ran into the issue of one clean shirt and one clean pair of pants but they couldn't be worn at the same time. It was also an opportunity to dust off a few things that hadn't gotten enough love recently. Here's my Ireland packing list for June: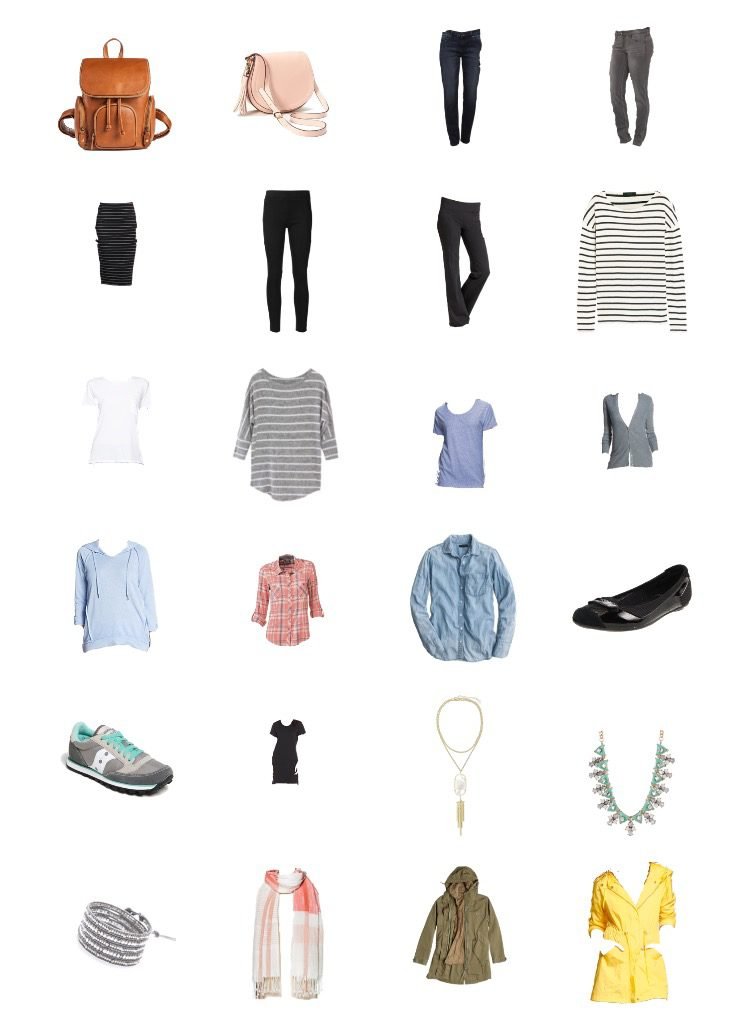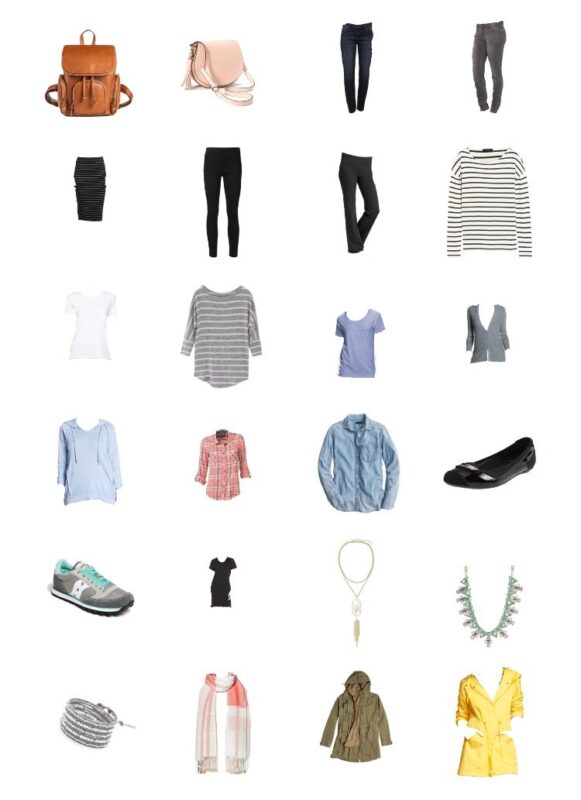 What to pack for Ireland in summer
-6 tops (short sleeve white tee, short sleeve blue tee, long sleeve breton stripe tee, chambray, peach plaid, gray/white stripe dolman)
-2 light sweaters (light blue knit pullover hoodie, gray cardigan)
-4 pants (dark blue skinnies, gray skinnies, black ankle zip ponte leggings, black Athleta pants)
-1 skirt (black/white stripe midi), 1 black dress
-2 shoes (black TOMS Avalon are my fave to pair with a black dress, skirt or jeans; I brought gray/turquoise Saucony Jazz – in retrospect, I should have swapped out the laces for gray or white and I now prefer my Saucony Bullets anyway)
-2 bags (tan faux-leather backpack, blush cross-body) Check out other great travel day packs for women here
-2 necklaces (ivory Kendra Scott Rayne pendant, short mint statement necklace) and gray wrap bracelet
-2 jackets (Stitch Fix olive anorak, yellow packable rain anorak)
-1 scarf (peach stripe)
-2 bras (I should have brought a third)
-5 underwear
-3 pairs of socks
My only new purchases were the yellow anorak (since I didn't own a rain jacket) and the peach scarf, clocking in under $30 combined from Target. I only wore the dress once given the weather, so I could have left that at home. I wore everything else several times. To save space when packing, I folded up the anorak inside the cross-body purse. Everything else was on my body or inside a medium packing cube. Score! I might have been able to bring a little less, but I tried to avoid washing jeans since euro dryers are super harsh and they take too long to line dry.
Related: Why you need a travel capsule wardrobe for your next trip (and how to build one)
I used the Stylebook app to help me put outfits together and keep track of everything.
Plan your Ireland visit: Important accessories to bring to Ireland
Ireland SIM card
Want to use your American cell phone in Ireland? It's easy! As long as your phone is unlocked, just use a paperclip to pop your SIM card out and replace it with this one. We used it in several European countries without issue (make sure to turn roaming ON once it's in if you want to switch countries).
The card includes 10 GB of data, 1000 texts and 120 minutes of talk time – plenty for a few weeks of travel. By default the card is active for two weeks, but if you plan to be in Europe longer you can just register it online and even purchase top ups! Unlike some cheaper Europe SIM cards, Orange even allows tethering – so you can potentially purchase just one card for your group and then share the pool of data. Check prices here.
Ireland power adapter
What power adapter do you need for Ireland? If your needs are simple, you might be able to get by with these cheap Europe plug adapters.
After bringing tons of them with us for years, we've come up with a better strategy! These days we have one high-quality global power adapter. It accepts plugs from anywhere and converts them to plugs for any destination. This one even has USB outlets built in.
We already have an older global power adapter, but it doesn't include USB outlets. We recently purchased a USB power strip and it's a truly revolutionary device! Ours has two standard plugs for laptops and camera chargers and then four USB outlets. Previously we had a Europe plug adapter and a USB adapter for every single phone and tablet. No more!
Lightweight travel camera
Want to capture memories of all those emerald green hills and adorable road-side sheep? If you want something that's a big step up in quality from your smartphone, check out a "bridge camera". You'll get lots of manual controls (only if you want them) and tons of zoom in a compact, affordable package. Just make sure to bring a big memory card and a spare battery!
Want to skip all the wondering and planning? Get the perfect 10 Ireland itinerary, ready for you go book from start to finish.
If you're still finalizing your packing list, Pin this for later!