Planning a family gap year is an absolutely enormous undertaking. Flights, rental cars, buses, hotels, apartments, activities… and of course, what on earth do you bring for a family of four for an entire year of travel? We had a few months to think about our packing needs and strategize, but there will always be lessons learned once you're in the throes of travel. The good news is that, with a few rather glaring exceptions, we managed ok! Read on to find out what worked and what didn't.

Do you want more ideas for packing light with kids? Check them out here!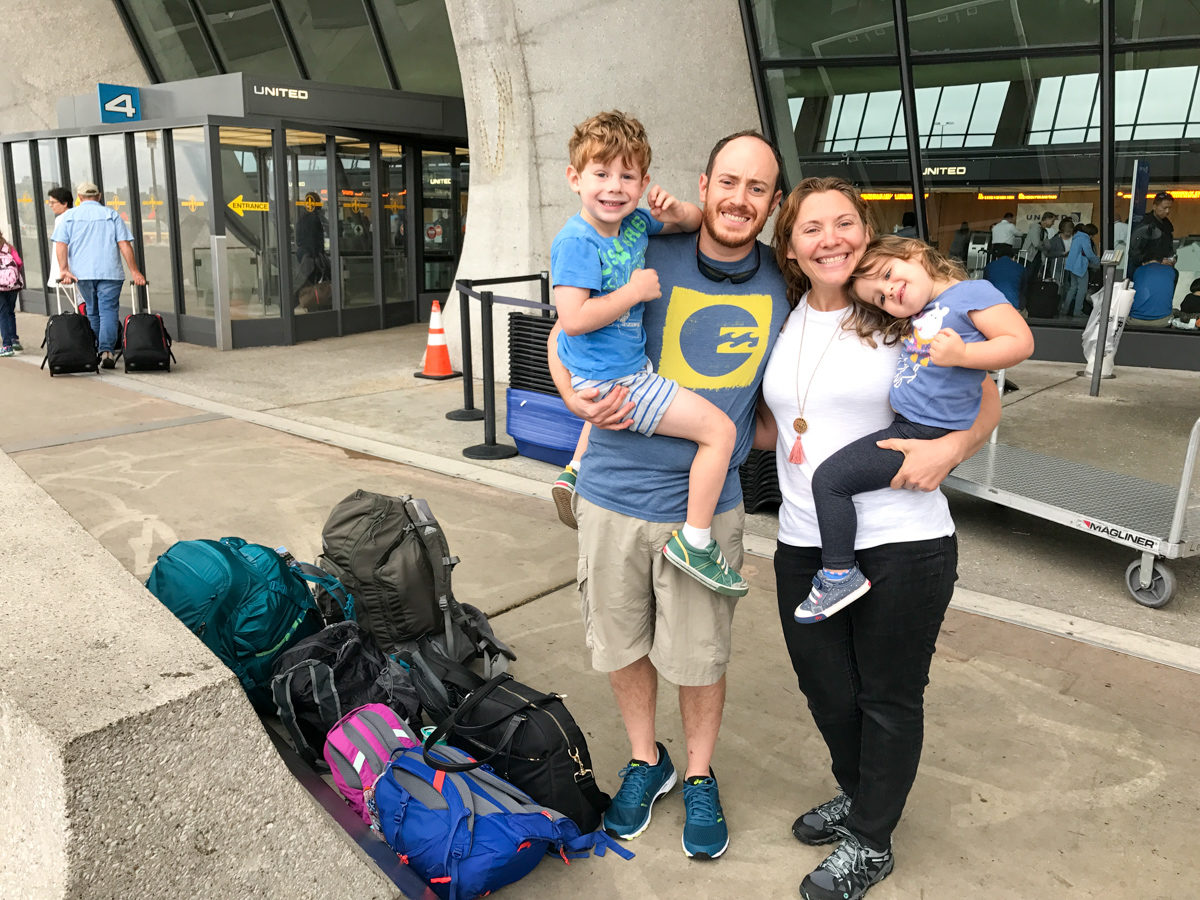 Our biggest family gap year packing mistakes
#1 Not doing a trial run
All the good advice on packing for a world trip says to make a list, plan things out nicely and then do a practice pack a week or two before your trip. Then you'll have plenty of time to adjust your kit, buy new gear and make any other changes. Good plan, right? Hahaha. We mostly got through the first two steps, but failed miserably at the third. The result was that we were left trying to cram lots of stuff into not enough space – my 60L Thule Versant it great, but Ronnie's Kelty Redwing 50 just didn't give us enough breathing room. While we were technically able to make it work by storing some things in our emergency packable backpack, re-packing every few days in Panama made us quickly realize that we'd be much happier with more room. We had a blast visiting SportMall in Santiago, Chile – a whole mall with top-notch stores for sports and outdoor enthusiasts! That place was absolutely amazing and Ronnie was able to check out a wide selection of men's travel backpacks before settling on the Kelty Coyote 80. While it has one or two details that we don't care for (full review forthcoming) it has worked out great for us overall and the frequent re-packing is now much less stressful.
Shopping for a women's travel backpack? Check out our hands-on reviews.
And what did we do with the Redwing? I tried so hard to sell it! Facebook groups, Facebook marketplace, even harassing mountain guides while they drank beer behind an adventure tour office. We didn't have any takers and we schlepped that thing to five (yes, five) more stops before we befriended our awesome apartment hosts in Puerto Madryn, who are also travel lovers. They were so amazingly welcoming and accommodating of our family that we knew they'd give the Redwing a good home.
#2 Not bringing a proper daypack or camera bag or decent size purse
During a sort of delirious packing session that began at 10pm the night before our departure and ended four hours later (with no tears, I might add) we managed to barely squeeze all of our clothing, shoes and toiletries into our two big travel backpacks (see mistake #1 above). At the end we were sitting there looking at piles of very important, but homeless, items: all of the lovely electronics we needed for the blog, and our kids travel car seats. Perhaps a little too hastily we grabbed what we had available – since it was 2am at my mom's house, a few thousand miles from most of our possessions, and we had to leave for the airport before stores would open in the morning.
For electronics I settled on my Lo & Sons OMG shoulder bag and that has mostly worked out fine; however, it can get extremely heavy to lug through airports since it's loaded with the computer, camera, loads of chargers and some other odds and ends. It also doesn't really work as a daypack. For the kids' portable car seats (this one and this one – get the best info on traveling with car seats) and a few other small items, we took out the Prime-Day-bought-on-a-whim-just-in-case New Outlander packable backpack and threw everything in.
 And now, three months later, that totally unstructured and unsupported backpack has ended up as a frequent day use companion. Womp womp. "Hate" is a strong word, but it's just not meant for heavy-duty use and completely lacking in structure. And so basically every day that I have to use that thing, I daydream about all the wonderful travel daypacks I would bring with me if I could have an unlimited selection. On shorter trips, it's easier to choose a single daypack to meet most or all needs, but of course this family trip around the world covers everything from cruising around America's biggest cities to trekking the rugged mountains of Patagonia. Each place (and each fashion sensibility) has its own needs, so I've lusted after a wide range of daypacks for women. Of course, even if I bought one I don't know where I'd put it at this point unless I ship my Lo & Sons back to the US – certainly a possibility.
#3 Bringing old stuff
I read some great advice as we prepared for our trip that the biggest mistake when choosing what clothes to pack for a gap year was to assume that you needed a whole new wardrobe. Choose clothing that you love to wear and that make sense for your travels. Simple enough, right? Let's say that it worked out for us to buy a lot of new clothes leading up to this trip, as our mostly-professional wardrobes just weren't suited to our travel needs and we needed clothing that would wash and wear well without too much fuss (sorry, Stitch Fix) and could often do double-duty for hiking trails and city exploration without.
One exception for me, which now falls into the "pennywise, pound foolish" category was my jeans. I had a very comfortable pair of black jeans that I decided to bring as one of only two real pairs of pants on our trip (the others being these awesome women's hiking pants and some black leggings – which aren't real pants). And then, barely a month after leaving the US and right before we headed into Patagonia's cold weather, the jeans tore. And not a little hole in the knee that can be patched with some cute lace. No, they tore in a rather personal region and in a way that just wasn't reparable for the long term. I had hemmed and hawed about replacing them in the US but we were trying to save money and not be wasteful. Unfortunately for me, petite pants just aren't "a thing" in Argentina. Sure, the kind sales ladies who tried to help me through my broken Spanish at every store in Buenos Aires' enormous Alto Palermo mall had heard of short lengths, but they'd never seen them in Argentina. Fortunately it only took two weeks of scouring for me to find a replacement pair. But it was a good lesson to go with my gut, which had been telling me to snag these amazing jeans for travelers.
Of course it's not just old clothing that can be a liability. Some of our old technology has come back to bite us, too. While we love our Amazon Fire tablets (find out why, plus see all the best FREE apps for little kids, here), Jacob's is now four years old and has seen better days. It's big, it's thick, and it's stuck on the older version of the operating system so that he can't run his main school app on it. It still works fine for movies, books and games but we probably should have just left it behind. I may yet send it back to the US along with some other things.
And of course there's the ongoing saga of my camera. Don't get me wrong – it's doing great in the photo department. But I've had one problem or another since we got to New Zealand, and finding parts or repairs here had been next to impossible. I wish I had thought to pick up the more recent version of the body before we left the US to get better picture quality AND have fewer hardware issues. Hopefully by the time you're reading this, I'll be back to feeding our Instagram account daily! Hop over and follow us to get all the daily updates.
#4 Leaving the sunnies behind
Why, oh why, did I forget my sunglasses at my mom's house in America? Of all the things to forget, these were a poor choice. While we can pick up a decent pair of shades from Target or Amazon for $20, pretty much all semi-decent sunglasses in Panama and Chile were well over $100. I picked up a scratched, too-big pair for $5 in Bocas del Toro and they sort of did the trick, but I didn't particularly like them and they were basically done for when we were leaving Chile. Conveniently, a sunglasses kiosk at the Santiago airport had a decent looking pair and pricing in US dollars that represented an arbitrage opportunity compared with the pricing in Chilean pesos. Two months and two countries later, they've only started to break a little bit.
#5 Underestimating the weather
I'm a little on the fence as to whether or not I consider this a mistake… we planned our trip to follow the sun and we've been pretty successful so far. However, we arrived in Patagonia unprepared for the gale-force winds and bitter cold. We were lucky to land at The North Face in Pucon, Chile, where the lovely staff hooked us up with some warmer gear. Unfortunately, it took a full month to find a single long-sleeved shirt for Shoshana since "summer" was approaching fast; even then, the only decent looking long-sleeved shirt was actually from a pajama set. Congrats, Shoshana… you're traveling the world with three pairs of pajamas! So we definitely appreciate the art of layering, but we appreciated it more when the kids each had an extra pair of pants and a long-sleeve t-shirt or two.
#6 Skimping on kid undies
What was I thinking? Really. Obviously if you're doing a solo travel gap year, you only have to worry about predictable adult necessities. But when you go on a family gap year with a 3.5yo who is still working on keeping herself dry at night, you bring extra underwear. These go at the top of the toddler travel list. We brought a total of 14 pairs for the two kids (who can fortunately wear the same size)… and then I lost the bag with Shoshana's spare clothing on our first day! Down to 13. There have been a few times when we've had to hand wash a pair, or run the laundry earlier than anticipated thanks to middle-of-the-night accidents. Fortunately, we've mostly been staying in Guest to Guest homes with laundry. But if I had it to do over again, I'd probably bring another pair or two to be safe. If we decide we really need them, those will be easy enough to buy along the way. Pro tip: We've found that this kid underwear is extremely durable through frequent washing and stays soft as a baby's bottom even when dried on the line (unlike others that turn crispy). Maybe your kids will say "thank you" if you get them some!
#7 Stinky shoes
Keens. Everyone told us to buy Keens for the whole family. The only travel shoes you'll ever need, they said. Perfect for different climates and activities, they said. Well no one ever told us the dirty little secret of Keens: they stink. And I don't mean just a little off. I mean that they smell absolutely heinous if worn even just a few times in warm weather. Sometimes the smell makes me want to vomit. I officially hate Keens and won't buy them again. (We also had fit issues with their infant styles, which aren't nearly as adjustable as their toddler and little kid styles.)
A better choice would be Geox sandals for two reasons. First, the lining smells less. At the end of the season I wouldn't say the smell is "nice", but they are shoes after all and they fare much better than Keens in that regard. Second, if you get the right model they're nicely adjustable, with velcro straps both on the top and in the back.
What can you do to clean stinky Keens? A multi-pronged course of attack is best! First, wash them in the washing machine. Second, open them up as much as possible and dry your Keens in the sun to kill as much bacteria as possible. Thirds, once they're completely dry, sprinkle baking soda inside, seal them in a plastic bag and pop the whole thing into the freezer. The cold will slow or kill any remaining odor-causing bacteria.
#8 The rats' nest of chargers
Modern technology is both a joy and a challenge to us travelers. We can do nearly anything we need to, but at the expense of dragging our devices and their assorted chargers around the globe. We now have with us two worldwide travel adapters (sadly, not as amazing as this one), two South America USB wall chargers, half a dozen European plug adapters, four USB plugs and around a dozen different USB cables. We can never find enough accessible outlets where we need them, or the plug adapters are sturdy enough to support the weight of heavy gadgets like my laptop charger or the terrible combination of my old camera charger and battery (sadly, this exact issue led to the death of the camera charger and my being camera-less for half of our time on New Zealand's north island).
A better solution? We should have left most of that junk at home and brought this travel extension cord that has four USB slots for charging. Then, in theory, we could charge both iPhones and two Amazon Fire tablets and the laptop (and maybe even the camera battery?) at the same time! If we had this (hopefully soon turning into a "when" with the help of my brother), we also would just need a single worldwide travel adapter. Forget all of the individual Euro plugs and USB adapters. Let's cross our fingers…
Packing lists for a trip around the world (aka what we did right)
Ok, so what did we bring that did work out? I actually think we did ok in the clothing department. By the way, we've totally rearranged our packing cube strategy pack to our old method that (basically) the kids get one medium packing cube and the adults get two. Packing cubes absolutely rock and they're essential for keeping our family organized. Plus, the backpacks pack really easily with a neat stack of cubes in them! Check out our family backpacking packing list (on steroids):
Packing list for women on a round-the-world trip
I tried my best to put together a travel capsule wardrobe that offered many options so I wouldn't get bored and that offered many options to mix and match. So far, it's been working well! Most of our travels are in warm weather so we didn't need too much heavy or long clothing. Since we've been traveling I added: one super light weight floral tank top (hot weather and I wanted more pattern), one long sleeve t-shirt, a new pair of black jeans to replace the ones that ripped and a Panama hat.
-Three dresses (Athleta quick-dry sundress and Old Navy black t-shirt dress – both favorites that I packed for Croatia in spring; sleeveless linen dress from Gap that also doubles as a beach cover up) Also check out these great choices from Columbia and Prana!
-One pair of navy shorts; two Athleta skorts (black and olive)
-7 sleeveless/short sleeve tops (including two quick-dry) – I found some great deals at REI Garage and Sunny Sports! The only one that hasn't gotten much wear is my lacy black tank, since we don't do much "fancy" when traveling the world with kids. *I added one more Patagonia floral camisole in NZ. 
-3 long sleeve tops (including one zip-neck pullover for layering) *I added a mint green shirt from The North Face in Chile
-Black jeans, black leggings, gray Prana Halle roll-up pants
-Athleta swimsuit; long-sleeve rash guard
-Gap pajama pants and two PACT organic camisoles (WHICH I LOVE – plus they send you free socks after your purchase any of their products!)
-Floral scarf
-7 underwear, 3 bras (I'm loving this new one from Patagonia), 5 Smartwool socks (2 liners, 2 low-cut, 1 thicker quarter crew – and they're all perfection)
-Which shoes did I bring for a trip around the world? That's always a popular question in female traveler groups! I picked these four for our trip and, despite my frequent foot pain on prior trips, I can honestly say that I've found my perfect combination. In four months on the road I haven't had any trouble. HALLELUJAH. In my opinion, these are the best travel shoes for women:
Merrell mesh trail runners – Perfect for my hot feet and also for wet trails. They don't have a very substantial insole, but the shoe's insole is removable (presumably to facilitate drying) and I have my Superfeet orthotics in case I need them.
TOMS Avalon coated canvas – the coating makes them look a little nicer and resist wear a little better than regular canvas, and the style of the shoes is nicer in my opinion than TOMS Classics. Even more important? The shoes offer substantially more support than TOMS Classics and are great for my picky, wide feet. These are really my ultimate travel shoe for temperate weather! The Avalons also come in leather (which I initially planned to buy) but I prefer canvas for the hot weather.
Vionic Lisbeth sandals – These were another favorite from our trip to Croatia and they are just absolutely amazing if you have foot problems! They look beautiful and they're so comfortable for walking around town all day. They also pack down to nothing, so I don't feel bad about taking up a little extra space to bring them. They're the perfect sandals for travel.
Teva Olowahu – I've been an Olowahu devotee for years and I'm now on my second pair (after the heavy wear on this trip, I'll probably need to spring for a third pair). The black pair looks pretty decent when paired with my black t-shirt dress and does just as well for our many beach days. Unlike most flip flops, these have a meaningful arch that makes them comfortable for all-day wear.
-White Athleta packable wind breaker/rain jacket (sadly not as waterproof/water-resistant as I hoped! Should have gotten this one instead…)
-Gray Athleta mid-weight moto-style jacket (sort of like this one)
-Other accessories:
Faux-leather clutch from Stitch Fix Curious? Try it free!
Jewelry – one short necklace, two long necklaces and one bracelet from Rocksbox (all jewelry is gold, along with the chain of the clutch)
Hats – Patagonia trucker hat, amazing purple Columbia beanie, cream beret-style winter hat (which I haven't worn and will send back to the US) *I added a Panama hat in Panama, of course. I wish I had purchased a bigger size, as I think it somehow shrank during our multi-climate travels.
Pro tip: since you probably won't be showering all that often when you're backpacking the world with kids, bring some dry shampoo along for those in-between days.
Travel essentials for men a round-the-world trip
Men's clothing is just bigger than women's! Ronnie and I didn't pack all that differently, but somehow he managed to fill all of those packing cubes. In the end, we switched him to the blue one shown below and a very overstuffed medium packing cube.
Ronnie went on a bit of a Columbia shopping spree (thank you Prime Day!) but the result for him is a wardrobe that dries faster on the line and takes up much less space than his previous heavy cotton everything. Ronnie also enjoys running from time to time, so he wanted his dedicated shorts and calf warmers as well. He made a few tiny changes from this picture, but the idea is basically the same.
-5 t-shirts (including his great new running shirt), 2 undershirts
-3 long sleeve tees (including one zip-neck pullover for layering), 2 long sleeve button downs (he's loving this new one from Patagonia!)
-4 Columbia hiking shorts, 1 running shorts
-dark blue jeans (including a belt), Columbia hiking pants
–"fancy" zippered hoodie – not the one pictured above due to a last minute change
-swim trunks and rash guard
-Columbia packable rain jacket
-8 underwear (including these favorites), 8 socks (4 running, 1 low-cut, 1 crew height wool, 2 mid-calf)
-3 hats *Ronnie didn't bring a warm hat but he bought an itchy, overpriced beanie in El Chalten
-Shoes:
Asics Gel Kayano 24 – he bought new ones for our trip, but only because his old ones were worn out anyway. He's been in the same model of running shoes for almost a decade!
Sanuk "Beer Cozy" flip flops – yes, they're really called that!
Looking for more men's travel shoe suggestions? Get 'em right here!
Packing for kids for a round-the-world trip
Packing for kids is so much easier than packing for adults! Just check out Carter's and buy enough of each type of garment, with everything mixing and matching. Basically, a capsule wardrobe for kids! The fact that our kids are little and don't get so sweaty as to need high-tech clothing makes life much easier. That said, they're young and one of them is frequently extremely messy when she eats and is still working on staying dry at night, so we made sure to bring a decent kit of clothing. And it's a good thing, since I lost the bag with her change of clothes on our first day of travel. Yikes. Our biggest challenge otherwise? Finding long sleeves for Shoshana when we've mostly been in warm destinations!
The kids don't carry their own clothing, since they'd fall over due to the weight. They each carry these great kids backpacks with their toys, school materials and other entertainment. We love them because they are shorter than competing brands' backpacks for kids and, thus, fit better. Jacob has the 18L version and Shoshana has the 12L version. We just have to make sure the loads aren't too heavy, as ideally they should only be carrying 10% of body weight – not much when you're 3yo!

Check out what we brought for each of them:
-8 short sleeve/sleeveless shirts
-3 long sleeve shirts (we had to buy one of Shoshana's in Patagonia as part of a pajama set, because we just couldn't find one before then)
-5-6 shorts/skorts, 1 dress for Shoshana
-2-3 pants (bought each kid another pair at The North Face in Pucón, Chile, which is good since they're each outgrowing a pair and one of Shoshana's now has a hole)
-2 pajamas
-swimsuit
-fleece (his and hers), packable rain jacket (I got them neon, which is great for keeping an eye on them on hiking trails!)
-6-8 underwear (except that I lost one), 6-7 socks (including one Smartwool for each)
-2 warm hats, mittens/gloves, sun hat
-3 shoes (basically the same for each kid):
Crocs flip flops with a back strap
closed-toe sport sandals (we love these sandals way more than Keens)
See Kai Run sneakers (his and hers) – these are almost outgrown, so we'll need to go shoe shopping in Melbourne!
Did you enjoy this post? Get more on our monthly email list!
So there you have it, what we should have done differently and pretty much all of the clothing we packed for a year of travel! What do you think? Did we overpack? Have you made any major packing mistakes?