Travelers often think of the climate in the Middle East as being warm (or blazing hot like the surface of the sun) year-round, Israel truly has four distinct seasons – and I've been there for them all! There are also numerous microclimates in this tiny country and you'll no doubt have tons of different adventures scheduled on your Israel itinerary, so you need to make sure your packing list for Israel covers all your bases.
I'll take you through what to pack for Israel in this season-by-season guide, including your travel to Israel checklist of items that you'll need every time you visit. Whether you're wondering how to pack for a 10 day trip to Israel or a two month visit, keep reading for all the essentials!
FAQ's for Packing for Israel
What do female tourists wear in Israel?
Tourists and locals alike wear casual clothing in Israel. Jeans are common for most outings, even weddings and funerals!
What should a woman wear when touring Jerusalem?
Make sure that you are dressed as modestly as you can imagine. Women in particular should be covered from the ankle to the wrist to the collarbone, and your head should definitely be covered if you even look close to marriage age (which is young).
What do you wear to the Holy Land?
When visiting religious sites in Jerusalem, both men and women should plan to keep shoulders and knees covered out of respect. Men and women of marrying age should also cover their heads.
What can you not bring to Israel?
Don't bring anything that could be perceived as a weapon to Israel. Be judicious about any clothing with religious or political messages on them so that you don't find yourself unexpectedly in the middle of the complex geopolitical situation or religious differences.
Book a photoshoot
We always love to book a photoshoot when we're traveling. As a mom, it's tough to get in the photos since I'm always behind the camera. We use Flytographer to capture our memories. You can get $25 off your shoot by booking with this link or using code FAMILYVOYAGE.
Year-round travel to Israel checklist: travel essentials
There are a few items you'll need when you visit Israel in any season. Fortunately it's a very developed and westernized country with a huge international population, so you'll be able to find anything you forget, but there are a few things I always like to bring from home.
First up, allllll the stuff you need to charge your devices. This is the 21st century, after all. Israeli homes and hotels uses European-style outlet, so you won't need a specific Israel travel adapter. If your needs are simple, you might be able to get by with these cheap Europe plug adapters.
After bringing tons of them with us for years, we've come up with a better strategy! These days we have this high-quality global power adapter. It accepts plugs from anywhere and converts them to plugs for any destination. To meet modern needs, it has two USB-A plugs and three USB-C plugs in addition to a traditional three-prong outlet. It's even my daily power adapter at home since it can simultaneously charge two phones, two smart watches, my extra USB power pack and my laptop! I can't recommend it enough.
For days of city exploration, a casual medium sized bag like this one works great. Just enough space for your phone, camera and water bottle… but not so huge that you stand out for the wrong reasons. It's versatile enough to cover you for museum-hopping or dinner out.
You'll want a great, functional daypack to take with you for extra layers, sunblock, snacks and WATER for long days outside. So much water. This is honestly one of the most important Israel packing tips since it can impact your entire visit. Dehydration can be a real problem for some visitors to Israel, as there's a lot of walking and the climate is very dry in many areas.
My favorite daypack for Israel is a Camelbak, and I definitely recommend one like this that holds a full day's worth of stuff – it's at the top of my list of what to take to Israel. Israel is an extremely casual country (and full of tourists, to boot) so you won't feel out of place carrying it around. It's the perfect option when you're hitting the beach, hitting the trail or hitting the historic sites.
It may seem like a small item, but a quality travel towel should always be on your list of what to pack for a trip to Israel. You'll use it at the beach and Ein Gedi at a minimum, and maybe a few other times as well – definitely worth it for the minimal space it requires! I recommend the XL size if you want one big enough to use at the beach.
Of course, since Israel is an extremely photogenic country you'll want to bring a great camera. There are some wonderful choices these days in the "bridge camera" space and that's what we'd recommend for most travelers who aren't taking pictures for a living. You get full manual controls and a great zoom lens, but in a compact body that doesn't require thinking about which lens to use. It's not the right choice for everyone, but for most travelers, this type of camera will suit your needs without breaking the bank and provides more flexibility than your smartphone's camera.
How to Pack for Israel
Make sure to grab some packing cubes to keep your stuff organized. They'll help you quickly see when you're down to that last pair of underwear and it's time to do laundry. (This is my life when traveling full-time with kids – regularly counting everyone's underwear.)
Should you bring a suitcase or a backpack for your trip to Israel? That really depends on the style of travel you're doing. When I was packing for Birthright Israel, I opted for a backpack and that was a great choice. Some of our accommodations didn't have elevators, and when I traveled on my own later there were times when I needed to easily transport everything without wheeling a suitcase around. Don't miss this awesome travel backpack for women if that's the direction you want to go – like my old (discontinued) one, the daypack zips on and off so that you can carry everything on the plane but then just bring the smaller portion out with you.
What should you pack your stuff in? Read our hands-on reviews of the best travel backpacks for women.
On the other hand, now that I'm older, grayer and tend to stay in places with elevators and use a rental car to get around a suitcase works just fine. I find that a hard-sided carry-on suitcase works well for just about all travel I do now. We have several suitcases from this series and they're holding up beautifully.
---
Style notes: what to wear in Israel
What do people wear in Israel?
Travelers visiting Europe often worry about "looking like a tourist" or "standing out". The good news when you're packing for Israel is that you don't need to worry about dressing up. I've attended both weddings and funerals in Israel at which family members and guests were wearing jeans. It's a casual country!
When you're deciding what to wear in Tel Aviv, remember that it's a casual beachside city. While people don't walk around the interior parts of the city in only a swimsuit, within a few blocks of the beach you could see young Israelis in a swimsuit and coverup or short shorts. And, of course, sunglasses. You'll see flip flops and locally-made Naot sandals on lots of feet.
If you want to bring nicer clothing for dinner or going out at night, jeans will suffice. Men often pair them with a casual button-down shirt, while women might wear a nice top and any shoes that aren't full-on running shoes. But Israel outfits for daytime can include shorts or even athletic wear without so much as a second glance. So no need to stress to much about the style of what to wear to Israel. That said…
---
Is there a dress code in Jerusalem?: What to Wear in Holy Land Tour

While how to dress in Israel could easily be described as "casual" in most areas, clothing in Jerusalem is just a little… different. Along Yafo Street and in other popular areas, you'll see a healthy mix of secular Israelis and tourists in shorts, young soldiers both in and out of uniform, and religious Jews and Muslims with varying levels of coverage. While there's no formal dress code in Jerusalem and you'll see people of all stripes, some sites do require more modest attire.
When visiting religious sites in Jerusalem, both men and women should plan to keep shoulders and knees covered out of respect. Men who are visiting the kotel (Western Wall) should plan to cover their heads with a kippah – either bring your own, or don one of the freely available cardboard ones (yes, cardboard). For married women visiting the kotel, it is also appropriate to cover your head though you're unlikely to face much scrutiny – and if someone says something to you, feel free to ignore them.
Packing List for Holy Land Trip
If you plan to visit Jerusalem's very religious neighborhoods like Mea Shearim, make sure that you are dressed as modestly as you can imagine. Women in particular should be covered from the ankle to the wrist to the collarbone, and your head should definitely be covered if you even look close to marriage age (which is young). You may be harassed for dressing in a way that residents consider immodest. Consider yourself warned.
To make sure you're covered (pun intended) you might want to put a large shawl on your list of what to bring to Israel. Wrap it as a skirt, drape it around your shoulders… whatever you need to do!
Psssst… the Baha'i Gardens dress code also requires that you cover shoulders and knees! So keep your shawl or other modest clothing available when you visit Haifa.
---
Seasons in Israel
There are two primary seasons in Israel, summer and winter. Summer runs May through October and winter runs November through March, though November can sometimes be more like autumn in the US depending on the year. There's a tiny little Spring in Israel, usually in April. What do those seasons mean for you as a tourist?
Summer is generally hot everywhere – especially in southern Israel. The beachside city of Tel Aviv is generally warmer and more humid than Jerusalem, which sits up in the mountains. Beware of jellyfish in the water in July and August.
The weather in Israel in October can be transitional but is usually still excellent for tourists – dry, but not as brutally hot as the peak summer months. Moreover, locals are celebrating the joyous fall holidays making October the best time to visit Jerusalem in our opinion. Keep reading for what to wear in Isreal in October and all year long.
November is a crap shoot. It can still be hot (especially in places like Eilat), or it can start to become cooler and even somewhat rainy toward the end of the month, while December and January can be downright cold and wet depending on the year and exactly where you're heading. Not what you'd expect for weather in the Middle East, eh? We've experienced torrential rains and more during winter in Israel.
Does it snow in Jerusalem? Yes, sort of, sometimes. Snow isn't necessarily an annual event, and when it happens it's usually just a nice dusting that doesn't stick around long. But if you're interested in chasing winter weather make sure to head to Mount Hermon in the north – you can even go skiing in Israel!
There are many rainy days in February and March. If you're wondering what to wear in Israel in March, bring rain boots and a rain coat! Then April brings glorious weather and blooming wildflowers. We think it's the best time to visit Israel, especially if you enjoy hiking and plan to visit the north. Just beware that many Israelis take their own holidays during Passover – some domestic and some overseas – so book accommodations early.
Get the inside scoop on the best time of year to visit Israel
---
Best Shoes to Wear in Israel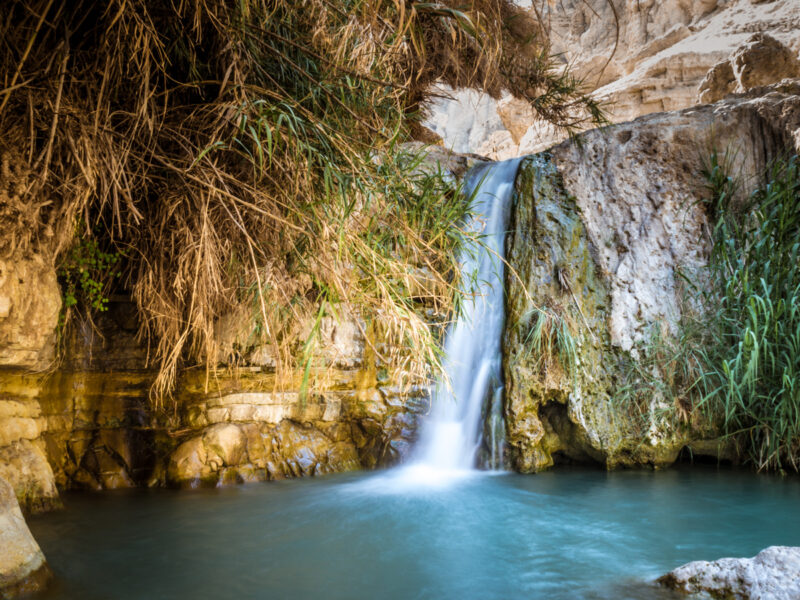 I always like to start my own clothing packing lists by considering footwear and then working my way up. This is not a country where you'll sit around or see everything from the window of a car, so the most important item you can pack are the best walking shoes for Israel. And which ones are those? What shoes to wear in Israel depends on your own needs and the time of year!
Pro tip: I'm a huge fan of wool socks! Regardless of the season, they're comfortable and they keep your feet dry and stink-free thanks to their naturally antimicrobial properties. You can even wear them a few times between washes and they won't be gross. I traveled the world for a year with just four pairs (including two of these) and it worked out great.
At the same time, you don't need to bring tons and tons of footwear – keeping your shoe choices pared down is important when you're figuring out how to pack for Israel without overpacking. Remember that if you're on a big group tour, you'll be responsible for hauling your own bags!
Shoes for summer in Israel
Summers in Israel generally vary between "hot" and "extremely hot", so you'll want footwear that's appropriate for walking but will also keep you cool. The good news is that there are some great options now that could be your one and only shoes for travel in Israel! I'll admit that I haven't tried these myself, but I sort of wish I had brought them on our round-the-world trip to minimize my shoe count. They will work equally well for beach days, city walking and middle-distance hikes on all but the most rugged terrain.
Another option if you are ok bringing two pairs of shoes for Israel is to pair these comfortable flip flops with trail runners that can be worn equally well on rocky trail or in water. I wore these shoes to hike at Ein Gedi (and the into the water) and they worked perfectly thanks to great drainage. These socks are the perfect mate since wool keeps your feet cool, healthy and dry (as long as you don't wear them in the water, obviously).
Shoes for winter in Israel
Winter in Israel can be chilly and rainy, so you'll want to pick sensible shoes that are comfortable for walking long distances. You can probably get by with one pair of shoes if you choose them well! Unless you plan to do major hiking, cute, comfortable athleisure shoes should do the trick; I like to bring along quality inserts if I feel like I need extra support for a long day of walking. If you want to blend in like a local, don't leave home without a pair of Blundstone boots – they're everywhere in Israel and will work equally well in town or out on trails.
Amazing Israel Packing List for Summer
It's easy to pack light for a summer trip to Israel, and summer lasts a long time! You'll find locals dressed in skimpy outfits in humid, beachy Tel Aviv and a little more conservatively in Jerusalem (where the temperatures tend to be a bit cooler but the reflections from all those stone buildings are intense). What's a good traveling to Israel packing list for April through October? You may also want to consult this list for what to wear in Israel in November if it's a warmer year. This list works for an Israel outdoors packing list or indoors. It is versatile for exploring both.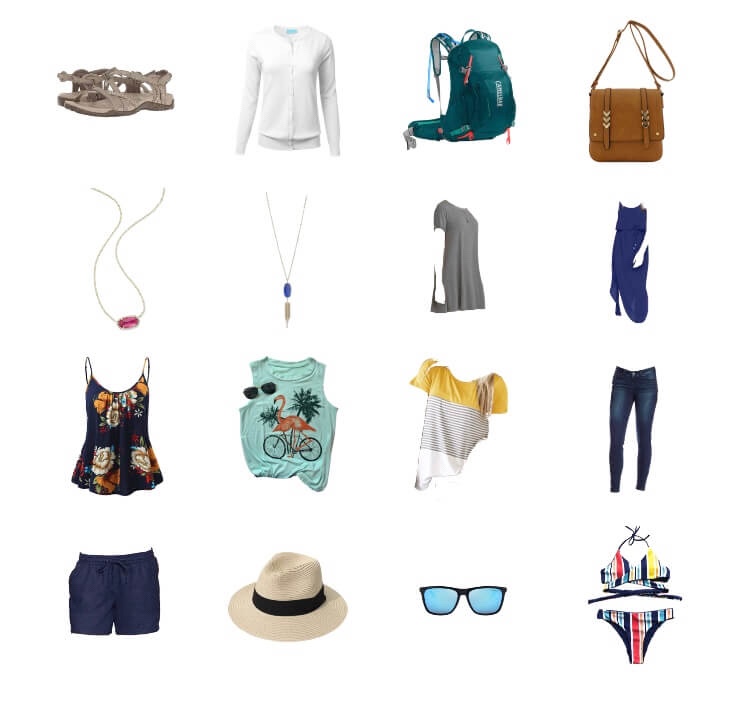 -2 shorts or skirts
-1 pair of pants (I'd probably choose jeans, but you could consider these awesome hiking pants if you'll be spending a lot of time exploring the great outdoors)
-3-4 short sleeve or sleeveless shirts
-2-3 dresses (1 short, 1 long)
-1 cardigan or light jacket
-2 necklaces (1 long, 1 short – I love traveling with this one because I can swap out the stones for a different look every day)
-hat (check out this awesome rollable one!)
-1 swim suit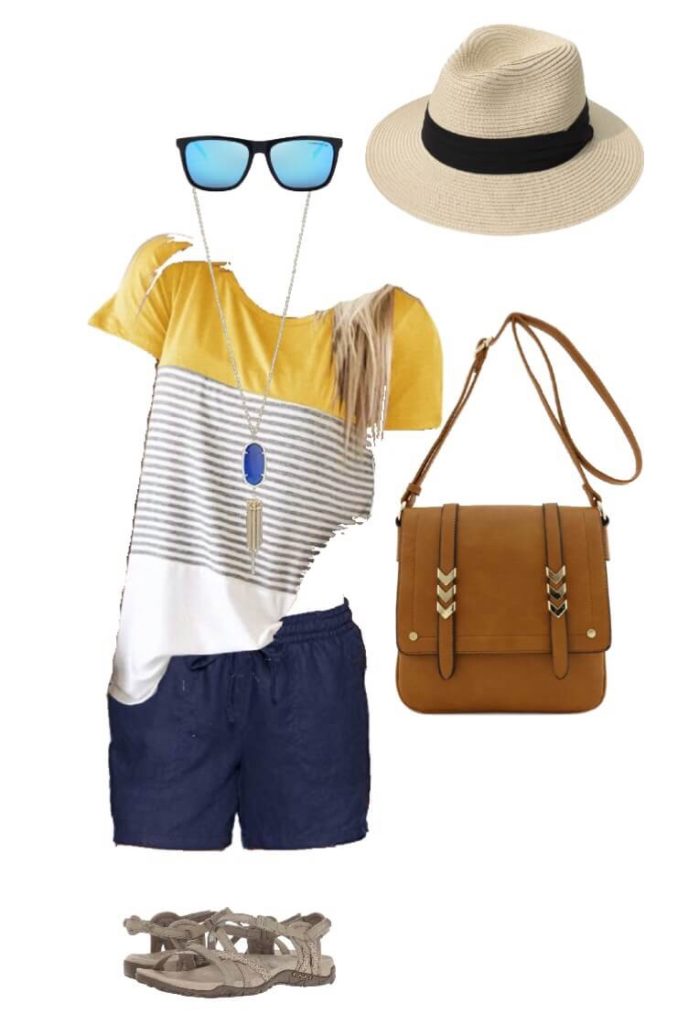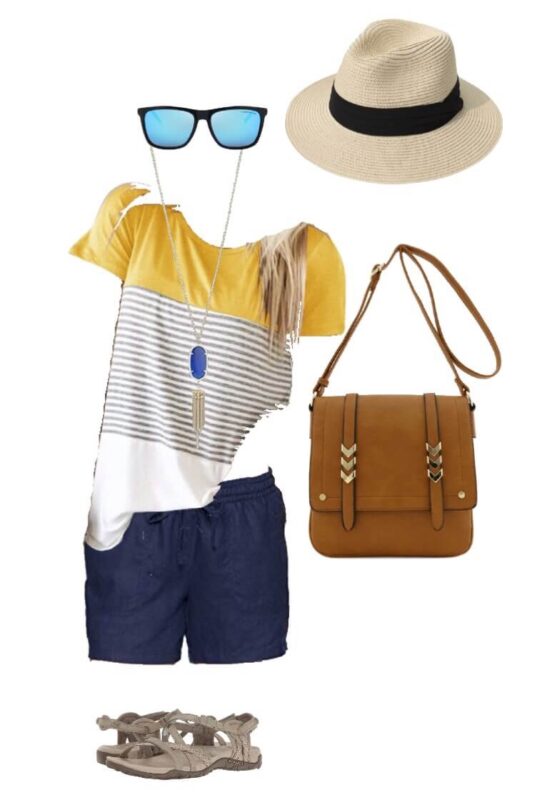 That should be enough if you follow the capsule wardrobe method to make sure everything coordinates! The maxi dress with a cardigan over it should take care of what to wear in Jerusalem when visiting religious sites. For all other places, comfort and practicality are in order.
If you're traveling down to Eilat to snorkel in the Red Sea, you may want to bring your own snorkel gear if you have specific preferences. You can always rent it locally, but I'd especially recommend bringing kids snorkel gear to ensure that they have properly fitting equipment.
What to pack for Israel in winter
If you're planning to visit Israel in winter, you'll need to pack warmer clothing that's appropriate for rainy weather and cooler temperatures. What to wear in Israel in December, January and February? Even in March, high temperatures rarely rise above the 60s, so you'll want to leave the shorts and tank tops at home. Fortunately that warmer clothing will take care of any concerns about the modest dress code in Jerusalem's religious sites!
What to Wear in Israel in Winter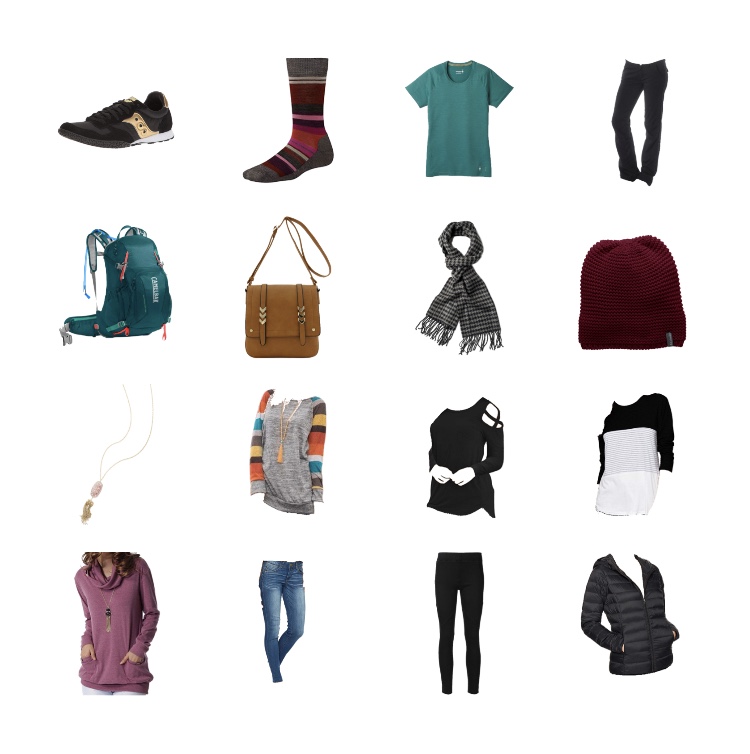 -2 jeans (I'd recommend one black and one blue)
-1 black leggings – I recently got these and I never want to take them off, plus they can be worn a bunch of times between washes
-1 hiking pants (These Prana pants served me well all over the world – they're practical and flattering and can even be worn off the trail without looking weird. Another option is quality black leggings, but be sure to choose a pair that can double as pants if you need them.)
-2 long sleeve shirts, 1 short sleeve shirt (I recommend a merino blend like this one or this one – it looks nice enough to wear on its own and offers warmth and breathability without bulk, making it perfect for layering too. It can also go a few wears without getting stinky – bonus!)
-1 jacket (packable down jacket for December through February, packable rain jacket with room for layering in November and March)
-hat, scarf and gloves for December through February (Check out this amazingly cozy fleece-lined hat!)
-1-2 necklaces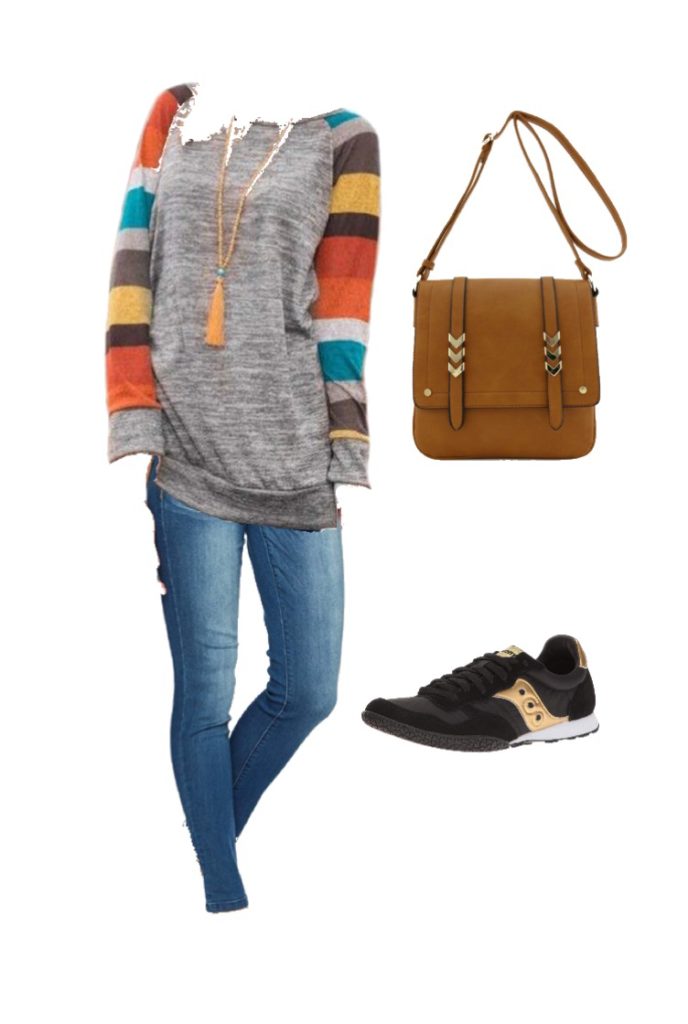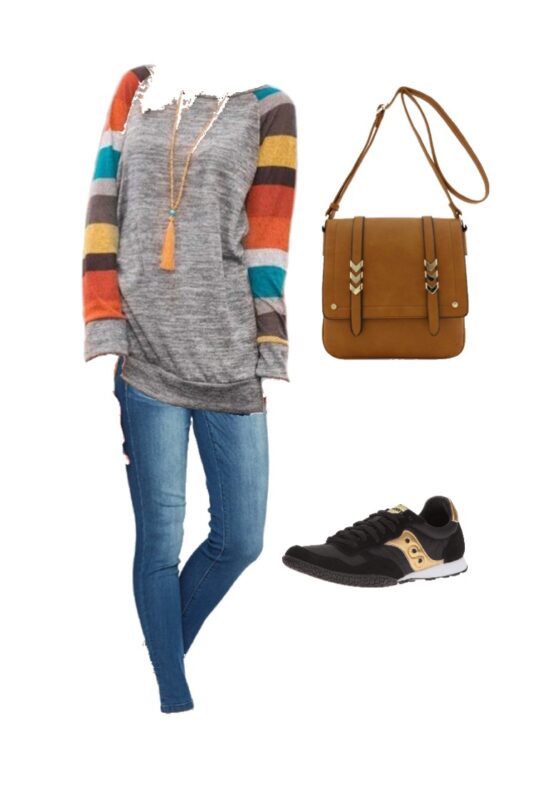 Good news for winter travelers: most homes and apartments in Israel have clothes dryers! Feel free to bring your jeans and enjoy them. They'll look great with your new Blundstone boots. How many winter accessories to bring on your trip is a matter of personal preference, but many parts of Israel can be mighty cold on winter evenings and I've seen snow dusting the palm trees in Jerusalem.
*You'll probably still need to bring a swimsuit for a Birthright packing list. But if you're visiting on your own in winter, you can decide whether or not to pack it (I wouldn't).
Read more: Your complete 10-day Israel itinerary for first-time visitors
Plan your trip to Israel
Money-saving travel resources:
–Find the cheapest flights on Skyscanner
–Book your discounted rental car on RentalCars.com
–Compare travel insurance options
–4 simple hacks to save more money on booking.com

Check out these helpful articles to plan your upcoming trip to Israel:
–The perfect 10 day Israel itinerary
–3 days in Jerusalem itinerary
–2 days in Tel Aviv itinerary
–Where to stay in Israel
–50 things to know before you visit Israel
–What to pack for Israel in each season
–When is the best time of year to go to Israel?
–10+ must-read tips for renting a car in Israel
–20 foods you have to try in Israel
–25+ best books about Israel
–Where to stay in Jerusalem
–What to do in Jerusalem on Shabbat
–Israel with kids: the complete guide
–Visiting Jerusalem with kids
–Visiting Tel Aviv with kids
–Best day trips from Tel Aviv
–Best day trips from Jerusalem
–Your Israel itinerary for (more or less) 10 days
Make sure to PIN this post for later!