Have you ever wanted to take your kids to the official post office of the North Pole? Are your kids believers of Santa? Do you love winter & outdoor adventure? Then this is the trip for your family! In this article on planning a winter trip to Finland with kids, reader Shannon shares how she planned the perfect 7 day itinerary for Finland, including both Helsinki and Rovaniemi in Lapland, plus plenty of must-read Finland travel tips.
---
Before planning this trip, I read all kinds of blogs, articles, tourism sites, travel agency itineraries & quickly got overwhelmed with the choices. A family trip to Finland just seemed like a daunting vacation to plan.
Well don't worry: I've figured out the hard stuff and it's really not that complicated if you follow this winter Finland with kids itinerary for 7 days. Fair warning, Finland is not an inexpensive trip, nor is it a trip to book last minute. It is amazing, though!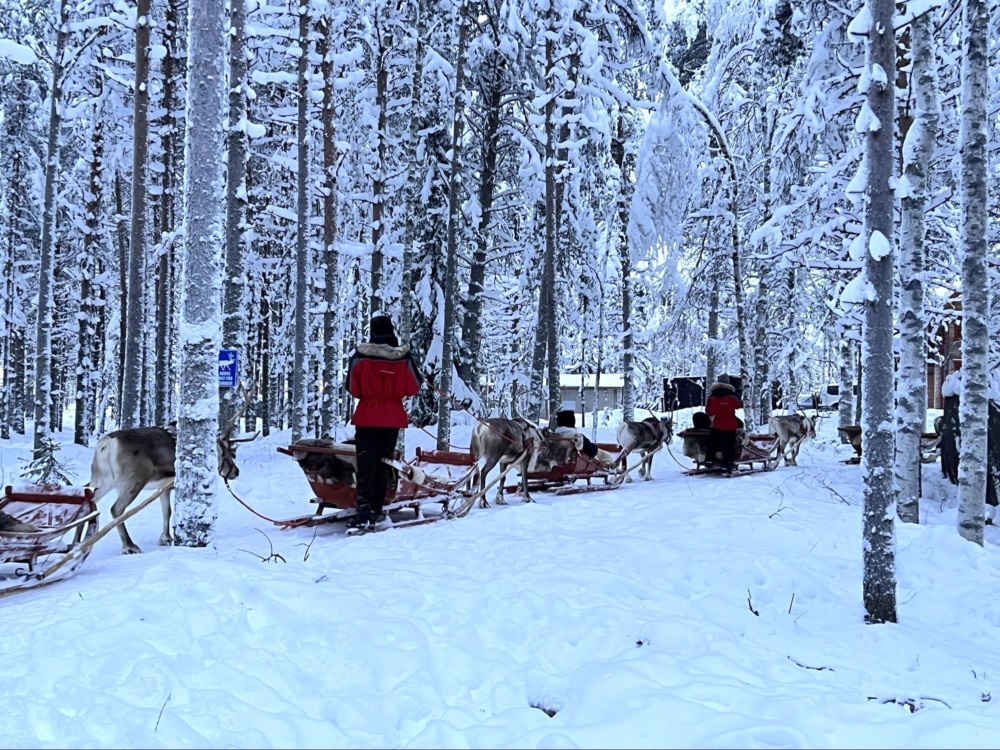 Finland with kids 7 day itinerary summary
Want to skip the details and get a quick glance at our 7 day Finland itinerary for winter? In this box you'll find all of the awesome Helsinki and Rovaniemi activities for families we did, plus where to stay in Rovaniemi with kids!
---
Tips for your Finland family trip
Lapland is the northernmost region of Finland, where the Arctic Circle crosses. The town of Rovaniemi is home to the official post office of Santa Claus.
If you plan to visit Lapland during Christmas time, plan to book accommodations about a year in advance. If you visit at other times, you may have more leeway on timing & pricing, but Rovaniemi at Christmas is truly magical.
There are a handful of towns in Lapland with airports, resorts & winter excursions, but Rovaniemi is the largest.
We booked all of our excursions through Nordic Unique Travels, which provided van transportation from our accommodations and any borrowed gear we needed. The tours were all excellent and very convenient! Since many of the outfitters provide snowsuits and boots for their excursions with their logo emblazoned on the back, we noticed that Safartica and Nordic Adventures offered similar excursions.
---
Finland Winter Itinerary for Families
There are so many awesome experiences to incorporate into your itinerary for Finland with kids in winter! We were able to spend a little time exploring Helsinki with kids and then get a really full experience visiting the winter wonderland of Rovaniemi with kids. While I wouldn't change the order of our time in Helsinki and nearby because of transportation scheduling, once you get to Lapland with kids it doesn't matter in what order you schedule all the things to do in Rovaniemi with kids.
Finland With Kids Itinerary Day 1: Arrive in Helsinki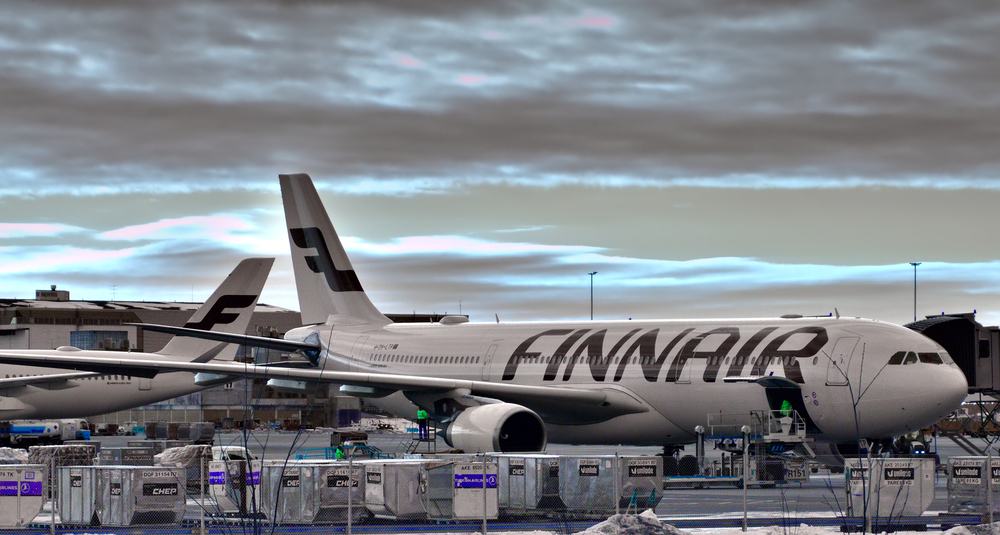 If you are coming from the US, all of your flights will take you to Helsinki. Finnair (OneWorld) is the most common carrier from the US. If you are flying within/connecting in the EU or UK, you may have the option to fly directly to Rovaniemi but those tend to be seasonal.
We flew into Helsinki and opted to stay a few days before making our way to Rovaniemi. It's very easy to get from the Helsinki airport to the city center. You can take the train straight from the airport for about $5 per person or book a private transfer if you're bringing a lot of luggage or anticipate that you'll be exhausted after a long travel day.
You'll want to stay in the center of Helsinki to make the most of your limited time. It's very walkable and public transportation is easy.
Finland With Kids Itinerary Day 2: Day trip to Tallinn Christmas Market (Estonia)
The lovely Tallinn Christmas Market runs from late November through the first week of January and it's a simple ferry ride away from Helsinki in neighboring Estonia. We booked a ferry ride the night before on one of the three ferry companies that go to Tallinn. We chose Eckerö because it was the least expensive and had the best times to maximize our day. We booked the 9am departure and 6:30pm return. The ferry takes between 90 mins-2 hours depending on direction. We paid €19 for adults & €10 for children for a round trip. Children age 5 & under are free. Prices may vary with the season, so these are strictly for reference.
Don't forget to bring your passport along just in case. We were never asked for it, but everything online and in the port indicated that we would. Be sure to arrive one hour before departure; we needed almost all of that time to check in and board. Boarding and disembarking was a bit chaotic, but once you're settled it's quite pleasant. Unless you pay for a higher class, it's open seating and I highly suggest you find seating ASAP, as it becomes quite difficult to find once everyone is onboard.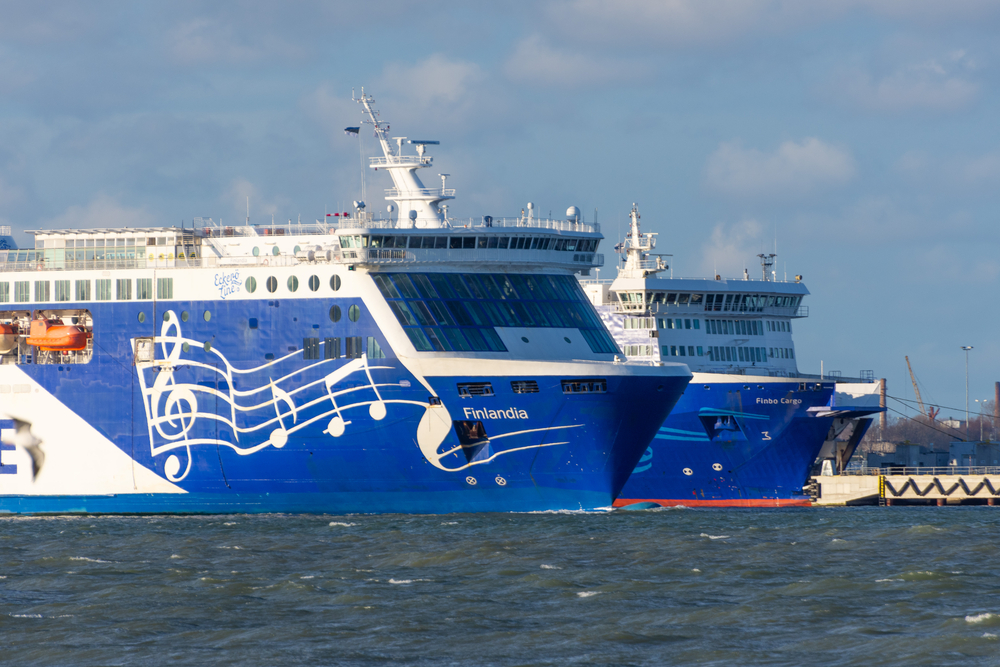 There are a few dining options onboard and the food was pretty good. We had coffee, juice and muffins on our morning ride in the coffee bar and an à la carte dinner in the cafeteria on the ride home. The cafeteria offers great seating each way! There are timed buffet seatings for breakfast and dinner that you can pre-book if you prefer.
Once you've arrive in Tallinn, Estonia, there is a lovely Old Town center where the market takes place. It was fun to walk around & explore. The Tallinn Christmas Market itself is fairly small with a large Christmas tree in the center. The market got busier as the day went on. There were a handful of rides for little kids, cookies & sweets, traditional glögg, sauerkraut and sausages, along with souvenirs and local wares. Walking around Old Town was unique and worth the visit. There are adorable shops and restaurants to explore, as well as an outdoor skating rink in front of St. Nicholas' Church. You could definitely feel that Estonia's history melded Russia, Scandinavia & Europe into its own unique blend. It was well worth the day trip from Helsinki to Tallinn!
Finland With Kids Itinerary Day 3: Explore Helsinki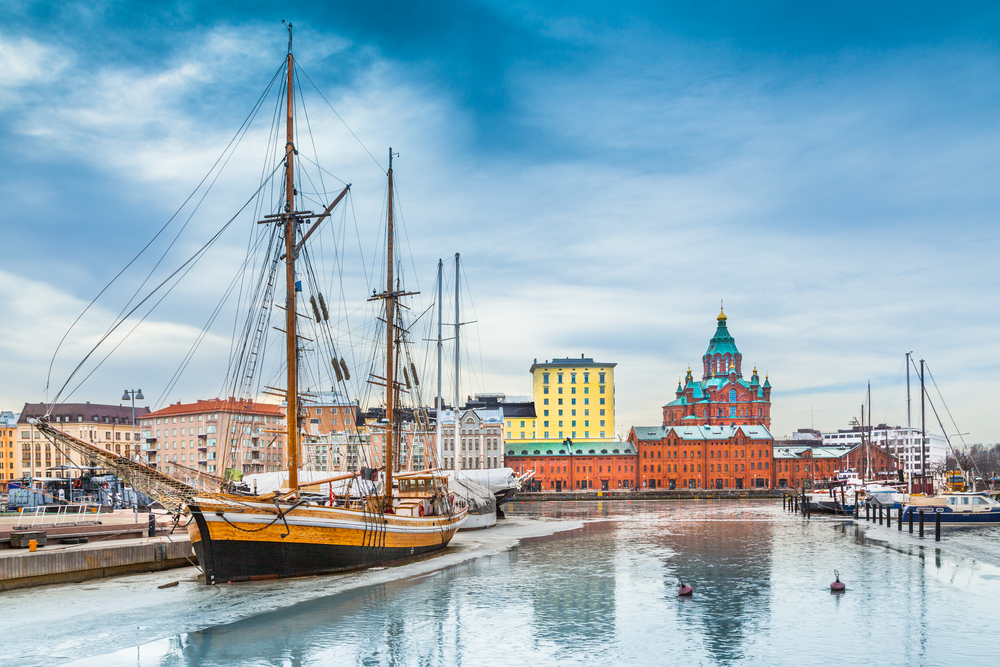 You'll spend most of the day strolling Helsinki to soak up its winter charms. Don't miss the beautiful lights even after Christmas in the main areas of Senate Square and Esplanadi. Both areas have many shops and restaurants to visit. You'll find local goods & souvenirs at the outdoor market in Market Square overlooking the harbor. We found some lovely knitted mittens at an outdoor tent whose proprietor knits her wares between helping customers!
Both Ateneum Finnish National Gallery and Kamppi Chapel were closed when we visited Helsinki with kids in December 2022, but both have plans to open in the coming months. The Helsinki Christmas Market in Senate Square typically runs until several days before Christmas, so unfortunately we didn't get to experience it. If you plan your family trip to Finland in winter to be a little earlier, be sure to pay a visit to the Market!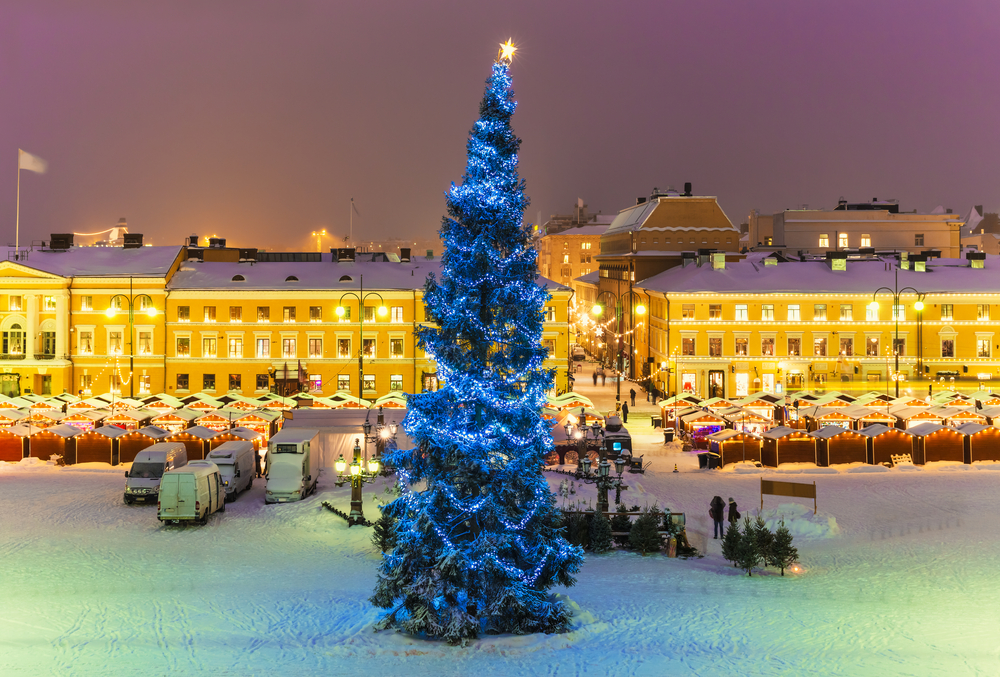 We arranged a photographer via Flytographer in Helsinki to take family pictures. It's a great way for travelers to connect with talented local photographers! We have done this in 3 cities so far and I would highly recommend it. I'm usually the photographer, so I'm rarely in pictures. Flytographer gives me the opportunity to get quality pictures of our entire family in a memorable location, and the photographer usually has great local knowledge to share.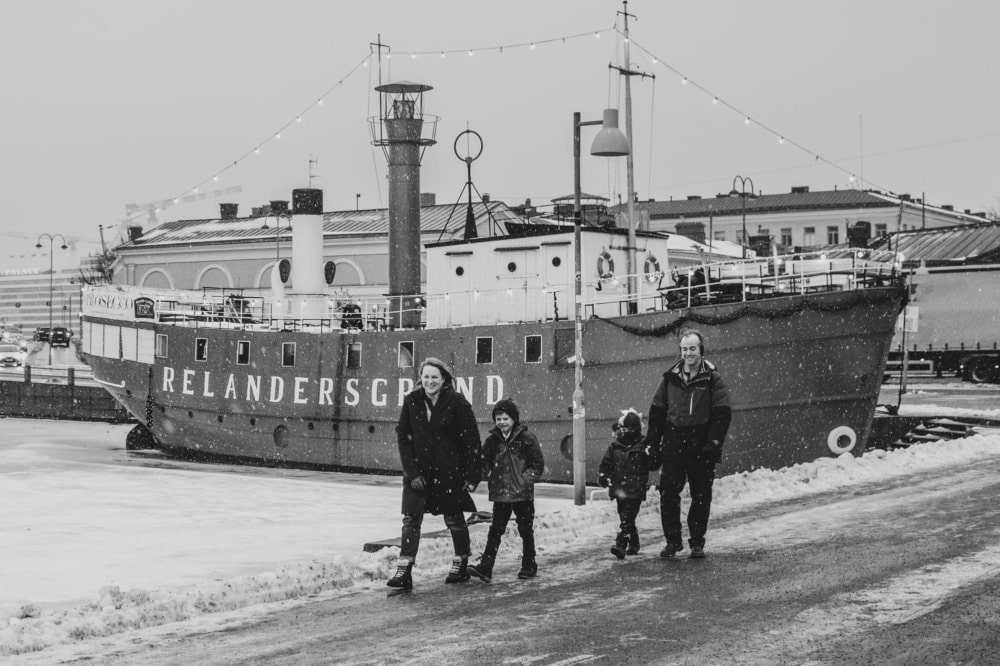 As I mentioned above, you can fly directly into Rovaniemi from a handful of EU/UK airports seasonally. You can also fly from Helsinki, which takes a little over an hour and has many flights per day. Alternatively, you can choose to take the Santa Claus Express train from Helsinki to Rovaniemi! We opted to take the train to Rovaniemi and then fly back for our return home. It was the perfect way to balance the unique train experience with travel efficiency.
The Santa Claus Express train is an overnight train with evening departure times at 7:30pm and 11pm, both arriving approximately 12 hours later. Make sure to book directly through the VR Rail website, which is the official rail of Finland, rather than a reseller.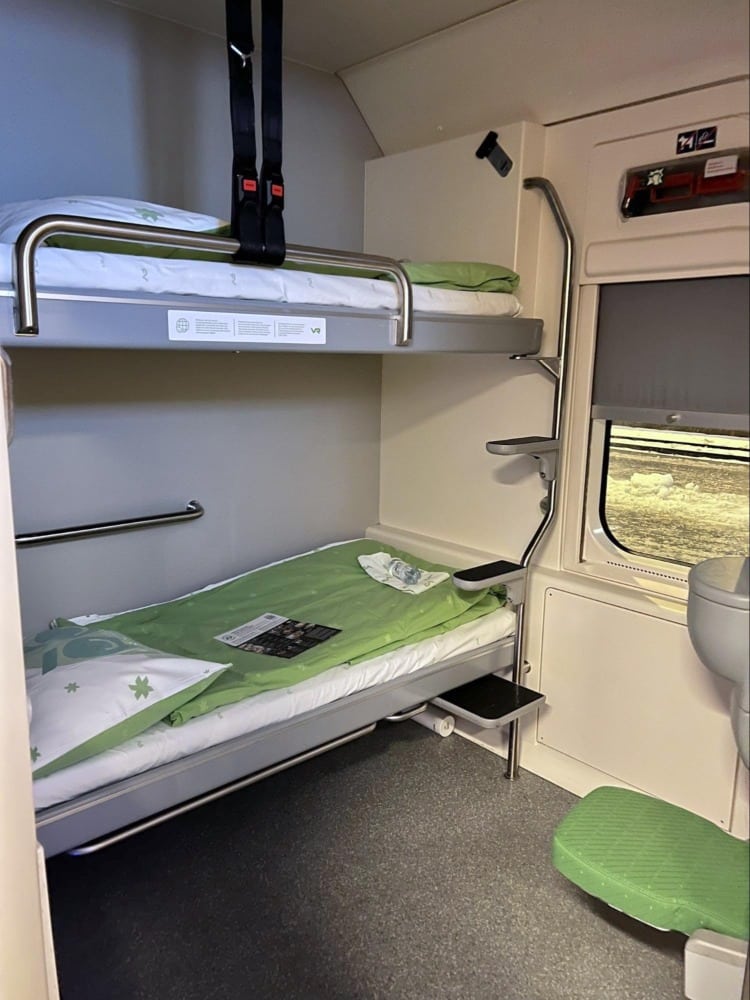 We opted for 2 sleeper cars with private bathroom for the 4 of us. There are sleeper cars with private bathrooms or shared bathrooms. Each sleeper car has a bunk, which accommodates 2 people. Luggage (carryon sized roll aboard/personal item) can slide under the bottom bunk, while larger luggage would have to be stowed in the baggage car. There are dining options onboard, as well as free wifi. Having taken many train rides in many countries, both day and overnight, the Santa Claus Express was one of the better experiences in terms of comfort, amenities and cleanliness.
Want to get more helpful travel tips like this? Sign up for our email list!
Finland With Kids Itinerary Day 4: Santa Claus Village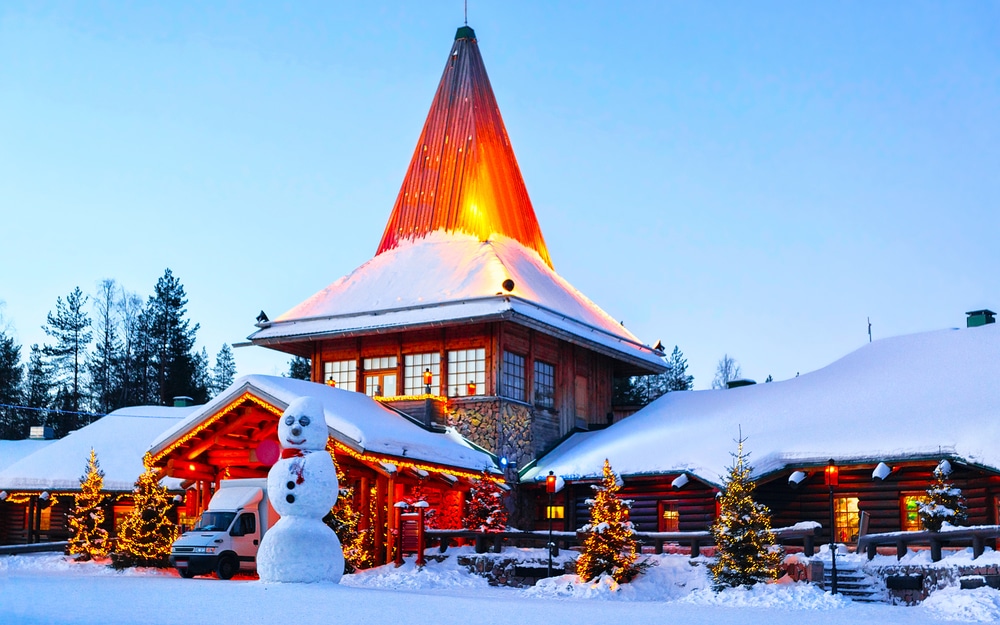 You'll wake up refreshed as you pull into Rovaniemi on the train the following morning. Santa Claus Village is a just a 10 minute taxi ride from the center of town and 5 minutes from the airport.
Santa Claus Village has everything Christmas along with many accommodations, restaurants, activities & shops. You can take pictures of yourself at the official line of the Arctic Circle complete with live camera feed. You can mail a postcard from the official post office of Santa Claus. Hot tip for the believers in your family: you can have a personalized "Official Certificate of Niceness" along with a letter from Santa mailed directly from this post office to you before Christmas. We received ours in the mail a few days before Christmas.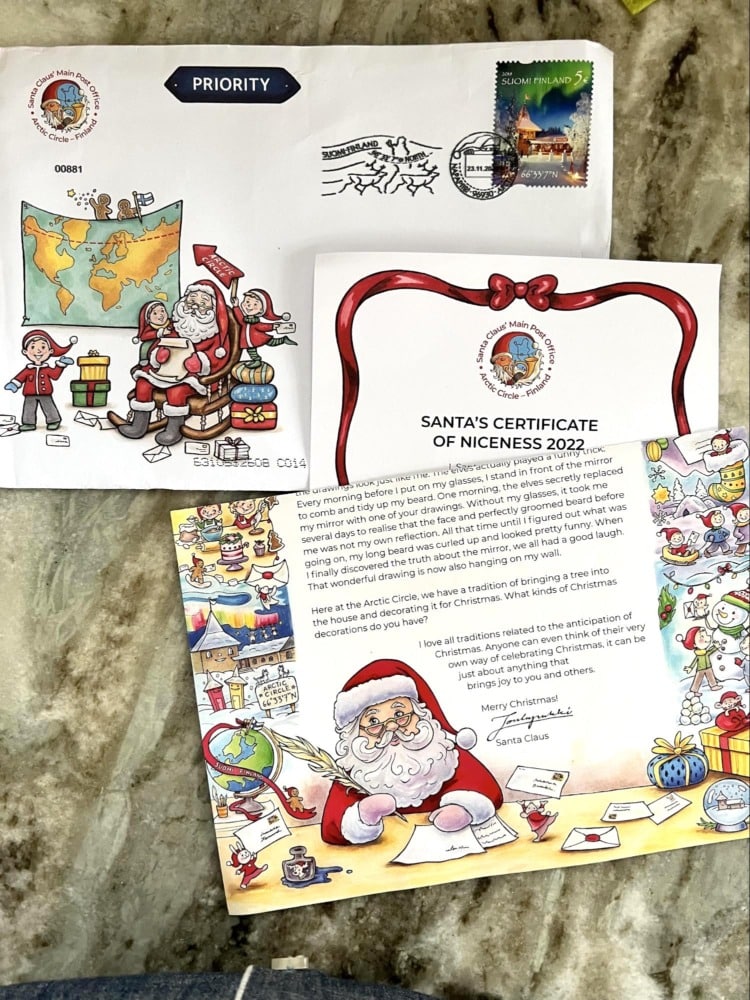 There are "taster" length activities within SCV, like reindeer sleigh rides, kids snowmobiling on a track, elf school, and so on. Mrs. Claus has her own cottage where you can visit her and take pictures. She was lovely and kids get a fair amount of private time to chat with her.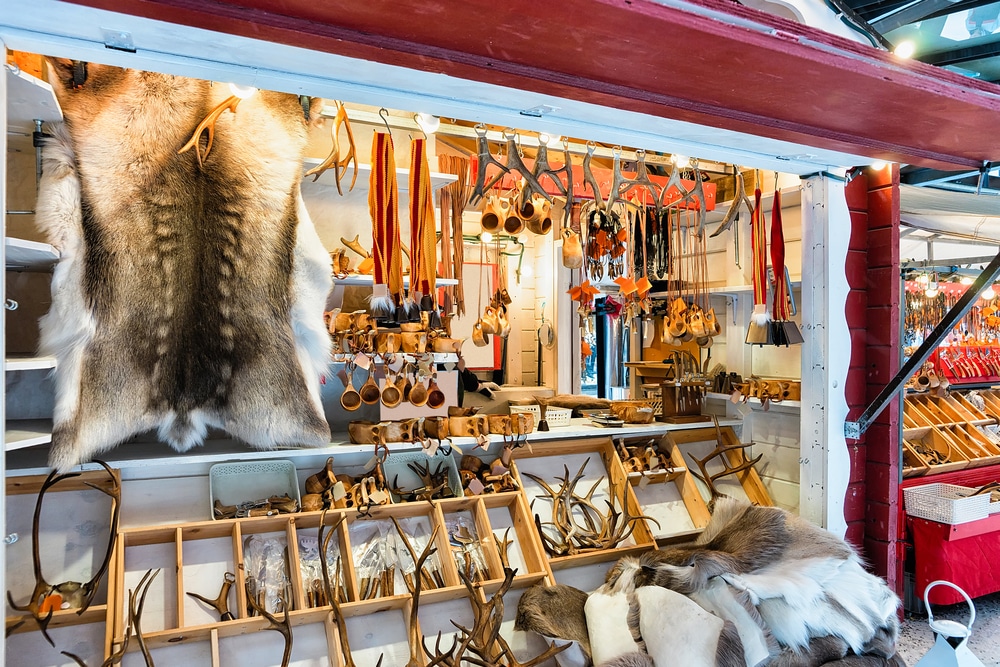 My one regret was not looking into the best Santa experience in Rovaniemi. We visited the Santa in the Christmas House in Santa Clause Village, but unfortunately he was a big letdown and not that different than your average mall Santa. There was another Santa in the Santa Clause Office that may have been better, but we didn't want to confuse or spoil things for our believers. As for other Santa experiences, there is one at Santa Park, which is an underground bunker that has been turned into an amusement park for Santa and his elves near the town center. There is also Joulukka, Santa's Secret Forest excursion in the woods that can be arranged as a small group or privately. Had I known how underwhelming the Santa Clause Village Santa was, I would have considered the two options for visiting Santa.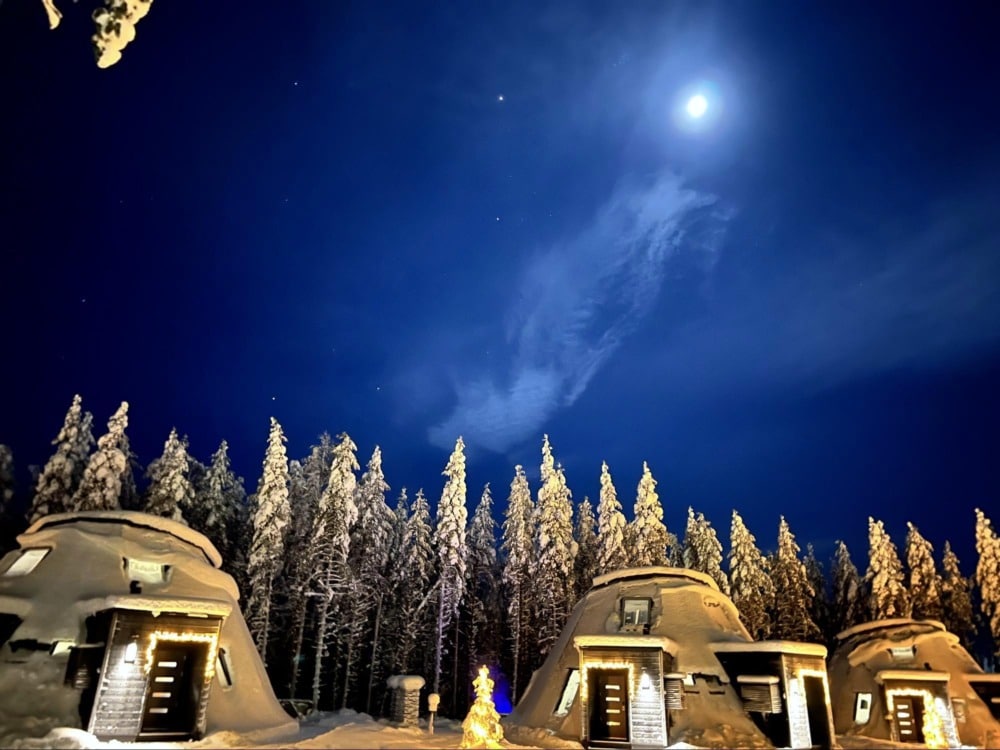 What's the best place to stay in Rovaniemi with kids? Since this was likely a once in a lifetime trip for us, I wanted to maximize our chances of seeing the Northern Lights in a glass igloo, yet wanted to be walkable to activities. We opted for the Glass Resort in Santa Claus Village. It was a great location, as we could walk to everything within Santa Claus Village but we backed up to the woods for a secluded feeling.
Many of the Rovaniemi accommodations offer breakfast & dinner in their price, so factor that into your price comparisons. The restaurant had a huge buffet breakfast every morning & a delicious three-course dinner every evening. Be sure to tell any transportation that it's the glass igloos in Santa Claus village, as more than one driver dropped us at the wrong glass igloos.
Finland With Kids Itinerary Day 5-7: Things to do in Rovaniemi with Kids
Now that you've settled into, it's time to explore all of the awesome things to do with kids in Rovaniemi! I've grouped together days 5 through 7, as you can mostly do these in any order you want. As I mentioned above, we booked all of our excursions through Nordic Unique Travels and were very happy with our experiences.
Rovaniemi Reindeer Farm excursion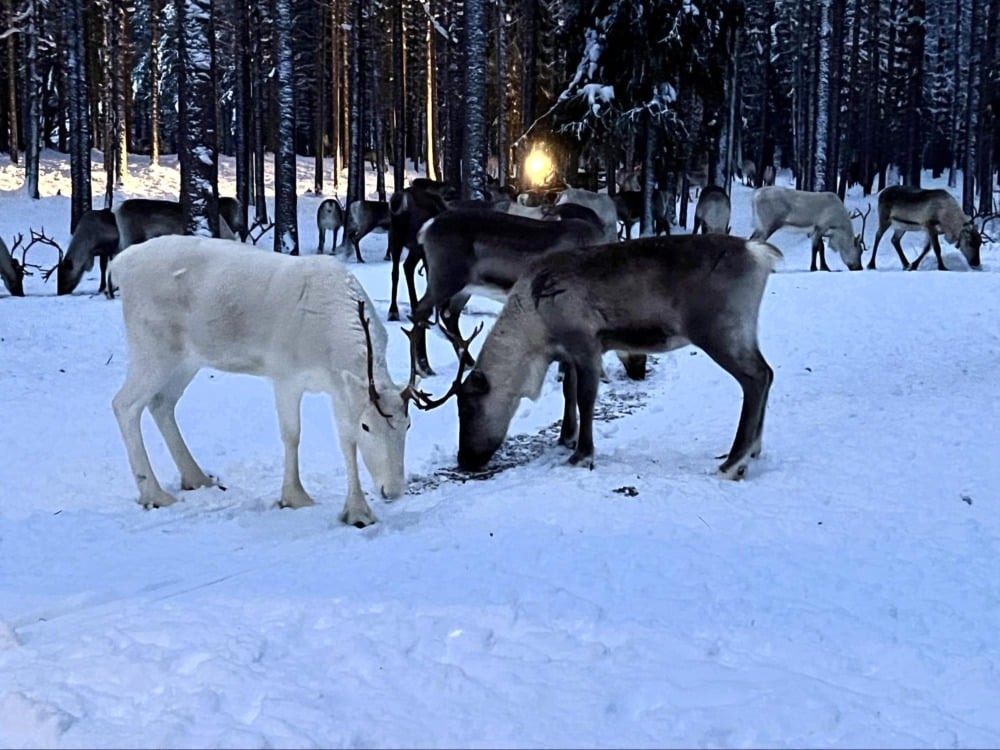 Our first excursion was a half day reindeer farm visit at SieriPoro Reindeer Farm, a real working reindeer farm. It was truly an authentic experience that included a reindeer sleigh ride, learning the history & practices of reindeer farming, ending with juice & cookies around a fire in a traditional Finnish hut.
Rovaniemi Ice Fishing & Snowmobiling tour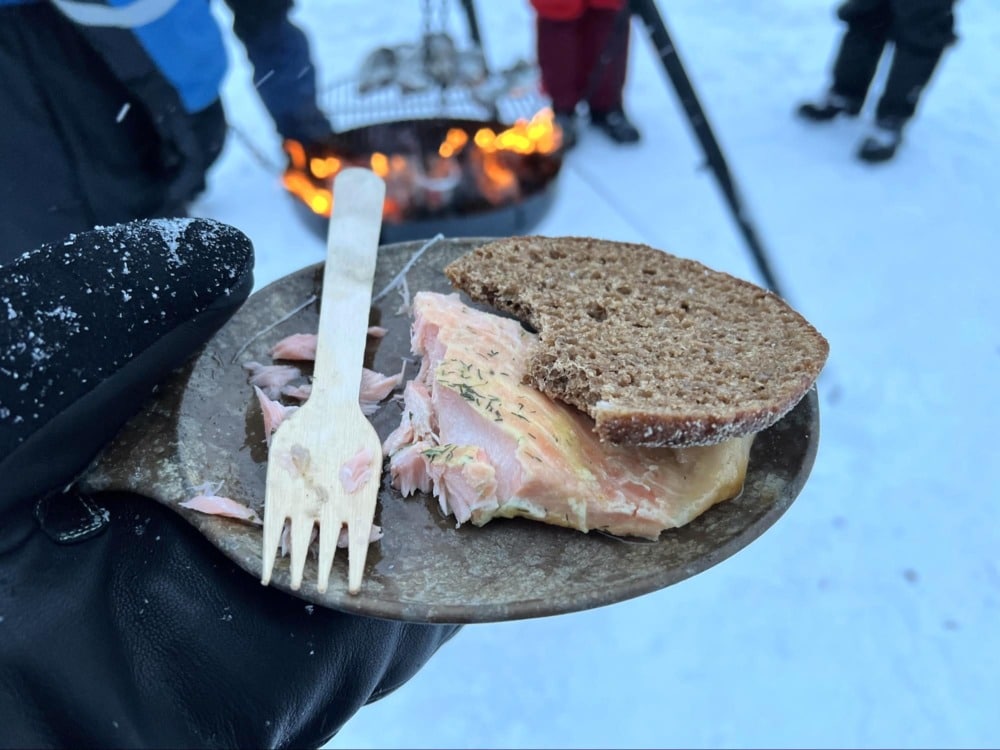 Our second excursion was a full day with a morning of ice fishing, a grilled salmon lunch on the ice & snowmobiling after. This was a very long, cold day, but was so unique & the grilled salmon was delicious. Make sure to wear more than one pair of wool socks if you're out all day & take any additional cold weather gear for this. See details of this Rovaniemi tour.
Arctic SnowHotel tour & dinner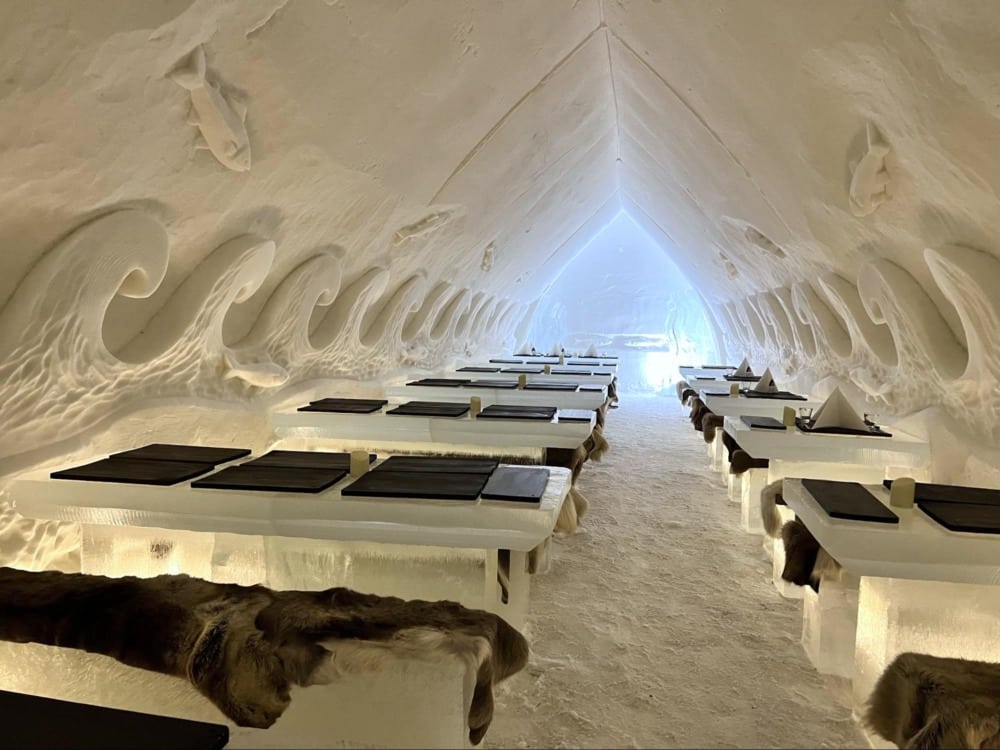 We made reservations well in advance for dinner at the Ice Restaurant & a tour of the SnowHotel. This experience was not inexpensive, but was truly unique. I highly recommend it! We were able to see most of the guest rooms with each individual themed snow carvings, along with the chapel, bar & restaurant. It was amazing to see everything that they could carve from snow and ice, especially since it all melts after the end of March!
If you stay in Santa Clause Village, you can prearrange transportation from Snowman World (below) to the SnowHotel as they have regular transfers. I highly recommend this, as it's much cheaper than a taxi. Since the SnowHotel is away from the lights of Santa Clause & Rovaniemi, we were lucky enough to be there on a clear night and catch the Northern Lights on our visit. It was the only sighting during our entire trip, so it's definitely not guaranteed.
Snowman World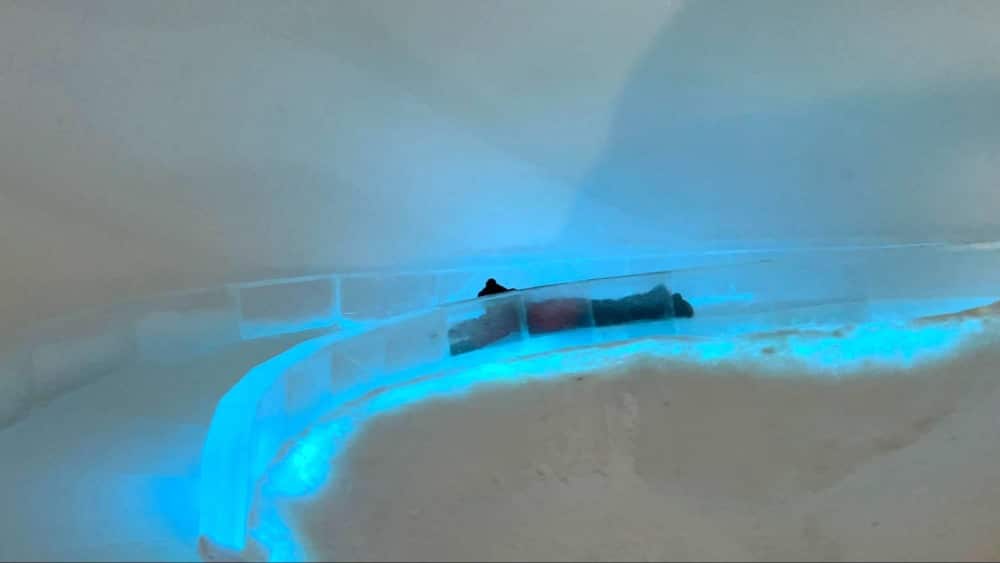 On the other hand, Snowman World was a cool (pun intended) experience within SCV. If you want to sled, skate, slide, or eat in a snow & ice wonderland, this is for you. Your entry gives you access all day, so you can come & go throughout the day. Eating in an ice restaurant is a unique experience. You must make a reservation to eat, but you can do this same-day at the main entrance. Since Snowman World is run by Arctic SnowHotel, it has a similar feel but is scaled down geared more towards outdoor family fun.
Husky Farm & Sledge Ride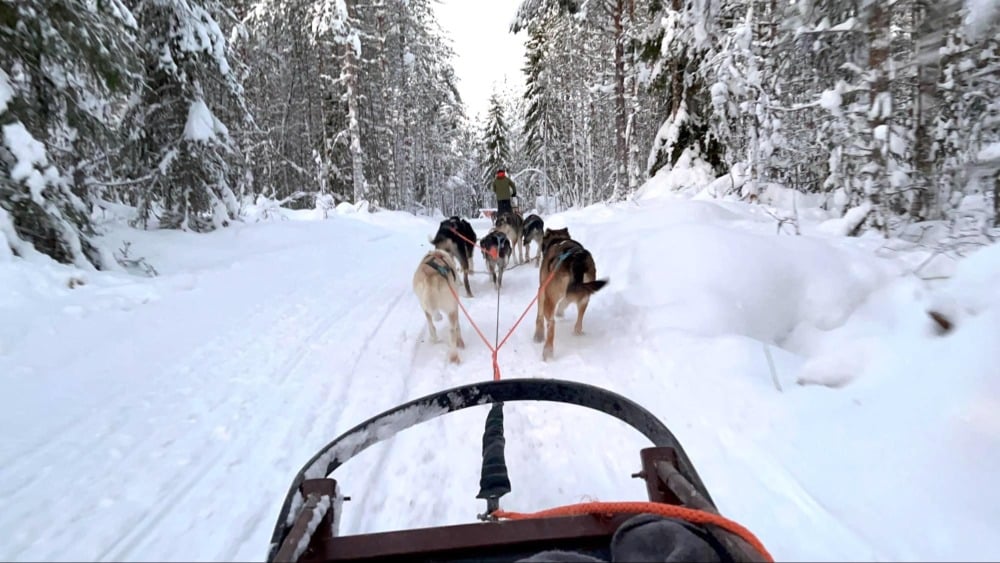 Our final excursion was a Husky Farm & Sledge Ride. This was hands down everyone's favorite thing to do in Rovaniemi for families! We rode as a family of 4 in our own sledge with 6 huskies pulling us. Others in our group either rode as 2 adults or families of 3 or 4 depending on age of children. Teenagers were counted as adults for weight purposes, so you may need to split up if you have older children or more than 2 adults. We did stop halfway to switch drivers. I can honestly say that driving was fun, but riding in the sledge was equally as fun.
Want to get more helpful travel tips like this? Sign up for our email list!
Northern Lights Tour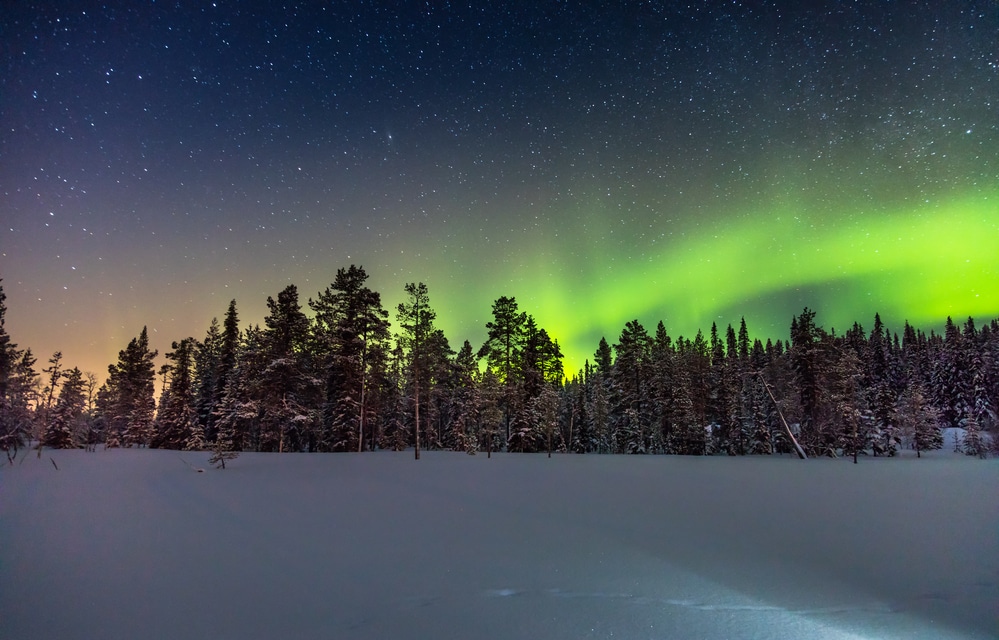 One thing we didn't do was a Lapland Northern Lights tour. It's on my bucket list though! These tours are great because an experienced guide picks you up and takes you to the best Northern Lights viewing areas, far from everything else. The tour company provides warm gear, which is important because you'll be outside in the cold for several hours. This is a better option for families with older kids or even teens, as the return time may be very, very late. Keep in mind that there's no guarantee you'll see the Northern Lights, as the weather has to cooperate.
---
At the end of your 7 day Finland itinerary, you'll hop a quick flight from Rovaniemi back to Helsinki and on to your home airport. Finland was a whirlwind of a trip and I could have spent a few more days in Lapland exploring more. It also gave me the desire to visit Finland in summer so that I can visit the various islands scattered around Helsinki as well as the country's beautiful coastal areas.
One thing is for sure: Finland will steal your heart and make you want to visit again.
About Shannon
As a lover of travel and mom to 2 very adventurous boys, I'm usually found chauffeuring my kids to after school activities or packing every school break with new adventures to see the world for our family of 4
Still planning? Pin this for later!