Israel is a great year-round travel destination, but a visitor's experience can be completely different depending on the season (or even the week!). We've visited Israel in every season and always loved our time there, but if you can only travel to Israel once – or once in a while – it's worth considering when will be the best time to visit Israel based on your own interests.
Holidays in Israel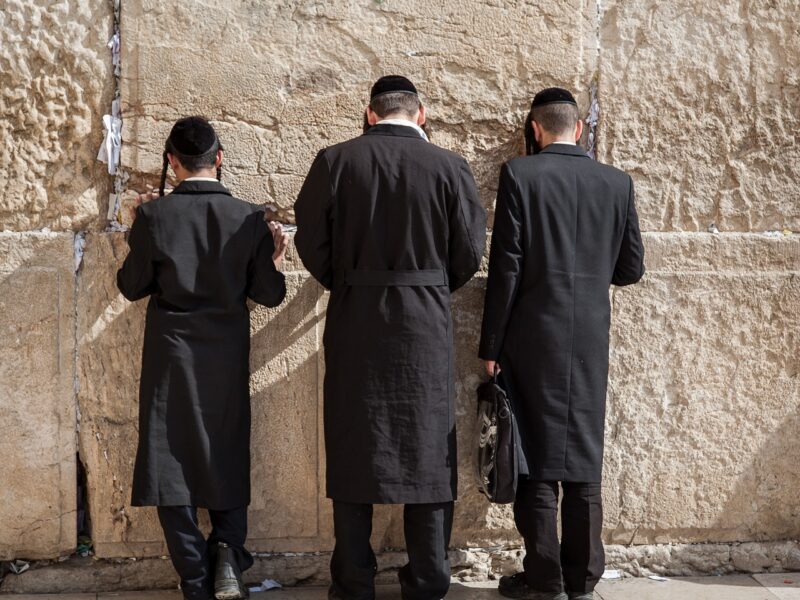 When you plan your trip to Israel, it's important to consult a Jewish calendar to know when the major Jewish holidays are – whether you want to celebrate them on your trip or avoid them!
The major festivals (Passover in spring, Shavuot 49 days later and Sukkot in fall) are important religious holidays for some Israelis and some stores, restaurants and tourist sites may be running on a limited schedule. Almost half of Israelis self-identify as secular and many use the closures at that time to take vacations within the country, while religious Jews living outside of Israel often visit specifically to celebrate those festivals.
There are also many other Jewish holidays with their own unique observances. Most of the country is shut down for the religious new year holidays of Rosh Hashana and Yom Kippur in the fall. Simchat Torah (fall) and Yom Ha'atzmaut (late spring) bring huge celebrations in the squares and parades in the streets.
Purim (early spring) is a time for costumes and debauchery even though it's not one of the major Jewish holidays. There are lively celebrations for all ages.
We've been fortunate to observe many holidays – both joyous and somber – in Israel over the years. If you plan ahead and know what to expect, Jewish holiday periods can be a wonderful opportunity to dive deeper on your trip to Israel!
Don't miss these important Israel travel tips before your first visit
If you plan to visit the West Bank (including Bethlehem, Hebron and Jericho) it's helpful to know when Ramadan will fall. The holiday's schedule can vary significantly from year to year based on calendar differences, but it can have a real impact on your experience as Muslims do not eat or drink during daylight hours in the holy month of Ramadan so many restaurants are closed.
Christmas in the Holy Land won't impact your tourism experience as much as it might in other countries, though there are festivities around if you're looking for them.
Use the interactive map to find vacation rentals and hotels in Israel
---
What's the most popular time of year to visit Israel?
The annual pattern of tourist visits to Israel is an interesting one! Surprisingly, October is pretty consistently the busiest month of the year. As mentioned above, many Jews from around the world choose to visit Israel in fall to celebrate the numerous (basically consecutive) major religious holidays. Book early if you want to visit during the Jewish holidays, as it's one of the best times to visit Israel but also an incredibly busy time!
April is also consistently busy (and sometimes March as well), with many visitors coming for Passover and families visiting during school spring break before the weather heats up.
If you want to have the entire country to yourself, January is the best time to travel to Israel. Year after year, it's the slowest month for tourism. There are no Jewish holidays and families who are constrained by the school calendar can't come. Quite frankly, the weather isn't that great either, often making it the cheapest time to visit Israel! With fewer crowds and even occasional snowfall, it can be a really unique experience.
Seasons in Israel
Israel's latitude is 31N, similar to San Diego at 32N, so you can expect some seasonal variation of the weather in Israel but it's tempered by proximity to the Mediterranean Sea.
Most people will say that there are only two seasons in Israel: summer and winter. But in reality, there are shorter spring and fall seasons as well. You'll generally find summer weather May through September, fall in October and November, winter from December through February and spring blossoms in March and April.
Israel in summer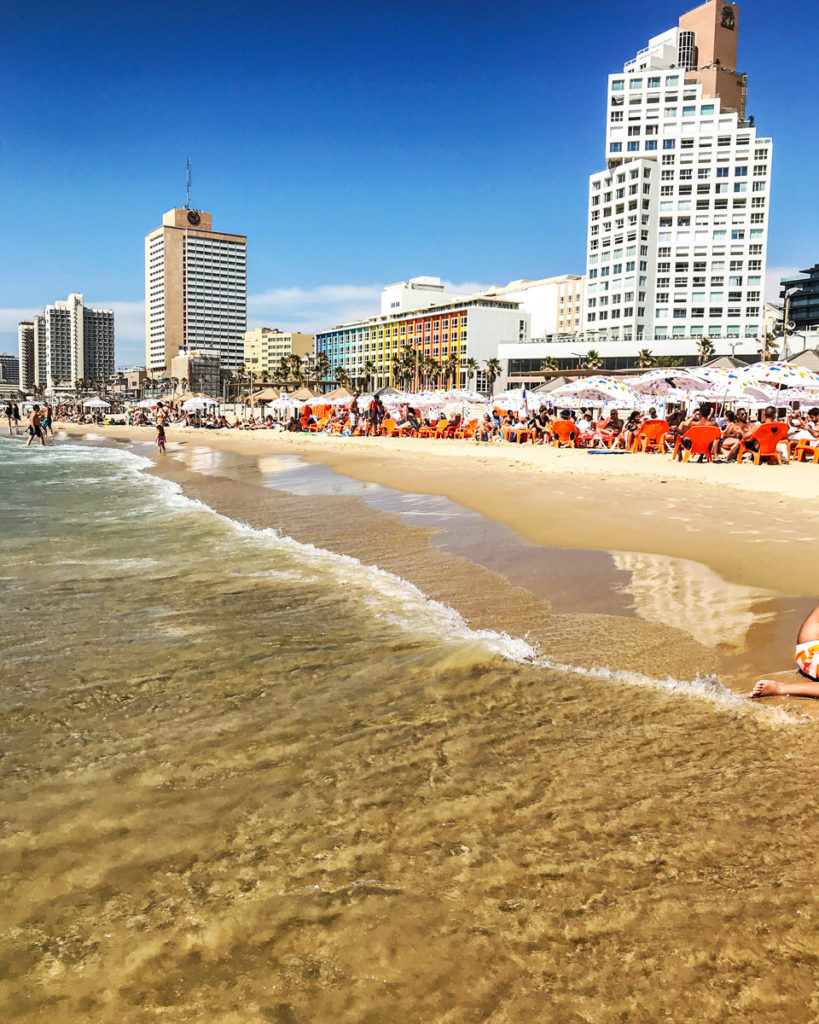 What's it like visiting Israel in summer months? As someone recently said in the Secret Tel Aviv Facebook group, "It's fine as long as you stay in the air conditioning and have a shower every 30 minutes."
Ok, so is it really that bad? It depends on exactly when you visit, where you are, and what you plan to do.
Check out our season-by-season packing list for Israel
June through September in Tel Aviv generally see average daytime temperatures consistently in the 80s and very humid. The good news is that most places in Israel have air conditioning and Tel Aviv has nine miles of wonderful beaches. Be careful in June and July, as there can be jellyfish in Israel – this map can help guide you as to where there have been recent sightings. Unfortunately I did get stung during our last visit!
Still and all, if you like the beach summer might be the best time to visit Tel Aviv. There's a lively scene at all hours and plentiful lounge chairs and umbrellas available for rent at rock-bottom prices.
Jerusalem can be just as hot as Tel Aviv in the summer, but fortunately its inland location and higher elevation make the climate much drier. The evenings are especially pleasant for strolling around while enjoying stunning views of the Old City walls.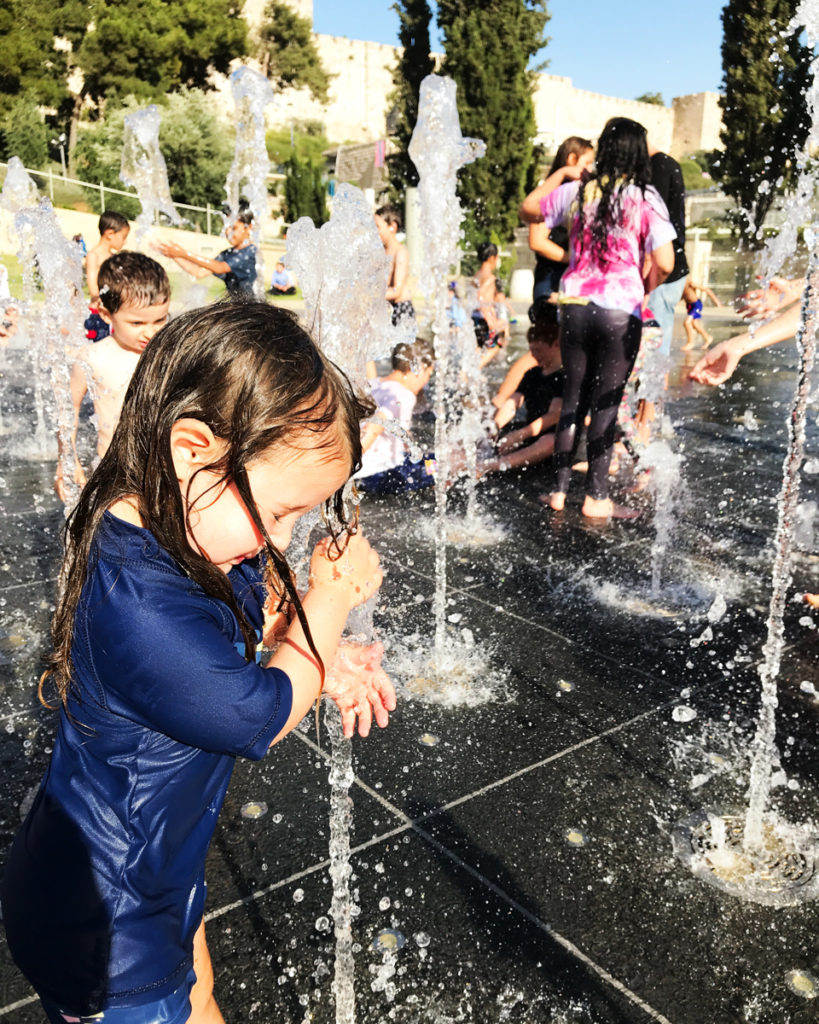 There are also plenty of festivals and events in the City of Gold in the summer. There's a film festival, a light festival, a klezmer festival, a wine festival, a beer festival, an art festival and more! For those visiting Jerusalem with kids, there's a splash pad just outside the city walls in Teddy Park. Get more ideas for visiting Jerusalem with kids!
Northern Israel – along the coast, in the Galilee region and in the Golan – is a good option in the summer. While the water may not be flowing as forcefully in the streams and waterfalls, you'll still enjoy a lush landscape and can enjoy Israel's natural beauty in the shade.
My first trip to Israel was in mid-June and began with several days in the Negev Desert in the south. Several weeks later, I headed south again to the resort city of Eilat on the Red Sea. "Hotter than the surface of the sun" is about how I'd describe my time in southern Israel in summer – the average high in Eilat is around 105 F. The relief available in the middle of the night is 80 F.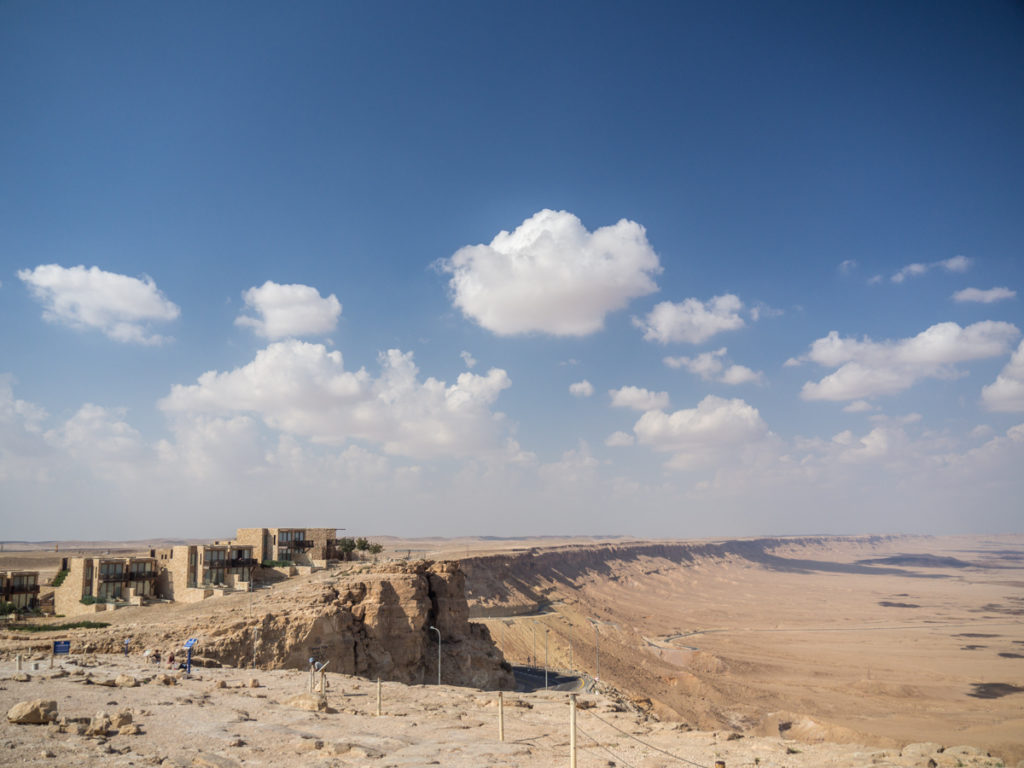 If spending time in the desert is high on your list of priorities for your trip to Israel, it may be worth considering a different time of year. You can certainly make it work visiting the Negev in summer, but dehydration is a serious risk and it's not all that pleasant to be outside.
Israel in fall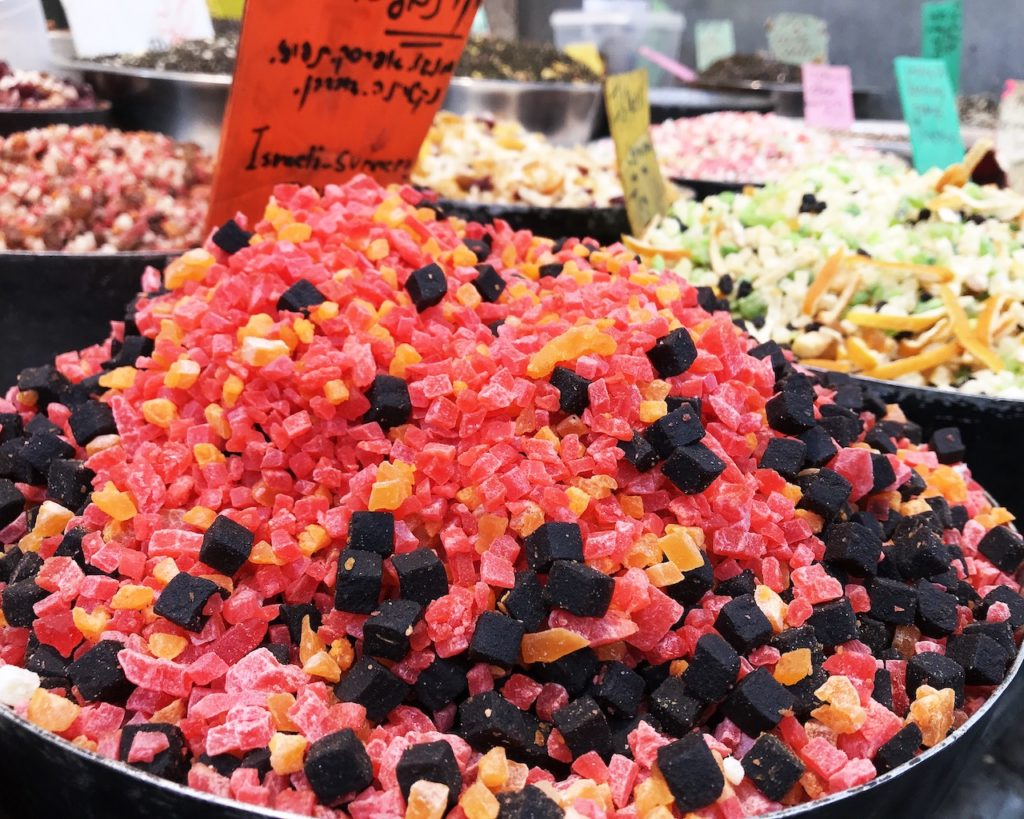 Fall is the most popular time of year to visit Israel – many consider it the best time to travel to Israel so you can expect to pay peak season prices. The weather is milder than summer but still very pleasant for spending time at the beach, strolling in the cities or hiking in the hills. If you plan to visit southern Israel, keep a close eye on weather conditions as fall can bring flash floods to the Negev Desert.
In addition to the comfortable climate, fall brings a different vibe to Israel – and may just be the best time to visit Jerusalem. The back-to-back holiday sequence of Rosh Hashana, Yom Kippur, Sukkot and Simchat Torah brings a joyous, communal atmosphere especially in the Old City.
Many Israelis living in the center also use the time off for holidays as an opportunity to vacation in the north and the south. The holidays and great weather so bring an influx of tourists from abroad, so accommodations can be tough to come by if you don't book early (don't say we didn't warn you) and you may be faced with high season hotel prices.
Israel in winter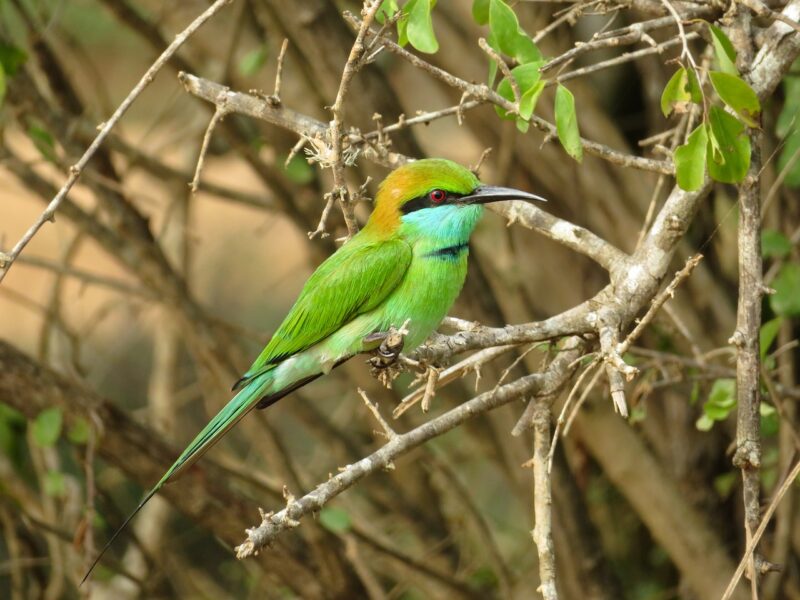 Should you visit Israel in winter? That's a tough question. Israel winter weather is just unpredictable, as winter is the rainy season. We've experienced everything from snow in Jerusalem to torrential rains in northern Israel and Tel Aviv to frigid nights in the Negev Desert during the winter months.
But there are great reasons to consider going then. First off, the crowds are as thin as they're going to get so you'll have your pick of accommodations and often at bargain prices – winter is definitely the cheapest time to visit Israel. Second, you won't have to worry about the average temperatures being too hot to enjoy hiking or other outdoor activities.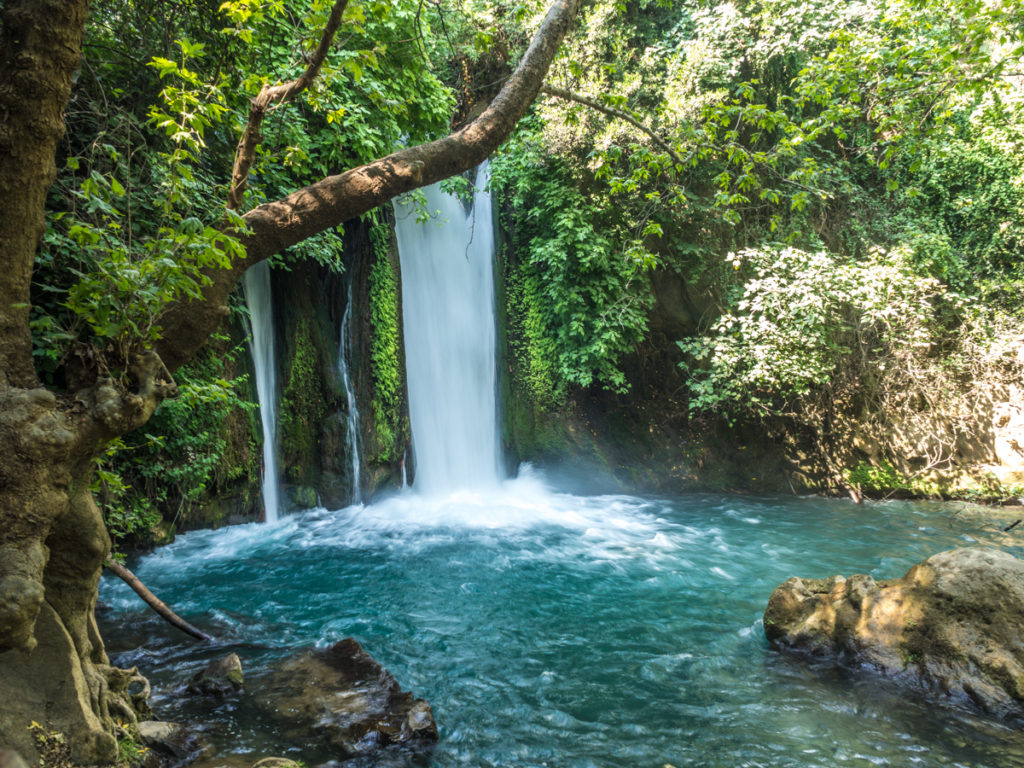 Another great reason? The epic bird migration that goes through northern Israel's Hula Valley. Every November, 500 million birds fly over Israel as they make their way across the equator for winter and many of them stop here on the protected lands for a rest and a meal.
Israel in spring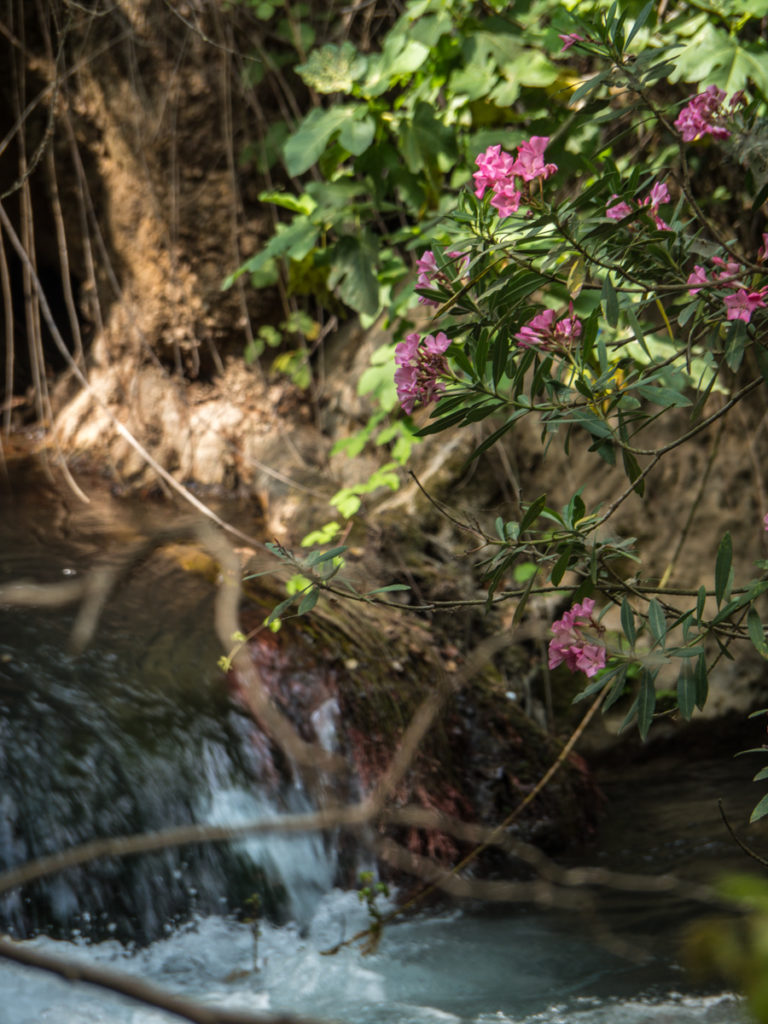 But truly, I've saved the best for last. In my humble opinion, spring wins by a country mile as the best time to visit Israel. The crowds may be thicker at main tourist attractions, but the weather is perfect, the flowers are blooming, the birds are migrating back through and the Mediterranean is warming. I think April (or even early May) is the best month to visit Israel
In spring, you'll be able to explore every corner of Israel's natural beauty. Waterfalls in the north will still be flowing thanks to winter rains. It will be warm enough in April to enjoy the beach in Tel Aviv, but without the risk of jellyfish stings. The temperatures in the Negev will already be hot, but with proper hydration you can still explore special places like Maktesh Ramon and Ein Gedi.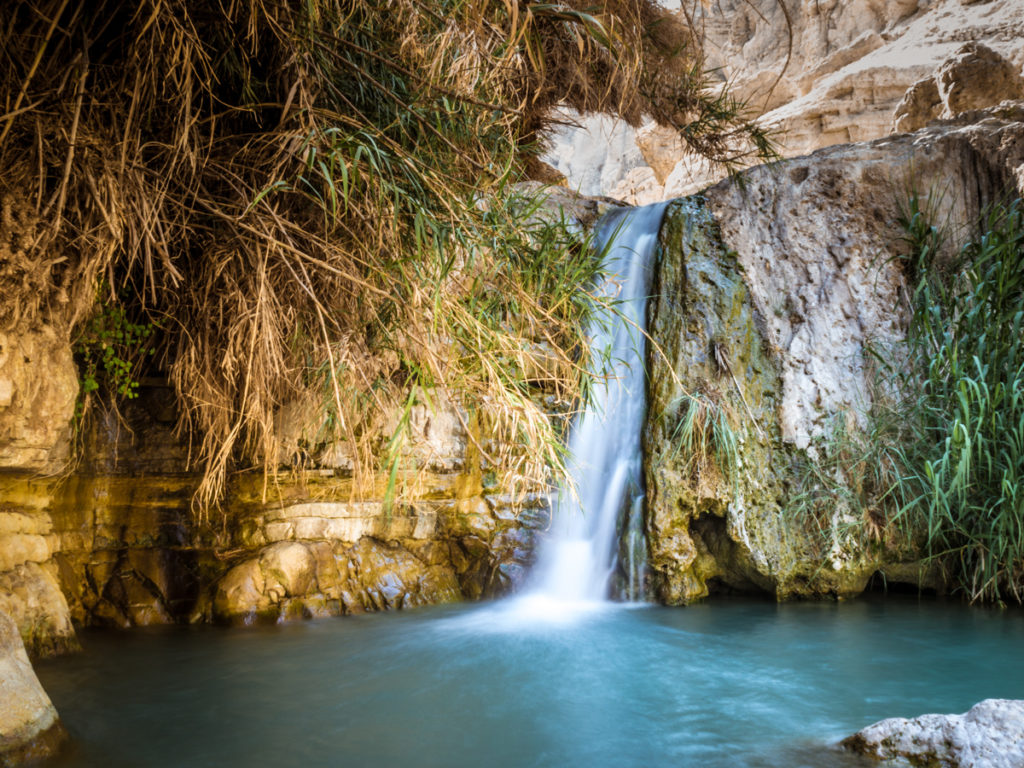 What's the problem with visiting Israel in spring? The biggest challenge is that everyone else wants to be there in spring too! After all, it's the best time of year to visit Israel.
Apart from the October "holiday rush", April and May are the next busiest period. Many visitors like to come for the Passover and Easter holidays, while others take advantage of spring break to take family trips to Israel. Israelis have plenty of vacation during this period too. As with visits in the fall, it's important to book your plane tickets and accommodations early for the best selection and pricing.
When is the worst time to visit Israel?
The worst time to visit Israel is in the eye of the beholder.
If you want to avoid big crowds and high prices, avoid Rosh Hashana, Sukkot and Passover. You may also want to price out late June and all of July if you aren't committed to them, as that's a popular period for tour groups and much of the country can be brutally hot.
On the other hand, the worst time to go to Israel from a weather perspective is January since that is the rainiest month (which I can confirm from personal experience). It won't rain every day, but your activities may be more limited by the weather.
Wrapping up: when is the best time to go to Israel?
Every season in Israel offers unique experiences and challenges depending on your travel preferences. We prefer visiting Israel in spring and fall; within those, we think the best months to visit Israel are April and October. They may be busier than other times of year (unlike most other tourist destinations) but the weather can't be beat and spending holiday periods in Israel is a truly unique experience.
If you asked me for a specific week, I'd opt for either the week after Passover or the week after Sukkot to enjoy great weather with somewhat thinner crowds.
Plan your trip to Israel
Check out these helpful articles to plan your upcoming trip to Israel:
–Your Israel itinerary for (more or less) 10 days
–45 things to know before you visit Israel
–What to pack for Israel in each season
–10 must-read tips for renting a car in Israel
–20 foods you have to try in Israel
–Where to stay in Jerusalem
–Visiting Jerusalem with kids
–Visiting Tel Aviv with kids
–Best day trips from Tel Aviv
–Best day trips from Jerusalem
Still planning? Pin this for later!