Once you've figured out your Israel itinerary (this is the easiest way to do it!) it's important that you decide where to stay in Israel and book your accommodations quickly. The best Israel hotels and rentals do book up since it's is such a popular tourist destination. This guide will show you where to stay in Israel to access the best places. We have options for every budget and type of traveler.
Best places to stay in Tel Aviv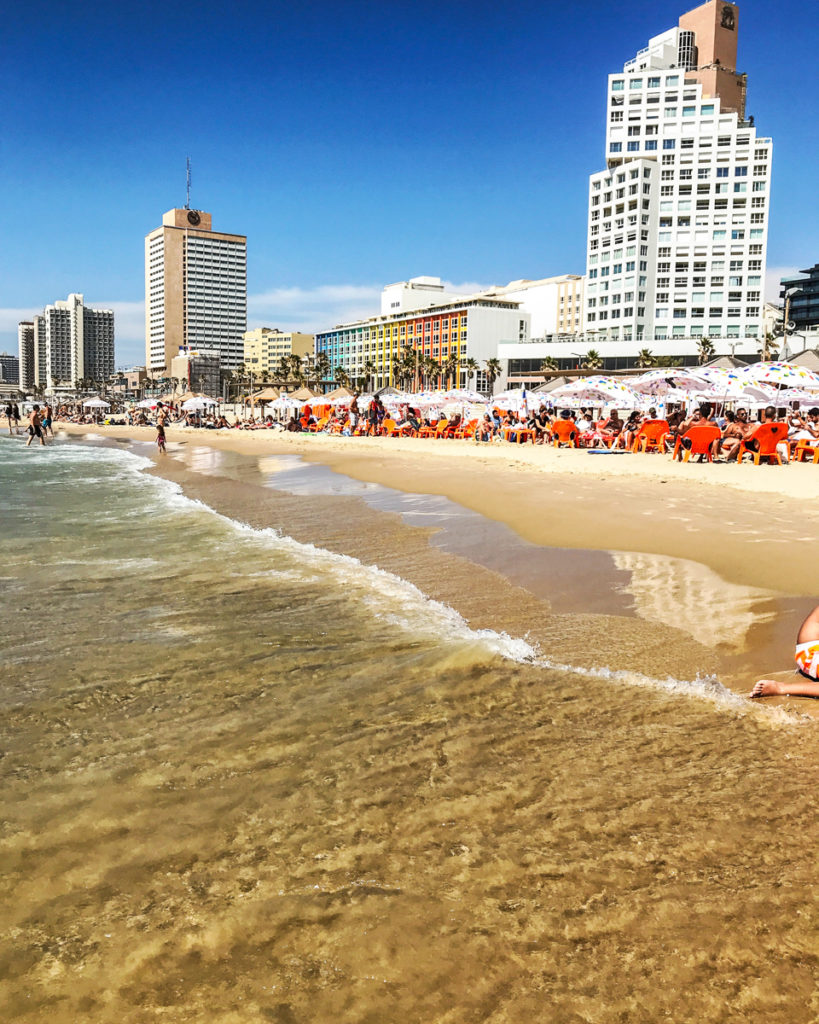 Tel Aviv is the best place to stay in Israel if you're trying to use a single home base for most of your trip. In addition to all of the great things to do in Tel Aviv (even if you're visiting Tel Aviv with kids), the city has some of the best road, rail and bus connections in the country. I've used it as a launching point for a day trip to Akko by train, an overnight to Eilat by bus and very often for a quick trip to Jerusalem (which you can do by basically any means of transportation).
We recommend reserving one of the many hotels or vacation near the beach – it's the best area to stay in tel aviv. You'll be close to all the sites but also have great access to the sea for strolling or swimming! Alternatively, if you're more interest in the cultural scene you can book an incredible boutique style hotel in the Tel Aviv city center.
Vacation rentals in Tel Aviv:
Sunshine Suites – **Our favorite place to stay in Tel Aviv as a family**, fantastic location near beaches, restaurants and shopping, free parking, clean modern apartments with washer/dryer, perfect for families
Aparthotel for 4 along the Tel Aviv promenade
Reines5 TLV – this one is a little further inland but an unbelievable value, with options ranging from a studio to a 3 bedroom that sleeps 7
Budget hotels in Tel Aviv:
Abraham Tel Aviv Hostel – Probably the most famous place to stay in all of Tel Aviv! Located just past Rothschild Blvd. Abraham Hostel is more than just a place to stay – they offer amazing tours, community programs for guests and more. Breakfast is available for a fee. Abraham Hostel is one of the best places to stay if you're traveling Israel solo, as it's easy to connect with others and find a travel buddy if you want one. There are shared dorms, suites and family rooms.
180 Boutique Hostel – Perfect for 1-2 travelers, great location near the Mediterranean Sea, modern interior, a nice terrace and even beach towels! You can choose between private or dorm rooms.
Rena's House – Located near Rothschild Blvd, Neve Tzedek and Florentin in a pretty hip area of art galleries and cafes, these "aparthotel" studios have a kitchenette. Breakfast is included (except on Shabbat).
Moderate hotels in Tel Aviv:
Artist Hotel – Convenient location on Ben Yehuda Street near the beach, the newly renovated interior of this boutique hotel is decorated with contemporary art. It offers great common spaces (lounge, library, fitness center), gorgeous breakfast and afternoon snacks.
Ruby – Unique renovated building near Rothschild Blvd, shared kitchen available, nice common areas for relaxing
Dream Beach TLV Boutique Hotel – One of the best places to stay in Tel Aviv for couples thanks to the reasonably priced rooftop suite with a private hot tub. Be sure to take advantage of the free bikes too.
Luxury hotels in Tel Aviv:
The Vera – New gorgeous boutique near trendy Neve Tzedek, breakfast/wine/coffee/tea are all included, free bikes to borrow
65 Hotel – Beautiful boutique hotel on Rothschild Blvd (the poshest street in Tel Aviv), fantastic breakfast, great city views from the rooftop terrace
Hotel Montefiore – Chic hotel in a chic location between Rothschild and Nachalat Binyamin, known for its amazing breakfast
Market House – Possibly the most beautiful hotel interior in Tel Aviv, trendy Jaffa location, extensive gourmet breakfast, free bikes, quick walk to the beach, family rooms available
Renoma – Biggest rooms in Tel Aviv since they're converted apartments (some have multiple bedrooms and kitchens, others are studios with kitchenettes), close to the beach, nicely updated
Use the interactive map to find vacation rentals and hotels in Tel Aviv
---
Best places to stay in Northern Israel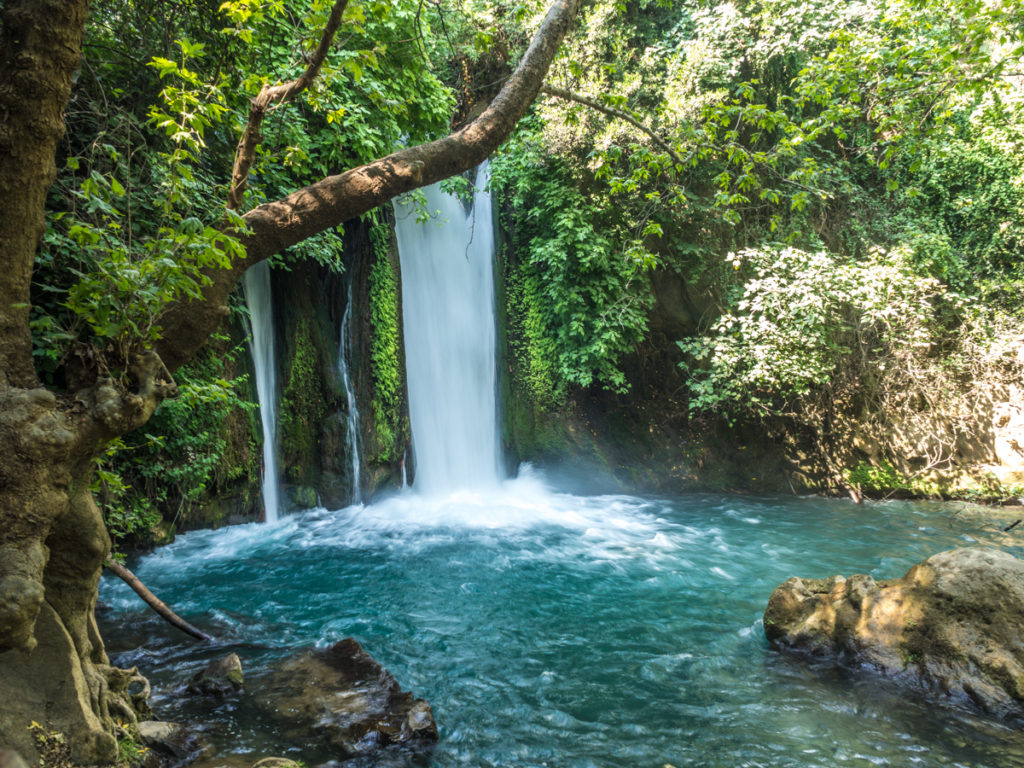 We absolutely love spending time in Northern Israel. It's the best area to stay in Israel if you want a relaxing or romantic getaway. You'll enjoy hiking, historic sites, wine tasting, excellent food and more. It's great whether your visiting Israel as a couple on on a family trip to Israel. We never skip the North on our Israel trips!
Northern Israel is a vast area, and the mountainous terrain can make trips take longer than you might anticipate. We'll separate our recommendations geographically rather than by price, as you'll want to choose your location based on the activities you want to explore.
Where to stay in the Carmel area
Here are great places to stay if you want to visit sites like Caesarea, Haifa, Baha'i Gardens, Rosh Hanikra and Akko:
Hotel Beit Maimon ($$) – Lovely natural setting but just 10 minutes walk to Zikhron Ya'akov, hot tub, outdoor terrace, breakfast included
Eden Inn ($$) – Great pick for families thanks to spacious rooms, outdoor pool, expansive grounds and included breakfast
Elma Hotel and Arts Complex ($$$) – All the high end amenities and design you can imagine, many room sizes available, breakfast included
Dan Caesarea Resort ($$$) – One of the best resorts in Israel, luxurious rooms, beautiful grounds, outdoor activities including swimming and tennis, great breakfast included
Haifa itself can feel very crowded, which is why I've recommended hotels further south that will give you a little more breathing room.
Use the interactive map to find vacation rentals and hotels in Mount Carmel, Israel here
Where to stay in the Galilee area
Here are great places to stay if you want to visit the Sea of Galilee, Tiberias, Tzfat/Safed, the Golan Heights (including Banias waterfall) and more.
Pastoral Kfar Blum Hotel – To truly get away from it all in the Golan, book this luxury hotel (despite the mid-level price tag). Breakfast is included and you should allow time to enjoy the pool, spa and grounds while you're there. The location is one of the best for visiting Banias and Tel Dan Nature Reserves, watch the bird migration through the Hula Valley and to take in the stunning views from the Manara Cliff Cable Car.
Renaissance Estate – These guest houses in the beautiful Rosh Pina neighborhood are absolutely wonderful, and there are several different configurations available depending on how many people you're traveling with. The refreshing pool will be a welcome option in the summer! Be sure to walk over to Shiri Bistro at Pina Barosh, which is one of our favorite restaurants in Israel for both the food and the view.
Olive Tree Cabins – We've loved staying in the beautiful wooded setting on moshav Ramot Naftali! These simple, affordable cabins offer a wonderful getaway and access to the community pool in the summer.
Vibe Naftali Estate – If you need more space for a big family group, this whole house rental is located at the local winery. It has beautiful views of the valley below, plus a pool and hot tub. Individual rooms are available if you don't need the whole house.
Use the interactive map to find vacation rentals and hotels in Galilee, Israel here
Best places to stay in Jerusalem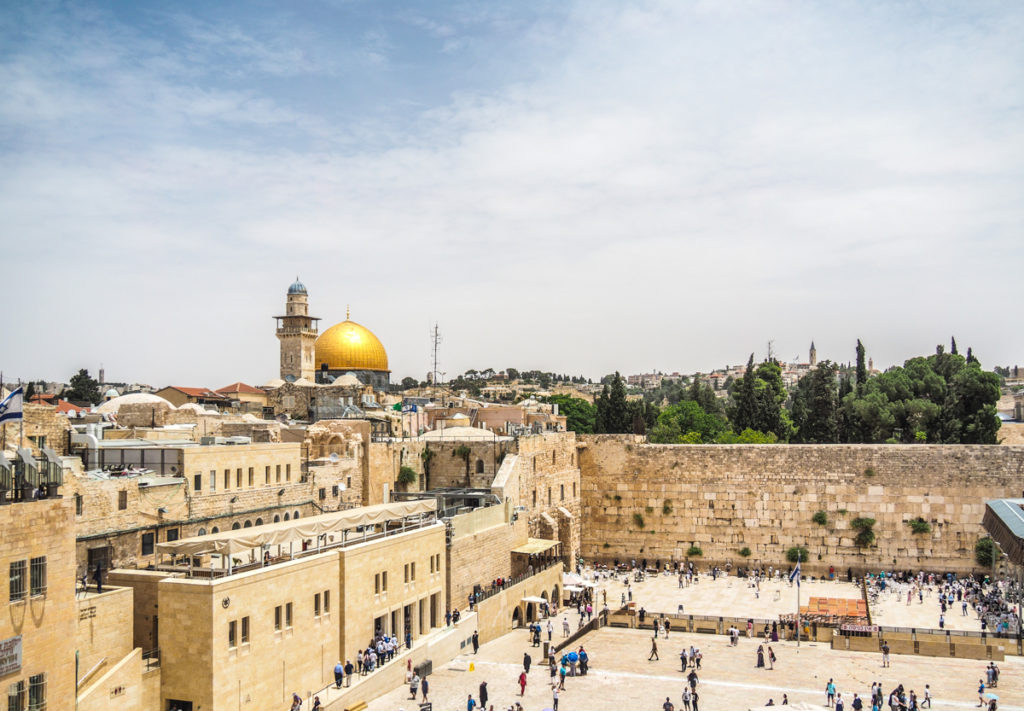 Most visitors choose to stay in Israel hotels to the west and southwest of the Old City. There are plenty of options to choose from! To help you decide, we've created this in-depth neighborhood-by-neighborhood guide to where to stay in Jerusalem
Just want the top picks? Find great vacation rentals in Jerusalem, cheap hotels in Jerusalem, family-friendly places to stay in Jerusalem and more.
Best vacation rentals in Jerusalem: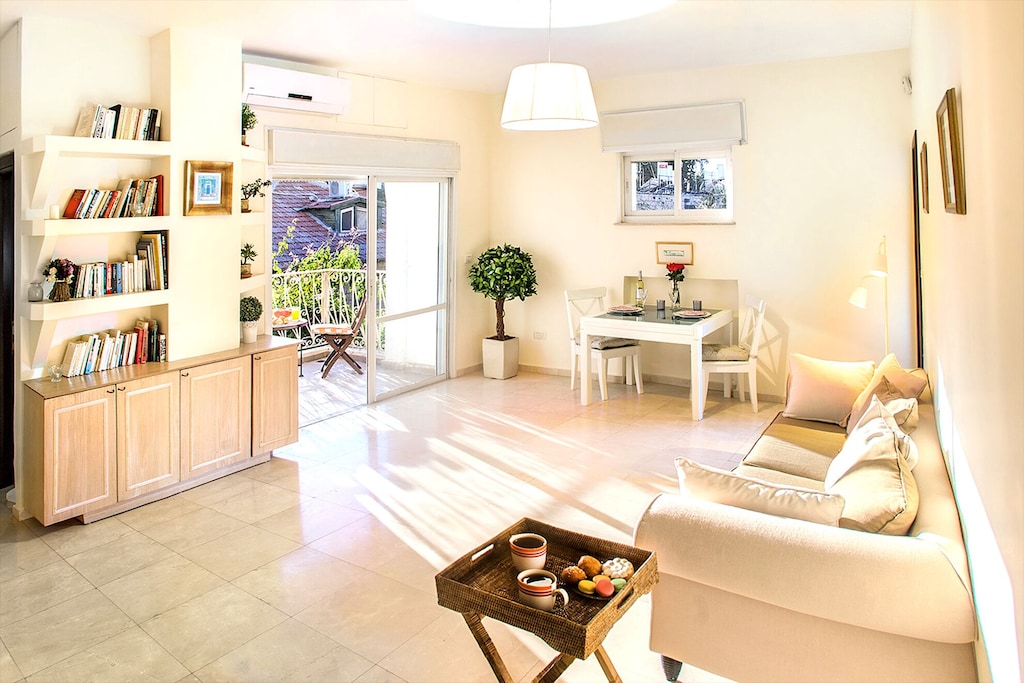 Ultra-modern 2-bedroom apartment
Budget hotels in Jerusalem:
Abraham Jerusalem – Perfect for 1-2 travelers (private rooms are available at Abraham Hostel Jerusalem but sometimes expensive), fantastic tours available every day, convenient location near Machne Yehuda market, great community feeling, breakfast included
Moderate hotels in Jerusalem:
Stay Jaffa Jerusalem (formerly called Check In Jerusalem) – Modern "aparthotel" on convenient and lively Jaffa Street in the middle of the action, washing machine, kitchenette, discounts for longer stays
The Templer Inn – Suites of different sizes (some with kitchenette), beautiful location near the old train station in the German Colony, breakfast included
Luxury hotels in Jerusalem:
Mamilla Hotel – Gorgeous newer hotel right near Jaffa gate, great restaurant Rooftop, indoor pool for hot days, attached to high-end Mamilla Mall
King David Hotel – Classic luxury, reasonably close to the Old City, German Colony and Jaffa Street, outdoor pool, fantastic views from the back patio. This is a contender for the most famous hotel in Israel!
Orient by Isrotel Jerusalem – Brand new, family-friendly location in the German Colony across from the First Station, huge selection of restaurants nearby, beautiful interior, stunning rooftop pool and dining patio
Use the interactive map to find vacation rentals and hotels in Jerusalem here
Best places to stay in Southern Israel
Southern Israel, typically identified as the Negev Desert region, is enormous – it's more than half of Israel's land area! But the developed areas are very far apart so it's important to choose where to stay based on which things to do in southern Israel are most important to you.
Though it's not near any tourist sites, arguably the best hotel in Israel is plopped in the middle of the Negev Desert. Six Senses Shaharut is an adults-oriented luxury oasis for relaxation and outdoor adventure. They allow kids 12+
Where to stay near the Dead Sea in Israel
Nevo by Isrotel Collection – To stay right near the Dead Sea, book a room at the highly-rated Nevo right on its shore. There's a private beach with chairs and umbrellas for your use. Inside the hotel you'll find an extensive complimentary breakfast, kids playroom, spa and more.
Ein Gedi Kibbutz Hotel – This lovely hotel is near the Ein Gedi oasis, which is perfect for a hike and a dip in the cool waters. The kibbutz hotel has a pool, spa and restaurant (which is good since there aren't many restaurants around). When you're ready to experience floating in the Dead Sea, it's just a quick drive.
HI – Ein Gedi Hostel – If you're on a tighter budget, the Ein Gedi Hostel will provide a clean, comfortable option that includes breakfast.
Where to stay near Mitzpe Ramon
Ramon Inn by Isrotel Collection – Families coming to explore the unique geology of makhtesh Ramon ("Ramon crater") and the excellent Ilan Ramon Visitors Center will have a great stay at the Ramon Inn. The rooms are spacious, the breakfast has lots of options and the glass-walled indoor pool will be a huge draw!
Beresheet Hotel – For true luxury, you can't beat Beresheet. This incredible hotel is perched on the edge of the crater, with design touches that blend seamlessly into the landscape. While this was originally an adults-only resort in Israel, for the last number of years kids have been welcome. There's even a kids and teens club. Don't miss what was once voted "the world's coolest hotel pool"! There's also the option to book a villa with a private pool for the ultimate five star experience.
Where to stay in Eilat
Dan Eilat – This is probably the best hotel in Eilat, and there's so much to love from the central location to the spacious rooms to the beautiful pool to the excellent complimentary breakfast.
Soleil Boutique Hotel Eilat – If you'd prefer a smaller hotel, check out the nearby Soleil Boutique Hotel. It's smaller, but still boasts a pool, spa and cafe along with walkability.
HI Eilat Hostel – If you're visiting Eilat on a budget, be sure to snag a bed at the convenient Hostelling International location. There's a pool on-site and it's walking distance to the beach. Plus you'll even get free breakfast!
Villa Family Eilat – Family-friendly guest house with a pool and space for your whole group! You can either rent out the entire villa or just a few rooms.
---
Plan your trip to Israel
I hope this guide has helped you find some amazing places to stay in Israel, whether you're booking the leading hotels near the Holy City or just looking for air conditioned rooms and swimming pools along the Red Sea. There are so many hotels in Israel to choose from that you're bound to find the right ones for you.
Money-saving travel resources:
–Find the cheapest flights on Skyscanner
–Book your discounted rental car on RentalCars.com
–Compare travel insurance options
–4 simple hacks to save more money on booking.com

Check out these helpful articles to plan your upcoming trip to Israel:
–The perfect 10 day Israel itinerary
–3 days in Jerusalem itinerary
–2 days in Tel Aviv itinerary
–Where to stay in Israel
–50 things to know before you visit Israel
–What to pack for Israel in each season
–When is the best time of year to go to Israel?
–10+ must-read tips for renting a car in Israel
–20 foods you have to try in Israel
–25+ best books about Israel
–Where to stay in Jerusalem
–What to do in Jerusalem on Shabbat
–Israel with kids: the complete guide
–Visiting Jerusalem with kids
–Visiting Tel Aviv with kids
–Best day trips from Tel Aviv
–Best day trips from Jerusalem
–Your Israel itinerary for (more or less) 10 days