After exploring all the sun, sand and good eats Tel Aviv has to offer, it's time to hit the road and explore some of Israel's most fascinating cultural and historical sites. Tel Aviv is a great strategic launching point for wonderful day trips that can be accessed by car in about an hour – if you plan on taking day trips from Tel Aviv it's probably best to rent a car (get the inside scoop here), but many of these can be reached by public transportation as well. Check out our favorite (and, we think, the best) day trips from Tel Aviv even for those who have been to Israel before.
Learn the secrets of the Ayalon Institute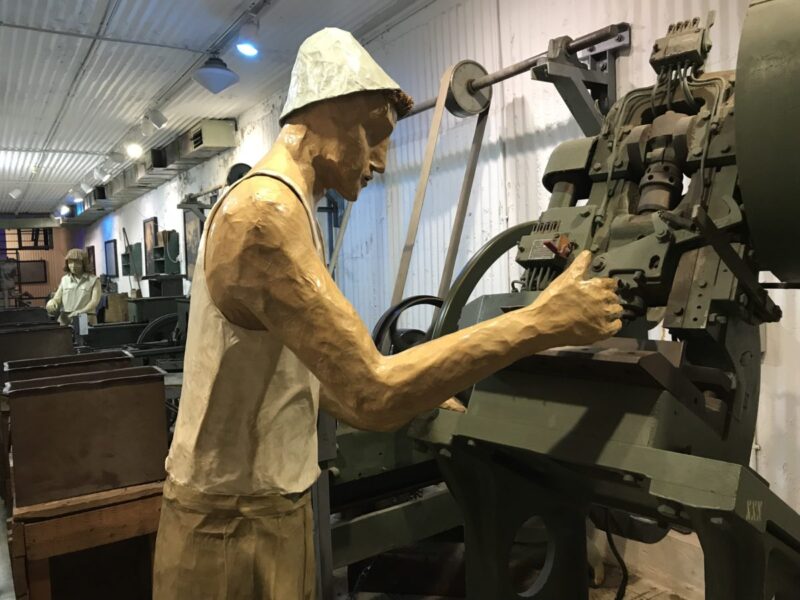 The tourism board's "only in Israel" slogan hardly rings truer anywhere else in the country than at the Ayalon Institute, also sometimes just referred to as "the bullet factory". Jews living in British Mandatory Palestine (1923-1948) knew that their eventual struggle for an independent state wouldn't be an easy one and they also knew that there weren't many allies who would be willing to help them along the way.
More than a decade before declaring independence, local leadership realized that they would need both guns and a steady supply of ammunition so they sent emissaries to Poland to learn the trade of bullet-making. Obviously the British wouldn't have welcomed the large-scale production of bullets in Israel as they tried to keep all of the local populations in check, so the manufacturing efforts had to be clandestine.
What unfolded just outside of Rehovot is nothing short of jaw-dropping. I don't want to spoil any surprises about how the members of the Ayalon Institute secretly produced over 2 million bullets in 3 years – you have to go see for yourself. Many Israelis haven't even visited Ammunition Hill, as it was only restored and opened as a tourist site and museum in 1987.
Your visit begins with a film providing some background as well as interviews and historical re-enactment. You'll then continue on a guided tour (available in Hebrew, English or Russian depending on the time of day) through the site with plenty of time for questions. Our guide was one of the best we've had anywhere in both his English fluency and his story-telling ability. The tour is generally recommended for older kids and adults, but at 4 and 6 ours were captivated! Those with limited mobility will not be able to do the entire tour – you need to be able to walk up and down a narrow staircase. Make sure to reserve in advance to get a slot in your preferred language. Tickets cost 27 NIS per adult – call +972-8-9406552 ext 1 to reserve. This is a great daytrip from Tel Aviv for those who don't have a car, as it's easily accessible by bus and train.
Wine tasting near Tel Aviv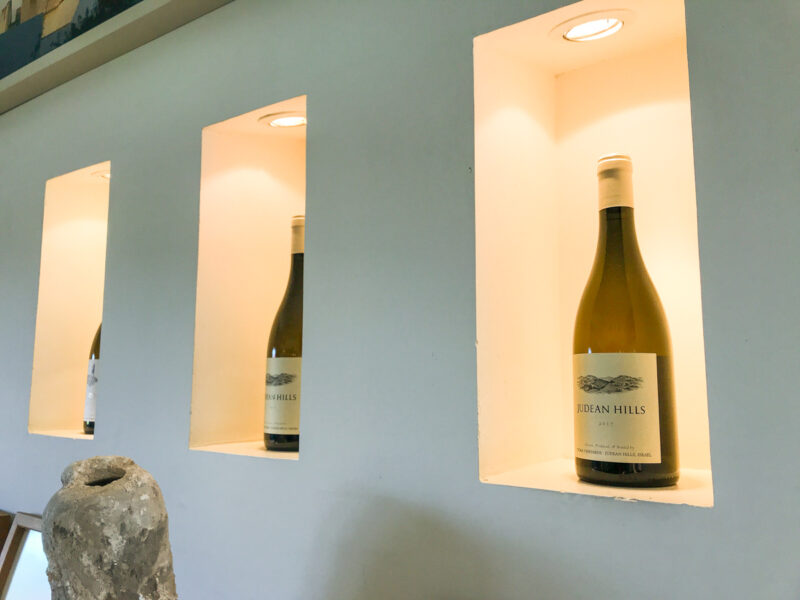 If it's your first time in Israel, we'll forgive you for not knowing about Israel's excellent wine scene. The moderate, Mediterranean climate has made it an excellent place for vineyards since biblical times, but the birth of the modern industry in the 19th century can be credited to the Rothschild family.
Today, the country's roughly 300 wineries grow over a dozen varietals and produce wines for every palate. Our favorite winery in central Israel is Tzora Vineyards, which is producing excellent, consistent wines under the direction of winemaker Eran Pick (one of fewer than 400 people in the world holding the prestigious "Master of Wine" credential).
Most tourists think of wine tasting as a Jerusalem activity, but it really depends on where you want to go! Tzora Vineyards is 45 minutes from Tel Aviv by private car or 35 minutes from Jerusalem. In the grander scheme of things, you could easily visit from either side!
Use the interactive map to find vacation rentals and hotels in Tel Aviv
---
Explore Beit Guvrin caves and archeological sites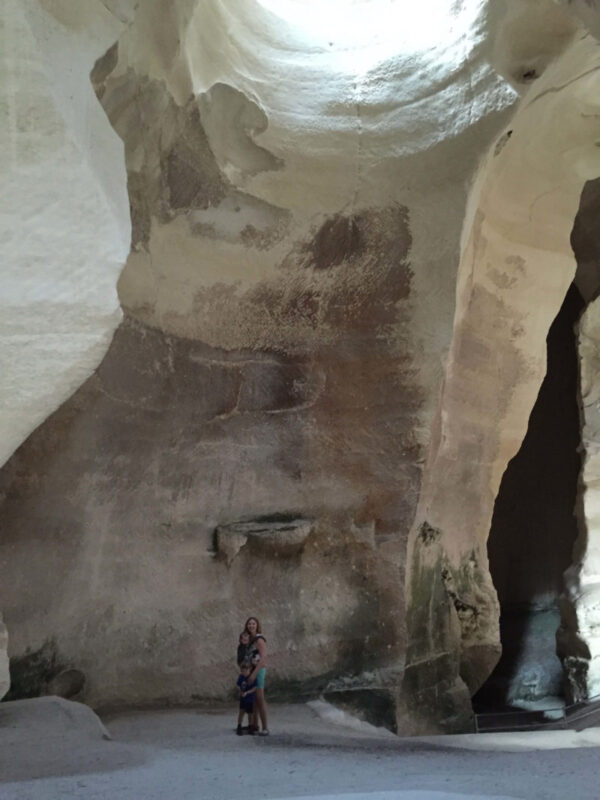 Israel is full of archeological ruins, and you'll want to visit at least one site during your visit to get a sense for the country's ancient history. Beit Guvrin-Maresha National Park is one great option for visiting archeological ruins in Israel because there are many different ways to experience the site based on your interests and who's in your group.
If you just want to spend an hour or two exploring on your own, you can walk the narrow earthen staircases into underground burial chambers, dwellings and storerooms of Tel Maresha dating from the time of the First Temple over two millennia ago.
From there you can proceed further into the park to visit the famous Beit Guvrin bell caves. These caves have been used for many purposes over the millennia, but today the largest serves as a concert venue. Talk about amazing acoustics! When you go visit, try it out for yourself.
If you have more time, you can participate in the Beit Guvrin "dig for a day" program. Your group will work with a staff member to unearth archeological finds to be used in research and museums! Be advised that it's extremely hot in the area if you visit during the peak of summer, so consider your groups tolerance for the conditions before booking. There is an optional tunnel crawl at the end of the dig, but if you have very young kids or limited mobility it's not essential.
Beit Guvrin-Maresha National Park is one hour south of Tel Aviv if you're driving a private car, but can require two hours by public transit (including a mile on foot at the end – BRING WATER). Pick up a discounted National Park pass – either blue or green – to cover your admission.
Read more: Your complete 10-day Israel itinerary for first-time visitors
See the stunning Baha'i Gardens in Haifa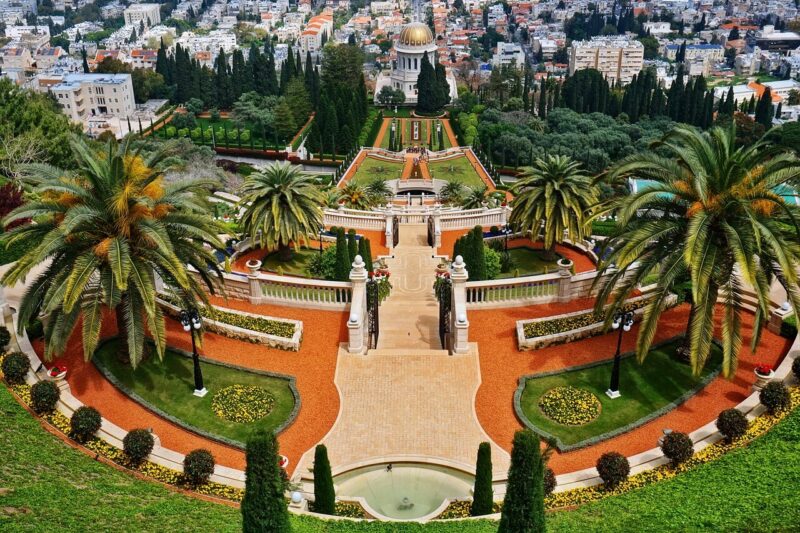 Did you know that the world headquarters of the Baha'i faith are located in Haifa, along Israel's northern coast? Even though there are almost no Baha'i living permanently in Israel, every year several thousand come as long-term visitors to study and work at the center.
The most notable feature for tourists is the spectacular, manicured hillside garden overlooking the city of Haifa. A tour of the garden is both beautiful and interesting – you'll learn about the garden and the Baha'i faith. Tours begin at the top of the garden and wind down many stairs and slopes; at the end, you can walk back up some of the local stairs like residents often do or take bus #136 or #23 back to the top. There are plenty of good restaurants to choose from if you continue down near the port.
Be advised that the tour schedule in English is rather limited – check times here – so you'll want to plan your day accordingly even if that means visiting other sites out of sequence. If you have a car and don't mind a busy day, you can drive from Tel Aviv to Haifa for the 10am tour and then head further north to see the unique grottoes at Rosh Hanikra or begin your southward return with a stop to…
Visit the seaside ruins of Caesarea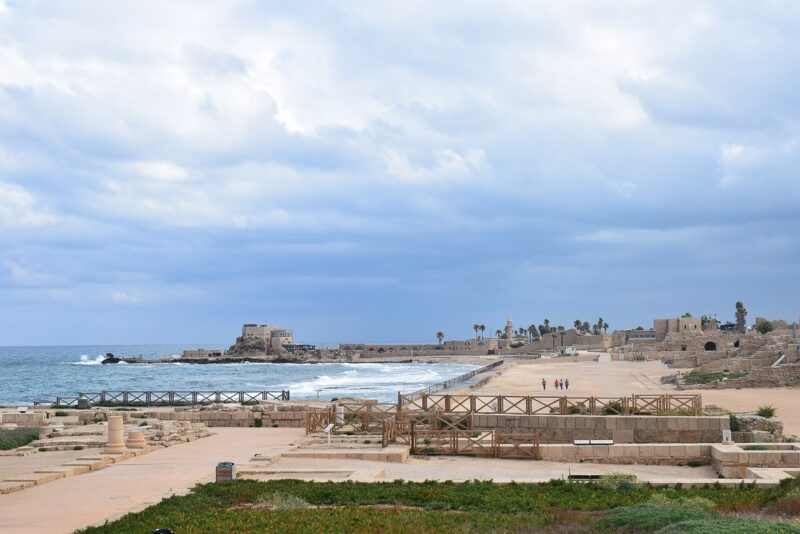 Who says you have to go to Europe to find Roman ruins? Just 45 minutes north of Tel Aviv, you can find the extremely well-preserved remains of the 2,000 year old port city of Caesarea Maritima! It was mostly demolished by the Mamaluks about 800 years ago. Throughout the city's complicated history it's been inhabited by Jews, Christians, Muslims, Bosniaks, Moroccans and more!
Today the site is a National Park and preserved for generations of visitors. We love visiting Caesarea to see the layers of history. Highlights for us include walking the paths through the excavation area and walking through the well-preserved hippodrome. If you're really lucky, you can still catch a concert at the ancient Roman theater – complete with the same stunning ocean views that were enjoyed two millennia ago.
Caesarea is a great day trip from Tel Aviv without a car. While the drive is only 45 minutes, it's also only about 90 minutes by public transportation – just be sure to check exact schedules in advance. You can save money on admission with a National Park discount card for tourists – we love the "green" 6-Park ticket for a two week visit!
Want to see Israel's northern coast without renting a car? Book this great tour that stops in Caesarea, Haifa and Akko!
Day trip to Jerusalem from Tel Aviv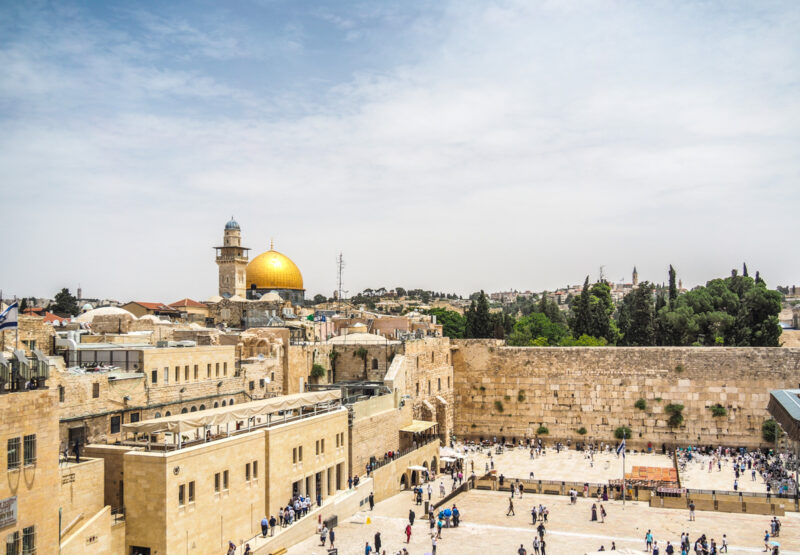 Need more ideas? These best day trips from Jerusalem are *almost* as close to Tel Aviv!
Day trip to Jerusalem? Yes, you can daytrip to Jerusalem from Tel Aviv. No, you won't see everything! But if you're visiting Israel for 5 days or less you can consider staying in Tel Aviv the whole time and popping over to Jerusalem for a day or two (in addition to one day exploring Haifa and Caesarea further north, for example). You'll have easier logistics without a hotel change and can probably manage without renting a car since it's only a one hour trip and the major sites are all accessible by public transportation. Pro tip: Don't do this daytrip from Tel Aviv on a Friday. The Old City will be crowded, the museum closes early and return buses probably won't fit your schedule.
If you just have one day in Jerusalem, make a bee line for the Old City and hop on the Sandeman's free walking tour (reserve your spot here at no charge). The tour begins at 11 and finishes around 1pm. You won't go in-depth at any one site, but you'll get a feel for much of the Old City. If you do want to double back to any other sites like the Western Wall (kotel), it's still best to exit through Jaffa Gate – I promise.
When your tour is over, head out back through Jaffa Gate and walk toward Machne Yehuda ("the shuk"). If you feel pressed for time or have limited mobility, you can take a quick taxi ride or even go part of the way on the newish light rail that runs through Yafo Street. If you're on foot I recommend picking up a falafel at Moshiko on Ben Yehuda Street on the way. Drop by Marzipan at the entrance to the shuk for a few pieces of their world-class ruggalah (seriously, there is no better in the world) and then spend an hour indulging your senses – smell the dried fruits, check out the beautiful produce and maybe even taste a few specialties like halva.
Once you've had your fill of the shuk, head outside and catch a bus to the nearby Israel Museum (open until 5pm Sat-Mon, Wed and Thurs; only open 4-10pm Tues). While museum lovers like me can spend days on end wandering the exhibits, you can also see just the highlights in a few hours. After buying your tickets, go straight outside to the Shrine of the Book to see the famous thousands of years old Dead Sea Scrolls and the accompanying movie that explains their modern-era rediscovery. You can learn all about them here.
After leaving the Shrine, continue walking away from the building to see a scale-model reproduction of Jerusalem at the time of the second Temple. The level of detail is so impressive and you can really get a sense for how the Old City you just toured might have looked thousands of year ago (in some ways, not all that different!). Behind the city model is Israel's own "LOVE" sculpture perfect for a photo opp. If there's no one around to help you out, prop up your camera in the gravel and use the self-timer like we did.
Read about even more fun day trips from Jerusalem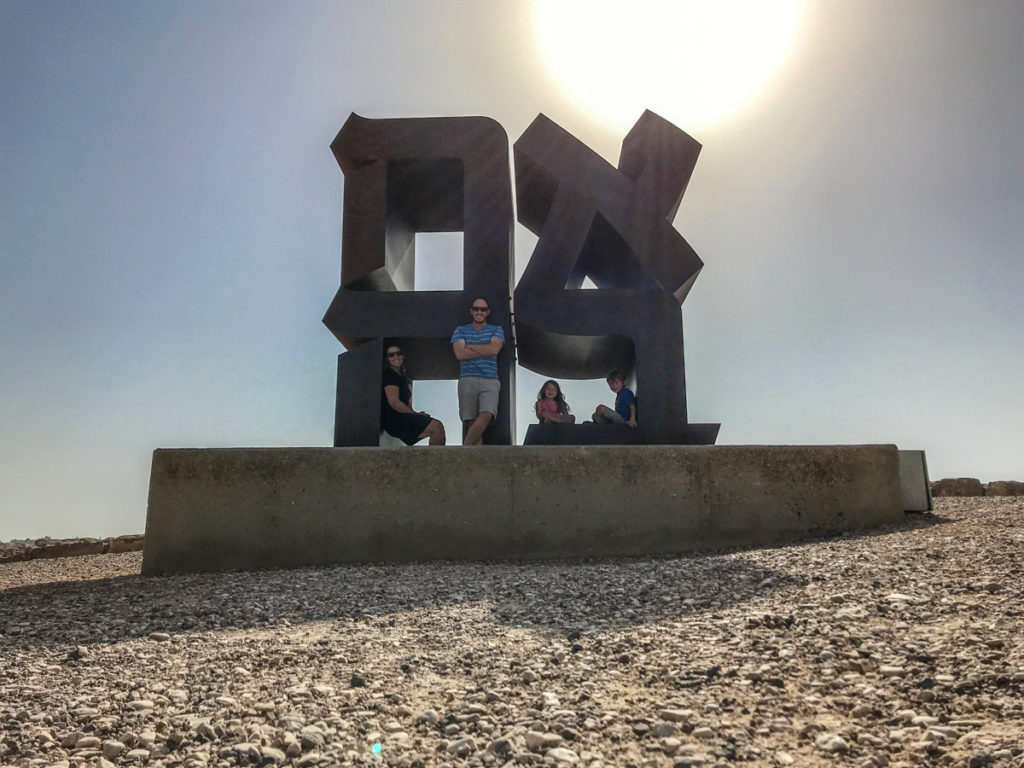 If you still have time and energy before the museum closes, go inside and head upstairs. There are two excellent permanent exhibits: one on archeological finds of the region and the other on Jewish life and life cycles. I prefer the latter – you'll see stunning dresses and ritual objects from around the world and the real interiors of synagogues from places around the world where you might not know there were Jews! They were moved to the museum for preservation when their local communities could no longer support the institutions. You'll see the ornately painted synagogue from Cochin, India an one with a sand floor from Suriname!
When you finish at the museum, you can choose whether you want to go straight back to Tel Aviv or head back to the center of Jerusalem to explore the city's booming night life. A decade ago I never would have expected to say "Jerusalem" and "booming night life" in the same breath, but here we are! The two best options are going back to Mahne Yehuda – with the fish mongers and product stands replaced by twinkle lights, trendy restaurants and late-night clubs – or the old Jerusalem railway station ("the first station" or "ha-tachana") where you'll find an array of restaurants (both kosher and non-kosher), a few shops and kiosks and even arcade games and kids rides.
That was a long day and you're probably exhausted, but it is possible to see the top sites in Jerusalem and get a little feel for the place in just a day. If you decide to stay a little longer, we recommend checking in to this aparthotel – it's a great central location and the units have laundry and a kitchenette. On the other hand, it's only an hour to get back to your base in Tel Aviv!
Read more: Everything you need to know about visiting Tel Aviv with kids
What do you think is the best day trip from Tel Aviv? Tell us in the comments below!
Plan your trip to Israel
Money-saving travel resources:
–Find the cheapest flights on Skyscanner
–Book your discounted rental car on RentalCars.com
–Compare travel insurance options
–4 simple hacks to save more money on booking.com

Check out these helpful articles to plan your upcoming trip to Israel:
–The perfect 10 day Israel itinerary
–3 days in Jerusalem itinerary
–2 days in Tel Aviv itinerary
–Where to stay in Israel
–50 things to know before you visit Israel
–What to pack for Israel in each season
–When is the best time of year to go to Israel?
–10+ must-read tips for renting a car in Israel
–20 foods you have to try in Israel
–25+ best books about Israel
–Where to stay in Jerusalem
–What to do in Jerusalem on Shabbat
–Israel with kids: the complete guide
–Visiting Jerusalem with kids
–Visiting Tel Aviv with kids
–Best day trips from Tel Aviv
–Best day trips from Jerusalem
–Your Israel itinerary for (more or less) 10 days
Still planning? Pin it for later!