No visit to Israel is complete without a stop in Jerusalem, even if it's just for a couple of days. But what's it like exploring Jerusalem with kids? There's plenty to keep everyone busy and happy, and the hills will have even the most energetic young ones exhausted by bedtime! We've visited Jerusalem twice with our kids and many times without them so we're full of suggestions.
Read on for the inside scoop on planning an amazing Jerusalem family vacation, including the best things to do with kids in Jerusalem, where to stay on a family trip to Jerusalem and more.
Tips for visiting Jerusalem with kids

-Jerusalem, as with all of Israel, is extremely welcoming of kids. After all, Israeli families have plenty of kids and take them everywhere! Don't feel sheepish about bringing your kids to Jerusalem.
-Jerusalem is a city of hills and they can be positively grueling even without a young child in tow. When our daughter wasn't yet walking, we brought our favorite travel stroller – the same one most Israeli families use, and for good reason. It was so handy for long walks!
-At the same time a stroller is not ideal for touring the Old City, with its rough stone walkways, stairs and sometimes crowded narrow alleys. Our recommendation if you're visiting with pre-walkers is to bring a good stroller for most of your walking and a high-quality baby carrier to use in the Old City and for exploring other stroller-unfriendly parts of the country like Haifa.
It's a tougher call for kids who can walk but not all day. How much do you like carrying a heavy, sleepy child? If you're staying in a really central location you might be able to get by with just a good toddler carrier – or a stroller for long walks and your tired arms for places that aren't stroller-friendly.
-Buses are still the best way to get around Jerusalem if you can't walk long distances, but there's also a light rail line in the middle of the city now and more lines in the works. In order to use public transportation in Jerusalem, you need to buy a Rav Kav card in advance and load it with money. There are refill machines throughout the city, but the system can be a little confusing at first.
-Check out these great books before your trip to introduce your children to some of the important sites, sounds and smells of Jerusalem:
There are also some great episodes of Shalom Sesame that will get kids oriented: Welcome to Israel, Adventures in Israel and Grover learns Hebrew. Perfect for downloading and watching on the long flight over!
-How to dress in Jerusalem? While the city itself has no rules and you'll see plenty of tourists (and even some locals) sporting all types of clothes, in general you'll see more modest clothing than in Tel Aviv. The dress code for Jerusalem holy sites generally requires that shoulders and knees be covered – and in theory that applies for both women and men, though men are less likely to receive disapproving looks. Here's more information on what to pack for your trip to Israel.
First time visiting Israel? Don't get on your flight until you read these important tips!
Top things to do in Jerusalem with kids
Tour the Old City of Jerusalem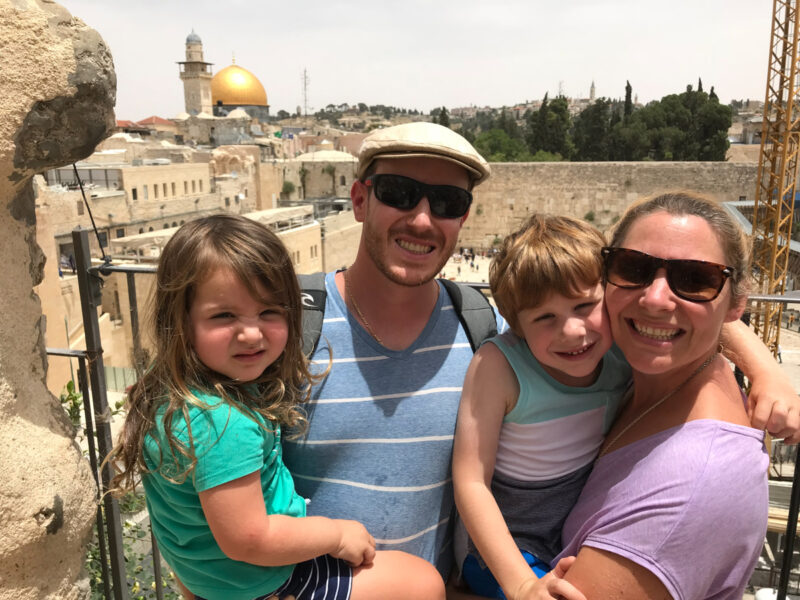 One of the top things to do in Jerusalem for tourists of any age is get acquainted with Jerusalem's Old City. And by old, we really mean ancient – there are many buildings and columns that are over 2000 years old and still in use today. If you've never visited Israel before, we recommend starting with a guided tour to introduce you to the history, the important landmarks and the general lay of the land. The area was designated a UNESCO World Heritage Site in 1981.
But a tour doesn't have a to be pricey – we took our 4 and 6yo kids on the free walking tour by Sandeman's New Europe and it was a great introduction for them. Our guide was great at engaging them and the group was small enough for everyone to stay together. The free tour lasts 2-2.5 hours but makes only brief stops in front of major landmarks.
If you want to go more in-depth and it's your first visit, we recommend taking a longer tour of the Old City like this one. Another option for getting around is the new Old City train – inquire at the tourism office near Jaffa Gate. It provides a kid-friendly narrated ride around the Old City. I'll be honest that we waited for about 20 minutes in the afternoon and it never came, though I did see it running in the morning. YMMV.
You may want to consider these private, custom Jerusalem tours. You get 2-6 hours with a local guide and can set the itinerary based on your own interests and what you think will resonate with your of children in Jerusalem. The prices are extremely reasonable and kids under 12 only pay half (under 3s are free).
You'll want to be sure you visit all four quarters of the Old City:
the Jewish Quarter which includes the Western Wall
the Muslim Quarter – grab a snack and a view at the Austrian Hospice after you stroll through the souk
the Christian Quarter including Church of the Holy Sepulchre
the small but thankfully quiet Armenian Quarter
If visiting the Temple Mount is important to you, please be sure to look up restrictions on timing, dress and non-Muslim religious symbols before you go. Allow plenty of time for security checks, and also prepare for the possibility that it may be inaccessible if tensions in the Old City are running high.
If you have any steam left after dark, head back to see the stunning light show at the Tower of David museum. They now offer two different shows, but start times are very late in the summer (ranging between 8:30 and 10pm). You must reserve tickets in advance and sometimes they sell out.
Splash around in Teddy Park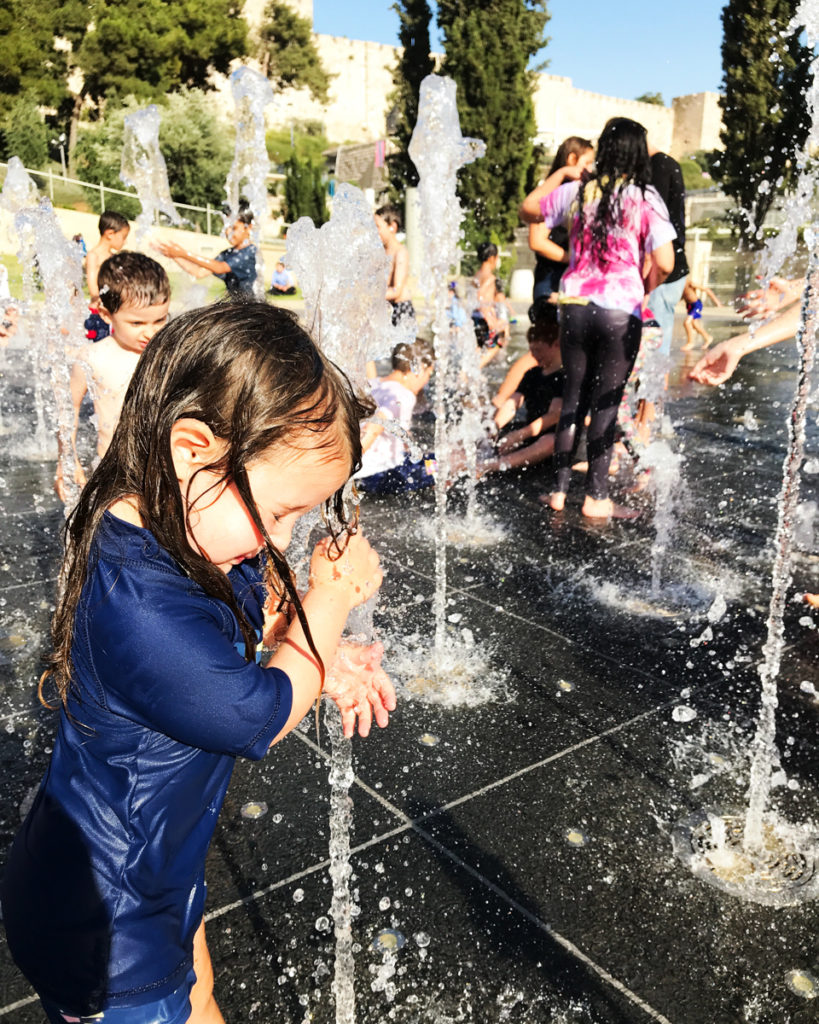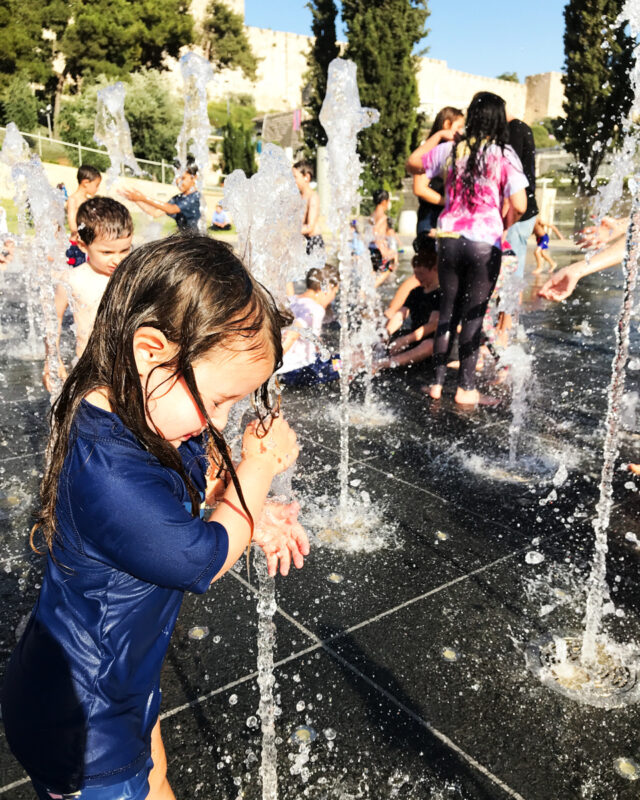 If you plan to visit Jerusalem in the summer, your kids will probably need a break from walking around in the brutal heat from one old site to another. Bring their swim suits along when you tour the Old City and go straight to Teddy Park afterward – just across the street from the city walls!
The center of the park turns into a huge splash pad for 30 minutes every other hour, and when the water turns off local families sit in the grass with a picnic dinner. It's a perfect way to cap off your busy day – and probably has the best view of any splash pad in the world. This is definitely one of my favorite things to do with toddlers in Jerusalem.
Explore the City of David
Not to be confused with the Tower of David in the Old City, the City of David is located just down the hill from the Dung Gate. This stunning archeological site, with finds dating back over 6,000 years, is believed to have been part of Jerusalem's urban area during the time of the Temples. Today you can visit the archeological park to learn about the history of the area, see ancient relics in the places of their discovery and even wade through the water tunnels that ancient Israelites used to supply their city.
Note that the tunnel tour is not recommended for kids under 5, and babies can only be in front carriers (no back carriers or strollers) – water can be up to 28 inches deep in some parts of Hezekiah's tunnel. If you choose to walk through the tunnel, the tour is three hours long; without the tunnel, it's two hours long. I do recommend using a guide to add more context for your visit.
Stroll Ben Yehuda Street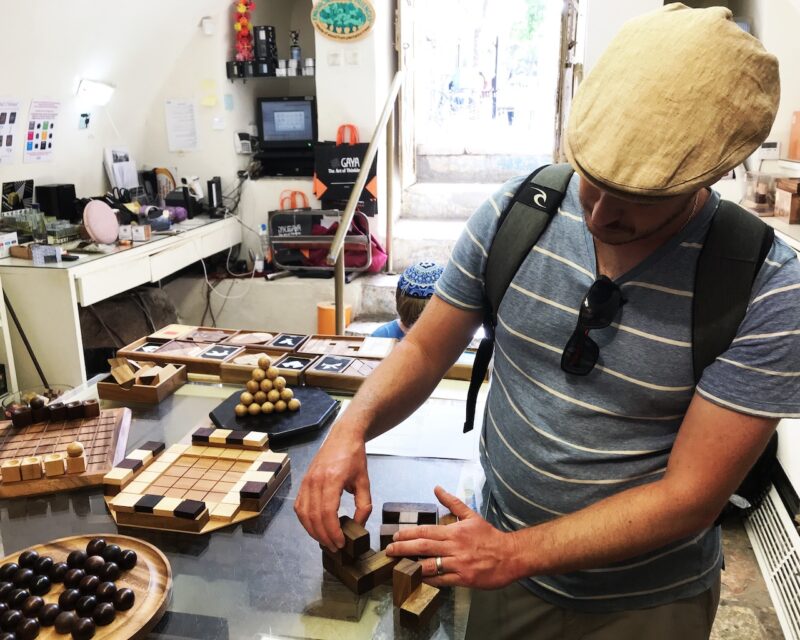 I don't know about your kids, but our kids love stores. It doesn't matter what type, but they could spend hours in almost any store. Ben Yehuda Street and the adjoining smaller streets are like a little paradise for them! There are shops with every style of Jewish ritual objects, kippah stands selling everything from embroidered velvet to Superman-themed choices, several toy stores, multilingual bookstores and, of course, places to eat. We recommend a stop at Moshiko for falafel. On a nearby side street, Gaya – The Art of Thinking makes for a fun – and lengthy – stop for kids and adults of all ages! (You'll generally start at Jaffa Street in Kikkar Tziyon/Zion Square and then make your way down Ben Yehuda).
Shop like a local at Mahne Yehuda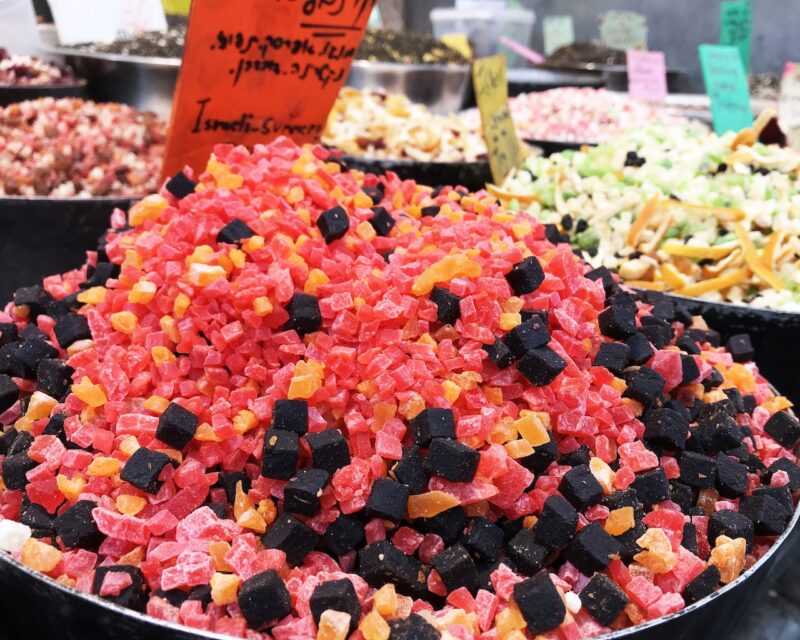 Machne Yehuda, known locally as "the shuk" is a popular spot for tourists and locals in Jerusalem, albeit with different purposes. You'll find plenty of Jerusalemites picking up their meats, produce, spices and local specialties in the market, but it also affords plenty of opportunities to soak up the colorful sites and fragrant smells. This is definitely one of the best activities in Jerusalem for foodies! You can even take a food tour that shows you the best spots.
Looking for more activities? Check out the best day trips from Jerusalem
In addition to the stalls selling raw food, housewares and trinkets there's a large area populated by restaurants of all sizes. After dark, the vendors shut down and some of the country's trendiest restaurants and clubs open up, making the shuk one of Israel's nightlife hot spots. Not what you'd expect just a few minutes' walk from one of the holiest places on earth.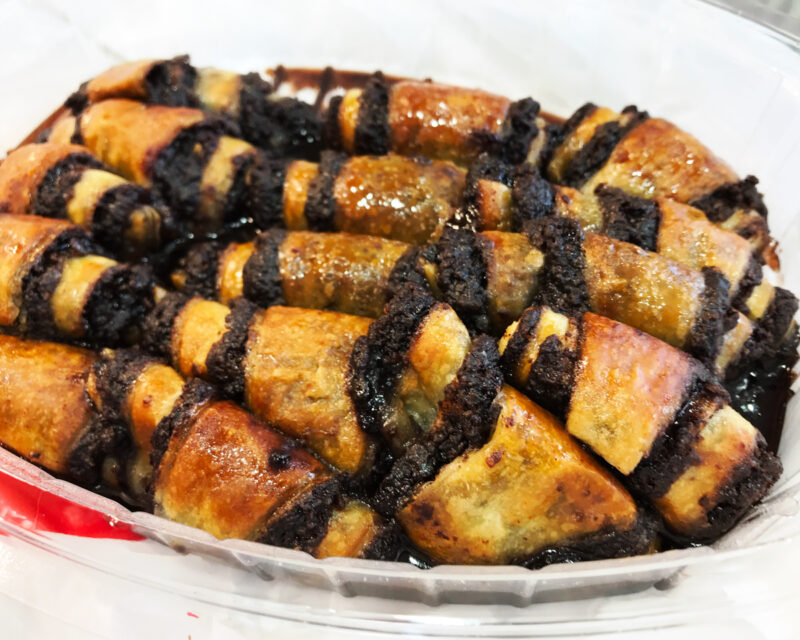 Pro tip: Just before you reach the first entrance to the shuk, stop at the open-air Marzipan bakery next door for some of their indulgent, gooey, chocolatey ruggalah. In our opinion, it's the best in the world! Fortunately they're open late, so you can stop for a second round on your way out like we do.
Relax at the old Jerusalem Train Station
The original railway system in Israel only ran during the first half of the twentieth century, before statehood, but fortunately several of the train stations are still standing!
The old Jerusalem train station (also called "The First Station" or "Jerusalem tachana") was long an abandoned, seedy eye-sore in an otherwise lovely residential part of the city – during my first few visits over a decade ago, I remember the old train station as the only place in the whole country where I felt unsafe.
Today, a huge investment in redevelopment has turned the tachana into one of the city's best gathering places and a top place in Jerusalem for kids. There are restaurants, small shops and kiosks, a play gym with activities for all ages, miniature train rides, arcade games and frequent community events at the First Station. Our kids love going to the old Jerusalem train station! It's a great place to visit in the late afternoon to let the kids run around and play before you have dinner and stroll back to your hotel or apartment. It's one of our favorite activities in Jerusalem with kids.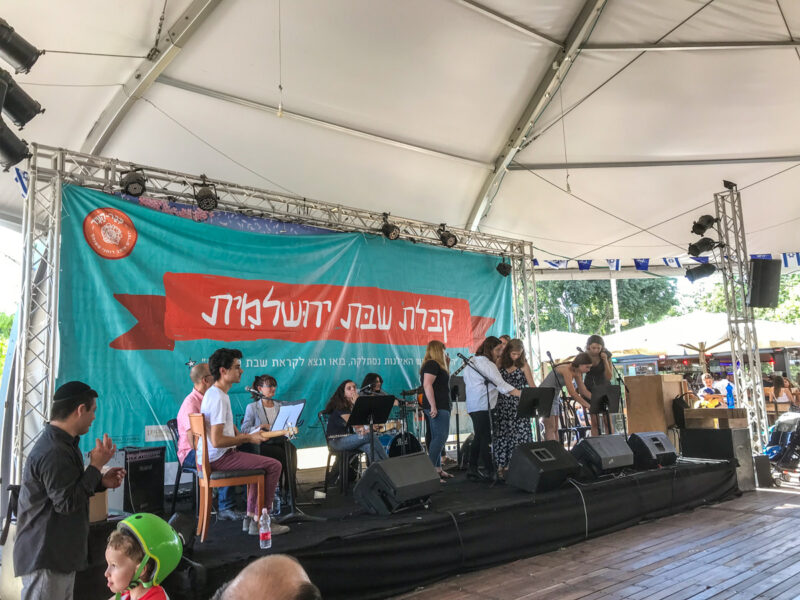 If you'll be in Jerusalem for Shabbat and don't have dinner plans, look for the free Kabbalat Shabbat service in the middle of the train station and then get dinner at one of the restaurants (only a few are open after sunset, but there are more options than in other parts of the city).
History buffs should spend a little time reading the placards on the columns near the original entrance to learn the chronological history of the Israeli railway system. There are some shocking stories!
Spend the day at the Israel Museum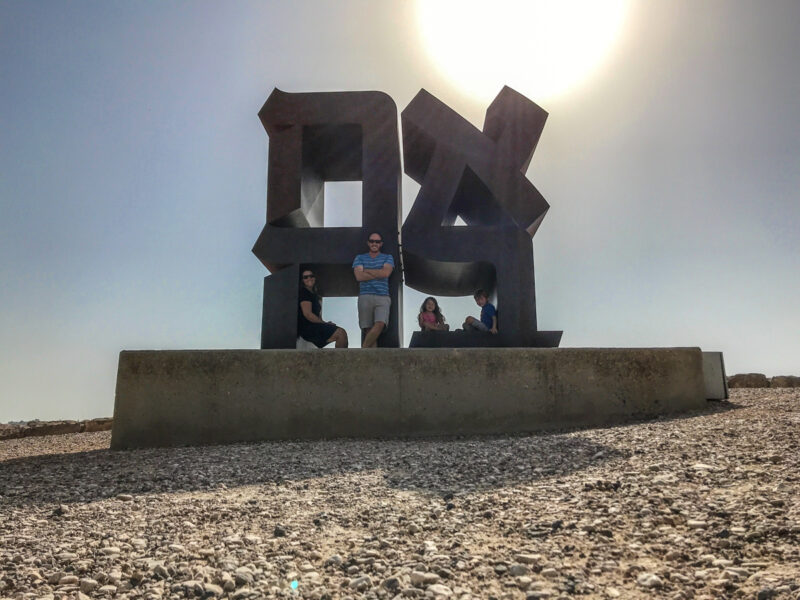 The Israel Museum is truly a blockbuster for visitors of all ages. You could spend a whole day exploring the various exhibits, but if you're visiting Jerusalem with kids you probably won't get that long. It's important to know going in that this is Israel's national museum, but it's not necessarily a museum about Israel's history; there are elements of history, but it's so much more than that!
Here are some priorities for your visit: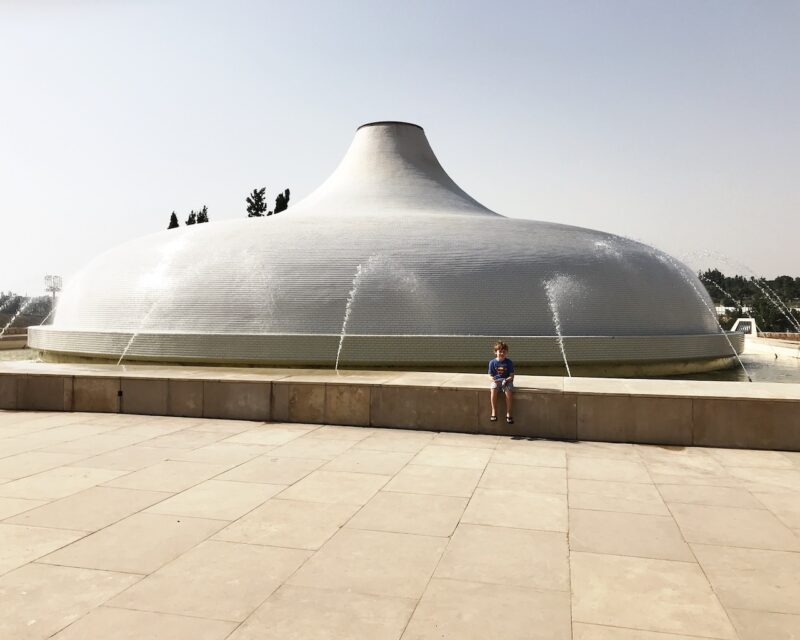 -The most remarkable thing to see at The Israel Museum are the remarkable Dead Sea Scrolls. These 2500 year old handwritten scrolls were found in caves in Qumran near the Dead Sea and, thanks to their storage in clay pots, they're amazingly well preserved. Start your visit with the excellent introductory movie that explains both the scrolls and their discovery. Even better? The movie comes in an adult version and an animated kids version!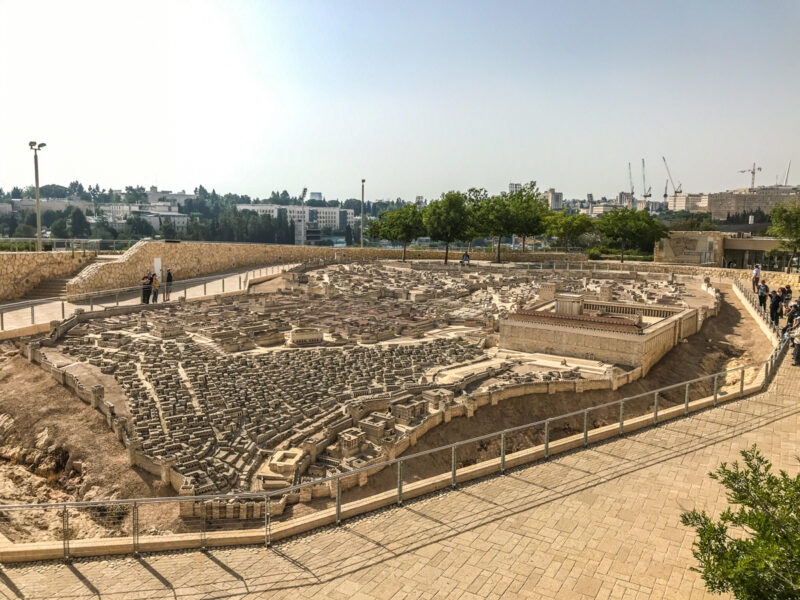 -While you're outside, take a few minutes to wander through the sculpture garden to see the scale-model of the city at the time of the Second Temple. You can walk all the way around and see that, other than the imposing Temple itself, the Old City looks much the same! Keep walking a little further into the sculpture garden for the iconic ahava ("love") letters.
-In the indoor core exhibits, the most fascinating for kids is "synagogue alley" where the interiors of unique synagogues from around the world have been relocated and rebuilt for preservation. You can walk through synagogues from India, Italy, Suriname and more!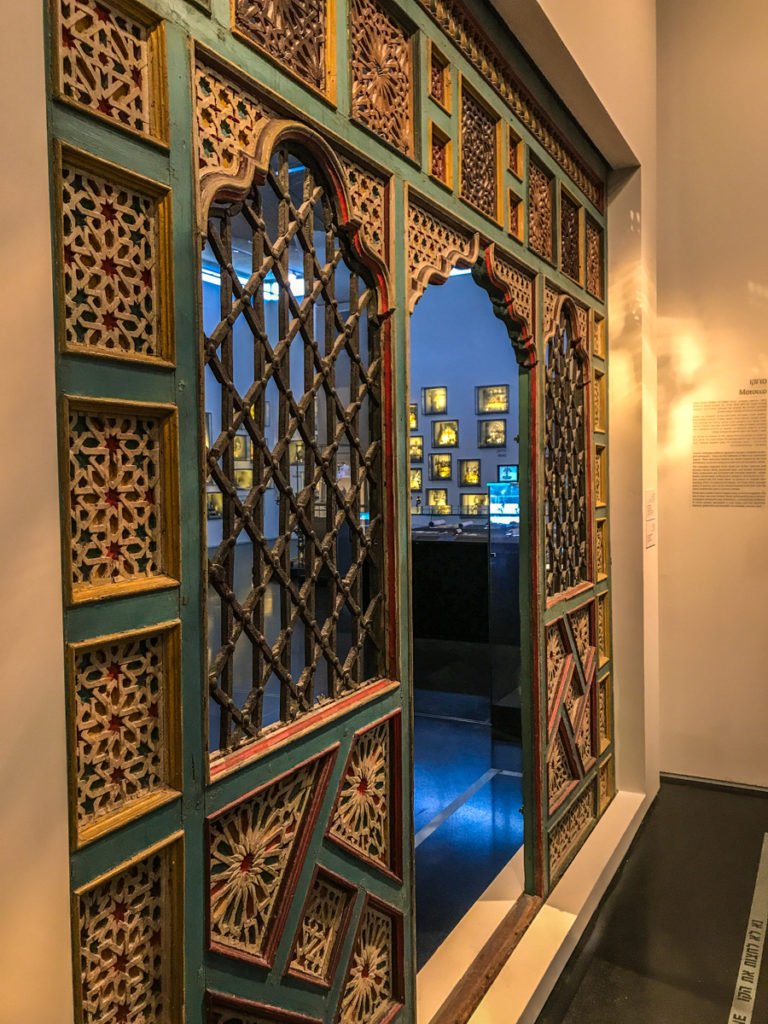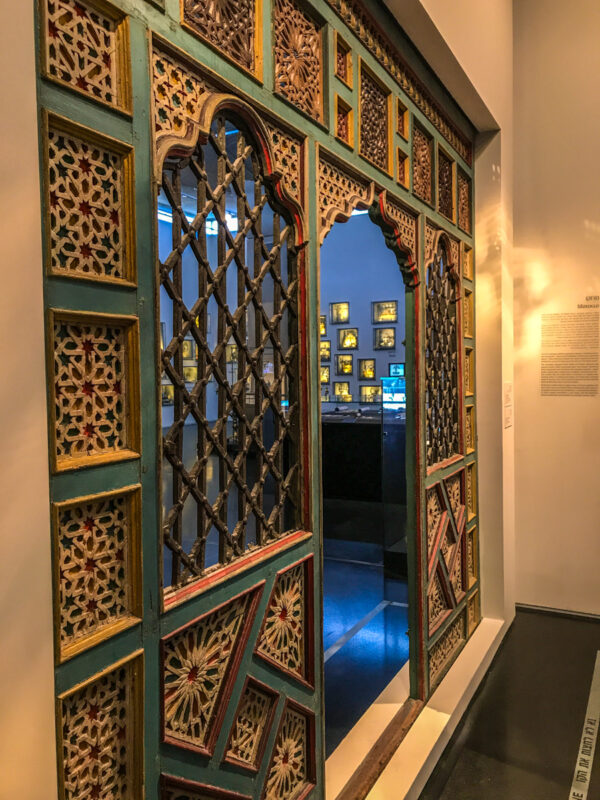 -Finally, there's an entire wing just for youth! This is geared for older children and art education and its hours are not as extensive as the rest of the museum, but if it's open it's certainly worth visiting since it's one of the premier art education centers in the world.
The Israel Museum has strange hours (sorry, there's no other way to say it!). Every day except Tuesday and Friday the museum is open 10am to 5pm. On Tuesdays it's only open 4-9pm but kids are free. On Fridays and the day before major holidays the museum is open 10am-2pm. Kids are also free on Saturday making this one of the best things to do in Jerusalem on Shabbat if you have a car. You'll want to drive or take a bus to the museum, but be advised that buses don't run on Shabbat.
Are you thinking about renting a car in Israel? Read these 10 important tips first!
Visit the Jerusalem Zoo
The Tisch Family Zoological Zoo, also known as the Jerusalem Biblical Zoo, is a lovely spot about 5 miles south of the Jerusalem Old City in the Malha area (near the big mall and the Malha train station). You'll find the typical complement of zoo animals but with an emphasis on animals typical of the region and those mentioned in the Bible. There's a nice focus on conservation of endangered species and the zoo's successful breeding of some of them.
Kids will love taking the little train around to the Jerusalem Biblical Zoo's far-flung areas and the relatively cage-free layout of most parts. You'll want to drive or take a bus to the museum, but be advised that buses don't run on Shabbat. If you have your own car, this is a great pick if you're wondering what to do with kids in Jerusalem on Shabbat.
Meet local sea life at the Israel Aquarium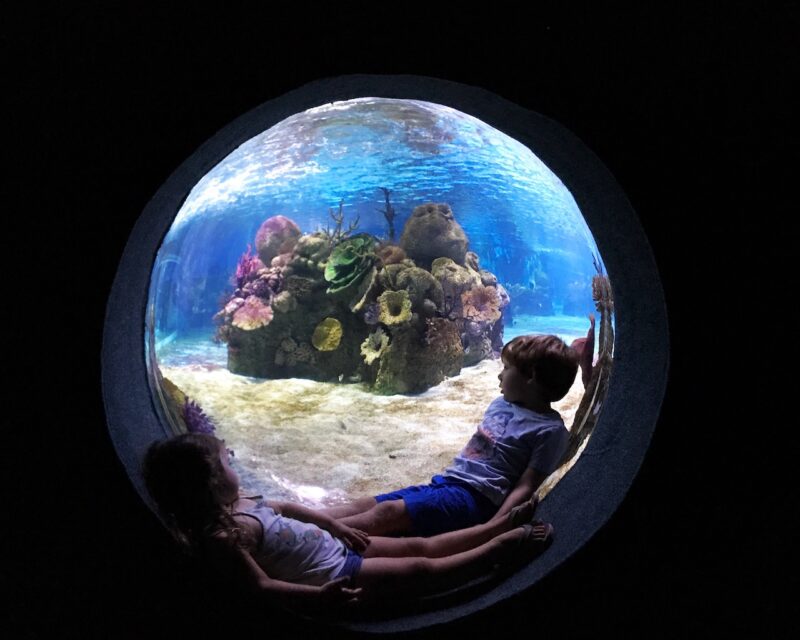 Next door to the zoo, you can learn all about the creatures living in Israel's bodies of water at the Israel aquarium. The exhibits are loaded with fantastic education displays on the Mediterranean Sea, the Red Sea, the Sea of Galilee and the Dead Sea. The display tank near the end of the aquarium's circular path is one of the largest we've seen anywhere in the world and some brilliant designer put bean bag couches all over the room. It's surely one of the most tranquil places in Israel, and we spent almost thirty minutes just relaxing and watching the fish swim by. You'll want to drive or take a bus to the museum, but be advised that buses don't run on Shabbat.
Hands-on learning at the Bloomfield Science Museum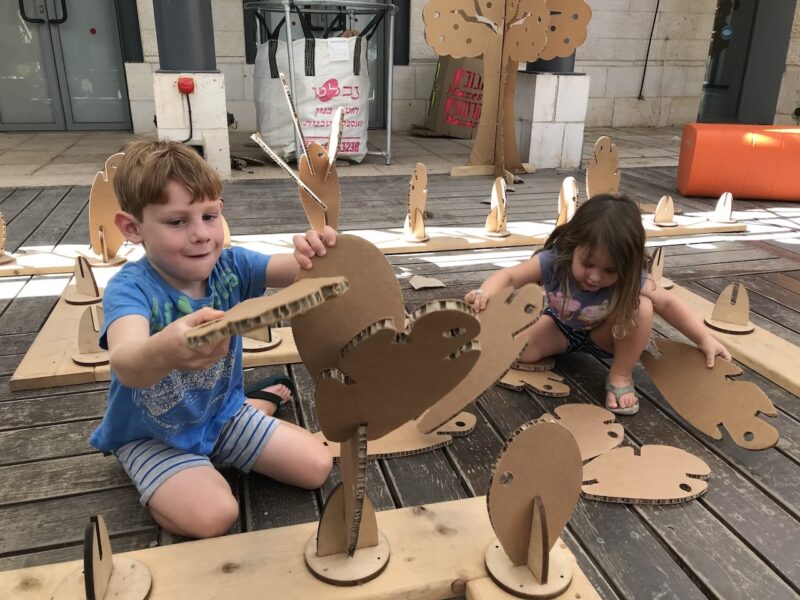 If your kids enjoy science museums as much as ours, take a break from the history tourism with an afternoon at the Bloomfield Science Museum. There are tons of great hands-on exhibits and lots of educators to show you around if you want guidance. The greenhouse is especially interesting, so make sure to head back there.
The Jerusalem science museum is open every day except Sunday but with shorter hours on Friday and Saturday – it definitely flies under most visitors' radars in terms of family activities in Jerusalem, as we were one of just a few families there for a weekday visit.
The best part? The Bloomfield Science Museum is a member of the ASTC Passport program, so you'll get free admission if you bring your membership card from your local science museum! You'll want to drive or take a bus to the museum, but be advised that buses don't run on Shabbat.
Ready to head to Tel Aviv? Check out our insider tips for kid-friendly Tel Aviv!
Family-friendly restaurants in Jerusalem
Jerusalem is overflowing with appealing restaurants! The awesome thing about eating in Israel is that there are great options for any type of food you might seek.
Moshiko Falafel on Ben Yehuda Street is a great choice for a quick lunch. Choose between a falafel sandwich – complete with all the fixings if you want – or a plate that may be easier for young kids to manage.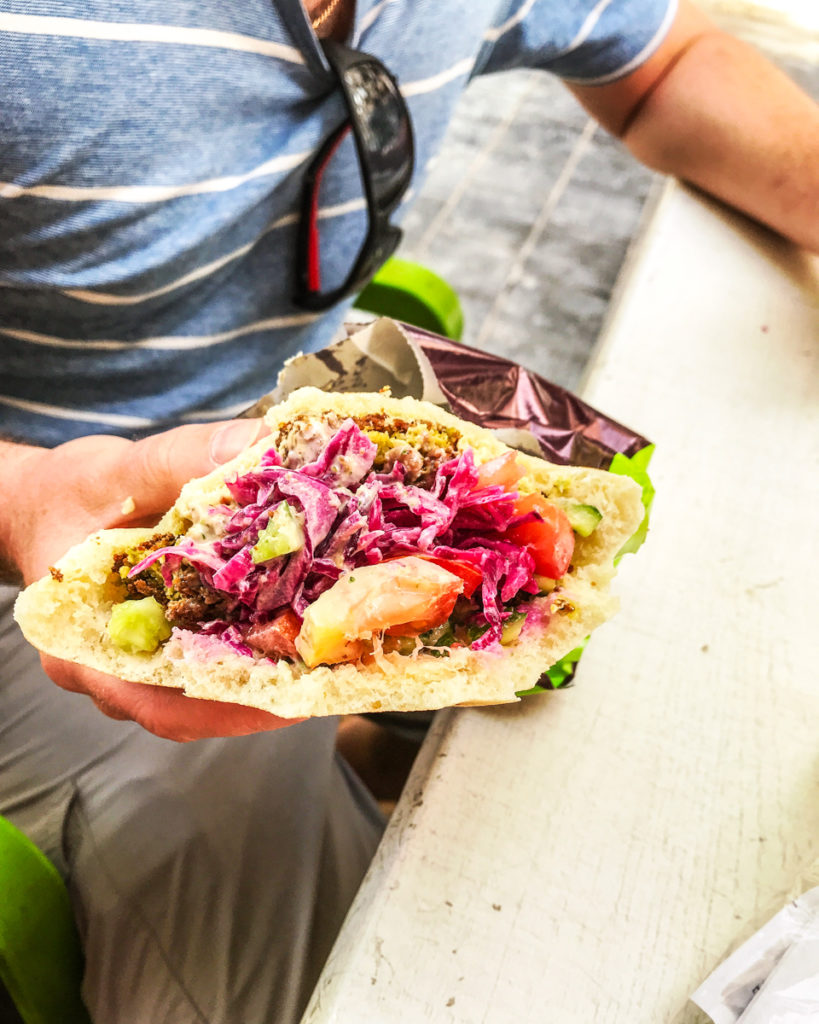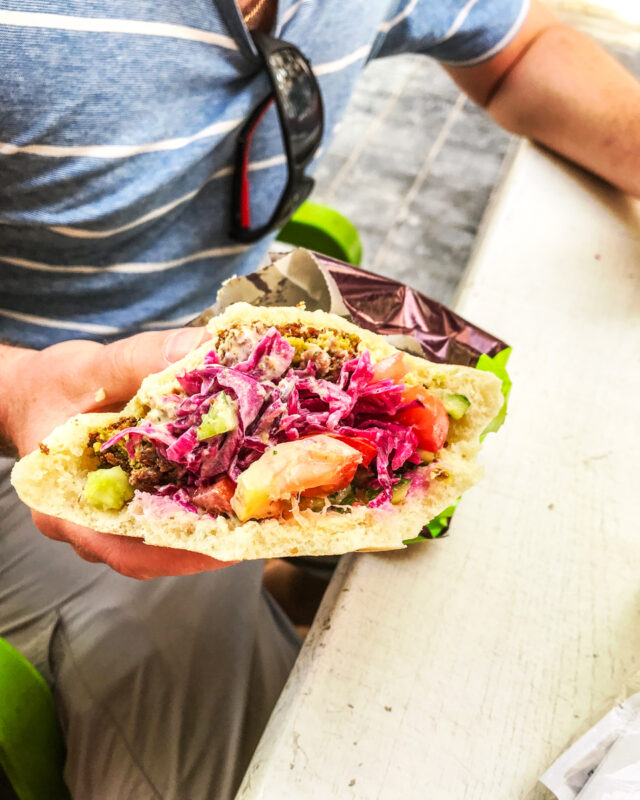 Tala Hummus and Falafel just inside the Jaffa Gate is another good option for a traditional hummus and falafel lunch, especially if you're eager to sit in the shade after touring the Old City. This is a good alternative to the pricey Mamilla Mall restaurants.
Etz Cafe is a great option for a hearty American-style brunch off of Jaffa Street.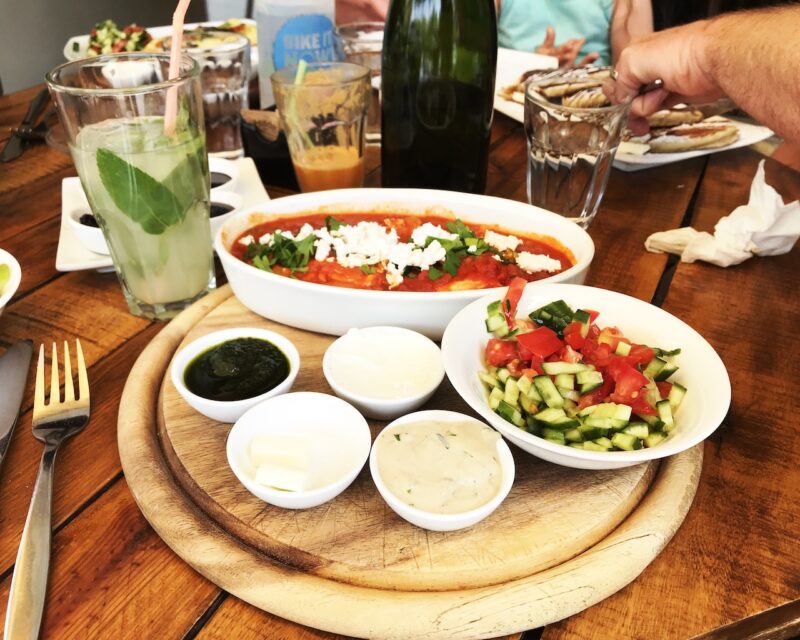 Joe Coffee, across the street from Bloomfield Garden and the Montefiore windmill, is a nice place for coffee or a sandwich.
Village Green is around the corner off of Jaffa Street and offers a wide range of vegetarian options in a buffet setting, which is great for indecisive kids.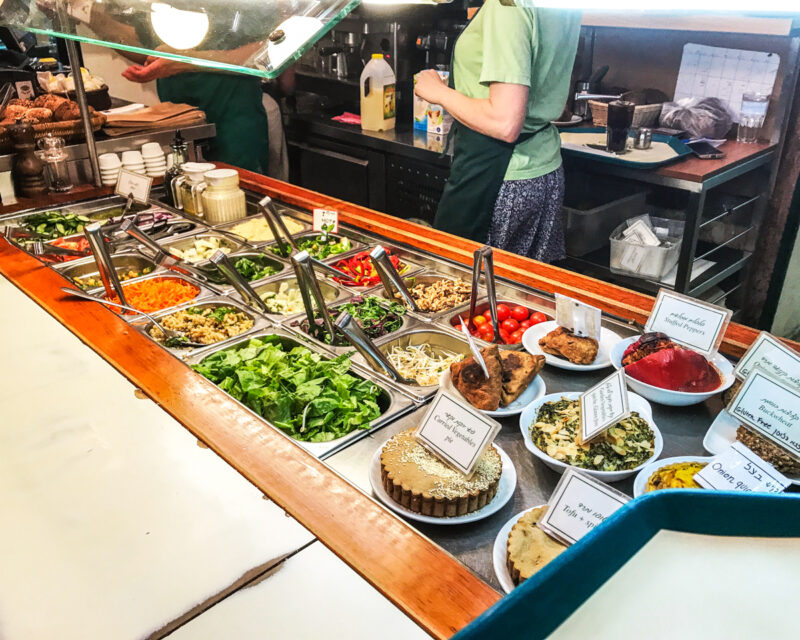 Bardak Pizza Bar serves up satisfying pizza at reasonable prices right next door to Joe. Make sure to try some distinctly Israeli pizza toppings like olives and corn! Their outdoor seating is great in the summer.
Captain and Blondie are twin restaurants at the old Jerusalem train station, serving up kosher hamburgers at one and wonderfully indulgent grilled cheese at the other. Don't miss the onion rings! The ambiance is nice, surrounded by the liveliness of the station.
Burgers Bar serves up excellent burgers in the the city center (on both Jaffa and Shamai Streets) and in the German Colony. They even have turkey burgers on the menu! They offer a kids menu and our family's resident connoisseurs rate this as their favorite burger in Jerusalem. The ambiance swings to "fast casual" but there's plenty of seating.
Caffit is a wonderful, if slightly fancier, fish, dairy and vegetarian restaurant with two great locations: one across the street from Mamilla and the other in the heart of the German Colony. Prices are a little higher than some other restaurants, but the dishes are creative while still nodding to many traditional foods and there's a kids menu.
Rebar has several locations around the city and offers heat-beating fruit smoothies, including kid-friendly sizes and flavors. If you stay in the German Colony, you'll frequent the ones on Emek Refaim and at The First Station.
Want to learn more about food in Israel? Check out these 20 foods you can't miss!
Where to stay in Jerusalem with kids
There are a few main areas of Jerusalem where we'd recommend staying with kids, and the experience is very different depending on which area you choose! None will be a bad choice, so where to stay in Jerusalem with kids will just be a matter of preference and budget.
We even have a full guide to choosing where to stay in Jerusalem.
The most convenient place to stay in Jerusalem, especially on a short sightseeing visit, is along Jaffa Street. That area is basically flat and puts you in close proximity to the Old City, Ben Yehuda Street and Mahne Yehuda plus tons of restaurants. We stayed in a lovely, reasonably-priced apartment at Stay Jaffa Jerusalem (formerly called Check In Jerusalem) – complete with a washing machine and kitchenette. Book your apartment today – and make sure to price out a few stay durations, as it cost us just $50 to add another night.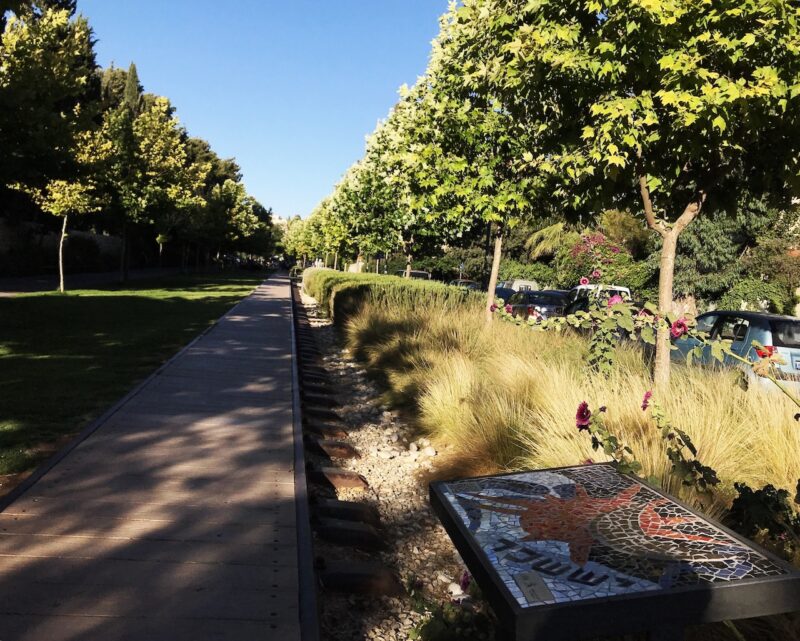 Want to live like a local? Choose an apartment in the German Colony for a quieter pace, tons of playgrounds and a non-tourist grocery store. I've stayed there many times and it's my favorite area, especially for families. We loved our Home Exchange apartment and found it to be the perfect base for a longer stay in the area. Here are more great rental apartments and hotels in the German Colony of Jerusalem:
Use the interactive map to find vacation rentals and hotels in Jerusalem
---
Need help planning your itinerary for Israel? We've got you covered!
Mapping Jerusalem with kids
For the visual folks out there, we've put together this handy map showing all of the top attractions, restaurants and places to stay for families visiting Jerusalem. Now get out there an explore!
Jerusalem with kids FAQs
Is Jerusalem kid friendly?
Yes, Jerusalem is extremely kid-friendly. You'll see families everywhere and there's no expectation that kids will be sitting quietly in a corner either!
Is Jerusalem worth seeing?
You should definitely visit Jerusalem on your Israel itinerary, it's essential to the country's history and identity.
Plan your trip to Israel
Money-saving travel resources:
–Find the cheapest flights on Skyscanner
–Book your discounted rental car on RentalCars.com
–Compare travel insurance options
–4 simple hacks to save more money on booking.com

Check out these helpful articles to plan your upcoming trip to Israel:
–The perfect 10 day Israel itinerary
–3 days in Jerusalem itinerary
–2 days in Tel Aviv itinerary
–Where to stay in Israel
–50 things to know before you visit Israel
–What to pack for Israel in each season
–When is the best time of year to go to Israel?
–10+ must-read tips for renting a car in Israel
–20 foods you have to try in Israel
–25+ best books about Israel
–Where to stay in Jerusalem
–What to do in Jerusalem on Shabbat
–Israel with kids: the complete guide
–Visiting Jerusalem with kids
–Visiting Tel Aviv with kids
–Best day trips from Tel Aviv
–Best day trips from Jerusalem
–Your Israel itinerary for (more or less) 10 days
Still planning? Pin this article for later!