Visiting Jerusalem is, in many ways, the most important part of your Israel trip itinerary. For as much as Israel offers modern city life and stunning outdoor escapes, Jerusalem remains the country's beating heart and its raison d'être.
How many days in Jerusalem depends on your priorities and interests, but for most first-time visitors 3 days in Jerusalem offers enough time to get a taste of what makes the city so special to millions around the world. You'll see some of the best things to do in Israel and even a few less common tourist attractions as you read about what to do in Jerusalem. After reading this article, you'll understand the best Jerusalem itinerary for first time visitors, where to stay in Jerusalem and important tips to know before you go.
If you decide to extend your visit to 4 days in Jerusalem, you'll also have the opportunity to explore beyond the typical tourist spots on great day trips from Jerusalem.

Continuing in Tel Aviv? Here's the 2 days in Tel Aviv itinerary you need!
One Day In Jerusalem – Holy Sites in the Old City
Are you trying to decide what to do in Jerusalem? When most tourists think of visiting Israel, at the forefront of their minds is an iconic view of Jerusalem's Old City. You'll want to start your day with a hearty breakfast and wear comfortable shoes like these because you'll be walking A LOT today. Also make sure to wear clothing that covers your knees and shoulders (a scarf or sarong will do) though a skirt isn't required. Before heading out into the ancient city for the day, pack your bag with these essentials:
Get more info on what to wear in Jerusalem (and other Israel packing tips)
Old City and Religious Sites Tour
To get oriented and learn some critical history, join a group tour of the Old City. We took our kids on Sandeman's excellent 2 hour free tour and that was a great choice to get them a basic overview of Jerusalem's four quarters, but if you're traveling without young children and would like a more in-depth visit we recommend taking this reasonably priced 3 hour tour. You'll get a guided look at the Church of the Holy Sepulchre, the Dome of the Rock, King David's Tomb and more – Ronnie and I have done similar guided tours on prior trips and will do one with our kids when they're older. Click here to reserve your spot.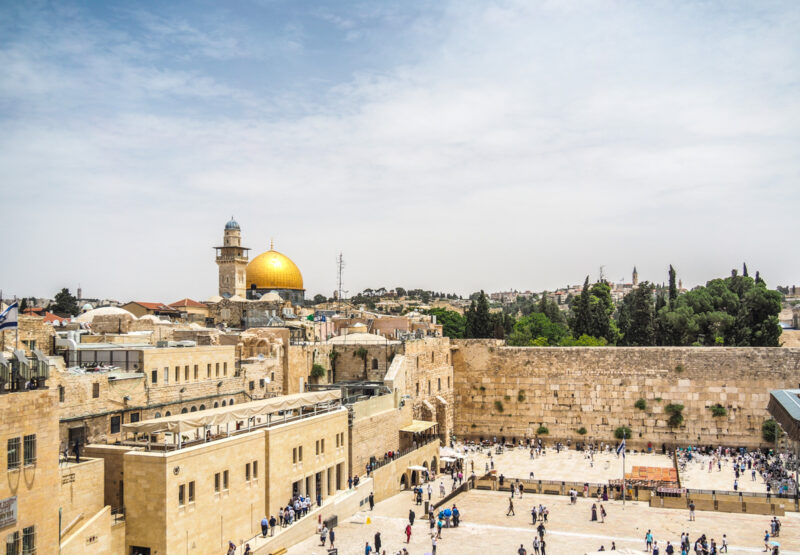 If you're doing the 2 hour free tour, you'll almost certainly have a few more activities to do in the Old City. We recommend refueling with a delicious lunch at Tala Hummus bar – it happens to be Sandeman's HQ, so you'll get 10% off with your ticket (even if it's for the free tour!). Where you go after lunch will depend on your own preferences, as the Old City is overflowing with important religious and historical sites.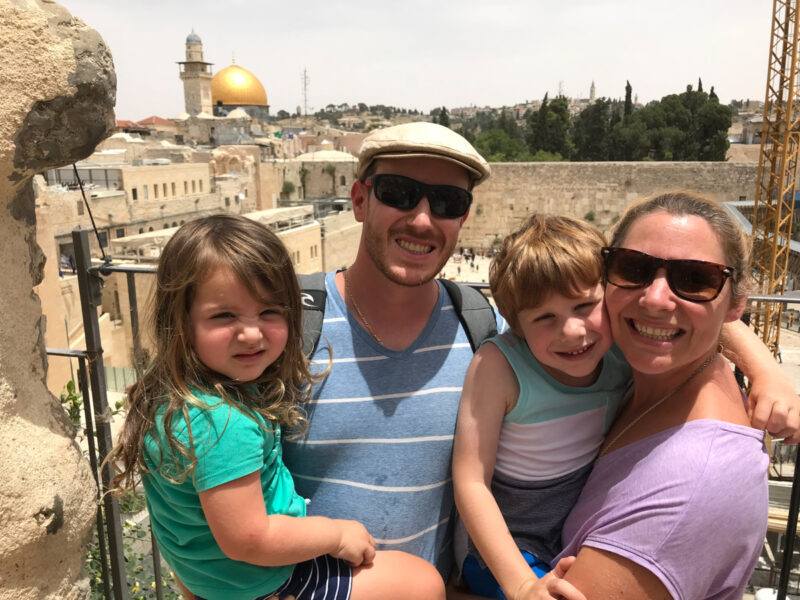 There are, of course, the kotel and the adjoining Kotel Tunnels (Western Wall tunnels) – well worth a tour if you will already be there! You can actually get underneath the Western Wall to see layers of history that are continuously being excavated further. Just outside Dung Gate you can also check out the extensive archeological site.
Check out more great ideas for visiting Jerusalem with kids
If you are more interested in Christian sites in Jerusalem, you could spend hours just visiting the many different areas of the Church of the Holy Sepulchre and the nearby tomb of King David where the Last Supper is believed to have occurred.
If you are interested in seeing the Dome of the Rock and Al Aqsa mosque up close make sure to check opening hours, as times may depend on the season, holiday schedules and security needs. Note that non-Muslims may not bring any books or religious objects up to the Temple Mount and only Muslims can enter the mosques.
Beware falling victim to Jerusalem syndrome!
Pro tip: When you're ready to exit the Old City, head back out through Jaffa Gate unless you're a glutton for punishment. If you exit via Dung Gate (next to the Kotel), you'll have a long walk up hill followed by a walk downhill. Might as well save yourself the trouble!
Exhausted yet? Me too! You're probably ready to sit down somewhere and refuel. The most convenient (and most expensive) options near the Old City are located inside the luxury Mamilla Mall. It's a pleasant place to visit whether or not you eat there thanks to the dozens of sculptures places along the main thoroughfare. If you're looking for a more budget-friendly meal, check out the excellent pizza at Bardak across from Yemin Moshe.
Your final stop is back inside Jaffa Gate for the night time light projection at the Tower of David. They now offer two different shows, Night Spectacular and the KING DAVID show. Check here for the updated schedule and to buy your tickets.
If you aren't feeling up to the late-night show, you can always go for a stroll along Jaffa Street and enjoy the street performers, especially if you're staying in the area. It's a great place to see the cross-section of Jerusalem's populace: religious couples out for a date, off-duty soldiers with their guns slung casually over their shoulders out of obligation, secular families pushing strollers and more.
2 Days In Jerusalem – Strolling and Shopping in Jerusalem
After yesterday's high-impact itinerary, it's time to slow down and relax a little – and do some shopping while you're at it. Grab a relaxed breakfast at Jo at the corner of King David with Jabotinsky and Keren HaYesod.
Jerusalem outside the city walls
You'll stroll across the street to visit the iconic Montefiore windmill, enjoy the sculptures of the Blumfield Garden and explore the terraced, flowered, pedestrian-only streets of Yemin Moshe, the first neighborhood built outside of the Old City walls.
The area was initially built as overflow housing – in a dangerous area susceptible to attack by local nomads – at a time when disease was running rampant through the densely packed ancient alleyways of Jerusalem but it's now a pricey and peaceful enclave surrounded by the major developments of the modern city.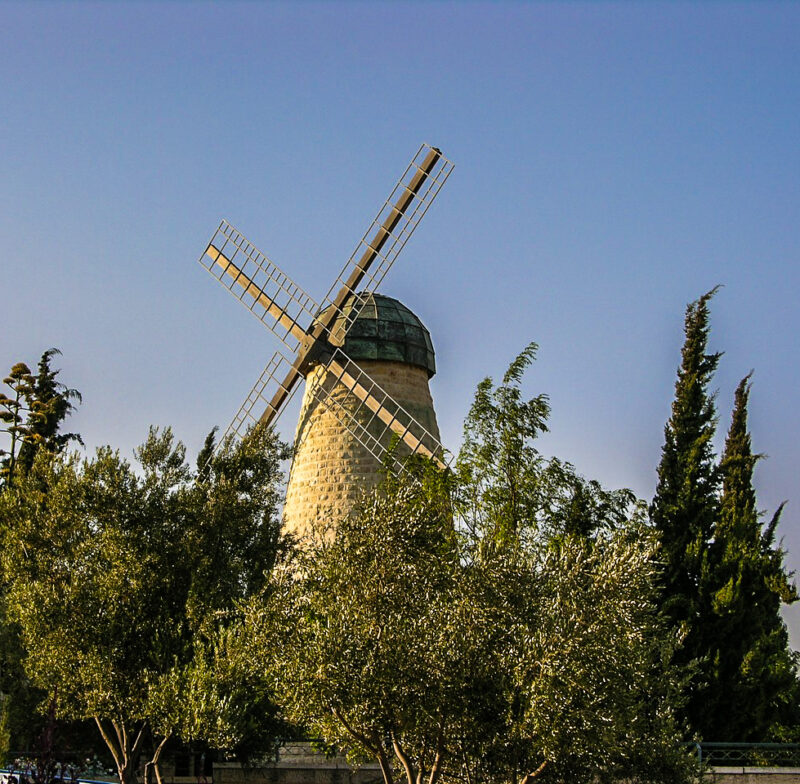 City of David
If you have interest in more ancient archeological sites, head to Ir David (City of David) just downhill from Dung Gate (where the Western Wall entrance is located). What is Ir David? Simply put, it's the original Jerusalem, with the earliest archeological evidence dating back a whopping six thousand years.
The name today comes from King David's capture of the city as recounted in the bible, estimated to have occurred about three thousand years ago. This stunning archeological site, with finds dating back over 6,000 years, is believed to have been part of Jerusalem's urban area during the time of the Temples. Today you can visit the archeological park to learn about the history of the area, see ancient relics in the places of their discovery and even wade through the water tunnels that ancient Israelites used to supply their city in the face of Assyrian siege.
Note that the tunnel tour is not recommended for kids under 5, and babies can only be in front carriers (no back carriers or strollers) – water can be up to 28 inches deep in some parts of Hezekiah's tunnel. If you choose to walk through the tunnel, the tour is three hours long; without the tunnel, it's two hours long. I do recommend using a guide to add more context for your visit.
Jaffa and Ben Yehuda Streets
Your next stop is right in the middle of Jaffa Street, beginning at Kikkar Tziyon in the modern city center. The square itself is tiny and nothing to see but it's the start of Ben Yehuda Street, one of the most popular souvenirs shopping streets in Israel.
Most of the souvenirs here aren't knickknacks and cheesy slogan t-shirts; rather, you'll find shop after shop filled with Judaica items to satisfy every style and budget. Take your pick of menorahs, Seder plates, blessings for the home, hamsas, jewelry, kippot and more. There's no Jewish ritual object you won't find here, and also plenty of options that are great souvenirs from Israel even for non-Jews.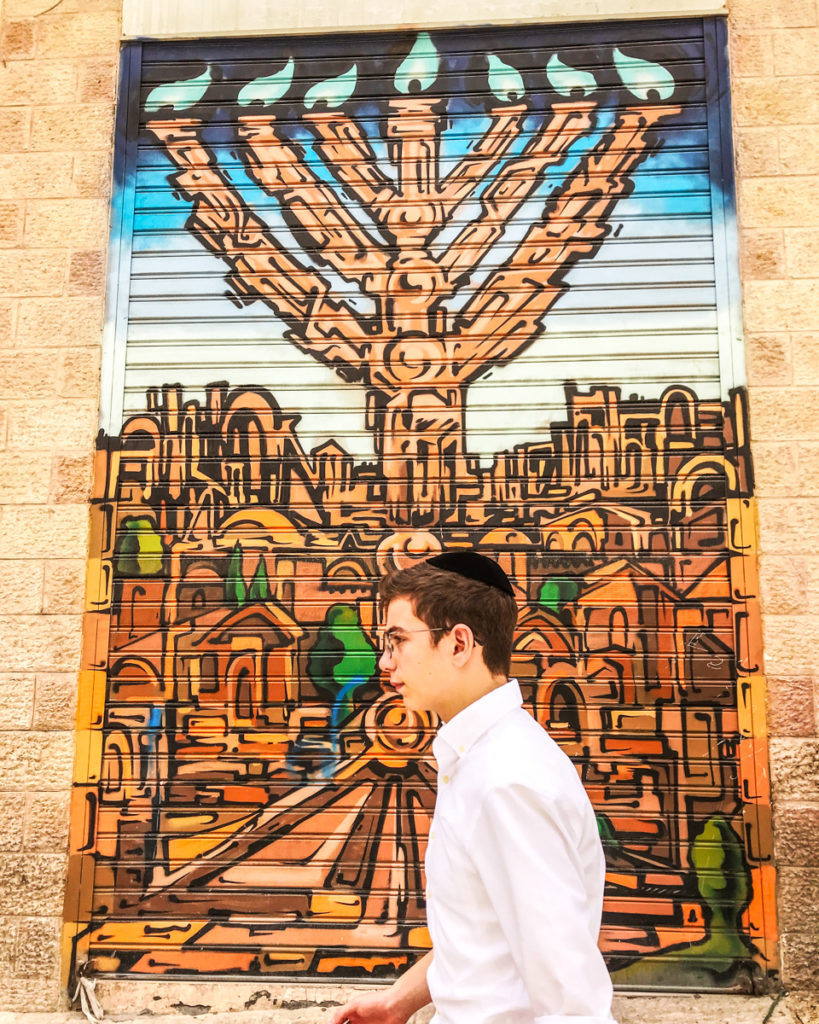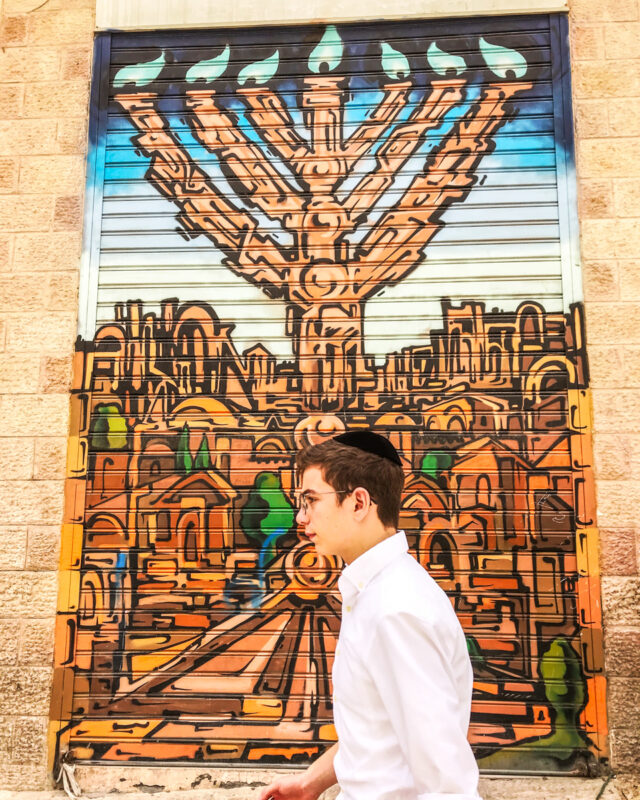 Sadly, my two favorite shops in the area have closed down in recent years (one of them after nearly a century serving the community) but most of the Judaica shops on Ben Yehuda Street have similar offerings. If you're looking for stores with a more traditional selection catering to the Orthodox community, venture deeper into some of the side streets. My suggestion is to find one that has a wide selection you like and then negotiate for a deal on multiple items – their list prices are already better than what you'll find in the US, but we've always been able to come away with a nice package price to boot.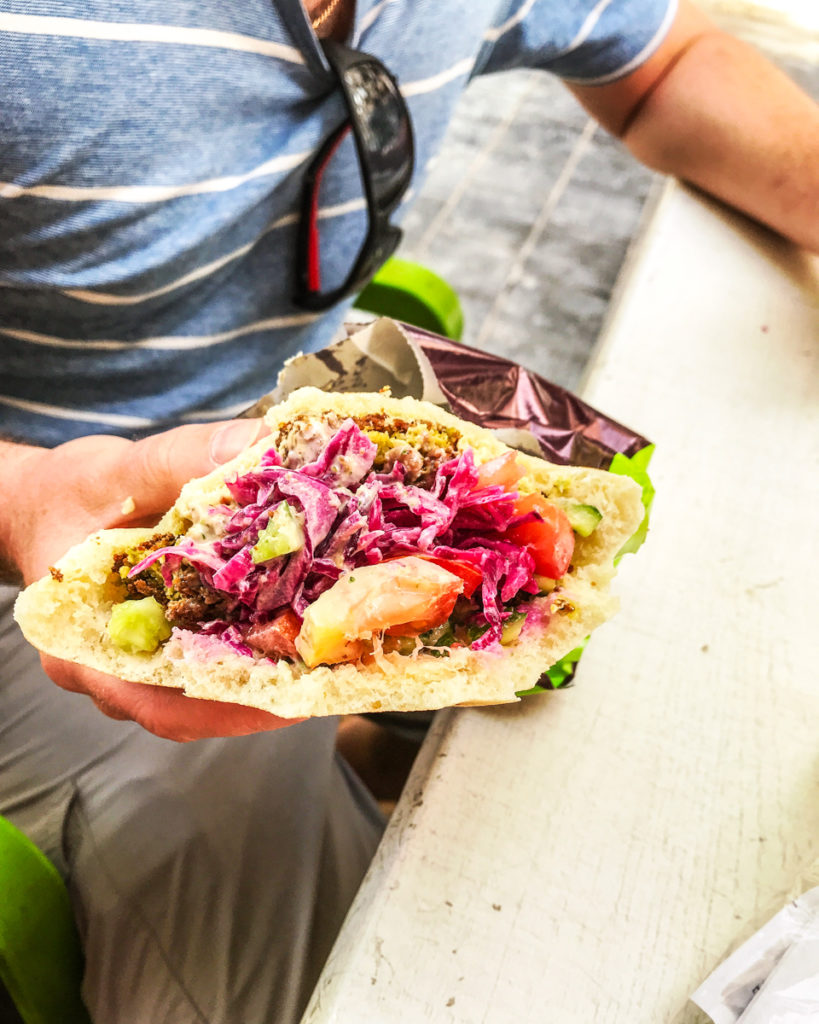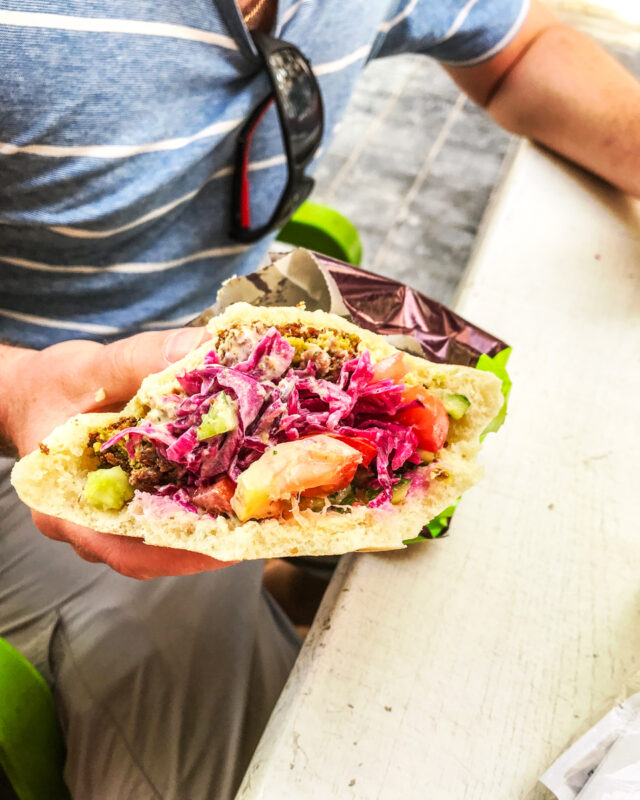 Stick with traditional Israeli street food for lunch with a quick stop at Moshiko. Despite its location in such a touristy area, it's actually a pretty solid falafel.
The Shuk (Machne Yehuda market)
Once you've finished lunch stroll on over to Machne Yehuda, also just known locally as "the shuk". You'll find plenty of Jerusalemites picking up their meats, produce, spices and local specialties in the market, but it also affords plenty of opportunities to soak up the colorful sites and fragrant smells. This is definitely one of the best activities in Jerusalem for foodies! You can even take a food tour that shows you the best spots.
Your first stop is to pick up some hard-fought dessert at Marzipan, which arguably serves up the world's best rugelach – a sticky, gooey, chocolate-filled rolled cookie. They have other stuff, but the rugelach is where it's at. Do yourself a favor and just buy a whole box. It'll keep for a day or two, though it may not last that long!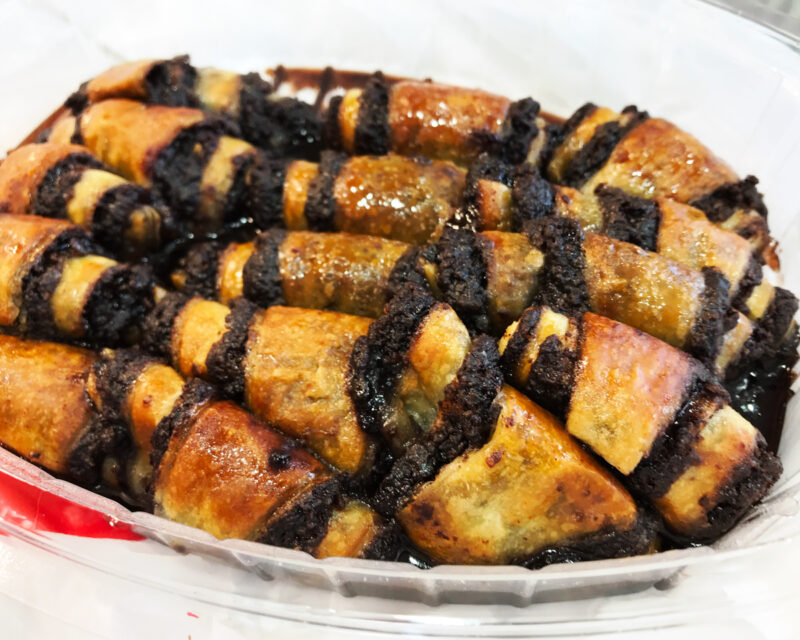 Moving into the shuk, it's time to browse to your heart's content! Spices, olives, fruits, vegetables, meat, toys, souvenirs… you'll find it all, along with a reasonable selection of solid restaurants to choose from. Some areas are covered, while others are open-air. Take your time shopping amongst the mixed crowd of locals and tourists, then find a place in the area to relax with a coffee or a beer.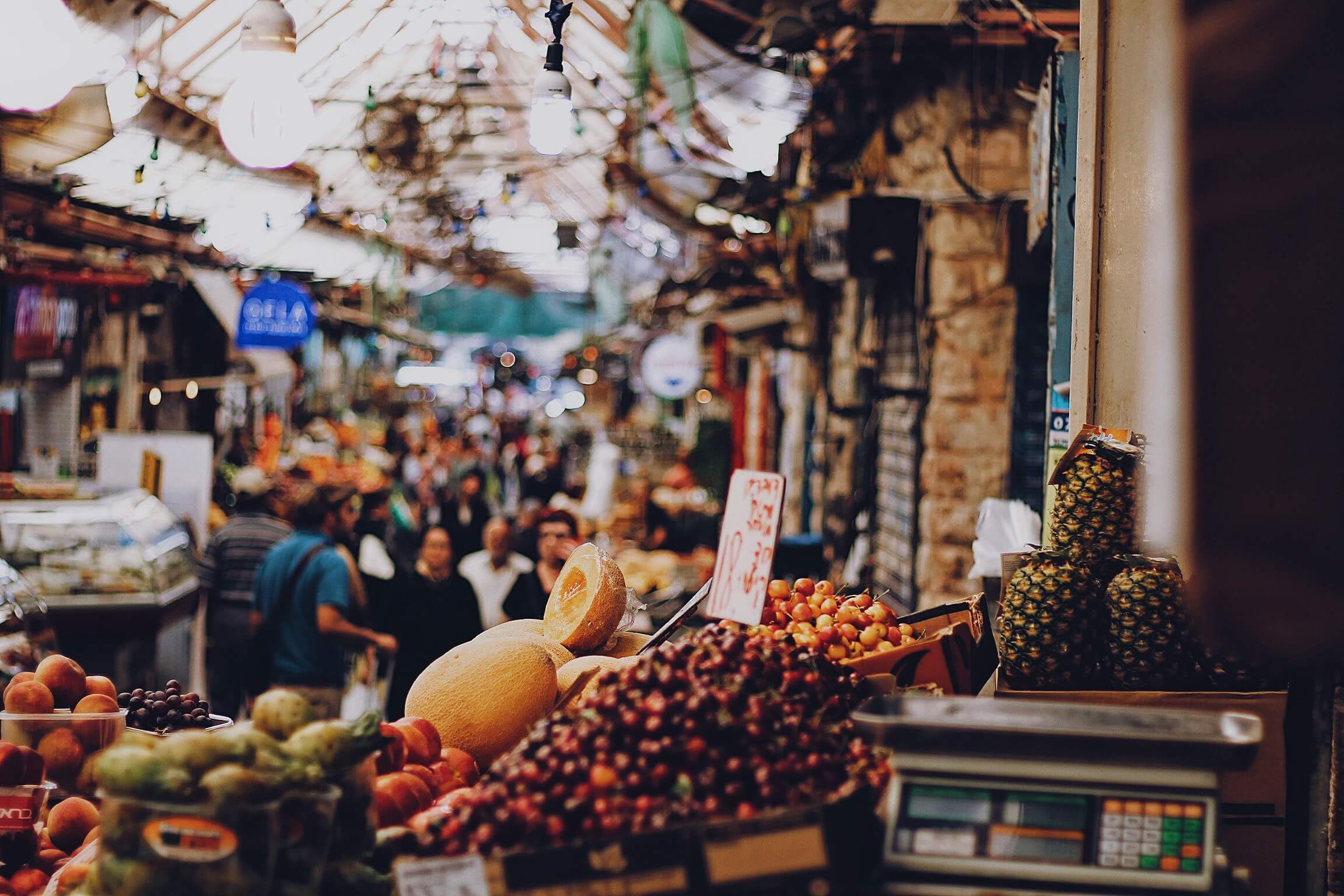 Once the sun is getting lower, you'll had back to the shuk to see a completely different side of life in Jerusalem! In the last decade Machne Yehuda has become a hub for Israeli nightlife. After the vendors close their stalls around 5pm on weekdays (some are open as late as 7pm), the lights strung overhead are illuminated and dozens of restaurants, bars and clubs spring open. Many of these restaurants are extremely popular, so if you have a specific one in mind it's worth calling at least a few days – or months – in advance for a reservation. The shuk closes at 3pm on Fridays and is closed all day Saturday.
3 Days In Jerusalem – Israel Museum, Yad Vashem and the Tachana
Israel Museum
You can't visit Jerusalem without getting to the Israel Museum! The collection is vast and showcases so much that is unique to Israel, while also housing an amazing collection from Jewish life abroad that will speak to visitors of many faiths. We spent four hours there on our last visit but didn't see everything.
On even the quickest visit you need to stop in to see the Dead Sea Scrolls, copies of religious writings that were made in an outpost near the Dead Sea nearly two millennia ago and were hidden in clay pots in a network of caves until the modern era. Some are merely damaged fragments, while others are pristine and show entire chapters of text written in Hebrew that looks just like today's style.
The scrolls are housed in the Shrine of the Book (designed to feel like you're inside one of those clay pots) – photography is strictly prohibited, so don't bother trying. Make sure to start off with the informative movie before entering to give context to your visit.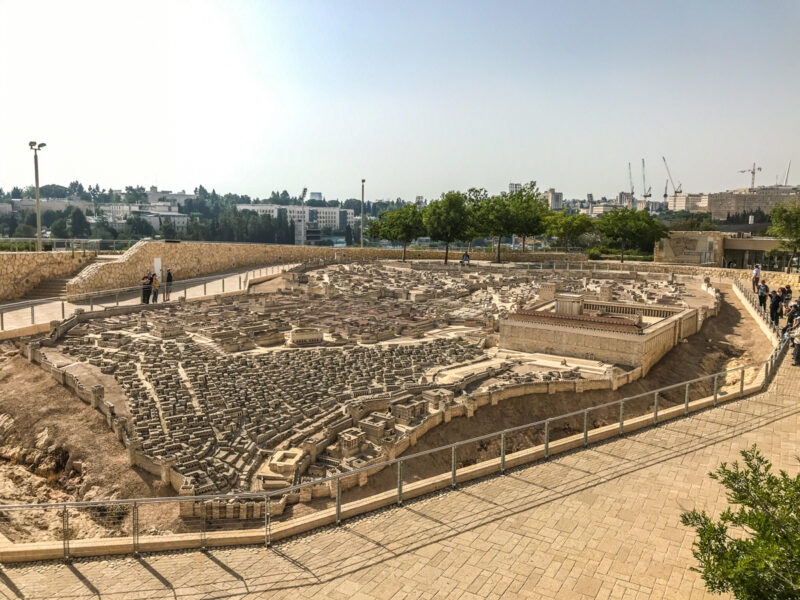 While you're outside, make sure to stop and see the scale-model of ancient Jerusalem, including Solomon's Temple. It's fascinating to see how similar the city's layout is to today. You can walk all the way around and even down to the same level as the city. If you proceed another two minutes beyond this area, you'll find Israel's famous AHAVA (love) sculpture, which is definitely one of the most Instagrammable places in Israel (if that's your thing).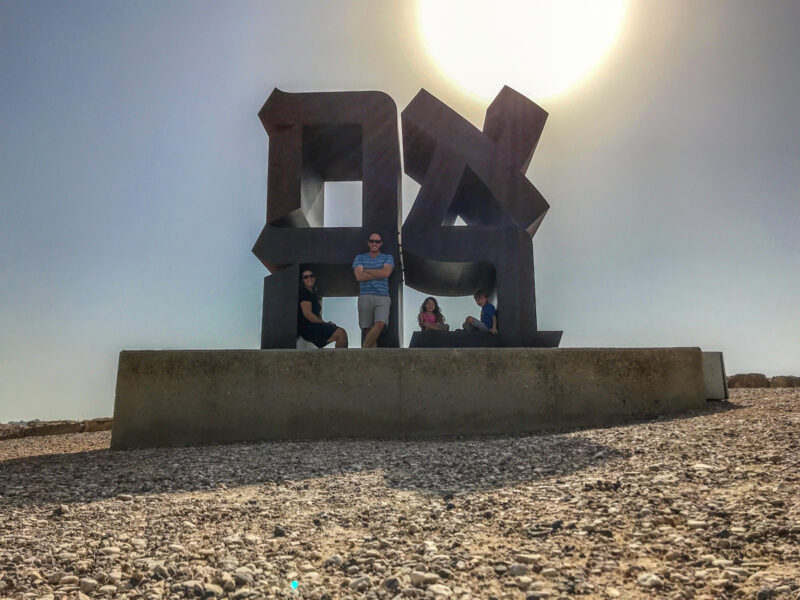 Back inside (which I actually recommend seeing first if you've allowed yourself enough time to visit most of the museum), there are two permanent exhibits worth your time: archeology and Jewish life. The archeology exhibit traces local archeological finds through the ages and provides excellent context for the groups that loved in the area and their movements. You'll see artifacts dating back hundreds of thousands of years.
The other large permanent exhibit is entitled Jewish Art & Life and it's one of our favorite places in the museum. There are Jewish ritual objects from all over the world through many periods of time, everything from ornate Moroccan Jewish wedding gowns to a hand-painted German sukkah (temporary booth for the annual fall festival of Sukkot) that was smuggled out of Europe disguised as building materials after the Nazi rise to power.
Don't miss "synagogue alley", where the interiors of four historic synagogues from around the world – Italy, Germany, India and Suriname – have been transported, rebuilt, and preserved for posterity.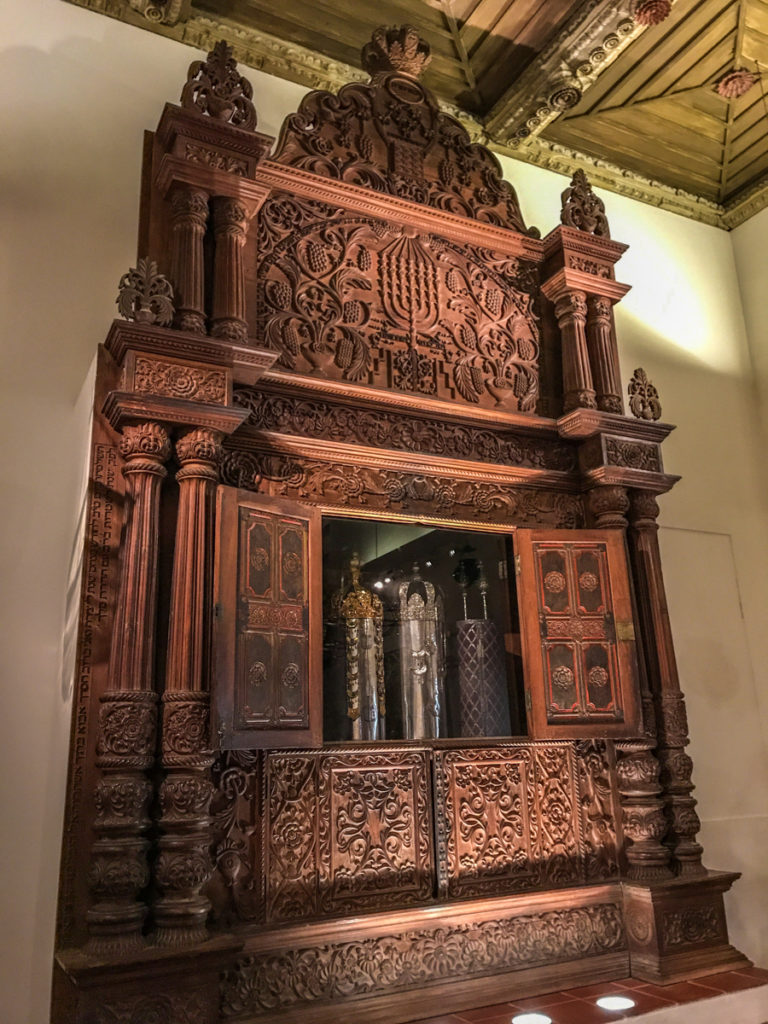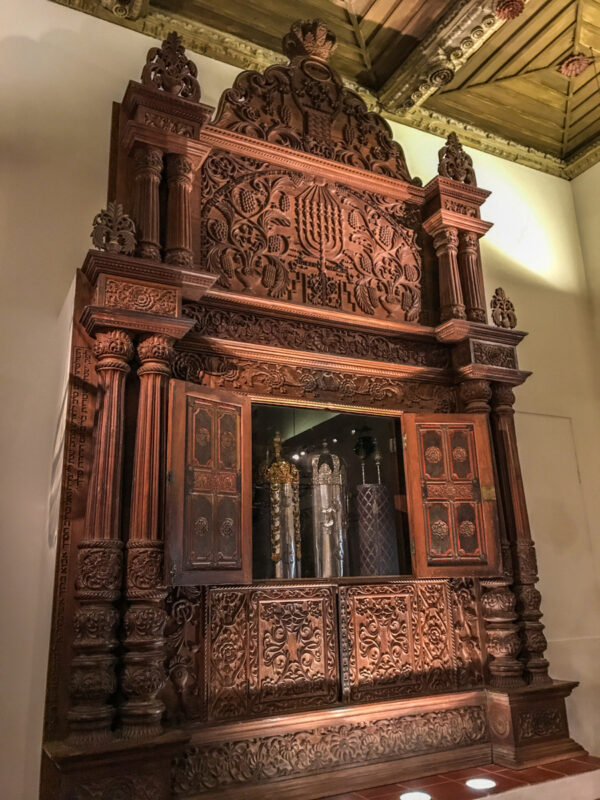 The Mansfeld café offers a nice range of sandwiches and salads and makes for a convenient stop without interrupting your day. The museum is on the west side of Jerusalem and is easy to access via car or bus. Admission to the Israel Museum is 54 NIS ($15) and it's worth it to see the diverse, rich collection. The museum is open daily, including on Saturdays from 10am to 5pm (note that Tuesday's hours are only 4pm-9pm). Plan to spend at least half a day there, but potentially much more; in fact, there's so much to see that they offer discounted admission if you return within three month.
Yad Vashem
If you've never been to Israel before, you may want to consider a visit to Yad Vashem, Israel's Holocaust Memorial Museum, in the afternoon. It's not a fun, easy place to visit and not one we've chosen to visit multiple times, but it's worth visiting at least once (though we won't judge you if you choose not to go, whether it's because you only want fun things to do in Israel or because you don't feel emotionally equipped to visit).
While today's Israelis don't dwell on the unspeakable horrors of the past, those events are still ever-present in the country's collective consciousness and important for understanding both the state's foundation and its path forward through the challenging waters of regional geopolitics. It's also important to bear witness to them for the sake of humanity and not repeating the evils of history.
In my opinion, the main museum provides a bit of information overload (particularly since I'm all-too aware of the history) though it will be extremely beneficial for those who have not studied the Holocaust extensively. For Ronnie and I both (having visited separately) the most moving areas of the museum are the Children's Memorial and the Avenue of the Righteous Among the Nations. Part of the reason I most appreciate these two parts is that they capture the opposite parts of the spectrum of Holocaust stories: one the one hand, the absolute basest depravity of which man can ever conceive, and on the other some of the most inspired examples of selflessness the world has ever known. A typical visit to Yad Vashem lasts several hours, but give yourself a some time afterward to sit, digest and reflect before you move; no visitor leaves untouched by what they've seen.
First Station
Museum days can be exhausting, so wind down your day like a local at one of Jerusalem's great evening spots, the old train station (also referred to as the First Station in English or the tachana in Hebrew). This is one of our new favorite hang outs and it's a decidedly local spot, with the crowd a real mix of young people and families and both immigrants (olim, mostly English speaking) and native Israelis.
During my first trip to Israel more than a decade ago (then as a solo female traveler!), I remember walking by the tachana almost every night and being absolutely creeped out. It was essentially a ghost town, with graffiti all over the walls and weeds growing through the old train tracks. I never felt unsafe walking in Israel at night except there.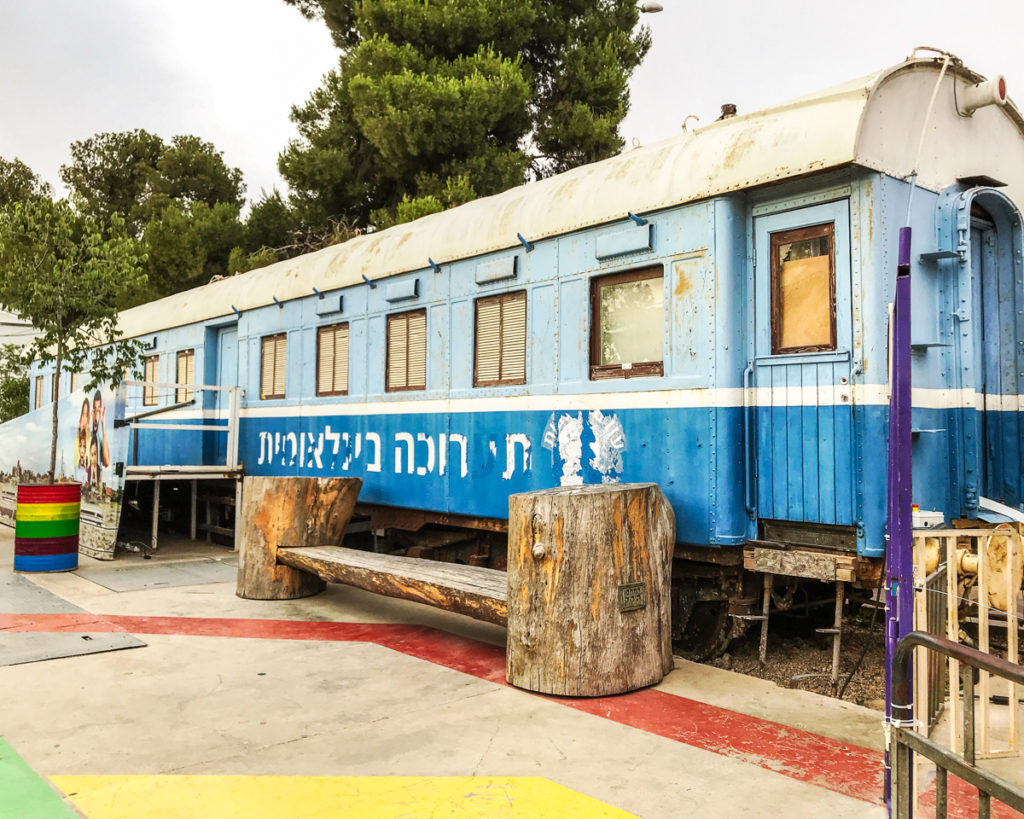 Fast forward a few years, and an infusion of redevelopment money has transformed this abandoned station into a community hub. There are restaurants for every palate (both kosher and non-kosher), a friendly bar, vendor carts selling jewelry, toys and more, and a few stores (including our favorite The Art of the Game, which also has a location off of Ben Yehuda Street). For kids (and Kids at heart) there's a miniature train, carousel, bumper cars, air hockey and arcade games.
The station also regularly hosts community events – check the calendar in advance. If you're spending Shabbat in Jerusalem and don't have a host home to visit for dinner, you can enjoy an all-comers Kabbalat Shabbat service-in-song at the tachana and then grab dinner at one of the restaurants. During our two-week stay in the neighborhood, the train station hosted an enormous book festival, a car rally, Shabbat celebrations, a weekly children's dance party, learning sessions for the Shavuot festival and World Cup soccer screenings. Regardless of when you visit, it's a fun and lively place.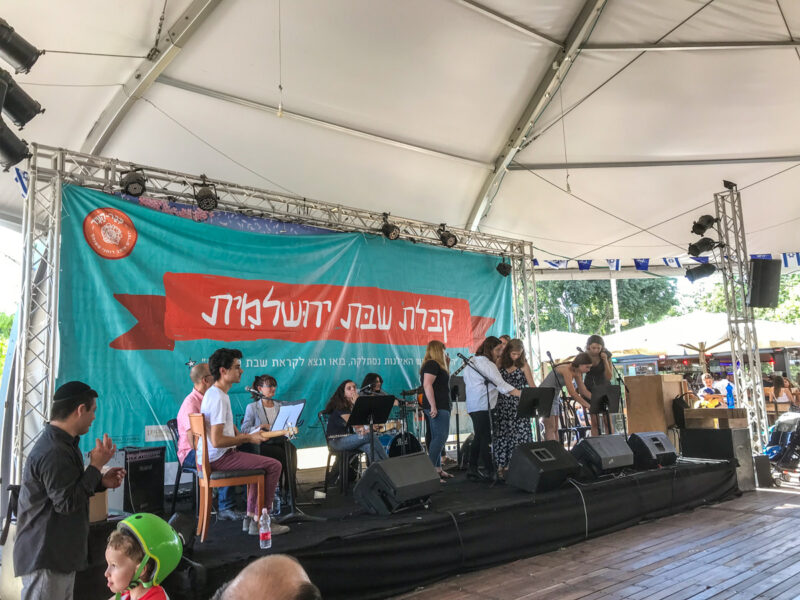 The station is open every day, though many restaurants close early on Friday (even if they re-open during the day on Saturday). Some restaurants are closed on Saturday as well – a topic for much local debate, as the city's religious, secular and in-between cohorts all vie for their vision of the Jerusalem of the future.
If You Have 4 Days In Jerusalem – Day Trip Options
You've already seen much of what the city of Jerusalem as to offer, but the region offers so much more. One of the best things about traveling in Israel is that the distances are so short (though intense traffic – even by Los Angeles standards -can sometimes be exasperating). So if you decide to stay for 4 days in Jerusalem, we have a few great options for you depending on your interests. If you get an early start, you can probably hit two or even three of them.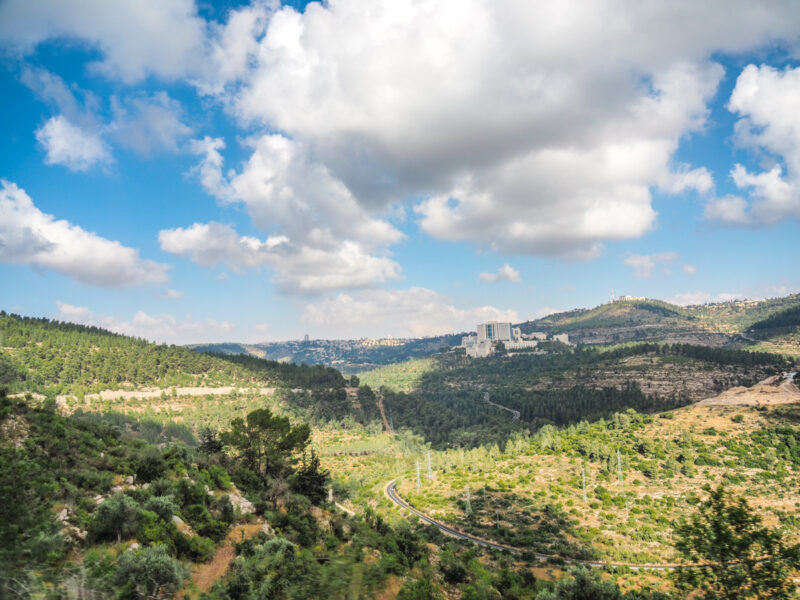 The Jerusalem Hills, just west of the city, offer plenty of less weighty diversions as well and your waning time in the area is a great time to explore them. If you wonder at nature, check out the stunning stalactite cave, alternately called Soreq and Avshalom, run by Israel's National Parks Authority. Visiting the cave requires going down (and then up) hundreds of stairs, so it may not be the best thing to do in Jerusalem if you have limited mobility.
Once you've made it down to the bottom, buy a ticket for a guided tour – the guide on our recent visit showed the brief film in Hebrew with English subtitles (since there was a large Hebrew-only family there at the same one) and provided all verbal explanations in both languages. The inside of the cave is fairly well-lit and you'll see examples of many stunning formations.
Get more details on these great day trips from Jerusalem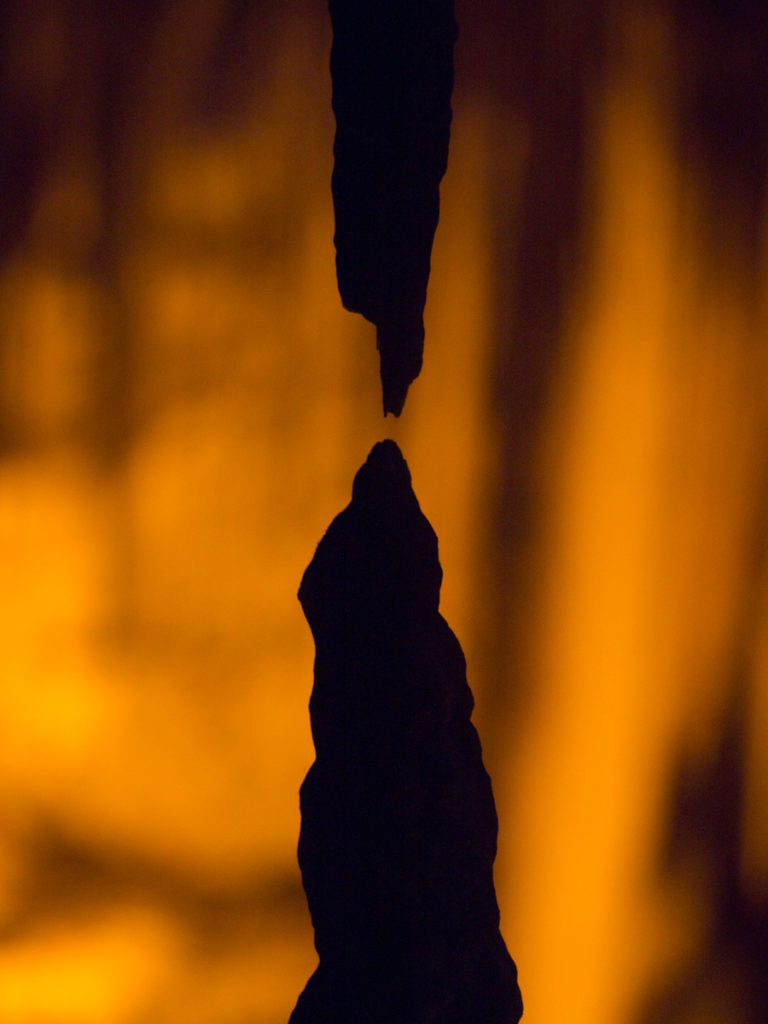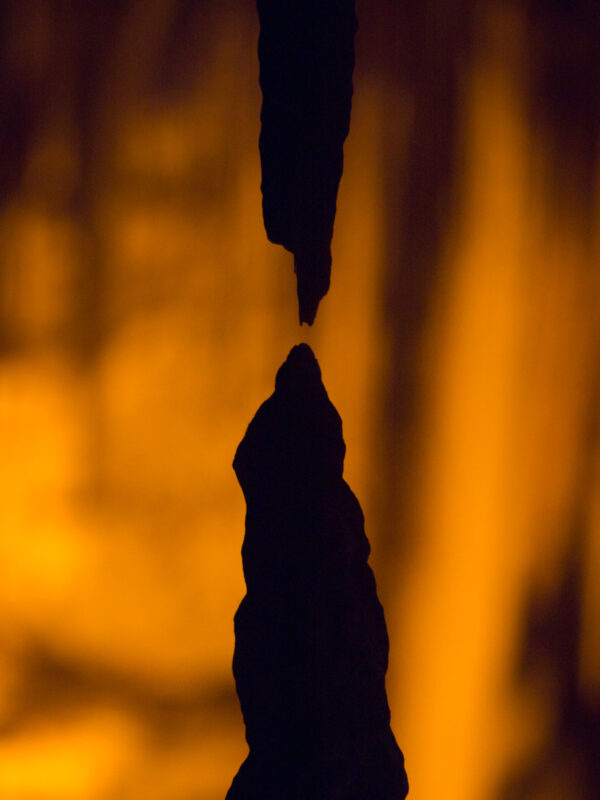 If you're a wine-lover, you've come to the right place. The Jerusalem Hills offer some of the most enjoyable wines we've tasted around the world – and we've visited so many wineries. Be advised that most wineries require a reservation, so call a few days ahead to book a time (especially if you need an English-speaking host).
Our favorite winery in Israel is Tzora, located on Kibbutz Tzora near Beit Shemesh. Every wine we tasted there was excellent, so it's no wonder they are often named among Israel's top wineries. Winemaker Eran Pick is even among the select few in the world to have completed a Master of Wine degree.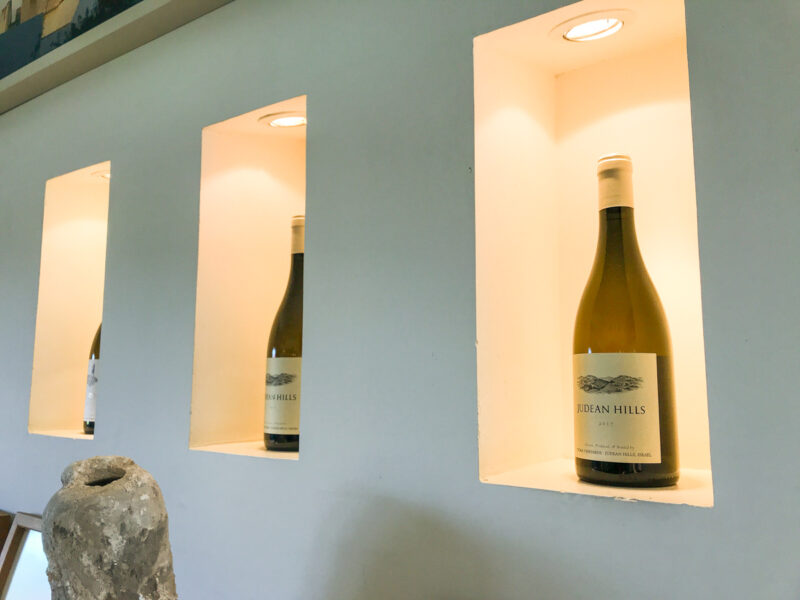 If you're more of a foodie or an animal-lover, check out Shai Seltzer's goat farm in the Sattaf forest. It's only open to visitors on weekends, but when it's open you can go in the afternoon to see the goats come in from the pasture for their afternoon milking. It's a popular spot for Jerusalemites – with kids and without – to visit on Saturdays.
Feel free to bring a picnic or some wine with you, and then visit the cheese counter in the cave to try all of the farm's homemade specialties on your customized cheese bird. Our personal favorites are the drinkable yogurt, labaneh (spreadable soft cheese), Bulgarit (feta), thomme and ash cheese. You can also add wine, pita and olives to complete your spread.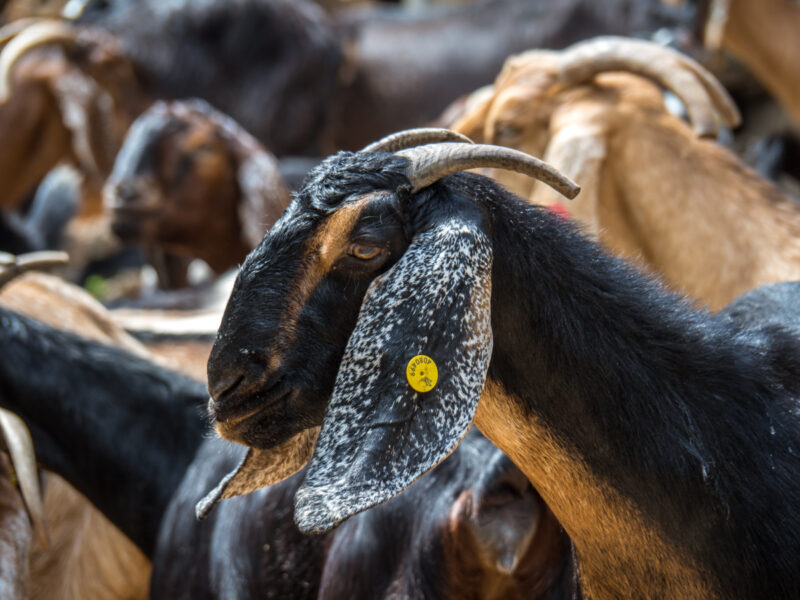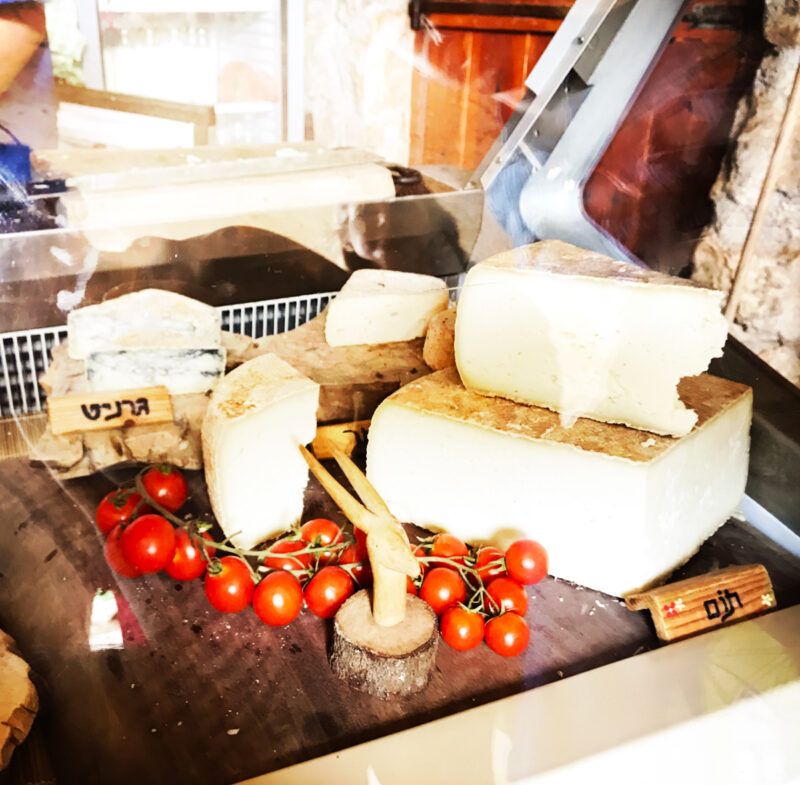 Your final stop on the way back into Jerusalem is in the small town of Abu Gosh. This Arab village has always maintained friendly relations with its Jewish neighbors and has prospered because of it. The town is most famous for its excellent food; many Israelis say it's the best place in the country to get hummus, falafel and an order of kanafeh for dessert. Try it for yourself to find out!
If you're there during the day, you can also enjoy a pleasant free stop at the garden attached to the Benedictine Abbey. As you head back into the city in late evening, take a moment to enjoy the sight of the City of Gold bathed in the light of sunset. Head back to your hotel and get packed up, but keep your swimsuit and your outdoor gear handy!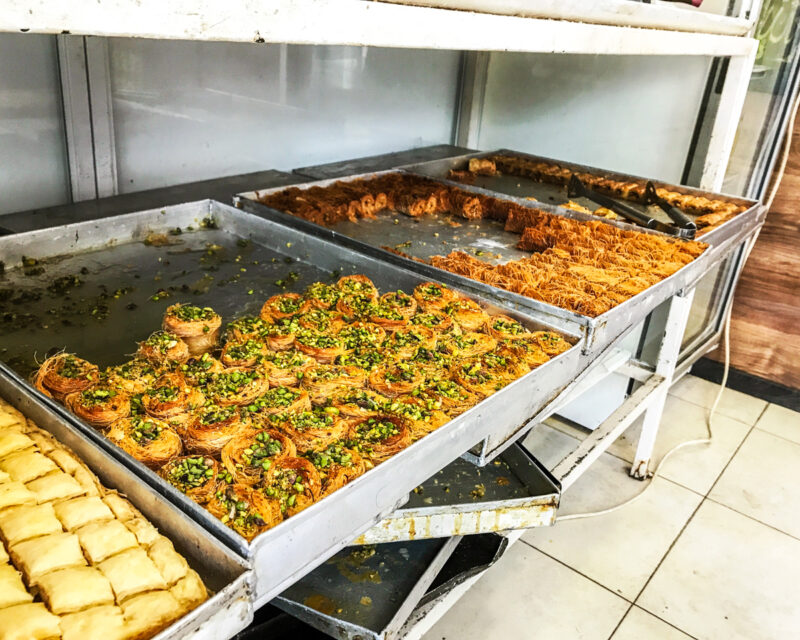 Where to stay in Jerusalem
There are a few great areas to stay in Jerusalem depending on what type of setting you prefer. Looking to be in the middle of the action? We had a wonderful stay at Stay Jaffa Jerusalem(formerly called Check In Jerusalem), right above Kikkar Tzion in the city center. It even offers a washing machine in the nicely sized one-bedroom apartment.
If you'd rather enjoy luxury in the heart of it all, book a room at Mamilla Hotel next to the Old City walls. This beautiful hotel is walking distance to everything and sits in the high-end open air Mamilla Mall.
If you prefer a quieter area (as we do) we recommend staying in the German Colony, right near the original train station. We stayed there in a wonderful apartment for two weeks and I've stayed in the neighborhood with family several times. Check out these great options:
Ready to book? Read our neighborhood-by-neighborhood guide to where to stay in Jerusalem
Use the interactive map to find vacation rentals and hotels in Jerusalem
---
Jerusalem Transportation Options
Whether or not to have a rental car in Jerusalem depends on your exact schedule – a car can be more of a liability than an asset in Jerusalem in general, unless you're there on Shabbat. Buses don't run on Shabbat (from Friday evening to Saturday evening) and most activities within the city are closed as well. Non-religious Jerusalemites often leave the city on Shabbat, and it's easy to get around by car since the roads are completely empty. If you're thinking of driving around, make sure to read these important tips for renting a car in Israel.
If you don't get a car, Jerusalem is easy enough to get around on foot, by bus or even using the new light rail. For public transportation, you'll need to purchase a reloadable Rav Kav card.
Scheduling considerations
You may need to adjust the sequence of the schedule above based on Shabbat and other Jewish holidays – even institutions that are open on Saturdays often close early on Friday afternoons, so have a look at their websites before heading over. Sunday-Thursday are the best days to visit the Old City to avoid the Muslim and Jewish holy days which come with denser crowds and store/restaurant/activity closures. Check out the schedule of Jewish holidays here.
3 Days in Jerusalem Itinerary FAQs
How many days do you need in Jerusalem
Wondering how many days to spend in Jerusalem? That really depends on how long your trip is. At an absolute minimum I'd plan 2-3 days in Jerusalem, but if you take a day trip or two as well it's easy to fill 5-7 days in Jerusalem.
Are you wondering how many days in Jerusalem vs Tel Aviv?
How to split your time between Jerusalem and Tel Aviv is really about personal preference – are you interested in the history and "buzz" that fill Jerusalem, or are you excited to dive into Tel Aviv's modern culture, city life and beaches? Most visitors will want to spend almost equal time in the two cities especially on a short trip.
Money-saving travel resources:
–Find the cheapest flights on Skyscanner
–Book your discounted rental car on RentalCars.com
–Compare travel insurance options
–4 simple hacks to save more money on booking.com

Check out these helpful articles to plan your upcoming trip to Israel:
–The perfect 10 day Israel itinerary
–3 days in Jerusalem itinerary
–2 days in Tel Aviv itinerary
–Where to stay in Israel
–50 things to know before you visit Israel
–What to pack for Israel in each season
–When is the best time of year to go to Israel?
–10+ must-read tips for renting a car in Israel
–20 foods you have to try in Israel
–25+ best books about Israel
–Where to stay in Jerusalem
–What to do in Jerusalem on Shabbat
–Israel with kids: the complete guide
–Visiting Jerusalem with kids
–Visiting Tel Aviv with kids
–Best day trips from Tel Aviv
–Best day trips from Jerusalem
–Your Israel itinerary for (more or less) 10 days