Jerusalem may not be a big city by global standards, but it's densely packed and has distinct neighborhoods that each carry a different vibe. Where to stay in Jerusalem depends on your needs, but you'll want to consider budget, what kind of accommodation options you prefer, convenience to tourist sites that interest you, what amenities will make your stay better and even your tolerance for hills!
After spending tons of time in Jerusalem, we've rounded up some of the best Jerusalem hotels, so hopefully you'll find one that's a great fit among Jerusalem places to stay.
Where to stay in Jerusalem: Hotels near the Old City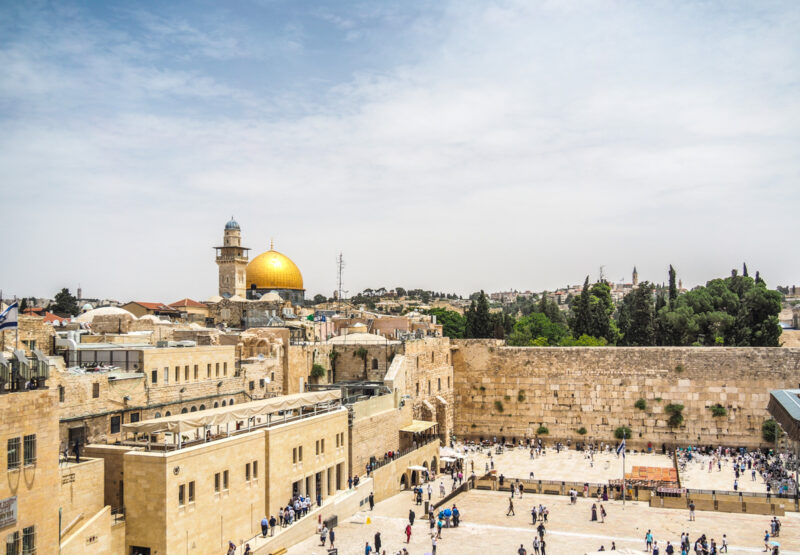 If you like to be in the heart of it all and you'll just come for a short sightseeing visit, then it may make sense to stay on Jaffa Street – the heart of the action. You'll be walking distance to the Old City, around the corner from Ben Yehuda Street, a quick walk from Mahne Yehuda and surrounded by fast-casual dining options. Jaffa Street is always bustling – families out walking, young soldiers off duty, couples on dates and tour groups everywhere.
There's a nice buzz and vibrancy, though it's not an area where many Israeli families live so you won't find convenient playgrounds or a large grocery store in this tourist-heavy area. This is the best place to stay in Jerusalem if you're just coming for a quick visit to check out the major sites.
We stayed at Stay Jaffa Jerusalem (formerly called Check In Jerusalem), an excellent, professionally-managed "aparthotel" above Zion Square and enjoyed the convenience and ambience for the short stay. We even had a washing machine and a kitchenette! This is a great place to stay in Jerusalem for families who want a central location as you have enough room to spread out and can easily prepare breakfast and lunch on your own if you want to. Book your apartment today – and make sure to price out a few stay durations, as it cost us just $50 to add another night.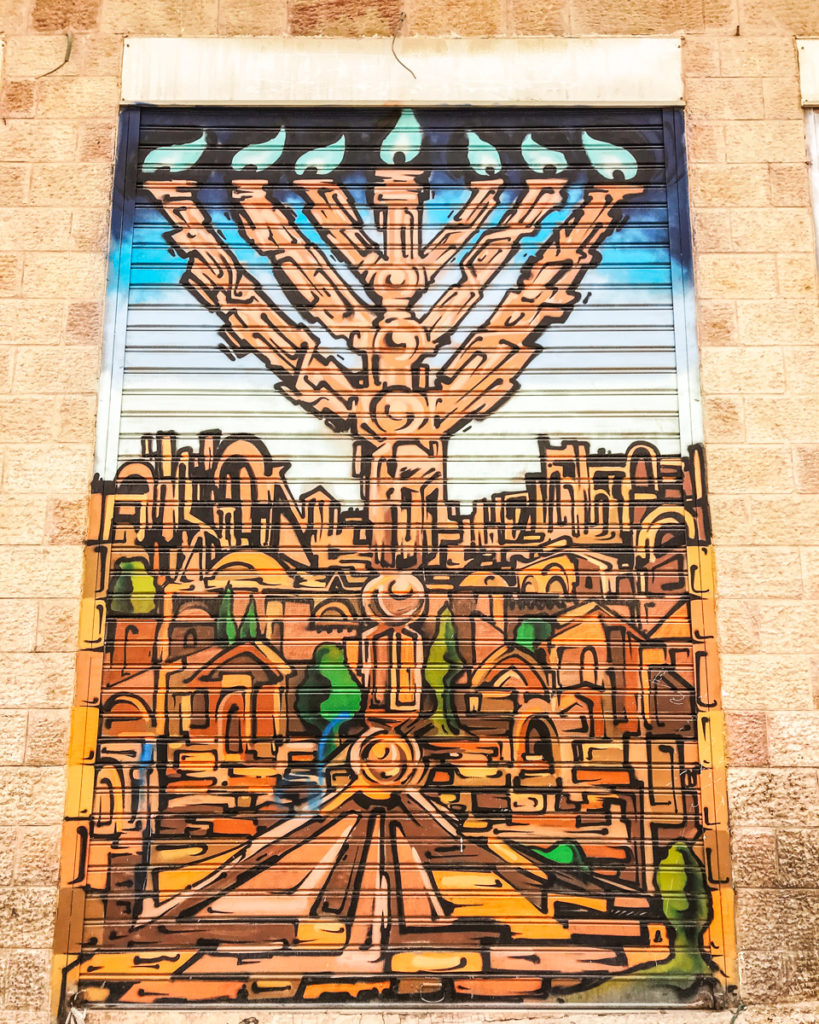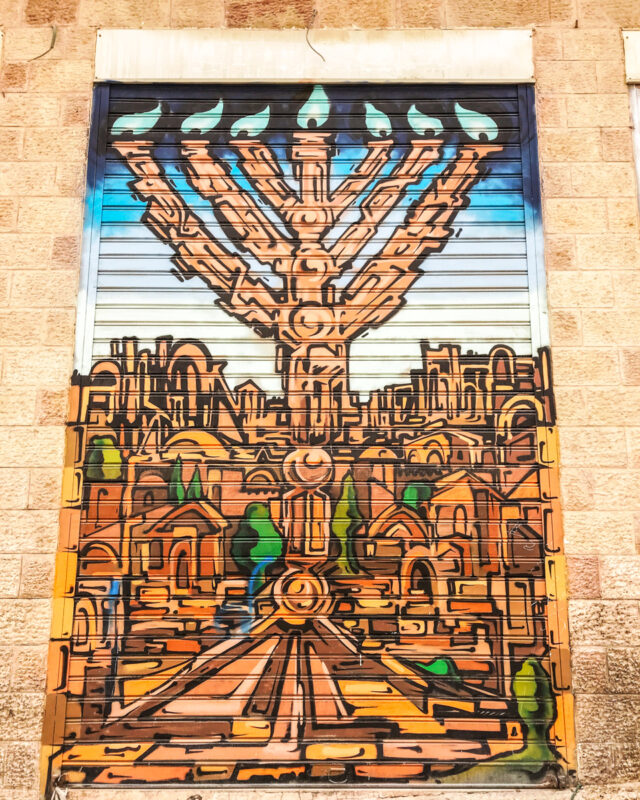 Another convenient options near the Old City is the Mamilla Hotel in Jerusalem. This is one of the best luxury hotels in Jerusalem. While prices aren't cheap, it's practically in Jaffa Gate at the entrance to the Old City. You'll have some great restaurants and luxury shops at your fingertips and the light rail is just across the street. You'll also enjoy a beautiful rooftop terrace in the evenings plus an indoor pool for hot days. Teddy Park is down the hill, so the kids will have plenty of splash pad access! Check out prices and reviews here.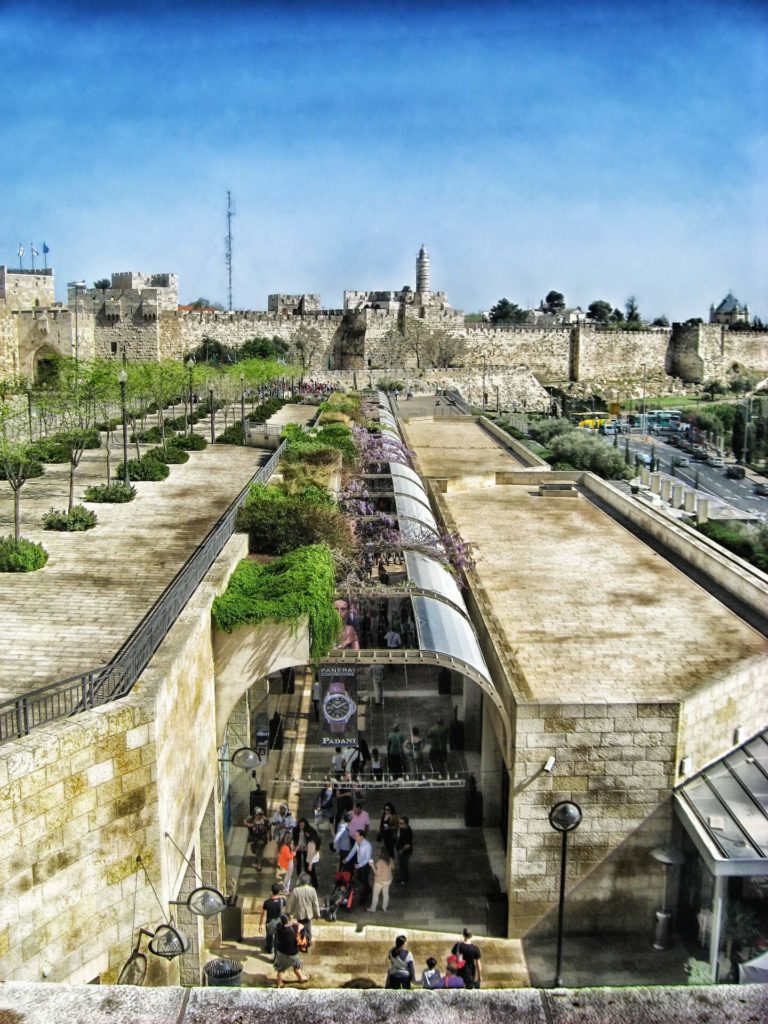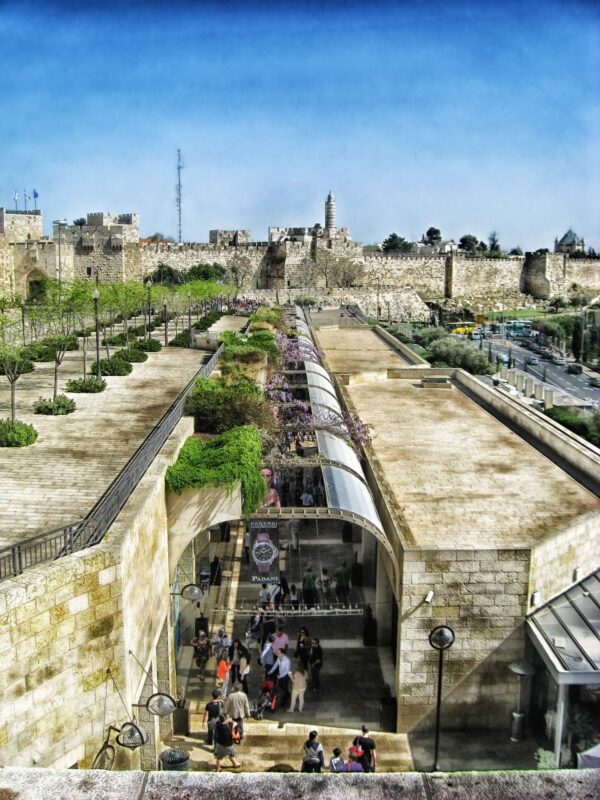 If you'd love a special place to stay in Jerusalem, consider booking a room at the historic King David Hotel – it's the most famous city center hotel in Jerusalem and located on King David Street. It's fairly close to the pretty Bloomfield sculpture garden and just a 15 minute walk to the Old City, Jaffa Street or the First Station. The views from the back are amazing! There's also a pool, which makes the King David a nice pick in summer. Where Mamilla Hotel leans into a modern aesthetic, the King David Hotel is notably more traditional in style – keep that in mind if you're a hotel connoisseur with strong preferences. The hotel is deservedly-popular, so reserve your room today.
Want to stay in Jerusalem near the action without the price tag? Or maybe you want to connect with other travelers? Your best choice is the venerable Abraham Jerusalem (also called Abraham Hostel). It's probably the most famous budget hotel or hostel in Jerusalem. They serve all types of guests – singles, couples and families, offer communal Shabbat dinner and other events, and even run every type of tour you can imagine. The rooftop terrace is a popular hangout spot for evening drinks and sometimes morning yoga!
Israeli breakfast is included here. If you're visiting with kids, you can only stay in a private room (as you'd expect); the smaller ones can accommodate two guests while the family rooms can accommodate five guests – plus a baby in a free crib – so in theory a family with four children can stay. See the different room options here.
Use the interactive map to find vacation rentals and hotels near Old City, Jerusalem
---
---
Best Places to Stay in Jerusalem: German Colony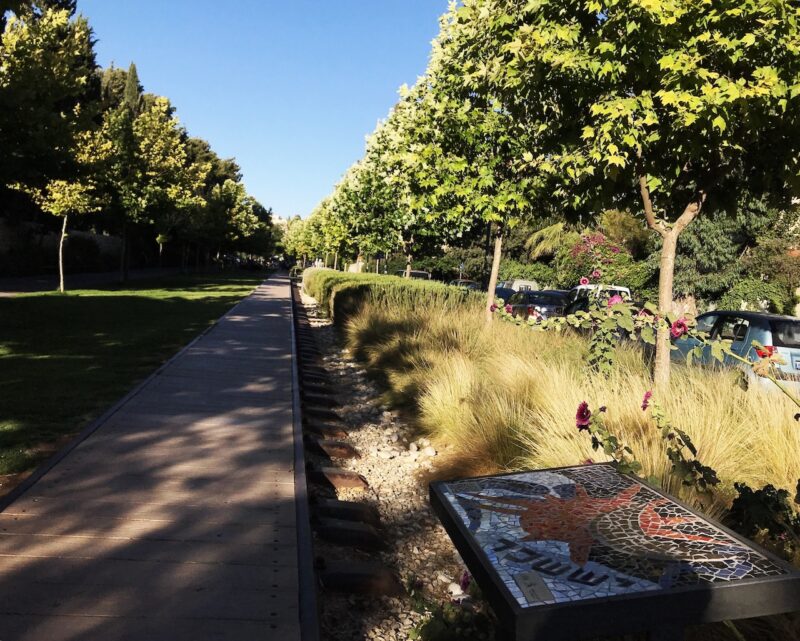 If you prefer something a little homier, we highly recommend staying in the German Colony. It's almost like a leafy suburb but still within the city! I've stayed there many times and it's my pick for the best neighborhood to stay in Jerusalem, especially for families. There are nice playgrounds everywhere, (kosher) restaurants catering to local families, a large grocery store with decent prices on the main street, a lovely walking/cycling path complete with a trilingual outdoor free lending library and generally a quieter atmosphere.
I've long felt that it's near the top for the safest place to stay in Jerusalem. Even as a young woman or now grown and walking with my small children, I've felt comfortable walking among the Germany Colony's winding streets at all hours. I can't say that about many places in the US!
Check out these awesome day trips from Jerusalem
While the walk to the Old City and other popular tourist sites is a bit longer, you can easily take the public bus or the free shuttle bus that runs every 20 minutes from the parking lot of the First Station to the Dung Gate (where the Western Wall Plaza is located). If you decide to walk (as we generally do), a robust stroller (this is the most popular option in Israel) or comfortable baby carrier (like this one) can be helpful.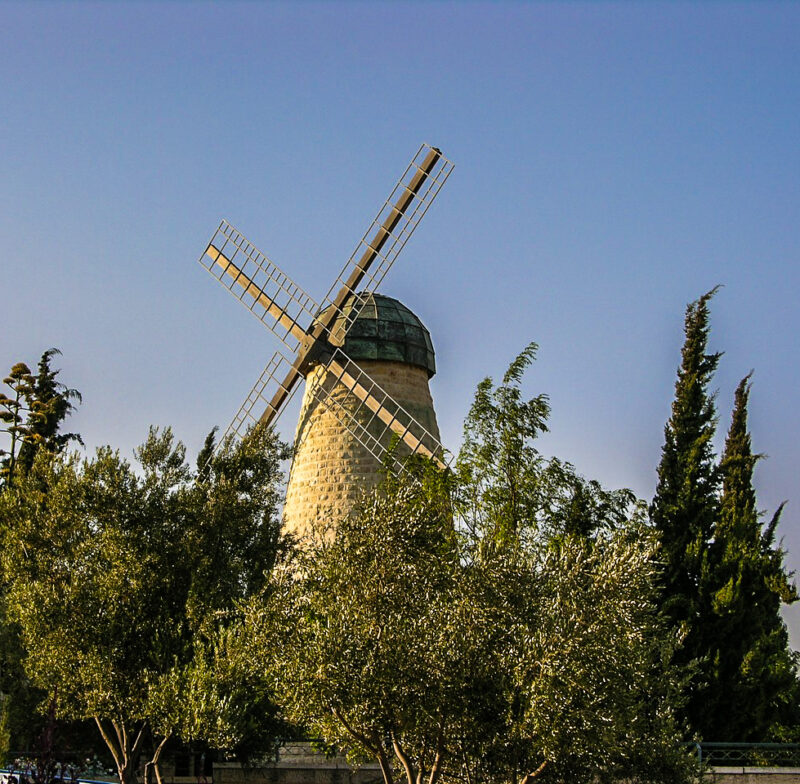 If you choose to rent a car, it's also easier to find parking in this area than in downtown Jerusalem. We generally prefer to have our own wheels in Israel these days to give us the flexibility to take great day trips in the area and visit farther reaches of the city. Before you decided whether or not to rent a car in Israel, be sure to read these tips.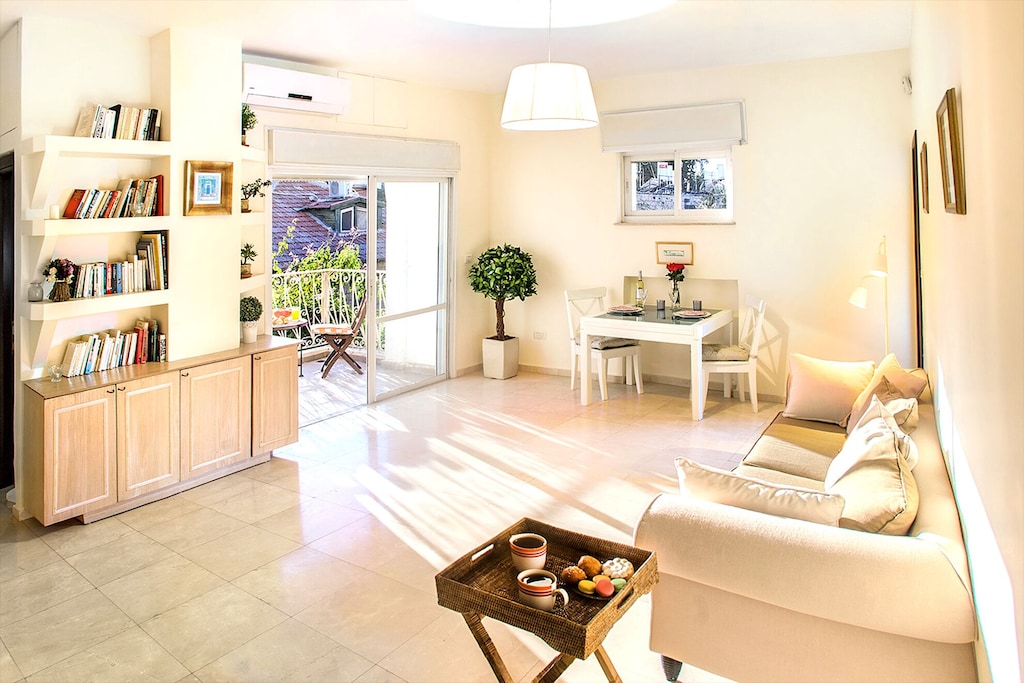 We stayed in this convenient two-bedroom Home Exchange apartment for several weeks and loved being so close to the tourist sites but without the constant crowds and noise. Check out these other great rental apartments in the Jerusalem German Colony:
Beautiful 2-bedroom apartment (pictured above, and I can attest to the excellent location since it's on the same block as my cousin!)
Ultra-modern 2-bedroom apartment
If you're looking for a wonderful bed and breakfast in Jerusalem, consider mid-priced The Templer Inn. I've never seen such glowing reviews of a hotel! They offer several suites with their own unique charm for groups of different sizes and an excellent complimentary breakfast is included, so they do book up well in advance (no surprise there). Grab your room here.
At the brand new, luxurious Orient by Isrotel Jerusalem you're across the street from the old train station, which has plenty more restaurants to choose from (including non-kosher ones), a full calendar of family-friendly events, arcade games and even an indoor play gym.
You'll want to pop over and check out all the photos, because it's absolutely beautiful. There's a range of suites, rooms and even family rooms to choose from based on your needs. This is easily one of the best hotels in Jerusalem today! Check prices here.
Use the interactive map to find vacation rentals and hotels near Jerusalem German Colony here
Where to Stay in Jerusalem Israel FAQs
What part of Jerusalem is best to stay in?
After many visits to all parts of Jerusalem, I recommend staying either in Jerusalem's city center (fairly close to the Old City walls) or in the quieter German Colony neighborhood. Either of these locations gives you great access to the best things to do in Jerusalem but without some of the pressures and navigational confusion of staying in the ancient city.
How many days do you need in Jerusalem?
With 3 days in Jerusalem, you should be able to see highlights of Jerusalem Old City (including Church of the Holy Sepulchre and the Temple Mount if you're interested) as well as the art galleries, shops and museums of modern west Jerusalem.
---
Plan your trip to Israel
Money-saving travel resources:
–Find the cheapest flights on Skyscanner
–Book your discounted rental car on RentalCars.com
–Compare travel insurance options
–4 simple hacks to save more money on booking.com

Check out these helpful articles to plan your upcoming trip to Israel:
–The perfect 10 day Israel itinerary
–3 days in Jerusalem itinerary
–2 days in Tel Aviv itinerary
–Where to stay in Israel
–50 things to know before you visit Israel
–What to pack for Israel in each season
–When is the best time of year to go to Israel?
–10+ must-read tips for renting a car in Israel
–20 foods you have to try in Israel
–25+ best books about Israel
–Where to stay in Jerusalem
–What to do in Jerusalem on Shabbat
–Israel with kids: the complete guide
–Visiting Jerusalem with kids
–Visiting Tel Aviv with kids
–Best day trips from Tel Aviv
–Best day trips from Jerusalem
–Your Israel itinerary for (more or less) 10 days
Still planning? Pin this for later!