It's always a great idea to read about any country you plan to visit – whether you're reading guide books, history books or even fiction books that give you a sense of time and place. Israel is no exception, and its uniquely complex history and culture make it even more important to be prepared before you go. In this list you'll find books from all genres and intended for all types of readers. Hopefully you can pick up a few of these books about Israel and books set in Israel before (or during) your trip!
If you're still coming up with your own reading list, be sure to pin this for later to come back to it.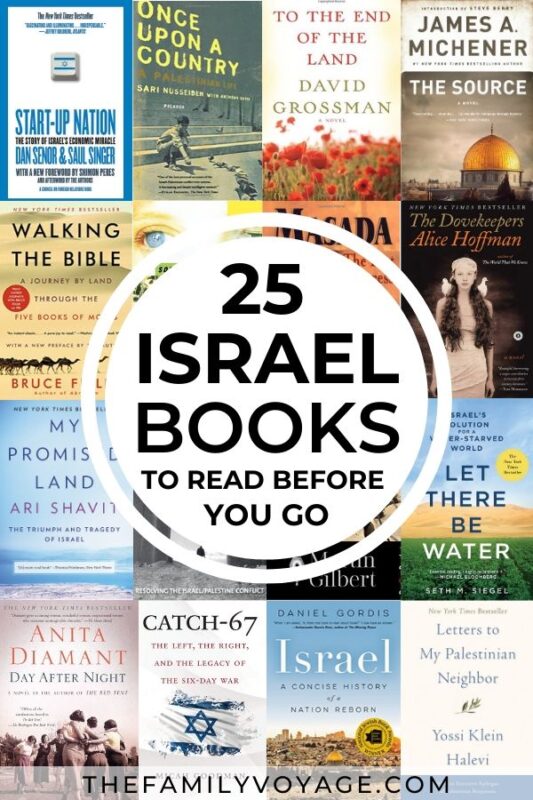 As you plan your Israel trip, don't miss these top resources we offer:
–Get started planning your trip to Israel
–Your complete Israel itinerary
–Where to stay in Israel
–Renting a car in Israel
–What to pack for Israel
Use the interactive map to find vacation rentals and hotels in Israel
---
Quite a few of these reviews were written by my husband Ronnie, who can be described as nothing less than a prolific reader. He has also studied Israeli history in both his undergrad and graduate school studies, so he's chosen the best books from his many readings. I also pulled recommendations from personal friends who have visited Israel and read Israeli literature across many genres. And, of course, I've read some of the books myself and have others on my nightstand (plus a few on my kids' bookshelves!).
Books about the Holy Land and history
For many visitors to Israel, the spiritual connection runs deep. After all, it's almost impossible to visit Jerusalem without feeling that special buzz in the air. Every time I walk the streets, I get a deep feeling that it's all happening here. Check out one of these books before you go to start connecting the Biblical history you know with the land you're about to see. You might even want to bring them with you on the journey!
This 3 hour tour is the perfect introduction to the Holy sites in Jerusalem. Make sure to include it in your plans!
In some ways, this is the ultimate cross-over between a travel/adventure book and a book on religious history. Author Bruce Feiler searched for Noah's ark, crossed the Red Sea, climbed Mount Sinai and much more. If you're fascinated by the stories of the Bible, this book is a captivating must-read. You can also get it on DVD!
The Source may be a bit of a tome, but there's a reason it's a classic! The sources traces the comings, goings and developments of people in the Holy Land over the last few millennia, largely through the lens of archeology but in the form of the fiction story of a family through the generation. In addition to showing religious and cultural development in the Middle East, it lays the groundwork for an understanding of the geopolitical conflicts that still riddle the region today.
---
Books about modern Israel
Israel is more than the Bible and it's more than the conflict over land. It's a modern, vibrant country with so many interesting stories to tell! Check out one of these books to see a snapshot of Israel beyond the news headlines and what you learned in Sunday School.
This is an enticing book that highlights Israel's transition from a developing country based on a sluggish agricultural economy to a world-wide innovator in the tech sector. Many of the technology developments that make our lives easier came from Israel, from modern laptop designs to secure payment systems to bubbly water. Learn how this small but mighty nation became the 'Start-up Nation'.
I admit that I have a soft spot for the topic of water in Israel. First off, I spent two decades living in California – where water (or lack thereof) is often at the forefront of conversation. Second, one of my Israel trips was entirely focused on environmental issues in Israel. During that trip I learned about Israel's multi-pronged approach to its water challenges: conservation, technological developments and "water diplomacy" with its neighbors in the Palestinian territories and Jordan. It's a fascinating topic and a novel lens through which to view Israel's past, present and future – Let There Be Water does exactly that.
Daniel Gordis' Israel, first published in 2016, brings a clean, easy-to-understand and balanced approach to the history of modern Israel. While it does address the Israeli-Arab conflict, the book also covers the cultural and economic development of the state over the last 75 years.
---
Books about the Israel-Palestine conflict
We had to get here sometime, right? Many people only know about Israel from what they read in the newspaper about the ongoing conflict between the Israeli and Palestinian governments over who claims this tiny strip of land. This list has a wide range of books that represent numerous perspectives from both sides of the conflict.
If you're especially interested in the conflict, Abraham Tours offers an excellent Hebron dual-narrative tour featuring both Israeli and Palestinian guides, along with several other wonderful day trips from Jerusalem.
One of the most iconic historians and cartographers provides a well-rounded history of Israel. Take an epic journey into the founding of the modern State of Israel. Learn about the challenges and triumphs that Israel faced to emerge into the country it is today.
If you're hoping for a pollyannaish take on the Israeli-Palestinian conflict… go look somewhere else. History scholar Benny Morris is well-respected and has traversed both sides of the Israeli political landscape as his own perspective has changed over the decades. In his most recent book on this subject, Morris reviews the options typically discussed as a way forward and what he now thinks is the only tenable solution.
Ari Shavit presents an unfiltered narrative of the founding of the State of Israel, in part through a series of vignettes telling the stories of individuals throughout the modern history of the State. It's a book that will provide context for those looking to explore the conflict between Israel and its neighbors. This one is hard to put down!
There's no turning back from the 1967 Six-Day War. The Arab nations mounted a surprise attack against Israel, and Israel fought back; in the process, Israelis fulfilled their dream of unifying and ruling their religious center in Jerusalem and also vastly expanded their territory from the initial borders of Statehood. But the aftermath has been absolutely fraught for everyone involved. Catch-67 is one of the few books that tackles head-on the challenges within the Israeli political landscape and how those divisions impact the country's long-term peace prospects.
Candid. Conflicted. Proud. Challenged. Challenging. Human.
Yossi Klein Halevi tries to explain to Israel's Palestinian neighbors his complicated experiences and feelings about their competing co-existence, and in the latest version you can even read their replies. This book offers a uniquely non-academic exploration of the conflict and has the potential to be an excellent jumping off point for years to come.
---
Israeli biographies
I always find personal stories one of the most interesting ways to understand history. These biographies all begin before Israel achieved statehood and continue for several decades after. Each one offers a completely different view, reminding us that what we may perceive as a "collective experience" is anything but.
The story of the improbable life of Israel's first female Prime Minister. Lioness is a beautiful portrait of a woman ahead of her time. There are so many incredible insights into the history of Israel, as told through the life and political triumphs (and failures) of Golda Meir.
This book is at the top of my personal reading list after numerous recommendations from friends! Raquela follows the life story of nurse Raquela Prywes as she grows up in conflicted Jerusalem, works in a life of service from a post-war detention camp in Palestine through Israel's numerous wars in the early decades of statehood and beyond.
Palestinian scholar, professor and diplomat Sari Nusseibeh grew up through the most turbulent years of crisis between Israelis and their Arab neighbors. He has lived in Jordan, taught at Hebrew University in Jerusalem, worked as politician under Yasser Arafat and more. In this memoir he recounts his family story and his own experiences trying to find a way forward through getting to know his Israeli neighbors, while also putting an important human face on the incredibly difficult circumstances of the Palestinians.
In the prolific author's memoir, his development and the development of the State of Israel unfold in parallel. It's at times deeply moving, at times revelatory and at some times even uproariously funny.
---
Novels set in Israel
I'll be honest – I'm more of a fiction reader myself. I've read several of the books in this section and have a few more of them on my nightstand. This cover a wide range of topics from historical fiction to contemporary relationships with a dash of the geopolitical.
Anita Diamant is best known in the fiction genre for The Red Tent, an epic tale (and one of my personal favorite books) based on the women of the Bible and their untold stories. In Day After Night she tackles a challenging part of Israel's march toward statehood: the detention of Holocaust survivors by the British in Mandatory Palestine. Though the characters' heartbreaking stories are fiction, the overarching story of the Atlit Detention Camp is very real – you can visit today to learn more about this often-overlooked piece of modern Israeli history.
Exodus by Leon Uris
Many people have heard of the movie Exodus starring Paul Newman, but the book came first. It tells the story of an illegal attempt to bring Holocaust survivors from a refugee/detention camp on Cyprus into British Mandatory Palestine shortly before the foundation of the State of Israel (during the operation known as "Aliyah Bet"). Note that this is a work of fiction – there was a ship named Exodus that was turned away by the British and sent back to France in 1947. That doesn't make Exodus a less powerful story, but it is so compelling and has enough similarities to many true stories (including the related story of Atlit above) that readers often forget that it's not a historical account.
My current read! This novel dives deep into the psyche of Ora, a mother whose son is sent off to war. To cope she takes off for a backpacking trip in Israel's beautiful Galilee region and rekindles a connection with her own past. The book is set in Israel in the 21st century but also harks back to the adults' experiences in the aftermath of the Yom Kippur War and the impact Israel's national turmoil has wrought on its citizens.
This Israeli answer to Romeo + Juliet ruffled was considered so subversive for proposing romantic relationships between Jews and Muslims that it was banned from public schools. So it must be good, right? The story is told by Liat, an Israeli Jew living and working in New York city when she meets Palestinian artist Hilmi. Like To The End Of The Land, All The Rivers personalizes the conflict in the Middle East to give readers a lens for understanding the human toll.
This is another one that's on my personal reading list after being recommended by numerous friends. Here's what my friend Tammy had to say: "The Dovekeepers is a historical fiction novel that dramatizes the siege of Masada by troops of the Roman Empire towards the end of the first Jewish Roman War. It is a great read that makes touring Masada today so fascinating – I loved being able to vividly imagine what it was like in 70 CE." You can also catch the movie version.
---
Israel books for teens and tweens
If you're looking for Israel YA books, don't miss these picks!
This is the perfect gift for families taking a Bar or Bat Mitzvah trip to Israel, or any families visiting Israel with tweens. It's a funny, wonderfully illustrated introduction to so much of Israel's history, culture and geography. This would also make a great coffee table book!
The Masada narrative that's been popularized over the centuries (and by the movie) may be of… questionable historical accuracy. But this historical fiction Israel young adult novel designed for tweens and teens will help them connect the stories and the land before your family trip to Israel.
This biography intended for young readers covers the rescue of Israeli airline passengers held hostage in Entebbe, Uganda in 1976. Yoni Netanyahu, a unit commander, was the only Israeli soldier killed in the operation and his bravery is honored in this book.
This book compiles the letters between 12 year old Israeli and Palestinian girls after they are connected by a French journalist. Don't expect a package that's wrapped up neatly with a bow after two children recognize each other's humanity: their correspondence took place during the First Intifada and the Gulf War, and even as tweens and teens you can see the geopolitical conflict creeping into the girls' psyches.
The Young Adult lit genre runs strong, even in Israel! This novel (translated from Hebrew to English) follows 16 year old Assaf through a summer of discovery and challenges. For teen readers it will illuminate some of the struggles of life growing up in Israel and show the similarities and stark differences with their lives elsewhere.
---
Israel travel guides
If you want an easy-to-use travel guide to plan your first trip to Israel, I've got you covered! After many trips through all stages of life, I've put together the perfect itinerary to show you the highlights – including where to stay, where to eat, how to get around and more. Grab your copy today.
If you're looking for a broader Israel guide book to start planning your own journey, check out one of these options:
Israel books for elementary school kids
Are you planning a trip to Israel with kids? Get them excited with these wonderful books!
Don't miss our special guide to visiting Israel with kids, along with tons of info on visiting Jerusalem with kids and visiting Tel Aviv with kids.
Israel books for babies and preschoolers
Here are some of our kids' favorite books to prepare for visiting Israel. Big thanks to our friends at PJ Library for sharing them with us over the years! Another favorite for us has been this DVD set, which takes place entirely in Israel and includes two episodes dedicated to exploring Israel and another focused on teaching Hebrew (though all twelve episodes have a smattering of both).
Money-saving travel resources:
–Find the cheapest flights on Skyscanner
–Book your discounted rental car on RentalCars.com
–Compare travel insurance options
–4 simple hacks to save more money on booking.com

Check out these helpful articles to plan your upcoming trip to Israel:
–The perfect 10 day Israel itinerary
–3 days in Jerusalem itinerary
–2 days in Tel Aviv itinerary
–Where to stay in Israel
–50 things to know before you visit Israel
–What to pack for Israel in each season
–When is the best time of year to go to Israel?
–10+ must-read tips for renting a car in Israel
–20 foods you have to try in Israel
–25+ best books about Israel
–Where to stay in Jerusalem
–What to do in Jerusalem on Shabbat
–Israel with kids: the complete guide
–Visiting Jerusalem with kids
–Visiting Tel Aviv with kids
–Best day trips from Tel Aviv
–Best day trips from Jerusalem
–Your Israel itinerary for (more or less) 10 days
Pin this for later!