When we decided two years ago to pack up our family's life in LA and go gallivanting around for a year, we had no idea what the next next chapter was going to look like. We, perhaps naïvely, thought we'd get back to the US mid-summer, Ronnie would immediately find his dream job and we'd be settled somewhere in time for the kids to start school.
<LOL at two years ago me>
Needless to stay, it didn't quite go that way.
But it's all good! We're overall happy with the end result; the meandering path it took to get here took us to some places we love and introduced us to some new favorites. And in the second half of the year we've found a new home in a great community and have met people we're looking forward to connecting with for years to come.
Read on for all the juicy details…
2019 Travels In Review
Confession: I haven't gotten around to writing about most of the amazing places we visited. It'll come, in time, but I've discovered that one of the downsides of blogging as a business is that it's more justifiable to give your time and attention to the places lots of readers want to know about. But I promise, the rest will come in time! (Or maybe not, since I'm still not caught up on our 2018 domestic travels. One day, right?)
East Coast Adventures
If you read our 2018 year in review, you may remember that we ended the year in the DC area with my family (and really sick, for that matter). We continued our East Coast adventures through the beginning of February and managed to explore some fantastic places.
We rang in the new year with our good friends in Philadelphia, spent more time visiting the best of DC with kids while enjoying family time, and even popped into West Virginia for a day!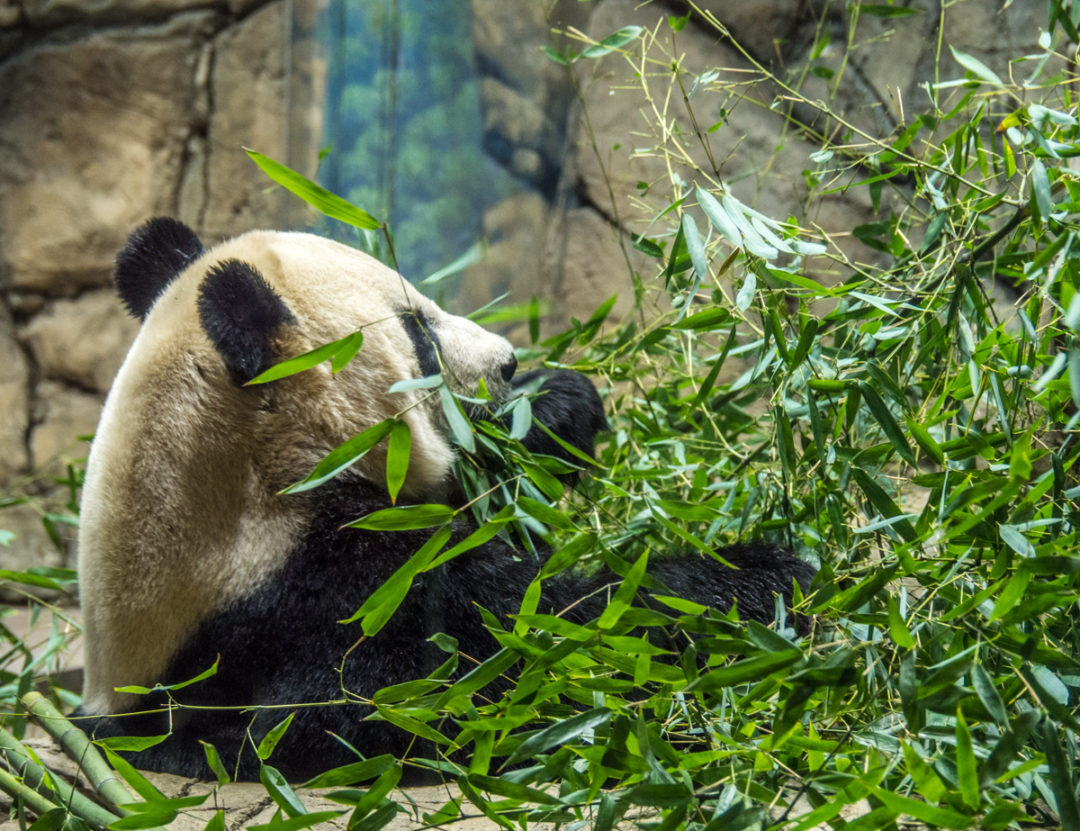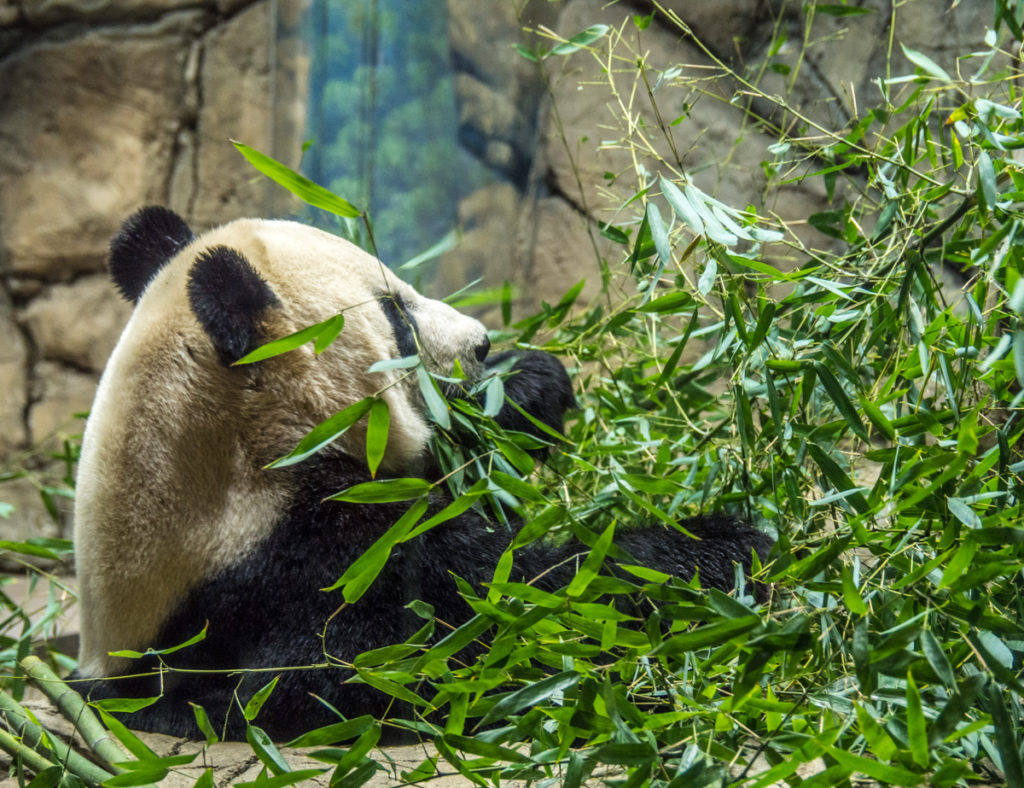 A highlight for the kids was finally getting to New York City. I grew up visiting every summer and maybe took it a little bit for granted, but last summer Jacob told us that a trip to NYC was at the top of his bucket list and we really wanted to make it happen for him!
It was just as magical as we'd hoped for us and the kids, despite being bitterly cold (we're talking single digits – here's what to pack to be prepared). I loved watching Jacob buzz with excitement at his first Broadway show, seeing Shosh scarf half-sour pickles though my family's old stomping grounds on the Lower East Side, sampling pizza all over Brooklyn and strolling Central Park arm-in-arm with Ronnie as we hadn't done in almost a decade.
If you're working on your own trip to the Big Apple (or looking for some inspiration), check out the best things to do in NYC with kids and some fantastic tips for visiting New York City on a budget.
Southwest Roadtrip
After two months in the DC area we decided it was time to move on to warmer pastures and we set out exploring one of our favorite places in the US: the Southwest.
We've spent plenty of time in the Southwest over the years. Phoenix is just a one-day drive from LA and we're lucky to have plenty of friends and family there. The Southwest was also a quick segment of our 2017 road trip that took us through Phoenix, Flagstaff and Albuquerque. But this was to be an epic adventure.
And epic it was! Our Southwest road trip itinerary took us on almost 3,500 miles in my trusty CR-V and through some places that truly blew our minds.
On our way out from Phoenix, we popped down to Tucson for a few days. Saguaro National Park is definitely worth a visit – the sunset was so unbelievable that I'm about to subject you to several photos from a single evening. We'll have more Tucson highlights coming soon!
Oh, and us people had a good time too:
Two of the major highlights on the road trip were White Sands National Park (though at the time it was "only" White Sands National Monument) in New Mexico and Big Bend National Park in west Texas. They couldn't be more different from each other, but each is magical in its own right! Check out a few favorite photos from our experiences:
After (almost tearfully) saying goodbye to Big Bend, we drove clear across the state to Austin. We had a whole week to explore the city, pop down to San Antonio and even celebrate Texas Independence Day in the hill country with BBQ, live music and… armadillo racing.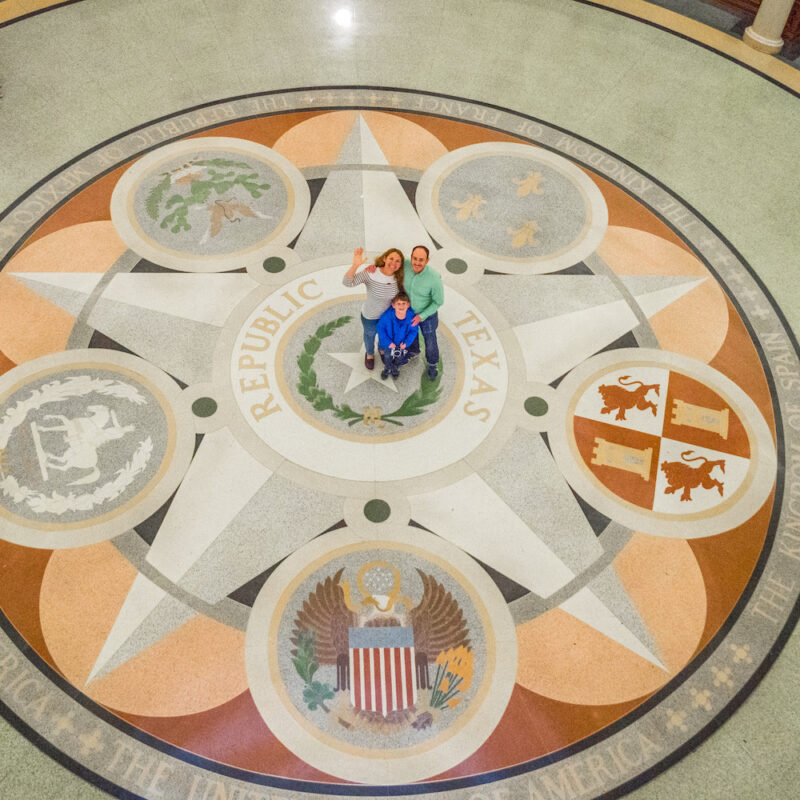 Yeah, Texas has a lot going for it!
Since it wasn't in the plans to proceed all the way back to the east coast by car (again), we headed back toward the Pacific but decided to cut back up through Albuquerque.
This was another first for me: Ronnie left us a day early in Austin to fly off to a job interview (more on that below), and then met the rest of us a few days later in Albuquerque. In case you're unfamiliar with the route, it's 700 miles and there's virtually nothing in between except Lubbock. Little known fact about our family: I hate driving. Truly and honestly. Those two days of road tripping solo with the kids were exhausting and I hope to never do it again! The kids were awesome, but it's just not my jam. Check out my top tips for road trips with kids and toddlers.
Our stop in Albuquerque in 2017 had been brief, but I'm so glad we went back to see the stunning Petroglyphs National Monument! You can read more about it (and see even more photos) here.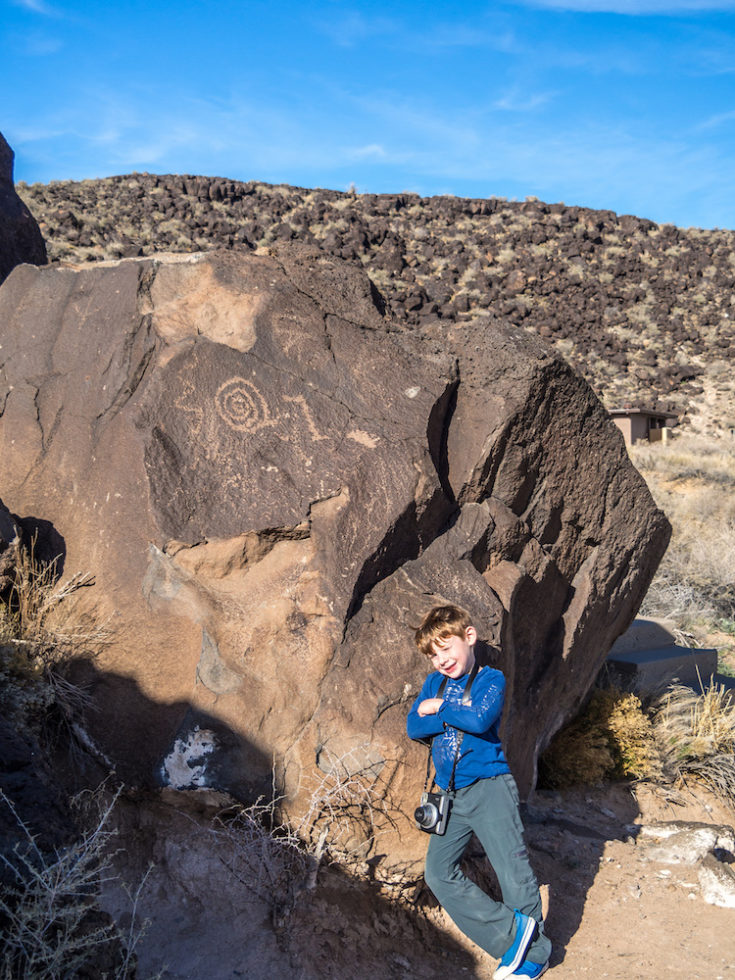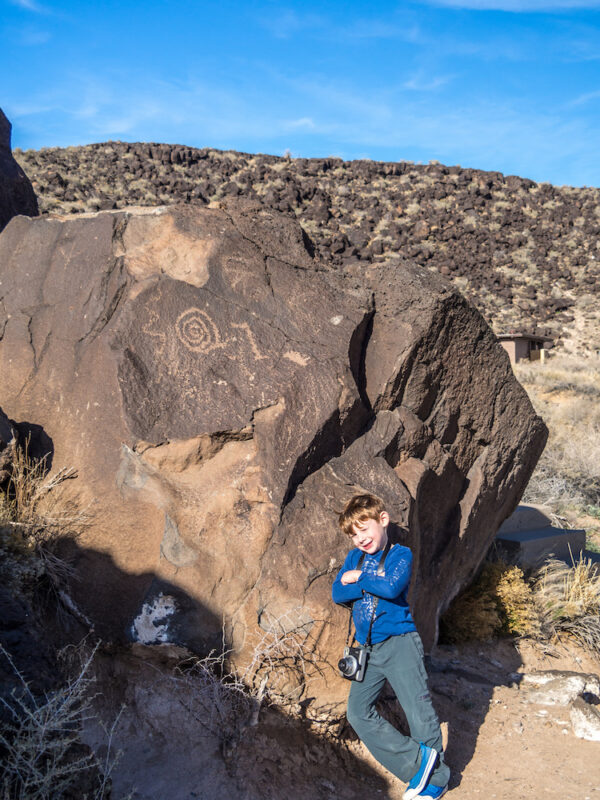 After leaving Albuquerque we made a brief (perhaps a little disappointing) stop at Petrified Forest National Park and then headed back down to Phoenix. We had an opportunity to work with Flytographer for a photo session in Scottsdale, and I love that we have these memories from one of our favorite regions in the US!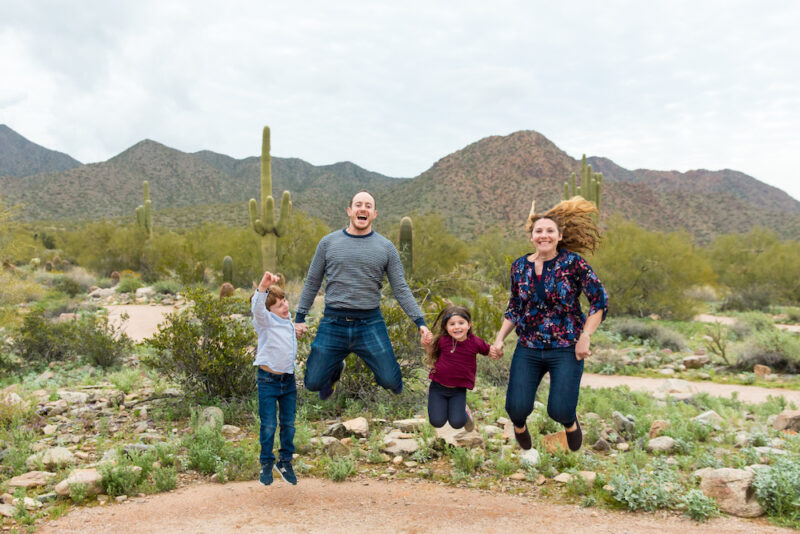 California Road Trip
Our goal was to make it back to Los Angeles to spend Passover with Ronnie's family, and we still had a few weeks to spare. We found several Home Exchanges around California and decided to tack on a loop around the Golden State! So we popped back to LA for exactly 12 hours to get to sleep and pack some gloves, then off we went.
First stop: Yosemite National Park. I'm almost embarrassed to admit that it was my first time in the park, despite nearly two decades as a Californian and the kids had also never been. Ronnie, on the other hand, went nearly every year growing up. It was like a homecoming for him. I'm so glad we all got to share the experience before leaving California! (Ooohhhhh… sneak preview!)
I can't say the weather was exactly cooperative for our entire stay, but we made the most of it. No matter the conditions, Yosemite has to be one of the most photogenic place in America.
After Yosemite, we cut over to the coast for a few relaxing days in Carmel-by-the-Sea (mostly to visit the world-famous Monterey Bay Aquarium) followed by almost two weeks exploring San Francisco with kids at another Home Exchange.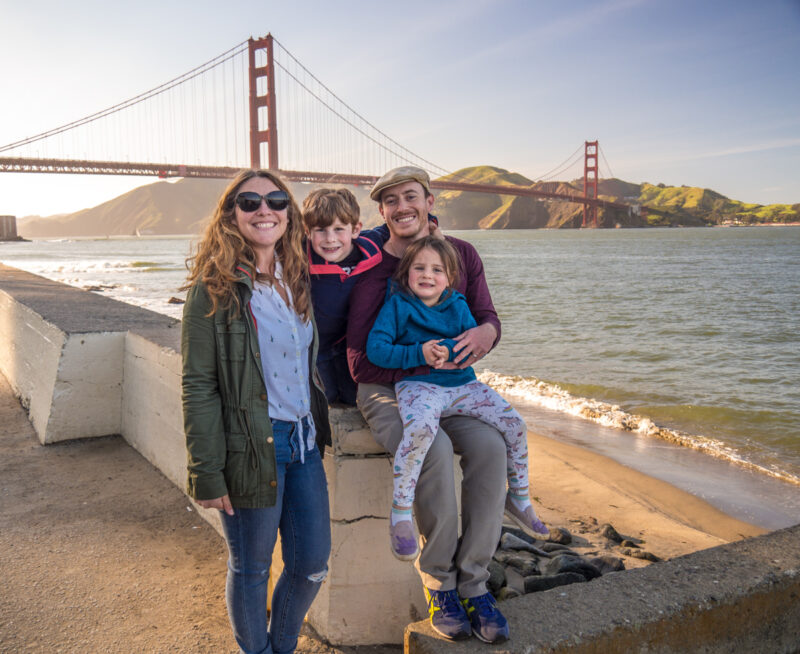 We headed back to Los Angeles for Passover, doctors appointments and to regroup after more than two months on the road. We love travel, but eventually living out of the trunk of your car can get old.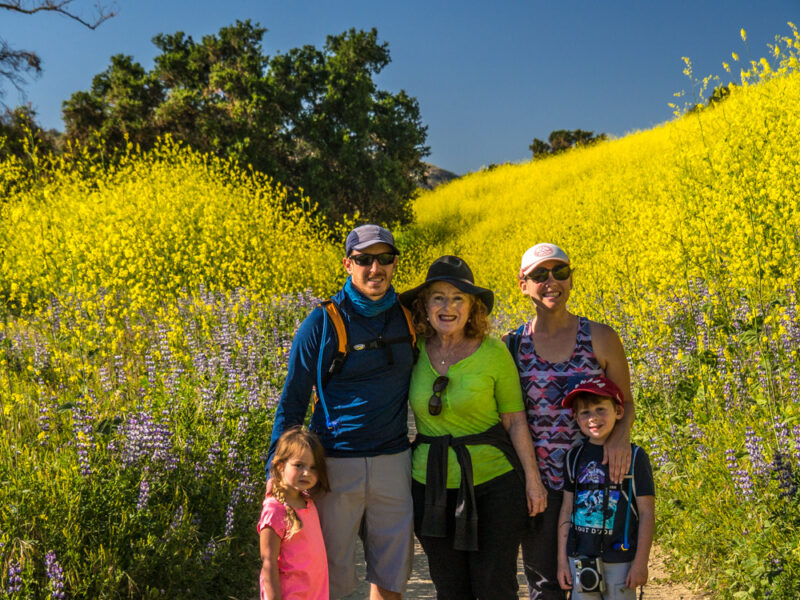 While we were in LA, that next next chapter began to unfold quickly and we finally made a decision on our family's future: Columbus, Ohio! But more on that in a minute.
Once we realized we had a few weeks to spare before our relocation and that we wouldn't have LAX as our home airport anymore, there was only one logical thing to do: go to Hawaii. Isn't that what everyone does when they're planning a cross-country relocation after two years of travel and in the middle of buying a house? Thought so.
The Big Island
If there's one thing we've learned over our family gap year(s), it's that we love Hawaii. We specifically love Oahu because there's so much to do in addition to lazing around on the beach, but I've also been to Maui and the Big Island and I love them too.
We decided to visit the Big Island this time around because we had a decent chunk of time available to explore – and there's a ton to explore. Sure, you could squeeze most of the good stuff into a really quick Big Island itinerary; but we were happy to go when we could stretch it out and do justice to the diverse offerings of the island (including plenty of time lounging on the beach).
Admittedly, the experience wasn't quite as relaxing as we'd anticipated. I was waking up at 6am every day (thank you, jet lag!) and getting on the phone with bankers and mortgage brokers 6 time zones away. It turns out that folks are hesitant to lend you a few hundred thousand dollars of their money after you spend two years functionally unemployed and roaming the globe. WHO KNEW?
But (spoiler alert!) I got that whole situation worked out and we had a great time apart from the blistering sun burns on our first day in Waikoloa.
After almost two weeks in paradise, we shifted focus to the second "T" that defined 2019 for our family…
"T" Is For "Transition"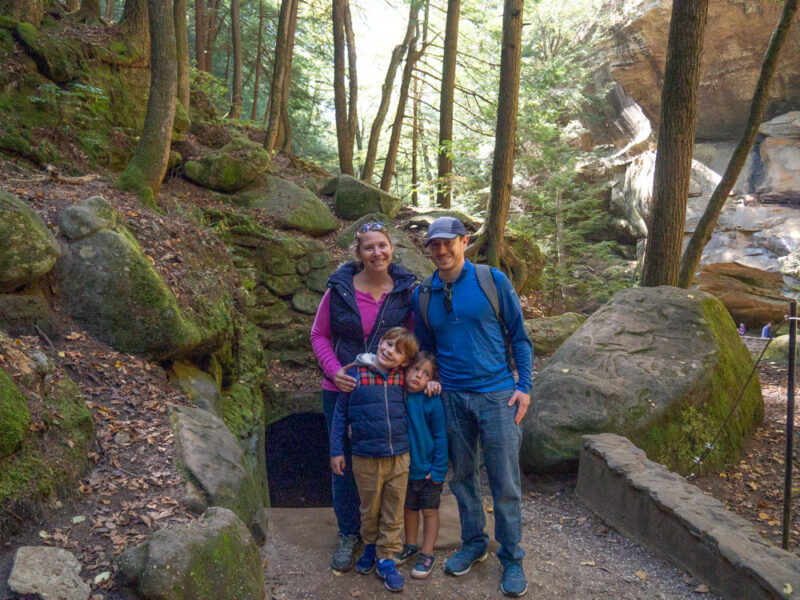 We never planned to travel full-time forever. We knew there would come a day when we would live somewhere again, we just didn't know exactly where that was going to be.
But we knew a few things we were looking for, wherever we wound up. Obviously great schools were a non-negotiable for us since we were moving with two kids in elementary school (which is shocking to think about since Shosh was so tiny when we first left LA). We couldn't deal with a place as expensive as LA again, or one where we'd have to live in a far-flung suburb to find an affordable area with the quality of life we wanted. After spending so much time driving around LA, I was crossing my fingers for a medium-sized city rather than another huge one.
And, of course, the whole job thing. For those who are new to our journey I previously worked in finance but didn't want to return to that work. Ronnie has always worked in non-profit management and aspired to return to that field but in a higher-level role after our travels. Since we no longer had a home or job or school back in LA, relocation was a distinct possibility and would make it easier to tick our boxes.
And relocate we did, all the way to Columbus, Ohio.
In July we bought our very first home (sight unseen, I might add) in an awesome community just outside downtown. It ticks our boxes in basically every way. After leaving DC two decades ago, I've now made it 85% of the way back.
Settling In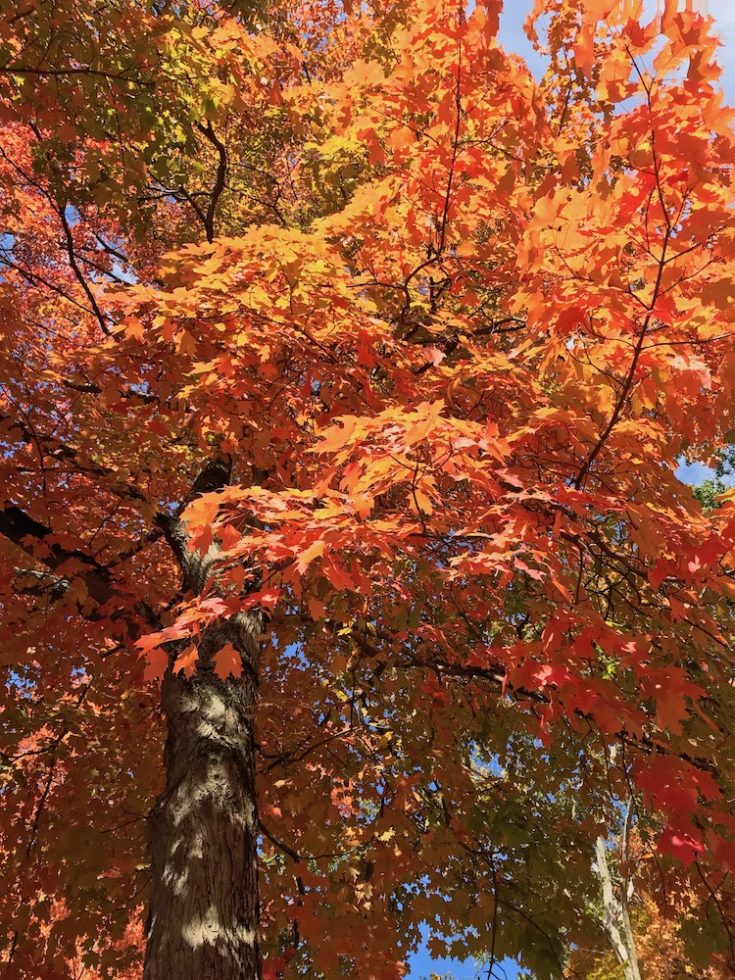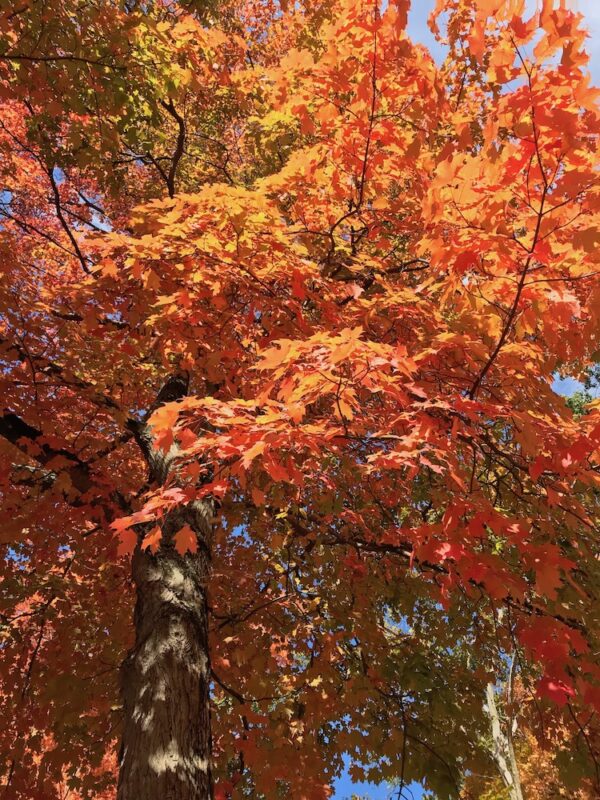 While we managed to visit a huge chunk of the United States in the first half of the year, by contrast the second half of 2019 was spent almost entirely here in Columbus. We've been busy settling in to our new life while trying to hold on to the feelings that made full-time travel so special. Admittedly, that's been a challenge.
We were blessed and spoiled to wake up nearly every day for two years and say "What should we explore today?" Even if the answer was "Nothing, let's sit at home and play!" that was a choice we could make (and not a bad one).
These days our lives have much more structure than I ever could have anticipated. It works, but it's a huge change for us.
We feel that in the long-run our kids will be better off in a traditional school rather than homeschooling indefinitely. They love their life here. Our local school is everything we could have hoped for: engaging, hands-on, and with a genuine concern for social-emotional development. The kids have already made wonderful friends and they have the opportunity to explore their passions and curiosities in our new "settled down" life.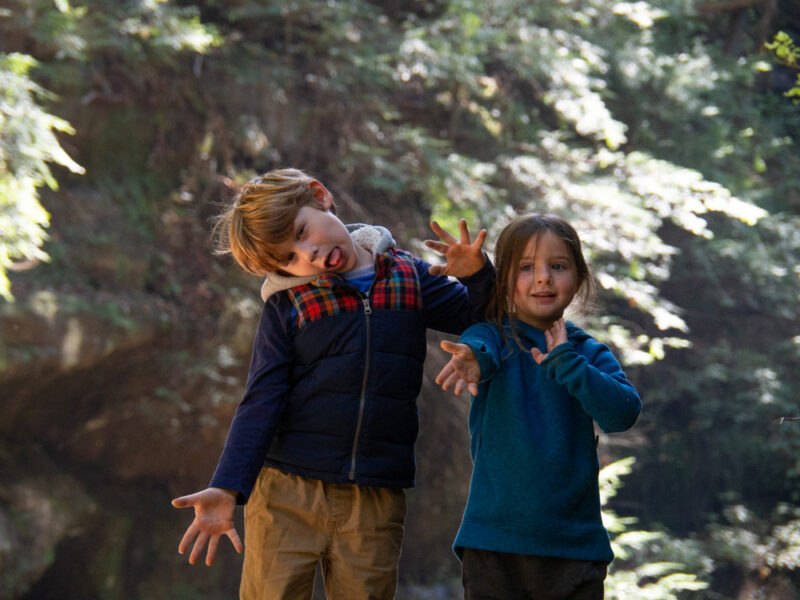 Jacob has become deeply engaged in karate (he recently asked his sensei if he could come three times per week instead of twice; thankfully she talked him down). Shoshana is enjoying dance class and choreographing some dynamite modern dances in our dining room most nights; she's even doing a musical theater camp this summer!
Ronnie has been diving into his new job with ferocity. Part of our motivation for taking a "pause" in our professional lives to travel was because he anticipated that his next, bigger job was going to be much busier than his job in LA was. Let's just say he wasn't wrong. But he's already learning a lot and growing as a professional, much faster than I think he anticipated. I still truly admire his dedication to a life of service.
As for me, I've always viewed my job in this period (as an old friend called it when she was the "trailing spouse" in a relocation) as "Chief Transition Officer". With the help of our moms, I've unpacked the house, furnished what needs furnishing, and even put a few things up on the walls to make it feel like home. And it does.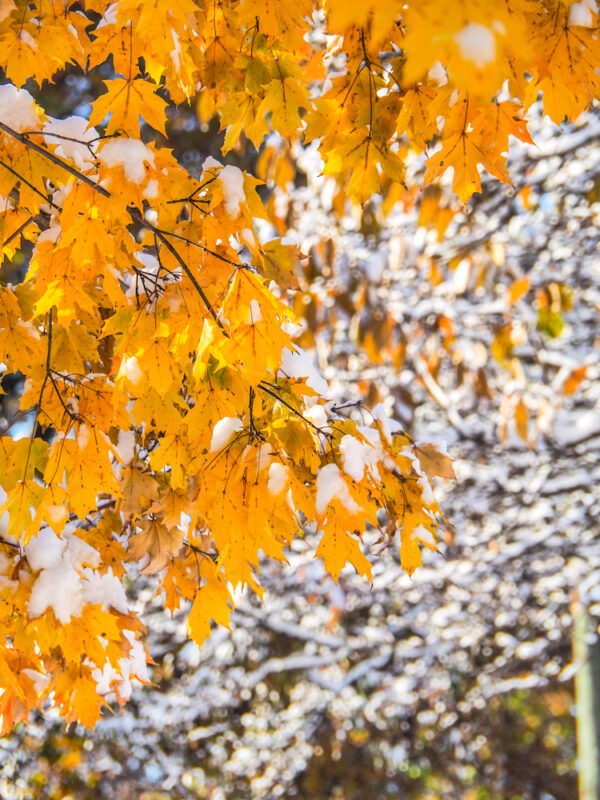 We've been more warmly welcomed by this community than I ever could have imagined. In many ways, this place is like Mayberry from "Leave It To Beaver". We know the people around us, and lots of them. We've met them at countless Shabbat lunches, kids activities, community events, holiday celebrations and even just through introductions on the sidewalk. One neighbor actually came over with pie! Coming from Los Angeles, it's almost a shock to the system – but in a good way.
For as much as we've lost in this transition, we've also gained immeasurably. We still miss our family and friends in LA (though we'll be visiting soon) and we look forward to learning how to carve travel time out from busy work and school schedules.
How about the blog?
I'm fortunate that we're able to make it work for me to be self-employed working on this blog and other online ventures full-time. It gives me the flexibility to take the kids to and from school and activities, which would be a lot harder with a traditional office job in light of Ronnie's new professional life.
Overall working on the blog full-time has gone well. It's honestly a lot easier to work on it when we're not traveling than when we are. I can sit in my lovely, quiet house for much of the day creating content, working on various marketing efforts, handling technical issues and more. When we traveled full-time, either I had to ignore Ronnie and the kids for part of the day or stay up until the wee hours just to stay caught up.
And I was never ever caught up! Running a website as a business is a heck of a lot more involved than just writing up a few notes about where we went and what we did. I have to research to understand what information other travelers are looking for that they can't find elsewhere (or that I think I can provide better than what's out there currently).
I also love creating in-depth content about places where we've spent a lot of time. In fact at the end of 2019, I created and started selling my very first guide book! If that sells well enough, I have ideas for a few more guide books for places we know well and can offer insight to other travelers.
Between projects like that and creating in-depth content for certain locations, I've never quite been on top of writing about some of our destinations – especially domestic ones. In fact, writing this year-in-review update lit a fire under me to write a ton of new articles that were long overdue.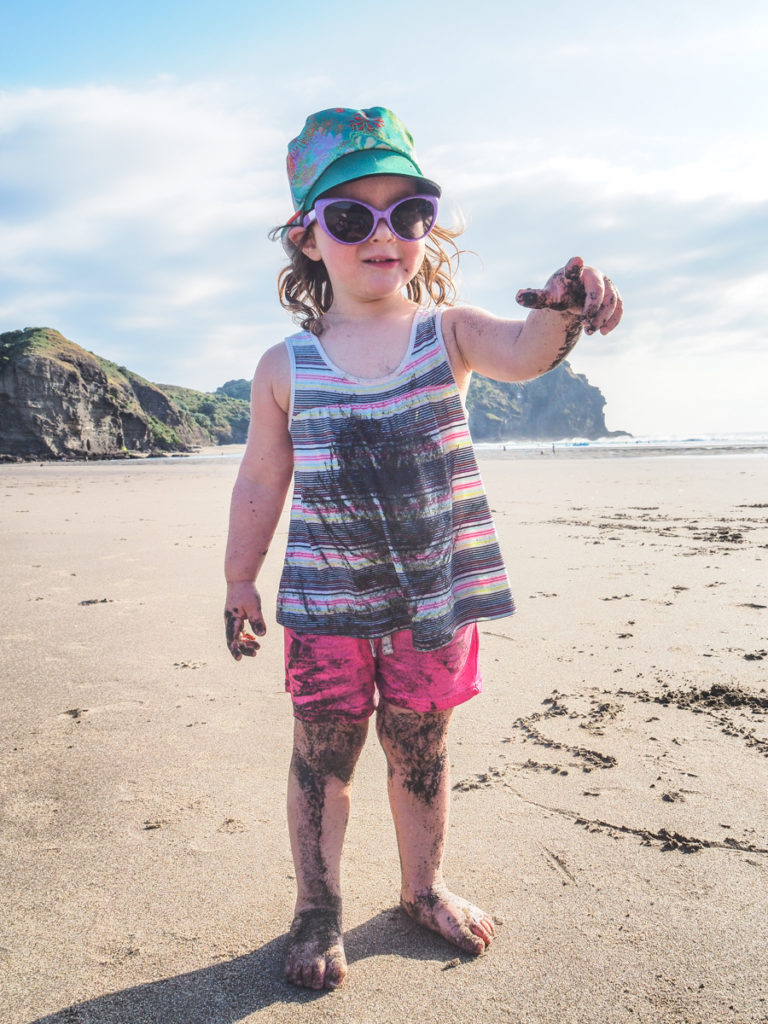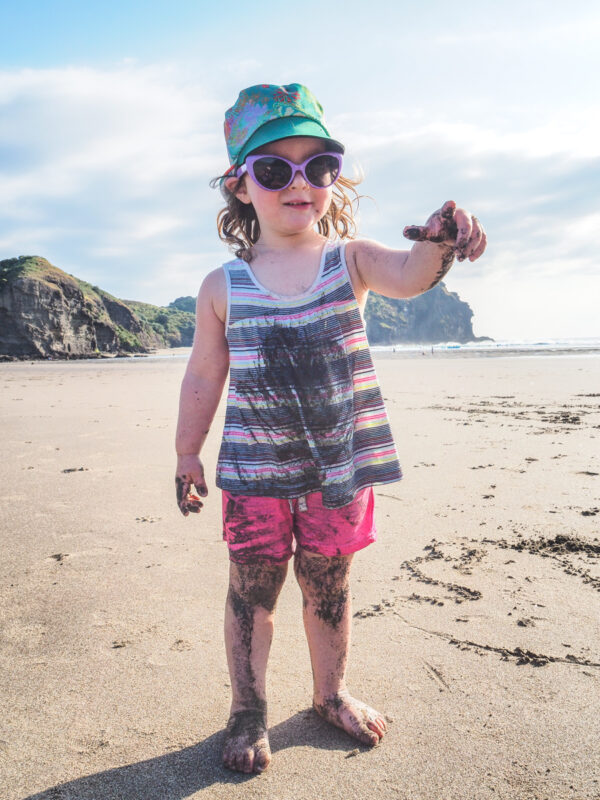 What will 2020 bring for this blog? I'm looking forward to finally getting on top of our domestic travel, some of which date back to our 2017 cross-country road trip. I'll also be providing more guides and itineraries for some of our favorite places around the world – from Paris to New Zealand and points in between. I've written exactly one article about DC and one about LA, despite spending 20 years as resident in each, so there's certainly room to grow in those destinations. Finally, as newly-minted Midwesterners we look forward to exploring more of our new region and showing all the best it has to offer for visitors.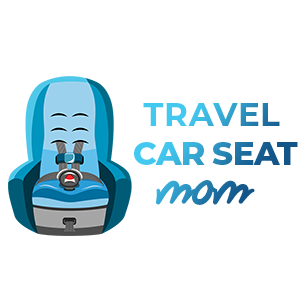 I've also been working hard on a new website, Travel Car Seat Mom. For as long as we've been traveling with our kids, the #1 question we've gotten from other travel parents is what to do about car seats. So I'm digging in deeper, expanding on my original articles about traveling with a car seat and the best travel car seats. The goal is to answer any possible question a parent could have on the topic, so if you have one be sure to shoot it my way!
Another focus for 2020 will be staying in closer communication with readers of my websites by email. Sign up below to be part of the fun!
Come along on the Voyage!
While you're at it, come check us out on Facebook, Pinterest and Instagram!
I hope this update has given you a glimpse into what we've been up to. It's been fun for me to look back on this huge year of change for our family!