One of the best things to happen to West Coasters in the last few years is the swell of affordable flights to the stunning Hawaiian islands. With just a 5 hour flight time, Hawaii is now an option even for long weekends!
Whether you're just spending a few days in Hawaii or looking to build an island-hopping itinerary, 3 days in Maui is a great way to get a little taste of what Hawaii has to offer. You should also look through these options if you're trying to build a 5 day Maui itinerary and what more active options in between your beach days.
Even in a short time you can experience Hawaiian wildlife, get adventurous in Maui's diverse landscapes from gorgeous beaches to lush jungles to rugged mountains, and of course eat some ono Hawaiian food.
In this article you'll find everything you need to start planning your trip to Maui: things to do on Maui, where to stay on Maui, restaurant recommendations, Maui essentials for your packing list and Maui travel tips.
Let's go!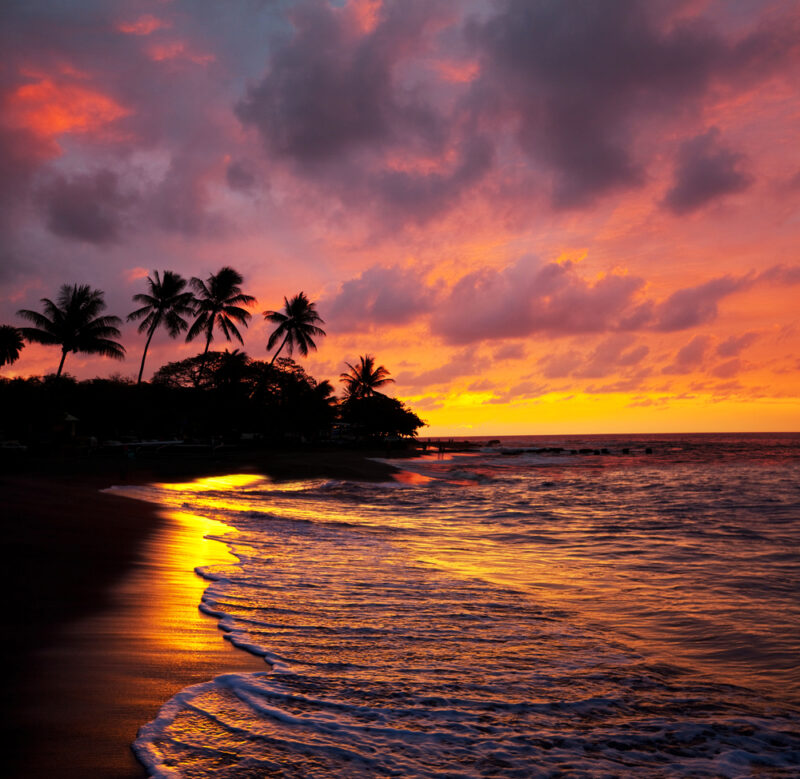 3 Days in Maui itinerary summary
Day 1
Arrive
Get settled
Hit the beach!
Dinner at Pacific'O
Day 2
Day 3
Where to stay on Maui
If you were planning a longer trip to Maui, you might consider staying in two different areas of the island. But since you only have 3 days in Maui, it makes the most sense to stay in just one place.
There are two ideal areas to consider: west Maui (Lahaina or Ka'anapali) or south Maui (Kihei or Wailea). Which one you choose is really about personal preference.
West Maui is full of nice resorts and hotels, has lots of great shops and restaurants and many of the island's nicest beaches. If that sounds like a good fit for you, check out the Honua Kai Resort. We had an excellent stay at the Westin Ka'anapali Ocean Resort Villas, which offer plenty of space for families and larger groups to spread out and include laundry and a full kitchen.
On the other hand, South Maui is a little lower key and has a wider range of accommodations to suit every budget and it's closer to the airport (handy for a Maui itinerary of 3 days), Haleakala and the beginning of the Road to Hana. Click here to see some great hotel options in South Maui. If you want real luxury for your quick trip, it's hard to beat the Grand Wailea Maui or the neighboring villas at the Ho'olei at Grand Wailea.
If you want save money on your accommodations and groceries by staying at a condo, check out these top-rated cheap vacation rentals on Maui. Cheap is relative, of course. For those traveling to Maui with kids, there are plenty of family-friendly vacation rentals on Maui covering the whole range of prices.
Use the interactive map to find vacation rentals and hotels in Maui, Hawaii
Tips For Your Maui Vacation
Renting a car on Maui is strongly recommended. Taxis and Uber are available, but add up quickly. There is a bus that runs to the major hotel areas and stops at the airport, but that won't let you get out and explore the quieter parts of the island without paying for excursions every day. There's a long list of what to see in Maui in 3 days, so make every moment count! Check here for the best rental car prices.
If you want to pick up sunscreen, souvenirs or snacks check out Walmart in Kahului, just a few minutes from the airport. They also have a well-stocked grocery section in case you want to pick up breakfast or lunch foods to save money in Hawaii.
Speaking of sunscreen, make sure you bring reef-safe sunscreen everywhere you go in Hawaii!
Don't overpack, especially if you plan to visit Maui in 3 days. All of Hawaii is extremely casual and you probably won't wear half of what you bring. Check out this list of Hawaii essentials to make sure you have what you need.
Psssst… don't forget to pick up this guidebook before you visit Maui in 3 days! It'll be your best friend on Maui:
Detailed Maui 3 day itinerary
Day 1 in Maui – Arrive and hit the beach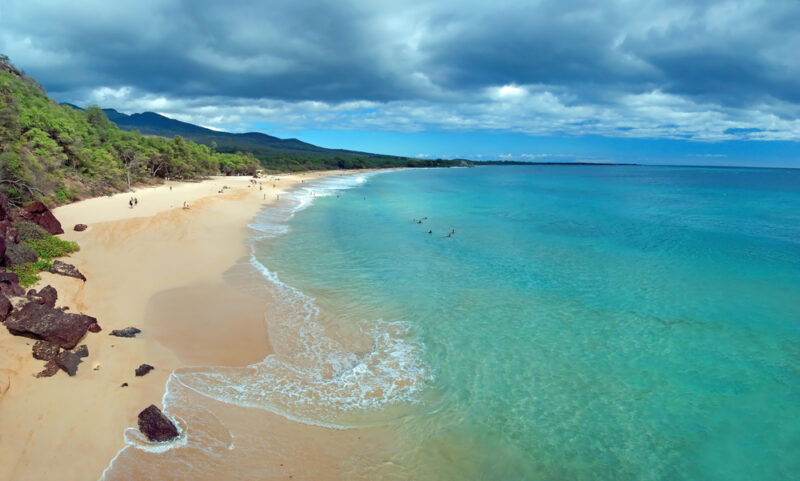 Welcome to paradise! Hopefully your flight was filled with relaxation and guava juice to get you in the mood for your quick little getaway of three days in Maui.
You'll definitely want to grab a rental car on your way out of the airport. Having your own set of wheels gives you ultimate freedom to explore the island on your own time. Since you're only staying on the island a short time, you can probably skip a stop at the Costco or Walmart near the airport for a big shop (though they're available if you forgot something important!).
But after that long flight you're probably hungry! You won't have many meals on Maui, so make them all count. Head to Poi by the Pound, just a few minutes from the airport. Contrary to it's name, the menu has plenty beyond poi (taro root pudding). You can choose from nearly any traditional Hawaiian dish ranging from poke to laulau and beyond, most served in the "plate lunch" style with rice and mac salad. It's not exactly a scenic location, but you can always take your food a few minutes away to Kanaha Beach Park to picnic before you hit the road. Kanaha Beach is a great place to watch windsurfers and take in your first glimpses of Maui scenery – and maybe even some wildlife in the air and the water!
Once you've stuffed your belly, it's time to drive on to your home-away-from-home for the next few days. Drive time is 20 minutes to Kihei, 30 minutes to Wailea or 45 minutes to Ka'anapali. It will probably be early afternoon by the time you arrive at your hotel, and with any luck your room will be ready. Take a few minutes to get settled, refill your water bottle and change into your swimsuit. Of course, don't forget the most important step.
Good news for you: it's time to hit the beach! Since you're only staying on Maui a short time, you won't be able to spend every moment digging your toes into the soft white sand. Fortunately you have a few really solid hours to enjoy it now. If lounging isn't your style, see if you can borrow a snorkel or boogie board to explore the water. It's best to decide in advance if you want to do one of these activities, as each beach on the island has different strengths depending on the shape of the coastline and the currents. You'll also want to make sure you can borrow or rent whatever equipment you need without too much inconvenience.
After a few hours on the beach, it's time to head back to your hotel and clean up for dinner. It's a great evening to enjoy a nice meal with a perfect sunset view. If you're staying in Ka'anapali or elsewhere in west Maui, I highly recommend Pacific'O in Lahaina. The food is so good we ate there twice, and the sunset views from the outdoor tables is unbelievable. If you're having dinner on the early side, take a stroll afterward around Lahaina's Front Street to peek in the windows of galleries and other lovely boutiques.
Day 2 in Maui – Road to Hana
It's an early day on the Valley Isle! You'll grab a quick breakfast as you head toward Kahului to start your drive on the Road to Hana. How much of the road to drive depends on when you start, how much you and your passengers can tolerate and how late you want to stay up. Remember that you'll be fighting jet lag come night time!
Pro tip: Download the Shaka Guide Road to Hana tour to get the inside scoop through your entire day!
While it's a little too ambitious in my opinion to drive the entire Hana loop, which takes 10-12 hours assuming no unusual road issues, you can still enjoy some of the lovely closer areas to get a taste of Maui's lush side! Especially if you are staying in south or west Maui, you'll need to add around 30 minutes to get to Kahului.
For a wonderful sample of what the Road to Hana offers, consider this itinerary (then double back on the return leg):
Kahului (starting point)
Twin Falls (easy waterfall hike, great smoothie stand)
Garden of Eden Arboretum ($15 admission, waterfall, over 500 different tropical plants)
Ke'anae Peninsula (Aunty Sandy's banana bread, stunning view, great place to enjoy a picnic lunch)
Turn around here to return
Paia town (watch windsurfers at Ho'okipa Beach, stroll the shops, Ululani's Hawaiian Shave Ice, dinner at Mama's Fish House)
There are plenty of other beautiful and unusual stops even on this short route!
The driving time from Kahului to Ke'anae Peninsula and back is around three hours, but you will want to stop. You could easily spend several hours at the various stops in total. Leaving from Ka'anapali at 9:30 am, you could easily not return until evening.
If you're in Paia around dinner time, don't miss the world-famous Mama's Fish House. Everything is fresh and locally caught, and they're open daily from 11am to 9pm. For tighter budgets, we loved the low-key Pa'ia Fish Market. The original location is centrally located in town, though they have locations in Lahaina and Wailea as well if you don't make it to the Pa'ia shop. Check out more family-friendly restaurants on Maui if you'll have tiny travelers with you.
Remember that you'll have a 2-3 hour time difference if you're coming from the west coast and a 5-6 hour time difference if you're coming from the east coast! The last thing you want is to find yourself on dark, exhausting roads when your body is telling you it's bedtime.
Day 3 in Maui – Day trips and luau
Your final day on Maui is a great opportunity to check out a completely different side of Maui! There are plenty of options to choose from, but you won't be able to do everything so may only be able to do one of these options. If the Road to Hana described above doesn't sound right for your trip, you can always try out another one of these excursions.
Sunrise at Haleakala
If you have energy after your drive along the Road to Hana yesterday, you can start of extremely early to witness the stunning sunrise from the top of Haleakala. What is Haleakala? Haleakala the dormant volcano that dominates the topography and geography of east Maui, and has been protected as Haleakala National Park since 1961. I haven't personally visited Haleakala for sunset but got some insider tips from friends who have gone many times.
Pro tip: Download the Shaka Guide Sunrise at Haleakala tour to get the most out of your experience!
Watching the sunrise from the top of Haleakala is one of the most popular things to do on Maui, but it definitely requires advance planning. First off, you need to make a reservation for Haleakala sunrise – it's only $1 but secures your permit to enter the National Park from 3 to 7am. You'll still have to separately pay for your park admission ($30) or use your America The Beautiful National Parks Annual Pass.
Second, prepare for an extremely early (and long) morning. How early should you get to Haleakala? You'll want to check what time the sunrise is and then plan to arrive at the summit an hour before that. The drive time from many parts of Maui to the summit can be up to two hours. So if you're visiting Maui in June, plan to be starting your car around 2:30am (unless you opt to stay close by like this lodge); if you visit in winter, you can rest easy until a luxurious 4am. These times might sound horrendous for a vacation, but remember that if you're coming from mainland USA you'll have a 2 to 6 hour time difference working in your favor.
Third, bring the essentials: WARM clothing and plenty of coffee and snacks. It can be downright frigid at the summit of Haleakala. We're talking about one of these on top of one of these. You'll probably be at the summit for nearly two hours (some of the most stunning views are long after the tour groups have left), you'll probably want a massive supply of hot coffee to keep you going – this should help.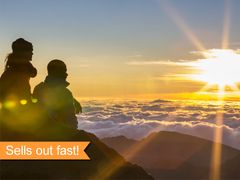 If the logistics sound a little overwhelming or you don't feel comfortable driving the mountainous switchbacks in the pitch black, you can also consider booking an authorized tour to take you to the top. Tours range from 8 to 10 hours depending on where you're being picked up and include snacks, breakfast and a guide to provide context to your experience. Click here for more information.
If sunrise at Haleakala doesn't sound like the right option for you, that's ok! You can jump straight into one of the next excursions to start your day or you can spend the morning relaxing on the beach after gorging on tropical fruit for breakfast.
You should visit Maui without getting out on the water for at least a little while, and there are two great ways to do it.
Whale Watching on Maui
If you're visiting Maui between November and May (which is whale season in Hawaii), I strongly recommend spending a few hours with the Pacific Whale Foundation. This non-profit offers extremely high-quality whale watching excursions with narration by naturalists the whole time. They are extremely respectful of Hawaii's laws that prevent boats from crowding marine mammals.
Our whale watching tour with PWF was one of the highlights of our trip to Maui! Kids of all ages are welcome – we had our baby in a carrier, and for older kids there's even a "Junior Naturalist" program akin to the National Parks' Junior Ranger program. Get more details and check prices here for Lahaina departures or here for Ma'alaea departures (closer to Kihei).
Snorkeling at Molokini Crater
For visitors who want a more active endeavor, skip the sunrise on Haleakala and head straight to Ma'alaea harbor in the morning for a boat to nearby Molokini Crater. You'll still be with the lauded Pacific Whale Foundation, but this time you'll get to dive in at several spots to see wild dolphins, sea turtles and so many types of fish you'll lose count. Molokini is known as one of the best snorkel spots in Hawaii, and it's an experience you'll never forget!
This tour leaves at 7:30am and will bring you back to Ma'alaea after lunch on board. Get more details and check prices here.
Explore Lahaina Town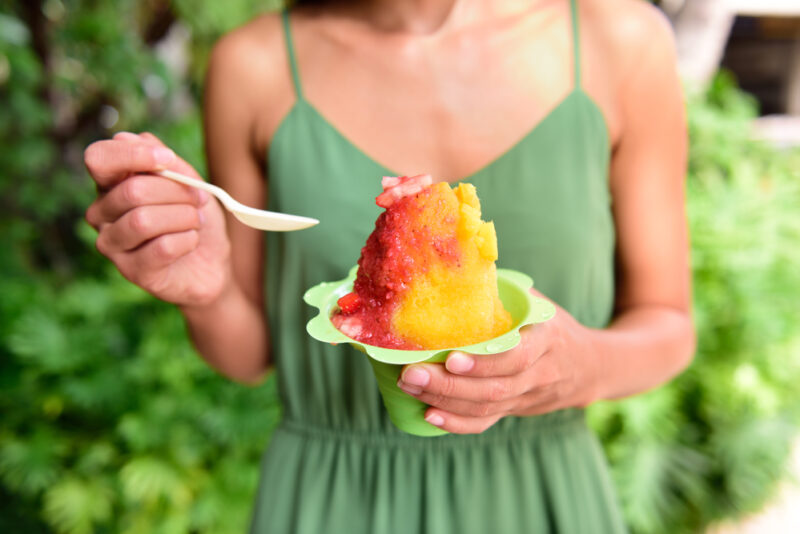 If you're staying in West Maui, after returning from your morning activity you'll want to spend a little time wandering around front street. There are plenty of fun galleries and shops and, of course, Ululani's Shave Ice. Many people claim it's the best shave ice on Maui and I can't say I disagree. During our week on Maui we snuck in quite a few visits. You also won't want to miss Lahaina's famous banyan tree, planted in 1873 and now dominating Front Street at the harbor.
Once you've had your fill of town, I recommend squeezing in a few precious hours of beach time on your final day on Maui. Don't forget to reapply your reef-safe sunscreen!
Best Luau on Maui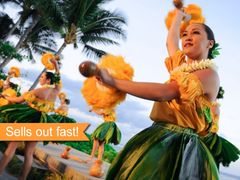 To cap off your quick jaunt to paradise, you'll spend your final evening at on of Maui's best luaus. Why the last night instead of the first night? Luaus go late and you'll hopefully be a little better adjusted to the time change from the mainland!
We chose The Feast at Lele for our trip to Maui and we weren't disappointed. We've been to luaus on several islands and this one was by far the most special. While other luaus feature long, family-style tables and enormous food buffets with all the same dishes, The Feast at Lele is a completely different experience. Click here for more details and current pricing.
The menu and entertainment are coordinated to feature the diversity of the Polynesian islands – Hawaii, Aeotearoa (New Zealand), Tahiti and Samoa. Each course reflects that island group, and you're treated to matching entertainment. Dishes are refined and elegant and all of the service is table-side and personalized. Each course offers alternatives for guests who are vegetarian or have other dietary restrictions, as we do. We were never wanting for food and often received double portions of anything we requested when one of the other dishes was something we didn't eat. The food is so good.
Since the luau is smaller than most, they can really focus on quality and intimacy. It's right next door to Pacific'O for good reason: it's the same company and the same executive chef. At The Feast at Lele, every party has a private table. Since we attended as a couple, we had a romantic table for two (right in front of the stage, no less). When we attended there were no young children present, though when family members went a few years later they said there were a few.
Why wouldn't you choose The Feast at Lele? There are a few reasons why it might not be right for some travelers. First, it is a little more expensive than other luaus in Hawaii – especially for kids. Second, it's not strictly Hawaiian. As I mentioned above, it incorporates traditions and cuisine from throughout Polynesia. That isn't necessarily bad, just different – but remember, fire knife dancing is Samoan, not Hawaiian.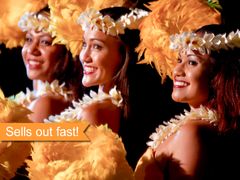 The other frequent pick for best luau in Maui is the venerable Old Lahaina Luau. It's actually owned by the same company as The Feast at Lele but offers a more traditional luau experience. The food and entertainment are all Hawaiian, the service is buffet style and you have the choice to sit at family-style tables for 8 or on woven mats on the ground.
The Old Lahaina Luau is a very popular Maui luau for families thanks to reasonable kids pricing, kid-friendly menu and even some kids' activities! We have family members who have gone in recent years and shared rave reviews with us. Click here for more details and current pricing.
Maui travel planning FAQs
See all of our Hawaii travel planning resources in one place

Travel planning resources:
Compare rental car prices for Hawaii
Buy a top-rated travel insurance policy
5 simple money-saving hacks for booking.com

General Hawaii resources:
How to visit Hawaii on a budget
Renting a car in Hawaii: 10 things you NEED to know
What to pack for Hawaii
Is a cheap GoPro knock-off worth it?

Hawaii with kids:
What's the best Hawaiian island for families?
Is it worth visiting Hawaii with a baby?
Ultimate packing list for Hawaii with kids
Top 10 things to do with kids on Oahu
The best snorkel gear for kids of all ages

Oahu resources:
Best Oahu travel guide book
Perfect 7 day Oahu itinerary
Where to stay on Oahu
Family-friendly Oahu vacation rentals
Cheap Places To Stay On Oahu
10 Fun Things to do on Oahu for $10 or less
Getting the most bang for your buck on your Go Oahu discount card
Insider tips for visiting the Polynesian Cultural Center
The best beaches on Oahu (and why to visit them)
Where to find the best shave ice on Oahu
The best easy hikes on Oahu
North Shore Oahu complete visitors guide
Kayaking to the Mokes with Twogood Kayaks
Family-friendly kayaking with Holokai Adventures
Visiting Pearl Harbor

Maui resources:
Best Maui travel guide book
Perfect 3 day Maui itinerary
Cheap Places To Stay On Maui

Big Island resources:
Best Big Island travel guide book
Perfect 5 day Big Island itinerary
Cheap Places To Stay On the Big Island

Kauai resources:
Best Kauai travel guide book
Perfect 3 day Kauai itinerary
Cheap Places To Stay On Kauai