Whether you're just starting to plan your family trip to Hawaii or you're getting ready to board the plane, chances are you've started thinking about what to bring to Hawaii for kids. We've spent a lot of time in Hawaii with our own kids and I'm excited to share our family beach vacation packing list for Hawaii.
This packing list for Hawaii with kids will cover all the clothing and gear you need for an amazing trip – without overdoing it like we did as rookie parents. You'll find out how to protect your kids from the elements and meet everyone's needs while having a blast in paradise!
This article was produced in partnership with our friends at Thinkbaby. All opinions are our own.
UV rash guard for kids
If I were going to give you a sneak peek and one of two main themes in this packing list, it's sun protection. There is never too much you can do to protect your kids from the sun's harmful rays! Sadly sun damage experienced as a kid can have even more serious long-term effects than sun damage in adults.
One of my favorite strategies for keeping delicate kid skin safe in Hawaii is to make them wear UV rash guards any time we hit the beach or the pool. They're extremely effective, don't need to be re-applied and they're also a huge time saver. Any time my kids scoff at them (because they're kids) I just remind them that rash guards mean less time doing sunscreen and more time playing!
For babies and young toddlers, I really love these i Play sets. They include a rash guard and a reusable swim diaper that snaps off at the sides (just in case). They also sell separate swim diapers in adorable prints and coordinating rash guards in solid colors.
For older kids who are potty trained, there are tons of great options out there! We've had lots of success with sets from Carters and Target. I really love all the new mix-and-match options from Primary too! They even offer one-piece swimsuits with sleeves built in.
Read more: What's the best Hawaiian island to visit with kids?
---
Reef-safe sunscreen for kids
What should you do about the parts you can't cover with a rash guard? Sunscreen! It's also so important to wear sunscreen on faces, necks and everywhere else on non-beach days in Hawaii as well. You and your kiddos can certainly get burned even when you aren't at the beach. Be sure to put good sunscreen at the top of your Hawaii family packing list!
For almost a decade our family has loved using thinkbaby and thinksport sunscreen. We first picked it up on a whim in the aisles of Whole Foods when our pediatrician gave the green light to use sunscreen on our baby (who is now a moody tween). We love that it's non-nano zinc, so it protects the family's skin without being absorbed like chemical options are. It rubs in easily and avoids the ghostly look of a lot of physical barrier sunscreens.
Importantly for those of us who love visiting Hawaii, it's totally reef-safe! Hawaii's ban on certain sunscreen ingredients that can damage fragile coral reefs went into effect at the beginning of 2021. It's convenient to just pack our regular sunscreen rather than hustling to find special sunscreen in Hawaii that's reef-safe, won't cause me to have a rash (been there, done that) and also doesn't cost an arm and a leg.
Though there was a mis-print on the TSA website recently, unfortunately US travelers are still restricted to 3oz tubes in their carry-ons. If you're traveling light, you can put a tube in each person's carry-on luggage. For families that plan to check a bag, you might as well throw in the 6oz family size tube.
We've also been able to buy thinkbaby and thinksport in stores in Hawaii when we needed a re-stock – check here to see if it's carried on the island you're visiting. You can even order online for store pickup to save time.
I will add that our family uses Thinkbaby, Thinksport Kids and Thinksport interchangeably depending on what's least expensive (since we use a lot over the course of the year). They have slightly different scents (orange creamsicle, passionfruit and lemongrass, respectively) but identical ingredient lists. All of the scents are mild and everyone in our family is fine no matter which one they end up with!
Water-friendly sun hat
Hats are a great part of sun defense too! They protect faces, necks and the often-missed tops of the ears. It's the third part of the fun "Slip! Slop! Slap!" song that helped Australia and New Zealand dramatically decrease melanoma rates in the 1980s.
Be sure to choose a hat that's water-friendly and offers a wide brim for extra protection. They're great to wear both on the beach and for hikes.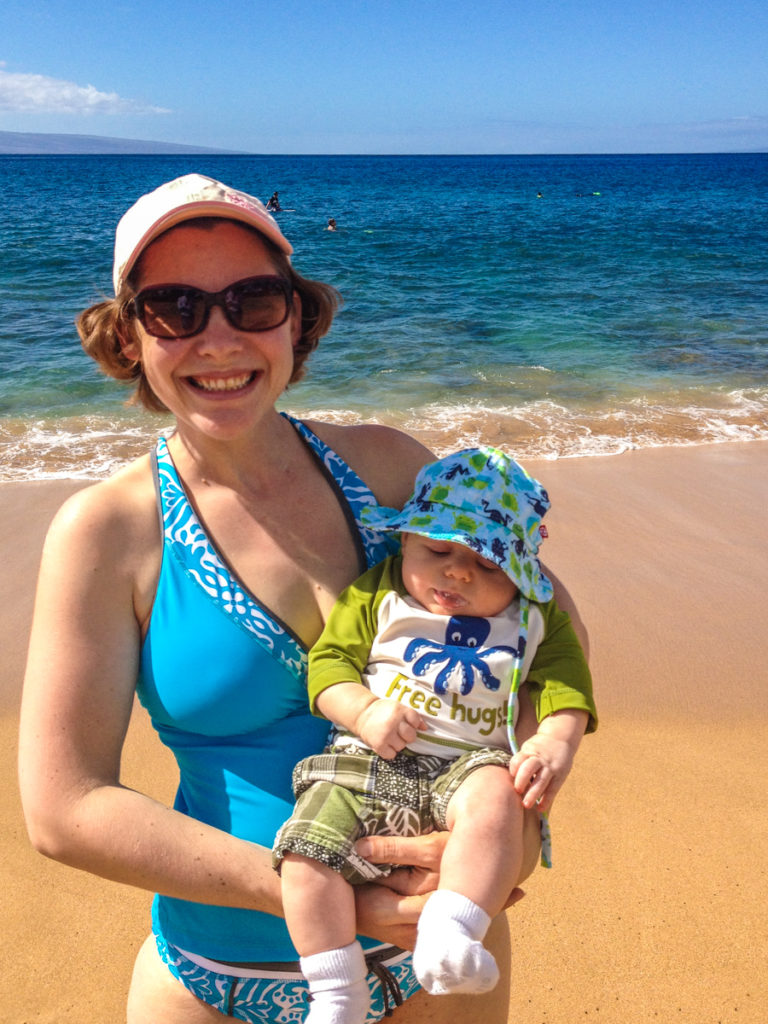 If you're traveling with a nugget who's too small for the water, you can opt for a soft cotton hat with a wide brim like our little snoozer above.
Read more: Is it worth visiting Hawaii with a baby?
In a pinch (like when you're packing for Hawaii with kids this night before and realize their wide-brim hat is outgrown) a baseball cap will do. Target in Hawaii always has fun options!
2 Swimsuits
If your family is anything like ours, swim suits will be your primary "clothing" in Hawaii. Many days our son just wears swim trunks and a t-shirt (which he swaps for a rash guard at the beach) and our daughter wears a dress over her swimsuit. It's so easy and everyone is always beach-ready!
I do recommend bringing at least two swim suits with you so that one is always dry and ready to go. Especially on the more humid windward sides of the islands, it can take time for sopping wet stuff to dry. Hanging swimsuits in the sun can speed things up, but make sure you turn them inside out to avoid fading!
Sunglasses
Just like skin, eyes are susceptible to sun damage. Being in Hawaii without sunglasses can also just be plain uncomfortable, especially on long scenic drives around the islands. Kids sunglasses with polarized lenses are great for UV protection as well as glare reduction.
4 Outfits
Everything in Hawaii is extremely casual. Shorts are fine wherever your family will go! Most kids won't need more than four outfits for a family trip to Hawaii. Shorts and t-shirts or casual sundresses will keep everyone comfortable and happy.
I usually throw one short-sleeve button down or polo shirt in for my son for attending a luau or nice dinner out. Check out my daughter and I wearing our favorite dresses on our last night on the Big Island! (If you're wondering what mom should bring, check out my Hawaii packing list for women.)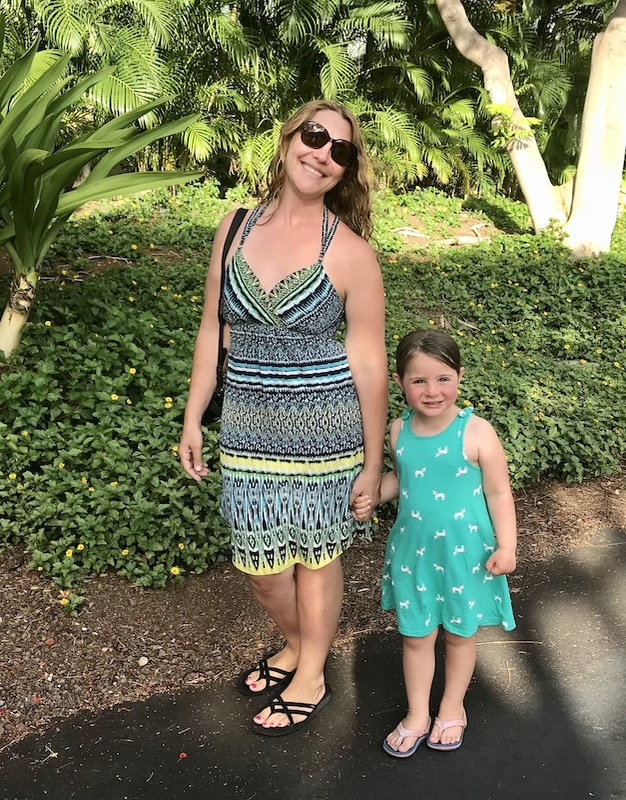 Flip flops and/or sneakers
For as much as you don't need to get fancy with clothing for Hawaii, you really don't need to get fancy with your footwear. The best shoes to bring to Hawaii for kids are flip-flops – called slippahs in Hawaii. Your kids will wear them almost everywhere: to the beach, to stores, to dinner. Our kids have loved these comfortable flip-flops over the years.
Should you bring sneakers to Hawaii for kids? We've used them, but only for hiking. If you plan to hike in Hawaii with kids, throw in some sneakers to give them proper footing and protect their tiny toes on the trail! You don't need anything special, but if you're planning to visit waterfall trails in Hawaii don't bring anything too precious as you can see below.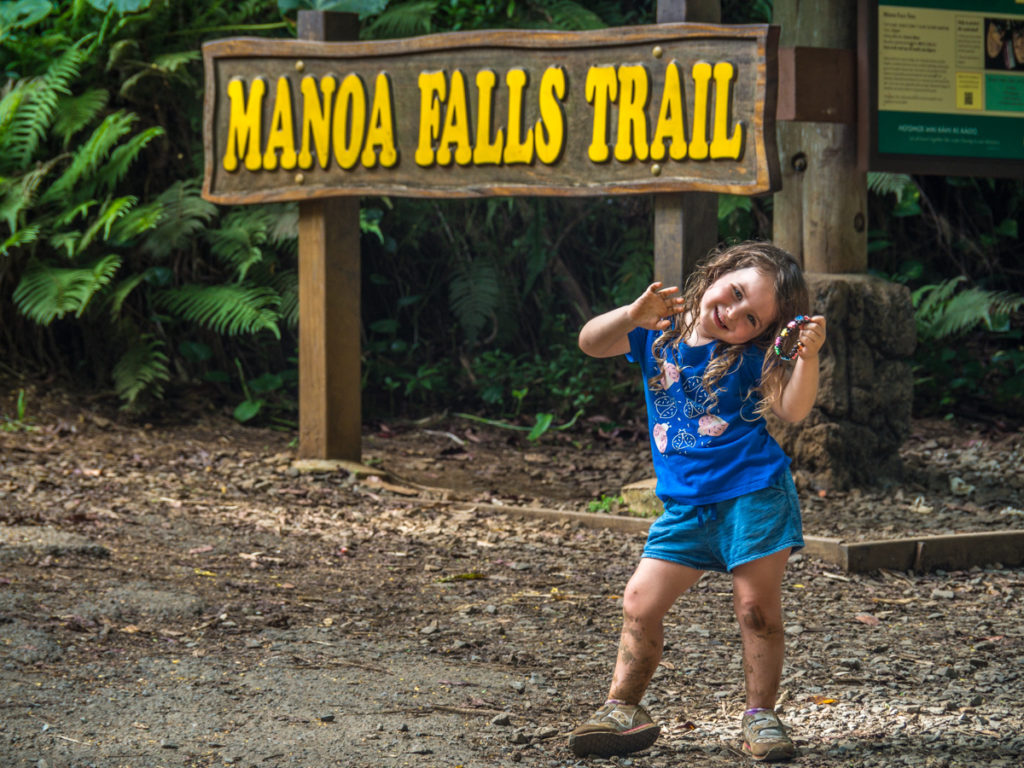 Light jacket or sweatshirt
While Hawaii is known for its perfect weather year-round, I always recommend bringing a light jacket or sweatshirt. Our kids usually bring these in case there's an evening chill.
If you'll be spending time on the windward side of one of the islands (including in Hawaii Volcanoes National Park) you might also want to bring one of these. Though it rarely rains all day, the showers can be intense when they pass through and it would be a shame to stop your plans completely.
Goggles and/or snorkel gear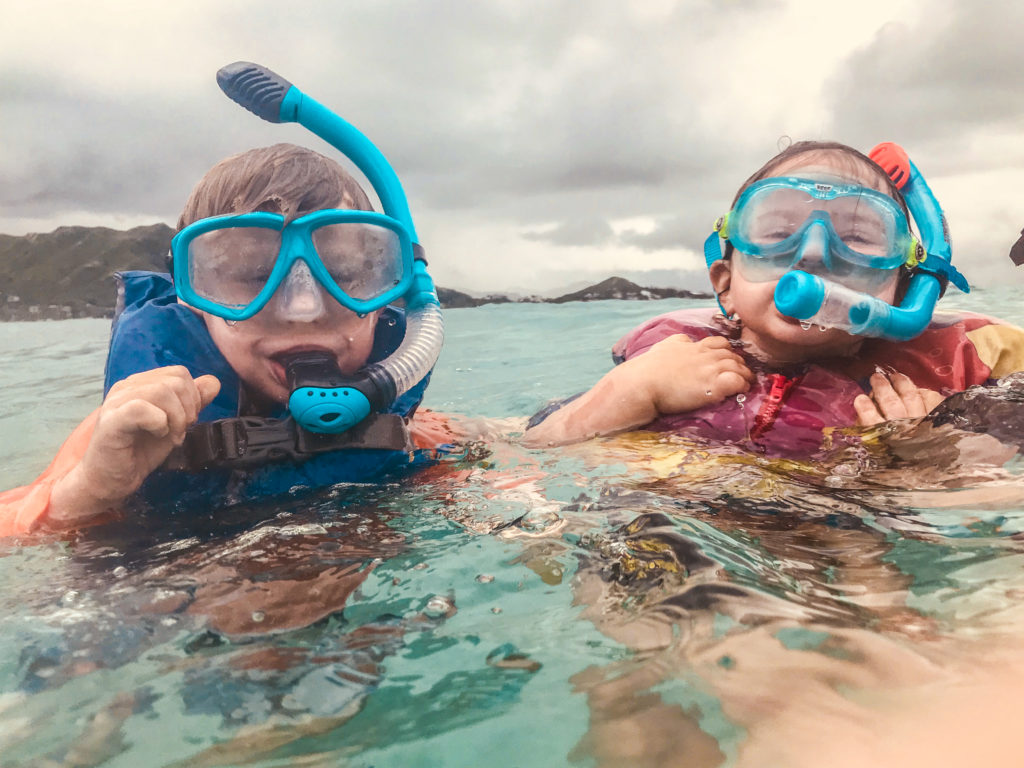 While we generally travel light, on our trips to Hawaii we aren't afraid to bring the things we need for an amazing trip. At our current stage, that means go bring goggles and full snorkel sets for each kid. As you can see above, they love it! Having properly fitted goggles or snorkel gear can make or break your child's experience in the water. Find the best snorkel gear for kids of all ages (and you'll also get my best tips for teaching kids to snorkel).
I also throw in goggles for each kid. We've really liked these thanks to the easy adjustment style. Last year we moved up to this slightly larger set and love the neoprene strap cover to prevent pulling in our daughter's long hair.
Why bring goggles in addition to snorkel gear? They really come in handy! Our kids use them for boogie boarding to keep salt water out of their eyes. Now and then we'll swim in a pool and their snorkel gear is overkill. Finally, for some easier snorkeling spots in Hawaii (like Haunama Bay on Oahu and Mauna Lani on Big Island) the kids can walk out or ride on our backs and just hold their breath to look under water for a few seconds at a time.
Wet bags
If you've never used wet bags, now is the time to start! They keep the wet stuff wet and the dry stuff dry. We originally started using wet bags for our cloth diapers but have kept them around for everything.
When we visit Hawaii with kid we bring several: a huge one for laundry, a medium one for wet swimsuits and rash guards in case we change on-the-go, and a small one for goggles and kid snorkel gear. Sometimes I throw in a spare just for good measure and wind up packing sunscreen in it, or I'll even let the kids use an extra-small for seashells and other treasures. If you go on a muddy hike, you can toss the shoes in at the end so you don't get your Hawaii rental car dirty!
There's a wide range of styles and quality when it comes to wet bags. Here are some of my favorites that our family uses for each purpose:
One of the best things about wet bags is that when they're dirty you can just throw them in the washing machine with everything else. If they're just wet, you can hang them inside out to dry off. Easy!
Packable sand toys
If your kids are anything like my younger one, the first thing on their minds in Hawaii will be playing in the sand! If you want to get started on the fun right away and avoid constantly buying new sand toys on every vacation, grab a compact packable set! These are also handy to bring to the playground sandbox at home.
You don't have to bring every single piece with you to Hawaii, but the folded up pail, shovel and a few small molds should keep any kid happy for hours on end. You can even throw them in one of those wetbags you just got to keep all the pieces together and avoid getting sand on your other stuff.
Wagon
One thing we didn't have on our first family trip to Hawaii with a baby was a good way to get our kid and allllllll of his junk from our room at the resort down to the beach. A wagon would have solved the problem for sure!
In truth, we've found very limited use for a stroller in Hawaii. Babywearing is extremely helpful for uneven terrain and hiking (and even going to the beach) and a wagon can handle all of the gear hauling. Folding wagons are great for the airport as well because you can put your travel car seat and all of your carry-ons in it.
The new stroller wagon options really give you the best of both worlds. Whether you opt for a high-end model or something more basic, many families find stroller wagons to be the perfect option for visiting Hawaii with toddlers and babies. Your kids can sit comfortably while you push or pull where you need to go.
Sun shade for babies
If you're visiting Hawaii with a baby under 6 months, unfortunately you'll need a solution for sun protection as it's not recommended to use sunscreen on their delicate skin. Unless you're staying at a resort and can reliably plan on an umbrella every day (which limits you to resort beaches), you'll want to bring your own shade or rent one in Hawaii.
My friends brought one like this on our trip to Puerto Rico and it worked out great! There was plenty of airflow to avoid her baby getting overheated and she could sit down in there to nurse and change him. We rented a more enclosed pop up sun shade in Hawaii and it was extremely hot inside and too cramped to comfortable tend to our baby's needs.
Gear for visiting Hawaii with a baby
If you're traveling with the tiniest globetrotters, you'll no doubt need other gear for a smooth trip. If your resort or vacation rental can't provide something you need, find a local BabyQuip consultant to fill in the gaps. The prices are very reasonable and I love that you can connect personally with a provider to find out exactly what's available.
When we went to Maui with our 3 month old baby we rented a playmat, bouncy seat, sun shade and a few other odds and ends. You can also rent a wagon, high chair, stroller, monitor, crib and more. Click here to see all of the options for Hawaii – the service is available on all four major islands and lots of consultants will meet you at the airport or drop gear off at your hotel (which can be handy of your rental car isn't huge).
Travel car seat for Hawaii
I recommend bringing your own car seat rather than renting if at all possible. The history of rental car seats (whether they've been in a crash, how they've been cleaned, who puked in them) is unknown, and often availability isn't guaranteed by car rental companies.
The best option is to bring a lightweight car seat and use it on the plane for your kid. Whether you're renting a car or riding in an Uber, your child's safety needs don't stay behind on the mainland. Be sure to use a harnessed car seat at least until age 5 and then a booster seat until your child passes the "5 step test" (typically age 10-12).
Before you go, I also recommend that you review Hawaii car seat laws to be sure you're at least satisfying the local rules.
Still planning? Pin this for later!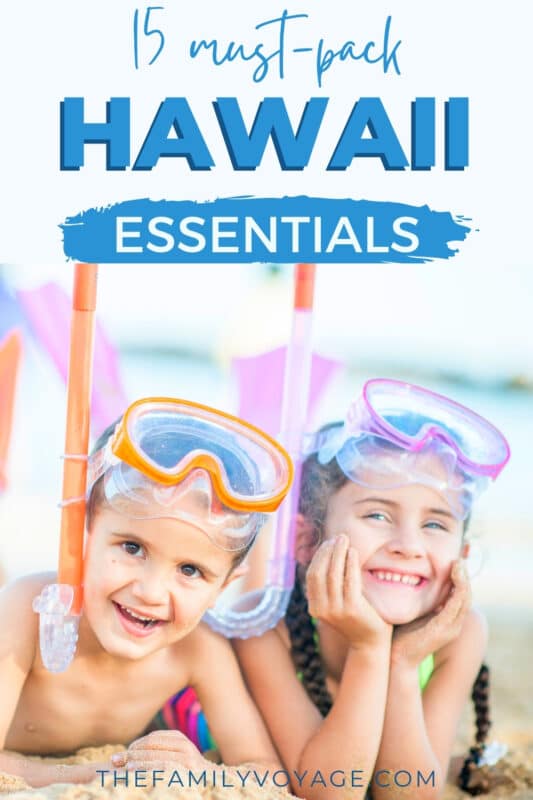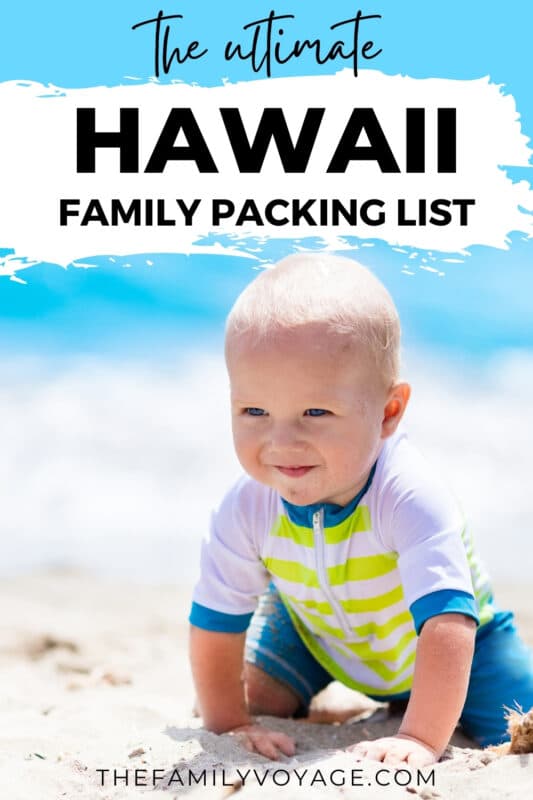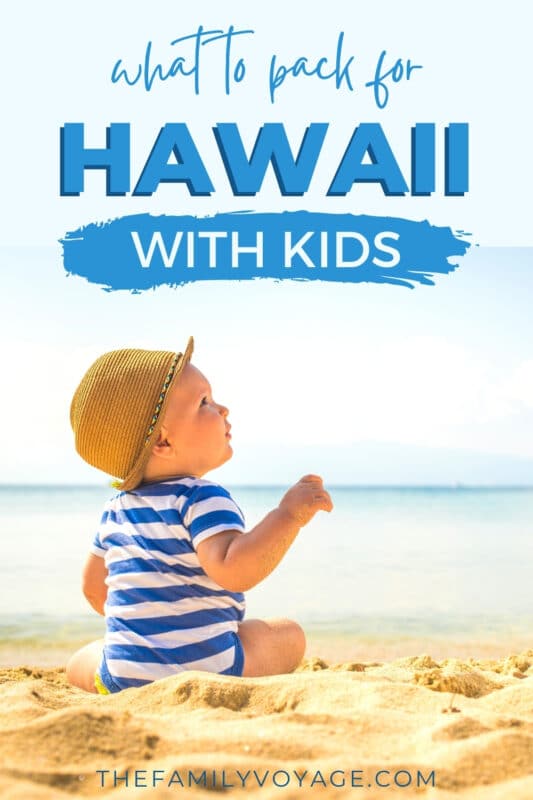 More articles to help you plan your family trip to Hawaii:
See all of our Hawaii travel planning resources in one place

Travel planning resources:
Compare rental car prices for Hawaii
Buy a top-rated travel insurance policy
5 simple money-saving hacks for booking.com

General Hawaii resources:
How to visit Hawaii on a budget
Renting a car in Hawaii: 10 things you NEED to know
What to pack for Hawaii
Is a cheap GoPro knock-off worth it?

Hawaii with kids:
What's the best Hawaiian island for families?
Is it worth visiting Hawaii with a baby?
Ultimate packing list for Hawaii with kids
Top 10 things to do with kids on Oahu
The best snorkel gear for kids of all ages

Oahu resources:
Best Oahu travel guide book
Perfect 7 day Oahu itinerary
Where to stay on Oahu
Family-friendly Oahu vacation rentals
Cheap Places To Stay On Oahu
10 Fun Things to do on Oahu for $10 or less
Getting the most bang for your buck on your Go Oahu discount card
Insider tips for visiting the Polynesian Cultural Center
The best beaches on Oahu (and why to visit them)
Where to find the best shave ice on Oahu
The best easy hikes on Oahu
North Shore Oahu complete visitors guide
Kayaking to the Mokes with Twogood Kayaks
Family-friendly kayaking with Holokai Adventures
Visiting Pearl Harbor

Maui resources:
Best Maui travel guide book
Perfect 3 day Maui itinerary
Cheap Places To Stay On Maui

Big Island resources:
Best Big Island travel guide book
Perfect 5 day Big Island itinerary
Cheap Places To Stay On the Big Island

Kauai resources:
Best Kauai travel guide book
Perfect 3 day Kauai itinerary
Cheap Places To Stay On Kauai