The typical vintage postcard from Hawaii shows a hula girl on the beach, and those are usually the top two things to see on Oahu for most visitors. But what if instead of just going to a hula show, you could be the hula show? Instead of buying souvenirs made from woven palm fronds, why not learn to make your own? Or maybe talk to those fire knife throwers and find out how old they were when they started? (Hint: young enough that most Americans would call Child Protective Services before you could say "aloha".)
If you're interested in getting hands-on with Hawaiian and Polynesian culture, there's absolutely no better place to visit than the Polynesian Cultural Center in Lai'e on Oahu's north west coast.
What is the Polynesian Cultural Center?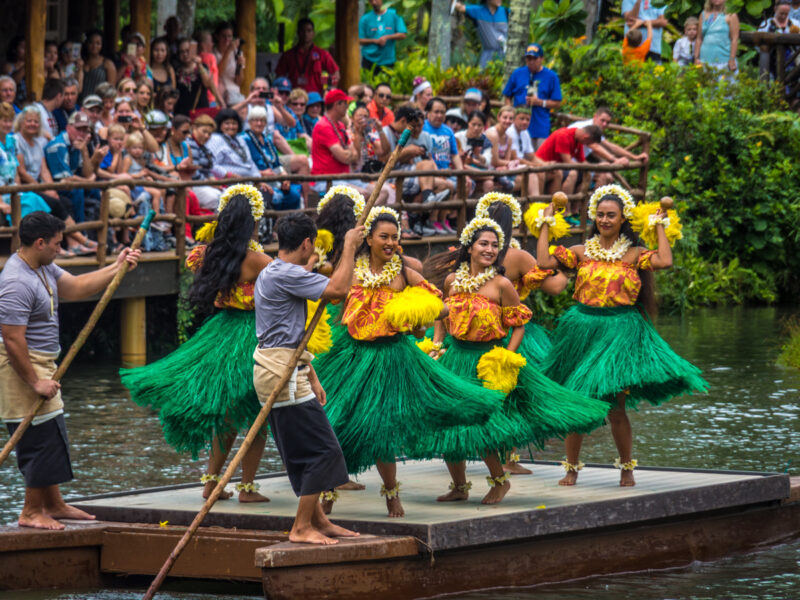 You can think of PCC as a cultural theme park for visitors of all ages. Everything is hands on, immersive and fun!
The Polynesian Cultural Center highlights the wide-ranging cultures from all around "the blue continent", with dedicated villages for Hawaii, Tonga, Fiji, Samoa, Aoteoroa (New Zealand) and Tahiti. In each village you can see performances of unique dances, see what typical homes look like, sample local foods or even make your own traditional crafts.
One of the coolest aspects of PCC is that most of the people staffing each village are from the island they're representing! We worked our way slowly through PCC and had great conversations with fire knife throwing cousins from Samoa and hula dancing Lena and David from Hawaii. The pride each person feels in his or her native island culture is truly inspiring and comes through in all their interactions.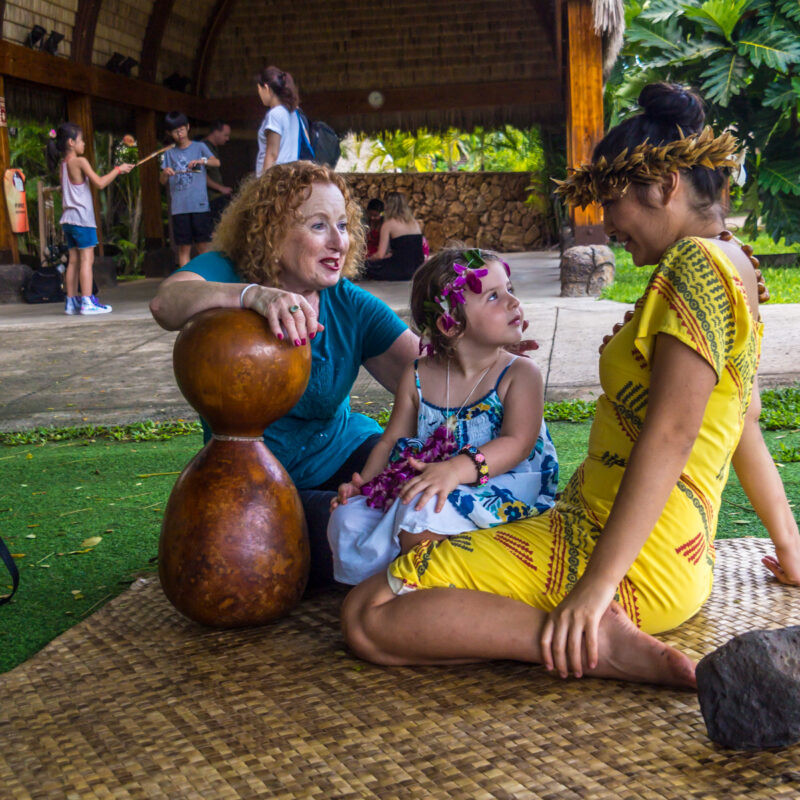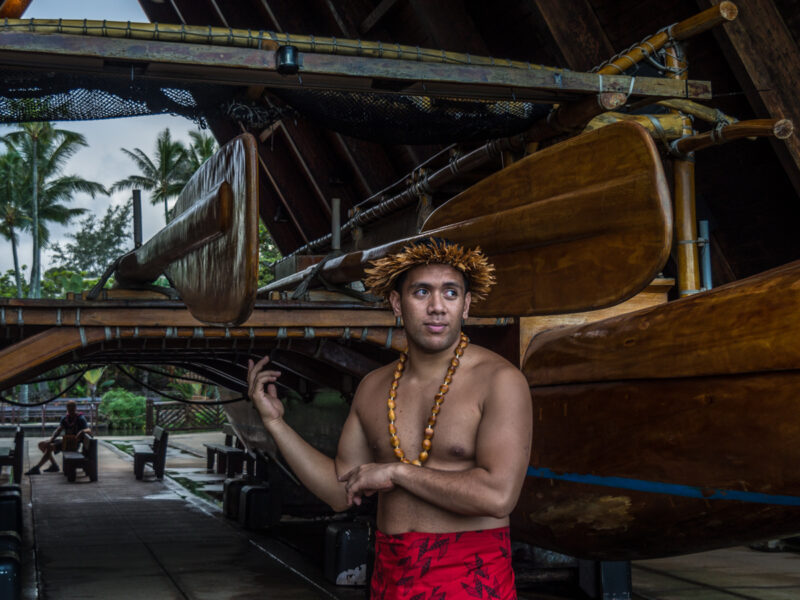 Beyond the villages, there are several other stops to check out: a model ukulele factory where you can take a free lesson, a movie theater that showing a film about Hawaii, the epic can't-miss parade of canoes and even a full-size double-hull sailing canoe Iosepa that actually makes inter-island voyages!
It's worth knowing that PCC is run by BYU-Hawaii, an affiliate of the LDS (Mormon) Church. Most of the people you'll meet working there are students at the university who have come from islands all around Polynesia. But PCC is meant to be a place for all visitors, and there were only two instances in which we noticed reference to the church: at the end of the narration for the canoe parade and advertised as part of the optional tram tour just before the ticketed entry point.
What are the evening shows at the Polynesian Cultural Center?
The villages at PCC are open from noon to 6pm, but the fun doesn't stop there! There are two options in the evening worth considering: the Ali'i luau and Hā: Breath of Life. The various ticket options can be a little confusing, so it's worth deciding in advance what you want to do and making sure you had the corresponding tickets.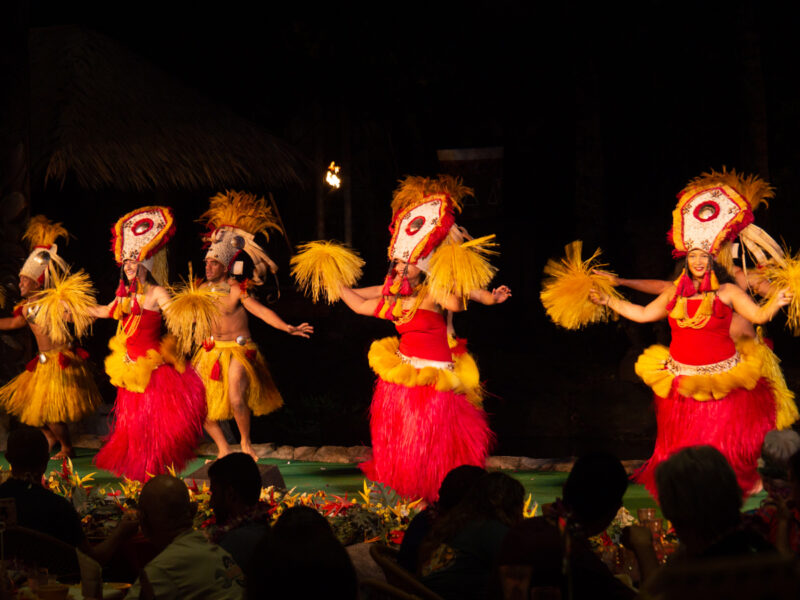 The Ali'i luau is a pretty traditional luau set up, with several hundred people arranged at tables with stadium seating around the stage. Food is served buffet-style for 30 minutes before the entertainment begins. There are plenty of food options (though we didn't find much for vegetarians when we were there) but it's fairly typical buffet food. The entertainment lasted around 30 minutes and was a mix of professional performers and "audience participation" bits. There was the reveal of the Kalua pig, a nice hula performance and some impressive fire knife dancing.
To be honest, the Polynesian Cultural Center luau wasn't our favorite experience, but perhaps it's just us (since all the other Polynesian Cultural Center reviews rave about the luau!). The only other one we had attended was a much more intimate affair with table service, gourmet food and over an hour of professional entertainment interspersed between courses; obviously that was a completely different experience, and perhaps it set our standards too high! But we weren't as blown away by the PCC luau as we hoped or expected.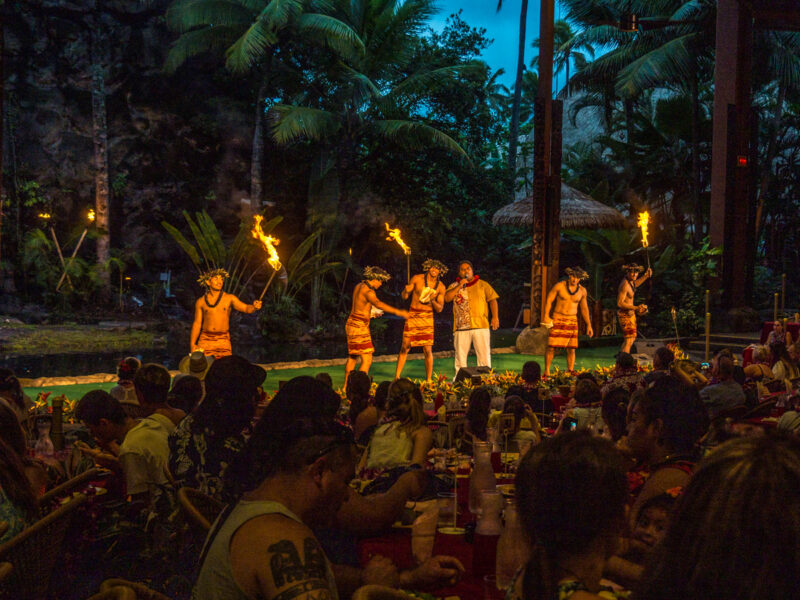 If you need a less expensive dinner option without the show, there are two other buffets. Since we were only on-site for one day, we weren't able to try those. But the offerings look fairly extensive and you can choose from the "surf and turf" Prime Rib buffet or the island buffet (which skews more toward fish and chicken but has other options as well).
Fortunately for those visiting from various US time zones, there are early dinner options if you need them. Though times vary a bit, on the day we visited there was a 4:30pm luau seating and another at 6pm. The buffet dinner options open at 4:45-5pm. If you're visiting with little kids and/or coming all the way from the east coast and need to make it an early night, you'll be all set thanks to the early seatings.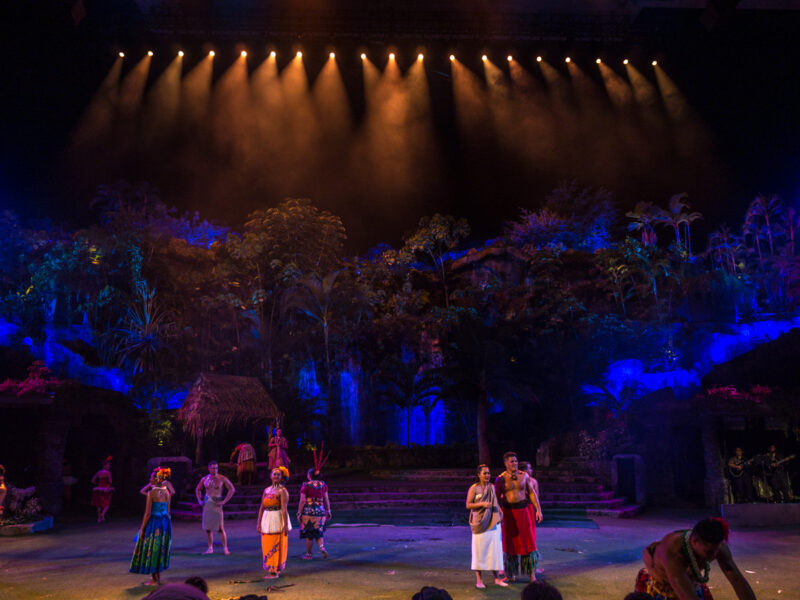 Regardless of your dinner choice, the one thing at the Polynesian Cultural Center that you absolutely can't miss (if you can stay awake despite the time change) is the evening show, Hā: Breath of Life. We visited PCC as a party of six and it was the highlight for everyone! I don't want to reveal too much, but the show follows the story of a boy's life through the cultural lens of each island in Polynesia. The visual effect of the huge, top-notch cast is simply stunning! They don't allow photos during the show – for good reason – but the cast is happy to take pictures with the audience afterward. Check out the great intro video on the PCC site, which is a good teaser for Hā.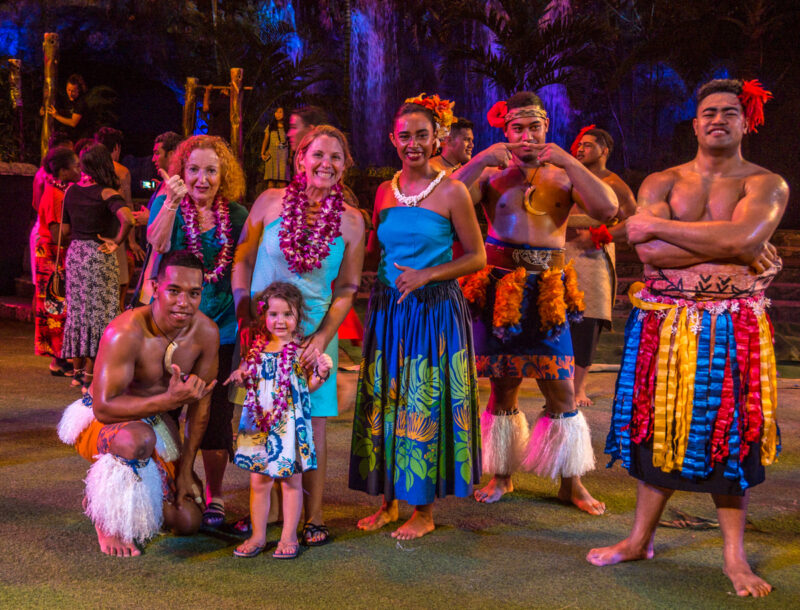 For those visiting with very young children: Hā runs 7:30-9pm Hawaii time. The theater is dark and large and there are some loud parts, so if you're visiting with a very young child (particularly one who's dealing with a big time difference) I recommend considering whether or not they can make it through the show without disrupting others. If you're worried that jet lag might get the better of them, try booking your day at the Polynesian Cultural Center toward the end of your trip to Hawaii so that perhaps they'll be a little better adjusted. Check out these tips that help us get the kids through big time zone changes.
Use the interactive map to find vacation rentals and hotels in Oahu, Hawaii
---
Dining options at the Polynesian Cultural Center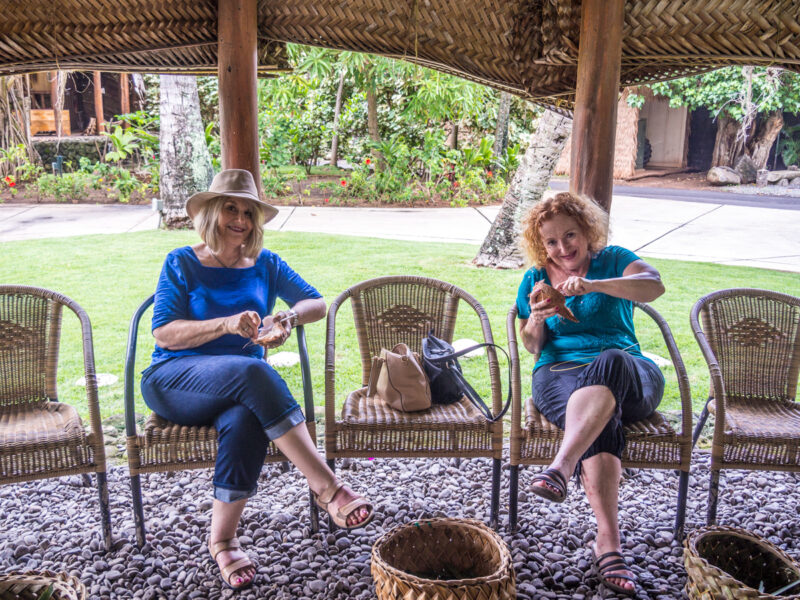 Beyond the three dining options I mentioned above (luau, prime rib buffet and island buffet), there are plenty of other choices for all price ranges. The entrance to PCC takes you through the Hukilau Marketplace, which has a large sit-down restaurant and several food trucks. There are sheltered tables adjacent to the trucks , so feel free to bring your own picnic for lunch or dinner! Within PCC, there are several lunch and snack options as well.
Who's the Polynesian Cultural Center best for?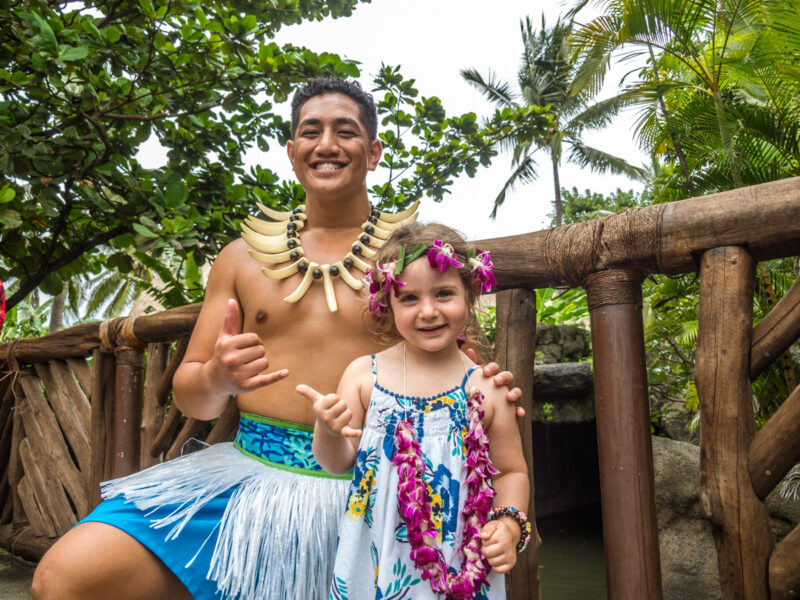 PCC is an amazing Hawaii attraction for visitors of all types! We visited with everyone from young kids to grandmas and it was a huge hit. Kids are welcome everywhere and treated so warmly by everyone on staff. While there are stairs in some places, there's always an accessible option as well for those with strollers or wheelchairs. Learn more about the engaging exhibits.
Check out more awesome things to do on Oahu with kids
How to get your Polynesian Cultural Center tickets
There are lots of ways to get your tickets to the Polynesian Cultural Center – or even discount tickets. The regular Polynesian Cultural Center prices can be a little confusing, as there are so many different packages to choose from. The most basic price is $64.95 for an adult to buy same-day admission to the villages.
The most straightforward way is to go straight to their website, where you can see all of the ticket package options and score a 15% discount on tickets purchased at least 10 days in advance (you won't generally find a Polynesian Cultural Center promo code or coupon that's cheaper). Check out all the options here.
If you only want basic admission to the villages, the Entertainment Book offers excellent value. Pick up your book here.
Want to experience all the awesome activities at the Polynesian Cultural Center? Your best choice is to pick up the Go Oahu card. With the 3-day pass, you get admission to the villages, luau and Hā! Read our money-saving itinerary for the Go Oahu card or buy your own card here.
Top tips for visiting the Polynesian Cultural Center on Oahu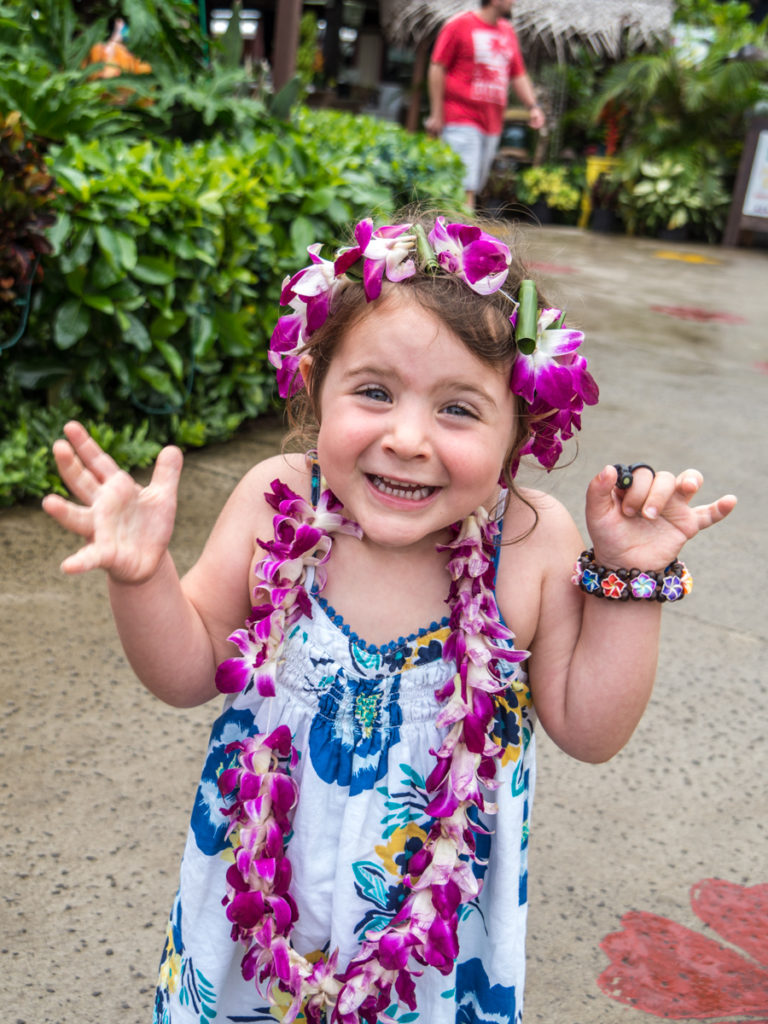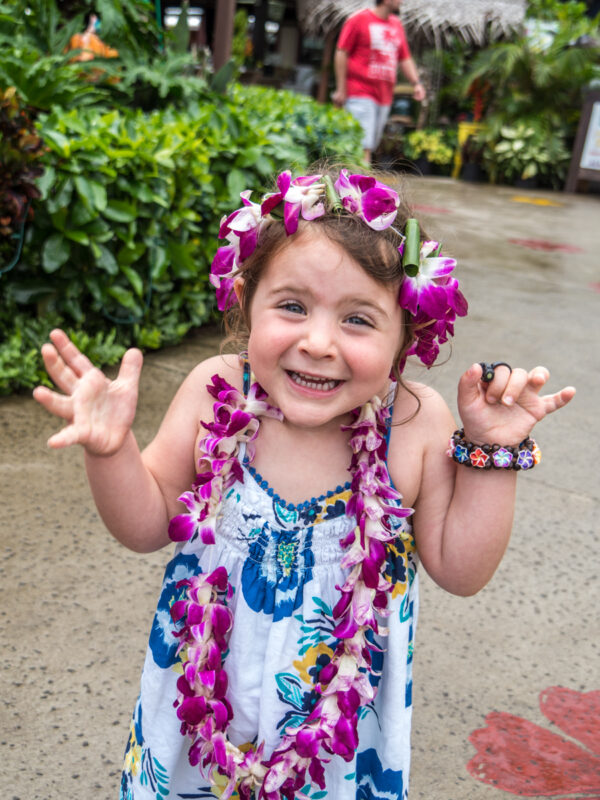 -There is so much to do that it would be hard to pack into one day! Some tickets include 3 consecutive days of admission to the villages.
-PCC is closed on Sundays.
-If you plan to attend either of the evening shows, make sure to reserve in advance to get good seats.
-Download the free app or pick up a brochure at the entrance to see the daily schedule or performances and plan your time accordingly.
-The Polynesian Cultural Center hours for the villages are noon until 6pm, and you'll need all that time. Arrive at 11:30 to get lunch from the food trucks or eat your picnic, then walk in the gates at noon with your route mapped out.
-You will walk a ton – we're talking several miles – so wear comfortable shoes (whether you choose cute comfortable sneakers or supportive flip flops).
– Make sure to bring plenty of water! A Camelbak is ideal for carrying everyone's gear, snacks and water for the way.
-Take sunscreen with you and re-apply in the afternoon. We found this great reef-safe sunscreen in Hawaii and it's become our new favorite!
Hotels near the Polynesian Cultural Center
The Polynesian Cultural Center is nowhere near Honolulu and Waikiki; in traffic, it could take 1.5 hours to make the 30 mile drive! If you want to make the most of your time at PCC (and enjoy the peace and beauty of the north windward coast rather than the crowds and high rises of Waikiki, consider staying a few nights at one of these hotels near the Polynesian Cultural Center:
Courtyard by Marriott Oahu North Shore – The closest hotel near the Polynesian Cultural Center, basically just across the street
Turtle Bay Resort – If you're looking for luxury on the North Shore, you can't beat Turtle Bay! If you've watched Forgetting Sarah Marshall, the scenery will look familiar. Surprisingly, some prices at off-peak times are not much more than the Marriott.
Paradise Bay Resort – This secluded mini-resort is down the road in Kaneohe, the town where we stayed. The resort looks amazing and personal, and we can vouch for the location being extremely convenient for some of the island's best beaches, getting to Honolulu and more.
Thanks to the Polynesian Cultural Center for hosting our visit; all opinions are our own.
More resources to plan your trip to Hawaii
See all of our Hawaii travel planning resources in one place

Travel planning resources:
Compare rental car prices for Hawaii
Buy a top-rated travel insurance policy
5 simple money-saving hacks for booking.com

General Hawaii resources:
How to visit Hawaii on a budget
Renting a car in Hawaii: 10 things you NEED to know
What to pack for Hawaii
Is a cheap GoPro knock-off worth it?

Hawaii with kids:
What's the best Hawaiian island for families?
Is it worth visiting Hawaii with a baby?
Ultimate packing list for Hawaii with kids
Top 10 things to do with kids on Oahu
The best snorkel gear for kids of all ages

Oahu resources:
Best Oahu travel guide book
Perfect 7 day Oahu itinerary
Where to stay on Oahu
Family-friendly Oahu vacation rentals
Cheap Places To Stay On Oahu
10 Fun Things to do on Oahu for $10 or less
Getting the most bang for your buck on your Go Oahu discount card
Insider tips for visiting the Polynesian Cultural Center
The best beaches on Oahu (and why to visit them)
Where to find the best shave ice on Oahu
The best easy hikes on Oahu
North Shore Oahu complete visitors guide
Kayaking to the Mokes with Twogood Kayaks
Family-friendly kayaking with Holokai Adventures
Visiting Pearl Harbor

Maui resources:
Best Maui travel guide book
Perfect 3 day Maui itinerary
Cheap Places To Stay On Maui

Big Island resources:
Best Big Island travel guide book
Perfect 5 day Big Island itinerary
Cheap Places To Stay On the Big Island

Kauai resources:
Best Kauai travel guide book
Perfect 3 day Kauai itinerary
Cheap Places To Stay On Kauai
Oahu guidebooks
Still planning? Pin this article for later!