Most families assume that baby's first flight will be to visit far-flung grandparents and friends. Our son's first plane trip? Half-way across the Pacific Ocean to relax on the beaches of Maui before he was even three months old!
I had just over three months available for maternity leave and we wanted to do something fun during our time off before I headed back to the office and Ronnie started a new job. Plus Ronnie had never visited Hawaii before and we snagged a great package deal during the Black Friday specials.
How'd it work out? Overall, we had a great time. But traveling to Hawaii with a baby isn't as simple or relaxing as it sounds. It's not exactly around the corner or budget-friendly, so most families should weigh the pros and cons before booking their plane tickets.
Keep reading to help you decide whether or not to take the plunge. If you do, you'll also find some great tips at the end to help you have the best possible Hawaii vacation with a baby!
5 reasons you should visit Hawaii with a baby
You don't have to do much to have a great time
The beauty of Hawaii is that if you manage to roll out of bed, eat something delicious and get some sand on your toes you've had a pretty successful day. Heck, sometimes it just takes sitting out on that perfect lanai enjoying the view with a cup of Kona coffee!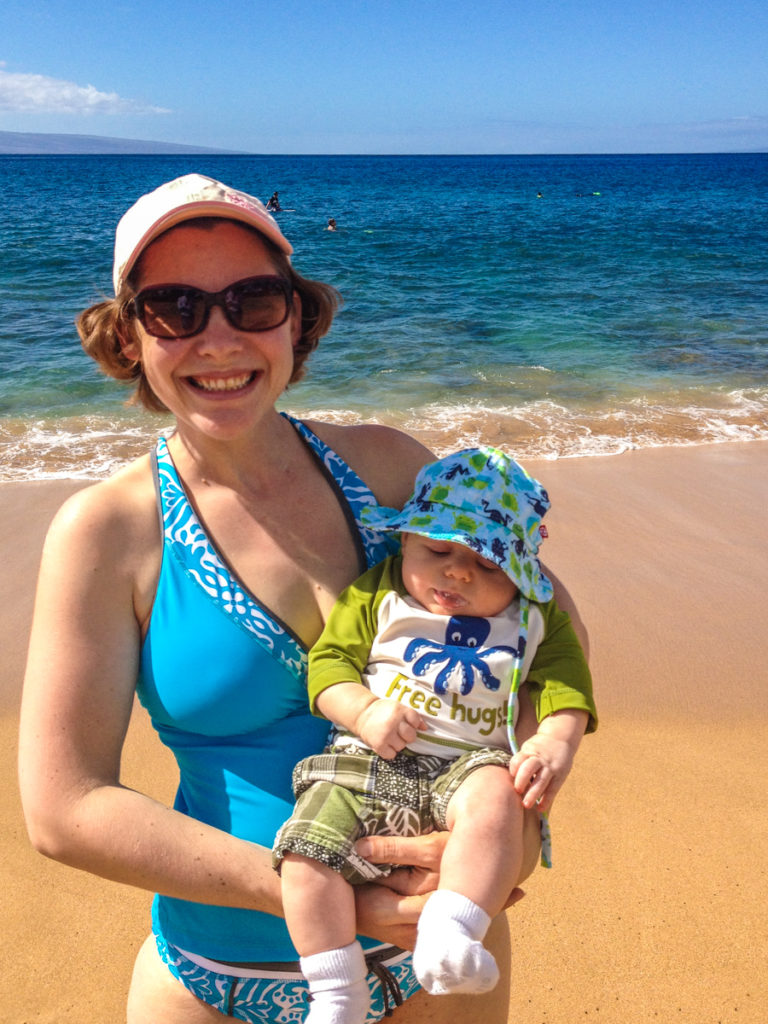 There are tons of exciting things to do in Hawaii, but you don't need to feel compelled to make your way through a huge checklist – meaning you shouldn't feel badly about coming back to your hotel or apartment mid-day for baby to nap while you sit back and relax. Even better, if your baby loves car naps you can spend your afternoon on a beautiful scenic drive while she snoozes peacefully in the back.
Read more: 10 things to know before renting a car in Hawaii
It's totally different than mainland USA, but you don't need a passport
I don't know about where you live, but in California getting a passport for a baby might as well be a new Olympic sport. Why?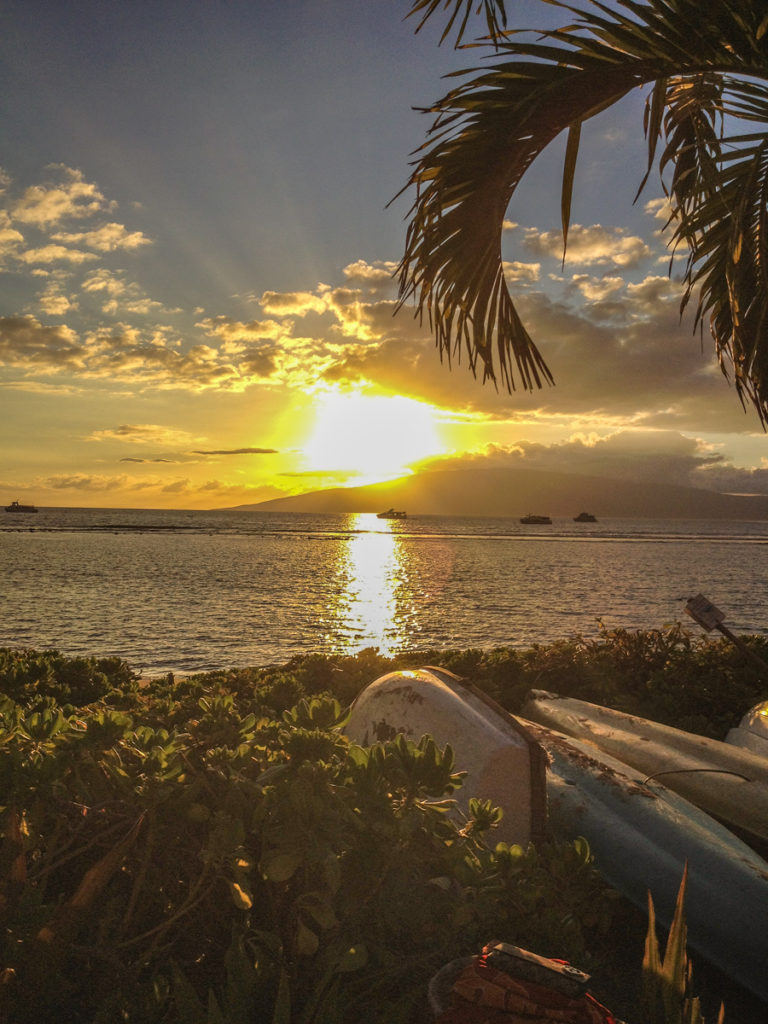 Because you don't get a birth certificate immediately, or even automatically. No, no. You have to wait until your baby is a few weeks old and then request a copy of the birth certificate (you can't even request it in advance, as the state won't acknowledge your baby's existence for the first few weeks). It can then take another few weeks to process your request and deliver that sealed piece of paper.
Then you have the honor of taking your wiggly, crying baby's photo against a white sheet and applying for a passport – which will take a month (or longer) to arrive and only lasts for five years. This last step can be expedited if you've already purchased international plane tickets and are departing within a few days, of course at additional expense (go ahead, ask me how I know).
Hawaii, land of poi, pineapples and Polynesian culture? Just hop on the plane with your drivers license. Your baby doesn't need any ID unless you're flying with her as a lap child on Southwest.
You can get absolutely everything you need
It may come at a steep price, but Hawaii is still America and there's virtually nothing you can't get either locally or from Amazon. That's right: your Amazon Prime membership works in Hawaii! Shipping takes a few extra days, but you can still benefit from their excellent prices on diapers, wipes, baby food and more. Not a Prime member yet? Try your first month free!
We were worried about bringing all the baby gear with us, but renting from a reputable consultant on Maui made our lives so much easier! We rented a bouncy seat, play mat, beach tent and more. Find rentals for your trip to Hawaii with a baby at BabyQuip, which is a national network that maintains very high standards.
Bonus: Mom can get away with this tiny packing list for Hawaii!
Hawaii is extremely welcoming of kids
The Hawaiian culture and Hawaii tourism industry are so accustomed to kids being around all the time that you're unlikely to encounter any side eye when you bring your baby with you. Baby J visited Pacific'O on Maui twice during our stay and the restaurant let us leave him sleeping in his car seat while we pushed the stroller frame back and forth with a food. There are even baby friendly resorts in Hawaii that will lend you a stroller during your visit!
(Side note: there is no Zika in Hawaii! That makes it a great place to visit when pregnant – check out these important babymoon planning tips.)
It's the best place to slow down and reconnect as a family
The "Aloha spirit" is more than a marketing phrase, it's a way of life in Hawaii. It is expressed through tenderness, harmony, pleasantness, modesty and perseverance. In the first year with a new baby, those are all attributes to which we parents need to aspire in how we treat our kids, our partners and ourselves. So pull up a shave ice and just enjoy each other's company.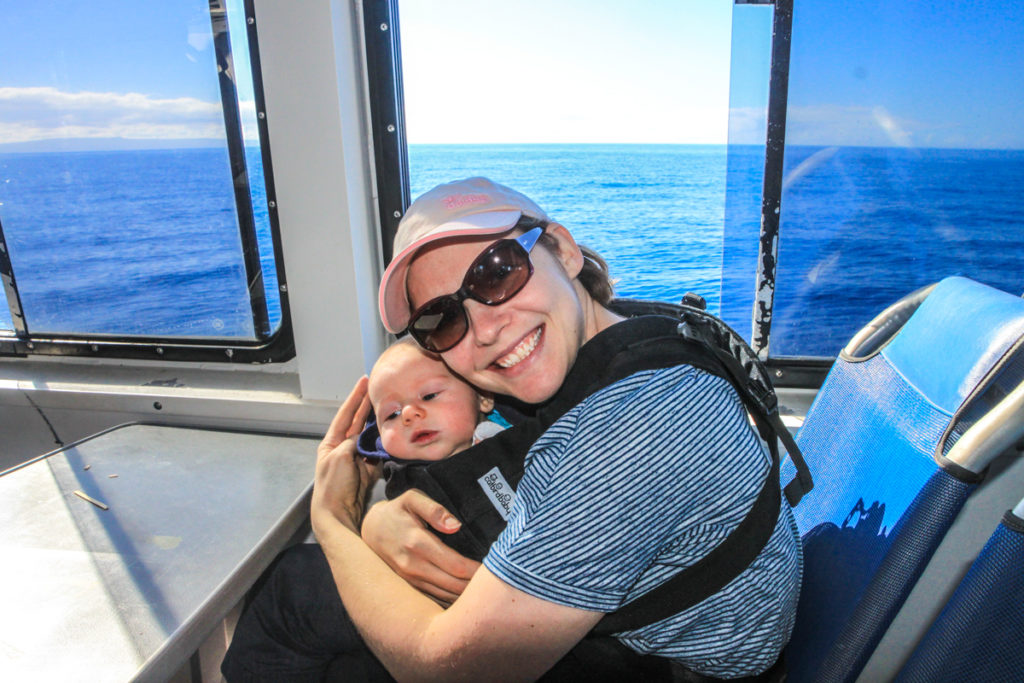 Use the interactive map to find vacation rentals and hotels in Hawaii
---
Which Hawaiian island is right for your family? Find out here!
5 reasons you shouldn't take a Hawaii vacation with baby
It's far from everywhere
Unless you're flying from somewhere else in the middle of the Pacific Ocean, Hawaii is far. Getting to Hawaii with an infant in tow is no small feat: from LAX it's a moderate 5.5 hour flight, but if you're coming from JFK you're looking at 11 hours or more of travel time! You probably have to stop somewhere along the way. That kind of travel is hard on passengers of all ages, but especially the youngest travelers (and their parents). Oh, and if you're coming from mainland US don't expect to find a bassinet or meal service.
The jet lag is very real
Not only is it a long flight, but you're looking at crossing lots of time zones too. West Coasters will only have to endure 2-3 hours change, but for East Coasters you're looking at 5-6 hours depending on the time of year! If your baby usually wakes up at 8am in DC, you're looking at the possibility of a 2am wakeup when you're on vacation in paradise. Try to stay on the east coast of an island when you get there so you can at least catch the sunrise!
Check out these tips to help you and your baby beat jet lag
You'll feel like you're moving
I wish I had a photo of our luggage on that first trip to Hawaii. We had basically this entire set full with us. What was in it? Too much of everything! Too much clothing, too many diapers, too many toys.
On top of all that, we rented too much baby gear. And when we went to the beach, we had towels, sunscreen, hats, a pop-up beach tent, a freakin' bouncy seat (since baby J suffered from monstrous reflux – don't get me wrong, it was clutch in our hotel room), a carrier, and of course a stroller to push it all in. We were the definition of "hot mess", way worse than this: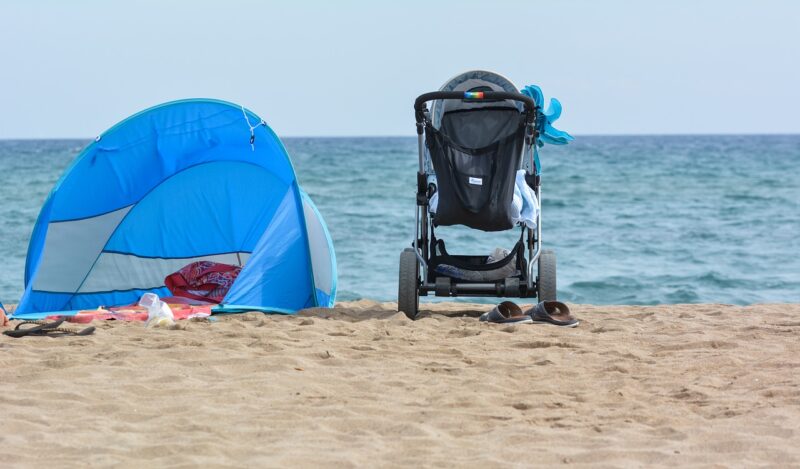 Read more: MUST-HAVE travel baby gear to make your life easier
It may not be as relaxing as you hope
Every baby is different, so YYMV on this one. But parts of our trip to Hawaii with a baby were amazing and relaxing, while others were… not. We obviously couldn't leave him on the beach on his own while we both went in the water, so we had to take turns… meaning neither of us got to enjoy adult company at times. Had he been a little older, we would have been constantly on-guard to make sure he wasn't eating sand (or trash!) or crawling away from us. Our drive along the road to Hana was extremely abbreviated thanks to the constant need for feeding and diapering stops. Set your bar low, folks.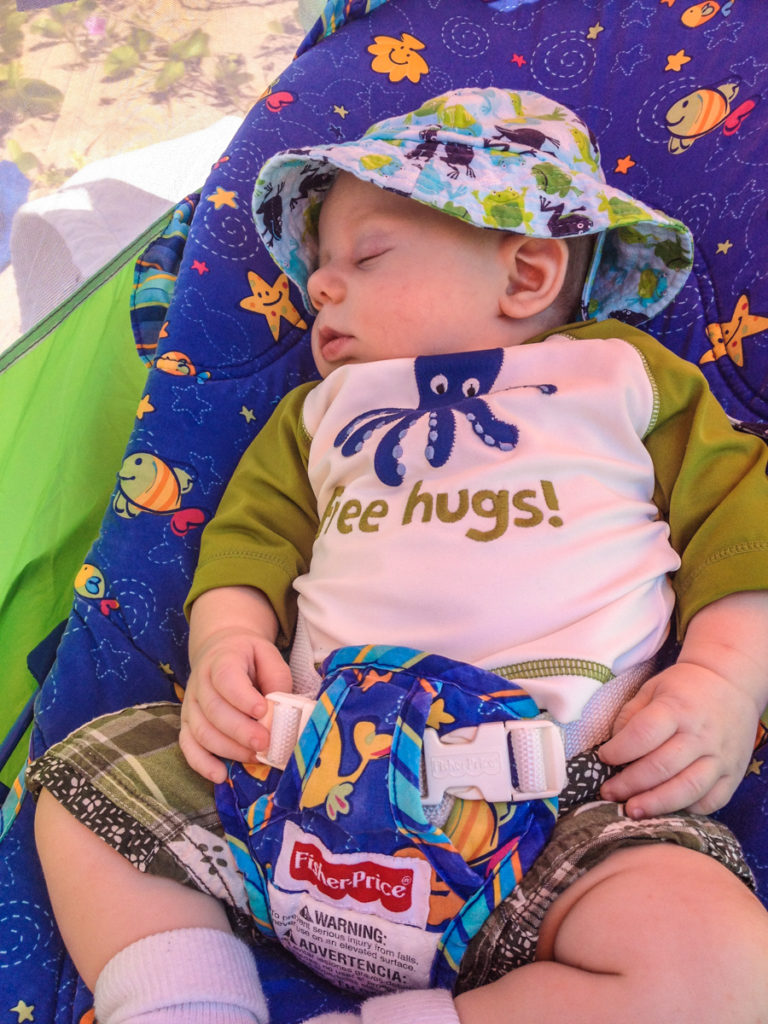 It's really f$!#ing expensive!
Ok, so there are plenty of things you can do to save money on a trip to Hawaii. Some parts of it will still probably be pricey unless you get all of your flights and accommodations on points, cook all your own food and restrict yourself to free activities like going to the beach and hiking.
There's nothing wrong with doing a trip to Hawaii that way! Lots of people do, and we have as well. But if you want to live it up and you consider a trip to Hawaii a "once in a lifetime" experience, it might be worth waiting a few years until you and your kid will both enjoy it more.
Tips for traveling to Hawaii with a baby
Buy what you need to once you arrive
There are plenty of Hawaii baby store options to get what you need, so don't feel like you need to bring the kitchen sink with you as you fly across the Pacific. Remember, it's still America.
If you really want to level up for smoother travels, order diapers, wipes and other basics in advance for store pickup at Target or Walmart! You'll find those big box stores within a few minutes drive of every major airport in Hawaii.
Bring your infant car seat – you'll need it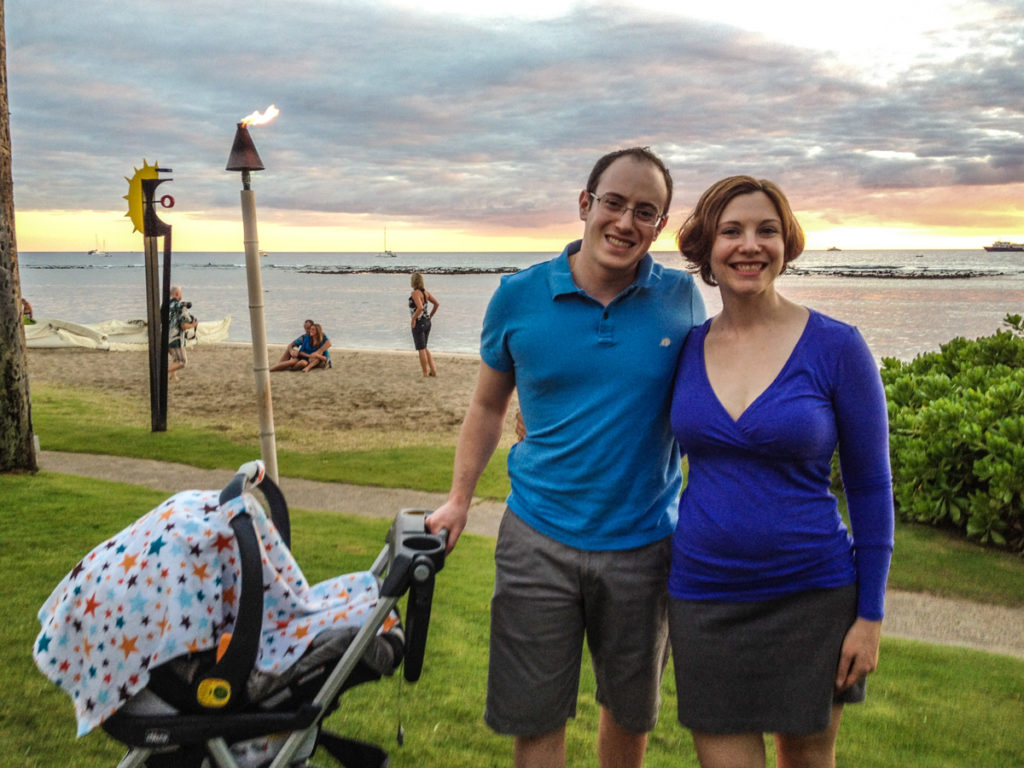 Unless you plan to stay at a baby-friendly resort the whole time, Hawaii is best experienced with a rental car. That'll get you to the most beautiful spots, the best restaurants, and even to Target to re-stock on the essentials. We love reserving cars with RentalCars.com – it's easy to use and we can always cancel if we find a better rate! Check rates for your trip here.
The best way to keep your baby safe is to bring the infant car seat along – and use it on the plane too. Most parents save money by taking their baby as a lap child, but intense turbulence over the Pacific means that the best place for your baby is safely in her own seat. You'll also avoid the possibility of a car rental company promising a car seat they don't have available (happens all the time) or the airline damaging your seat if you check it in.
Read next: Everything you need to know about traveling with car seats
Look into Hawaii baby rentals
Need a pack n play? A stroller? A baby swing? Bottle warmer? Check out BabyQuip to rent from actual parents who make sure they've got the latest gear and that everything is clean and in good shape. We rented plenty of gear when we took our baby to Hawaii and they even dropped it off at our resort!
Read more: How to give your baby a bath while traveling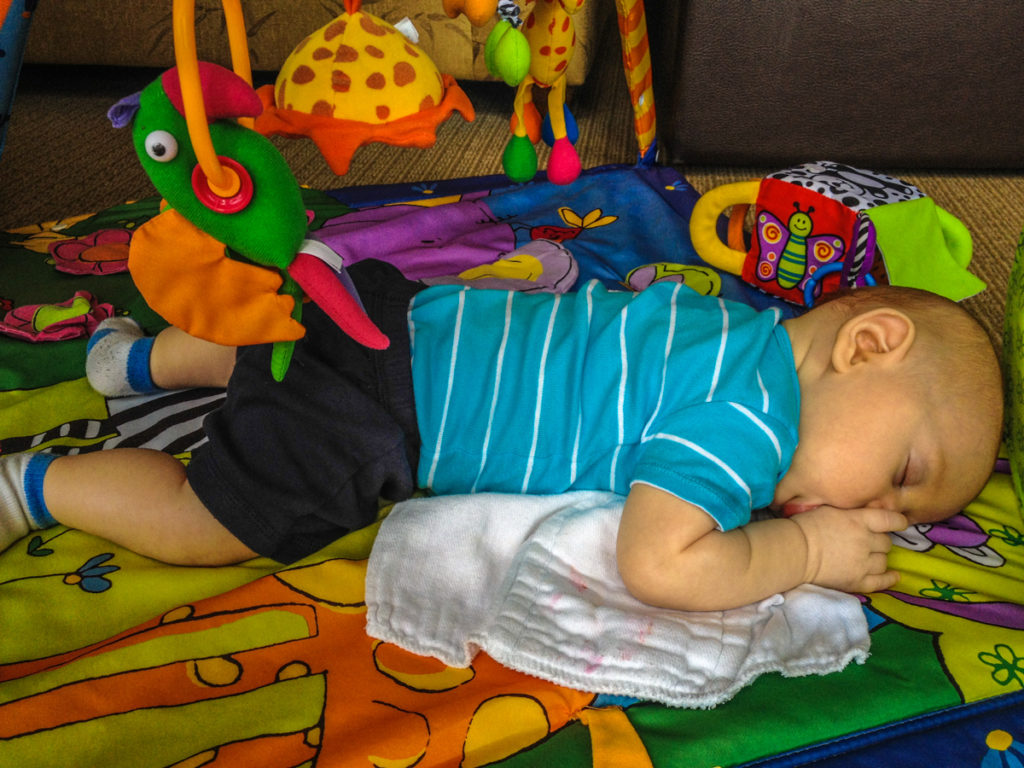 Make sure you'll have enough space
No matter where you're coming from, you and your baby will have plenty of jet lag to content with! To avoid sitting in the bathroom with your phone and a glass of wine after baby goes to bed, consider booking a vacation rental with at least one bedroom rather than a small hotel room. Check out these great family-friendly vacation rentals and Airbnbs in Hawaii:
Consider getting a babysitter in Hawaii
Our visit to Hawaii was the first time we left our son with a babysitter other than family. We felt that amidst the craziness of life as new parents, it was really important to have some time together without worrying about diapers and feeding schedules. We used the grown-up time to snorkel together, get a couples massage, grab a drink and even attend this incredible luau.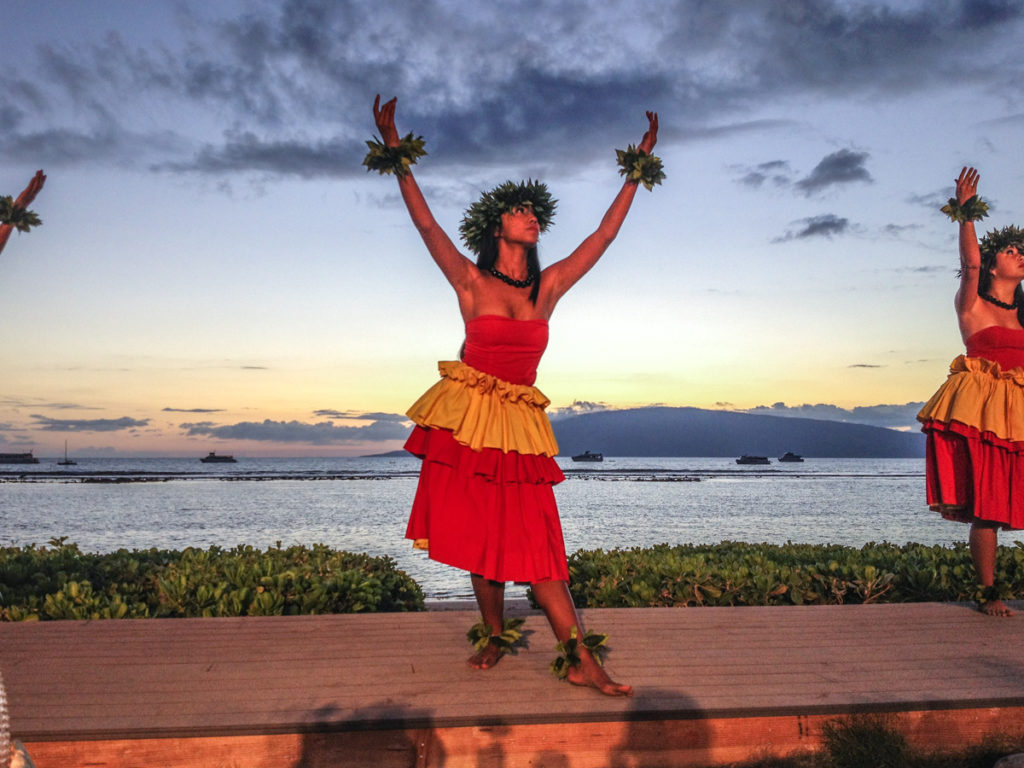 Make sure you have enough sun protection for baby
Babies under 6 months should be kept out of direct sunlight, and even older infants need lots of coverage. Try to get a full-body baby sunsuit and a big floppy sunhat, in addition to a pop-up tent and baby-safe sunscreen.
We've used this sunscreen for almost a decade and I was so excited to find out that it's reef-safe and can be used in Hawaii! If you're in a rush, you can also grab it from Amazon.
Here are some more excellent tips for how to make the most of your beach trip with a baby.
Be realistic when planning what to do in Hawaii with a baby
There are plenty of amazing things to do in Hawaii – with a baby or without – but be realistic so that you don't find your hopes dashed. You probably won't be kayaking with your baby in tow or taking a helicopter ride over fuming volcanic vents.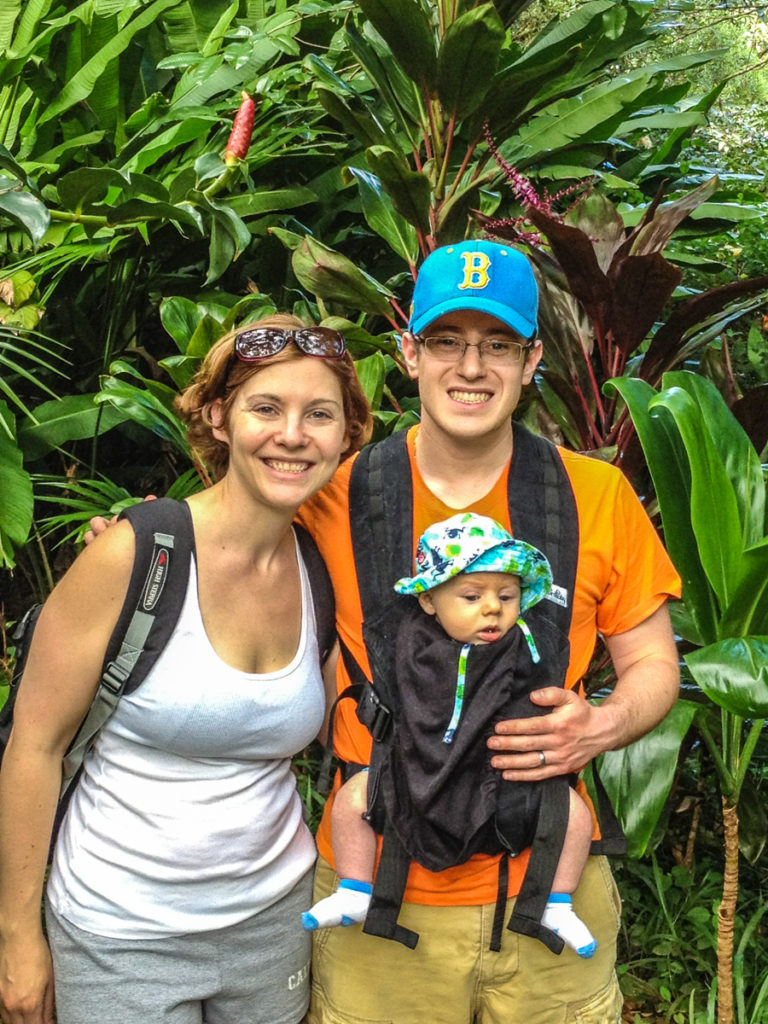 But you can definitely throw that baby in a carrier (do yourself a favor and get one with some ventilation!) and go on an easy hike. Or let the baby fall asleep in her car seat while you drive to a late fancy dinner.
Pin these pictures to save this article for later and share it with your friends!
More resources to plan your trip to Hawaii
See all of our Hawaii travel planning resources in one place

Travel planning resources:
Compare rental car prices for Hawaii
Buy a top-rated travel insurance policy
5 simple money-saving hacks for booking.com

General Hawaii resources:
How to visit Hawaii on a budget
Renting a car in Hawaii: 10 things you NEED to know
What to pack for Hawaii
Is a cheap GoPro knock-off worth it?

Hawaii with kids:
What's the best Hawaiian island for families?
Is it worth visiting Hawaii with a baby?
Ultimate packing list for Hawaii with kids
Top 10 things to do with kids on Oahu
The best snorkel gear for kids of all ages

Oahu resources:
Best Oahu travel guide book
Perfect 7 day Oahu itinerary
Where to stay on Oahu
Family-friendly Oahu vacation rentals
Cheap Places To Stay On Oahu
10 Fun Things to do on Oahu for $10 or less
Getting the most bang for your buck on your Go Oahu discount card
Insider tips for visiting the Polynesian Cultural Center
The best beaches on Oahu (and why to visit them)
Where to find the best shave ice on Oahu
The best easy hikes on Oahu
North Shore Oahu complete visitors guide
Kayaking to the Mokes with Twogood Kayaks
Family-friendly kayaking with Holokai Adventures
Visiting Pearl Harbor

Maui resources:
Best Maui travel guide book
Perfect 3 day Maui itinerary
Cheap Places To Stay On Maui

Big Island resources:
Best Big Island travel guide book
Perfect 5 day Big Island itinerary
Cheap Places To Stay On the Big Island

Kauai resources:
Best Kauai travel guide book
Perfect 3 day Kauai itinerary
Cheap Places To Stay On Kauai