The Sapphire Coast, the Oyster Coast, Gippsland, Princes Highway. The scenic Melbourne to Sydney drive… call it what you will, but this often overlooked stretch of coastline has been one of our favorite things to do in Australia (so far, at least). In our five relaxing days (four nights), we saw more wildlife than we could ever imagine, caught views of postcard-perfect scenes without another soul in sight and swam in crystal clear waters.
The distance between Sydney and Melbourne is nearly 1000km, so even with the better part of a week we couldn't hit nearly everything there is to do. But we definitely succeeded in getting a flavor of the many activities available on the Sydney to Melbourne coastal drive. Read on to start your own journey with our Melbourne to Sydney roadtrip planner!
We booked all of our accommodations as we went, giving us the flexibility to see how far we got each day. If you can manage it, I recommend doing the same! Booking.com makes it very easy to snag last-minute rooms at all price ranges. Read more money-saving hacks for booking.com.
Two essentials before we get started:
–Grab a great deal on a rental car
–Make sure you have travel insurance lined up in case anything goes wrong
[/toc]
Melbourne to Sydney roadtrip itinerary
Here's a quick summary of our Melbourne to Sydney coastal drive in 5 days:
Day 1: Melbourne to Lakes Entrance and Gippsland Lakes
Day 2: Lakes Entrance to Eden
Day 3: Ben Boyd National Park to Narooma
Day 4: Narooma to Murramarang
Day 5: Murramarang to Sydney
I'll present the drive as we did it, beginning in Melbourne and ending near Sydney. You could just as easily do the route in the other direction as a Sydney to Melbourne drive! There are a few great things to do for which we just didn't have time, and I'll point them out along the way – if you have a full week, you can do even more! I'm sure there are other amazing sites along the way that I've missed. Our Melbourne to Sydney drive time was approximately 12 hours, so you can plan your pace accordingly depending on your choice of activities and how much driving you want to do each day.
When you're starting in Melbourne, don't miss these great family-friendly activities! If you happen to be there for New Years Eve, check out these great kid-friendly restaurants and fireworks.
Melbourne to Sydney coastal drive map:

Read more: See how this itinerary fits into your best Australia itinerary options
Day 1: Melbourne to Lakes Entrance and Gippsland Lakes (3h15m)
The first day's drive, from Melbourne to Bairnsdale or Lakes Entrance, will take a little over three hours depending on exactly where you choose to stay the night. The most direct route takes you inland through some areas that, frankly, aren't especially scenic. If you'd prefer a more scenic route and you get a very early start from Melbourne – which we didn't, head down the coast to Wilson's Promontory National Park. It's a special place to many Victorian's thanks to its secluded beaches and lovely landscapes. Check out these great family-friendly ideas in Wilson's Prom.
Where to stay in Gippsland Lakes
We opted to stay in Bairnsdale, which isn't the most charming town in the Gippsland Lakes area but it is the most convenient when you're arriving from the highway and it offers reasonably priced, nice accommodations. We stayed at Mitchell on Main, which was quite nice and included breakfast and a pool. Check prices here for your stay. (If you're a new customer, receive $25 off your first booking!)
Alternatively, you can head straight to Paynesville for tomorrow morning's extra-special activity! It's a cute small town so it doesn't have the same accommodation options as Bairnsdale, but if you book ahead a bit (unlike us), you can score a great Airbnb or one of these lovely holiday homes.
Use the interactive map to find vacation rentals and hotels near Gippsland Lakes
---
Day 2: Lakes Entrance to Eden (2h45m)
Things to do in Gippsland Lakes
Now the real fun begins! The Gippsland Lakes area offers so many activities for travelers of all types. After a quick hotel breakfast, head to Paynesville on the south end and drive straight to the wharf to take the five-minute ferry ride to Raymond Island. In theory you could take your car across for $12, but there's really no point to that – nearly the entire island is walkable, most of the roads are packed dirt and – critically – the island's residents don't want your car there! Be respectful, as you're taking a stroll through a neighborhood here. There are no businesses or services on Raymond Island, so get your coffee and use the toilet before heading across.
Why should you visit Raymond Island? This guy: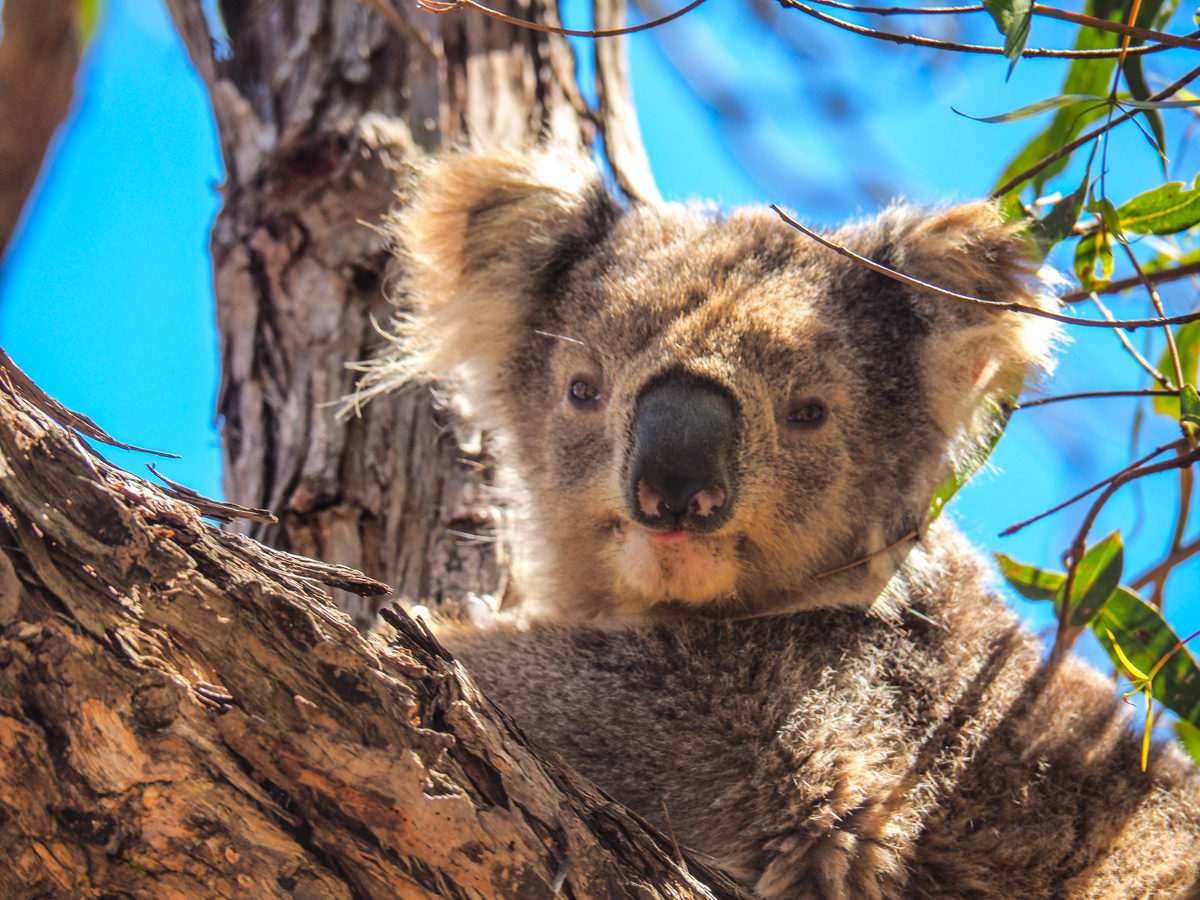 Raymond Island is home to dozens and dozens of wild koalas! It's one of the best places to see koalas in Australia. The one hour between scheduled weekday ferries is perfect for a stroll around the well-marked "koala trail", which takes you all the way to the sanctuary area in the back of the island. We also spotted a grazing echidna on someone's lawn, cockatoos screeching at us next to the playground and many other birds. Local resident Janine, who has lived on Raymond Island for nearly three decades, shared with me that the normally-dozing koalas make a huge racket all night long, with the males grunting and the females screeching in reply. She still loves it! We didn't observe it ourselves, but sometimes the koalas walk down the street to get from one eucalyptus to another. If you time your visit for the evening, you might even see kangaroos hopping along.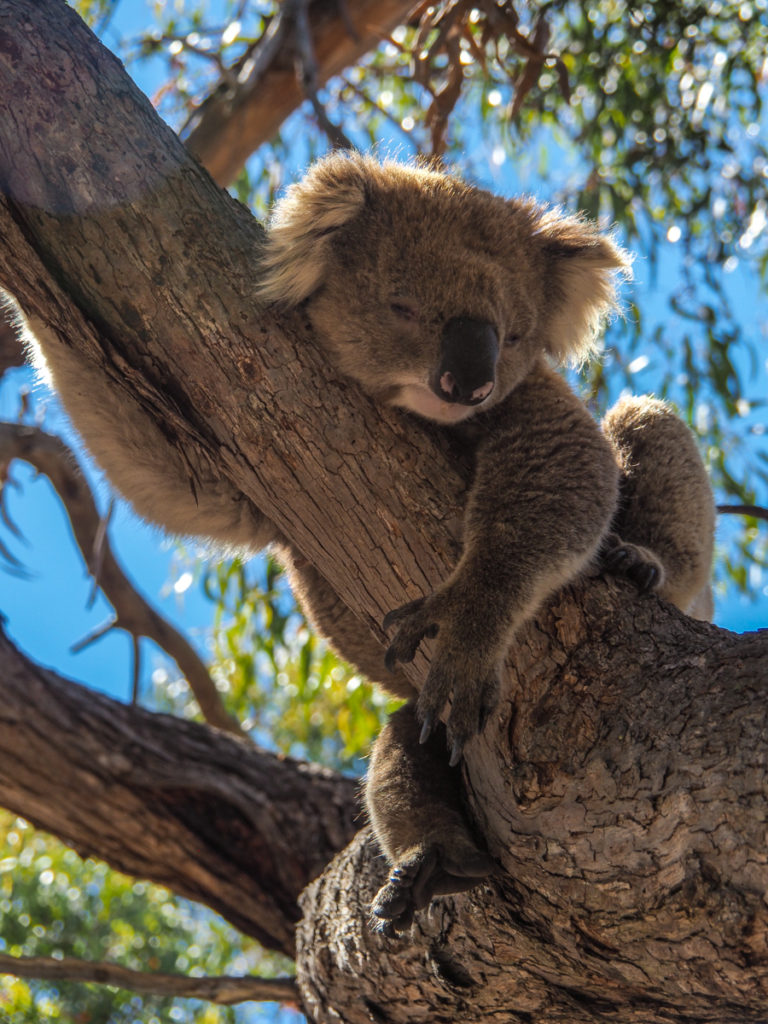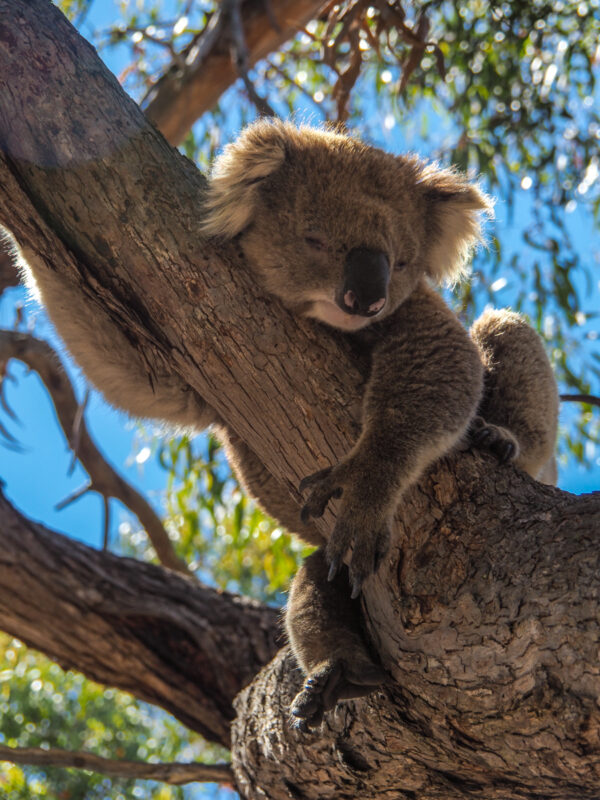 Once you've had your fill of koala love, hop the ferry back across to the "mainland" and enjoy an iced coffee and a pastry (or lunch) at Pier 70. You can't miss it, as it's immediately adjacent to the wharf. We passed a lovely hour watching the boats and relaxing. Apparently the climate is essentially Mediterranean, so you're unlikely to have a nasty day!
Hop in the car for a quick 45 minute drive up to Lakes Entrance, on the northern side of the lakes. The town is cute and has many options for a quick lunch, but the real attraction is the footbridge that takes you across to Ninety Mile Beach (so named for its length). The beach acts as a breakwater to protect the entire Gippsland Lakes region from the rough Pacific surf. It's a great place for surfing, body surfing, sand play and casual splashing – keep young kids close by and only swim between the flags, as the waves can be intense. Even though we visited on a gorgeous summer Sunday afternoon, a glance in either direction along the beach revealed plenty of moments for solitude on the long, narrow stretch. After you've had your fill of beach, it's time to head three hours north to Eden.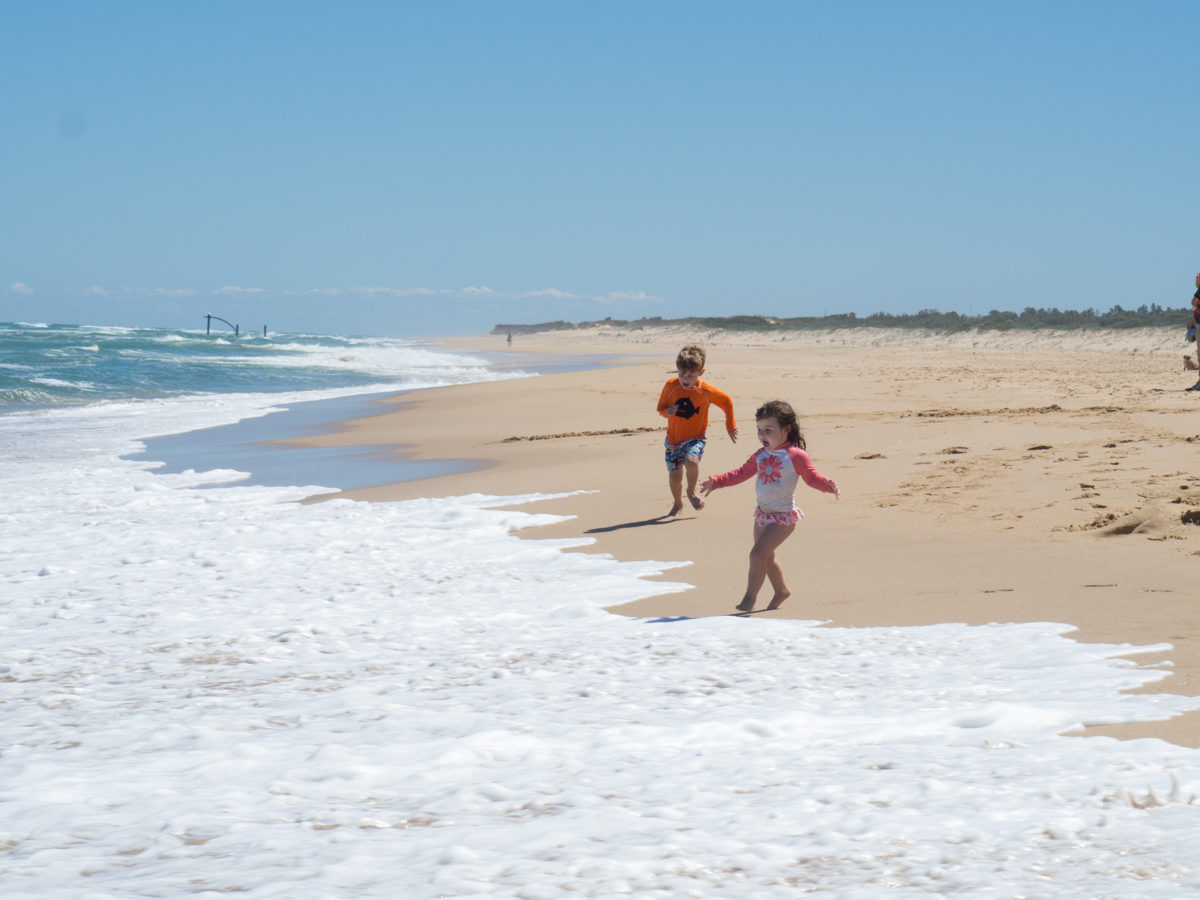 Side note: Ronnie declared this is "favorite travel day in this hemisphere". Now that's a vote of confidence!
Where to stay in Eden
Are you looking for Eden, NSW accommodation? I'll be honest and say that we didn't love ours. A better choice for couples might be this lovely bed & breakfast in Eden. If you're planning to stay a few days in Eden or are traveling with a family or bigger group, the Betty Beach House is a real gem – it offers plenty of space to stretch out, a great location and tons of convenient amenities.
Families will love the NRMA Merimbula Beach Holiday Resort just a little further north – we wish we'd known about it in advance and stayed there! We stayed at another one of their properties a few days later and it was wonderful. Click here to check prices and availability.
And for the most lavish but truly remarkable stay, you can drive out to Green Cape (see tomorrow's itinerary) and stay at the old Lighthouse Keepers' Cottages! Availability is extremely limited and they do book up a few weeks in advance during peak season, so make your reservation now.
Use the interactive map to find vacation rentals and hotels in Eden, Australia here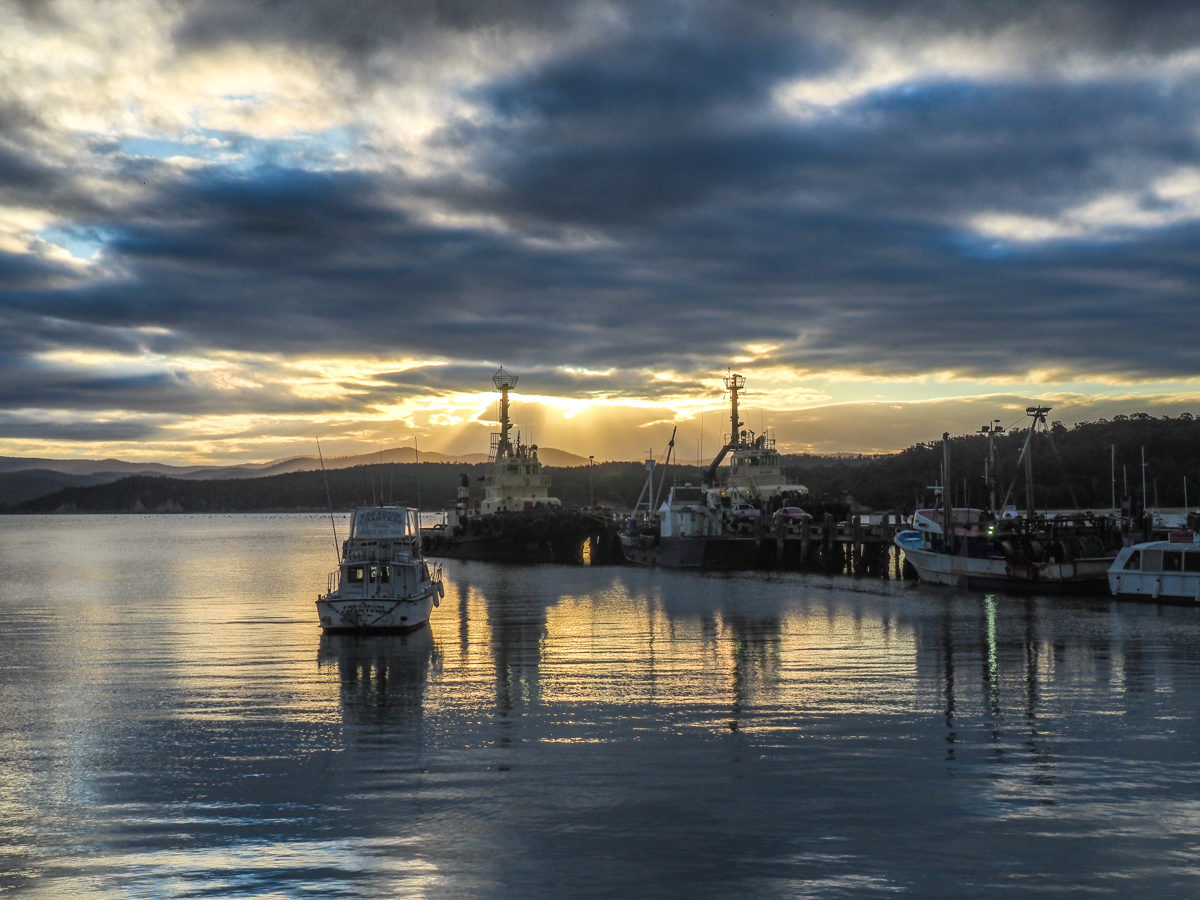 Day 3: Ben Boyd National Park to Narooma (2h30m)
Things to do in Eden
Whether you've stayed the night in Eden or further north in Merimbula, head into town for a delicious breakfast at Sprout Eden to fuel you up for the day ahead. If you have time to spare, you could consider spending two nights in this area of the Sapphire Coast. Within the town of Eden (walking distance from Sprout!) there is a Killer Whale Museum that is supposed to be excellent, though sadly we didn't have time to check it out.
This stretch of coastal New South Wales is basically one national park after another, and for your stopover in Eden the place to be is Ben Boyd National Park. There are plenty of options for things to do in Ben Boyd, but we chose to spend our day in the southern section of the park (the northern and southern halves are not connected, so keep this in mind for your planning).
Our first stop in Ben Boyd was at Boyd's Tower, an unpermitted and non-functional lighthouse built by its eccentric namesake. At the time of this writing, the walking track down to the water from the tower is closed and we felt that overall the site was underwhelming – not worth the extra drive if you're only spending on night in the area and are pressed for time.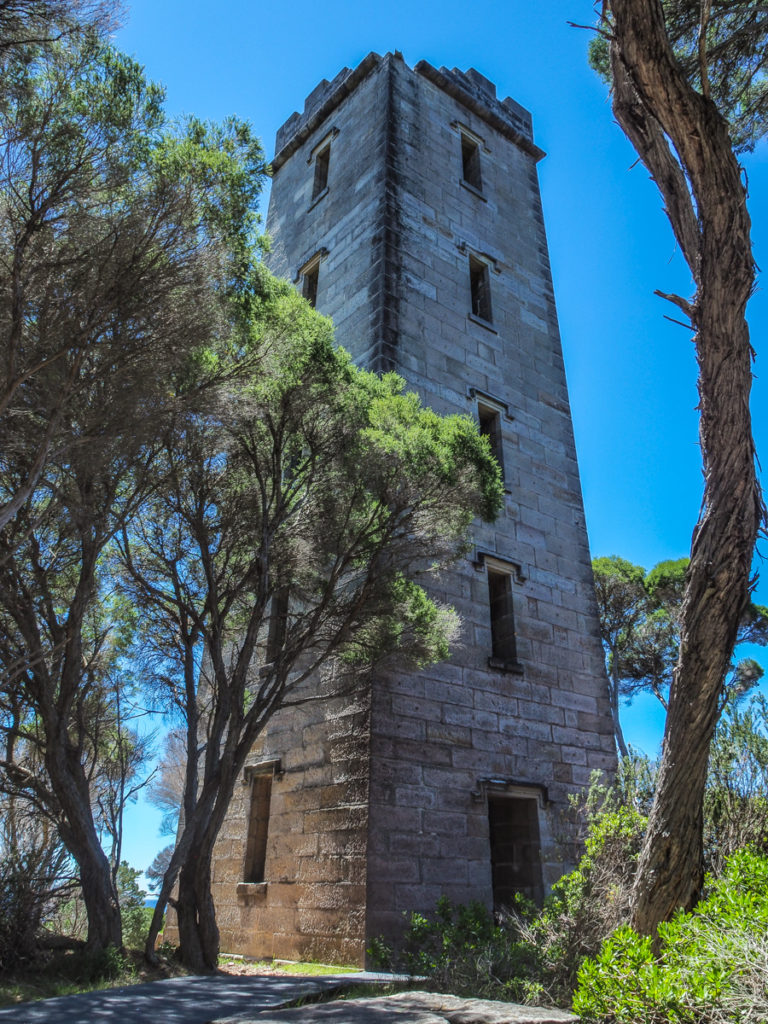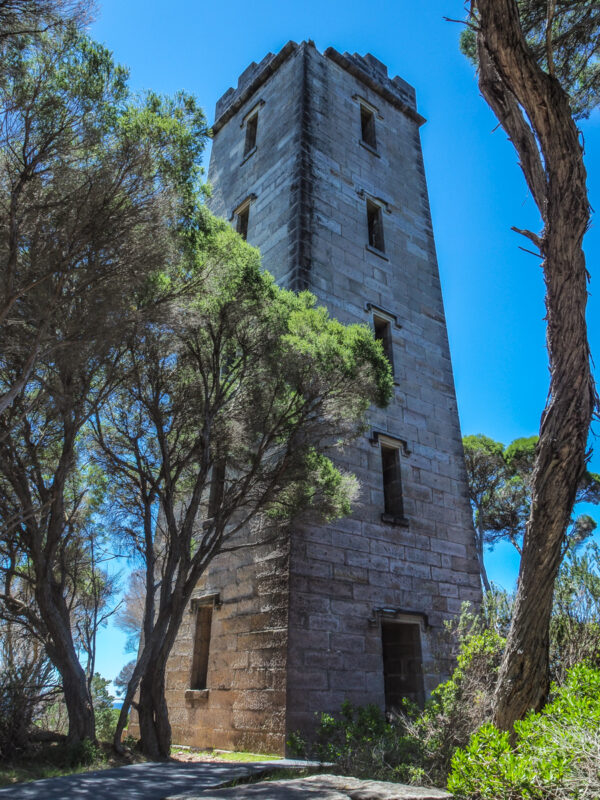 A much better route is to pop Green Cape Lighthouse into your GPS and head straight there (as I mentioned above, you can actually stay on the property!). The road is unsealed, but basically fine to drive on as long as you take your time. Along the way, you'll see a sign for the Disaster Bay lookout. Don't skip it. The view is simply stunning, especially on a clear day. This is also where you can pay for your entry to the park (inconveniently priced at $8 AUD… when we only had a 10).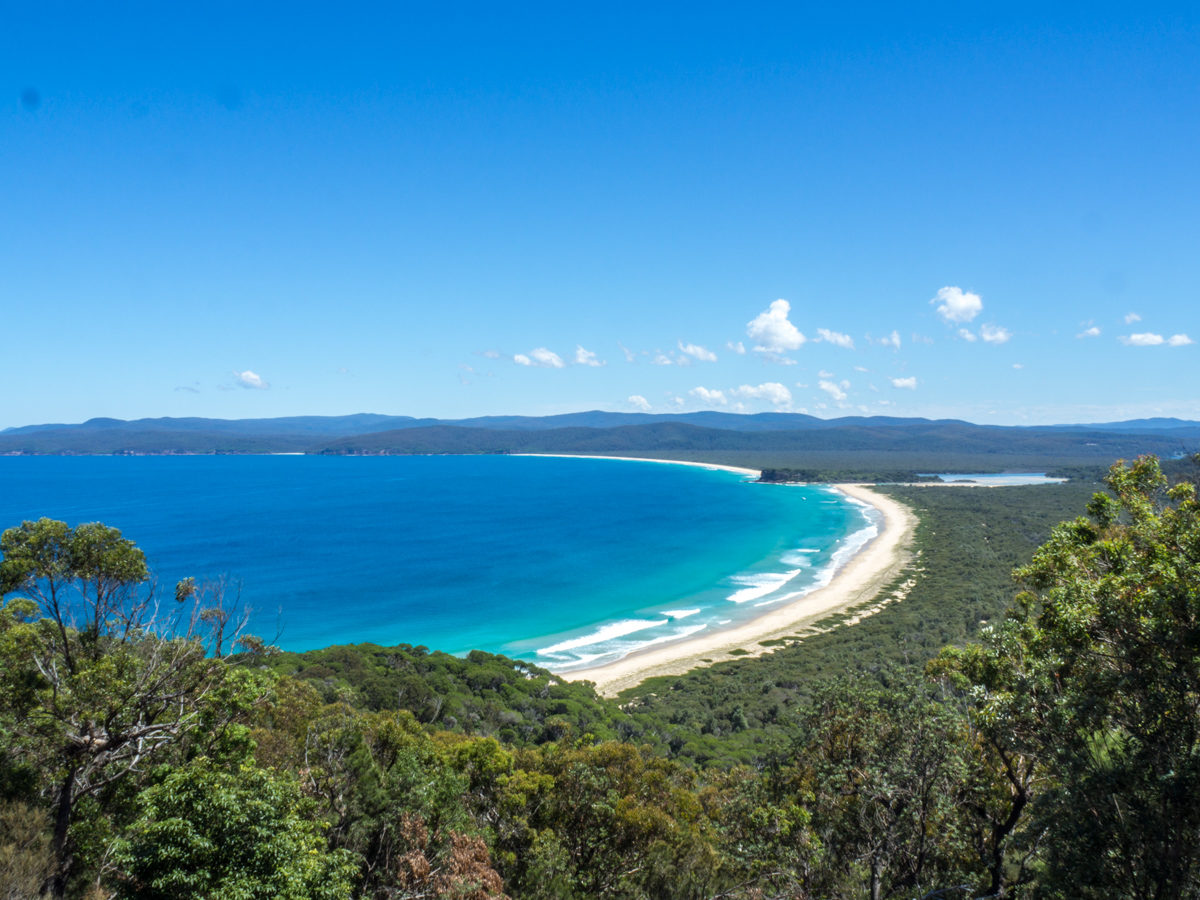 The lighthouse itself is lovely and, as you can see, is situated on a beautiful rocky headland. It's a perfect place for a stroll and you can even bring a picnic, though it's a few minutes' walk from the car park. There are public toilets at the lighthouse but no potable water – BYO (and don't run out like us).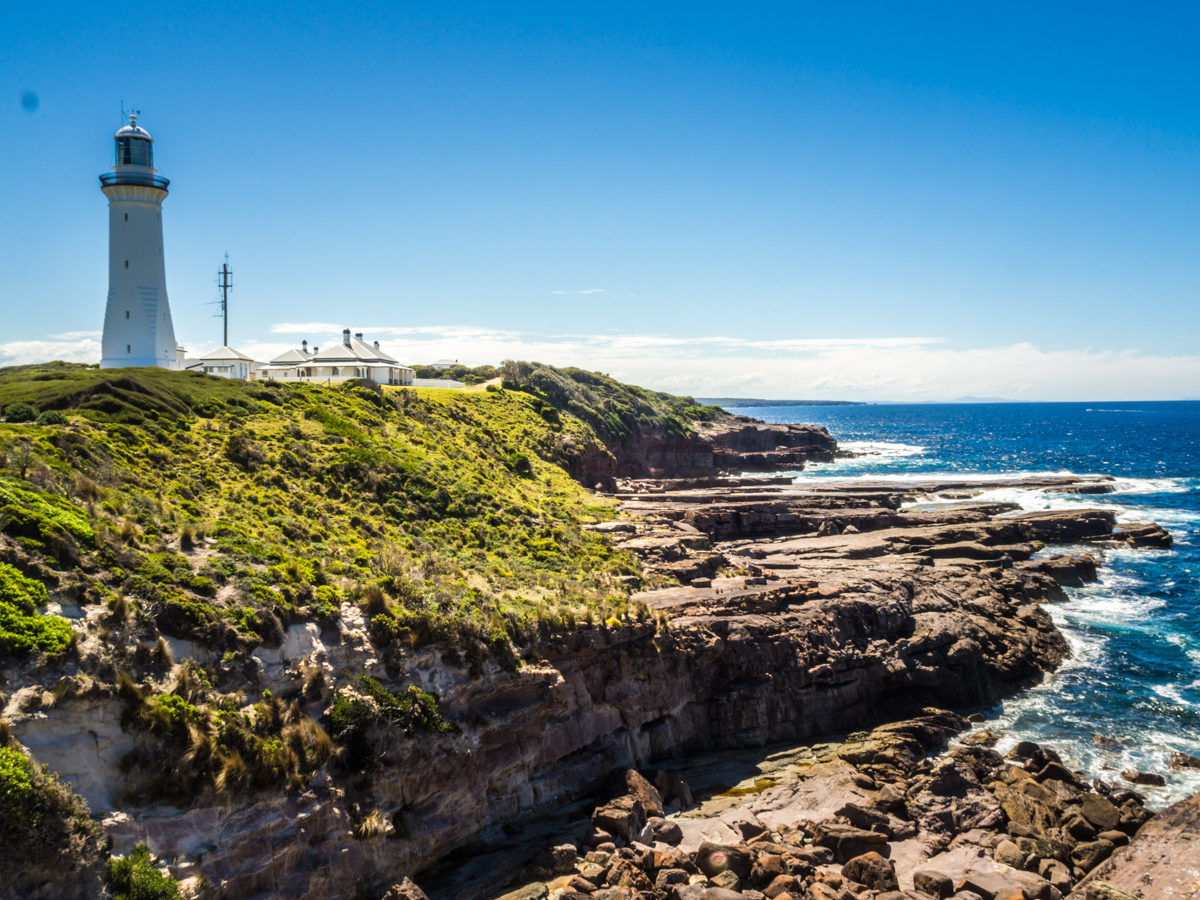 After a bit of time appreciating Green Cape Lighthouse and its history, take the quick drive to Bittangabee Bay where you'll find a camp ground and a lovely secluded cove for swimming. (Side note: we don't camp, but kudos to those who do! This could be a lovely place to stay the night.) Bring your snorkel gear, because you'll see heaps of fish along the rocks on the left side of the bay as you swim out. The red rocks surrounding the crystal waters add to the feeling that you're miles from nowhere.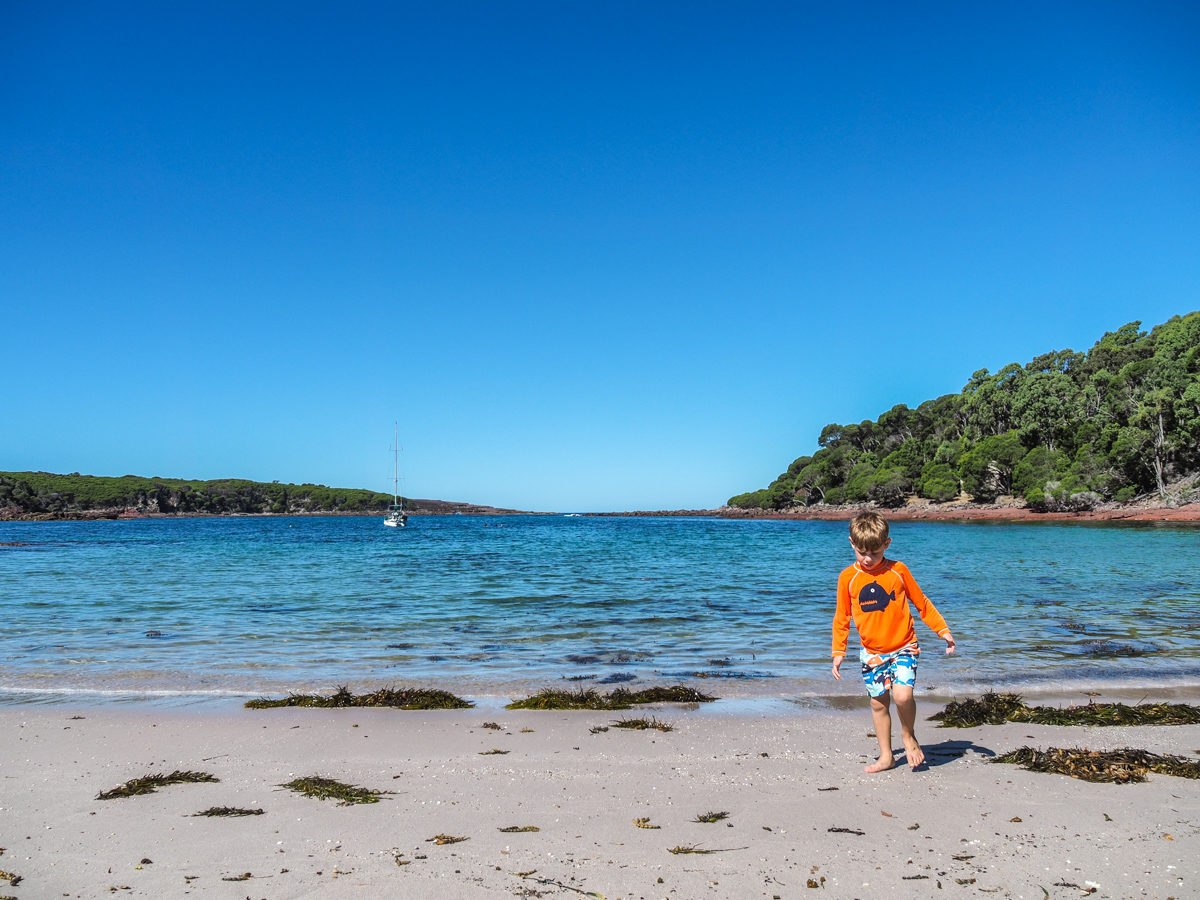 Where to stay in Narooma
From Bittangabee Bay to your next overnight stop in Narooma, it's an easy and pretty two-and-a-half hour drive. We didn't stay in Narooma but wish we had (you could even stay here for two nights on a slower trip)! The Top of the Town Motor Inn looks like a great option – check prices and availability here.
If you can spare a few days, check out these great Airbnbs in Narooma. There are so many fantastic choices! Here are a few to consider:
As you'll see below, we absolutely fell in love with the town. If you have time on the way in (which we didn't, sadly) stop in Mimosa Rocks National Park to see the amazing rock formations out in the water. This would also be a great place to camp on the Sapphire Coast so that you can catch Mimosa Rocks at sunrise.
Use the interactive map to find vacation rentals and hotels in Narooma, Australia here
Day 4: Narooma to Murramarang (1h15m)
We arrived in Narooma just in time for a delicious brunch at The View, so named for its spectacular view overlooking the harbour. To look out from their patio, you'd think you were on a Caribbean island rather than in New South Wales, Australia! There are so many things to do in Narooma that you'll be much better off if you've spent the night and gotten an early start to the day. Of course, you'd do just as well to sit and while away the day reading a book and enjoying the scenery.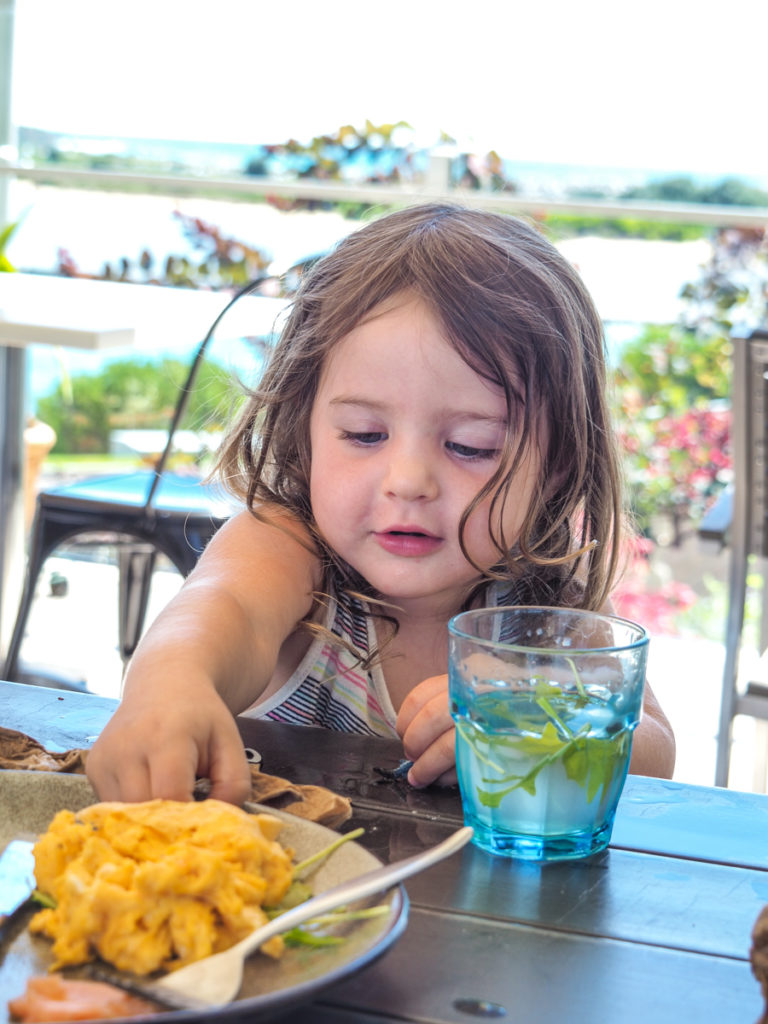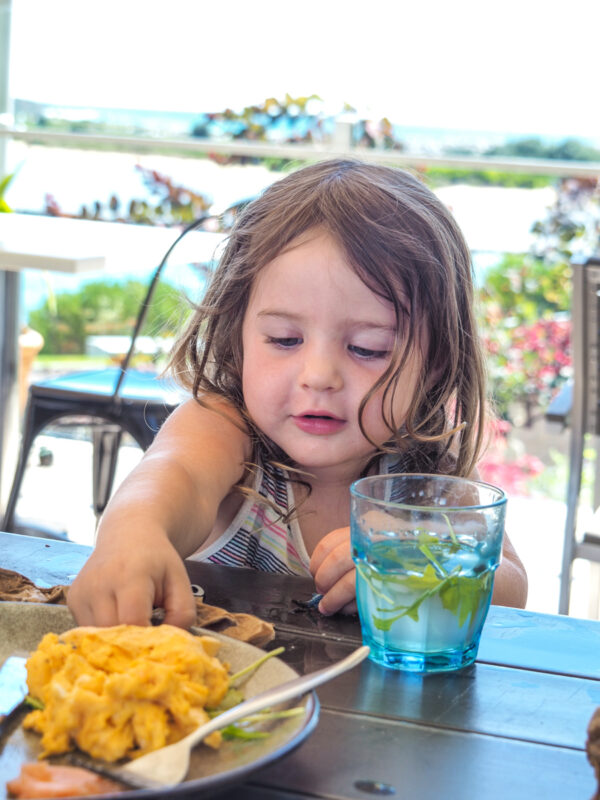 Things to do in Narooma
We began with a lovely stroll on the pedestrian walkway that encircles that bay. The dock is a great place to spot some of Narooma's awesome wildlife – we saw so many types of fish, several huge bull rays, and sea birds diving for a snack. The kids even made friends with some sweet Aussie kids who taught them how to fish and shared their lines.
If you have a full day (or two!) we would definitely recommend hopping on one of the highly-rated boat tours leaving from the dock to take the quick trip to Montague Island, where you can see pods of dolphins, stroll with tiny penguins, snorkel or dive with fur seals or even see migrating whales during the spring! Check out this great tour option.
Head over to Bar Rock, on the south side of the bay, for stunning coastal views. You'll see amazing rock formations with waves crashing over them, and out on the jetty you can usually spot fur seals sunning themselves or even goin for a swim! Our kids were totally mesmerized and would have spent the whole afternoon watching them, but we ripped them away to head across the bay (by car) to the quiet, calm beach. This great swimming spot is even surrounded by a shark net to keep it extremely safe for "the littlies". Bring your snorkel gear out here too, as we saw thousands of fish around the perimeter along the jetty and the net. Basically, our day in Narooma was like going to hands-on aquarium without the admission fees.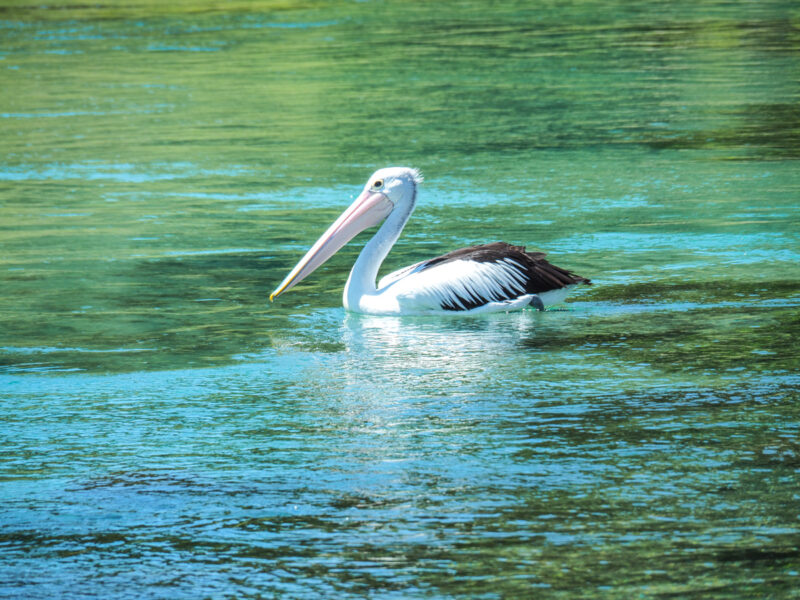 After we had worn ourselves out at the beach, it was time to head north for our last places to stop on the Sapphire Coast: Murramarang. But before we get into the awesomeness of Murramarang, make sure you stop in at Bodalla Dairy. They make a huge range of cheeses (our favorites were Tasmanian Pepperberry and Saltbush & Sage) and ice creams, and if you're game for a real meal they offer a full menu. The main dairy production building is lined with windows to give you a peak at their operations (including the "ice cream lab"). If you happen to come through at 10am or 4pm, head to the back field to help bottle-feed the little calves!
Since you'll probably have a long, wonderful day in Narooma like we did it's nice to take just a short drive up to Murramarang. Our Aussie friends recommended that we stay at NRMA Murramarang Beachfront Holiday Resort and we're so glad they did. It was truly one of the highlights of our trip! Yes, the 2 bedroom/2 bathroom cabin felt luxurious after a few nights in cheap motels. Yes, the kids loved having a playground and a pool (with splashpad!) just a few minutes' walk away.
But the real reason to come here is to spend an evening dwelling amongst the eastern gray kangaroos who call Murramarang National Park their home! These guys wander in and out as if there were no humans around. In particular, they seemed to love the open field where campers set up their tents and caravans, conveniently located near the playground and kids' club. This is one of the best places to stay between Melbourne and Sydney, so make sure to check their availability and book ahead to reserve your room if you plan to visit on a weekend or during school holidays.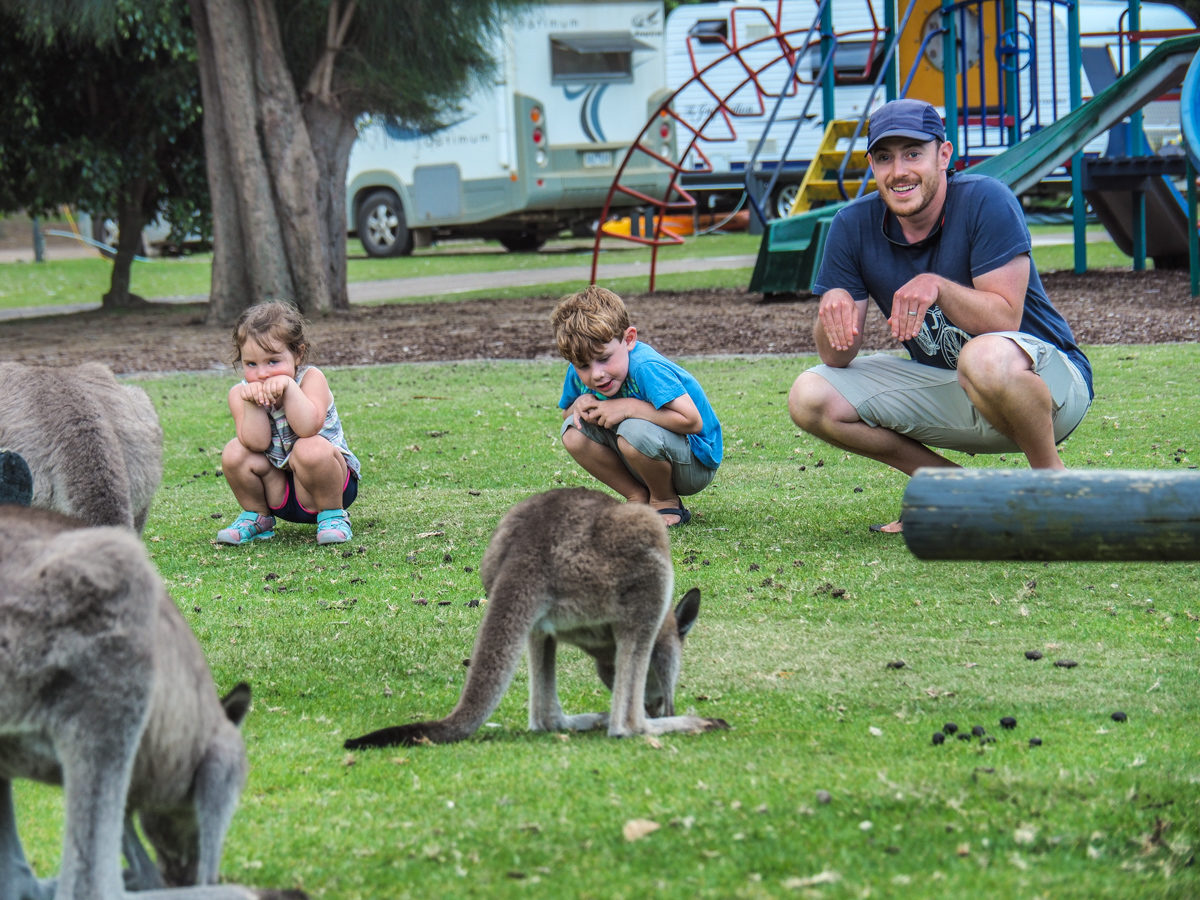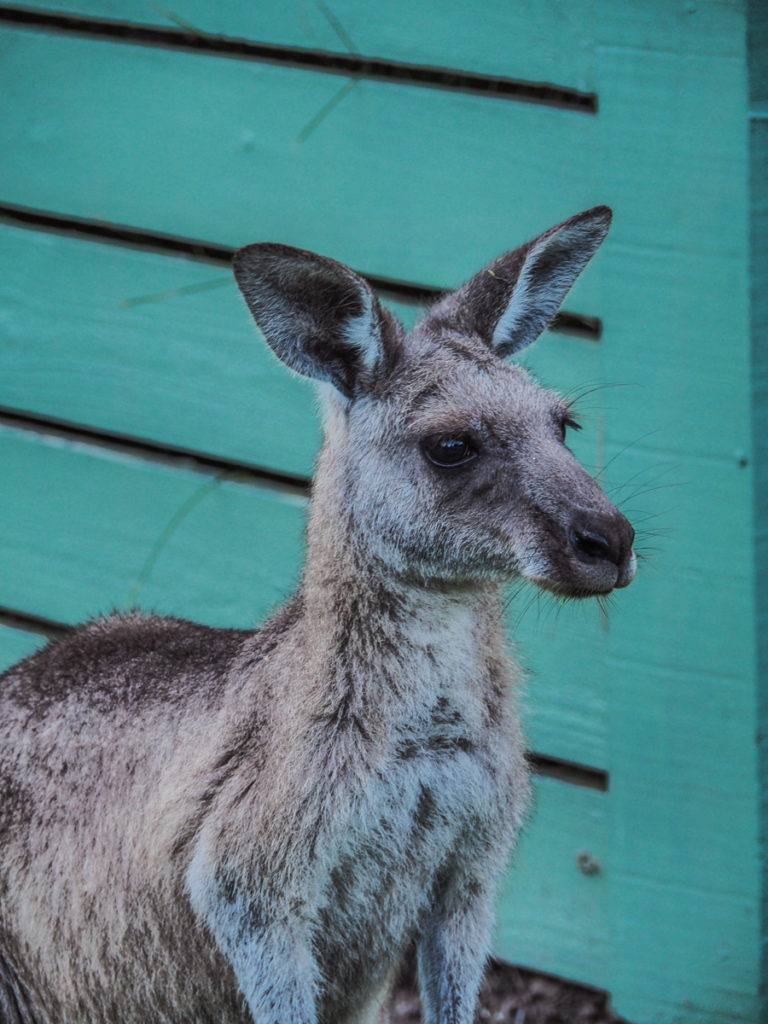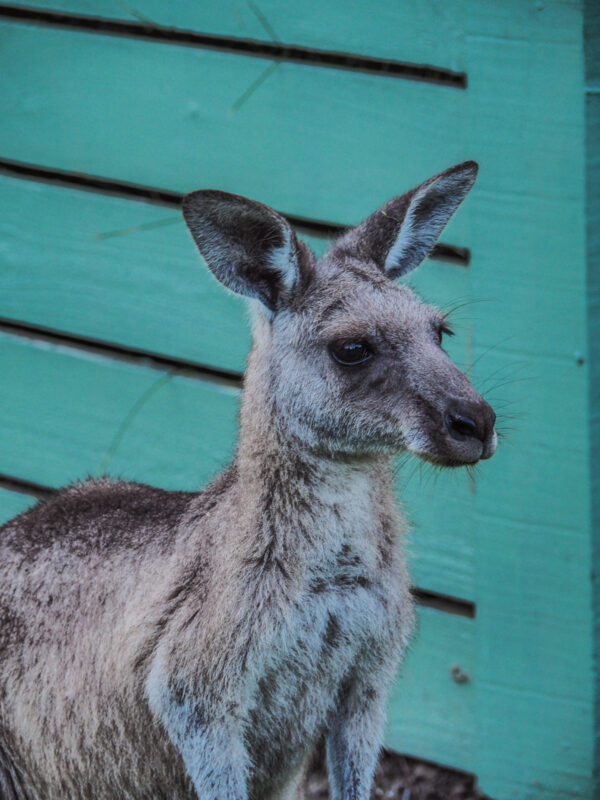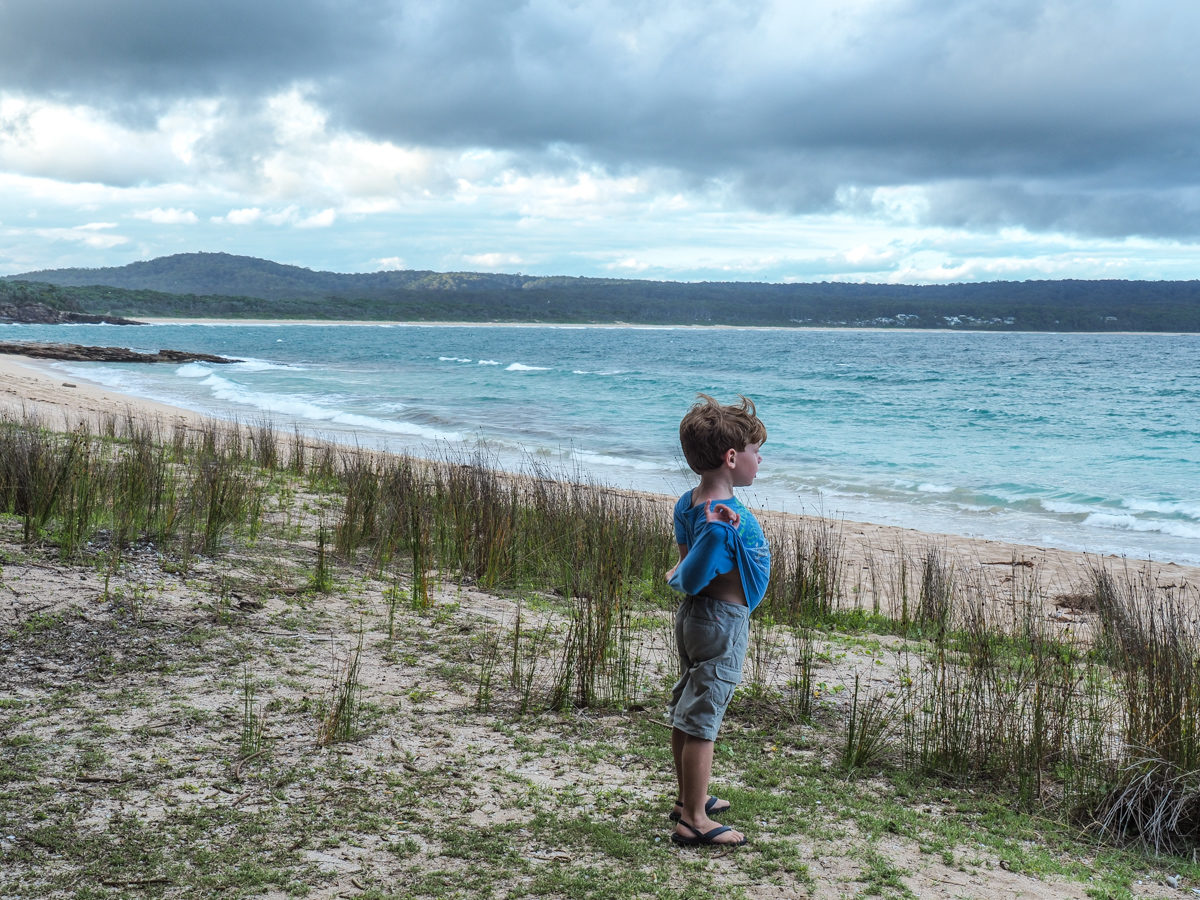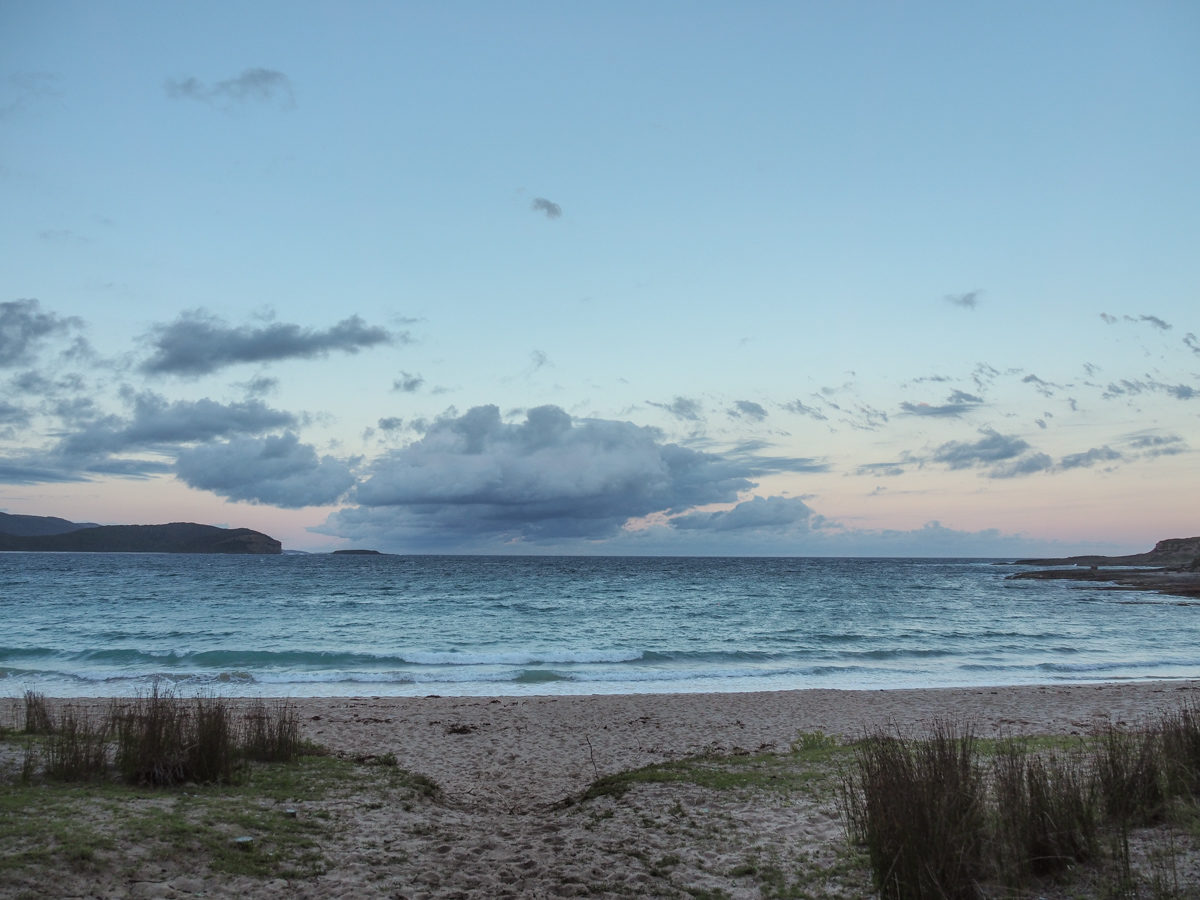 Day 5: Murramarang to Sydney (3h45m)
The final stretch of the drive, from Murramarang National Park up to Sydney, has a few amazing stops… if you've got the steam left for them. Truth be told, our kids were happy to spend the first half of the day enjoying the lovely pool and splash pad at the resort (thanks for the noon checkout, Brad!). But Murramarang National Park itself offer so much more than just the resort amenities.
There is a lovely, quiet beach right at the resort (some of the cabins even have a view, though ours didn't). If you head south by car for about ten minutes you'll hit North Head Beach, which offers snorkeling in its famed blue pools. Alternatively, you can head north up to the Aboriginal Area Walking Track for an easy two hour bush walk that will take you through an Aboriginal area complete with interpretive panels. As always, be sure to bring plenty of water as services may be limited.
When you're ready to leave the park and continue north toward Sydney, you'll find yourself in the Shoalhaven region – more developed for sure, but still with its own great activities for the whole family. If you haven't had enough beach time, visit Huskisson to experience the world's whitest sand (so says the Guinness Book of World Records). Otherwise you can continue north toward Berry along the Grand Pacific Drive and pay a visit to Two Figs Winery, which makes a really lovely Verdelho and several excellent sweet and dessert wines.
Other fun stops in this area include Nowra Aquatic Park (which we didn't get to visit, but it includes a pool, splash zone and waterslide – admission starts at $20 for a family) and Budderoo National Park, which we visited on a quick trip from Wollongong. Though the waterfall viewing area was closed when we went to Budderoo, there's still a lovely family-friendly walking track through the temperate rain forest. You'll see a wide range of interesting plants, hear many species of native birds, and you might even get lucky (like we did) and spot a water dragon.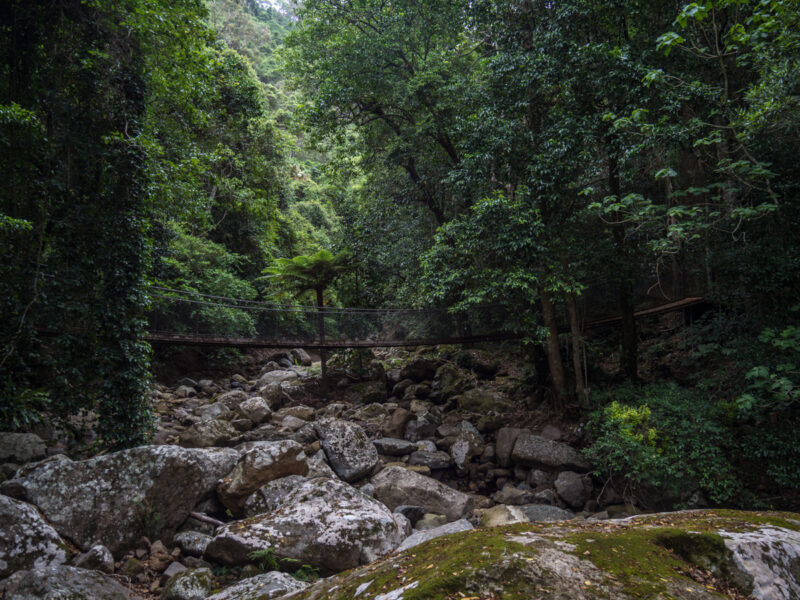 Further north, almost all the way to Wollongong (where our family ended the journey), you'll find the lovely seaside hamlet of Kaiama. It's a pleasant place to stop for lunch, a stroll and some shopping (we did some swimsuit shopping, picked up some new LEGO minifigs and bought more workbooks for Jacob's roadschooling – all the exciting stuff!). Most importantly, if you walk around the wharf to the headlands you can stop by the nice little lighthouse and see one of the town's two blowholes. This is the smaller one and often not extremely active, but it was going strong during our visit to we didn't trek to the other one.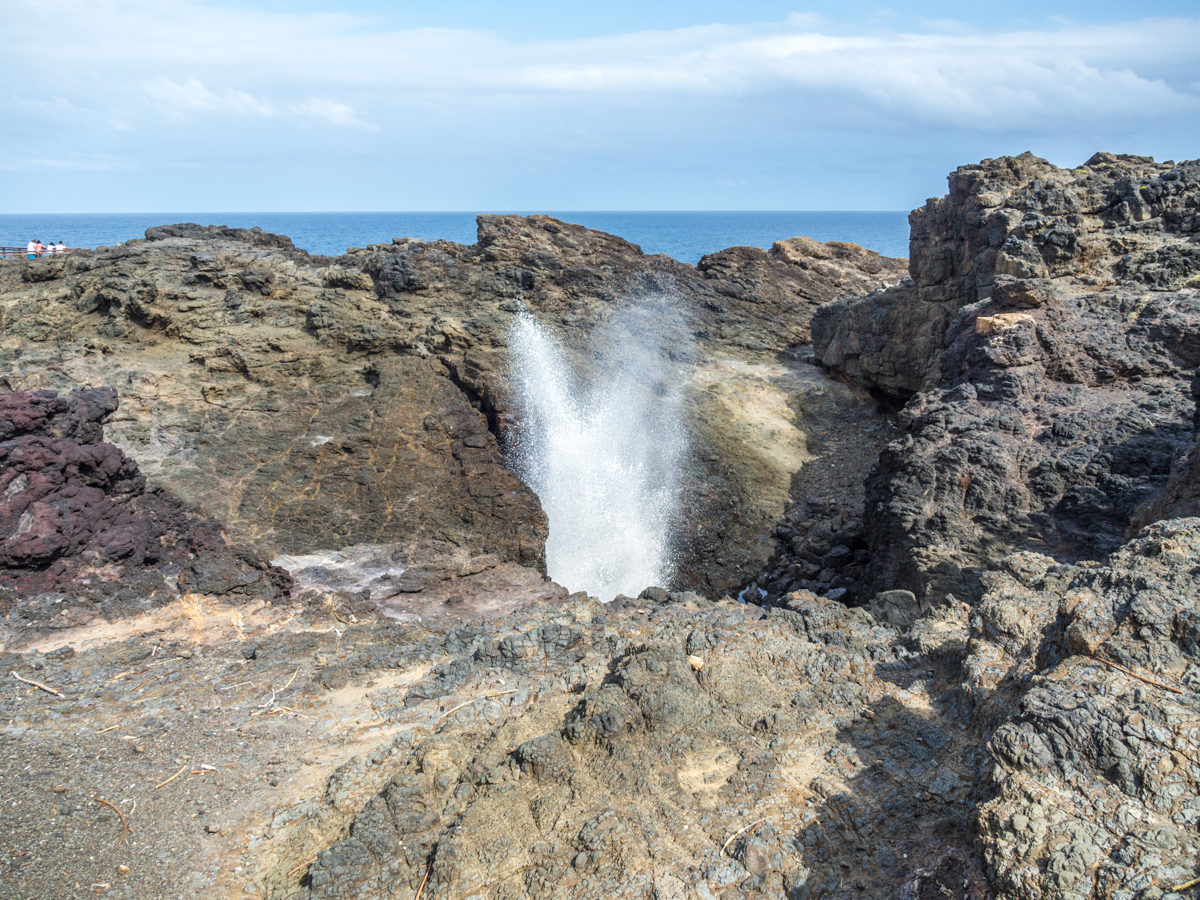 After five long days on the road, we finally rolled into Wollongong – a small city to be sure, but big and developed enough to signal a clear end to the gorgeous, unspoiled areas of the Sapphire Coast. We were glad to have the same bed for more than one night at a time, and also sad to see the end of such an amazing roadtrip from Melbourne to Sydney. The drive was truly the experience of a lifetime and I can't recommend it highly enough!
Want to get more helpful travel tips like this? Sign up for our email list!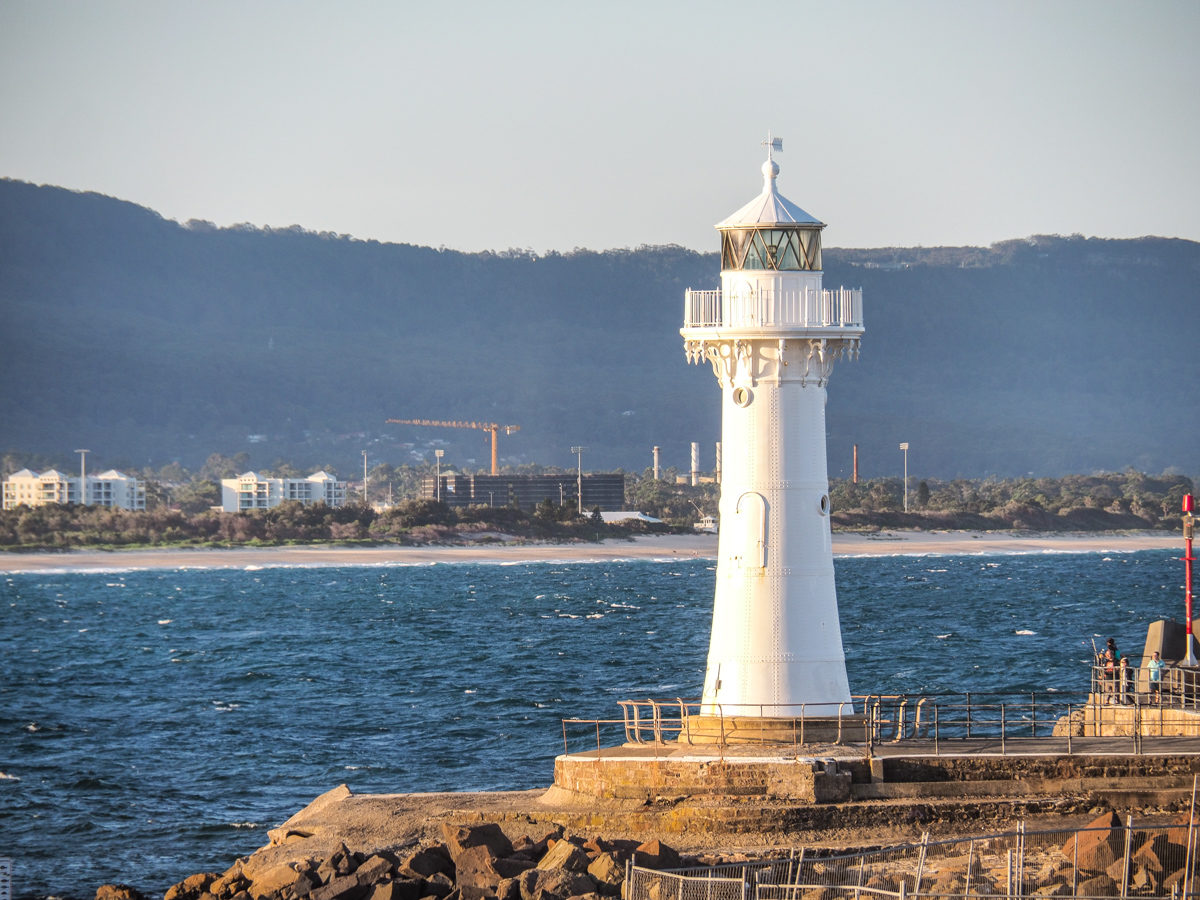 If you're looking for some pampering when you finally get to Sydney, check out these luxe hotels
When's the best time for the Melbourne to Sydney road trip?
A few readers have asked me when to take the road trip from Melbourne to Sydney. We have only done the drive during Aussie summer and that was an amazing time to go! The beaches were lovely, the weather was nice for some nature walks and the scenery was spectacular. It's not a very heavily traveled part of Australia compared to the cities on either end, so you don't really need to worry about trying to avoid crowds during "peak season".
To be honest, I'm not convinced that the Melbourne to Sydney drive (or the Sydney to Melbourne drive, for that matter) would be nearly as pleasant in the winter. Winter weather in Victoria can be downright chilly and rainy from what our Australian friends tell us. Some of the scenery would still be pretty, of course, but the outdoor lifestyle that visitors envision when thinking about a trip to Australia just won't be possible.
Both spring and autumn should still be nice seasons for this roadtrip. I'd rate it a must-do for visitors from December to March; while the air temperature in March is a little cooler than many beach-goers prefer, water temperatures should still be nice. If I was coming on a lengthy trip to Australia, I'd consider making the drive in October, November or April. For our travel preferences, I probably would not drive from Melbourne to Sydney from May to September.
Surviving family road trip from Sydney to Melbourne
Twelve hours of driving can be a lot with young children! By breaking up the drive into five days and visiting so many places to see wildlife, we heard very few complaints. On many of the legs the best attractions will be part-way between your options for accommodation on south coast NSW, so you might only drive for one or two hours at a time – just right for the younger ones to take a nap or the older ones to watch a movie (we've been making copious use of our Amazon Fire tablets, including these great free apps). Check out these other great tips that have seen us through many road trips over the last year.
This amazing Australian road trip is great for families because so many of the activities will win kids' hearts. I mean, what kid wouldn't love a short nature walk to a koala sanctuary or staying at a place that has a waterpark AND kangaroos hopping through the playground? There wasn't a single stop that the kids didn't enjoy, so take the plunge and go from Melbourne to Sydney by car!
You might also like…