Is visiting the Great Barrier Reef on your bucket list? It should be! It's one of the world's most fascinating ecosystems and unfortunately it's disappearing fast due to environmental pressures and climate change. As we planned our family's gap year, we knew we couldn't let the opportunity pass us by. But how could we explore the reef with our two young kids in tow and make the experience enriching for them? The answer for those staying in Port Douglas: Quicksilver Reef Cruises. Read on to find out what our family loved about our experience.
Just starting to plan your Australia trip? Check out our recommended itineraries here.

Use the interactive map to find vacation rentals and hotels in Quicksilver Port Douglas
---
Choices, choices, choices: so many ways to explore Agincourt Reef with Quicksilver Cruises
Our family is typical of most traveling family, in that we all come to activities like visiting the Great Barrier Reef with different experiences and different expectations. The best thing about going to the reef with Quicksilver is that each participant can get up close with the amazing sea life on Agincourt Reef, regardless of how they prefer to do it.
As the most confident swimmer of the family, I was eager to jump in and explore everything. On a boat of 440 people, I was probably the tenth in the water. I had considered trying out scuba diving, but instead opted for the advanced snorkel tour ($80 supplement) for a few reasons: it was half the price, I'd have more time in the water since I didn't need any instruction and I'd be able to hear the explanations from our Marine Biologist guide, Jade. It turned out to be a great choice! I'd never done a guided snorkel tour before, but Jade took us far from the pontoon and showed us things we wouldn't have seen on our own like giant clams, clownfish and even two types of sea turtles. For those who are new to snorkeling, there's also an introductory tour that moves at a slower pace.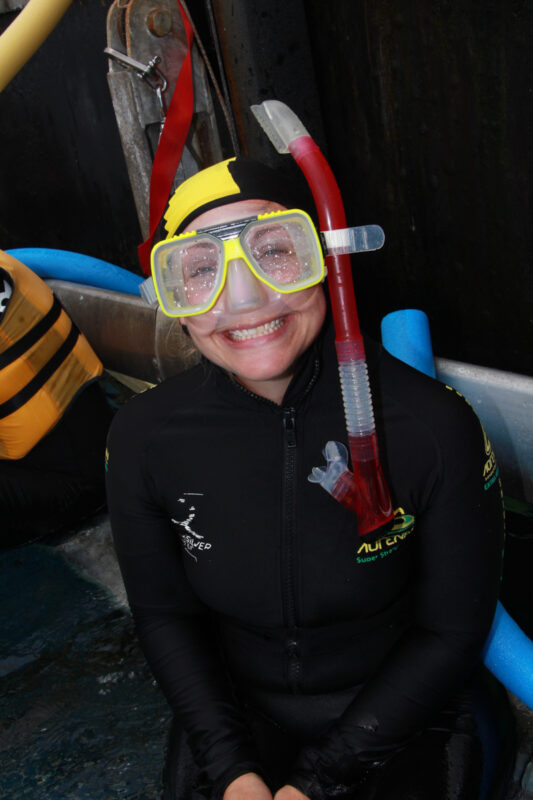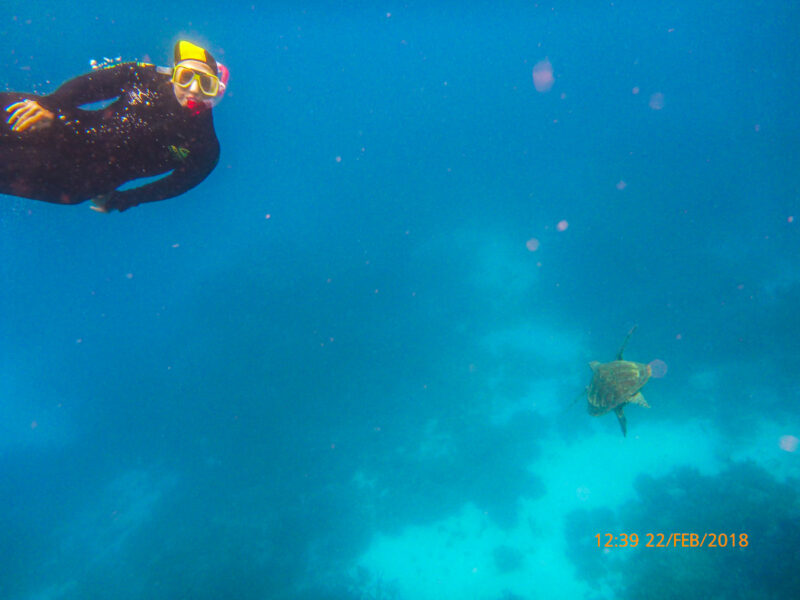 Ronnie also enjoys snorkeling, but he wasn't as interested in going far out (and someone had to play the responsible adult). He chose the most popular option, which is self-guided snorkeling from the edge of the pontoon. All of the gear is provided: Lycra suits to protect from stingers, snorkels, masks and fins. At your leisure, just suit up and jump in! Unfortunately he caught the afternoon swells, but he still saw some amazing fish. One advantage of just snorkeling on your own is that you can lay around at a relaxed pace rather than keeping up with a group.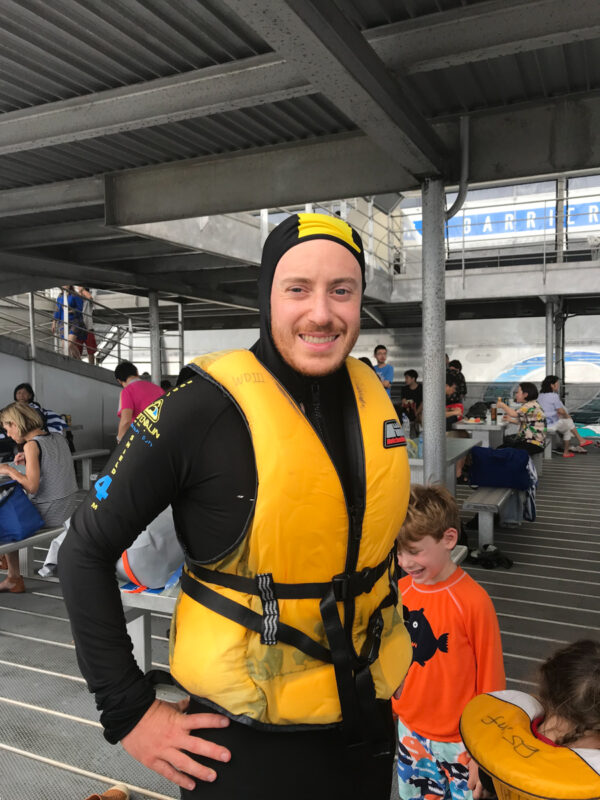 Our littlest team member, Shoshana, had been getting a feel for snorkeling further down the east coast of Australia in protected coves and rock pools (like the great ones we visited on our Sapphire Coast roadtrip – check it out here!). She was chomping at the bit to dive in and find Nemo herself. Unfortunately she wasn't able to find his anemone home in the designated snorkeling area next to the Quicksilver pontoon, but she did see quite a few other fish – including some as big as her! Nevertheless, she was totally unfazed and had a great time.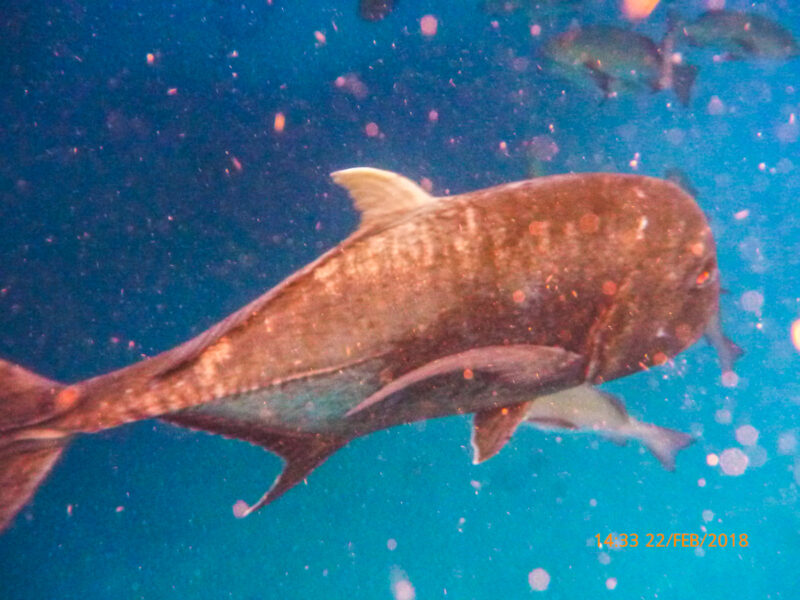 I was extremely impressed at how well-stocked Quicksilver was for kids. Shoshana is a petite 3.5yo, but didn't even wear their smallest stinger suit. They had an ample supply of kid-sized masks, snorkels and fins (never mind that we'd been carrying her toddler sized mask and snorkel until just a week prior – chalk that up to another packing mistake we made). She's probably about the smallest size that would fit the child masks, so you may want to bring your own if going with a tiny one – check out our favorite snorkel gear for kids at each age. The pontoon staff were extremely helpful in getting her fitted for gear and even helping to get some of it on – check out Shoshana with her new friend Akiko!
If your child is already comfortable swimming and snorkeling and is ready to learn how to SCUBA dive, start by reading this excellent guide to learn the whole process.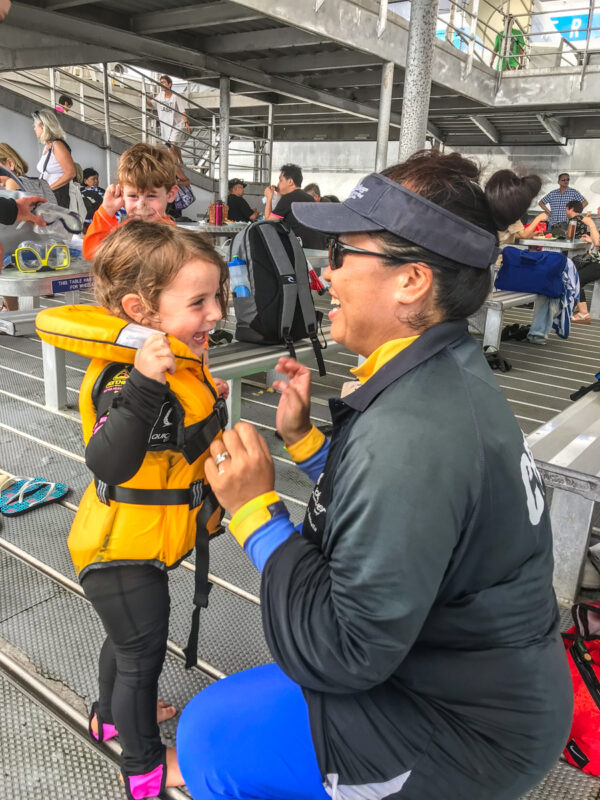 Jacob preferred not to go in the water this time around, but we didn't want him to miss the magic of the reef. Quicksilver was a great choice for him! He spent the whole day buzzing around the pontoon between the semi-submersible boat, the underwater observation area and the snorkeling deck to keep an eye on whichever family member was in the water.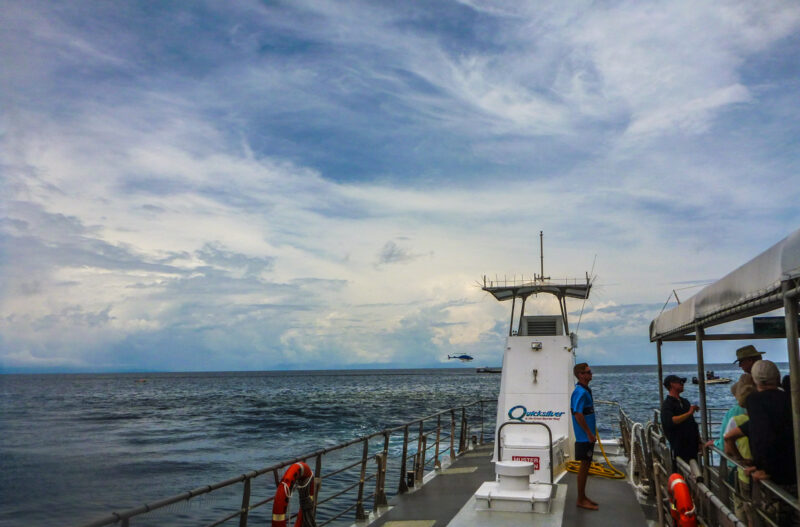 A packed itinerary with Quicksilver Cruises
Check-in for your cruise begins at 9am and we were among the first there – and good thing, because if you arrive closer to departure the queue can be quite long! There are several shops in the same area of the marina that are open along with restrooms, so Ronnie hopped over to secure our spot in the boarding queue while the kids and I roamed around. At 9:30 the boat opened for boarding, and we quickly rushed upstairs to snag a table. We visited during Chinese New Year and I do not recommend it – our cruise had a whopping 440 people on it, which is about the max capacity. We've heard that there are usually half as many people, which would definitely be better.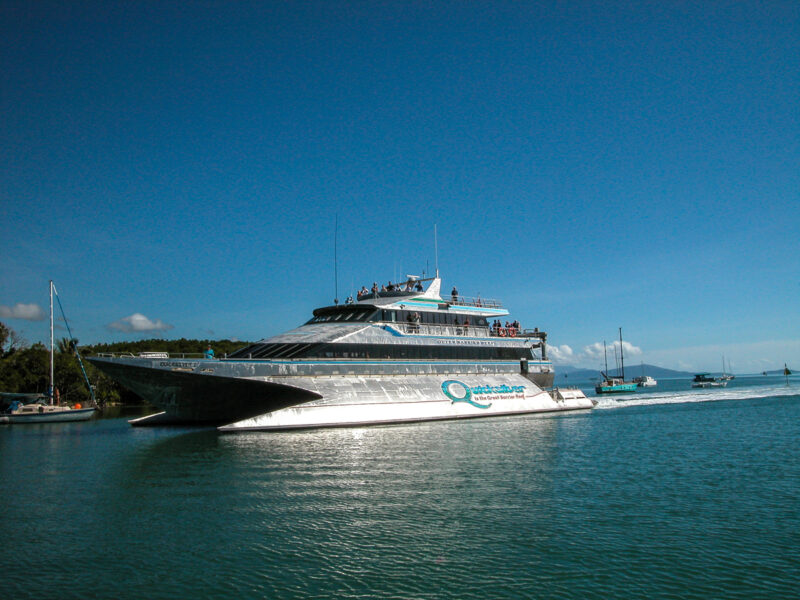 The ride itself was quick and smooth. While on the boat heading out to the pontoon, we were solicited several times for various additional paid options, and we actually took advantage of some! In addition to the advanced snorkel tour I mentioned above, we opted to rent an underwater camera for $72. On the one hand, I'm glad we did it to have the underwater photography (especially this one awesome picture of Shoshana, which means the world to me!); however, it would have been cheaper and probably better to buy a budget action camera in advance to bring with us. We knew that in advance but opted not to bring an extra piece of gear in our already-heavy bags. (We definitely made some mistakes in packing, and you can laugh at them all here.)
My biggest frustration with the camera is that when we received the photos, I realized that the camera was set to show the time and date stamp – that setting just shouldn't exist in the era of EXIF data and digital photography, and if I'd known I would have asked the extremely nice photo staff to turn it off in advance. Overall the photo quality was pretty good.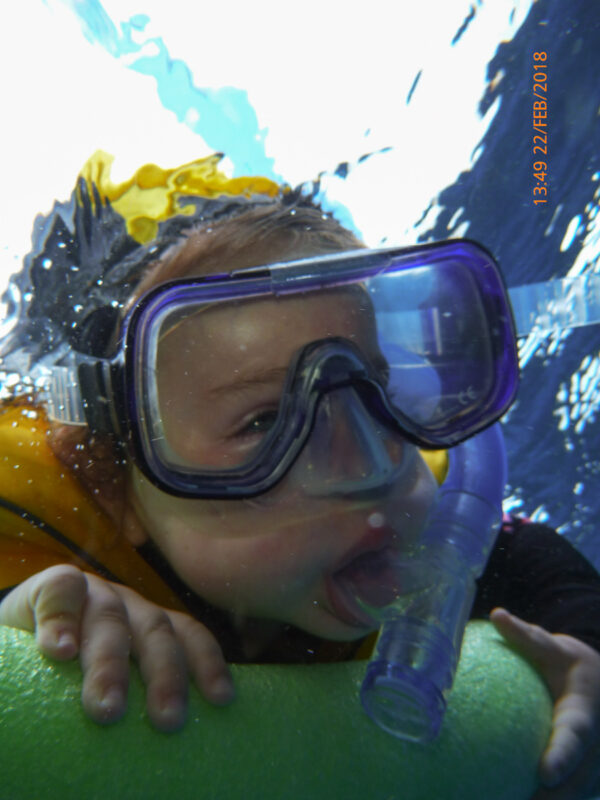 Jade, one if two resident marine biologists on board, gave an excellent presentation during the boat ride covering some of the basics of the reef, its inhabitants and their collective threats and challenges. It was a bit hard to hear upstairs, so we headed down to the front of the boat and sat on the floor in front of her. Unfortunately most of the other passengers did not speak English and thus talked over the non-translated presentation, so we were glad to be close to hear her, to see the screen and to ask plenty of questions. The kids had learned a lot about the reef in advance via some great educational resources and were ready to answer all of Jade's questions!
We arrived at the pontoon around 11:30 and I made a beeline for the stinger suits and fins, while Ronnie and the kids hustled over to the semi-submersible (take the stairs rather than the ramp to get around faster). No matter what you're told on the boat, expect a 10 minute wait to get your stinger suit, we they have to be re-racked by size before the staff even starts to hand them out. There are plenty available in all sizes, so it's only a rush if you're scheduled for an activity right at the beginning.
Also note that everyone just leaves their backpacks sitting on the benches all day and it's fine – no need to worry about theft from everything I've heard. Pro tip: your family's "official" photo will be taken atop the semi-submersible. Even if you're doing the snorkel tour that supposedly leaves immediately, if your family is near the front of the semi-sub line you should have time to go sneak into the photo! Sadly I watched Ronnie and the kids take their photo from 20ft away as I waited for my tour, not realizing I could have popped over – still dry – and been in it. Bummer!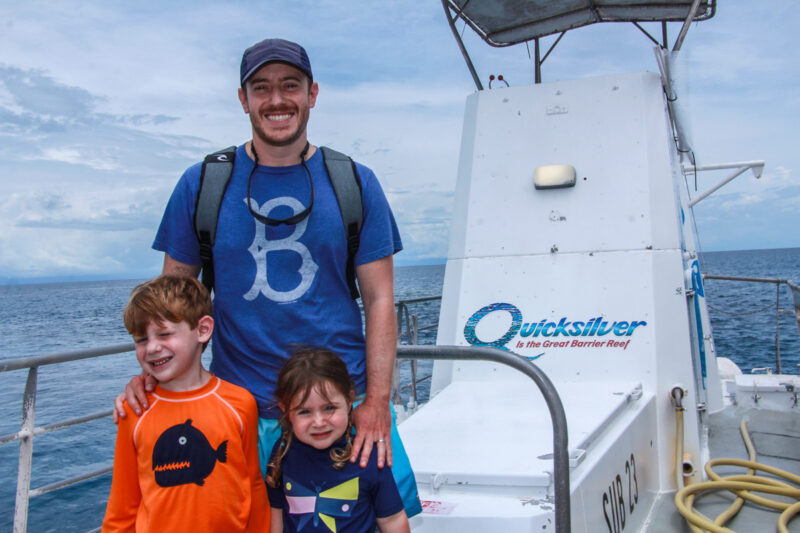 From your arrival at the pontoon at 11:30, your time is your own until roughly 2:30 when everything begins to shut down. But there are so many activities available that the time goes fast! Ronnie and I traded off time on the pontoon since we had the kids with us. I was in the water from 11:45 to 1pm, while he and the kids rode the semi-sub, hung out in the underwater observatory and ate lunch. Once I returned, we got him and Shoshana suited up and in the water (sadly that took long enough that I missed the firm 12-1:30 lunch window, but there was a plate of assorted cold food available).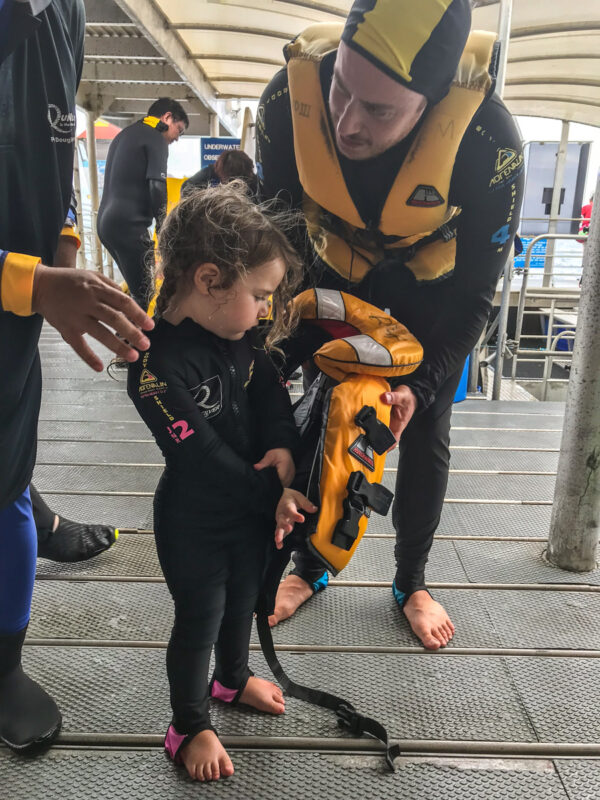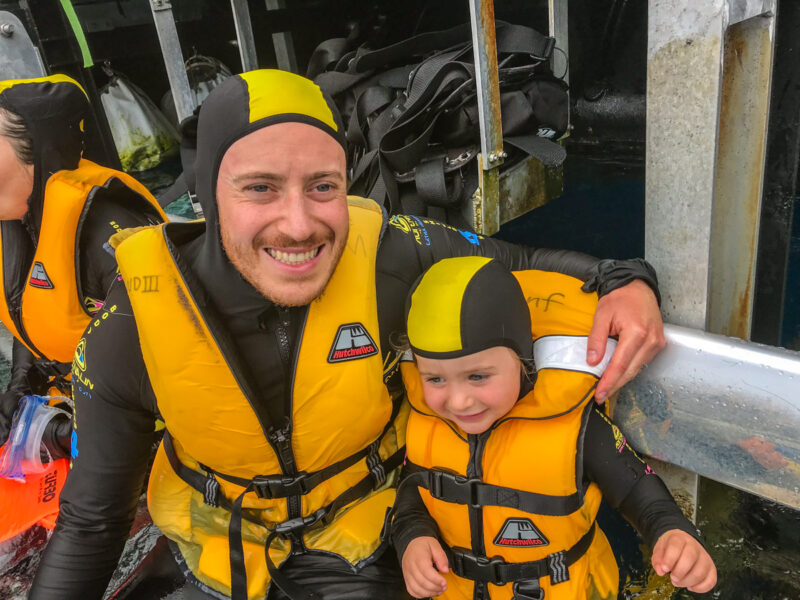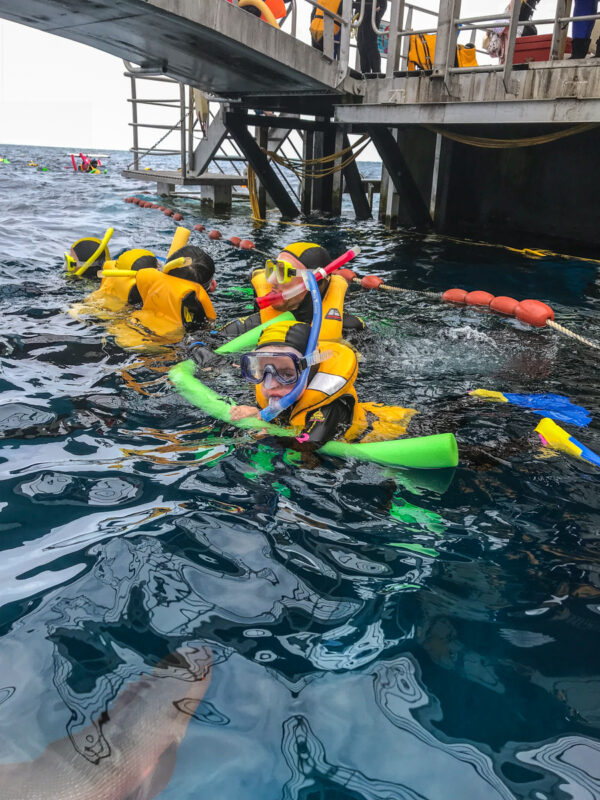 While they swam, I had my lunch and Jacob alternately kept me company and snuck down to the underwater observatory next to our table (yes, kids must be supervised at all times…). As soon as I had finished eating, Shoshana was done snorkeling (around 2pm) and I rushed around getting Shoshana's gear put away (kid gear all goes in one area, but their stinger suits go back with the used adult ones) and then getting the two of us dry and changed. Before I knew it, it was 2:30 and everything was starting to close up! Sadly, no semi-sub ride for me (though the family assures me that I got the better end of the deal with my advanced snorkel tour). Ronnie stayed in to snorkel the swells until 2:45 and then got himself changed while the kids and I returned to the boat for cheese and crackers.
The return ride was a bit more challenging than the outbound ride had been. Thanks to a driving rain and rough seas no one was using the outdoor seating. Unfortunately with such a packed boat (again, don't go during Chinese New Year!) there weren't enough seats for everyone. Someone was kind enough to give up his seat for the kids to share, but a few of us ended up standing for the whole boat ride. So my advice if you're looking for a Great Barrier Reef reef cruise from Port Douglas is to reach out to Quicksilver and choose their least busy date during your time in the area.
Overall our family had an amazing day on Agincourt Reef with Quicksilver Cruises, and it's definitely one of the top things to do in Port Douglas and Cairns. Our only challenge was that we could have used an extra hour to really explore the pontoon's many offerings, though your family may not face the same issue if everyone goes into the water at the same time. The next time we're in the area – which we hope won't be too long in the future, we hope to spend the day on one of Quicksilver's smaller partner boats. They offer a more intimate experience and allow you to visit multiple dive and snorkel sites in one day, with even more time in the water. The downside for families with young children is that those boats don't have a semi-sub or an underwater observatory – the real strengths of going out on Quicksilver's pontoon. But next time we visit we'll have older children, and hopefully everyone will be game to spend the whole day floating around amongst the fish!
Click here to reserve your family's day of reef magic with Quicksilver Cruises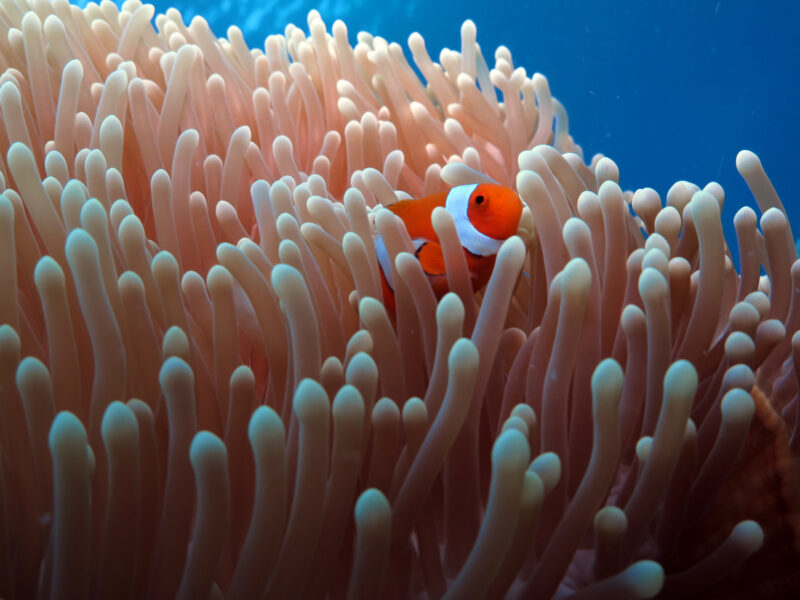 What to bring on your Quicksilver Cruises reef tour
Don't bring much! Almost anything you need is provided.
-Swimsuit (it's best to just wear it)
–Sunscreen for your face (since the rest is covered with a stinger suit)
-Change of clothes
–Wet/dry bag to keep everything separated
–Sunglasses for your time out of the water
-Flip flops (I'm currently on my third pair of these great ones after a decade as a devotee)
–Budget action camera for underwater pictures (or go fancy and splurge for the GoPro)
-Snacks for the kids
-If you're visiting with young children, you may want to bring snorkel gear that you know will fit them
-If you're visiting during "stinger season" as we were, there's no need to bring your rash guard/sun protection shirt as you'll be wearing a stinger suit the whole time and most of the pontoon is shaded. That said, I picked up a new Rip Curl rashie in Australia and it's so comfortable that I don't mind wearing it as a regular t-shirt! Check out their great styles here.
Our favorite Great Barrier Reef educational resources
We spent a lot of time getting the kids pumped up for our visit to the reef and we're glad we did! They're both budding naturalists, so they approached the experience with excitement, wonder and a pretty thorough understanding of the reef and it's endanger status. Here are some great resources for homeschoolers and other nature-loving families:
–This Youtube video is a great introduction
-Amazon Prime offers several episodes of PBS Kids' excellent Wild Kratts that explore animals living on the reef (in particular, check out Season 2, episode 18). If you don't have an Amazon Prime subscription, try it free for 30 days – we love it enough that we've kept ours active just for streaming while we're traveling full-time.
-We read the entire Race the Wild series as a family read-along during our many road trips (check out the other things we do to stay sane). The second book sees Team Red competing out on the Great Barrier Reef, and it offers a good mix of compelling narrative and contextual education.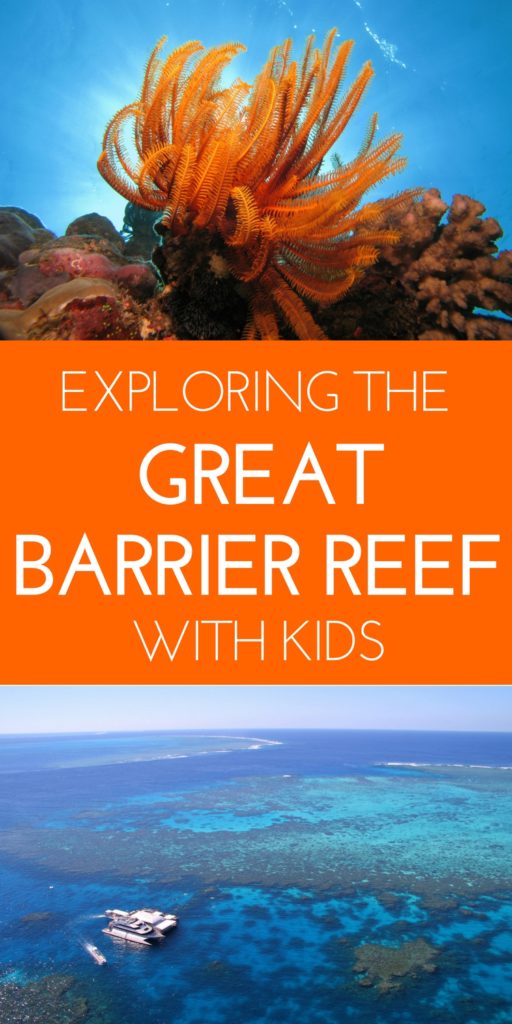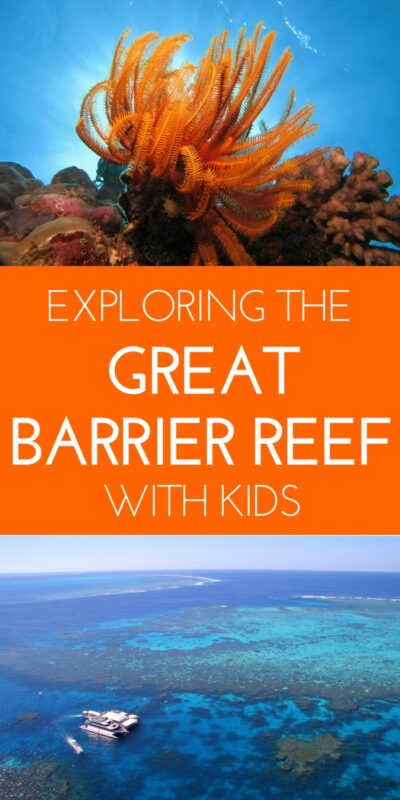 Disclosure: Quicksilver provided us with a discount for our booking in exchange for providing an honest review; all opinions are our own.