It's been almost five years since we first slapped a mask and snorkel on one of our kids and threw him overboard. Yes, that actually happened here. We've had a range of experiences snorkeling with kids, with some excellent days and some really tough ones.
But the most important ingredient for success is having the right gear – and that means investing in a well-fitting kids snorkel set and making sure you have access to a safe personal flotation device for kids. Read on for the best snorkel gear for kids of all ages – even the elusive toddler snorkel mask!
Quick picks: best snorkel gear for kids
Here are our picks for the best snorkeling gear for kids by age:
At what age can a child snorkel?
The earliest age to start snorkeling with a child will vary based on their comfort in the water and how well they can follow directions. There are certain mechanics they need to learn to effectively breathe through a tube, but more importantly they need to stay composed and trust that they can breathe and float. Lots of very little kids get flustered! You can try as early as age two with the toddler snorkel gear we recommend below, while some kids will do better at age 4 or even 6.
What snorkeling gear for kids do you need?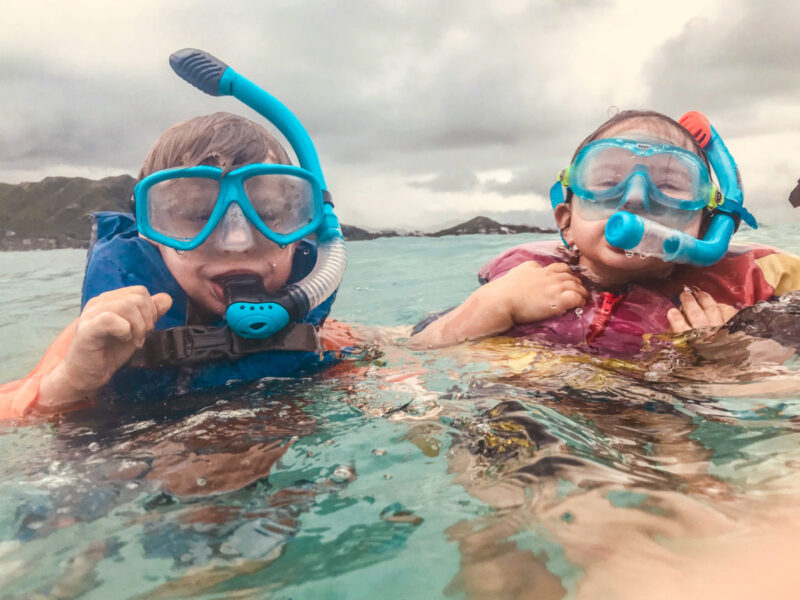 There are a few pieces of gear you'll want for a successful snorkeling trip with kids – some of them are required, some are optional and some can be provided by a tour provider or local snorkel gear rental company. I strongly recommend that you skip the kids' snorkels you find in the toy section or at Target, as the last thing you want is bad gear getting in the way of a good time!
Kids snorkel set
A child snorkel set generally consists of a kids snorkel mask and a childrens snorkel. They can be purchased together or separately (we've done it both ways); if purchasing as a package, the sizing of the mask should guide your choice, as snorkel sizing can be more flexible.
In selecting a snorkel mask for kids, the top feature I'd look for is just the size – I'm indifferent to one wide lens versus two separate lenses for very young kids. In purchasing snorkels for kids, I look for kid-sized version that have a dry top or semi-dry top – that means there's a valve in place to keep most water out of the top. We bring our own kids snorkeling set when we travel, as many tour companies or rental outfits just don't have the right sizes for young children.
Snorkeling flippers for kids
Snorkeling flippers can be helpful for kids to move around more comfortably in the water and increase their buoyancy. Sometimes our kids use them and sometimes they don't – it just depends on local availability or if a tour operator has them in the right size. If we lived in a place where we snorkeled often, we'd invest in flippers for kids, but we don't feel it's necessary to travel with them. If you're concerned about foot protection on sharp surfaces, small lightweight reef shoes should do the trick.
Life jacket for kids
Our kids always wear a lifejacket when snorkeling – we wouldn't consider otherwise for them and consider it an essential component of child snorkel gear. We don't travel with enough luggage to bring our own, so we always make sure that tour operators we book can provide life jackets in the right sizes for our kids. That has gotten easier as they have gotten older, so parents of younger toddlers need to be especially vigilant about it!
Pool noodle
The same noodle that your kids use to whack each other over the heads can be a nice add-on when snorkeling with kids. They're usually very inexpensive to purchase at your destination and kids can rest on them to feel more comfortable and buoyant.
The best kids snorkel set for every age
Snorkeling with a baby
If you'll be out in shallow, calm waters and want your baby or very young toddler to get a taste of the sea life, check out this cool snorkeling window or the larger kids snorkeling raft. You'll want to supervise very closely, of course, and take turns with another adult while you go out for some more serious underwater exploration.
Toddler snorkel set
If you have a toddler or young preschooler who's eager to snorkel, check out this great toddler snorkel mask. It's the one both of our kids have started with and it actually fits at that age unlike all the other ones that are meant for older kids. (Check out the photo above to see it in action on my daughter).
Since you won't want your little one gulping a mouthful of salt water, grab this kid-sized snorkel with a nice dry-top system to complete your toddler snorkeling gear set.
It can be a challenge to find toddler snorkeling flippers, but these in size XXXXS (size 6-8) or XXXS (size 8-11) will do the trick if you decide to pack them along. If you decide not to bring flippers, you should at lease pick up a pair of these water shoes to protect tiny toes from jagged rocks and broken coral – they're compact and light, inexpensive and come in any size you could need! Plus I guarantee your little one will love picking out her favorite design (here's my daughter's faves, in case you're curious).
If you plan to snorkel without a guide or you have reason to believe that a right-sized life jacket won't be available for your child, make sure to bring one along! This model should accommodate the youngest snorkelers (33-44lbs) nicely. We'd still recommend close supervision (ideally holding hands) even if your child is wearing a flotation aid.
Youth snorkel set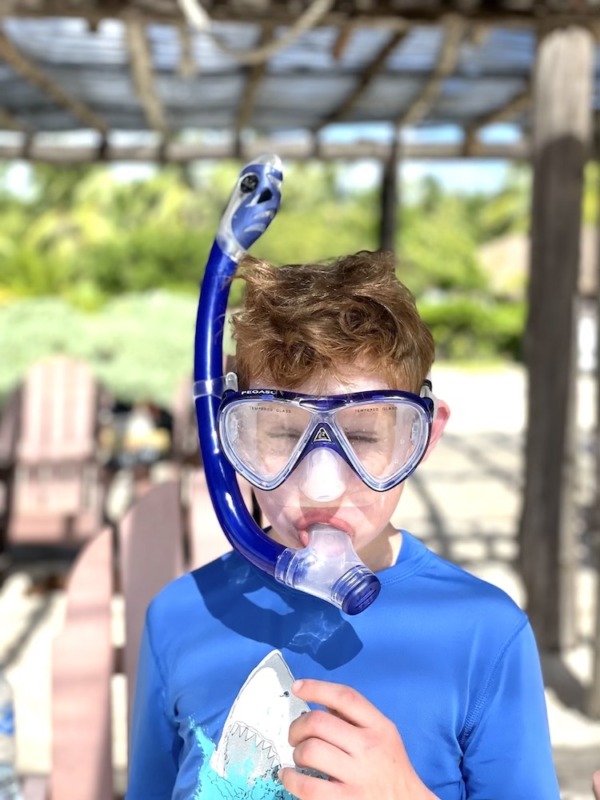 If you're child is around elementary school age (or a bigger pre-K jetsetter) you'll have many more options when it comes to a childrens snorkel set. The nice thing about buying a kids snorkel set at this age is that it will fit them for many years to come – in a pinch I sometimes borrow our son's set that's designed for ages 5 and up. If you plan to continue snorkeling as a family, it's worth buying a high-quality junior snorkel set rather than a cheap toy kid snorkel set – your kid will be using it for years to come!
The Cressi snorkel set for kids (pictured above on my small 10yo) is our pick for a youth snorkel set – you get a top-quality brand, a dry-top snorkel for kids and a mask that's specially designed to fit young faces. It's probably the best snorkel mask for kids in this age range. Though the product title says it's designed for kids 7 and up, reviewers have had success for much younger kids. Check prices here (they seem for vary by color!) or buy the same kids mask and snorkel set with flippers – sometimes for just a few dollars more.
If you want to save a few dollars and your child has enough experience to manage a semi-dry top, you can pick up this kids Cressi snorkel set instead. It also features a slightly less sophisticated system for sizing the mask strap, but it'll still do the trick. The overall fit of the kids snorkeling mask is the same. You can also purchase the corresponding children's mask snorkel and flipper set here.
Members of our Facebook community recently recommended this Reef Tourer kids snorkel set for kids starting around age 4 or 5 and continuing through elementary school. They report that it's comfortable and works well – and at a great price too!
If your child will feel more comfortable with a little extra buoyancy, this inflatable swim vest in should fit the bill without taking up your whole suitcase – this is really best for kids who can already swim and will still be right near you, not for kids who need a serious swim/flotation aid. If your child is still learning how to swim, stay close by her and strap on a US Coast Guard approved life vest; please don't buy a knock-off that isn't approved. Lots of families clip them to the outside of carry-on backpacks or suitcases for transportation through the airport.
As with our toddler recommendations, if you opt against traveling with flippers at least bring these kids water shoes to keep them comfortable.
Are full-face snorkel masks for kids safe?
We have't yet tried a full-face snorkel mask for kids. On the plus side, they offer easier use and a great panoramic view. Many snorkeling kids find them easy to get started.
However, they can be prone to toxic CO2 build-up and have more potential for leaking. They're harder to remove, so if a mask leaks there's a possibility of flooding before a parent is even aware that the child has a problem. At least one organization no longer permits them after a spate of deaths in Hawaii in 2018. I urge you to do your own research before purchasing a full-face snorkel mask for your family.
Other things to pack for snorkeling vacations
There are plenty of other odds and ends to bring on your family snorkeling trip! First and foremost, you'll want to bring either specialized defogging drops or a travel-sized bottle of baby shampoo. There's nothing more frustrating for a kid than getting all geared up and being unable to see in the water!
You'll also want to bring along a mesh bag to hold all your kids snorkeling gear while letting the sand and water drain out. This set makes it easy to color code everyone's gear, or you can buy reasonably priced singles if you don't need that many.
Don't forget your reef-safe sunscreen – many vacation spots (including Hawaii) are banning sunscreens that can damage fragile reef ecosystems. Do your part by only bringing approved sunscreen.
Finally, you'll want to capture memories of your little ones spotting their favorite sea life. We use these protective cases for our iPhones, though the photos come out a bit hazy unfortunately. If budget and space allow, consider picking up a great budget action camera for your family snorkeling vacation! Read our hands-on Akaso Brave 4 review – it's just a fraction of the price of a certain extremely popular name brand.
Tips for teaching kids to snorkel
Snorkeling isn't a skill that comes easily for all kids. After all, it's totally unnatural for humans to lay face-down in the water for hours at a time! It's easiest to teach your kids to snorkel if you are comfortable in the water and a reasonably strong swimmer: first, because it'll be easier for you to keep them calm and safe if they get flustered; second, because you'll be able to offer them more suggestions and physical support if need be.
Here are some practical tips for teaching kids to snorkel and snorkeling with kids in open water:
-If you can, get their snorkel gear in advance and try in the shallow end of the pool. Throw some fake fish and other diving toys down there to make it exciting, or even try to do an underwater scavenger hunt.
-Sometimes young kids prefer to wear goggles (these are our favorites) and not use a snorkel, and that's fine! They can just pop under the water for a few seconds when you signal them that something cool is passing by (usually my daughter and I area holding hands so I just give her a little squeeze). The sensation of breathing through a snorkel can take a while to get used to, just remember that it's a means to an end rather than the goal of your outing. Snorkeling for kids should be fun, not high-pressure.
-A flotation aid is helpful, but you have to figure out what works for each kid. Our kids both freaked out once when given a rescue buoy to hold on to during a snorkel tour, but subsequently they've found it helpful. Sometimes our daughter does great with a pool noodle and our son prefers to lay on a boogie board for the first few minutes in the water. Every day and every situation is better
-If you're able, it can be fun and easy to have small kids ride on your back while you swim them out to a snorkel spot. It's easiest to do with adult snorkel fins on, but you can do it without if need be. That'll keep your little ones from getting tired out before they've even gotten to see the fishies!
-Another option for parents who are strong swimmers is to swim with one arm around your child's waist. That's what our younger one prefers as she's warming up during each snorkeling session, as it helps her swim and gives her the comfort of knowing I'm close. Gradually she switches to holding my hand and eventually pushes me away once she's ready to go chasing fish on her own!
-Remember that every day and every experience is different. Many kids feel more comfortable snorkeling from shore than off a boat in very deep water. And the child who has no problem one day just may not be feeling it the next. The goal is to have fun, so if they want to enjoy the experience in a different way – whether making sandcastles on the beach or sipping juice on the boat – pushing them isn't going to help anyone. The big reason we booked our Great Barrier Reef trip on a massive pontoon rather than a smaller snorkel/dive boat was to give the kids several options for how to experience such a magical place. That was the right call!
Where can I snorkel with kids?
Now that you've got the right kids snorkel gear and taught your child how to snorkel, the world is your oyster! There are many great places to snorkel with kids around the world, but we'd recommend starting with places where the water is warm. A wet suit can help somewhat but is a nuisance to get on an off, especially when a beginning snorkeler might only want to be in the water for a few minutes at a time. Without a wet suit, kids will get cold very quickly.
Another consideration is that many kids feel more comfortable with entry from a beach rather than from a boat. So an ideal snorkel spot for kids will have lots of interesting fish and coral close to shore. That said, some places are too shallow for kids to navigate comfortably as sharp coral may be just a few inches below the water's surface.
Here are some of the best places to snorkel with kids:
Hawaii – This tops our list thanks to warm water and shallow entries. Specific picks are Hanauma Bay on Oahu and Mauna Kea beach on Hawaii. We have tons of Hawaii travel information to start your planning!
Mexico – We did a great snorkel tour from Cancun that worked for kids as young as 4 – read more about it here
Caribbean – We visited Curaçao when I was pregnant but it would be perfect for snorkeling with kids. Water is warm, entry is shallow and the snorkeling is some of the best in the world.
Best snorkels for kids FAQs
What age can a child snorkel?
You can try as early as age two with the toddler snorkel gear we recommend below, while some kids will do better at age 4 or even 6.
Are full face snorkels good for kids?
I don't recommend full-face snorkel masks for kids. Children can suffer from CO2 buildup inside the mask, and if there's any sort of leak they're very difficult for (terrified) kids to remove on their own while treading water. Kids may panic and be unable to communicate with their parents. Full-face snorkel masks may be easier for children, but in my view they aren't worth the safety risk.
Can kids who can't swim snorkel?
Yes, kids can use a full life jacket to float while snorkeling.
Can kids use adult snorkel?
Generally children younger than middle school need smaller snorkel gear and won't have a good experience with an adult snorkel. Their mouths aren't big enough yet!
Still debating the best snorkel gear for your child? Pin it for later!