We haven't done many beach vacations since having kids. Too much stuff to schlep, too much sunscreen to apply, and not nearly enough time with a good book and a cold drink. But when we started planning a spring break trip with our good friends and their baby (who live on the East Coast), Puerto Rico with kids was an easy choice.
At the time, our son was 2.5yo and I was pregnant with our daughter (and yearning for a babymoon) so we wanted a low-key, relaxing vacation that still offered interesting activities beyond the beach. Puerto Rico checked all our boxes and exceeded our expectations! If you're looking for a first "big trip", you won't regret a family trip to Puerto Rico.
Many thanks to our friend Alicia for sharing some of her pictures! On top of being a great friend, she's a talented photographer – check her on Instagram.
Why you should visit Puerto Rico with kids
The logistics are easy. No passport and no currency conversion. Flights from the mainland to Puerto Rico are not too long, easy to come by and reasonably priced. Driving in Puerto Rico is the same as the mainland US.
Limited language barrier in Puerto Rico, but still a unique cultural opportunity. Almost everyone we encountered spoke at least some English, but it's very different from the mainland US – the food, the social norms, the history.
Great mix of activities in a compact area. During our week on the island, we didn't drive more than an hour (though we only stayed on the eastern half of the island) but we enjoyed pristine beaches, mountainous rain forest, luxurious time out on the water, interesting history, and a vibrant city scene.
Thanks to all of these features, I'd rank Puerto Rico as one of the best places for your first vacation with kids. Even for seasoned travelers, it's a top destination for family travel.
Where to stay in Puerto Rico with Kids
Where is the best place to stay in Puerto Rico? After months of research, we decided that Luquillo Beach was the best place to stay in Puerto Rico with kids. Luquillo Beach truly has everything we could have wanted:
Beautiful beach with easy amenities (umbrellas and chairs are plentiful and cheap, plus you can buy ice cream and alcoholic drinks while the kids play in the soft sand)
Quiet life compared with the bustle of San Juan
Central location allows easy access to city, rainforest, nature preserve and water activities
Great dining options at all price points
We snagged a great 2 bedroom apartment for our party of six. We love staying in vacation rental apartments when we travel with kids because it allows us to have adult time long after the kids go to sleep. Renting apartments saves us money and stress because we have a kitchen to prepare breakfast and lunch and laundry facilities to minimize our packing. We also considered staying in nearby Fajardo, adjacent to the marina, where there are many luxury high-rise buildings; however, we preferred the lower cost and more central location of Luquillo Beach.
Do you prefer an all-inclusive Puerto Rico vacation? You can't beat El Conquistador in Fajardo, which is a Waldorf Astoria property. It offers access to a private island, kayaking, stunning views, a water park and a whopping 23 restaurants and lounges. The location keeps you close to some of Puerto Rico's most special places like El Yunque rainforest. Find out more about El Conquistador and check prices here.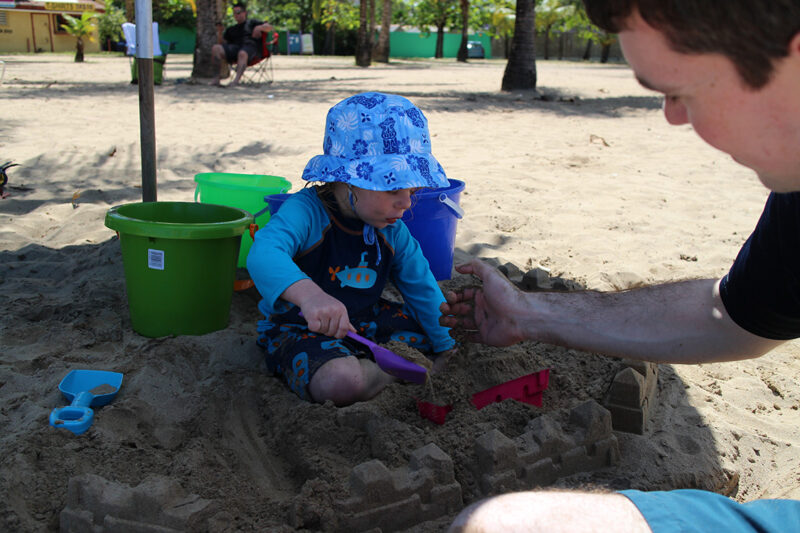 Use the interactive map to find vacation rentals and hotels in Puerto Rico
---
Family-friendly Activities near Luquillo Beach and San Juan
There are some many things to do near Luquillo Beach! Here are some of our favorite activities near Luquillo Beach with kids:
Luquillo Beach – Monserrate Balneario
How can you beat this view? As I mentioned above, the beach is pristine and there are nice amenities (even a locker room and changing rooms!). Mature palm trees provide opportunities for shade, and we had no trouble getting a prime spot during our March trip. Entry into the water is quite shallow, making this beach a great place to dip those tiny toes. We bought some inexpensive sand toys at the grocery store on our first night and left them in our Airbnb for the next family to enjoy. You do pay a nominal fee to park at Luquillo Beach, which funds the routine cleaning and maintenance that keeps the beach so lovely. A wagon with big wheels may come in handy to lug all your kid gear down to the beach! Don't forget these other toddler beach essentials.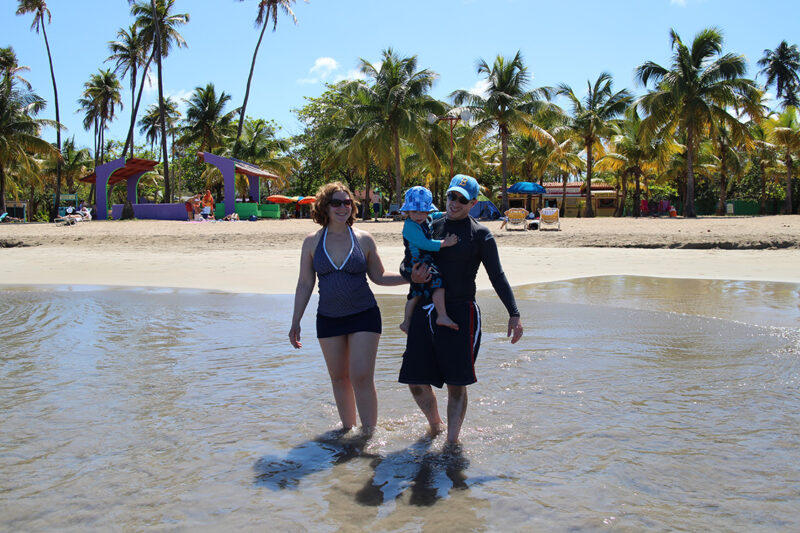 Don't forget these beach day essentials!
El Yunque Rainforest
You only have to drive 15 minutes from Luquillo and you'll arrive in the middle of El Yunque National Forest, the only tropical rainforest in the US National Forest system. Why should you visit El Yunque? Just take a look! The scenery is so different than anything else in the United States, a real taste of the tropical ecosystem. Start your day at the Visitor's Center, which offers informational signs and even a movie to get your oriented. You can also use the restroom and get the kids situated here before venturing out into the rest of the forest.
Head out in the car and climb up to the top of Yokahú Tower for sweeping views above the rainforest canopy. Once you've had your fill of the view get down where the action is and take the kids to see La Mina Falls. I recommend taking the Big Tree trail to the falls, as is under a mile in each direction and has limited elevation change (though there is a section with steps). There are even informational signs along the trail, which is great for educating your budding naturalists. Jacob did the entire hike himself, and our friend Alicia did the hike while wearing her infant son.
Update: In 2017, Hurricane Maria devastated the island of Puerto Rico including El Yunque. Check out this great post from our friend at Tapas and Travels to see what's open as of early 2018.
Pro tip: If you (or your kids) plan to splash in the cold water, wear the right shoes! Many people love Keen Newports, and our favorites for Jacob are Geox sandals. Some adventurous visitors wear their swimsuits for the hike and dive into the pool completely!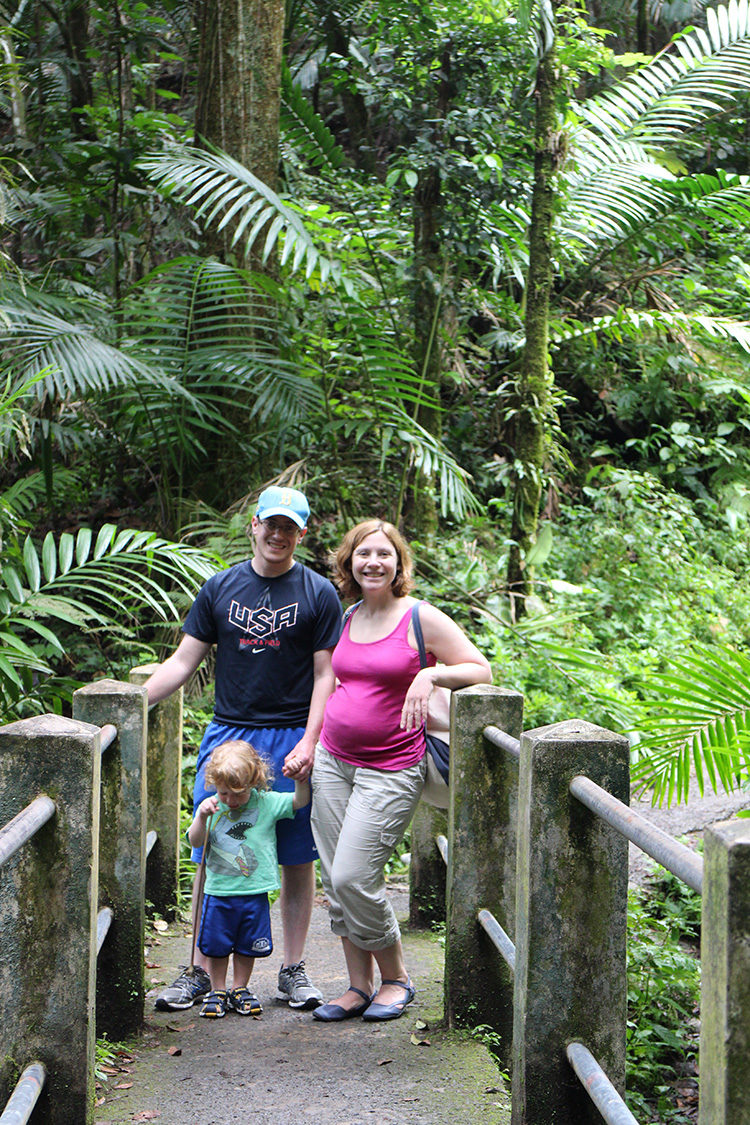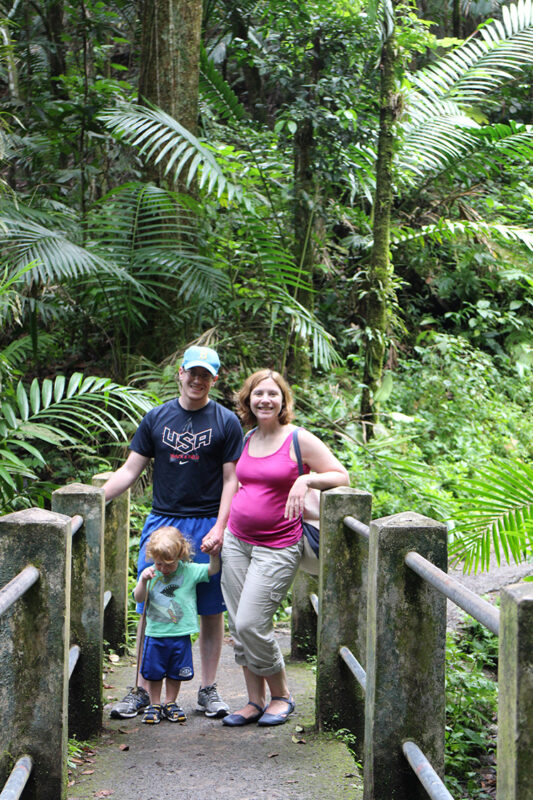 Boat Rides from Fajardo
What better way to see the Caribbean than from the water? There are so many options for a boat trip off of Puerto Rico. If you're traveling with older kids (or without kids!), you can't beat a full-day trip boat trip to Vieques to Culebra from Fajardo. Culebra offers great snorkeling and kayaking adventures, while Vieques offers those activities and a stunning bioluminescent bay lit by mosquitos. A visit to the bioluminescent bay often arrives back in Fajardo after 10pm, so it would make for a very long day with young children. On our next trip to Puerto Rico, we intend to visit some of the smaller islands.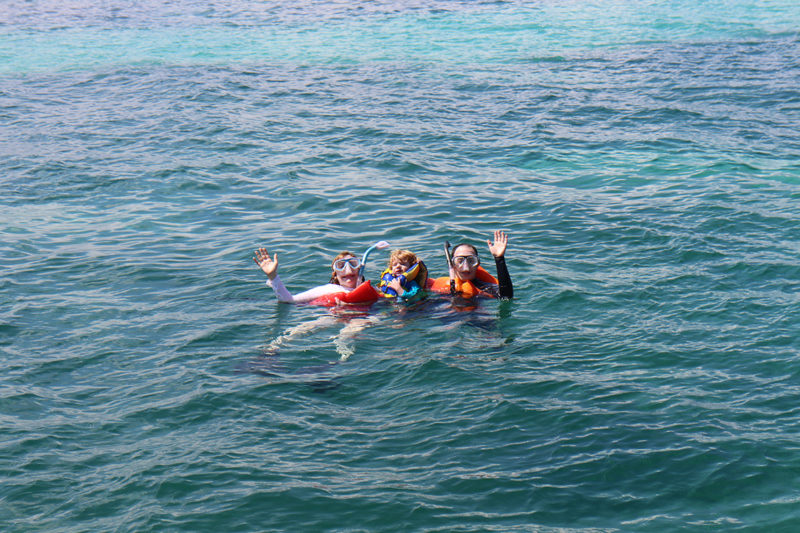 For our crew, we decided it wouldn't be the best choice. Instead, we found Erin Go Bragh Sailing & Snorkeling Charters and we couldn't have been happier! Since were were such a large group, the cost of chartering our own yacht for the day was in line with the total we would have paid for spots on an organized tour. Chartering your own boat is the best way to go sailing with kids on vacation (we've done it in Vancouver too!). Captain Dan of the Erin Go Bragh and his first mate, Bam Bam, took care of all our needs including drinks, snacks and a delicious lunch. They provided snorkel gear, flotation devices and towels as well. We loved the flexibility of setting our own schedule and itinerary. We visited two lovely snorkel spots, and Jacob even got to steer! My favorite memory from our sail was watching my normally-anxious little guy leap off the back of the boat to meet me for some snorkeling. After a good swim and a filling lunch, he drifted off to sleep while watching a movie thanks to the calming ocean waves. I'll never complain about more adult time on a trip with kids! If your family is visiting Puerto Rico, I highly recommend a day at sea on the Erin Go Braugh. Want to try snorkeling with kids? Make sure to get them the right gear!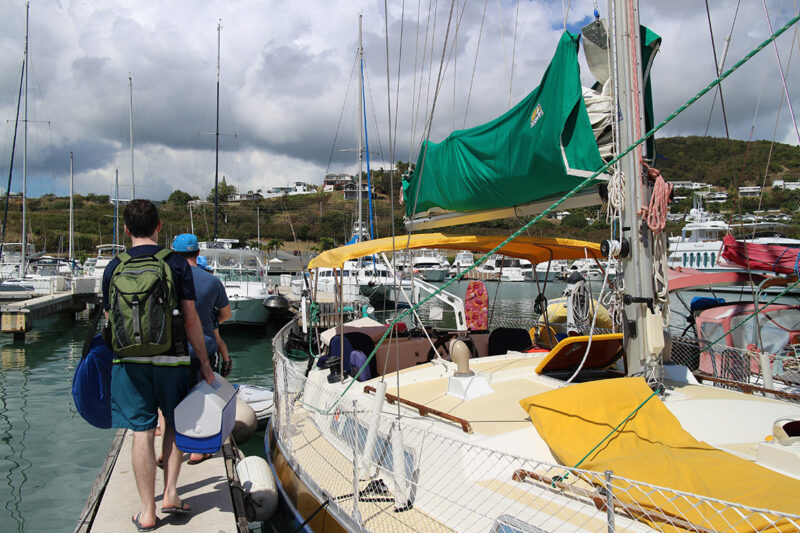 Las Cabezas de San Juan Nature Reserve
How can you see a bioluminescent bay without going all the way to Vieques? There's one right at Las Cabezas de San Juan Nature Reserve! That tour initially drew us to visit the Nature Reserve. Before we arrived in Puerto Rico, we booked a night tour for our group – they require booking in advance, as the tour is only offered three nights per week and the staff needs to coordinate the tour language, as it's available in both English and Spanish. The night tour covers all the highlights of the Nature Reserve by a combination of tram car and foot: the beach, the lighthouse and finally the bioluminescent bay at Laguna Grande. Visitors can see the bioluminescent bay on foot by walking along a boardwalk (it's dark, so be careful with little ones or use your baby carrier). You can "stir the pot" with a stick and the fish leave a glowing trail behind as they swim along!
A traveler's most important skill is flexibility. The night tour is only offered three nights per week and we arrived on Saturday in mid-afternoon. We knew we'd be tired, but at least our family had a four hour time zone advantage and our friends had an hour so we figured we would make it work since us grown ups were so excited to see one of Puerto Rico's bioluminescent bays. Man plans and God laughs, right?
After we had settled into our vacation apartment in Luquillo and gotten the little boys down for naps, the Dads headed out in our rented minivan to buy provisions in nearby Fajardo. When their trip dragged on and on until dangerously close to the starting time of the tour and they hadn't called, we started texting and calling hoping everything was ok. Eventually we got in touch and found out that they had been the victims of an attempted car-on-car hit-and-run in the parking lot!
A local backed into their car hard and then tried to drive off, only to be stopped by the parking lot guard — apparently these things happen often, which is why the stores pay for guards in the lot. The guard was a nice guy and insisted on calling the police to file a full report, while Ronnie and his friend waited around and picked up small snippets of conversation with their limited Spanish skills. Unfortunately, us Moms couldn't get anyone to pick up at the Nature Reserve to explain the situation since it was 7pm on a Saturday night. Sadly we weren't able to see the bioluminescent bay in Fajardo during our trip, but we're sure that we'll visit Puerto Rico again.
Pro tip: Our Chase United Explorer credit card provides primary car rental insurance so we didn't have to worry about any liability. We've had to use it a few times over the years and it's worth its weight in gold! The claims process is smooth and they have never given us a hard time. Apply now to earn up to 65,000 bonus miles in the first year.
Fortunately, we had plenty of time during our trip to Luquillo to return to the Nature Reserve during the day. The daytime tour covered many of the same areas as the night tour, but allowed more time and a very different (and brighter) perspective. Our guide explained the ecological challenges of the region, showed off local flora and fauna, led us to a trove of fossilized coral on the beach (which Jacob still remembers three years later!) and showed us the far-reaching views from atop the light house. On the ground level of the lighthouse there's even a learning center where you can check out some of those bioluminescent fish – no matter what time of day you visit. While our visit to Las Cabezas de San Juan Nature Reserve with kids didn't proceed exactly as we had planned, we still had a great time, saw new things and learned a lot.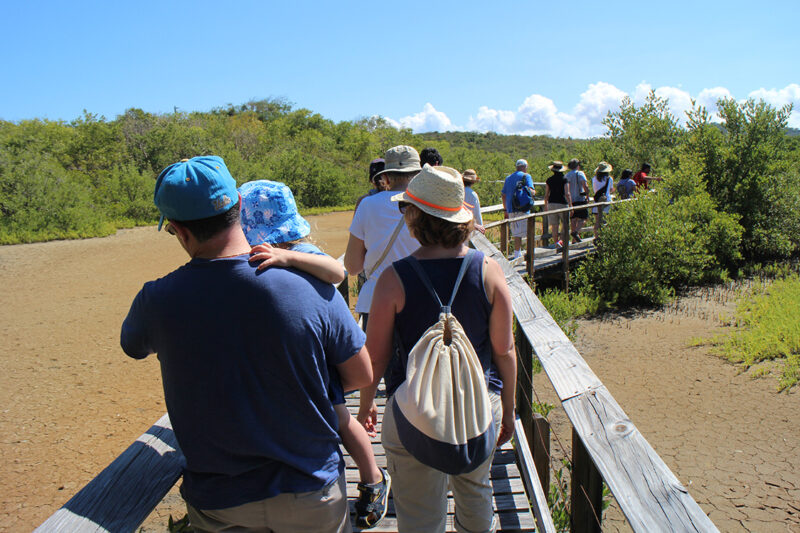 San Juan
The centuries-old city of San Juan has so much excitement that it could fill an entire blog post on its own. If your family is more interested in a bustling city experience, San Juan could be a great place to stay. We preferred to stay in Luquillo for its quieter atmosphere and proximity to outdoor activities, but dedicated a full day to exploring San Juan (an easy 45 minute drive). The city is small enough that you can park your car in one of the underground lots near the fort and forget about it all day. Exploring the city on foot allows you to duck into the colorful side streets, hear music wafting out of doorways and stop for ice cream as often as you the kids want.
Our first stop in San Juan was San Juan National Historic Site, where we visited Fort San Felipe del Morro. The five hundred year old fort is still well-preserved and offers excellent interpretive panels throughout to provide context for the building. In addition, the views from the end of the islet are unbeatable. If you visit on a weekend, there are numerous guided tours available that are led by rangers, but on any day you can visit the fort solo.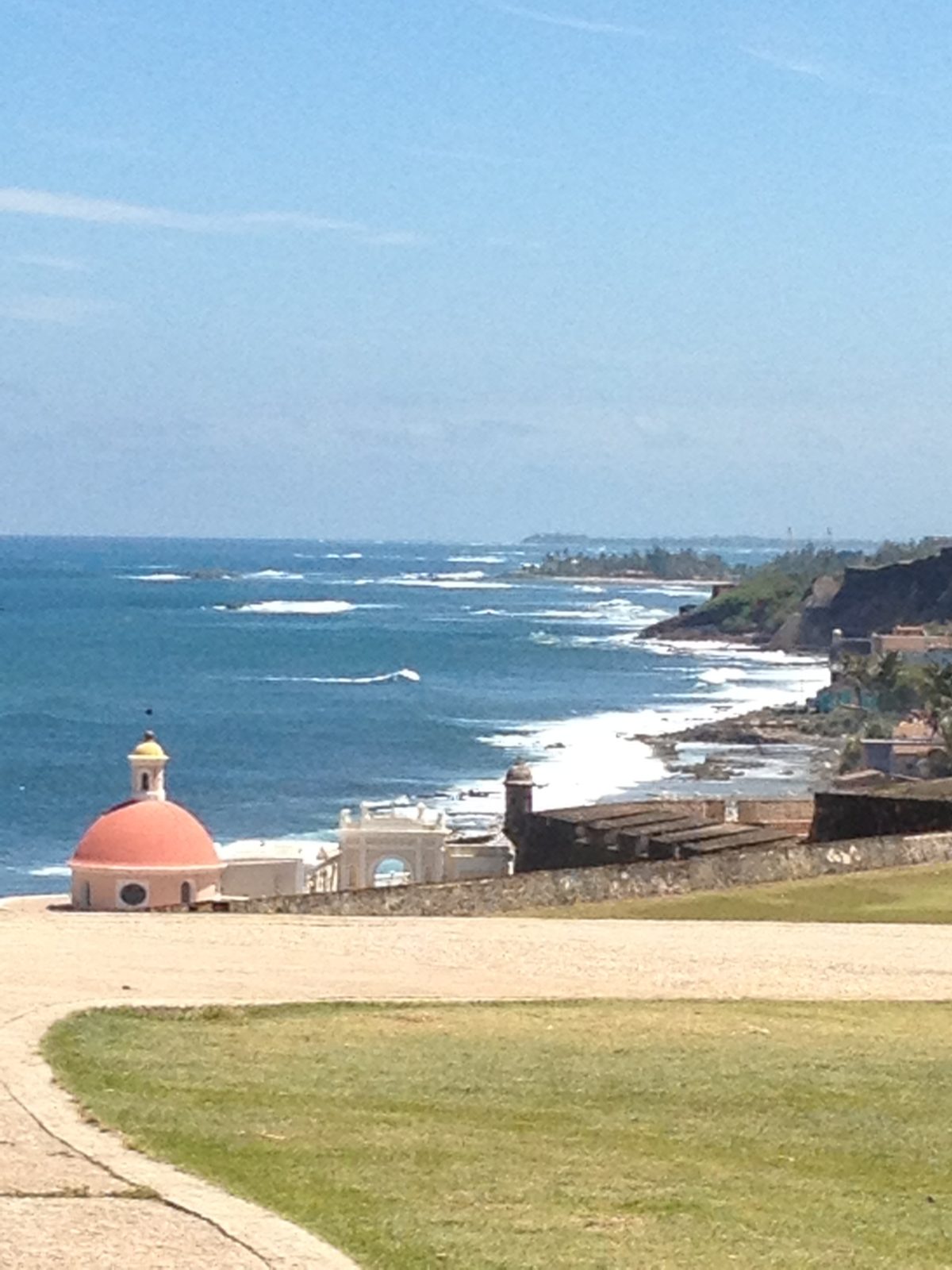 Beyond the fort itself, you'll find expansive grounds that are freely available for public use. Though we visited the fort in the morning, we returned to the grounds at dusk for a little casual kite flying. Street vendors sell ice cream, kites and other necessities on the sidewalk adjacent to the park, so just bring your camera and a smile.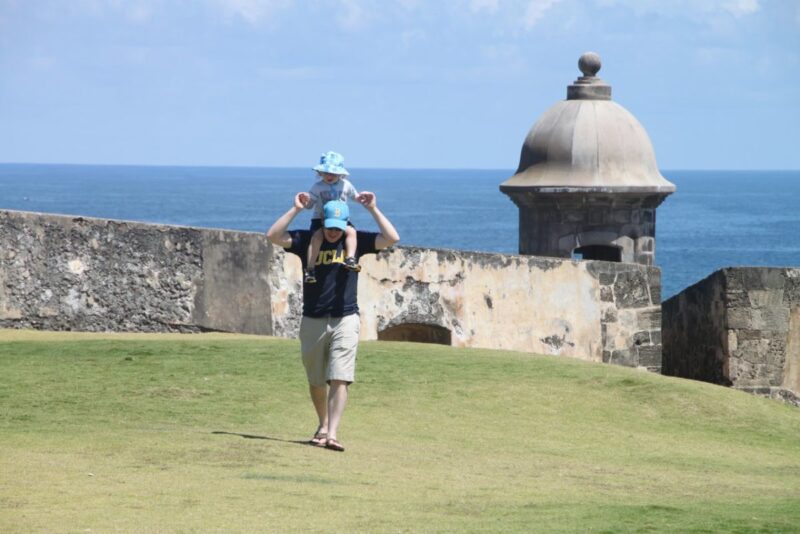 Apart from visiting Fort San Felipe del Morro, we didn't have a set agenda for our day in San Juan with kids except to soak up the feeling of the city. We strolled through old town, drank from fresh coconuts, watched boats come in by the harbor, and then walked along Paseo de la Princesa to see San Juan Gate and eventually return back to the fort. We arrived at sunset just in time for our son to learn how to fly a kite on the beautiful grounds of the fort.
Now that I've returned to Puerto Rico and spent more time in the city, I put together the perfect itinerary for one day in San Juan. You'll see the best highlights from history to food to culture and more!
Looking for more things to do in old San Juan, Puerto Rico? Here are some great suggestions!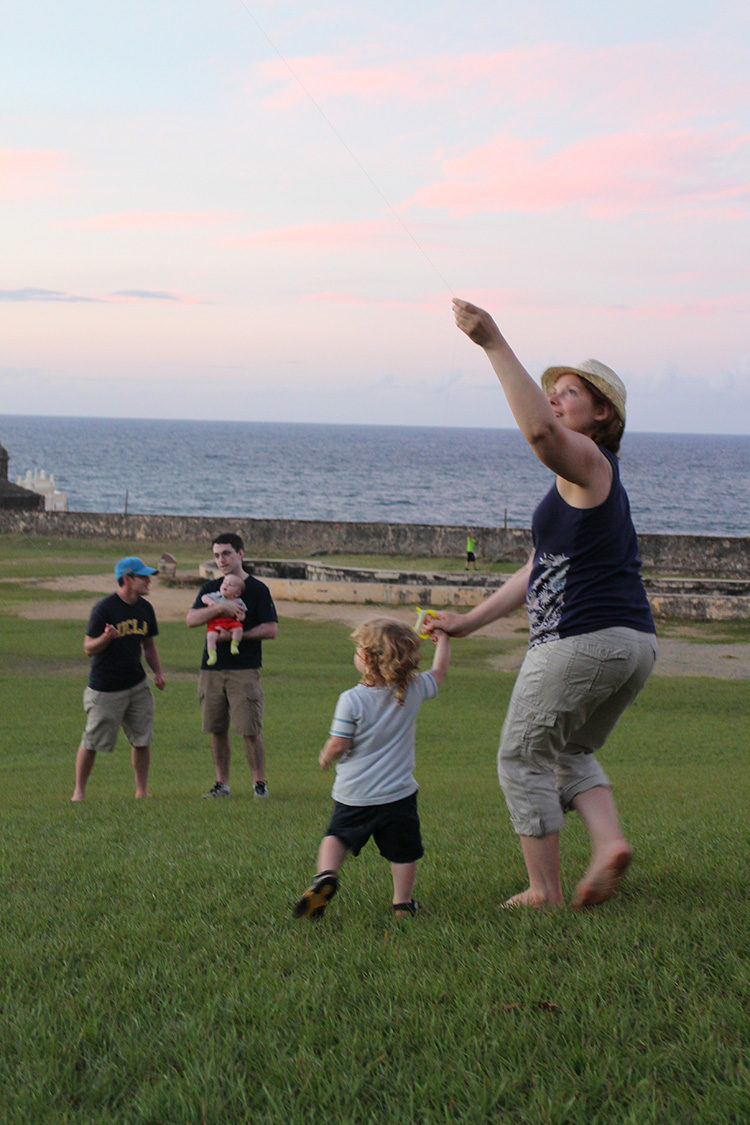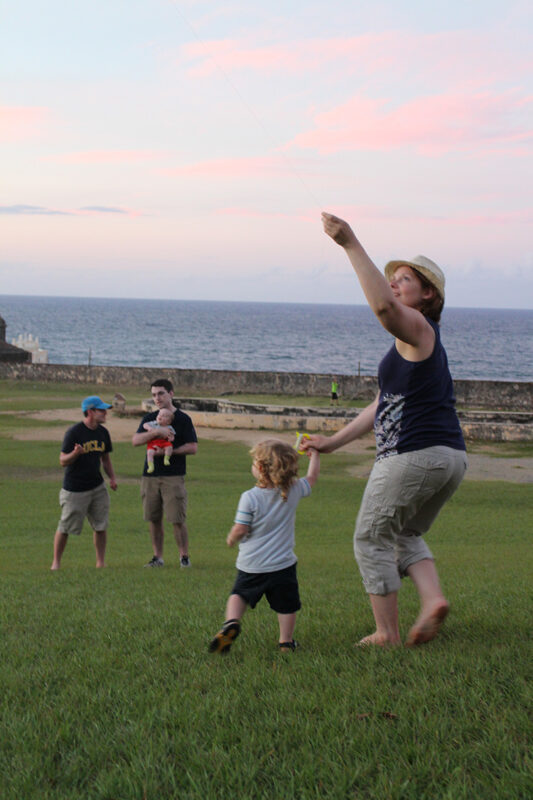 For a taste of Puerto Rican food, we ducked into El Jibarito in Old San Juan. Is El Jibarito a tourist trap? Perhaps somewhat. When we visited, the wait was long and it was thick with kids on spring break from New York; however, once inside we saw a clientele that included both tourists and locals. The food was good, the drinks were strong and the waiter was gracious and very helpful with translation and keeping our kid happy. I've read great recommendations for Cafe Manolin as well; I'll definitely put it on our list for the next visit, asmany feel that the food and vibe are more authentic, plus the prices are better.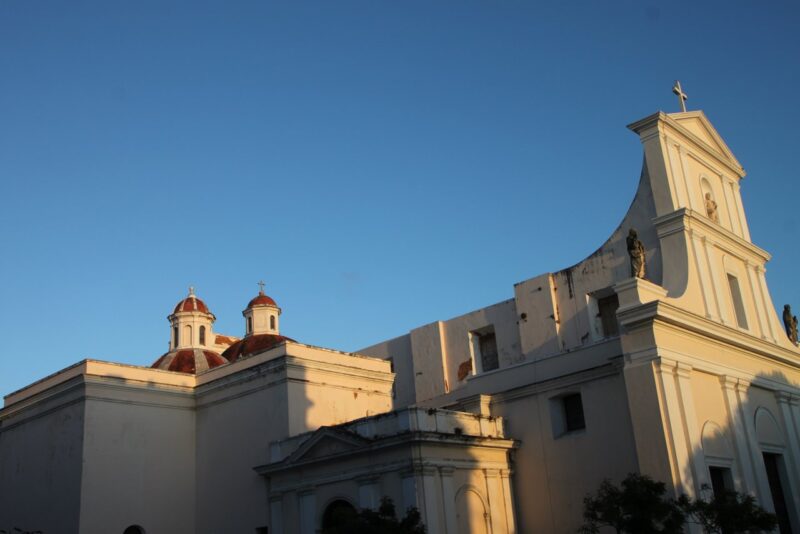 Bacardi Factory Tour
Whether you're staying in San Juan or just don't mind a little more driving from Luquillo, the Bacardi Rum Distillery historical tour looks like a fun way to learn a different side to local history and industry. We didn't have time to go on this tour, but always enjoy touring distilleries around the world. The historical tour runs several times every day and is even free for kids!
Where to eat near Luquillo Beach
In US cities, we have food trucks. In Puerto Rico, they have the Luquillo Beach food shacks. These buildings really do look like shacks, but looks can be deceiving. There are dozens of choices, from local cuisine to drinks to desserts. We ate at different shacks almost every day; many even offer a take-out option for those evenings when you're traveling with kids.
A family trip to Puerto Rico offers something for everyone. Outdoor activities, history, culture and beautiful beaches. So parents, forget the passports and take the kids to Puerto Rico!
Links
El Yunque Rainforest
Erin Go Bragh Sailing & Snorkeling Charters
Las Cabezas de San Juan Nature Reserve
San Juan National Historic Site
Bacardi Factory Tour