Are you itching for a little break from the speed and sprawl of life in LA? The great news is that you can escape it all with just a few hours (ok, it depends on traffic) on the 10E heading toward the desert cities of Palm Springs, Palm Desert, Rancho Mirage, Indio and more! This area is great for your kids and has different options in every season. We've gone twice with kids, once before kids and I even went a few times in college. Read on for more tips and ideas for things to do for a weekend in Palm Desert with kids!
When to go to Palm Desert and the desert cities
You can find fun activities to do year-round. Summer is my least favorite season due to the heat, but we did it before the kids were born and basically lived in the pool. The rest of the year has (mostly) beautiful weather so get out there and enjoy! If you visit in a wet year, flowers will open up in March and April – and if you've never seen the desert in bloom, get ready to be awed.
Read more: 10 Amazing Things To Do In California With Kids
Where to stay near Palm Desert with kids
The choices are plentiful! The desert cities are a haven for retired snowbirds, so there are are hotels and vacation rentals everywhere. If you're visiting in the winter, try to book early. That said, when our New Year's plans changed at the last minute we were able to book a wonderful house at a reasonable price on less than one day's notice. Our group included four adults and three little kids, so having tons of space and a place for grown-up time after the kids went down really made it a vacation, not just another trip.
Previously we stayed at the Hampton Inn & Suites, which offers family-sized suites at bargain rates and includes free breakfast. If you're feeling more luxurious, there are fancy resorts around every corner.
We like to stay in Palm Desert, Rancho Mirage or Indian Wells. Those areas have easy access to great restaurants and they're close to some of our favorite activities like Joshua Tree and The Living Desert. Check out the map below with some of our favorite activities to help you choose where to stay.
Use the interactive map to find vacation rentals and hotels near Palm Desert California
---
For a real treat, you can seek out colorful hotels – even in the desert!
What to do near Palm Desert and Palm Springs with kids
There is so much to do at Joshua Tree with kids that it always gets a full day when we visit the area. Check out our complete kid-friendly Joshua Tree rundown!
This zoo is a fun stop for all ages and it's small enough that you can see everything in just a few hours – no marathon trekking here! When you first enter, you and your kids will all be mesmerized by the huge train set chugging around (including everyone's favorite little blue engine). If Jacob had his way, we would have stayed put all afternoon, animals be damned. Shoshana's favorite area is the petting zoo set inside the (African?) village – they have a herd of Pygmy goats for the kids to pet and brush. Check the schedule when you arrive to find interesting zoo keeper talks too!
Pro tip: Bring your membership card from your local zoo! We got half off admission tickets thanks to a reciprocity agreement.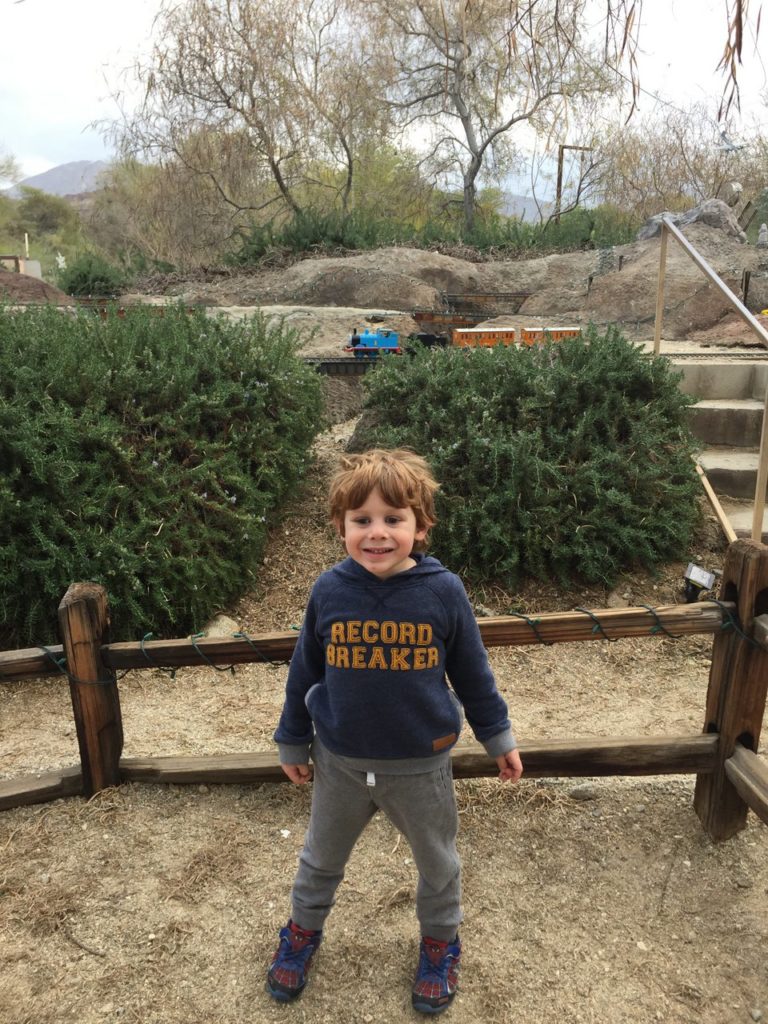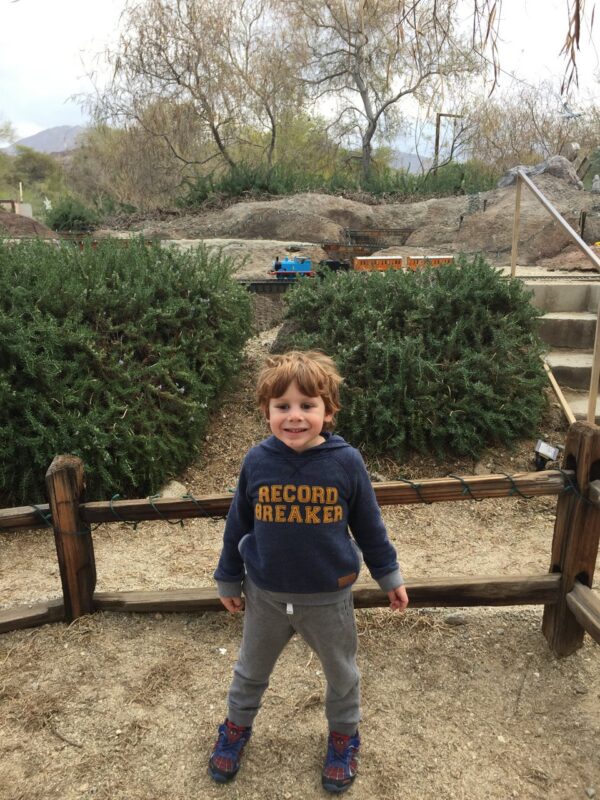 Just because you're spending the weekend in the desert, that doesn't mean you can't see a wide range of nature's offerings. Head west to Palm Springs and allow most of the day for your ride up the mountain. The 2.5 mile tram ride takes you up Mt. San Jacinto (8500 ft elevation). The coolest part? The tram car rotates, so anywhere near a window provides a great view.
Once you reach the top, you can hit up some hiking trails or just enjoy the beautiful views. We went in the winter so we got to throw a few snowballs before heading into the lodge for some hot cocoa and a snack. If you're going up in winter bring warm clothes. We were lulled into complacency by the moderate temperatures at the base, so we didn't have enough layers on Jacob to keep him happy for long. If you have a little one this is a great time to pop them into a carrier, as there are many steps and uneven areas.
Pro tip: How to get tickets for the Palm Springs Aerial Tramway? If you're going any time when any kids anywhere might have a school break, buy your tickets online in advance. During our most recent trip we sadly weren't able to go up, as everything was sold out. I guess we'll just have to go back!
Check out more great info on visiting the Palm Springs Aerial Tramway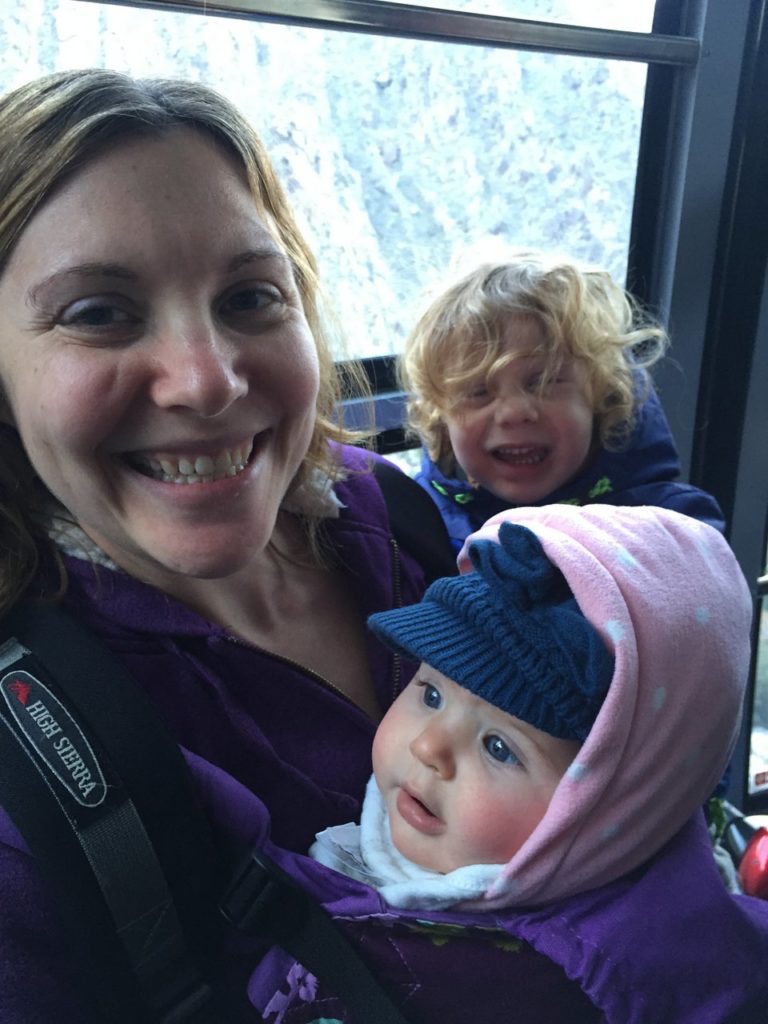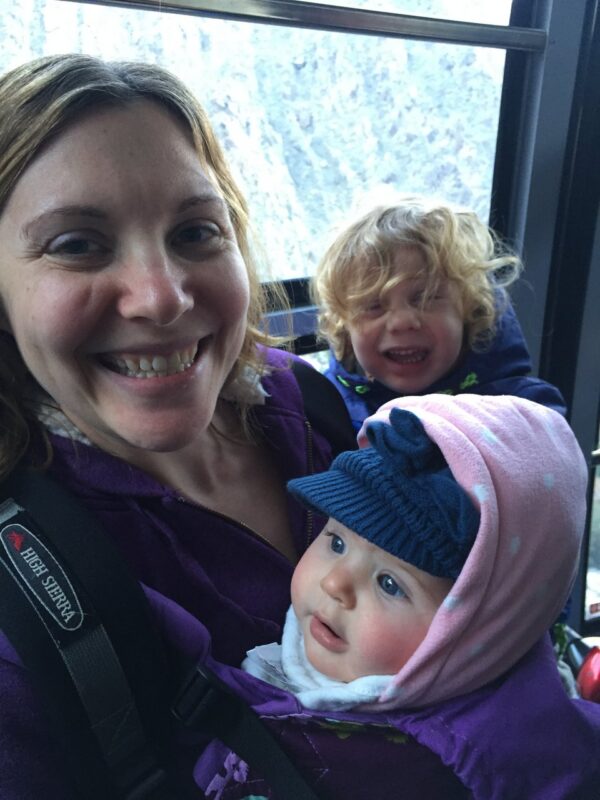 We haven't visited this children's museum yet, but many friends have recommended it. The museum is located in Rancho Mirage, equidistant between Palm Springs and Palm Desert. They are zones for learning how things work, exploring the senses, working on an archeological dig and engaging in imaginative play. There's even a whole area for different types of physical activity! We'll definitely stop by on our next visit to Palm Desert with the kids.
Pro tip: If you're a member of another children's museum, bring your card for half price admission! In Los Angeles, that includes Skirball Cultural Center, Zimmer Children's Museum and KidSpace.
Outlet Malls
Sometimes us parents need a little fun too! There are actually two outlet malls side-by-side; we prefer the larger selection of stores at Desert Hills Premium Outlets rather than the smaller Cabazon Outlets. Stop by the office on your way in to grab a coupon book (I usually get the AAA one, but always ask if they have something more generous). We take turns playing with the kids around the big fountain in the courtyard and popping into stores. Sometimes if we want to go to the same store AND live dangerously, we'll bring the kids in with us. No need to pay a lot for activities with our kids – they're always really happy playing hide and seek behind, under and in clothing displays. Jacob has been known to do the mannequin challenge to entertain people walking by. Thankfully they haven't destroyed a store yet. Cabazon is just west of Palm Springs, so it's a great stop at the beginning or the end of your weekend in Palm Desert with kids.
There's also a McDonald's in the parking lot of Desert Hills (on the far west side), which might be a good stop before you really hit the road back to LA (and as a "carrot" for any unwilling family members).
Winter bonus: Ice Skating in the desert
Yes, ice skating! If you're visiting from Thanksgiving to New Year's, head to The River in Rancho Mirage. It's not big, but it's also not crowded – the perfect combination for kids who are learning. No need to bundle up too much, the day we went was a little cool off the ice but in the end we were comfortable skating without jackets. The adjacent skate shop provides basic rentals for little kids sizes on up. Don't forget your shades!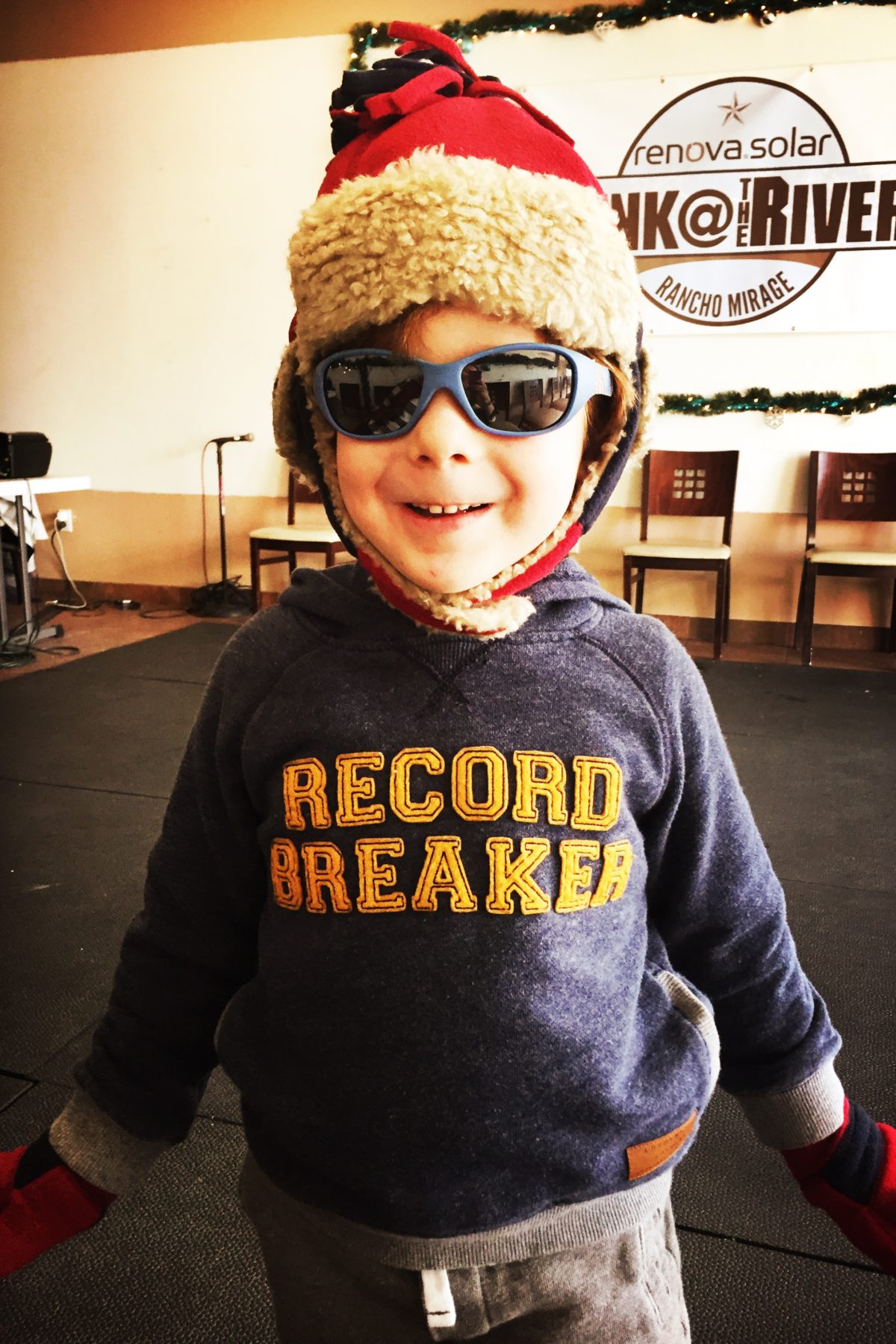 Spring/Summer bonus: Swimming
Naturally, almost every accommodation choice near Palm Desert has a pool. Whether you're at a fancy resort or an Airbnb house, you'll likely find a pool to enjoy with your kids within a five minute walk. So slap on that sunscreen and a hat and go for a dip!
If you're continuing your travels up north, don't miss these family-friendly things to do in San Francisco
Where to eat in Palm Desert with kids
We've gone to a number of places in the desert communities, but we think these are some of the best restaurants in Palm Desert.
Thai:Le Basil (760) 773-1112
You can get good Thai food in Palm Desert! We've gone to Le Basil a few times, and it's always consistent: great food, friendly service, clean high chairs. The owners are so kind that when we visited on Christmas one year, they sent us away with a huge box of sweets! Jacob can eat a full order of the egg rolls, while Shoshana recently discovered the joy of their banana ice cream for dessert. Reservations are accepted, but not usually necessary.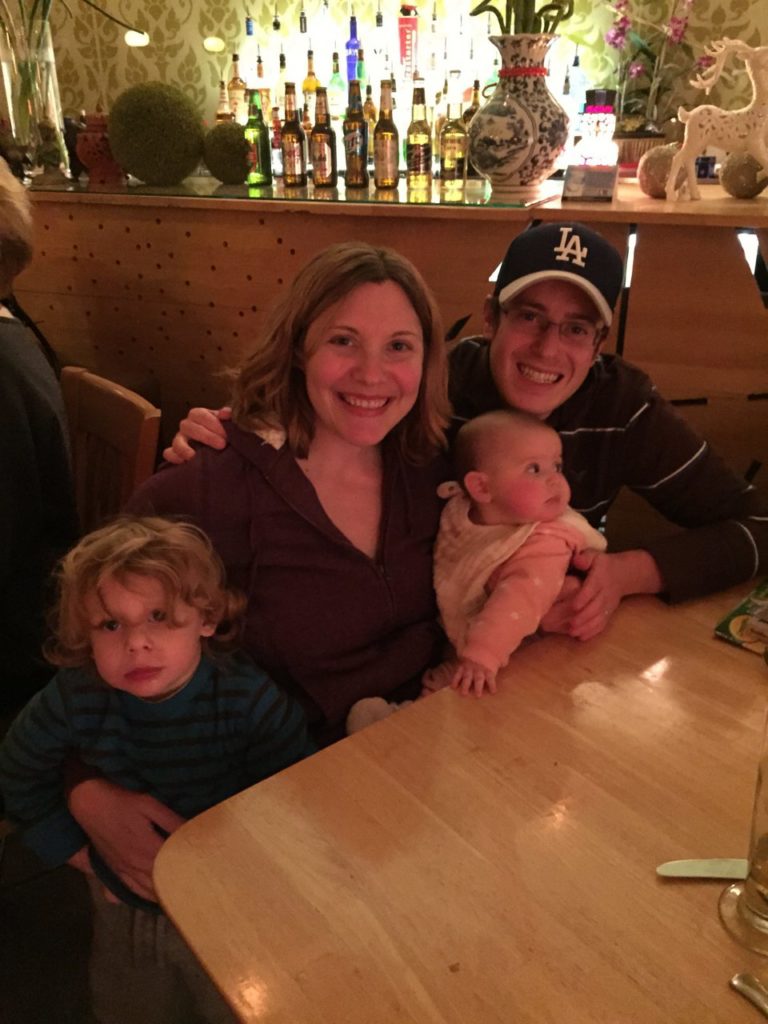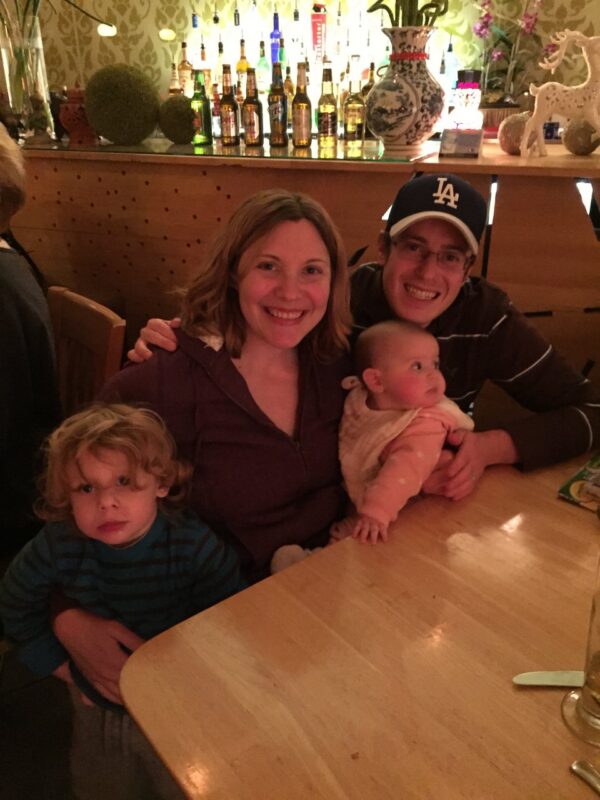 Italian:Piero's PizzaVino (760) 568-2525
Full disclosure: we didn't actually eat in the restaurant. After a loooong day in Joshua Tree, all three kids needed to be at home so we decided on takeout (and we were so glad to have a rental house rather than hotel rooms!). The food from Piero's was a real treat – great pizzas, delicate pastas, flavorful apps. The restaurant can get very busy on peak nights, so call ahead for a reservation if possible.
Are you vegetarian? Check out these great dining options near Palm Springs and Joshua Tree!
Where to go next
From Palm Desert, there are some great options for your nearby travels.
California:
Arizona:
Utah:
Links
Joshua Tree National Park – also see our complete guide to Joshua Tree with kids
Children's Discovery Museum of the Desert
Le Basil – Thai restaurant in Palm Desert
Piero's PizzaVino – Italian restaurant in Palm Desert
Airbnb – $40 off your first booking!