Park City, Utah is best known for its epic skiing in the winter, but in the summer this fantastic little mountain town transforms into the perfect base for warm weather adventures! There are so many awesome things to do in Park City in summer that outdoor lovers could stay busy for a lifetime.
I've asked my friend Jess of Kids Camping Tips, an outside-every-day Park City mom of 5, to share what's on her family's Park City summer bucket list. She's delivered in spades, with Park City family activities that appeal to every age and ability level. A lot of these are truly unique to the area so you won't want to miss them.
Read on to find out what Jess recommends you check out on your summer family trip to Park city!
---
A summer trip to Utah with kids wouldn't be complete without spending some time in Park City. If you love outdoor adventure, you'll find plenty of it here, with activities that are suitable for the whole family and kids from toddlers to teens.
Whether you're spending a week in Park City or just have a few days, here are lots of great suggestions that you should add to your Park City summer bucket list.
Getting to Park City and Getting Around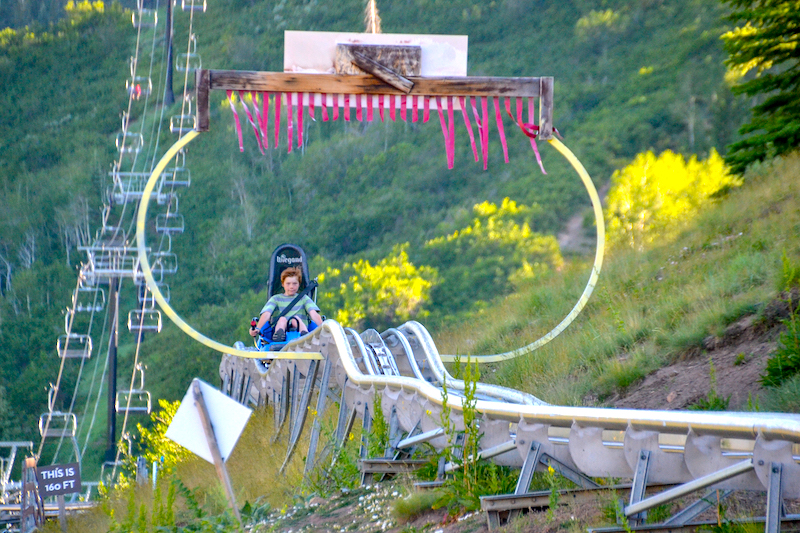 The most convenient airport for Park City visitors is Salt Lake City, just over 30 minutes away. You can get great flights from most of the United States thanks to its status as a hub for Delta Airlines.
Once you arrive, you'll definitely need a car to explore all of the awesome outdoor Park City summer activities. Be sure to reserve your rental car early to snag a good deal! Driving in the area is generally pretty easy in the summer. For exploring the Historic Park City, you can leave your car parked and walk or take the Park City Trolley (though it doesn't go far enough to rely on for the best Park City activities in summer).
One of the great things about visiting Park City is that it's easy visit additional iconic destinations on a road trip. It takes about four hours to get to Moab to visit Arches and Canyonlands National Parks or to visit Bryce and Capitol Reef. You can even head north just a little longer to visit Jackson Hole and Grand Teton National Park!
Where to Stay in Park City With Kids
If you're visiting Park City from out of the area, check out these family-friendly places to stay. They're all fairly close to the vibrant Main Street area – it has a fun atmosphere in summer so I recommend staying there rather than some of the further away ski resorts that are popular in winter.
There's an enormous inventory of vacation rentals available through Booking.com. For a fantastic experience without spending an arm and a leg, you can rent this Park City vacation home with a hot tub that's walking distance to Main Street. It's a little step up in price, but this gorgeous, cozy condo has an incredible location and access to a pool and hot tub.
If you'd rather stay in a hotel, Marriott Summit Watch is beautiful, well-located right on Main Street and offers amenities like indoor and outdoor pools, fire pits, a game room and free parking.
Best Things to Do in Park City With Kids This Summer
Don't miss these fantastic Park City activities for kids during your summer adventure:
Ropes Course at UOP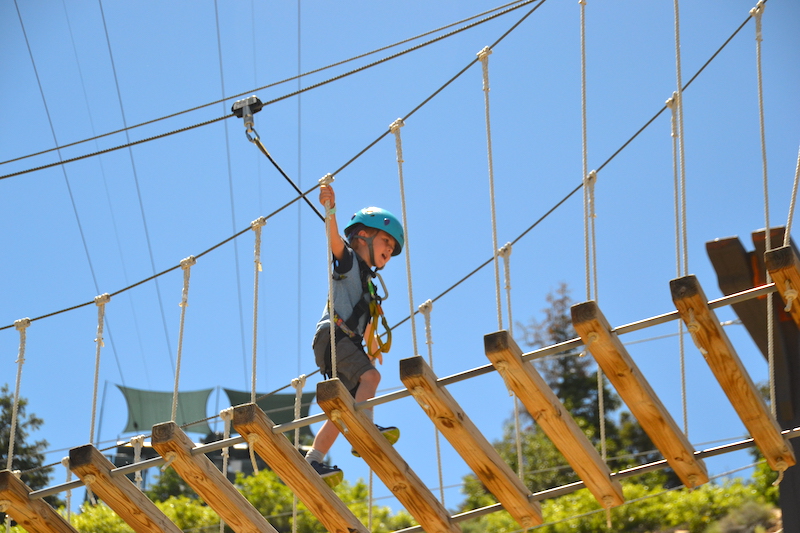 Utah Olympic Park has so many adventure activities, but the absolute best is the Ropes Courses. There are 3 different rope courses to choose from, but the best one for families is the Adventure Course. The course has 2 levels with a total of 39 elements including cargo nets, zip lines and suspension bridges. It's an incredible experience that will challenge you both mentally and physically.
If anyone in your group is afraid of heights, start with the Discovery ropes course, which isn't as high off the ground and is a more gentle first ropes course experience if you're eager for everyone to try a zipline in Park City.
The ropes course at UOP is one of the best Park City activities to do with teens.
Alpine Slide and Mountain Coaster at Park City Mountain Resort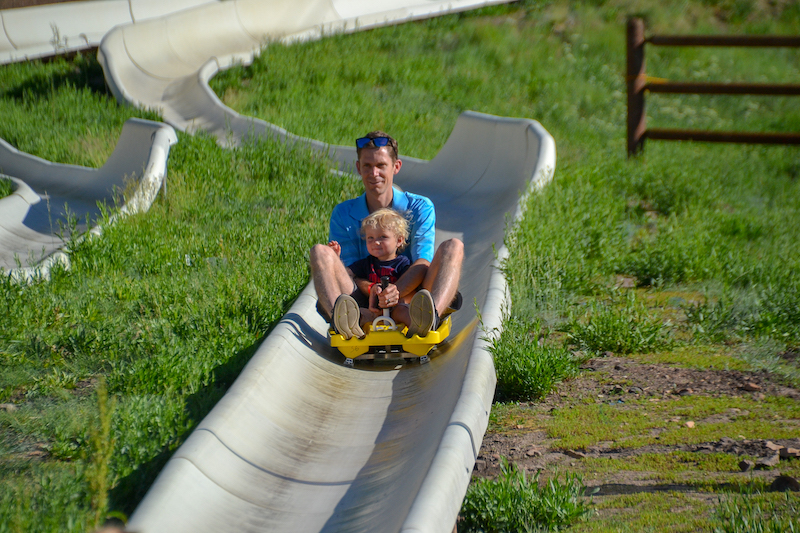 Ride the Alpine Coaster at Park City Mountain Resort for a thrilling experience the whole family will love. After winding your way up the mountain, you'll zip down the longest alpine slide in all of Utah. The Alpine slide is a great option if you want a more controlled ride, or the option of racing head to head.
The Mountain Coaster is more of a wild ride and is best for older kids and adults. It truly does feel like a little roller coaster in the forest as you speed through twists and turns and really feel the G forces on your body. It's one of my big kids' favorite things to do in Park City Utah in summer!
Camping In The Uintahs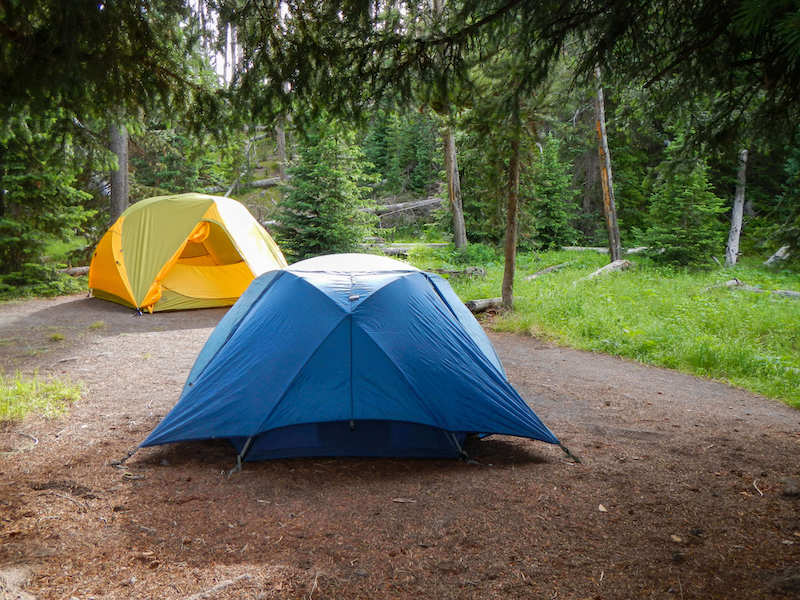 While there is no camping directly in Park City, a short 30 minute drive into the Uintah Mountains will provide lots of opportunities for some of the best Utah campgrounds and lots of outdoor recreation. There are hiking trails for all ages and abilities and it's one of the best places to escape the crowds to camp. Mirror Lake is the most popular spot, but the crowds can get pretty big there on the weekends. Try Washington Lake campground instead for views that are still amazing, but will give you a more remote Utah camping experience.
If you're not up for a campout, grab a good camping chair and some firewood, and head into the mountains for an evening bonfire! It's one of the classic Park City kids activities that makes summer feel complete.
SUP at Deer Valley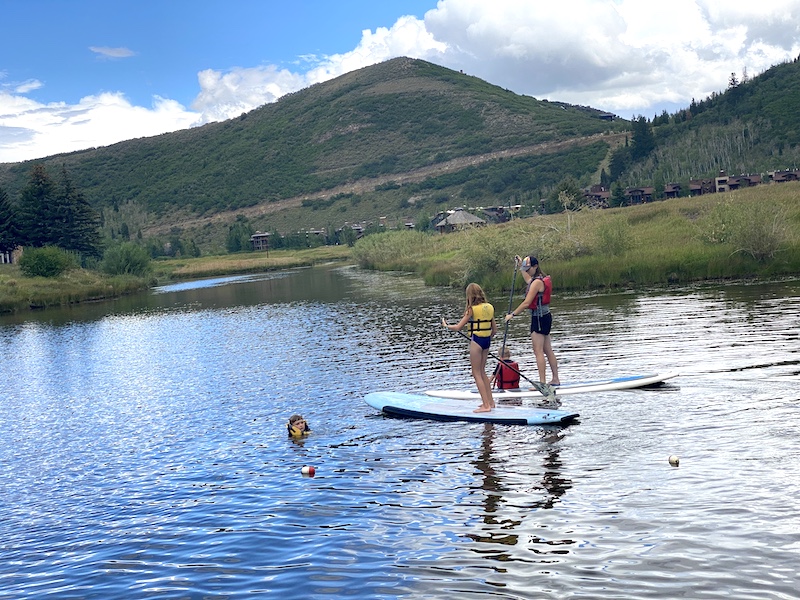 Head over to Pebble Beach at the base of Deer Valley resort for an easy introduction to Stand Up Paddleboarding. The still water is perfect for those who are new to the sport and want to get a feel for it before hitting the waves at a bigger lake (the lake at Deer Valley is completely protected and relatively small). SUP and kayak rentals are available by the hour, or just come and hang out on the grassy hill next to the beach and let the kids play in the water. While you might not want to rent paddleboards for an entire day, it's a place where you can easily spend a full afternoon of outdoor fun!
While you're there, make sure to visit the Deer Valley grocers for a bite to eat at the deli. The outdoor dining is incredible with amazing views overlooking the mountain and the beach.
Mountain Bike Trailside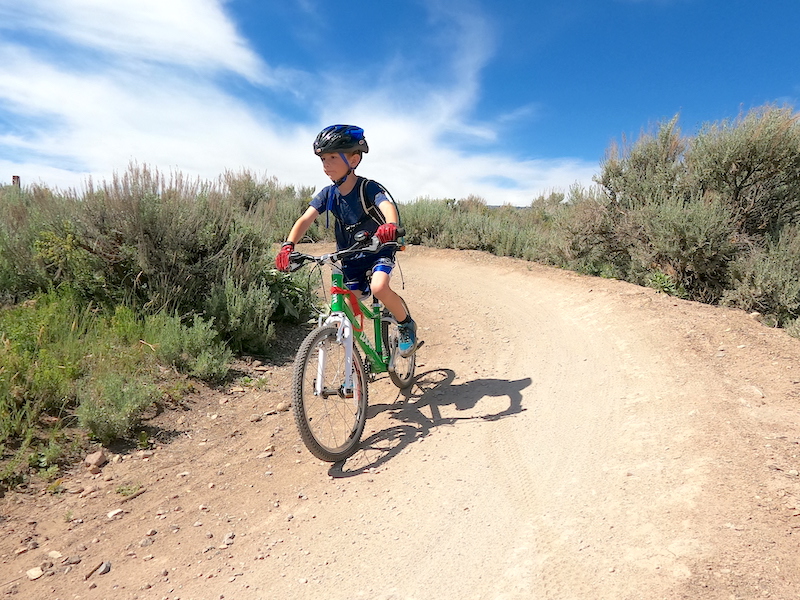 For those who want to mountain bike without having to drive too far from Park City, Trailside Park is the place to go. The park has a huge variety of singletrack trails and is perfect for all levels of riders. If you need to rent a mountain bike, we've found great options at both Jans and White Pine Touring.
Trailside is one of the best family mountain bike areas in Park City and is truly an all ages bike park, with trails that can even be ridden by toddlers on a balance bike. Unlike most mountain bike trails, Trailside is a bike park, with lots of short loops that riders can practice on. If you're a parent with riders of different abilities, you can see most of the bike trails from the top of the hill so it's easy to keep an eye on kids riding in different areas of the bike park.
The park has 2 pump tracks, a beginner skills area, a flow trail for beginners, an intermediate trail with jumps, an advanced all mountain trail, an advanced trail for freeriding and a tabletop jump line. It takes about 5 minutes to ride up to the top of the park and only a few minutes to ride to the bottom.
When you're done biking at the Trailside bike park, make sure to plan some extra time to play at the playground since it's easily one of the best playgrounds in Park City.
Aerials Show at Utah Olympic Park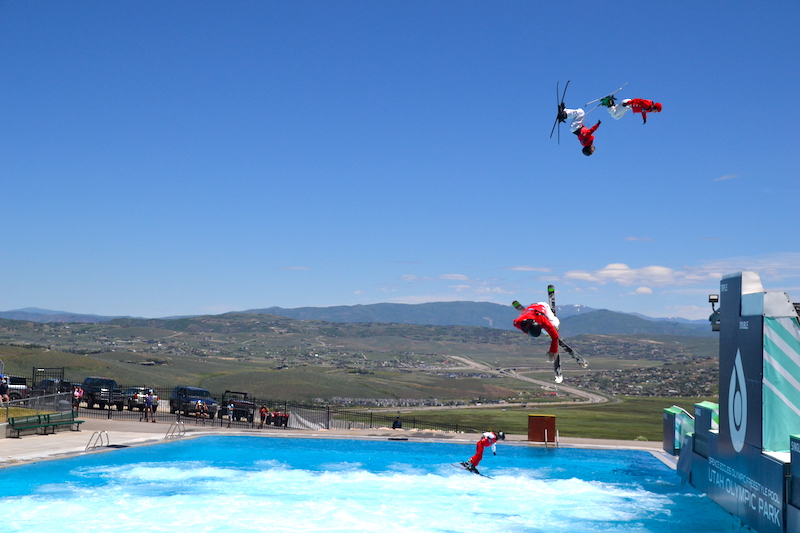 Ad now for one of the coolest things to do in Park City in the summer, especially if you're visiting with tweens or teens… Spend a day at the Utah Olympic Park and grab tickets to the aerial show. While it's not cheap ( $20/person or $70 for a family 4 pack), it's an incredible experience that you won't find anywhere else. The show features ski athletes doing flips and tricks on the aerial jumps while landing into a pool of water.
Even though the show is only about 45 minutes long it is incredibly impressive. If you are planning to go to the aerial show, plan on getting there about 30 minutes before the show starts since they regularly sell out and the good seats are quickly taken.
After you go to the aerial show, head inside to the free olympic museum where you can learn more about the 2002 Winter Olympics where several events were held in Park City. There's also a ski fashion museum (also free) where kids will get a good laugh over the ski fashions of the past several decades.
Ice Cream at Java Cow
After all that adventure, you're going to need a treat and there's no better place in Park City for ice cream than Java Cow. The line can get long on busy days, but it moves pretty quickly and is definitely worth the wait. While you're waiting in line, let the kids explore all of the random cow merchandise in the store, which is sure to get lots of laughs (and maybe inspire some random purchases).
There are only a few spots to sit inside Java Cow, so we recommend enjoying your ice cream as you stroll down Main Street looking at all the window displays.
Heber Creeper Railway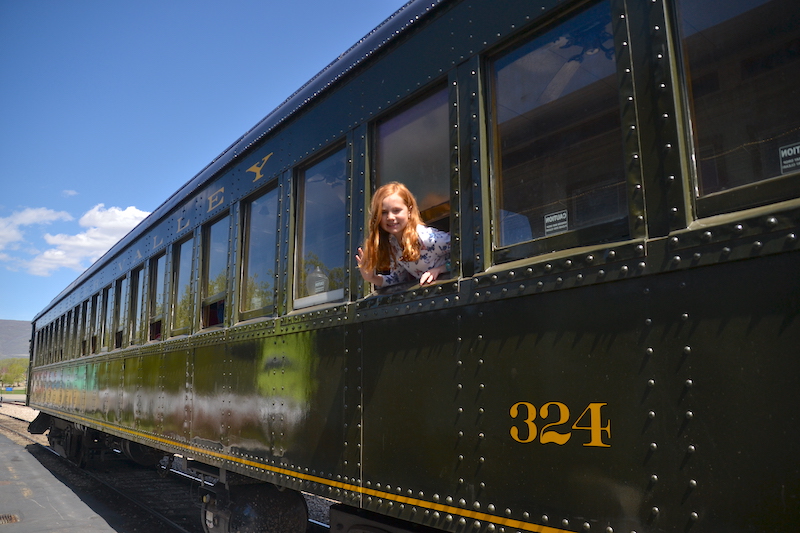 A short 20 minute drive from Park City will take you into the town of Heber, which is famous for the Heber Creeper Historic Railway. Train rides range from 90 minutes to three hours and are such a memorable experience. If you can't decide which route to take, go for the 3 hour ride since it travels down the Canyon and the views are incredible.
In addition to getting a train ride all through the valley, there are entertainers along the way (the gunfight is always a highlight), and even a snack car where you can go and purchase treats. For extra fun, get tickets to one of the themed trains where you'll get more excitement and entertainment along the way.
Swaner Nature Preserve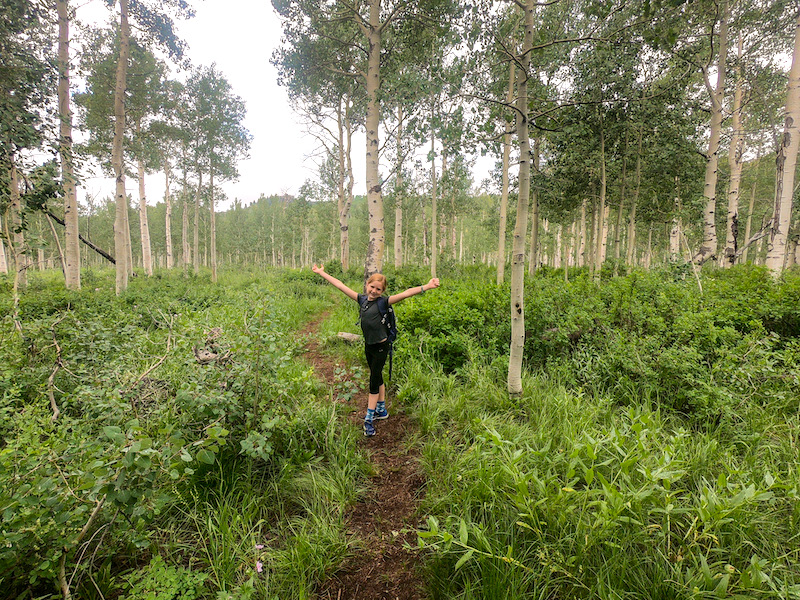 If you're looking for a place to escape the summer heat, head to Swaner Nature Preserve. The preserve is 1,200 acres of wetlands and is home to over 200 species of birds. It's the perfect place to go for a short nature hike.
Kids will especially love the hands-on exhibits inside of the nature center. The naturalist led programs are exceptional, so check their calendar and plan your visit when you can attend one of those education Park City activities.
Make sure to take the trip up to the observation deck for views of the entire valley. If you're lucky, you can use the binoculars there to spot sandhill cranes, elk or even a moose.
Hiking at Round Valley
For some of the easiest hikes in Park City, you'll want to head to Round Valley. Located just outside of town, Round Valley has an extensive trail network of easy and moderate hiking trails that are a great place to stretch your legs and get some exercise. Most of the trails at Round Valley are also great for mountain biking with kids. It's long been one of our favorite Park City family activities!
Round Valley is mostly sagebrush, so don't expect any shade. We recommend doing a morning or evening hike here and avoiding the heat of the day.
Fly Fish The Provo River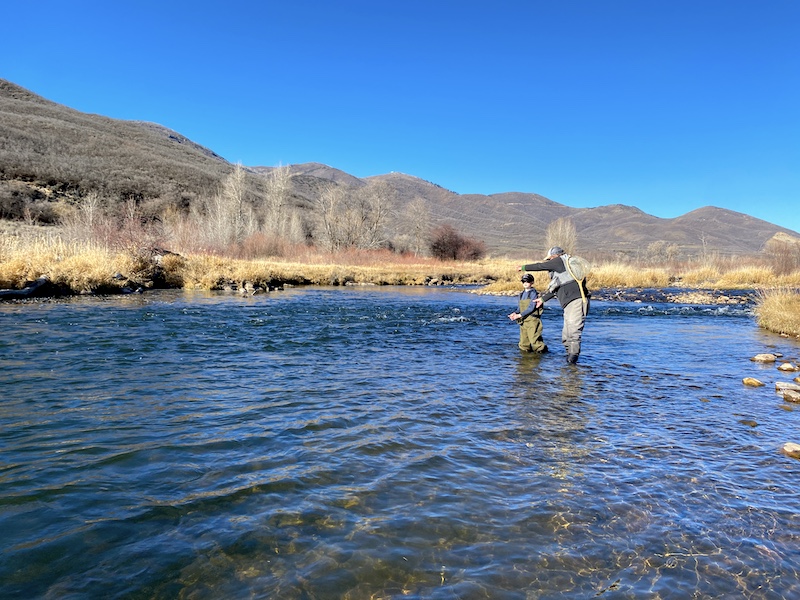 The Provo River is one of the best places to fly fish in Utah and it's just a short 20 minute drive from Park City. The Middle Provo River, which runs through the Heber Valley, is especially good for fly fishing and the easy access to the road makes it really good for kids. You can wade into the river or fish from shore, and a stop at a local fishing outfitter will get you all the gear that you need.
If you're new to fly fishing, there are lots of fantastic fly fishing guides around Park City and they can show you how to fly fish as well as taking you to the best spots. Once you've got the basics down, though, the Provo River is a great place to catch trout. Just make sure to have a Utah fishing license before you go!
If you want a simpler version of fishing, head to Wasatch Mountain State Park in Midway. The fishing pond just outside of the visitors center is regularly stocked with fish and the playground and big grassy area make it a really easy place to fish with little kids. Best of all, if you don't have your own fishing gear, you can rent gear at the state park to use there for a small fee.
---
With lots of outdoor adventure readily accessible, Park City is the perfect family mountain destination. While lodging can get expensive, it's easy to find affordable places to stay only 20 minutes outside of town in Heber City, Kamas, and Salt Lake.
About Jessica
Jessica is raising her 5 kids in the mountains just outside of Park City Utah. You can follow some of her best outdoor advice at KidsCampingTips.com.
Where to go next
If you're interested in extending your family trip to Utah into other Southwest destinations and beyond, consider these options:
Utah:
Colorado:
Wyoming:
Arizona:
New Mexico: