Our family has traveled far and wide, but Arizona vacations are still some of our favorites. We love the rugged Southwest landscape, the wide variety of Arizona things to do with family and the melding of cultures the state offers.
In this guide we'll help you find attractions in Arizona for families and offer plenty of insider tips from our family and other family travel experts who have visited Arizona with kids too. There are lots of amazing Arizona family vacation spots, but the great news is that you can visit plenty of them in 7-10 days in Arizona.
What to do in Arizona with Kids
Is Arizona Good for Kids?
One of the best places to visit with family is Arizona. The state offers stunning national parks, hiking for all skill levels, unique lodging and great food. There is a great deal to learn from indigenous people and artists around Arizona too. If that isn't enough, there are plenty of splash pads, playgrounds, museums and lots of other fun things for kids to do in Arizona.
Marvel at the Grand Canyon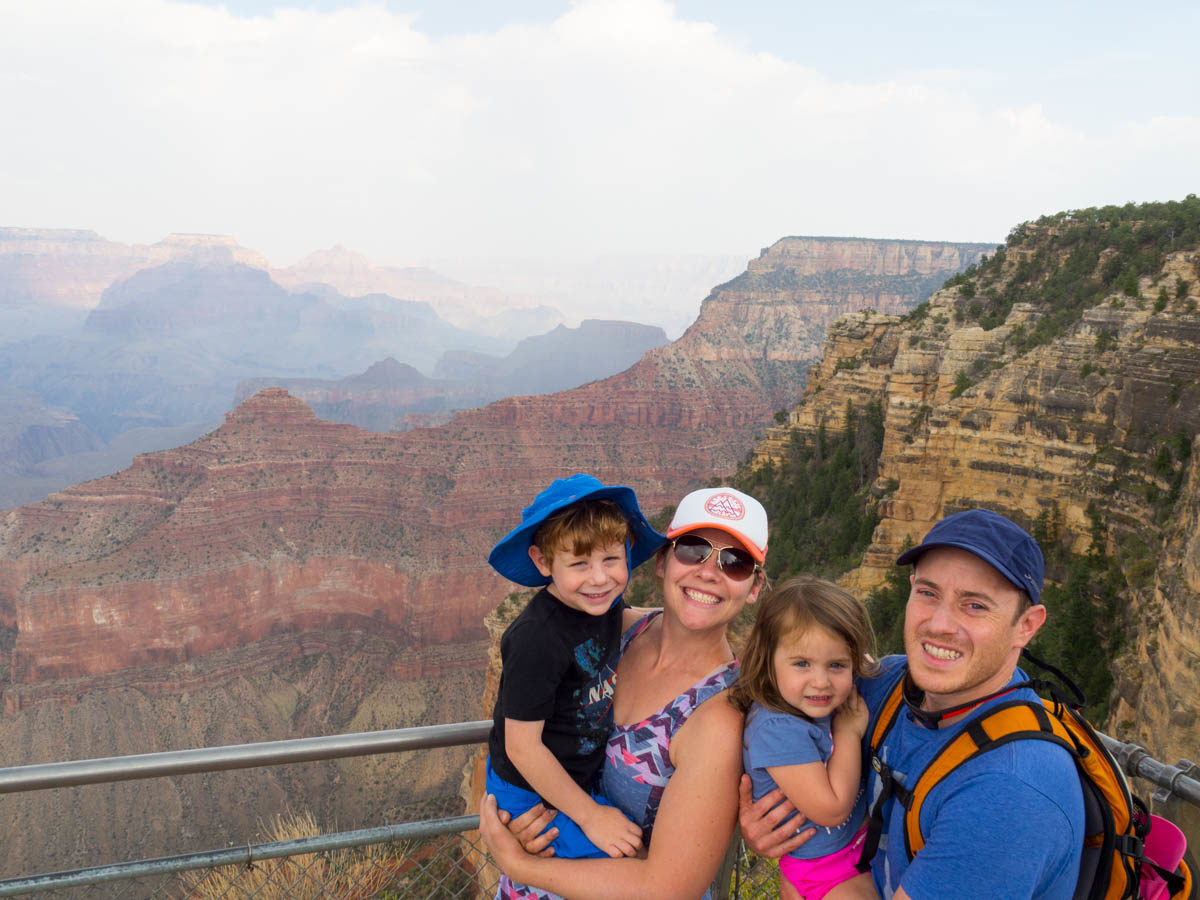 The Grand Canyon is one of America's most iconic National Parks, and it even gives the state of Arizona its nickname: The Grand Canyon State. Many Arizona family vacations are planned around this destination. You won't want to miss the epic site on your family trip to Arizona!
For most families visiting the Grand Canyon with kids in elementary school or younger, one day is enough time to visit. You can participate in the Junior Ranger program, enjoy the scenic viewpoints, walk along the rim, and maybe even do a little hiking. The Junior Ranger program is a great kids activity to do in each National Park in Arizona – or any state!
The best beginner hike at the Grand Canyon is along the South Kaibab trail, just down to Ooh Aah point – so named for what you'll say when you see the view! It's about a mile each way and rated as "moderate". You'll want to make sure you have closed shoes with decent traction, as there can be plenty of loose rocks. Be sure to bring plenty of water and make sure your kids are well-rested, as they'll be conquering the uphill leg on the return! I've done this walk as an adult and it was very manageable, but I didn't think my 3 year old could handle it on our visit. If you plan to do it with a heavy toddler in a carrier, trekking poles may be helpful for balance. Kids who are old enough to walk on their own may want to carry their own Camelbak to stay hydrated and carry snacks. Note that the best way to get to the South Kaibab trail with kids is using the shuttle bus, otherwise you'll have a long walk from the closest parking area.
Don't forget to grab your America the Beautiful National Parks pass – with just three or four National Park visits around the country, it'll pay for itself!
One unique thing to do in AZ with kids is taking the Grand Canyon Railway from Williams. More than just a train ride, it starts the day off with a "wild West" re-enactment, sing alongs and more! You can read more about the full experience here. If you plan to take the train, your best option is the stay the night in Williams, where the depot is located. The beautiful Grand Canyon Railway Hotel is right next to the depot and a great choice for families.
Use the interactive map to find vacation rentals and hotels near Grand Canyon
---
If you plan to drive your own car to the Grand Canyon (as we did) then Flagstaff is an excellent place to stay. It's conveniently located for visiting the Grand Canyon as well as continuing on your Arizona road trip. Since Flagstaff has a robust year-round population, there are plenty of dining options (beyond tourist fare) and you'll also have easy access to the Lowell Observatory (more on that below). We had a great stay at Little America Flagstaff when we visited the Grand Canyon and enjoyed the wooded ground, pool and playground in the back – see our full review here.
Looking for a unique stay close to the Grand Canyon? Check out this working ranch. It's big enough for a family of eight, including multi-generational groups, with plenty of modern touches. You can visit with the horses on the property, roast marshmallows in the fire pit, enjoy the porch rocking chairs and even go stargazing with the provided telescope. If you love peace and quiet, this is the place for you!
---
Family Things to do in Arizona
Go Star-Gazing at the Lowell Observatory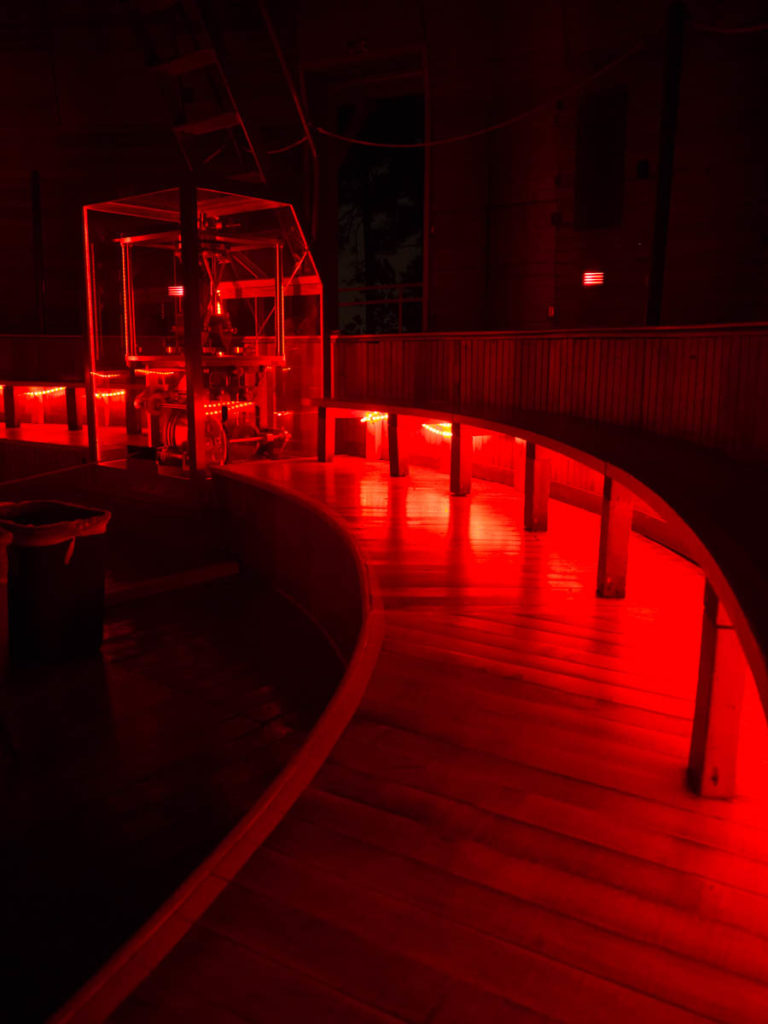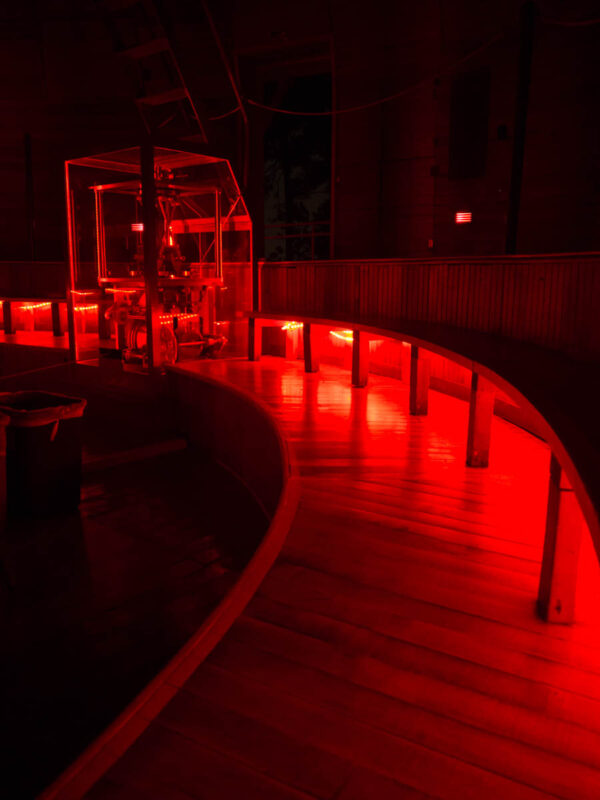 If you're traveling with a space-obsessed kid, don't miss a visit to the Lowell Observatory in Flagstaff! While many observatories have minimum ages for visitors, Lowell welcomes everyone. This is one of the best places to visit in Arizona for families.
What is there to do at the Lowell Observatory? Plenty. I've visited twice and look forward to going back again. If you visit the Lowell Observatory during the day, they have a wide range of guided tours available depending on your interest. You can learn about the history of the observatory and how it functions, hear the story of Pluto's discovery and safely see the surface of the sun in the solar observatory.
A night time visit is just as fascinating – maybe even more so for some visitors. There are tons of educational programs ranging from lectures to demonstrations to projections on the OmniGlobe. But the real "star" of the show is observing the solar system through the many telescopes that Lowell makes available for the public. They have trained educators on hand to explain everything you're seeing and plenty of telescopes to go around, including the opportunity to observe from the original dome. Since our last visit they've centralized viewing on the new Giovale Open Deck Observatory and I'm excited to check it out! Evening programs run every day except Sunday, so plan your visit accordingly.
Admission costs $22 per adult and $14 for kids over 5 but it's free with your ASTC membership from your local science museum!
As with visiting the Grand Canyon, Little America Flagstaff is a great choice for staying in Flagstaff with kids.
If you prefer to have a little more space for a longer stay in northern Arizona, there are plenty of excellent vacation rentals to choose from. Here are some of the best family-friendly Airbnbs in Flagstaff AZ:
---
Arizona Attractions for Families
Hike the Red Rocks of Sedona
Contributed by Dalya of Sweet Little Journey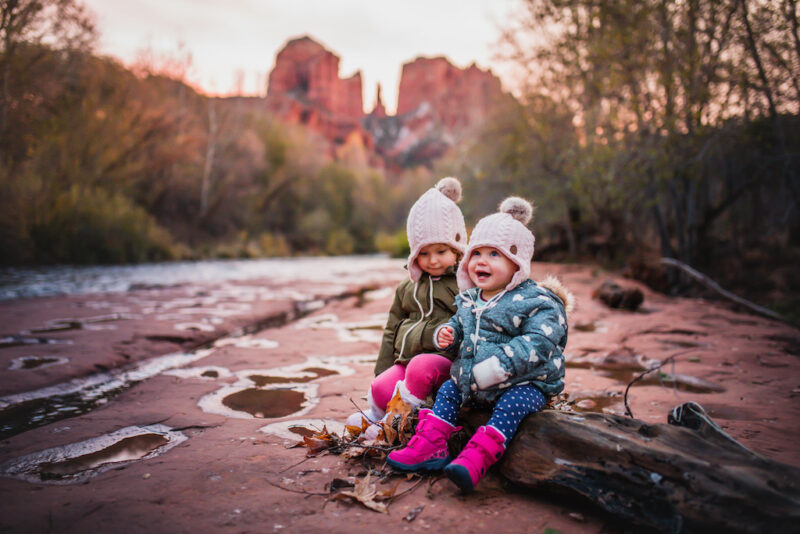 Sedona is home to one of the best vacation spots in Arizona for families. It hosts some of the best hikes in the world. The town itself is stunning with tall red rocks, streams and hiking trails in every direction. There are various levels of hikes, most of which are perfectly suitable to do with children of all ages. Whether you stay overnight or take a day trip to Sedona from Phoenix, you'll have plenty to explore.
Some easy Sedona hikes with kids we love are Red Rock Crossing Trail and Bell Rock Trail. For something a bit more challenging, check out Cathedral Rock trail, Devil's Bridge and Seven Sacred Pools. If you can, try to time these hikes to be during sunrise or sunset; this will help with the Arizona heat and have the best lighting of the day! The red rocks light up during Golden Hour and the scenery becomes that much more spectacular.
Read more: Your essential Arizona packing list
The easiest and best sunset view of Sedona is from Sedona Airport Scenic Lookout, which overlooks the town and the rugged red sandstone hills. Sedona also happens to be an International Dark Sky Community, which means that the stars are incredibly bright here at night and you can see the entire Milky Way light up the sky.
One of the most popular ways to explore Sedona with older kids is with Jeep tours. They'll take you off the beaten path to explore the region, including tours of the unique red rocks or even excursions to Native American ruins. All tours include plenty of background information from their highly regarded local guides. This is one of the best family vacation spots and experiences in Arizona.
Most tours are open to kids ages 2+, and Pink Jeep Tours will even supply car seats when you book kids in your party – definitely consult with them in advance to make sure they have an age-appropriate choice available, and if need be bring your own travel car seat. Keep that in mind when planning an Arizona vacation with toddlers or babies.
Pro tip: Make the most of your time driving around Arizona with the free RoadTrippers app. It helps you plan your route and shows you tons of unique stops along the way. Get $5 off RoadTrippers Plus with coupon BTR5QTP.
You can stay in either Sedona or Village of Oak Creek. Sedona is a bigger town with lots of shopping, restaurants, cafes and lodging. Village of Oak Creek is a smaller town just 15 minutes south of Sedona and has its own set of beautiful hikes and slightly cheaper lodging options. Both towns have plenty of great family-friendly vacation rentals to choose from:
Use the interactive map to find vacation rentals and hotels in Sedona, Grand Canyon here
If you'd rather stay in a family-friendly hotel in Sedona, the top pick in Tiny Globetrotters is definitely the Best Western Plus in Sedona. It offers tons of resort-like amenities like indoor and outdoor pool, hot tub, game room and even racquetball courts. There's a full hot breakfast every day, and families can choose from regular rooms or suites. Lots of the rooms even have incredible views of Sedona's famous Red Rock!
---
Family Vacation in Arizona
Learn About the Native Peoples of Arizona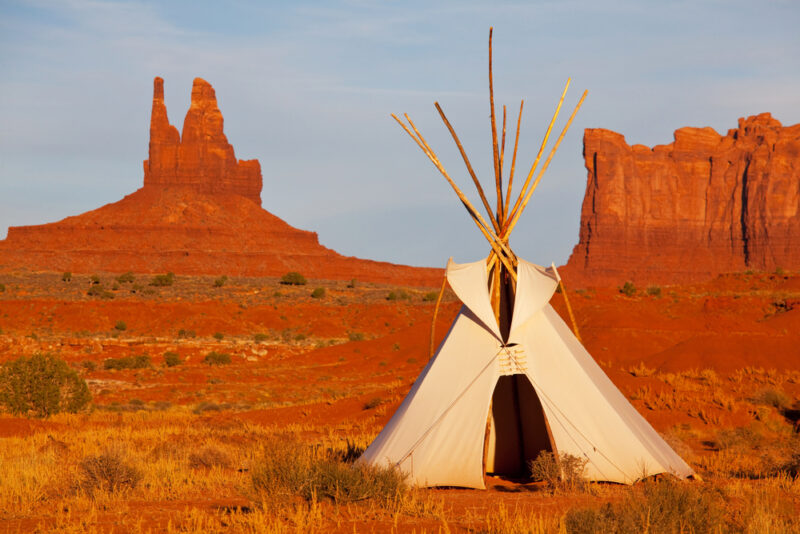 When looking for what to do in Arizona with family, consider visiting a new culture (or several) without crossing an ocean. Arizona has the second largest Native American population in the United States, and over a quarter of the state's area is reservation land for the 22 tribes who call it home.
If you will be near the Navajo Nation, which includes parts of Arizona, New Mexico and Utah consider a half-day tour of Monument Valley with a local Navajo guide. You'll see the stunning rock formations while learning about Navajo history and culture. You can also opt for a similar tour at sunrise or sunset, which is a great option for photography lovers. All of the local group tours are in open-air vehicles over rough terrain, so they aren't recommended for pregnant women and you'll have to hold an infant on your lap or in a carrier.
If the tours above sound too rugged for your family, there are still wonderful opportunities to learn about the Navajo Nation. The Navajo Interactive Museum in Tuba City connects visitors with a Navajo guide to take them through the interactive displays showing the Navajo way of life, stories, culture and more. While you're there, make sure to visit the Navajo Code Talkers Museum down the street! For a more academic and historical view, pay a visit to the Navajo Nation Museum in Window Rock.
If your family trip to Arizona is based in Phoenix and you won't make it all the way north, you can plan a day trip to Montezuma Castle National Monument. I still remember being in awe of the enduring cliff dwellings when I visited as a teenager. It's also a perfect stop on your way to Flagstaff or Sedona since it's just a stones' throw from I-17. Entrance is $10 per adult and includes nearby Tuzigoot National Monument (which I visited as an adult, but will impress kids less) and it's also covered by your America the Beautiful National Parks Annual Pass. Another nearby option is Wupatki National Monument.
Use the interactive map to find vacation rentals and hotels near Wupatki here
Another interesting day trip from Phoenix is the Besh Ba Gowah Archeological Site in Globe. It includes partially-restored village ruins and a museum dedicated to the ancient Salado people. It's on the east side of the Superstition Mountains, so drive time is around 90 minutes from central Phoenix.
Do you want a taste of Native American culture without leaving downtown Phoenix? The Heard Museum houses one of the world's leading collections of American Indian art. It includes stunning collections of dolls, baskets, pottery and other decorative pieces. There is also a fascinating and heartbreaking exhibit on the forced American Indian boarding school experience. The Heard does offer a room where kids can try their hands at crafts inspired by the exhibits, but overall I'd say this is a better choice for tweens and up as the kids area isn't nearly as interactive as the National Museum of the American Indian in Washington DC.
If you're visiting Arizona for some r&r but still want a dash of Native American culture, make sure to book your Phoenix stay at the Hyatt Regency in Scottsdale, one of the top Arizona family resorts. Every Friday at 5pm, Native American dancers put on a wonderful public performance. The hotel often features Native American arts and crafts display and their "Camp Hyatt" (ages 3-12) has a Native American theme every Friday as well.
Want to get more helpful travel tips like this? Sign up for our email list!
---
Arizona Family Fun
Explore the Urban Offerings in Phoenix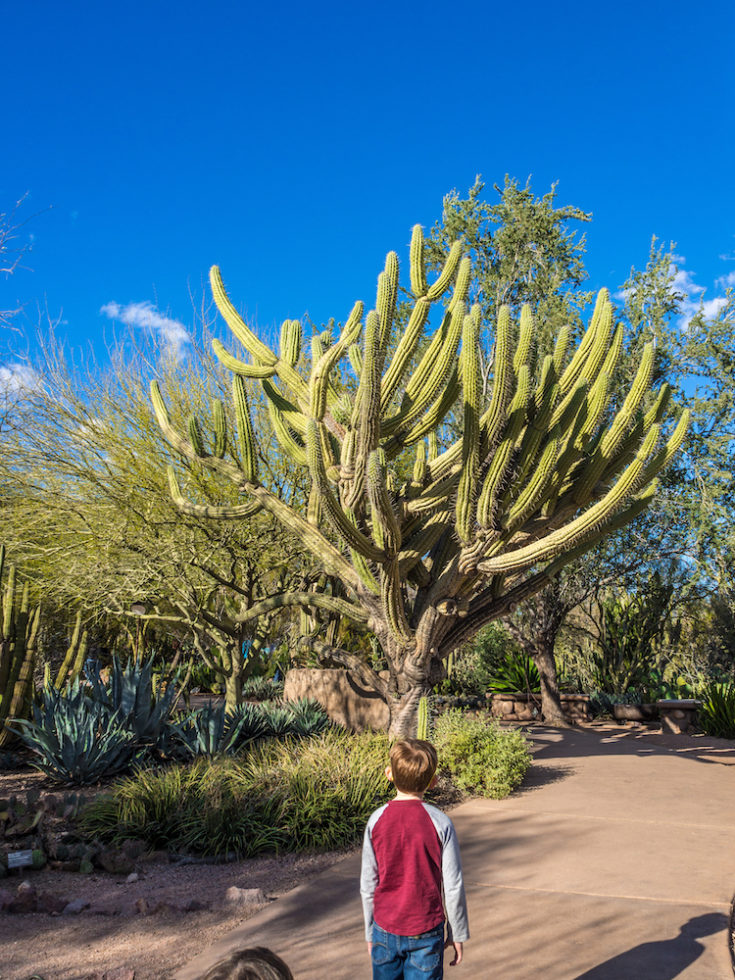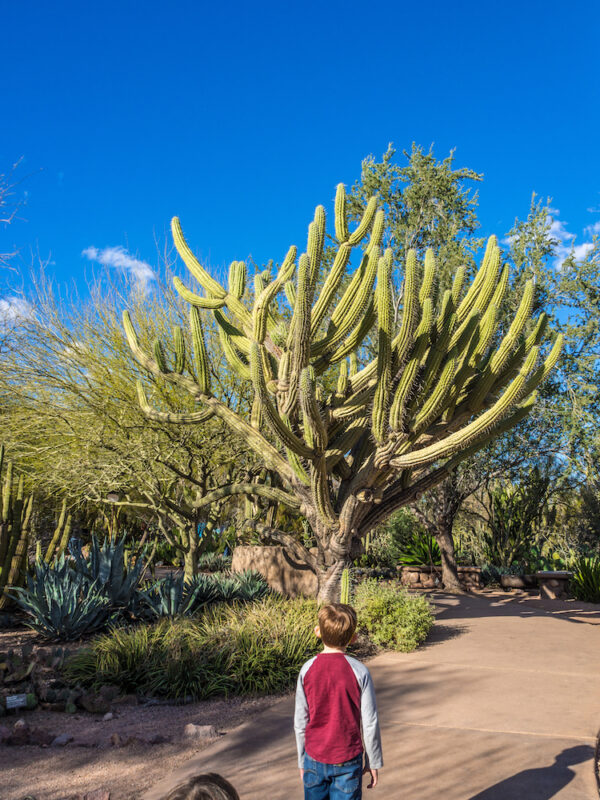 Most Arizona visitors fly in and out of Phoenix, so why not stay and explore for a few days while you're there? We've been to Phoenix dozens of times and the area offers so many great things to do with kids!
In addition to the Heard Museum mentioned above, Phoenix has a wonderful Children's Museum and it's also home to the Arizona Science Center (free with your local ASTC membership). Both of these are great for keeping kids busy on those hot desert days and are among the best things to do in Arizona for families overall.
In Papago Park, you can spend the day meeting animals at the Phoenix Zoo, learning about desert plants at the Desert Botanical Garden (my favorite) or even hiking to the popular Hole in the Rock.
For families planning to do plenty of sightseeing in Arizona, you might want to consider downloading the Entertainment App. Entertainment Books were a staple when I was growing up in a budget-conscious family, and today they are available in the convenience of an app. You can save up to 50% on plenty of family activities in Phoenix and all around the state including the Heard Museum, Phoenix Zoo and more. It's a great way to save money and get ideas for things to do with family in Arizona. Plus, the Entertainment App can be used in any city!
If you head just north into Scottsdale, the McCormick-Stillman Railroad Park is a hit with train lovers of all ages thanks to its train rides, playgrounds and massive model railroad display. The nearby Musical Instrument Museum is truly unique and has offerings for all ages.
Of course since you're in one of America's fastest-growing metro areas, you can also enjoy lots of high quality dining, public splash pads everywhere and all the other urban amenities.
If you want all the luxuries for your stay, it's hard to beat the Hyatt Regency in Scottsdale. It has water play, a kids club, great restaurants and so much more.
Use the interactive map to find vacation rentals and hotels in Scottsdale here
Do you prefer a more low-key stay where you can spread out and have some meals at home? Check out this beautiful vacation rental in the hip Willo neighborhood. Our friends live in the area and it's a wonderful walkable oasis in the crowded city. You're just a 5 minute walk from the Encanto/Central light rail station and the Heard Museum. If you don't want to rent a car, you can easily take the light rail to the Children's Museum and the Science Center. It's also close to the airport and accessible via light rail! Click here to check prices and availability.
Read more: Best Scottsdale Resorts For Families
---
Fun Things to do in Arizona with Kids
Catch a Spring Training Baseball Game
Contributed by Kirsten of Kids Are A Trip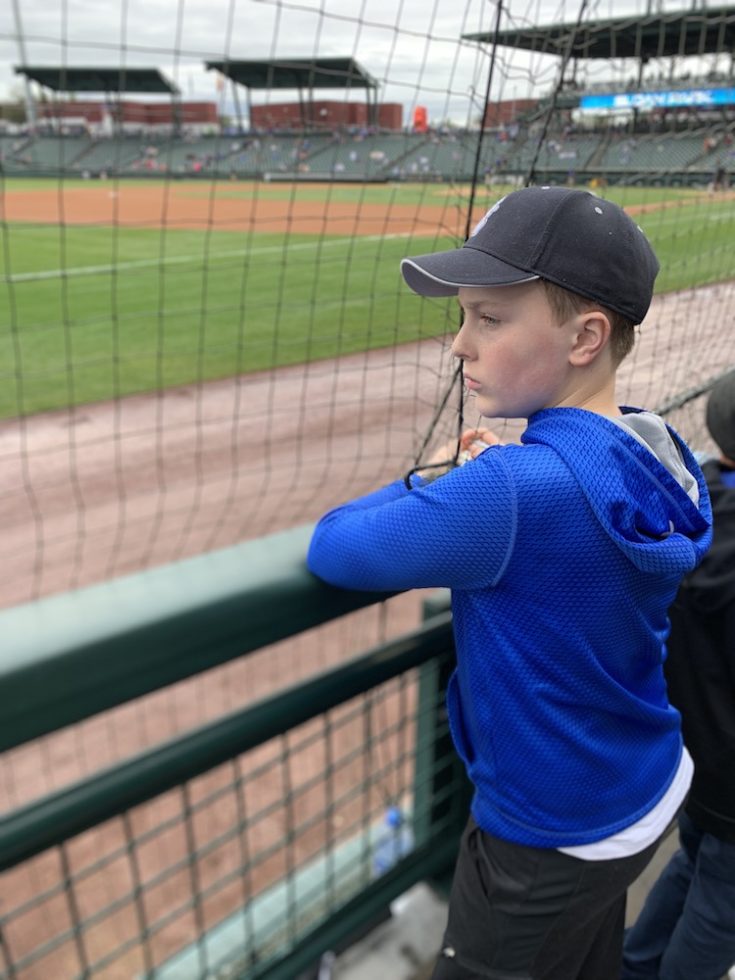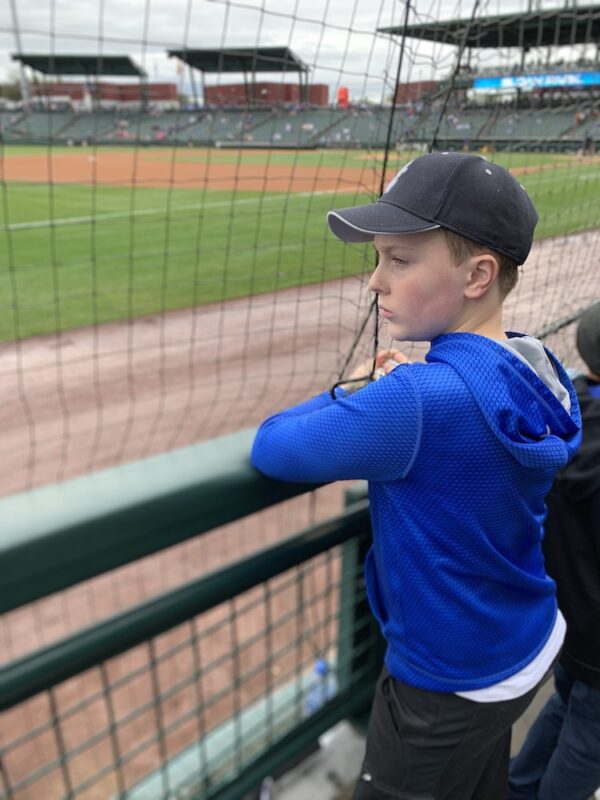 If you are visiting Arizona anytime between late February and late March, a spring training baseball game needs to be on your list of Arizona family vacation ideas. Every year, fifteen professional baseball teams descend upon the Valley of the Sun, to play games as a warmup for their regular season. The Greater Phoenix area is home to ten different baseball stadiums, all within 45 minutes of one another. This means it is possible to see multiple games in one day, or one week if you plan to stay longer.
One of our favorite stadiums is Sloan Park in Mesa, winter home of the Chicago Cubs. Locals call this "Wrigleyville West", as many of its amenities and concessions are reminiscent of the Cubs home field. Don't miss the Chicago style Italian beef sandwich topped with cheese and Giardiniera, or the local Sonoran dog. Families can even have their names displayed on the Wrigley marquee, they just have to wait their turn in line.
Baseball games are a fun way to spend an afternoon or evening, but there are some spring training tips you should know ahead of time. The Arizona sun is no joke, so be sure to wear sunscreen and re-apply, wear a hat, and drink plenty of water. If you have lawn seats, know there is likely little to no shade, no matter the ballpark. And if you have kids who want a brush with fame, arrive early and line up along the 1st or 3rd base line. Many of these Major League players will stop and autograph baseballs or t-shirts for kids. It's a great thing for kids to do in Arizona!
---
Family Activities in Arizona
Take a Tour of Biosphere 2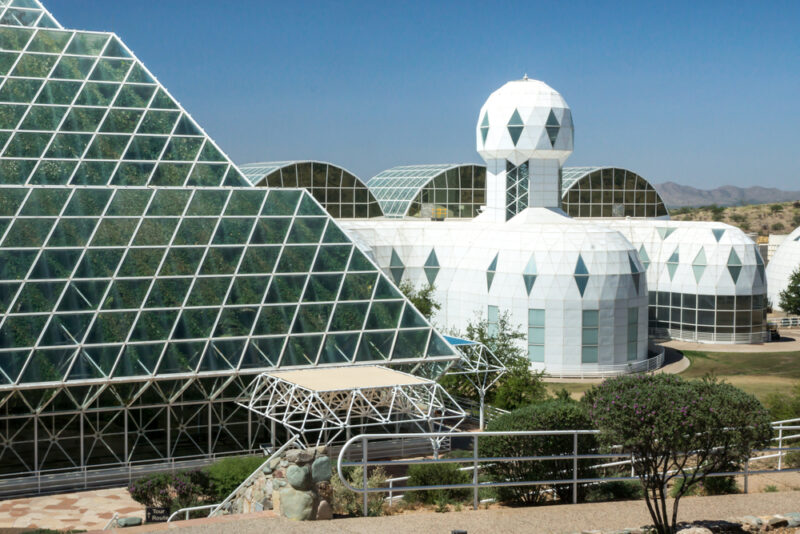 If you're looking for truly unique family fun in Arizona, it doesn't get much better than Biosphere 2! The famous facility was built in the 1990s to allow well-controlled research in different ecosystems. No, it's not exactly like the movie. But it's way cool.
The only way to visit Biosphere 2 is on a tour, which is included with your admission tickets. For many years Biosphere 2 was only recommended for those with older kids but they've now added a Family Tour specifically for those visiting with under 10s!
Read more: 7 Fun Things To Do In Tucson With Kids – Choices For All Ages
Unlike the traditional tour that moves visitors from one guide to the next at each station, the Family Tour keeps visitors with the same guide and helps kids understand the complex concepts of Biosphere 2 at their levels (and in a way to keep their interest). Having gone on the original tour years ago as a young adult, I think it's a great change and I look forward to taking our kids next time we're in the area.
---
Kid Friendly Vacations in Arizona
Stand Tall With the Saguaros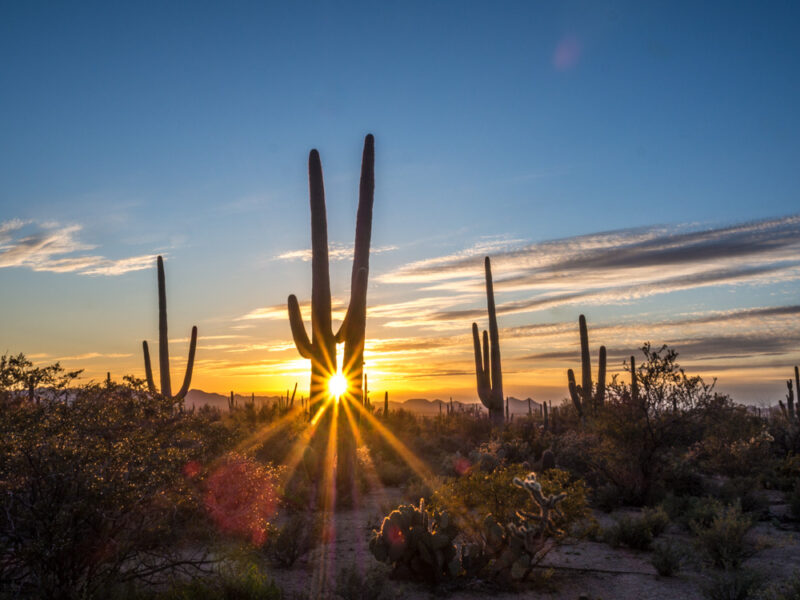 If there's one iconic landscape of Arizona (perhaps apart from the Grand Canyon), it's the endless desert punctuated by massive saguaro cacti, its arms point up to the colorful sunset. There's no better place to enjoy them than at Saguaro National Park, which is a great place to visit with kids.
Saguaro National Park sits at the northern edge of the Sonoran Desert, with units flanking both the east and west sides of Tucson. There's so much for the entire family to enjoy at the park in one or two days, including lots of short, educational trails, a robust Junior Ranger program, interesting videos and more. If you visit in the spring, you might even catch the stunning desert bloom!
Don't forget to grab your America the Beautiful National Parks pass – with just three or four National Park visits around the country, it'll pay for itself!
Use the interactive map to find vacation rentals and hotels near Saguaro National Park here
---
Fun Things to do in Arizona for Kids
Capture Memories to Last a Lifetime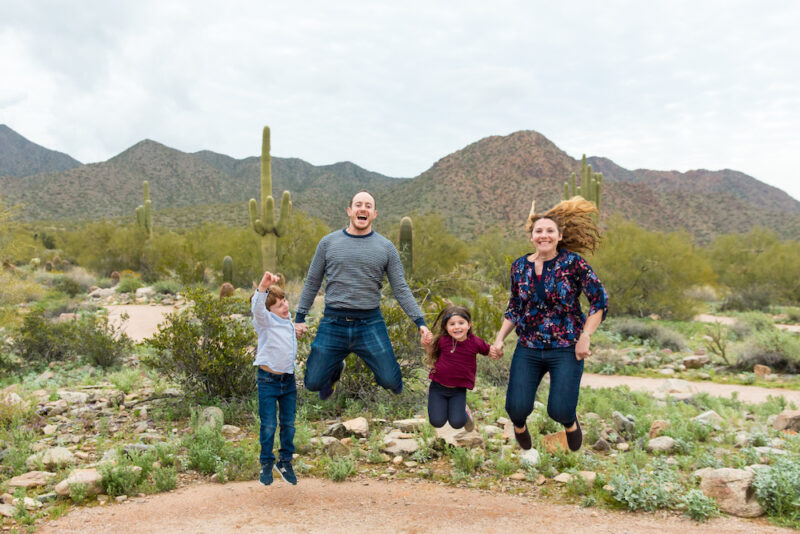 One of the best things our family has done in Arizona was hire a photographer to take fun and fantastic pictures. As a mom, it's pretty rare that I get to be in front of the camera (at least with results I'm happy to share publicly).
Our Scottsdale photographer Annelise did a great job making everyone comfortable and we love that the photos reflect both our personalities and Arizona's epic, recognizable scenery. Save $25 on your Arizona family photoshoot here – I promise, you'll add it to your list of the best things for families to do in Arizona too!
---
Family Vacation to Arizona
Kids Books About Arizona To Read Before Your Trip
Before you head off for your Arizona family adventure, grab some of these Arizona books for kids! We read many of them during our time road tripping Arizona with kids while we were homeschooling and they added wonderful context to our experiences.
---
Fun Places for Kids in Arizona
Tips For Visiting Arizona With Kids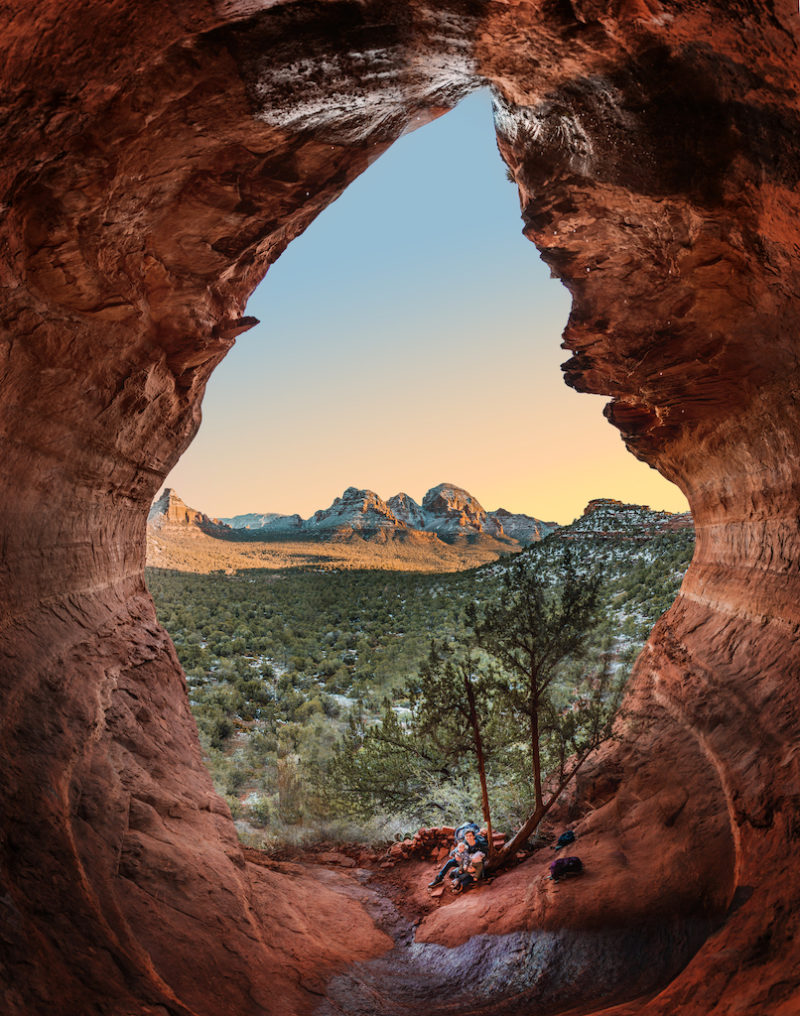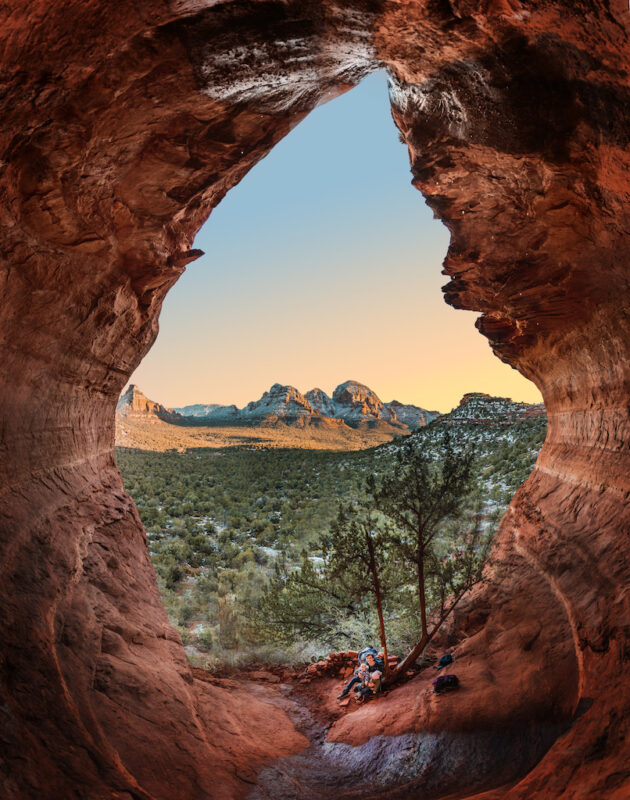 We've visited Arizona so many times and find that there's always more to kids activities to explore. I recommend allowing at least a week to see some of the top Arizona attractions without hustling too much, but if you have two weeks that's even better!
For most travelers, you'll find the best prices on flights in an out of Phoenix Sky Harbor International Airport. Since it's roughly in the middle of the state, you can plan to end your journey there a day or two before your return flight. You'll also save money on your rental car by returning to the same location where you pick up. The Phoenix airport has a separate rental car terminal that is accessed by shuttle bus, so be sure to pack some extra patience for the experience! Check here for the best price on rental cars in Phoenix.
Once you're on the ground, the most important thing to remember is hydration. I can't emphasize this enough. Even in the winter, it's extremely dry in Arizona. Young kids don't know how to express some of the symptoms of dehydration and may not remember to drink water constantly. Make sure to encourage them!
Want a visual sneak peek? Check out our web story on the best things to do in Arizona with kids!
---
Family Vacations in Arizona
Mapping Your Arizona Family Trip
As you plan your places to go in Arizona with family, use this handy map to help you put it all together:
If you're interested in extending your family trip to Arizona into other Southwest destinations, consider these options:
Arizona:
New Mexico:
Utah:
California:
Texas:
Colorado:
Want to get more helpful travel tips like this? Sign up for our email list!
---
Still planning? Pin this for later!