Note: This article initial appeared here.
There are some amazing folding car seat options for older kids that make long-term travel and taxi-hopping a breeze. But until recently, parents of young kids who were too big for an infant car seat and still too small for a Ride Safer travel vest were mostly left out in the cold.
Enter: the Wayb Pico car seat. A team of parents with backgrounds in designing highly technical outdoor gear put their talents to work to design an innovative solution to this pain in the ass problem. You can see the fruits of their labor here:
Thanks to the marketing team's prolific use of social media ads for the crowdfunding campaign, basically every traveling family in the US has seen a picture of this contraption. But with a steep price tag and some very real limitations, lots of parents have asked: is the Wayb Pico worth it? This is the most comprehensive Wayb Pico review you'll find, so hopefully by the end you'll be able to answer that question for yourself.
Pro tip: This is the cheapest place to buy the WAYB Pico. If you're thinking about buying elsewhere, be sure to check the price first. Also read over my legit tips for getting a WAYB Pico discount.
To answer that question I asked our Tiny Globetrotters member Courtney Levesque to provide her expert feedback based on the Wayb Pico she purchased. Courtney is a Child Passenger Safety Technician – Instructor. That means it's her job to help parents make safer choices for how to transport their kids, and to teach other CPSTs how to do the same!
She's also mom to two lovely girls, who were kind enough to model for a way b car seat photo shoot (I'm sure it's not their first rodeo). You'll find Courtney's in-depth review of the Pico portable car seat below, followed by some amazing real-world feedback and Wayb Pico reviews from some of our parents who have been traveling with the Wayb Pico and covering a wide range of situations.
Is the Wayb Pico safe? The Wayb Pico passes all federal safety testing, just like traditional car seats. But there are always subjective elements to car seats that may be in the eye of the beholder (whether kid or grown up): fit, ease of installation, price tag. Since every family has different kids and different needs, I also asked a few of our Tiny Globetrotters families to weigh in with their thoughts after traveling with the Wayb Pico – you can find their reviews at the end of the article.
Check out Courtney's detailed expert Wayb Pico car seat review below – I've also added some updates as a few things have changed over the last few years:
What is the Wayb Pico car seat?
The Wayb Pico car seat is a forward-facing foldable 5-point harness carseat. It's currently certified for use in the USA and conforms to FMVSS213. It can be installed and used in both cars and airplanes. It retails for $380 USD and there's a new-and-improved for 2023 carry bag available that costs an extra $95.
It's about as light as other lightweight car seats for 3 year olds and 4 year olds, but its super power is that it folds in half for easy transportation.
Just how compact is the WAYB Pico? This lovely girl from our Facebook group is 40″ tall and you can see how tiny the Pico is next to her.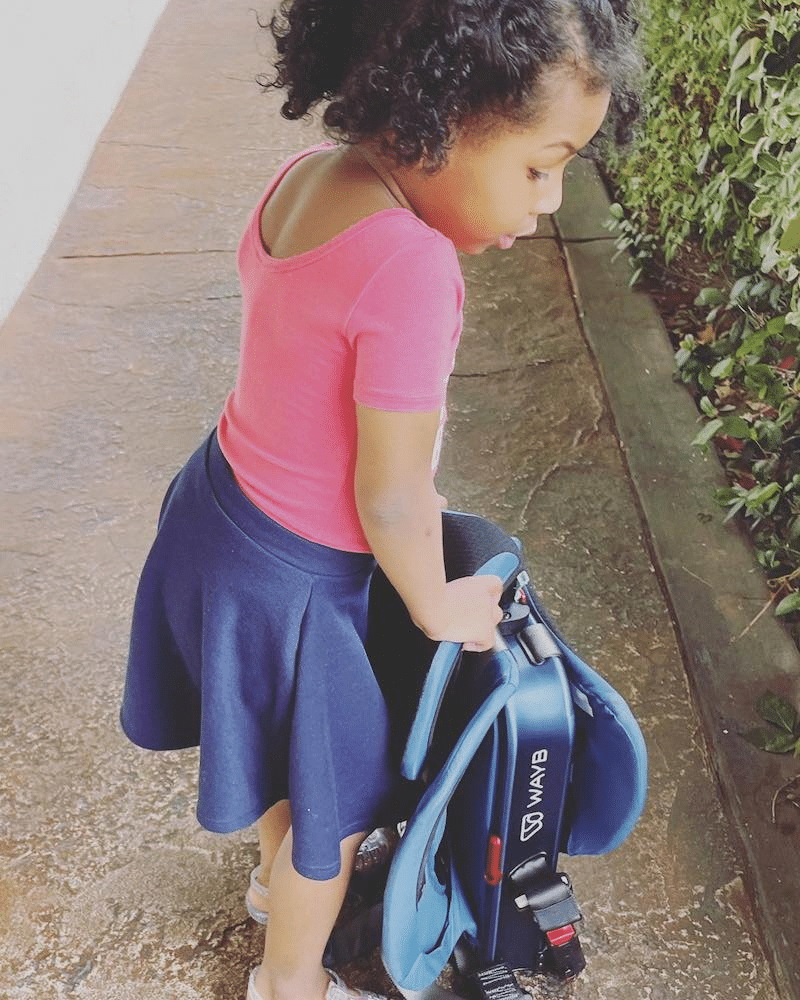 Who is the Wayb Pico meant for?
The Wayb Pico can be used by children who are 22-50 pounds and 30-45 inches tall. The child must be at least 1 year old, but Wayb recommends the child be at least 2 years old to use the Pico. The seat is 14.5 inches wide and only weighs 8 pounds! Because it's so narrow, this is also a good car seat for three-across situations.
I tried out the Pico with my 4.5 year old daughter who is small for her age at 39 inches and 30 pounds. She has outgrown the Cosco Scenera Next that she used to use for travel, but is not old enough to use a booster seat. Since the FAA recommends children under 40 pounds use a 5-point harness car seat on a plane, I wanted something light and compact like the Pico instead of using a bulkier traditional car seat. The Pico seat is mesh stretched around a metal frame. It reminds me of a fancy office chair.
The Pico is shipped fully assembled and folded into its compact state. To use the seat, you need to unfold it, lock the seat bottom in place, and raise the headrest. It's a very quick process and pretty simple.
The harness height is non-adjustable and is approximately 16 inches from the seat bottom. For the high Wayb Pico price tag, it has a fairly low harness height and will be outgrown for most kids by height before weight. For reference, the harness height is the same as the Cosco Apt 50 and 1″ shorter than the Cosco Mighty Fit 65 and the Cosco Finale DX.
It's important to know that the WAYB Pico harness adjusts differently than most other car seats. Instead of a center adjuster strap between the feet, you tighten and loosen each side at your child's hip. It's really important that you raise the headrest to at least position 2 and tighten the harness properly.
My biggest problem with the Pico is the short crotch buckle. The crotch buckle sits approximately 4.5 inches from the back of the seat (this is the equivalent distance of the middle slot on the Cosco Scenera Next). My daughter found it uncomfortable to have the buckle that close to her. The edges of the buckle tongues would poke her legs if she sat with them straight. Crossing her legs made the fit a bit comfier, but she complained about it the entire time we were trying it out. I put my average size 2 year old in it, and the crotch buckle was snug on her too. 
Wayb Pico install details
The Wayb Pico forward facing car seat can be installed using LATCH (Lower Anchors and Tethers for Children), or using the seatbelt and top tether. Since the Pico is a forward facing only car seat, there is only one belt path, marked by two red guides on the frame.
Wayb recommends using LATCH whenever possible, since it tends to be an easier installation method. The lower anchor strap is permanently threaded through the frame and has a single adjuster on one side of the belt. The push-on lower anchors have handy storage spots right on the frame and are easy to disconnect and connect. I didn't have too much trouble installing the Pico in several different locations in my 2016 Honda Odyssey using LATCH. It even fit on the 2nd row center seat, which is only 14 inches wide.
Installation with the seatbelt was a bit difficult in both the 2nd and 3rd row seats. When installing with seat belt, only the lap portion of the belt goes into the guides, and the shoulder portion sits in front of them. The red belt guides are quite narrow. The seat belt tended to bunch and get caught in the guides when trying to tighten. Pulling the belt tight and then sliding it into one belt guide, then, while continuing to hold tension, sliding the belt into the second guide did help. It took me a few tries to get an acceptably tight install.
Watch this video to see a demonstration of how to install the Wayb Pico with a seatbelt:
In my van, the captains chair seatbelts have an extra flap of webbing (to prevent the latch plate from falling all the way down), and that presented some challenges when I attempted to install the Pico. The flap of webbing wanted to sit right where the belt guide was, and the opening in the belt guide was not big enough for it to fit through. I was able to slide the entire seat forward, which fixed the problem.
Always remember to lock the seatbelt when installing a car seat with a seatbelt. For most North American vehicles, the belt will lock at the retractor or at the latch plate. For vehicles with non-locking belts, a locking clip will be needed – read all about locking clips (including when you do and don't need them). The Pico manual does have tips on how to lock the belt.
Whether installing with the lower anchors or the seat belt, always use the top tether (if available). The tether was not long enough to attach to the tether anchor in the captains chairs of my van, but Wayb is aware of the problem and has fixed it; however, since some early production Picos were shipped with shorter tethers Wayb will send a tether extender for free. It's always a good idea to test out a car seat and practice installing it at home before you travel! Since you don't know what kind of rental car you'll end up with, you might want to request the free tether extender just in case if you have an older model with the short tether.
Can the Wayb Pico be used on planes? The Wayb Pico is FAA approved, and can be used for all portions of flight on airlines that follow FAA regulations. Non-US airlines set their own rules, so you'll need to check with your specific carrier to see if they allow forward-facing car seats.
While I didn't get a chance to install the Pico on a plane, I don't believe there would be any difficulties in a typical aircraft seat. Since planes have a lap belt, you'd simply put the belt into both guides and pull the tail of the seatbelt to tighten. A nice feature of the Pico car seat is the mesh seat fabric that sits in front of the frame. The buckle of the seatbelt would not poke the child in the back. Woohoo!
See how easy it is to install the Wayb Pico on an airplane:
The Wayb Pico cannot be installed using an inflatable seat belt (in a vehicle or plane). Some airplanes do have inflatable/airbag belts, usually found in seats with extended seat pitch (i.e. the fancy seats up front). You would not be able to install the Pico in those seats, but main cabin/economy seats should be fine since they usually have regular belts. It's always a good idea to talk to the airline if you have any questions or concerns about the plane's seating.
Ultimately, I decided to return the Pico and use a different car seat for travel. My daughter complained about the crotch buckle and did not want to sit in the seat while we were trying it out in the van and I did not want to risk a meltdown on a long flight. She used a Cosco Finale on our most recent trip and did well, so I'm happy with my decision even though the Finale is bulkier than the Pico.
How does the Pico compare to two other popular travel seats?
Here you can see the Cosco Finale on the left, Wayb Pico in the center, and Cosco Scenera Next on the right. (Please note that the harness covers on the Next are approved for use and were purchased directly from Cosco). All three seats are approximately the same weight. 
Other thoughts and improvements
I'd like to see a grab handle on the side of the frame. It would make it easier to carry. There isn't a great place to grab the frame where you can put your fingers around it. Adding a grab handle would make it really easy to quickly grab the seat and carry it off of a plane.
It would be nice if there was an extra strap or fabric piece on the back of the seat to act as a luggage handle pass through. Thinking about the process of de-planing, it would be nice to just quickly slip it on top of a rolling carry on, and not have to fold it to its most compact form and put it in a bag or something.
This is totally a personal preference, but I'd rather see the square IMMI buckle and square chest clip on the seat, instead of the circle button one. I find the square one easier to use.
---
Melissa here again! Since every family's needs are different when it comes to travel car seats, I asked some members of our amazing Tiny Globetrotters community to tell us about their real-world experiences traveling with the Wayb Pico. Is it really as good as advertised? Or is the short crotch buckle a deal-breaker? Let's see what real-world traveling families think in these Wayb reviews:
From Leemor K., currently on a family gap year with three young kids:
I love the Wayb Pico but I also think my situation is unique. If I was taking the standard once-a-year vacation, I would not have bought it because it's really pricey and it's not the kind of car seat that I would use for every day (hard for a kid to nap in it). But for a round the world trip, it is a godsend.
It is so light, and incredibly easy to use, carry, and install, and my average size 2yo seems to be very comfortable in it. I also have an average size 4yo girl and she's comfortable in it, too.
I commented in some social media groups that I chose the Wayb over the Immi Go because a top tether is not required for installation, and a car seat lady gave me a whole shpiel about why a top tether is important. I get it, it's important. The Wayb has it. But as you know, when you travel in countries where car seats are optional, you don't get the benefit of top tethers in taxis/cars/shuttles. So at least I am able to put my 2 year old in a device that keeps him far safer than the alternative (my lap). I could not do that with the Immi Go.
The bag that it comes with is very roomy and I can fit a lot in it in addition to the car seat.
From Candace H.-S., semi-full-time traveler at The World School:
My son is almost 4 (he had just turned 3 when I bought the seat) and is right about 50% in both height and weight (about 39 inches and 32 pounds). After watching how my checked car-seat was treated (and seeing the damage to the padded backpack it was traveling in), and a few scares of arriving at my destination and thinking that my car seat had been among the lost luggage, I am now really hesitant to check a car seat when I fly, and that was one of the deciding factors in purchasing this seat.
We do slow travel, and last year we traveled for more than 6 months of the year. I had used the Cosco Scenera Next and also the Cosco Apt 50 seats previously on travels, along with the JL Childress padded car seat backpack. While it's great for single-destination trips, I did NOT want to travel on trains with that thing.
This year I had planned a pretty involved 3-month trip through Italy, France, and Spain, and so I ordered the WayB Pico during their crowdfunding campaign back in November of 2018. After anxiously getting every update on delayed shipping, contacting the company and begging to be among the first seats sent, and waiting and tracking it's progress across the ocean on the slowest freight ship ever to see if it would arrive here in Dominican Republic in time for our trip, it arrived literally as we were getting on the bus to go the the airport. I was pretty stoked to be getting it but I had NO time to prepare, read instructions, etc.
We unpacked it, stuck it in the backpack it came with, and were off! I was relieved, because we had already gifted our Cosco car seat to another family member, and our backup plan was the Ride Safer vest.
The Wayb travel car seat is really lightweight and it fits in a nice backpack. It is easy to transport. The backpack has a strap that allows it to attach to the handle of your rolling luggage. It is really handy. I had no problems taking it as carry-on on multiple flights, it fit in the overhead compartment on even budget carriers.
I did get some questions about it at checkin at the airports. My child did not sit in it on any flight. We used it in rental cars in Italy, France, and Spain using the built-in lower anchors with no problem. I think maybe in older vehicles it may be harder to install, but we had only new vehicles and had no problems. I did not use the seatbelt installation. It was a little challenging to get it tight but still easier than other seats. I do feel like the tightening process could be improved upon.
The seat seems well-designed. We don't usually travel by car at home and so my child is not accustomed to riding in car seats for long durations, always previously with other seats (Cosco and others) after a while he would complain and I've never seen him sleep well in another seat. This seat seems less like a 'contraption' and more like an extension of the regular seat (maybe because of the fabric, the low profile, the black color, same as the car seats) and so he readily climbed in.
It was easy enough to tighten the straps. Some others have said that the crotch strap is kind of short, and it is, but it didn't seem to bother my child but I found it a bit of a challenge to buckle/unbuckle without 'smashing him' unless I loosened the straps first (and in reverse, loosened the straps before I put him in, buckle the buckle, then tighten them).
My son found it comfortable, the shoulder straps appeared kind of high up on the seat, but he was secure in them with no wiggle room. I thought he might be uncomfortable from the straps but he fell asleep several times and the higher straps seemed to hold him/his head in place better than any other seat. He fell asleep in this seat much more than in any other seat we've used. We used it on short and long drives, up to about 3 hours at a time.
I'd say that this is my favorite seat to travel with by far of any that we've used. It takes a bit of 'figuring out' to get it back together and back in the bag. I think a novice traveler might find it overwhelming if they didn't practice ahead of time.
From Becca C., casual vacationer:
My daughter is 3.5 and small for her age at about 29 lbs. We've used the Wayb Pico on short drives (2 hours or less). When she first used it, she had trouble sleeping in it but then figured out to tip her head back and now sleeps in it fine.
I like it because my daughter is a bit small for the Ride Safer vest and I prefer a more rigid device than the vest. I'd prefer if it could rear face as well, but for limited travel use, I will deal with forward facing. My husband greatly prefers its size and portability to our previous travel seat. We have not yet used on a plane, but intend to do so on our next trip. We have also tried the CARES harness, but she slides out of that one and basically ends up waking up when it rides up so far it chokes her a bit.
From Natalie H., business travel family:
I really like the WayB Pico car seat. My daughter is 2 years old I think around 35″ tall and weighs 26 lbs.
Pros: it's super lightweight and the backpack makes it easy to bring with us on trips. Super quick to set up in taxis/Uber's on the go which is nice. The video and directions are easy to follow.
We went to Germany and needed the locking clip, the company will send them to you if you request them and the turnaround time is super fast. Their customer service is texted based which I actually like since it's a quick reply from them.
The biggest con, besides the recall, is my daughter doesn't sleep comfortably in it since it is a low profile it doesn't have cozy head rest for her but we also only used it for small trip so I can prop her head with a small blanket if she falls asleep with no problem (she gets motion sick so we give her meds sometimes that make her drowsy).
WAYB review from Inza M. of SinCityMama: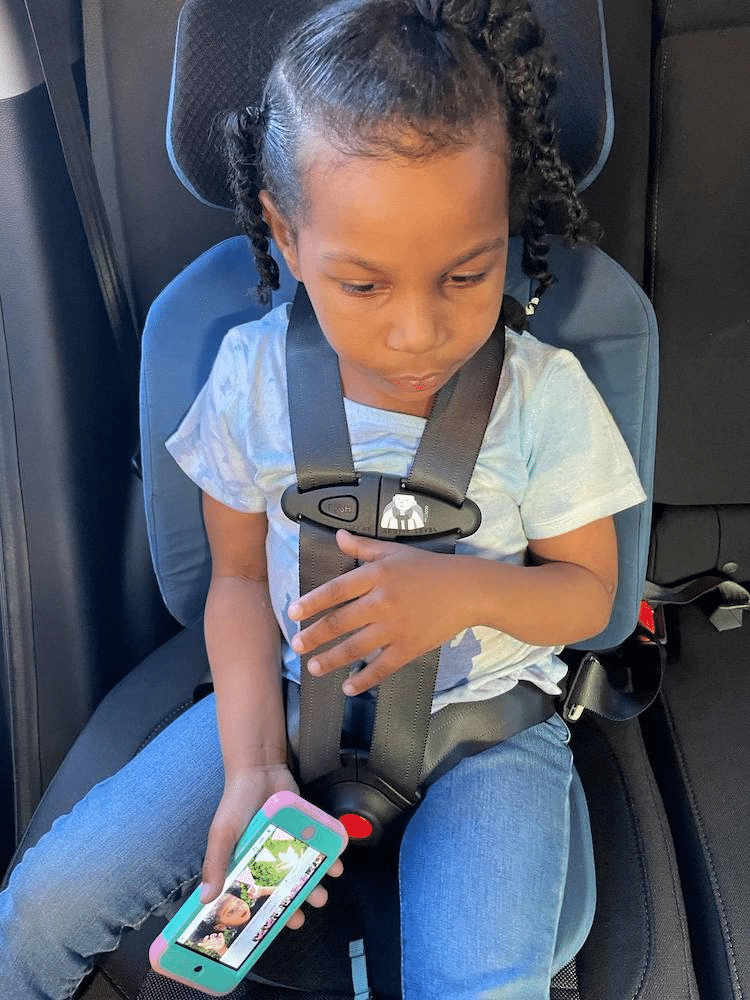 We love our Pico travel car seat by WAYB. We use it during flights and in rideshares / rental cars. Super easy to transport. My 4yo daughter doesn't complain about it being uncomfortable or anything and naps in it just fine.
---
Conclusion: is the Wayb Pico worth buying?
The Wayb Pico is revolutionary, but it might not be right for every family. If your typical family vacation pattern involves traveling for a week or two per year within the US to places where you'll rent a car, you might be better served by sticking with one of these awesome lightweight convertible car seats for a younger child or a Ride Safer travel vest for an older one.
But if one of these describes your family, the Pico WAYB car seat could be an amazing option for you:
-You live in (or frequently visit) an urban area and need to take Ubers/taxis often
-You're planning on extended travel like a family gap year, especially with time in the developing world
-You don't mind the price for the sake of convenience (or have more kids/cousins to pass it down to)
If the Wayb Pico had been available when our kids were 3 years old, I would absolutely have purchased it for our family's trip around the world!
Where to get your own Wayb Pico
There aren't many WAYB Pico car seat stores out there, and it's been popular enough that sometimes stock runs low. Check these places to find one for your family:
WAYB Pico FAQs
What do you think of the Wayb Pico? Feel free to share your experiences in the comments!