How is it that a vast swath of empty land in the west Texas desert has become one of my favorite places in America? It must be a combination of the remoteness, the natural beauty as the light plays off the rocks in a different way every hour and the opportunity to truly disconnect from the realities of the outside world. Ask anyone who's visited and they'll all agree: Big Bend National Park is a place unlike any other.
Once you've decided to take the plunge and visit Big Bend, how can you turn your dreams into a reality? The logistics of visiting can be more complicated than most other parts of the lower 48.
In this guide we'll take you through how to get to Big Bend National Park, the best time to visit Big Bend, where to stay in Big Bend National Park and even what to do about groceries. You can also read the juicy details of the best hikes in Big Bend and tips for visiting Big Bend with kids. You'll find lots of on-the-ground info that isn't anywhere else on the web, so keep reading to feel confident as you plan your trip!
Quick facts about Big Bend National Park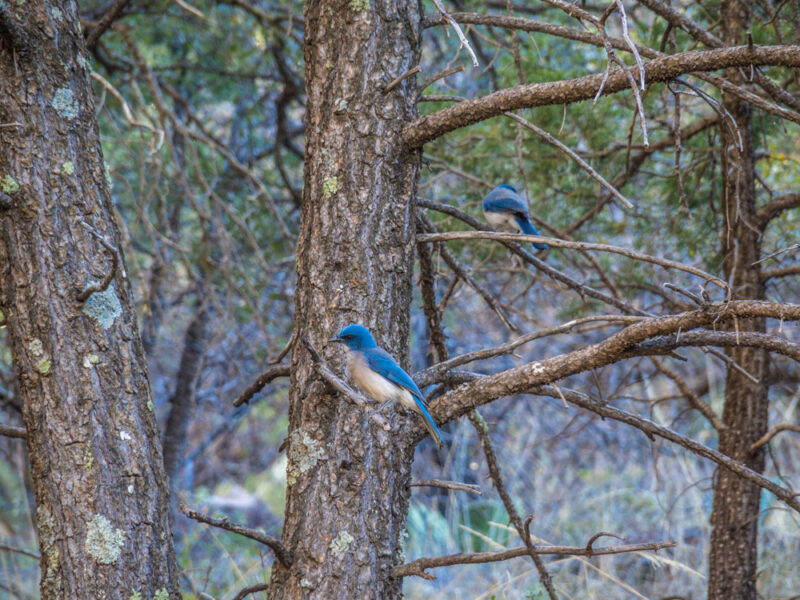 -At 1,252 square miles, Big Bend National Park is the seventh largest National Park in the continental US (and 15th largest overall).
-With over 400,000 visitors per year, Big Bend is the eleventh least visited National Park in the continental US (out of 51).
-The US and Mexico share 118 miles of border along the southern edge of the park (you can see a great example of what it looks like in Boquillas Canyon below as you keep reading). Several times per week you can cross to Mexico by rowboat from an official border crossing in the park.
-On June 6, 1944, as the Allied Forces were storming the beaches of Normandy in the D-Day invasion, President Franklin D. Roosevelt met with Texans to receive the deed to the land that would become Big Bend National Park the following week.
-The park is home to over 400 bird species, in addition to coyotes, javelinas and Mexican black bears.
Check out these awesome gifts for National Parks lovers!
How long should you stay in Big Bend National Park?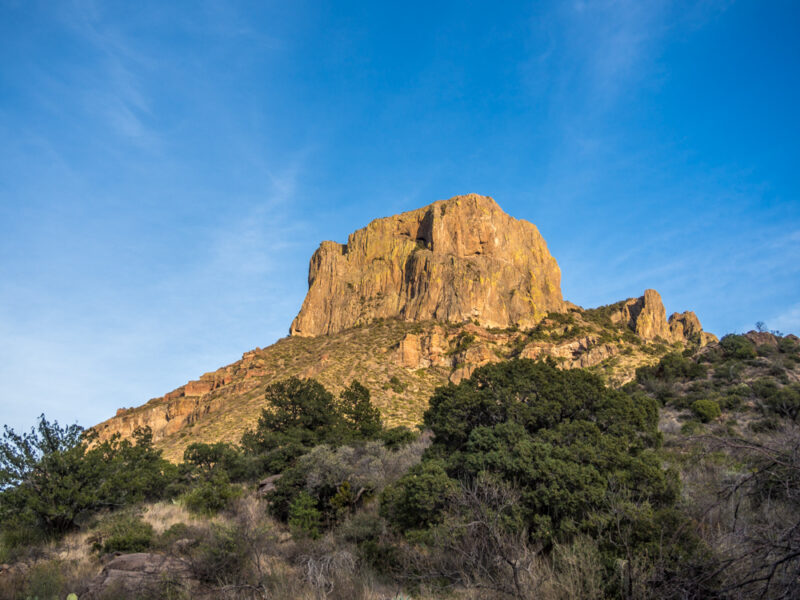 As you'll ready below, it takes a fair bit of time and effort to get to Big Bend National Park. And it's so big that this isn't really a single-day stop. If you're going to go all the way there, you might as well stay for a few days!
We spent a total of four nights and three days in Big Bend National Park, with one day for each of the three main sections of the park and a day on either end for travel. That was about right to see the park's highlights, especially with kids in tow. We did one longer hike each morning followed by a nature trail or other activity in the afternoon. Thankfully every drive through the park is a scenic drive!
Read more: Best things to do in Big Bend National Park – hikes and more
With a fourth day in the park, we probably would have crossed the border to Boquillas del Carmen, Mexico. The border is only open a few days of the week (variable during the year), so if that's an important activity for you make sure to allow enough time and schedule your visit for the right time during the week. Read all about crossing the border to Boquillas, Mexico.
Even if you aren't interested in taking a jaunt into Mexico, you could easily fill a fourth (or fifth or sixth) day with more beginning/intermediate hikes in Big Bend. There are so many wonderful ones to choose from!
How to get to Big Bend National Park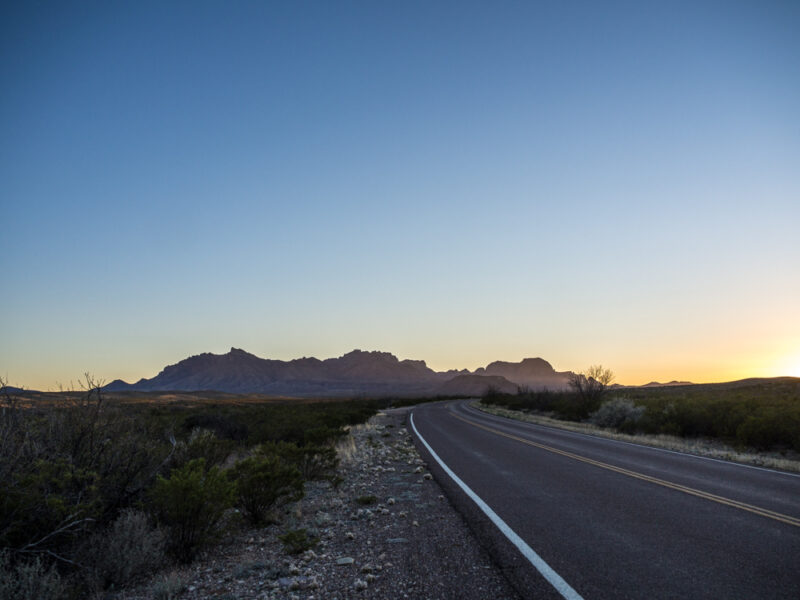 One of the charming (and challenging) things about Big Bend National Park is that it isn't close to anything. No matter how you get there, it'll take time and effort – which means that your fellow visitors will be equally dedicated! There's a great community spirit at Big Bend National Park because you know that everyone around you is a little crazy too. Is Big Bend National Park worth visiting? Absolutely.
Pro tip: Make the most of your time driving around Texas with the free RoadTrippers app. It helps you plan your route and shows you tons of unique stops along the way. Get $5 off RoadTrippers Plus with coupon BTR5QTP.
Where is Big Bend National Park?
Big Bend National Park is in southwest Texas, where the Rio Grande River makes a right angle as it snakes along the US-Mexico border. It is surrounded by (and includes part of) the vast Chihuahuan Desert and includes the entirety of the Chisos Mountains. It's the only national park to contain and entire mountain range!
Part of what makes Big Bend so special is the convergence of three distinct ecosystems: desert, mountain and river. But Big Bend is also a great place to find dinosaur fossils and Native American artifacts and markings, making it a well-rounded place for visitors of all interests.
The closest decent sized town is Marathon, which is about 90 minutes north of the park's main developed area. Marathon is your last opportunity for gas and restaurants other than the (more expensive) concessions within the park.
What kind of car do you need for Big Bend National Park?
We visited Big Bend on a road trip through the Southwest, so we drove my trusty 12 year old Honda CR-V. The vast majority of roads that visitors take in Big Bend are paved (and nicely paved, at that, since there are so few people). In total there are 100 miles of paved roads and 160 miles of unpaved roads, but it's pretty easy to avoid those unpaved roads.
You don't need a 4WD or other special car to explore Big Bend, but we were grateful to have the extra space. It's so hot in the park that you'll want to transport groceries, lunch, water and snacks in a cooler with ice packs if at all possible. You'll also want to have extra clothing layers, hiking packs and other gear in the car with you.
Therefore we recommend that if you're renting a car to visit Big Bend National Park, you size up a little compared to what you might normally try to get away with. For one or two people, a larger sedan should work fine. If you're bringing the family to Big Bend, consider a small SUV to have room for lots of extra food, water and gear.
Flights to Big Bend National Park
If you're short on time, the quickest way to get to Big Bend National Park is to fly to Midland-Odessa airport (code: MAF) and then drive 160 miles. Those flights almost all stop in Dallas, Houston, Phoenix, Las Vegas or Denver – so if you live in one of those cities, lucky you! Flights from those cities run as little as $250 roundtrip.
Those 160 miles only get you to the park entrance though. The main developed area of Big Bend National Park is in the Chisos Basin. Allow a total of 4 hours to get there once you've picked up your luggage and rental car. The best stops in between are Fort Stockton and Marathon.
Drive from El Paso to Big Bend National Park
In terms of a major city, El Paso may offer less expensive flights than Midland/Odessa and is the airport most Big Bend visitors fly into. The drive from El Paso to Big Bend National Park's entrance is 4.5 hours, but it's more like 5.5 hours to the Chisos Basin developed area.
There are three stops to consider making along the way:
–Marfa, home to funky art exhibitions, a fake Prada storefront and the Marfa lights instalation
–Alpine, a decent sized city (it even has a university) and home to the biggest grocery store you'll see en route (more on that later)
–Marathon, the closest city to Big Bend National Park and the nearest gas to the north end of the park
If you opt to stay in Terlingua (more on that below), it'll take you 5 hours to drive from El Paso. Terlingua has a few restaurants, a gas station and a general store for basic provisions.
Drive from San Antonio to Big Bend National Park
If you choose to drive from San Antonio to Big Bend National park it will take just under 7 hours to get to the Chisos Basin; from Austin to Big Bend will take 7.5 hours. Here are a few stops to consider along the way:
–Fort Stockton, the best option for groceries along the route unless you want to deviate to Alpine
–Marathon, the closest city to Big Bend National Park and the nearest gas to the north end of the park
From Fort Stockton to Chisos Basin is just over two hours, so don't forget the ice packs!
When is the best time to visit Big Bend National Park?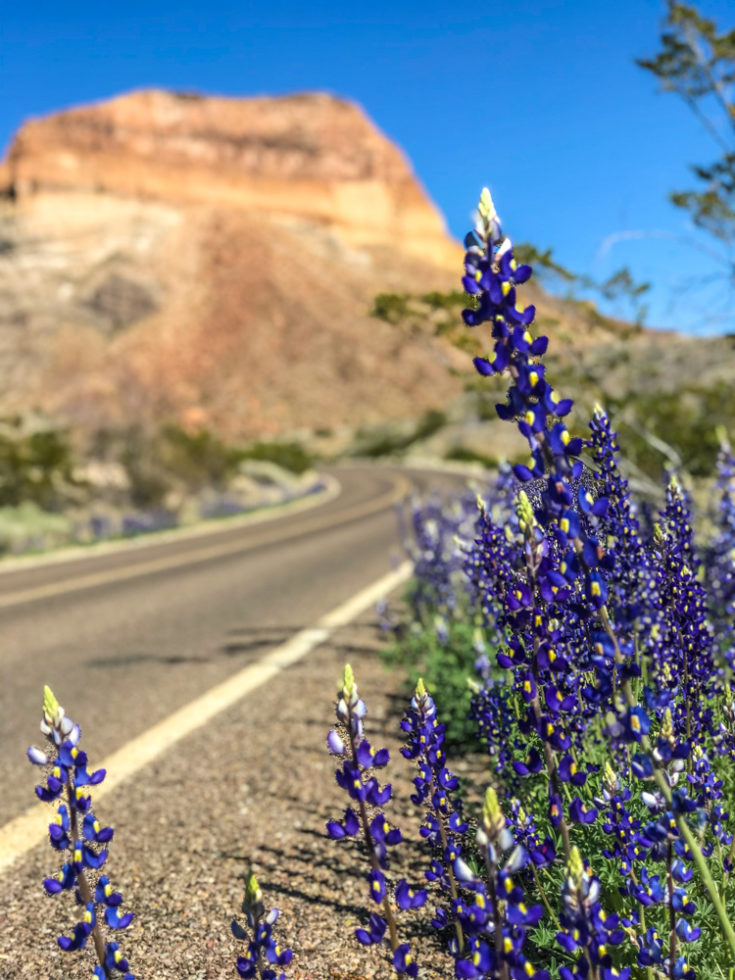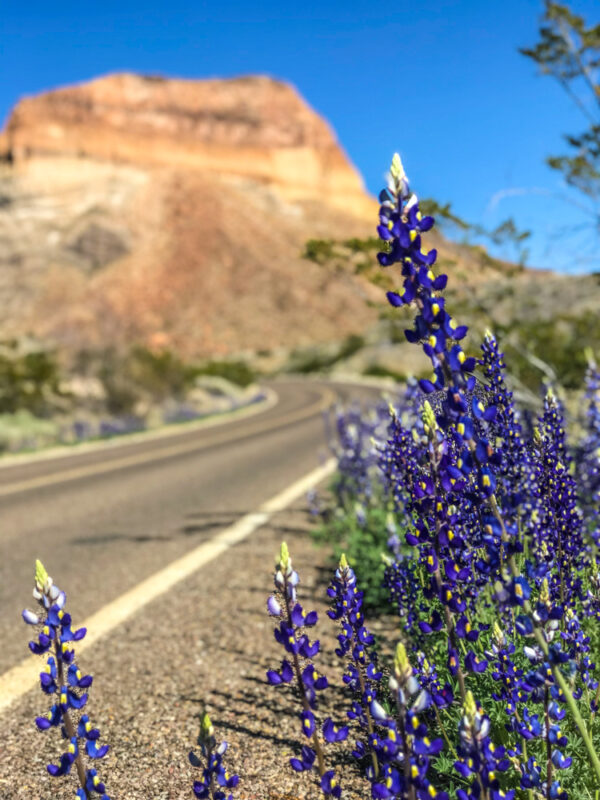 Here's the good news: no matter the time of year, there's always part of Big Bend that's ripe for exploring. The park's varied ecosystems we talked about above don't just give a choice of scenery, but to some extent you can choose your weather for the day! The best time to visit Big Bend National Park depends on two factors: your tolerance for heat and how early you're able to make arrangements and book your accommodations.
Expect the coolest temperatures in the Chisos Mountains, where you'll find coniferous forests as if you were in the Rockies. The Rio Grande Village is the hottest area of the park, and the most humid too. Finally the Chihuahuan desert is generally hot during the day but will cool quickly at night thanks to the extremely low humidity.
As you probably realize, summer is the most challenging time of year to visit Big Bend National Park. The heat can make it tough for all but the most dedicated visitors to take advantage of the park's endless offerings. Big Bend National Park temperatures peak in June, when the high is 97F and the low is 76F. That said, summer is the quietest time of year in Big Bend so you'll have the best luck scoring accommodations.
We got a hot tip from a park employee we met that early fall is an excellent time to visit! Big Bend weather that time of year can be more variable, with sunny skies giving way to the Southwest monsoon rains at the drop of a hat (June through September). But after each of those torrential rains, the landscape re-awakens with more wildflowers than you can imagine! She suggested that September provides a great balance of more tolerable temperatures (highs can still be in the high 80s), smaller crowds and stunning flora.
Big Bend temperatures in the daytime drop to the high 60s and low 70s in the coldest part of the year, but the winter also brings nights that can dip into the 40s. Still it's plenty warmer than much of the US, so winter break can be a busy time at the park and the lodge is often full at that time.
The busiest time of year in Big Bend National Park is March, when the weather is ideal, the wildflowers begin to bloom, and lots of students and families are traveling for spring break. We visited in late February and just beat the crowds while catching the beginning of wildflower season. If you're able to visit around that time of year, you won't regret it!
What to pack for Big Bend National Park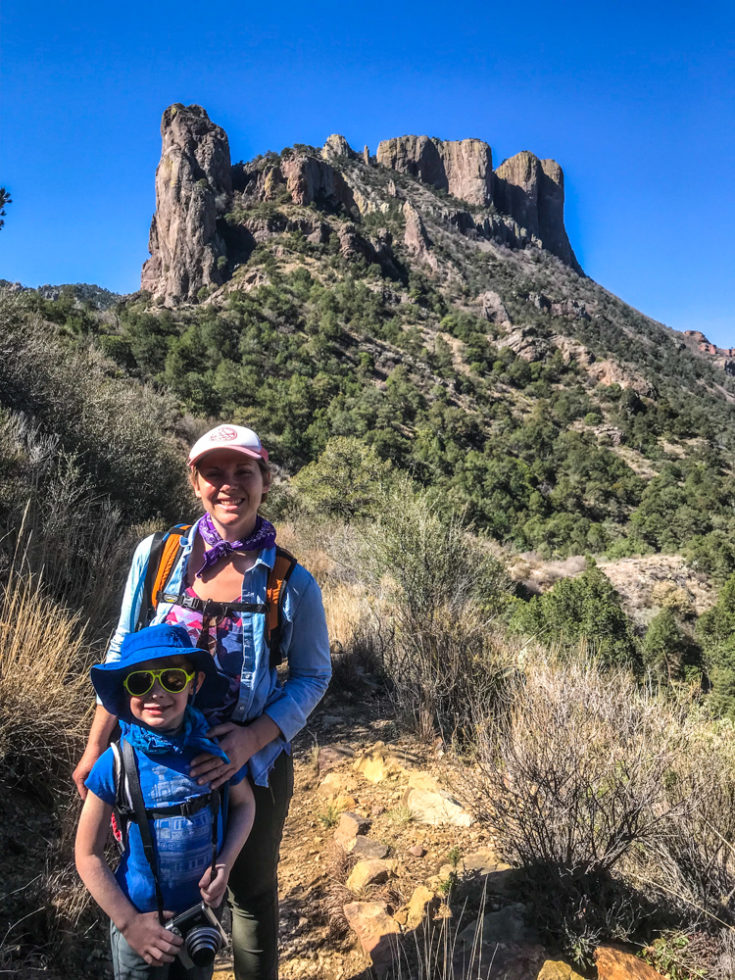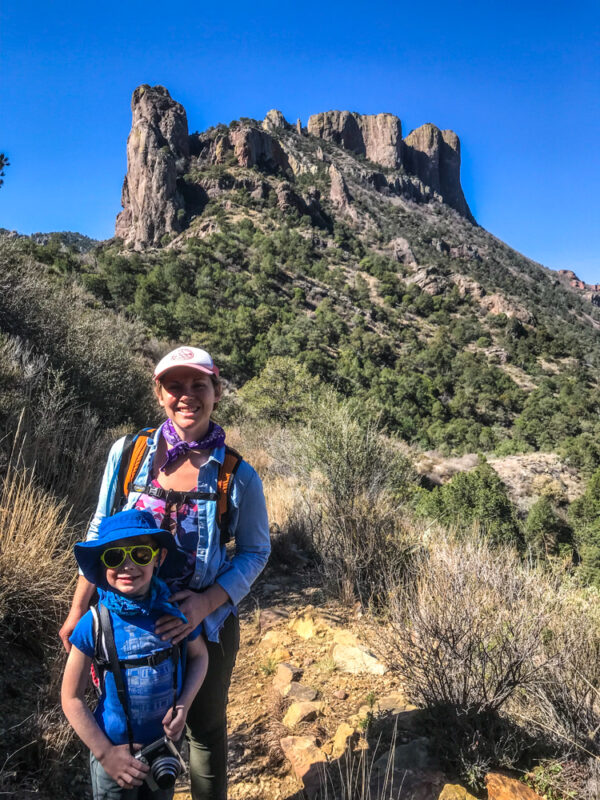 Clothing for Big Bend National Park
It's a National Park, folks. No need to get fancy! You'll want to bring your typical hiking clothes, but be particularly mindful of the desert sun – even in cooler times of the year. We visited in mid-March and all got a little pink despite our best efforts to reapply sunscreen throughout the day.
-Lightweight hiking pants ( his | hers | kids)
-Multiple layers – tank/short sleeve plus long sleeves for sun protection and warmth
-Hat – Sunday Afternoons has amazing options for the whole family
-Bandana or other neck protection (we love these!)
-Sunglasses
-Packable rain jacket July – September ( his | hers | boy | girl )
-Warmer jacket for nights October – June
-Hiking shoes – for most trails, running shoes or even trail runners will suffice (for a long trail like South Rim, proper boots are advisable)
-Casual but comfortable clothing for evenings
Additional gear for Big Bend National Park
-Hydration backpack ( his | hers | kids )
–Binoculars
–Camera with zoom lens – you'll want a camera with a flexible range to capture everything from sweeping vistas to some of the park's 400+ resident bird species
-Snacks
–Car charger and cables
–Sunscreen
–SPF lip balm
-Big cooler
-Ice packs
-Flashlight or headlamp
-A great carrier if visiting with a baby or toddler – this one packs better, but this one is more supportive for extra-long hikes and allows you to add a hydration bladder
Books and maps to bring to Big Bend
Consider picking up one or two of these books before your visit to Big Bend to add more context to your experience:
Where to get gas in Big Bend National Park (and nearby)
It's best to arrive in Big Bend National Park with a full tank of gas. The park is huge and you'll have to drive everywhere. Depending on which entrance to the park you use, you'll want to fill up at Alon in Marathon or in Terlingua. The station in Marathon is pretty small and may not be open "after hours" while the one in Terlingua is bigger and located next to a lodge and restaurant.
Once you're in the park, it's best to keep your tank above the halfway mark… just in case. There are stations in the park near Panther Junction (in the middle of the park, not far from the Chisos Basin developed area) and in Rio Grande Village. The Panther Junction gas station allows you to pay at the pump and is open 24 hours per day. The pumps at Rio Grande Village are only open when the camp store is open (since you have to pay inside).
Where to eat in Big Bend National Park (and nearby)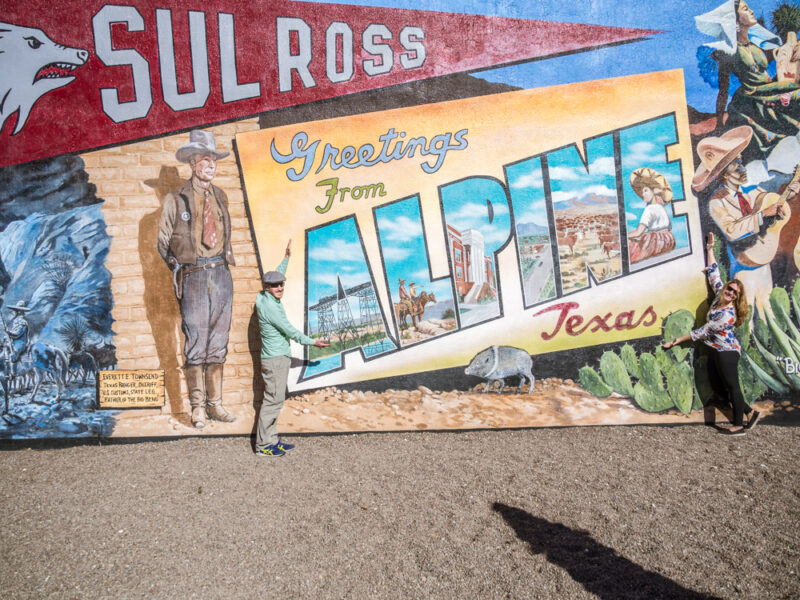 Among the complicated logistics of visiting Big Bend National Park can be what to do about food. There are two basic choices: make it yourself, or let someone else make it for you. We went with a "combination approach" and here are our suggestions.
Groceries in Big Bend National Park
If you want to prepare your own food at Big Bend National Park, you'll probably want to bring most of it in with you for a better selection and price. Coming from El Paso or Midlands/Odessa? Porter's in the town of Alpine is a full-sized supermarket. You'll find everything there! While you're there, pick up some ice or ice packs and a cooler to transport your perishable items and keep your lunches and water chilled during days out in the park.
We also recommend grabbing a few spare gallons of water – you can always refill jugs at the ranger stations, but you'll want to have plenty of water in the car with you as you drive around the park. We like to carry 2 gallons extra for our family in addition to our full CamelBaks (which total nearly 2 gallons) and a couple of small water bottles. There's nothing worse than running out of water in the desert!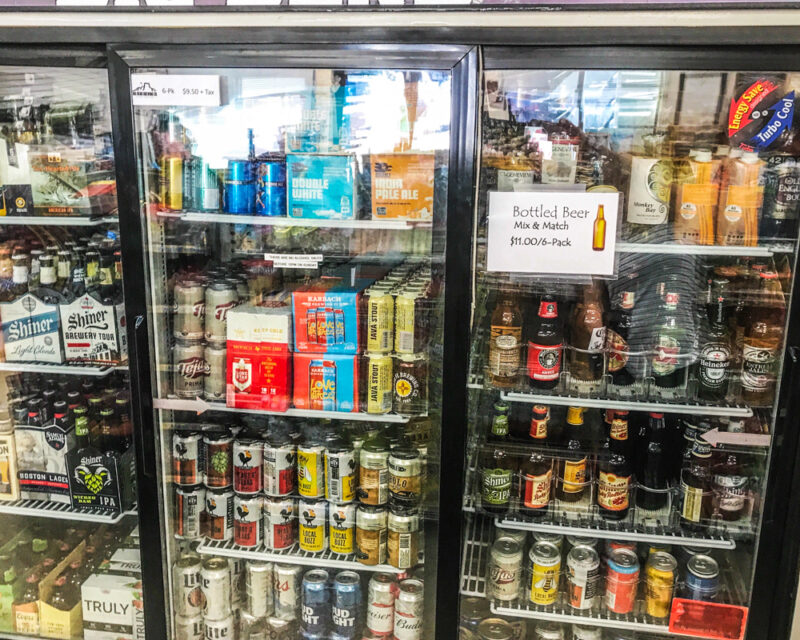 There's a decent range of provisions at the store in Chisos Basin, but stock can be inconsistent. You'll find a mix of dry, refrigerated and frozen foods. If you're trying to visit Big Bend on a budget and are staying in the lodges (more on that below), you can pick up something like frozen burritos for dinner and hummus for lunch.
Want to get more helpful travel tips like this? Sign up for our email list!
Restaurants in Big Bend National Park and nearby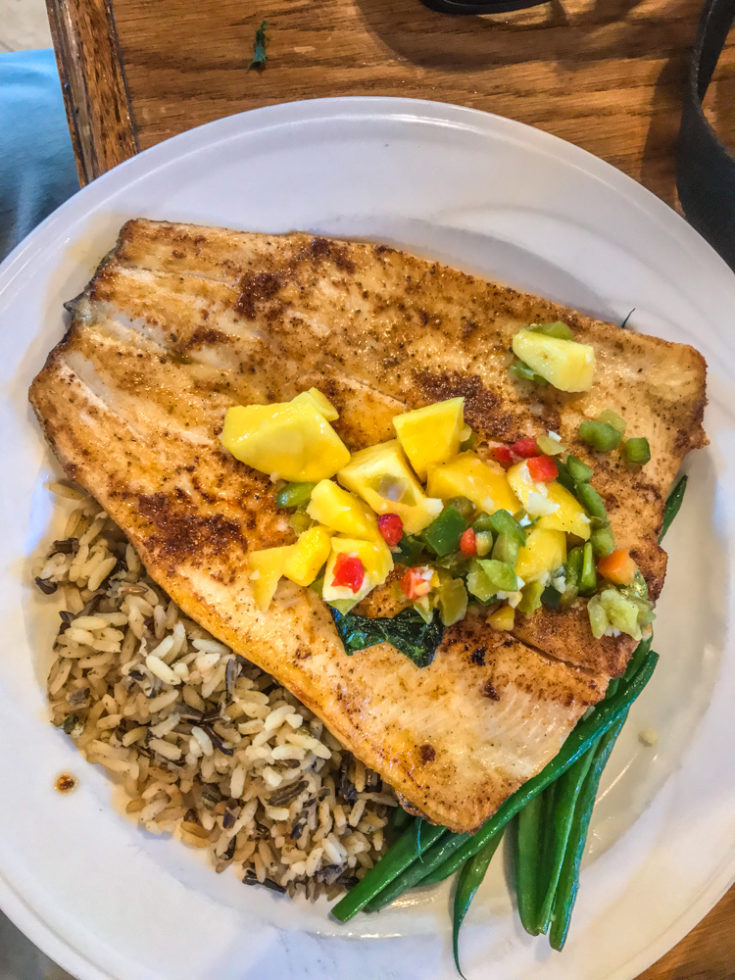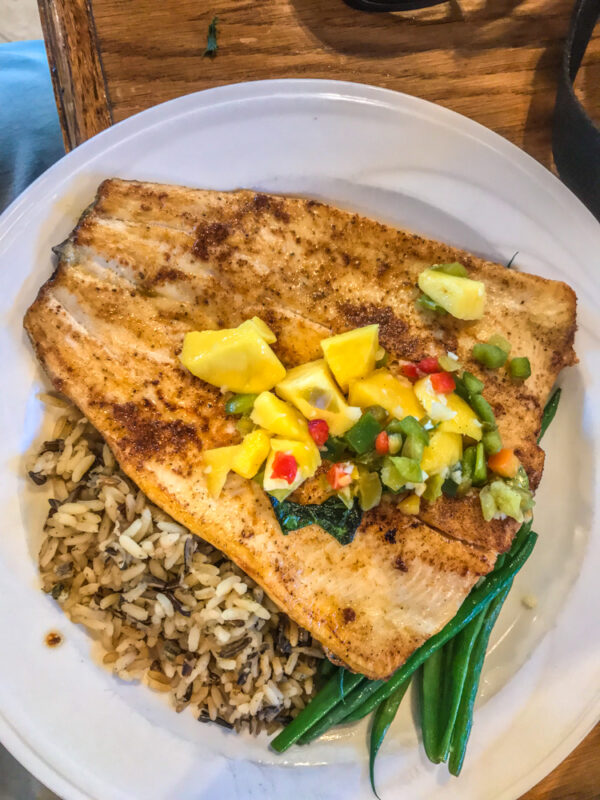 Chisos Mountain Lodge has a full-service restaurant that's open for all meals. The sunset views from the dining room are lovely! We ate a few dinners there during our stay. In our opinion the drinks and desserts were good (especially after a long day of hiking); the entrees were ok but not as fantastic as you'd hope for the prices. Unfortunately we did end up with one waiter who wasn't particularly friendly with us or our kids.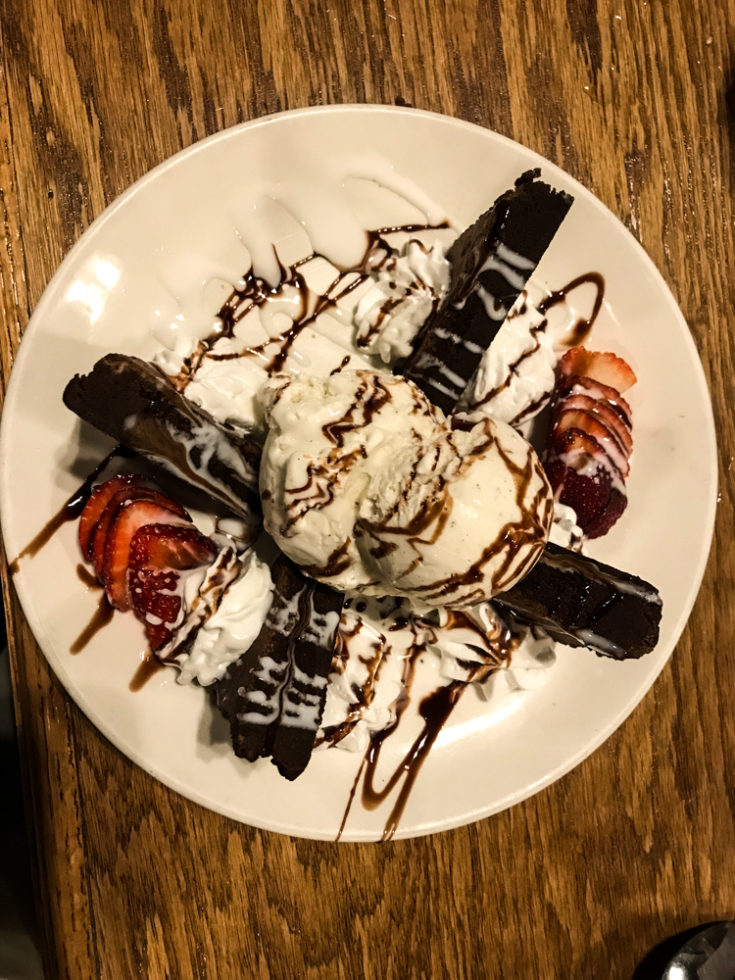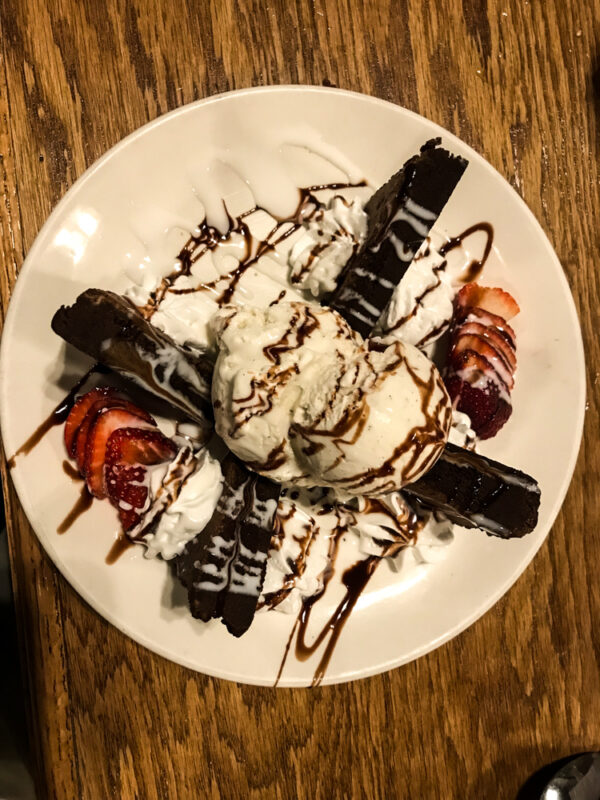 If you're driving in from Marathon, it's worth stopping at Big Bend Pizza. You can't miss it, and it'll be a great opportunity to fill up with gas before you continue on to Big Bend. The pizza is great, the price is reasonable and the owner is extremely friendly – she even had coloring packs for the kids.
Where to stay in Big Bend National Park and nearby
Securing lodging at Big Bend can be the toughest part of your travel planning. In our four nights visiting Big Bend, we ended up staying in three different places. Ugh. Not what we had wanted or planned for! But at least it gives me plenty of good intel to share with you.
***The Coronavirus pandemic of 2020 has resulted in many closures, including all lodging in Big Bend National Park at times. If you're planning to visit in the near future, be sure to thoroughly research your options.
Big Bend lodging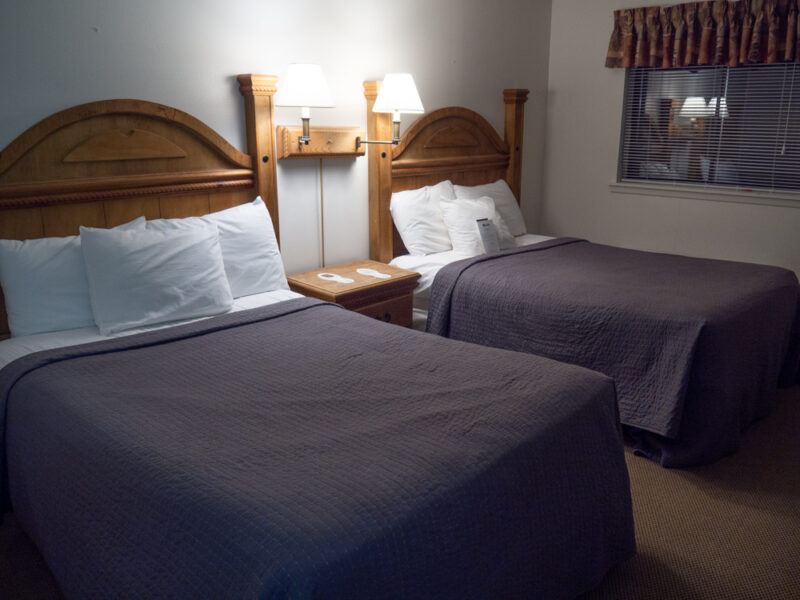 Chisos Mountain Lodge is the most convenient place to stay if you're visiting Big Bend and don't want to camp. It's reasonably priced, but books quickly – reservations open a year in advance, and committed visitors take advantage for prime times!
The best trick we found? If need be search one night at a time and book nights as you can. Once you have a room reserved, the reservations desk can try to shift things around to consolidate multiple reservations into a single room. Your reservation is fully cancelable until 72hrs in advance, so keep checking as your visit approaches to see if you can get exactly what you want.
If at all possible, try to stay in the Rio Grande rooms! They're much nicer than the Casa Grande rooms and have rear balconies with stunning mountain views. It's the perfect spot for trying our hand at astrophotography.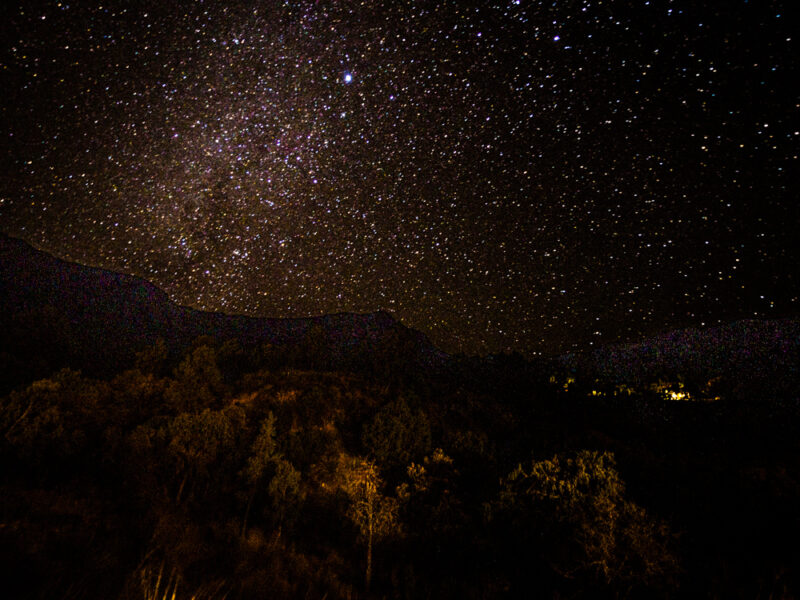 Both room types have coffee pots, small refrigerators (with a tiny freezer section), and microwaves. Since we had brought our own can opener, cutting board, paring knife and other equipment we were able to prepare some basic meals.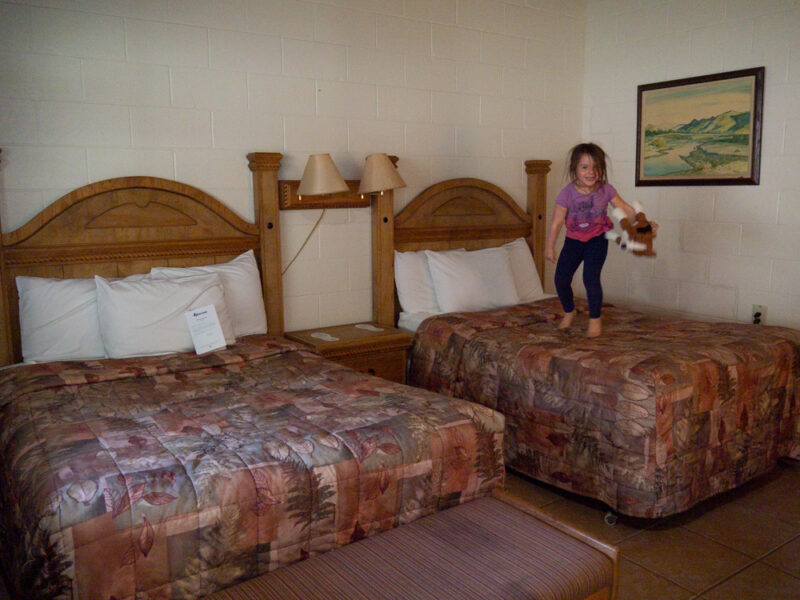 There's no WiFi in rooms and internet is spotty throughout the park. But registration is in the gift shop and open until 11pm, so you can always sit on one of their benches and take advantage of the decent WiFi if you need to get some work done. But even that isn't great, so don't bank on being able to upload large videos or anything.
Terlingua lodging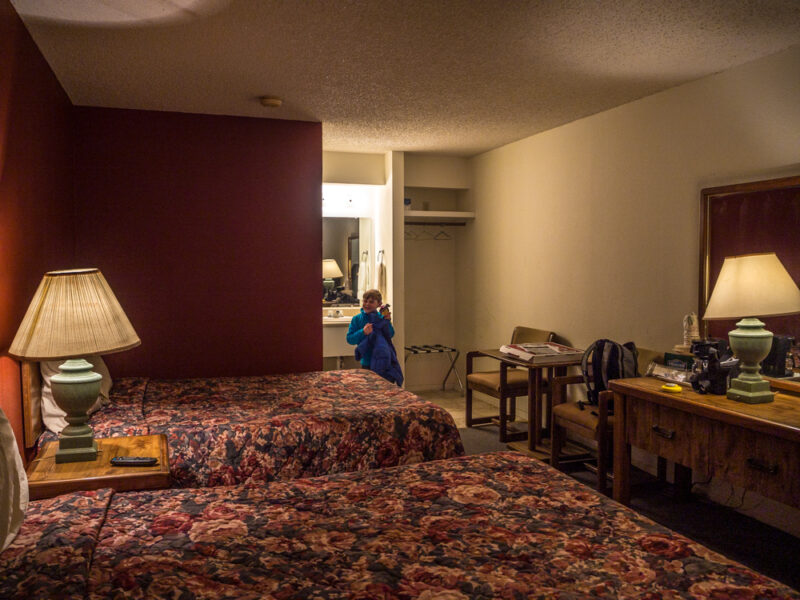 Terlingua is decent for getting into the park quickly since it's just 3 miles from the western park entrance. It's just over 30 minutes from The Motor Inn to Panther Junction in the middle of the park and almost an hour to the Castolon Visitors Center (but that takes you along the lovely Ross Maxwell Scenic Drive).
Due to a mistake by the registration desk at Chisos Mountain Lodge, we ended up spending our first night at sister property Big Bend Resort & Adventures in Terlingua. "Resort" is a bit of a stretch, folks. The Motor Inn is extremely basic, though the location within Terlingua is fine. The price is almost as much as Chicos Mountain Lodge, and for the extra $20 I recommend staying in the park.
Terlingua has a range of other accommodation options, ranging from Airbnbs to teepees to bubbles! Be sure to read listings closely though… When we explored vacation rentals and Airbnbs in Terlingua, we found that some had only kitchenettes and others had only detached bathhouses; those aren't necessarily bad, just be sure you know what you're signing up for! Check out these unique places to stay in Terlingua:
Use the interactive map to find vacation rentals and hotels near Big Bend National Park, Texas
---
Ranger programs at Big Bend National Park ranger stations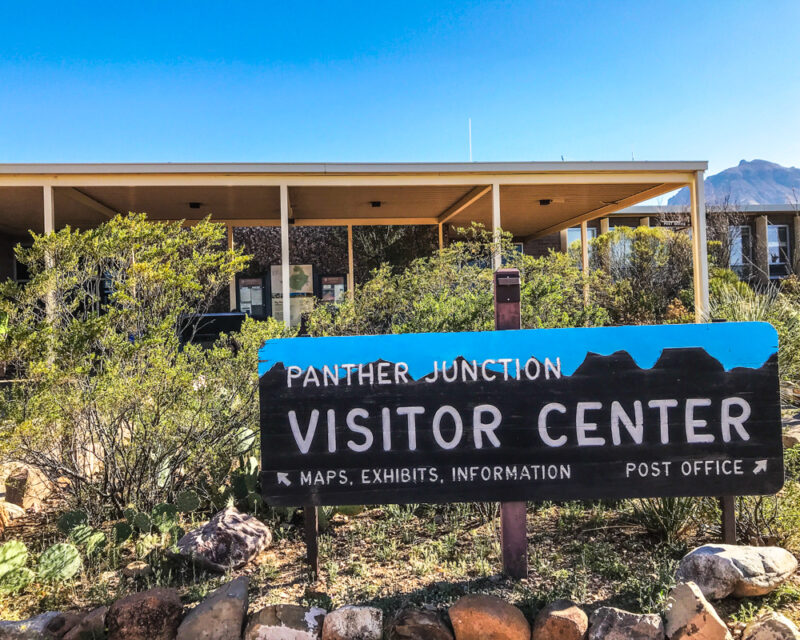 Big Bend National Park visitor centers
Big Bend has a whopping 5 visitors centers – you can read about them and check hours here. The main visitor center is Panther Junction and you'll probably end up there a few times during your trip to Big Bend. That's the only location where they show the park movie and it also has the biggest (nicest) bookstore. There's even a nature trail adjacent to the building!
Fortunately you can also get guidance from a ranger or volunteer at Persimmon Gap, Rio Grande Village, Castolon or Chisos Basin. If you're staying at the Chisos Mountain Lodge, the Chisos Basin visitor center is conveniently located in the same parking lot next to the store. It's a great place to get quick information before heading out for a hike and to refill your water for the day.
I recommend stopping at every visitor center you pass by to stamp your National Parks passport! Each one has a different stamp, and some have "special stamps" too. Grab your passport here to start tracking your National Parks journey.
Read more: Best things to do in Big Bend National Park – hikes and more
Where to go next
If you're interested in extending your trip to Big Bend into other Southwest destinations, consider these options:
New Mexico:
Texas:
Arizona:
Still planning? Pin this for later!