We've always wanted to visit New Mexico and during our family gap year(s) we managed to go twice! The Land of Enchantment didn't disappoint, and Albuquerque will make a great stop on your family's Southwest road trip. In this guide will show you fun things to do in Albuquerque with kids, where to stay in Albuquerque with kids and (of course) the best places to eat in Albuquerque with kids.
Pro tip: Albuquerque is easiest to see with your own set of wheels. We like to book our car through RentalCars.com thanks to the discounted prices, easy comparison across brands and lenient cancellation policy. Check prices for your trip here.
Where to stay in Albuquerque with kids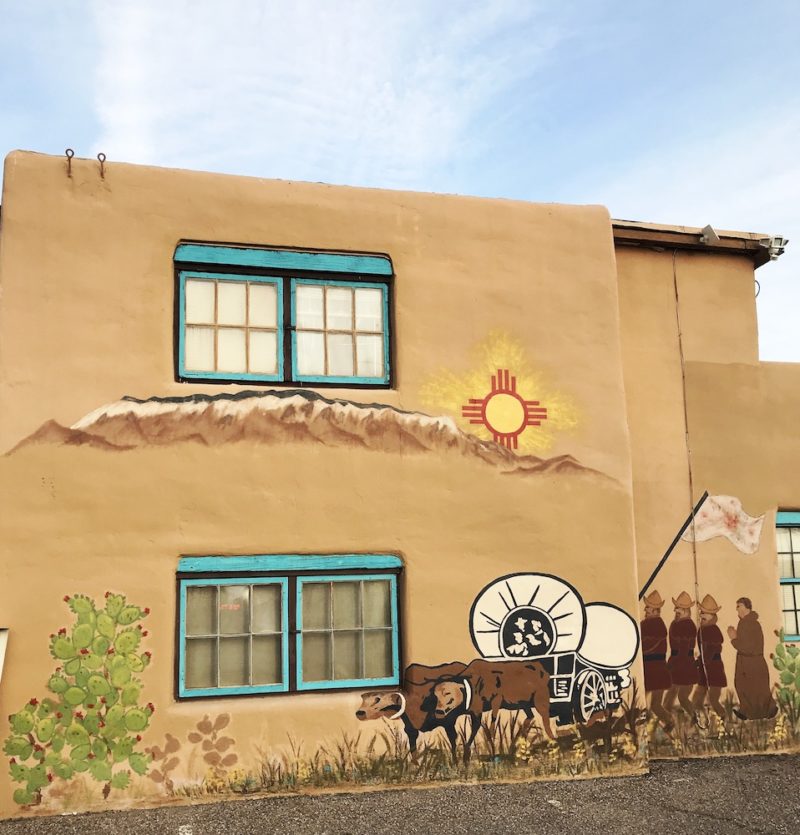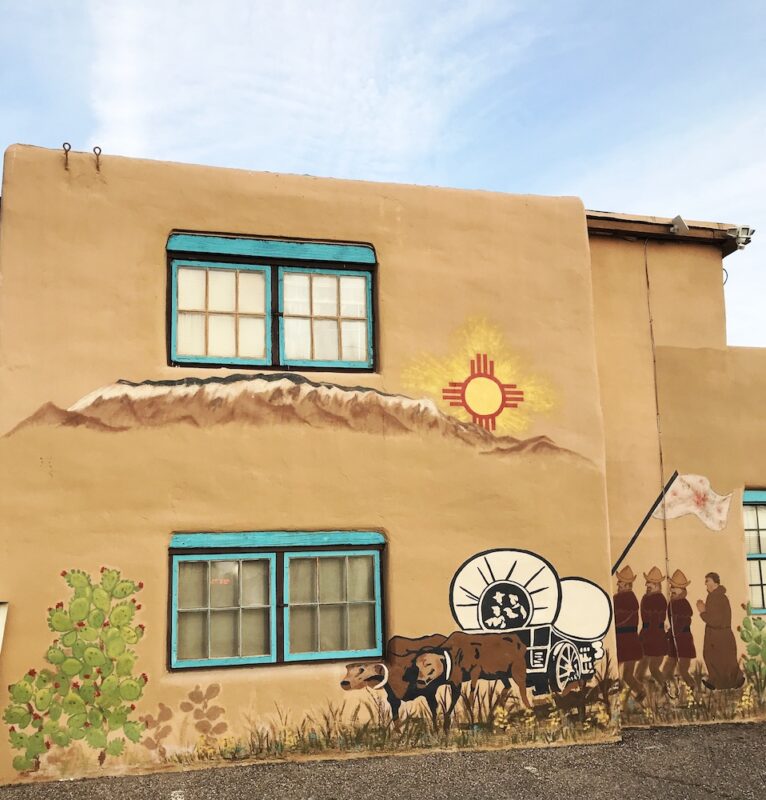 Albuquerque isn't a huge city, but staying in the downtown area will give you convenient access to most tourist sites, plus you'll be surrounded by fantastic restaurants. The great news is that hotels and Airbnbs in Albuquerque are generally very affordable!
Family-friendly hotels in Albuquerque
Airbnb in Albuquerque
Albuquerque also has some great family-friendly Airbnbs and vacation rentals available! There are extremely affordable options, traditional adobes and casitas, modern condos… you'll find it all.
I connected with fellow-mom Shóna through a family travel group on Facebook and she's done an amazing job turning her old home into the ultimate family-friendly place to stay in Albuquerque! It has three bedrooms and comes stocked with a pack n play, high chair, kids dishes and more. Click here to see more pictures and check availability for your dates.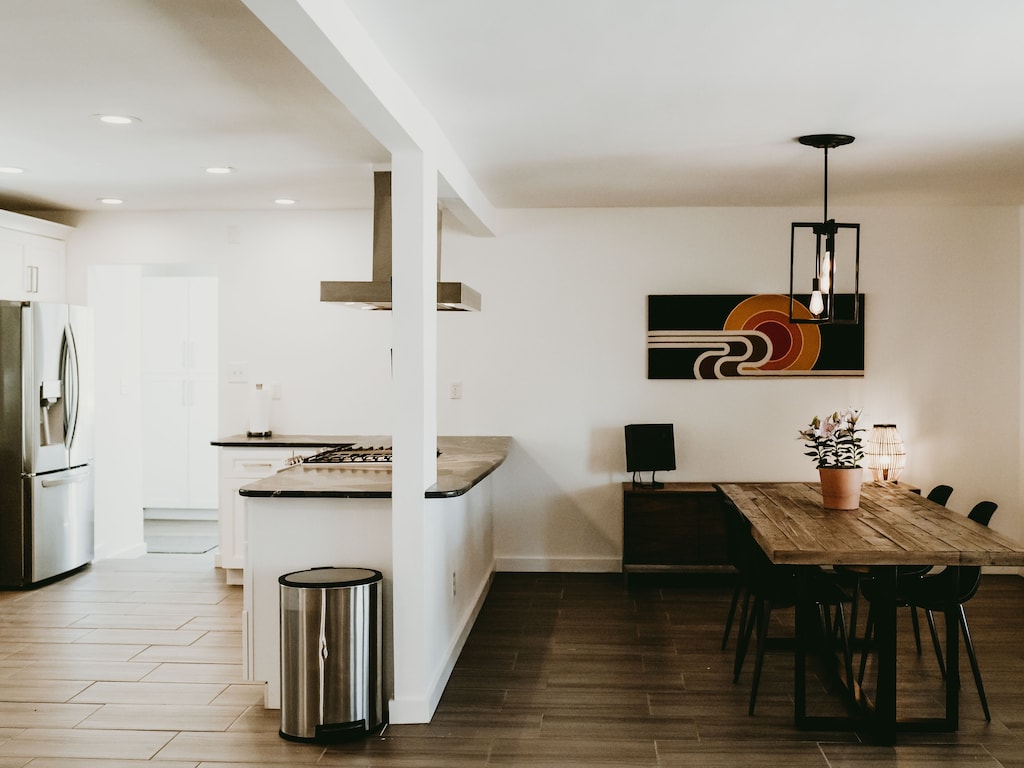 Use the interactive map to find vacation rentals and hotels in Albuquerque
---
Family-friendly resort near Albuquerque
If you're looking for an extra-special place to stay near Albuquerque, check out the Hyatt Regency Tamaya Resort. It's a little outside of the city so not as convenient for some of the sites, but it more than makes up in terms of sights. You'll be nestled in the stunning scenery of the Southwest on the Santa Ana Pueblo. The Pueblo actually owns the resort, though it's operated by Hyatt.
Beyond the typical resort amenities, the focus at Hyatt Regency Tamaya is about appreciating and soaking up the Tamayame culture. You can do that through a range of free and paid family activities and (in non-pandemic times) kids can have their very own immersive experience thanks to Camp Hyatt – parents, I won't judge you for spending an afternoon at the Tamaya Mist Spa, horseback riding along the trails or even going for a hot air balloon ride.
---
Petroglyph National Monument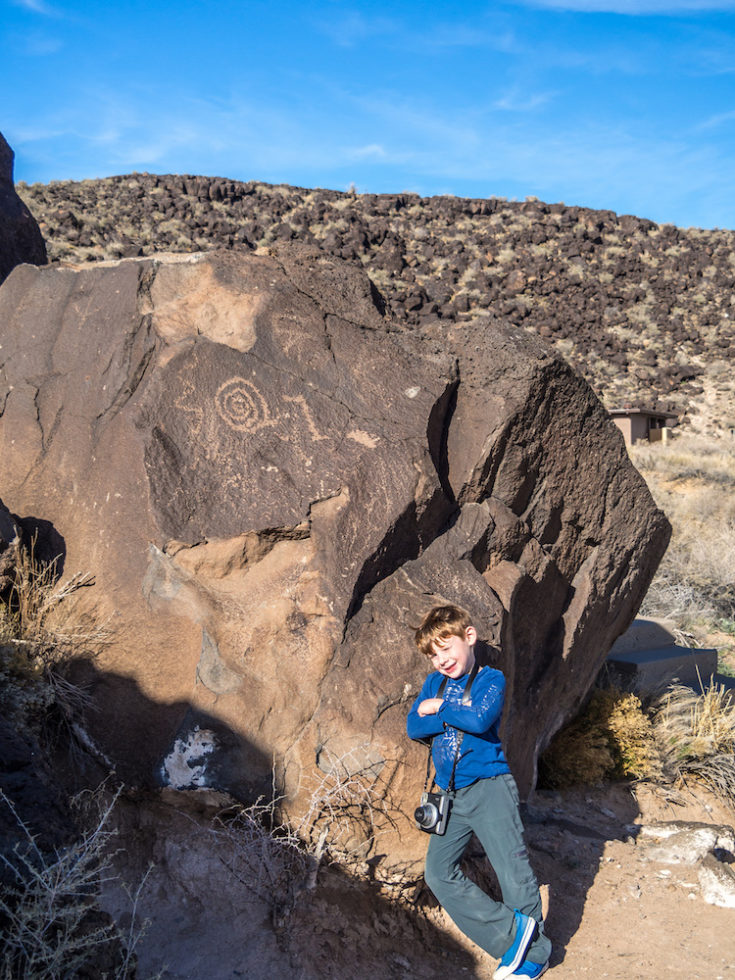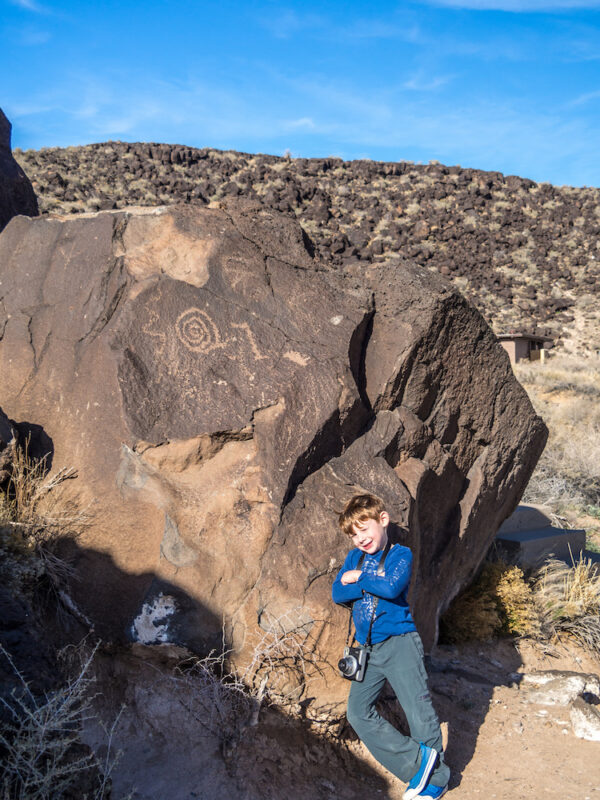 On our second swing through Albuquerque we visited Petroglyph National Monument, and we were blown away! It's one of the largest petroglyph sites in North America, but so easily accessible from the center of Albuquerque. Petroglyph NM is one of the most unique things to do in Albuquerque – you won't find anything else quite like it in the world.
Start your day at the visitors center, which has an excellent video with information about the site's history and its importance to the local Indigenous community. You'll also learn about the grass-roots preservation effort that led to the Monument's formation.
There are a few trails to traverse to see the best petroglyphs in the park, and they were all manageable by our 4 year old. Some are even accessible enough for a jogging stroller.
There's an excellent Junior Ranger program, and the ranger took plenty of time to sit outside with our kids and talk about what they'd learned. Don't skip it!
If your trip to Albuquerque is part of a larger Western US roadtrip, make sure to pick up a National Parks pass. It'll grant you unlimited admission to all US National Parks, Monuments, Historic Sites, Seashores and more for a year. We've purchased it for several years in a row and it's always paid for itself after just 2-3 site visits!
Pro tip: Make the most of your time driving around New Mexico with the free RoadTrippers app. It helps you plan your route and shows you tons of unique stops along the way. Get $5 off RoadTrippers Plus with coupon BTR5QTP.
ABQ BioPark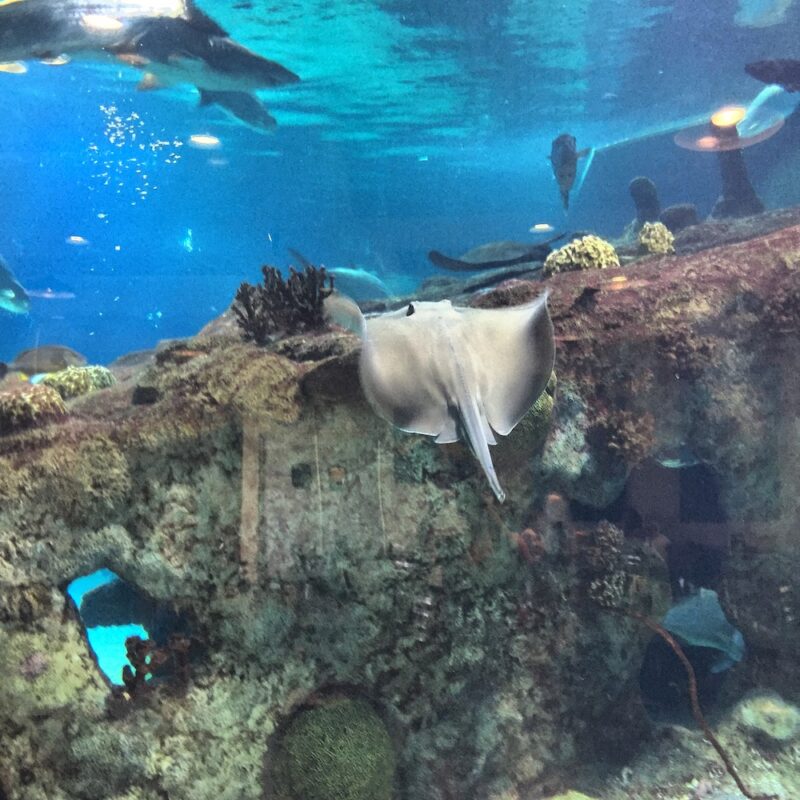 We all loved the ABQ BioPark – one huge property that includes the zoo, a small aquarium and beautiful botanical gardens. The zoo was very nice – each section representing different regions of the world also had architecture and design elements to match. There's also a little train within the zoo that can take you to different areas or to the other location, where the gardens and aquarium are located. It tops our list of the best toddler activities in Albuquerque.
Some advice from the trenches… First, bring your membership card from an AZA-affiliated zoo or aquarium to receive half off admission. Even better, arriving before noon will allow you to purchase a combo ticket to all three attractions and unlimited train rides — and you can stack your 50% discount on top of that! Once you get your ticket, you're welcome to stay and enjoy ABQ Biopark all day.
Second, the train connecting the zoo to the gardens and aquarium runs infrequently and closes much earlier than you would expect. If you park at the ABQ Biopark zoo, immediately make your way to the (poorly marked) train station all the way at the back and take it to the garden and aquarium. You can spend the morning exploring that side and then take the train back to the zoo before it closes for the day. TRUST ME. We may or may not have walked the mile or two between them in the blazing mid-day sun, and then sent Ronnie back in an Uber to get our car. Maybe.
Third, make sure to grab lunch or snack at the aquarium cafe – trust me!!! I don't normally like to "waste time" sitting down for a leisurely and overpriced lunch in places like that, but it's probably the best view you'll find in any cafe.
Sandia Peak Tramway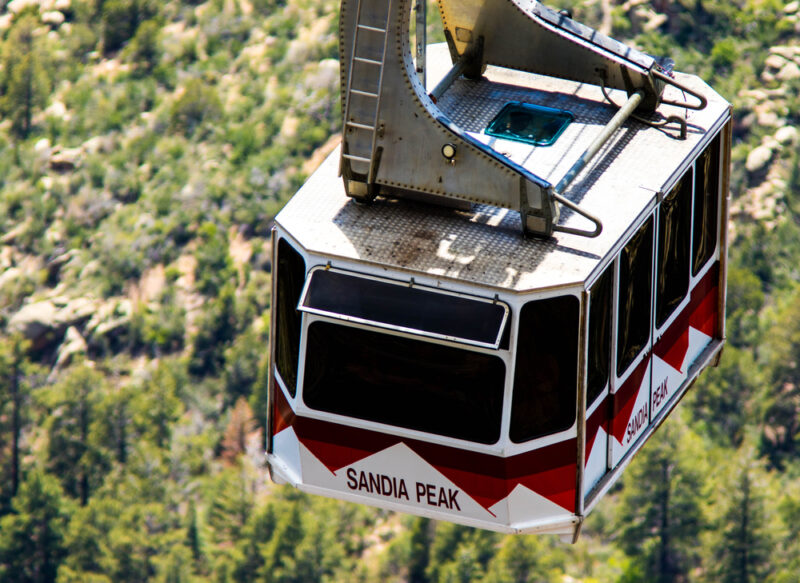 We've heard that the Sandia Peak Tramway is a great place to visit; after all, it's one of the main Albuquerque attractions. Fortunately it's not far from town, as we ended up going and then bailing on the tram ride itself. The view even from the point of embarkation is lovely, but at the time of our visit there were enormous fires burning in Canada and the Pacific Northwest. Shockingly, the smoke and particulate from those fires made its way all the way to the southwestern deserts and caused terrible visibility.
Thankfully the kid working at the tramway was honest with us that the (expensive) view from the top wouldn't be much better than the view from the base (which is already part-way up a mountain). So we passed on the tramway, but we did stick around and enjoy some lovely sunset views. Whether or not you opt to go up the Tramway, make a stop here to enjoy the views.
If the sky is clear on your trip to Albuquerque, consider heading up to the top for sweeping views of the rift valley below! It's beautiful at sunset and in the winter you can even ski from the top.
Day trip to Santa Fe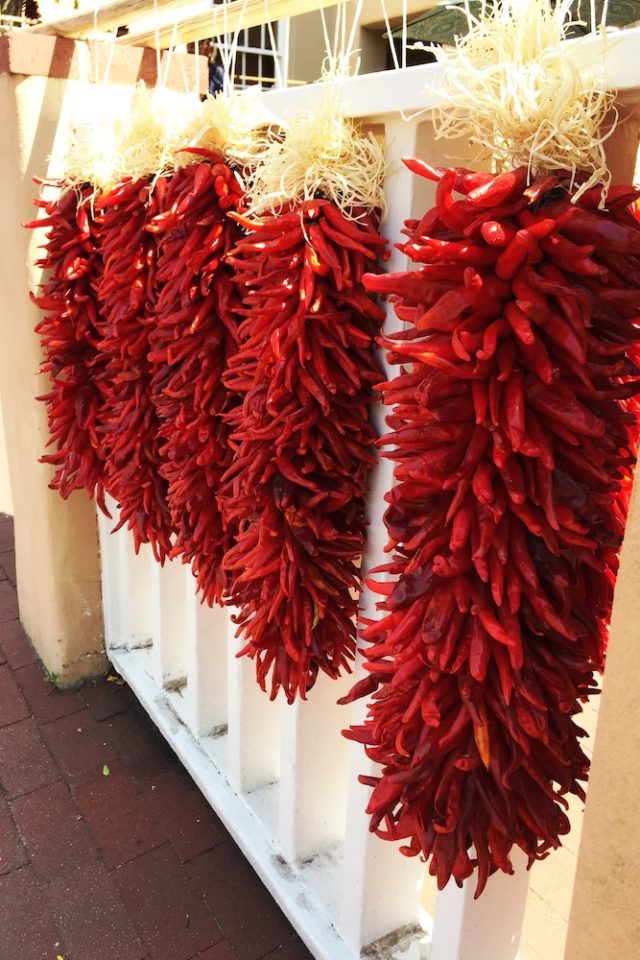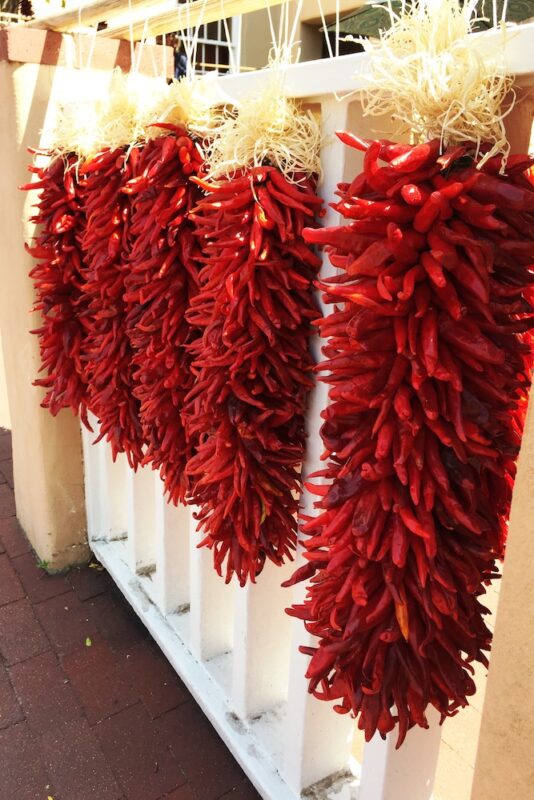 Wondering what to do in Albuquerque after you've seen the major sites? Santa Fe is just a quick 1 hour drive from Albuquerque. You can alternatively take the Rail Runner train, but we opted to drive since we had our car and the train offers a very limited schedule.
While in Santa Fe, we did exactly what we were supposed to do… ate delicious New Mexican food, took pictures of chilies drying in the sun, wandered in and out of small galleries and shops, and bought some artisanal chocolates. The main plaza of Santa Fe is a wonderful place to explore and amble without a need for direction. On your visit, don't miss the massive Cathedral Basilica of St. Francis of Assisi – if there's no mass going on, you can walk in and explore on your own with the brochure near the entrance as your guide.
Spend an hour at the lovely and right-sized Georgia O'Keefe museum. I've always loved her work, but surprisingly had never seen her travel works from the last stage of her career. My favorite painting was from Machu Picchu – the woman climbed Machu Picchu at 70 years old, and then went on to paint it with such vibrancy that you can't help but want to book a ticket to Peru.
If the timing works right, try to visit one of the local glass-blowing studios to see the artisans at work.
Another popular Santa Fe attraction is Meow Wolf, described by the owners as one huge, private, touchable art installation. It's cool on the surface, I'll be honest and say YMMV on this one. We found it to be sensory overload (and not in a good way), but many people love it. It's also very expensive at $30 per adults and $20 per kid.
Albuquerque Hot Air Balloon Fiesta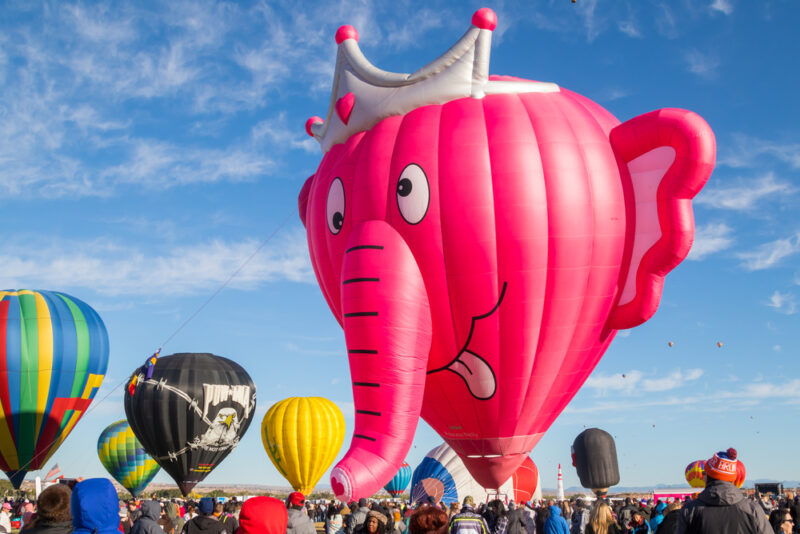 Sadly we missed Albuquerque's International Balloon Fiesta by a few weeks! It's the largest hot air balloon festival in the world. It's held in early October and tickets go on sale in April. There are lots of different events at all times of day, but if you want to attend it's best to start planning early.
Where to eat in Albuquerque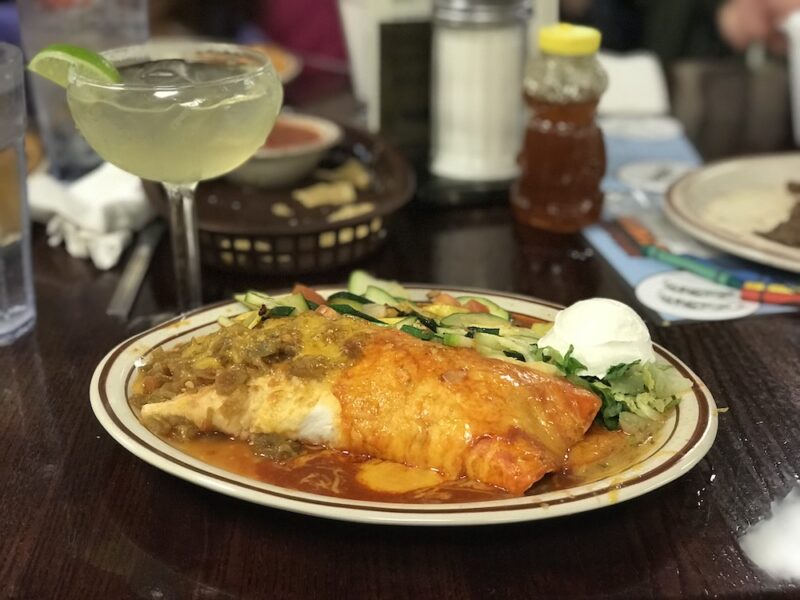 Frontier Restaurant
On our first night in town, we ate at the venerable Frontier Restaurant. You can't beat it for affordable New Mexican comfort food. The chicken enchiladas were amazing, plus the also have kid staples like chicken tenders for the less adventurous. The menu is so big that it can be a little overwhelming, so scope it out online before you go. I've read reports of lines wrapping around the restaurant's main dining room, but we went a little early and had no issue. The ambiance is a little reminiscent of a fast food restaurant, but don't let that put you off of this great spot for cheap eats.
El Patio de Albuquerque
Want an upgrade to food and ambiance that won't break the bank? Head over to El Patio, where the service is friendly, the patio charms with its lights strung overhead, the food is outstanding and the sopapillas are hot and puffy. If you have just one night in Albuquerque, eat at El Patio.
Monroe's Restaurant
We found Monroe's Restaurant on our second visit to Albuquerque and we're so glad we did! It's something of a local establishment, serving up high-quality New Mexican comfort food for the last half-century. It's not at all fancy, but the food is delicious, the portions are enormous and the prices are reasonable.
Green Jeans Farmery
If you're looking for the ultimate in kid-friendly family outing for the evening, look no further than Green Jeans Farmery. This indoor/outdoor space made from upcycled shipping containers has lots of restaurants to choose from, including an excellent pizza place and an ice cream shop. More importantly, all of the dining options are built around a shared courtyard with picnic tables, a fire pit and a posh house. Yep, a play house. Our kids scarfed their pizza and then headed 10ft away to burn off their extra energy and make some new friends while we continued to sit an enjoy our dinner and adult beverages. You absolutely can't beat that! Oh, and the pizza was excellent.
---
If you're interested in extending your family trip to New Mexico into other Southwest destinations, consider these options:
New Mexico:
Texas:
Arizona:
Colorado:
Utah:
Still planning? Pin it for later!