Austin isn't a city with just one big "blockbuster" attraction that you have to check off your list. No, it's a city to explore and linger through as you soak up its vibe – a distinct blend of down-home Texas and progressive high-tech hipster ethos.
It's a city that just beckons you to come and hang out, even if you're planning Austin family trip. Because for as much as Austin is known for great night life and fun bachelorette parties, there are so many fantastic things to do in Austin Texas with kids. Even better, these Austin family-friendly attractions will appeal to kids and parents alike.
Use this guide to jumpstart your Austin family vacation planning. You'll find helpful info on family-friendly places to stay in Austin, the best things to do with kids in Austin, where to eat with kids in Austin and great add-ons to consider for a longer visit to the region.
Where to stay in Austin with kids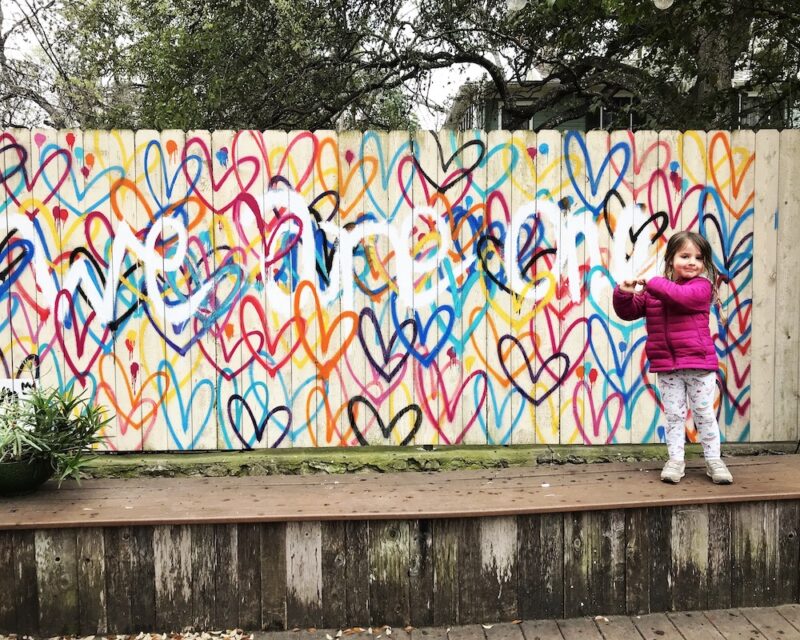 While renting a car in Austin is the best way for a family to see everything the city and region have to offer, we loved staying just a few blocks from the famous South Congress Street. Families who want to stay in the heart of Austin will love this vacation rental in Travis Heights, right next to South Congress Street. With two light-filled bedrooms and a spacious yard, it's ideal for families. We stayed in the neighborhood for a week and it was the perfect home base. Click here to check prices for your dates.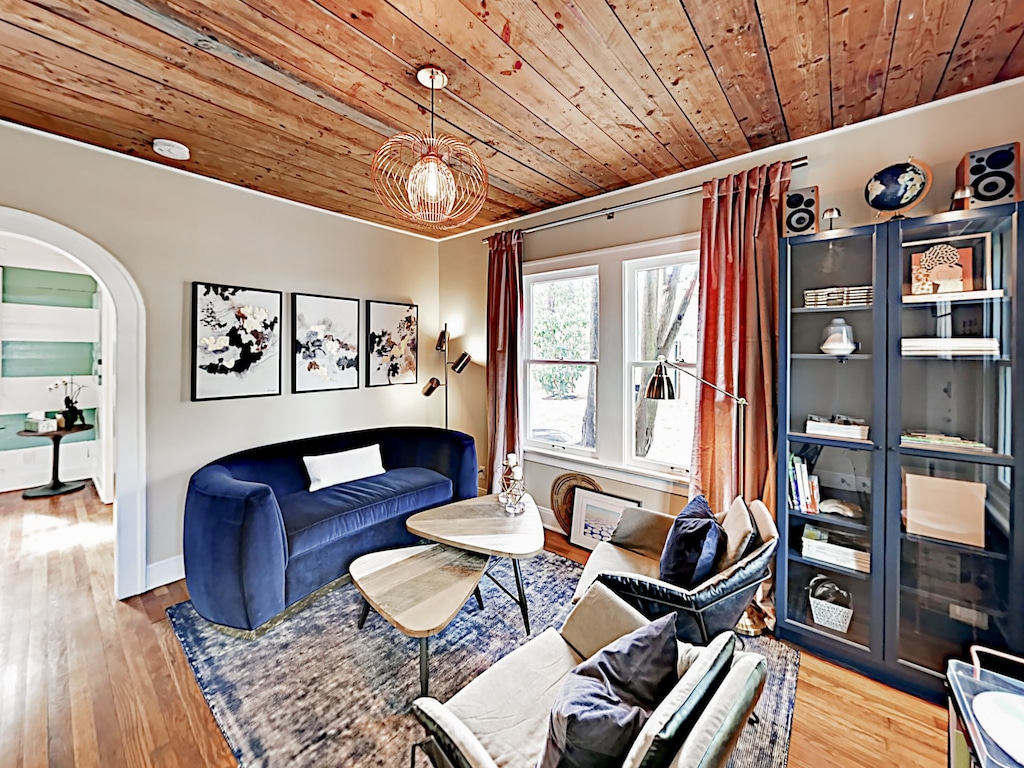 For families who prefer hotel stays, the Embassy Suites right along the riverfront may be a great option. It's in a convenient location and offers suites and a full hot breakfast every day. Check prices for your dates here.
If you'd rather stay outside the city to get a more resort-like feel, stay at the Hyatt Regency Lost Pines for the ultimate Texas family vacation. It's about 30 minutes from downtown, so it's a better choice for those who want to spend lots of time out in the country.
This hotel offers activities for kids all day long, a kids club so you can escape to the on-site spa, and an outdoor pool and lazy river! Plus, you'll get to meet the alpacas, and even sit on a longhorn. A stay at the Hyatt Regency Lost Pines is the highlight of plenty of family vacations in Texas – it's often considered one of the best family resorts in Texas.
Use the interactive map to find vacation rentals and hotels in Austin, Texas
---
Pro tip: Make the most of your time driving around Texas with the free RoadTrippers app. It helps you plan your route and shows you tons of unique stops along the way. Get $5 off RoadTrippers Plus with coupon BTR5QTP.
---
Best things to do in Austin with kids
Whether you're spending a weekend in Austin with kids or have a longer trip planned, you'll want to hit up some of these family-friendly Austin attractions to get a taste of what the city has to offer.
Go window shopping on South Congress Street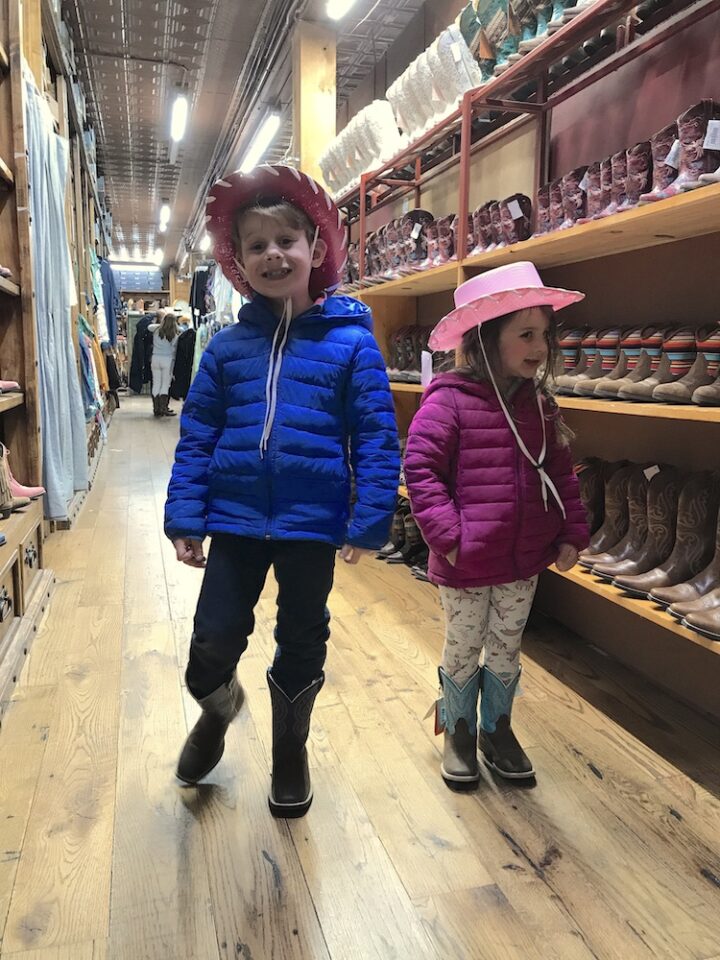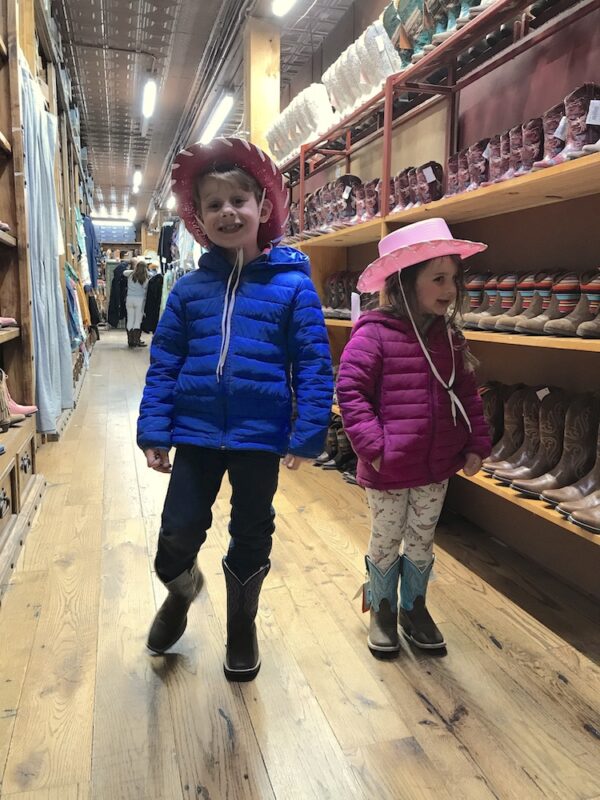 One of the most kid-friendly things to do in Austin is strolling along South Congress Street (sometimes referred to as "SoCo") for some browsing and light shopping. There's a huge range of stores that are sure to keep the whole family's attention!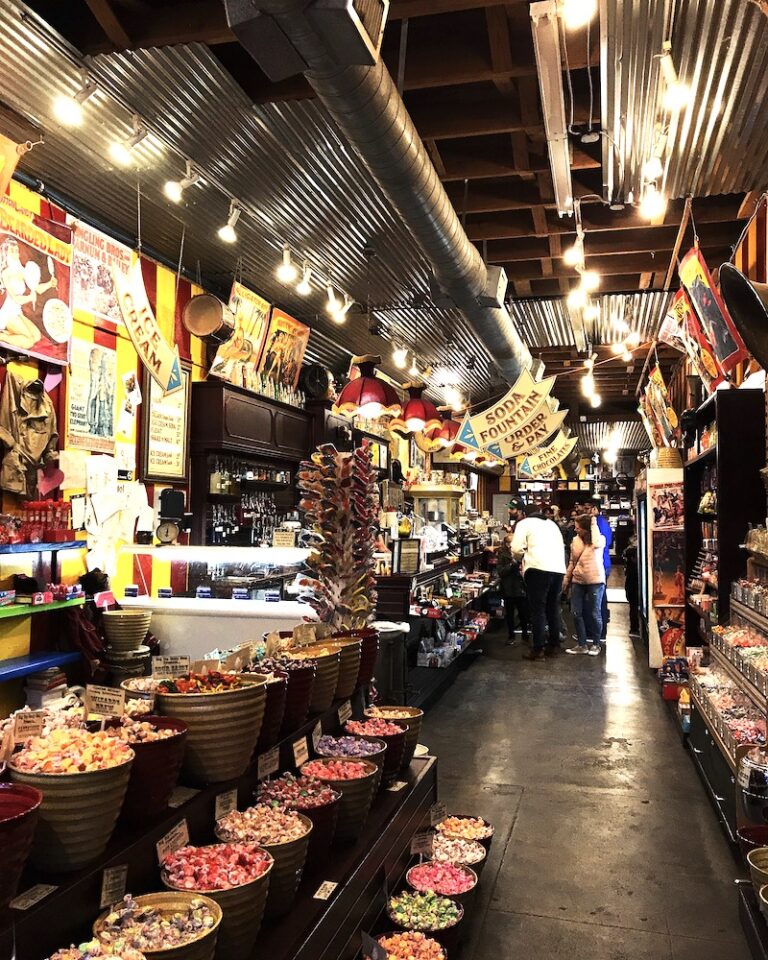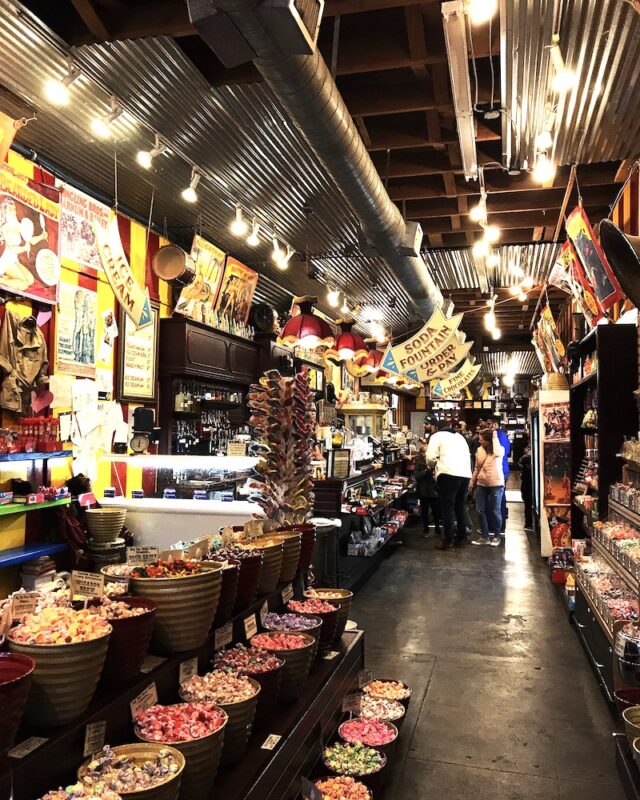 Above you can see that we had a great time scoping the options at Allen's Boots. Some of our other favorite kid-friendly stores on South Congress are Big Top Candy Shop and Lucy in Disguise with Diamonds. You'll also found high-end retailers for grown ups like Kendra Scott (two locations!) and TOMS, both of which were exceedingly welcoming of our family.
Kayak on Lady Bird Lake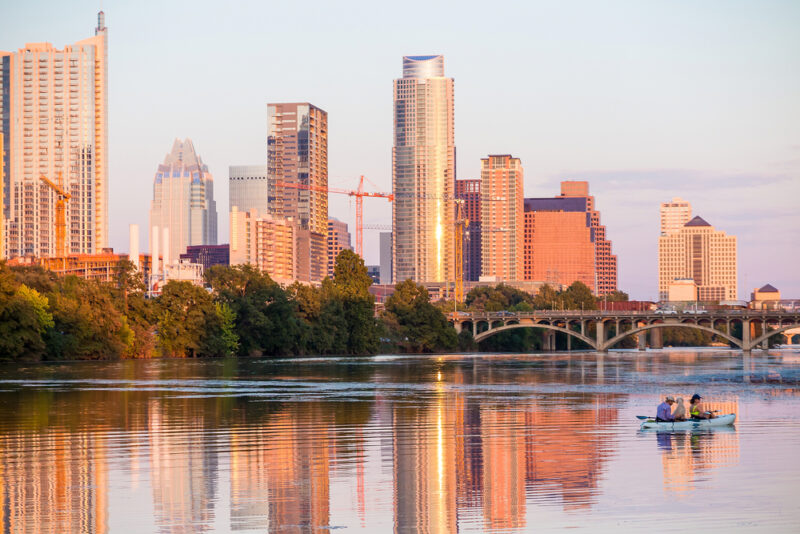 Kayaking on Lady Bird Lake is a classic Austin family activity… but unfortunately one that we couldn't manage between the chilly temperatures, wind and occasional hail we experienced in Austin!
If you're visiting in nicer weather, this is a great way to get some activity while also enjoying the city skyline. Rowing Dock immediately west of Zilker Park is one of the best kayak rental companies in the area and they provide life jackets – including infant, child and youth sizes – with every rental.
Spend a day Hill Country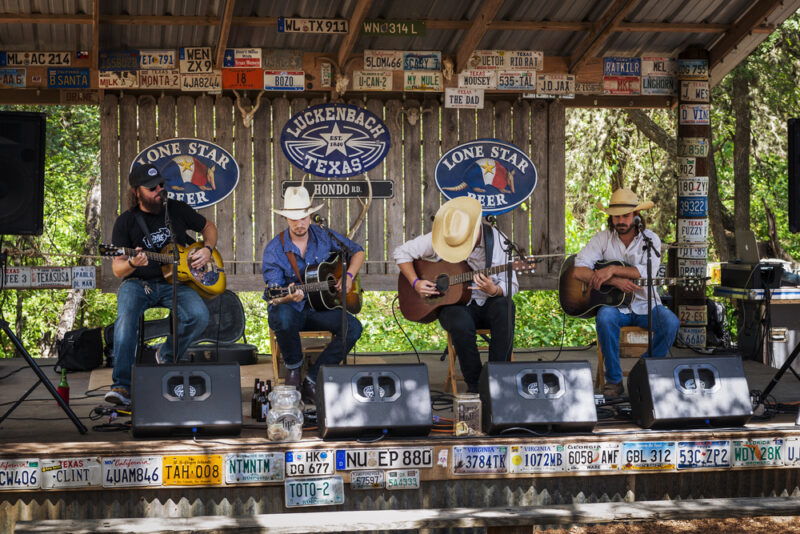 If your family is spending at least 3 or 4 days in Austin, it's worth taking a day trip out into the Hill Country. Where is Texas Hill country? Texas Hill Country is, roughly speaking, the vast region west of Austin and north of San Antonio. It stretches almost (but not quite) all the way to Big Bend National Park on the opposite side of the state.
But what most people mean when they talk about visiting Hill Country is the area immediately surrounding Austin, including places like Fredericksburg and Luckenbach and all the wide open spaces in between. Hill Country is a great place to take in the rolling green scenery, stroll small town main streets and even go tasting at a distillery. Of course, be sure to stop at The Salt Lick for (arguably) some of the best bbq in Texas – photographic evidence of my delight presented below.
The Luckenbach General Store (pictured above) is the perfect place to enjoy family-friendly music near Austin. They off free performances that are open to all ages several times per week, though they'd definitely like you to buy some food and drink while you're there. Be sure to wear your dancin' boots!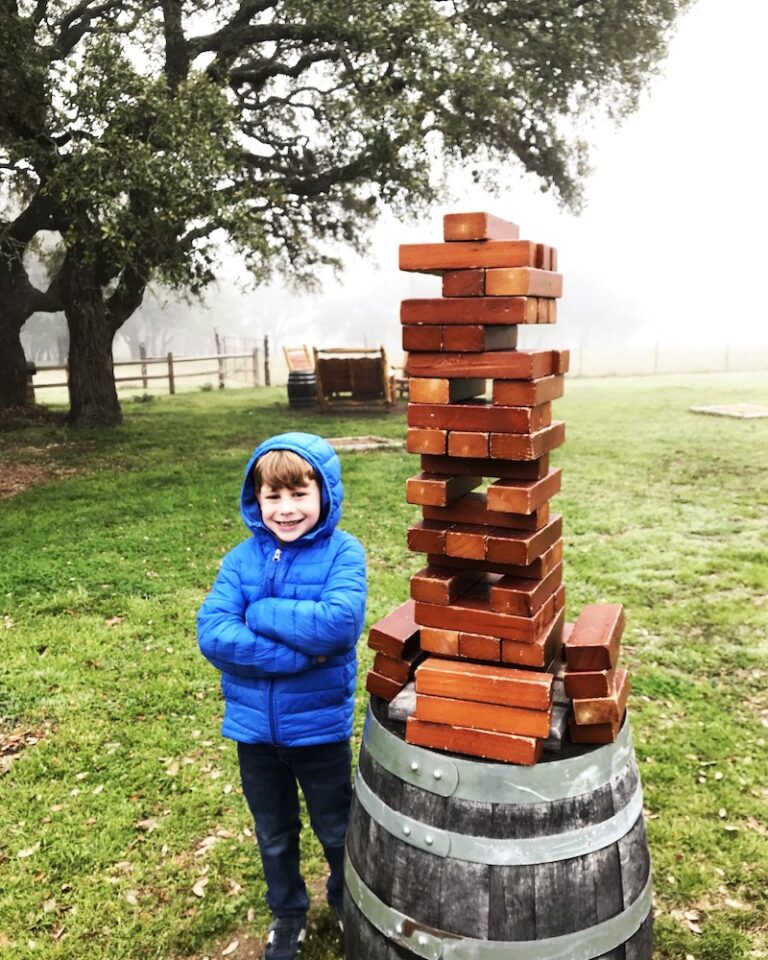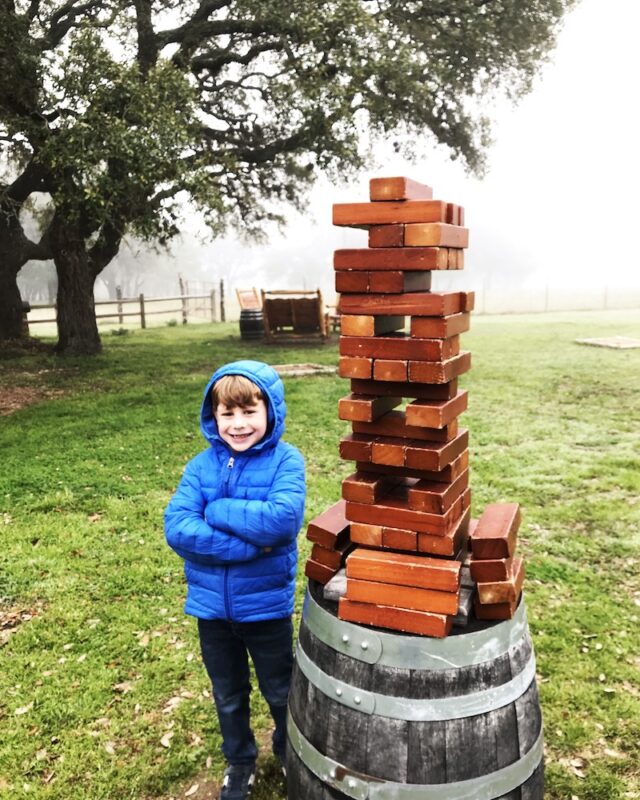 I know not every family thinks of spending an afternoon hanging out drinking, but our visit to Garrison Brothers Distillery was probably the "most Texas" thing we did during our family trip to Austin. Most days of the week you can go on a tour of the distillery. On weekends, they regularly host events that include live music and local food trucks. Kids will love running around in the open spaces, playing giant Jenga and relaxing on the swing. This is also a must-do stop if you're on a girls weekend in Austin.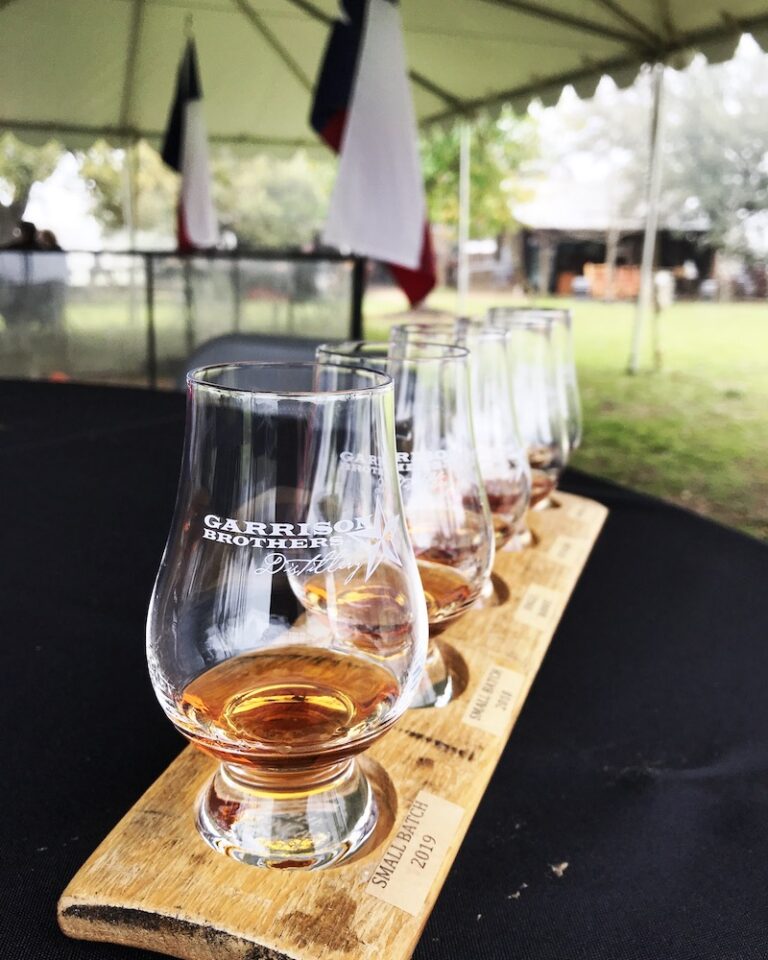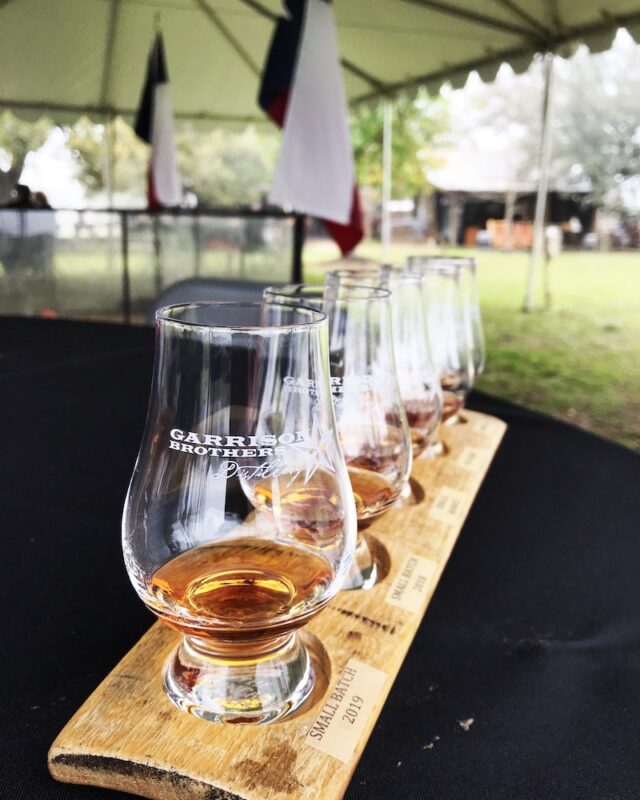 For the history buffs, you might consider tacking on a visit to the LBJ Ranch while you're in the area. The Lyndon B Johnson National Historical Park is open for self-guided tours. It offers a unique glimpse into life in rural Texas over the last 150 years, including the 1860 cabin and outbuildings belonging to Lydon Johnson's cattle ranching grandparents, LBJ's own boyhood home and finally the "Texas White House" itself. The Visitors Center gives kids a chance to earn their Junior Ranger badge while also learning about LBJ's role in the civil rights movement and Lady Bird's legacy of conservation.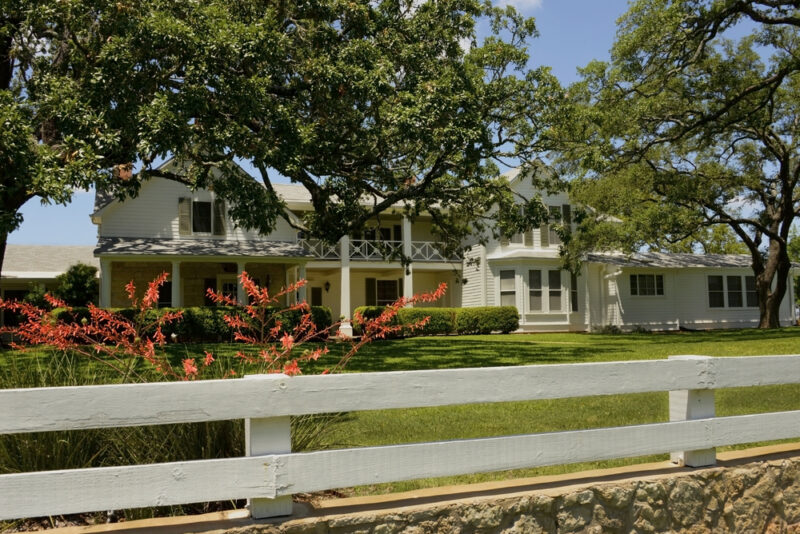 Note: Some structures are undergoing rehabilitation for the safety of visitors. Check here before you visit to see what's open at this time.
Get back to nature at Lady Bird Johnson Wildflower Center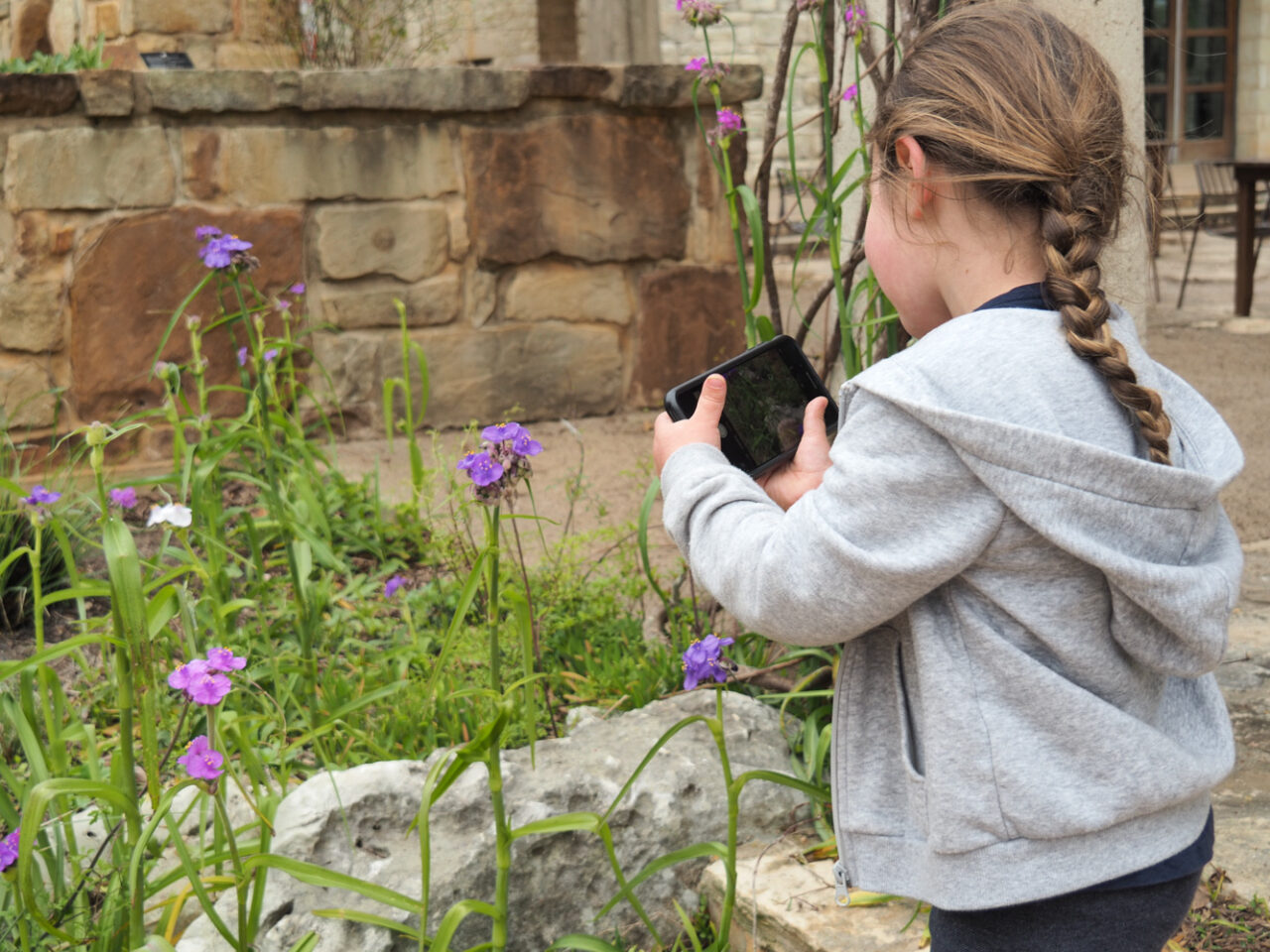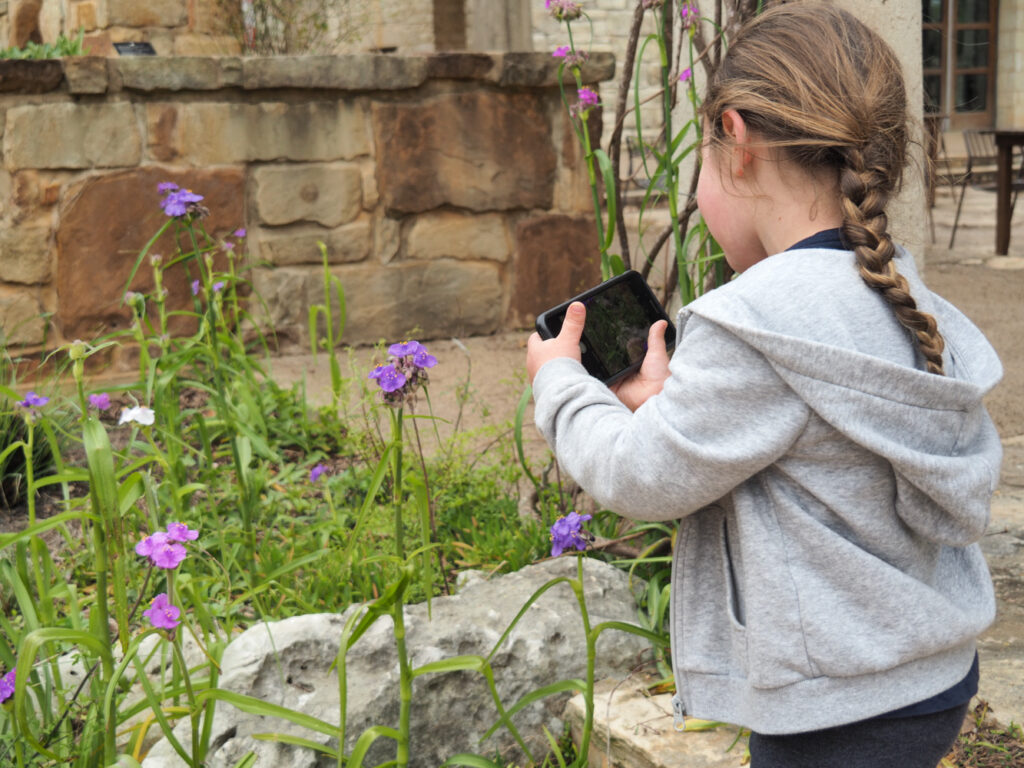 The lovely Lady Bird Johnson Wildflower Center, just a few minutes from downtown Austin, is a wonderful gem for families! It was founded by Lady Bird as a center for wildflower research, reflecting her passion for nature. Today it sits on almost 300 acres. You'll find stunning flowers, a fun observation tower with views over Hill Country and – best of all – one of the most extensive children's gardens we've found anywhere in the world!
The Luci and Ian Family Garden has everything you can think of and really reflects the Texan heart of the Wildflower Center while still being one of the perfect kids activities in Austin. There's even a flowing creek that tumbles into a waterfall-fronted cave – just the kind of secret hiding place you'll find deep in Texas. Our kids also loved the nature play area in the woods, where they could use enormous splinter-free lots to build structures to play in.
The family garden is one of the best things to do in Austin with toddlers, but I recommend bringing a change of clothes with you! At least one of our kids was happy but soaked by the time we were done.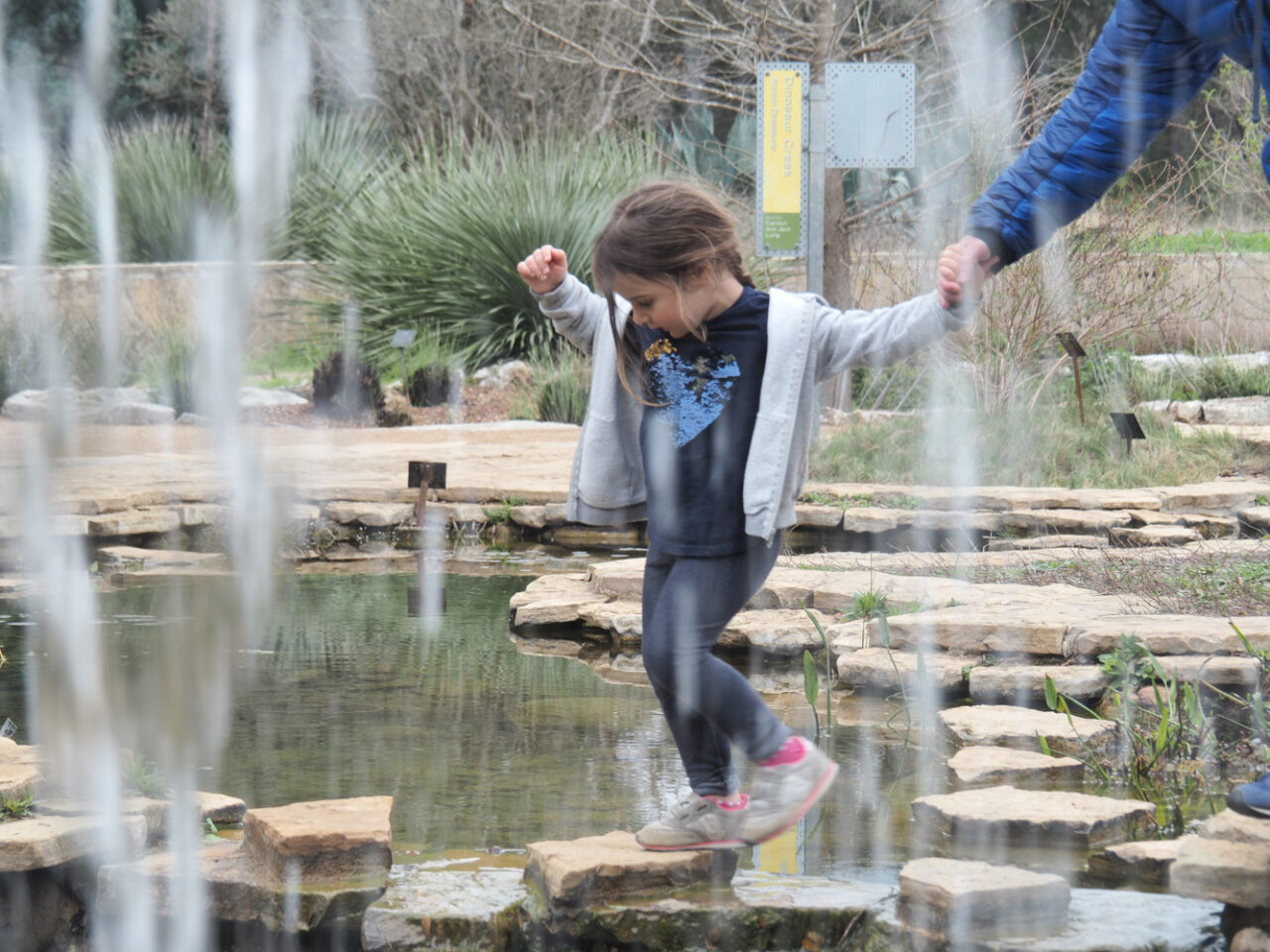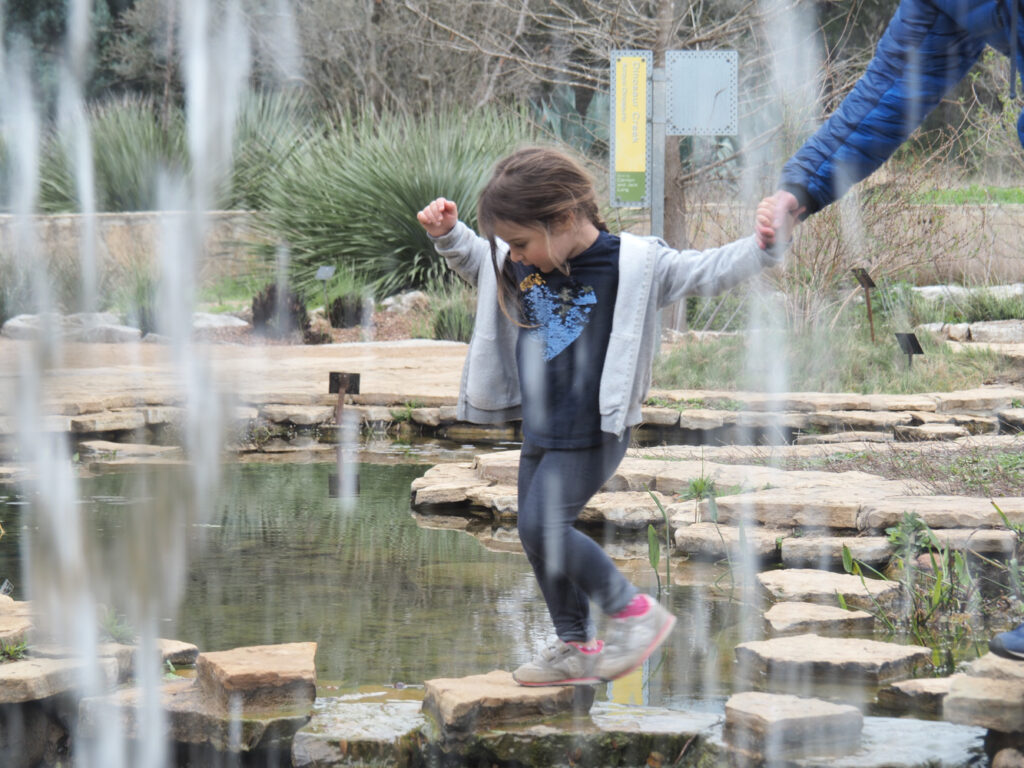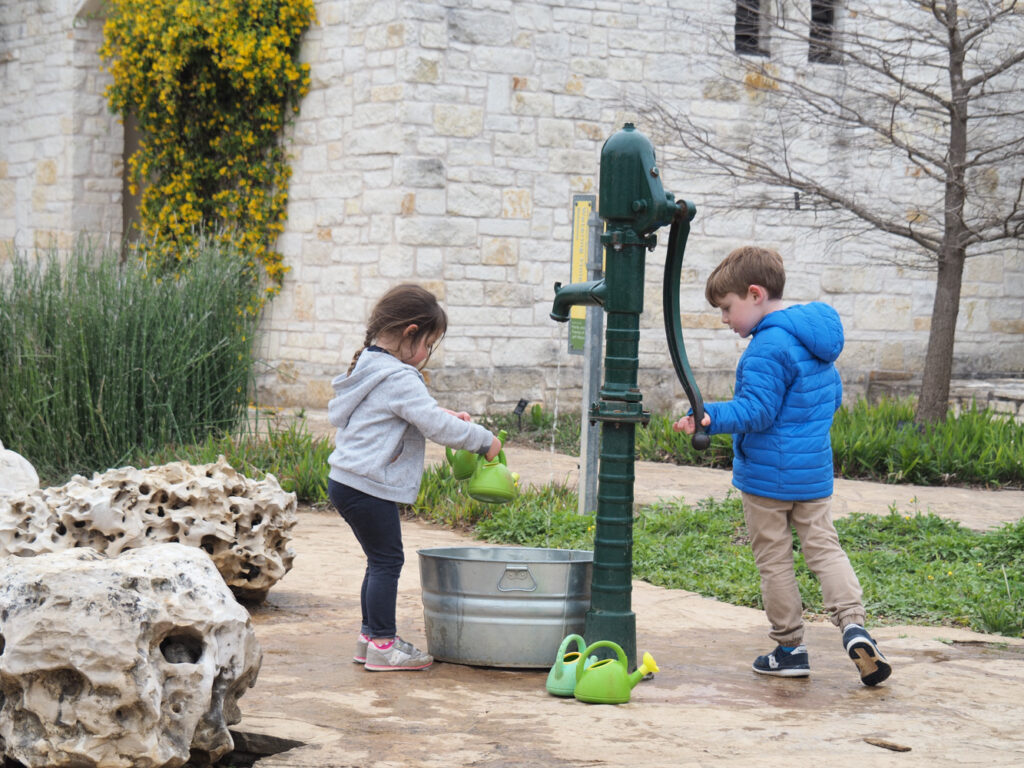 For budding naturalists, keep an eye out for all sorts of birds especially during migration season! If you're a member of your local botanical garden, you can likely use your membership card for free admission thanks to reciprocity with other American Horticultural Society locations.
Want to get more helpful travel tips like this? Sign up for our email list!
Take in some live music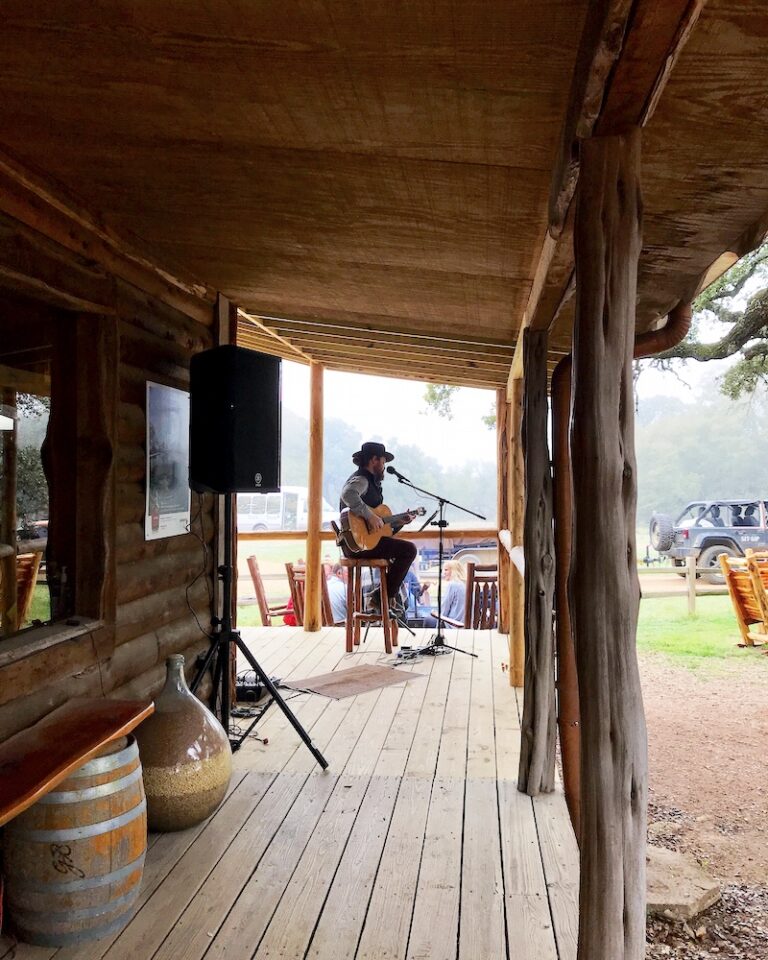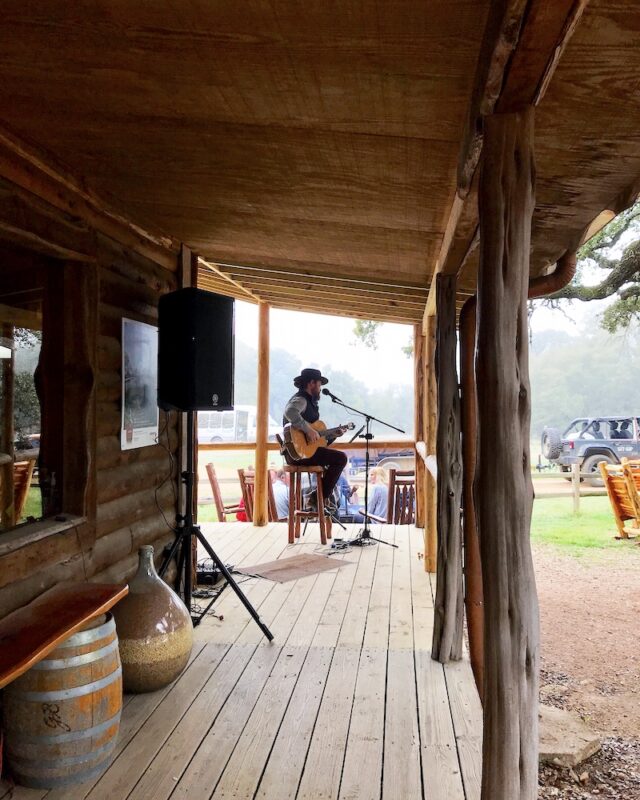 The Austin music scene is legendary for a reason and spans rock, country and bluegrass. Obviously it's a little tougher to access live music with kids in tow, but it's worth a try! We found that on the Saturday afternoon during our visit there were quite a few music options out in Hill Country – wineries, distilleries, Salt Lick BBQ and even random courtyards in Fredericksburg. As I mentioned above, the Luckenbach General Store is always a great option since they keep a full schedule that almost always includes family-friendly performances.
In the heart of Austin, if you wander down South Congress on Saturday afternoon or evening you'll likely find several restaurants with music starting. In spring a summer, lots of the popular local favorites like Guero's Oak Garden, Hill Country Galleria and The Midway offer a rotating schedule of family-friendly music and ambiance.
Tour the Texas State Capitol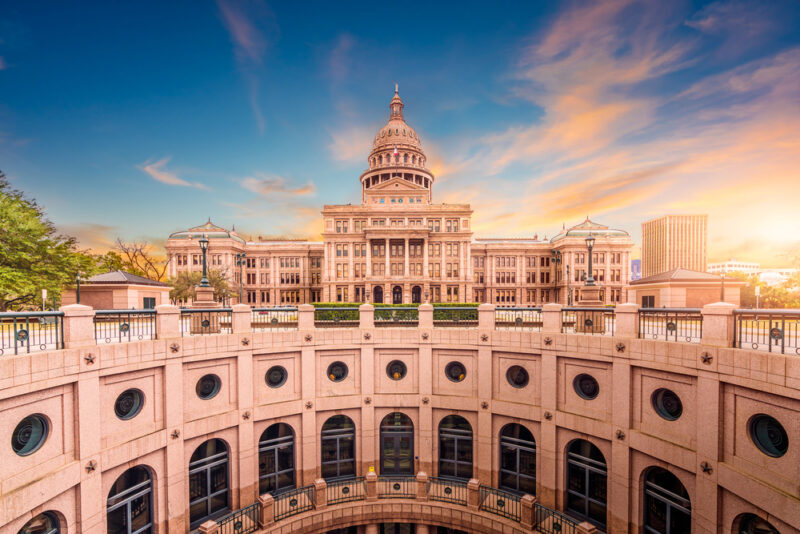 They say "everything's bigger in Texas" and that's especially true of the State Capitol in Austin. It's hard to understand just how big it is until you're there. For reference, the statue atop its rotunda stands 15 feet taller than that of the US Capitol building!
Families can tour the Texas State Capitol for free nearly every day, and you can choose from either the general tour (which covers the building, Texas history and aspects of Texas government) or one of the rotating specialty tours (examples include Hispanic Heritage, Women in Texas History, African American Trailblazing Texans and more). You'll want to sign in at the visitors center before your intended tour time – the grounds are expansive, just like the building, so give yourself time for the walk.
Tours are usually around 30-45 minutes and best suited to upper elementary school and older, though younger kids with an interest in history and government will enjoy the tour too.
Take a day trip to San Antonio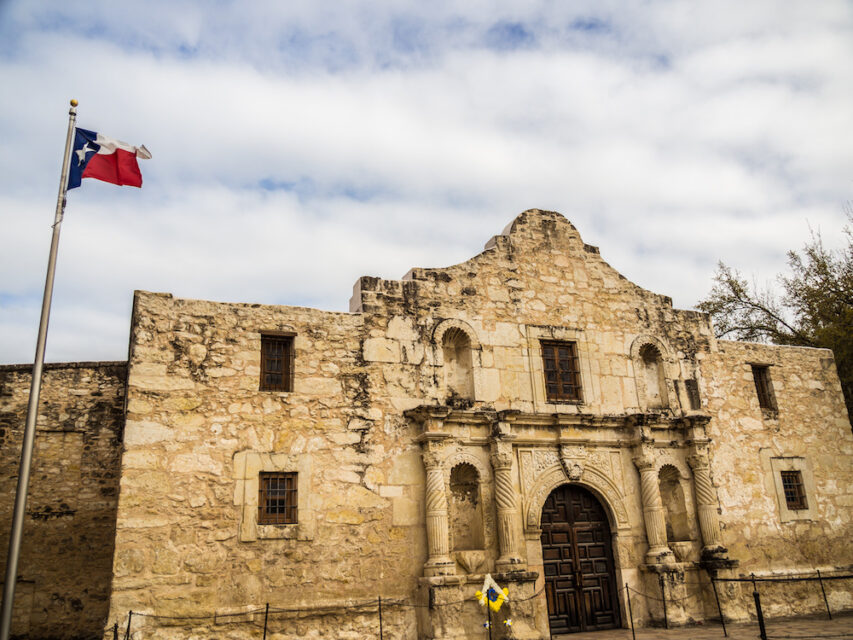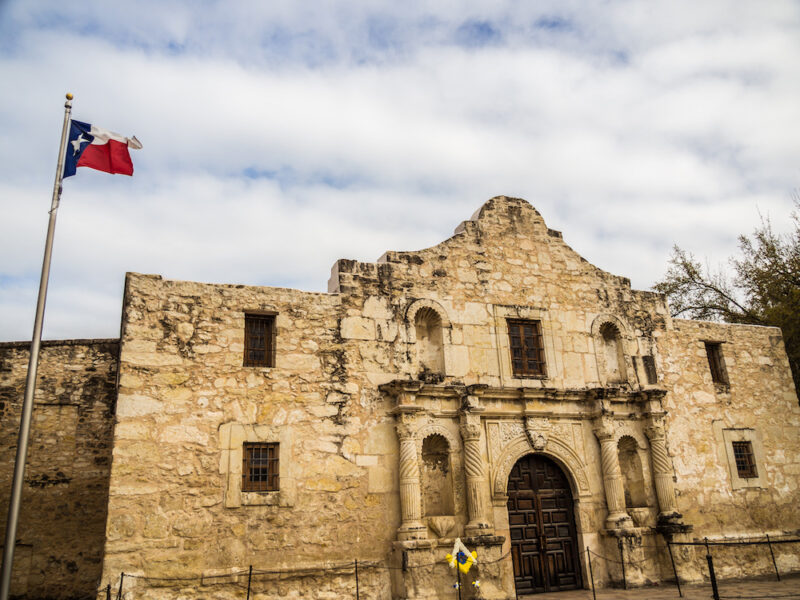 The Alamo fortress is surely one of the most notable landmarks in Texas. It was the site of the famous namesake battle during the Texas Revoluation. Today visitors to San Antonio (about one hour from Austin) can tour the fortress to see the remnants of the bloody conflict. There are historical interpreters on hand to add context to the building, but a visit will be much more meaningful if you've already read What was The Alamo?
Outside of the fortress, there are sometimes historical re-enactors present to bring visitors (especially kids) back to the time of the war. On the day of our visit we got to try our hands at several common games from the era and explore personal effects like combs and storage bags that soldiers would have brought with them to the Alamo. Visiting The Alamo is definitely one of the top things to do in San Antonio with kids.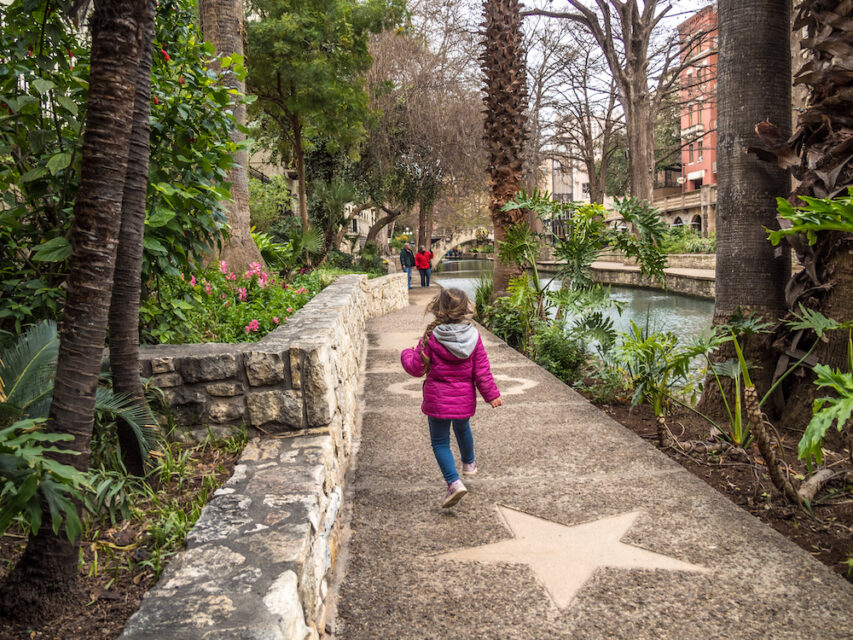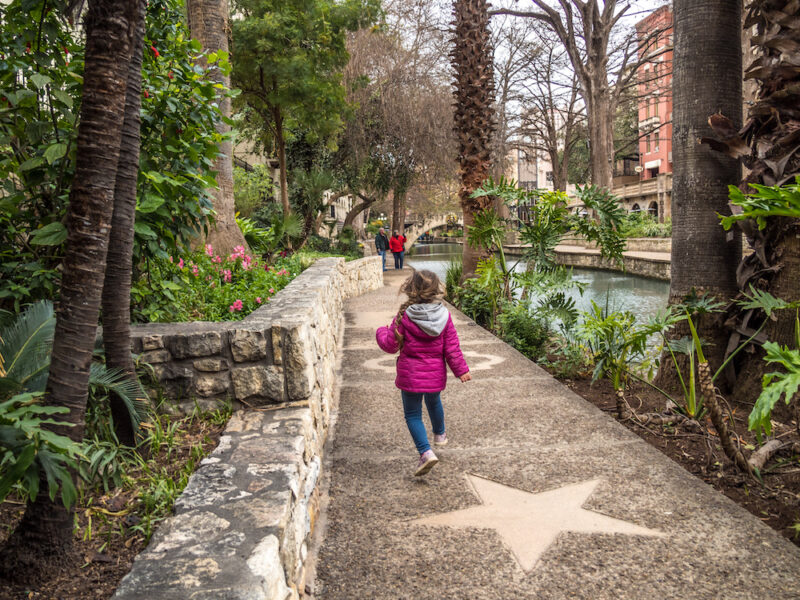 After your time at The Alamo, be sure to stop by San Antonio's famous River Walk. It's a great place to let your kids run around and burn off some steam while you enjoy the architecture and landscaping. You can even take an inexpensive boat ride along the river for a different experience. Just know that the River Walk runs for a total of 15 miles – you'll want to take a look in advance to decide what part you'd like to visit.
Play all day at Thinkery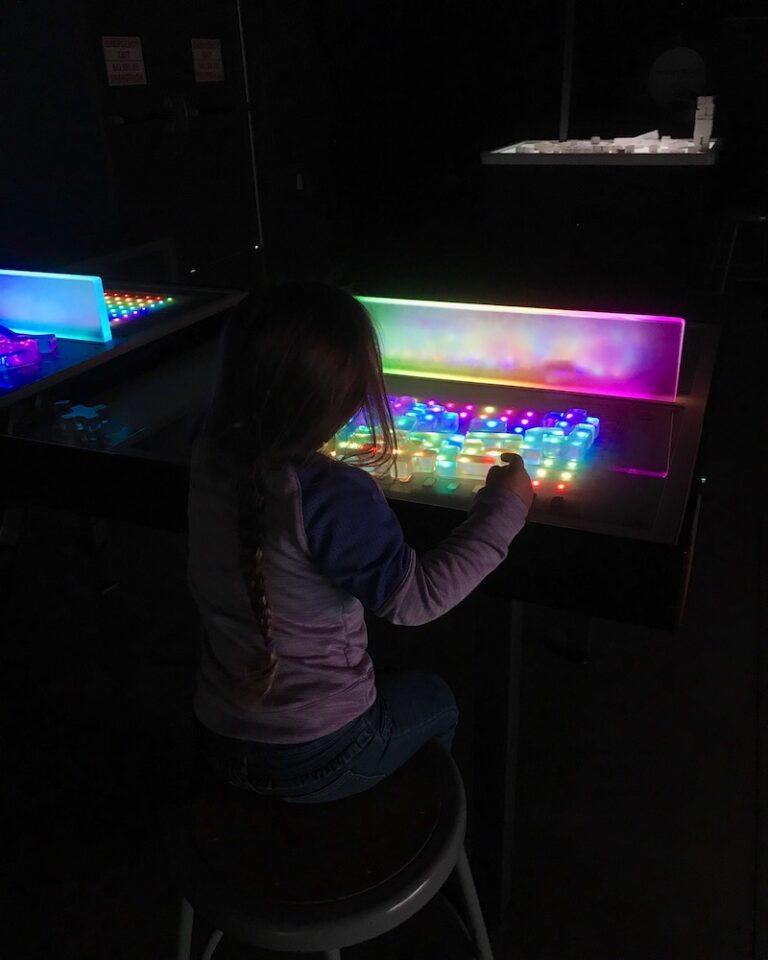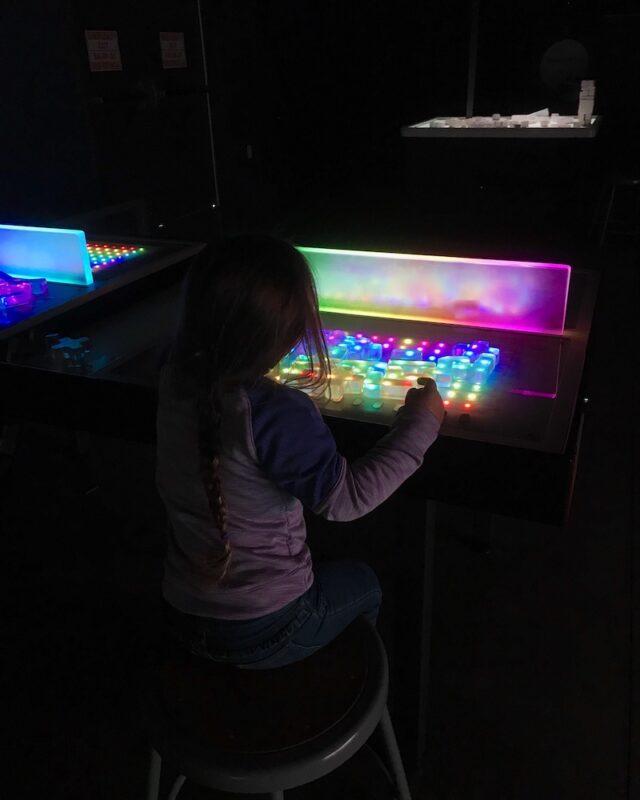 While a visit to Thinkery Children's Museum isn't necessarily a quintessentially Austin thing to do, it sure is fun! It can be a nice break from traditional sightseeing for young kids (and their weary parents), especially if you're on a longer visit to Austin. Thinkery is all about hands-on STEAM learning, best for pre-K age up to around 10.
There are plenty of different rooms to explore ranging from the mechanics of flight to playing with circuitry and lights as you can see above. We spent a full afternoon there and only left because they were closing!
Even better, if you're a member of your local children's museum or science center you may be eligible for free reciprocal admission (depending on your membership level).
If your kids haven't had enough running around, you can take them to the lovely Mueller Lake Park right across the street to blow off some steam. There's even a Torchy's Tacos just 5 minutes away for an early dinner.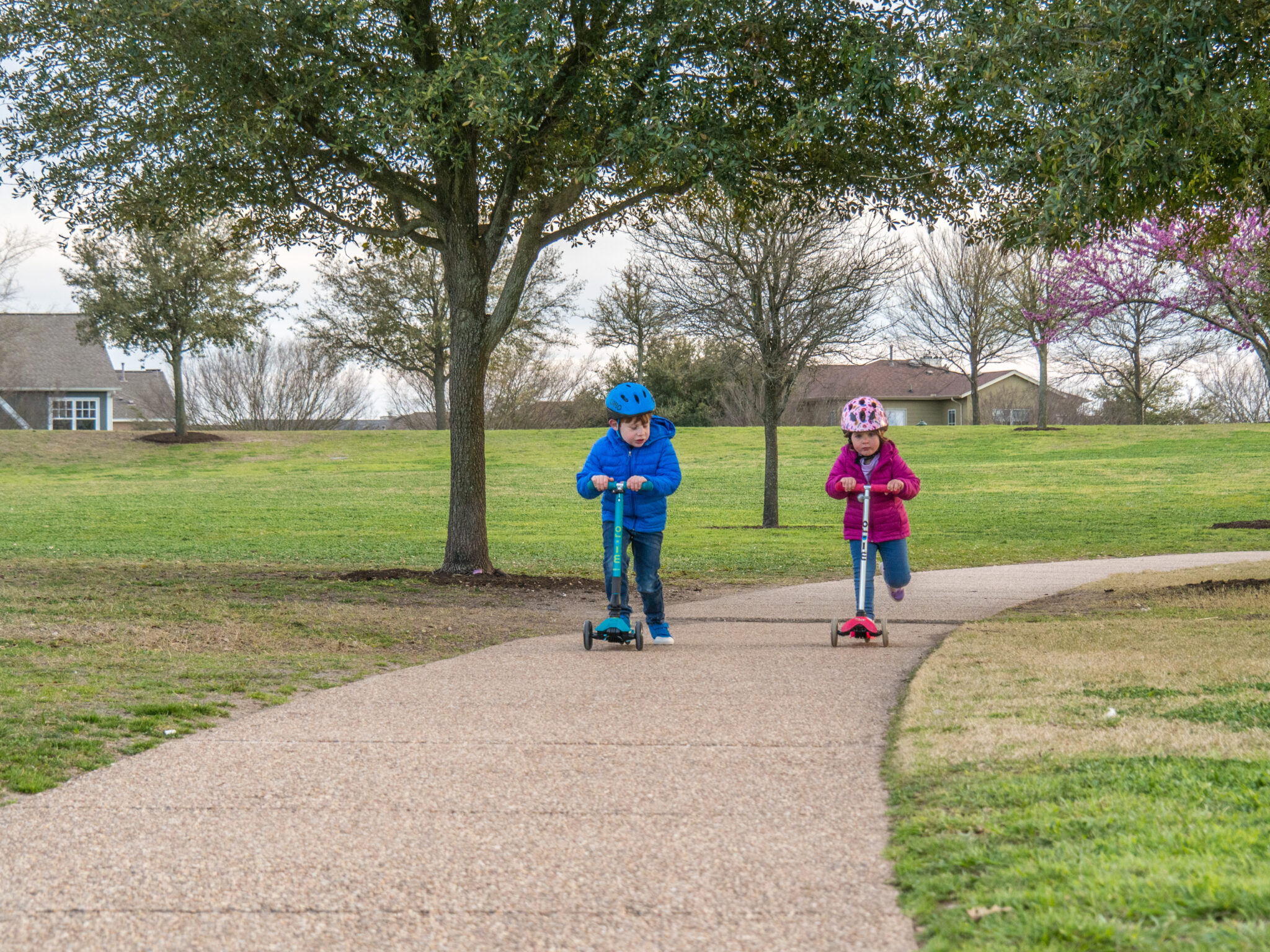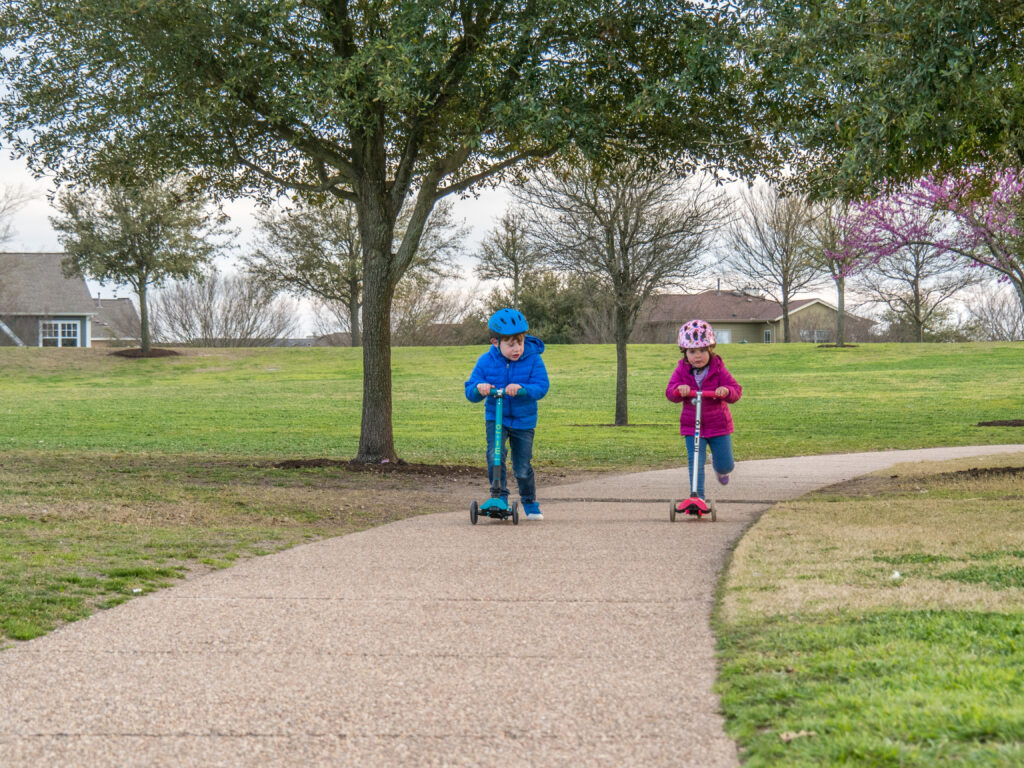 ---
Where to eat in Austin with kids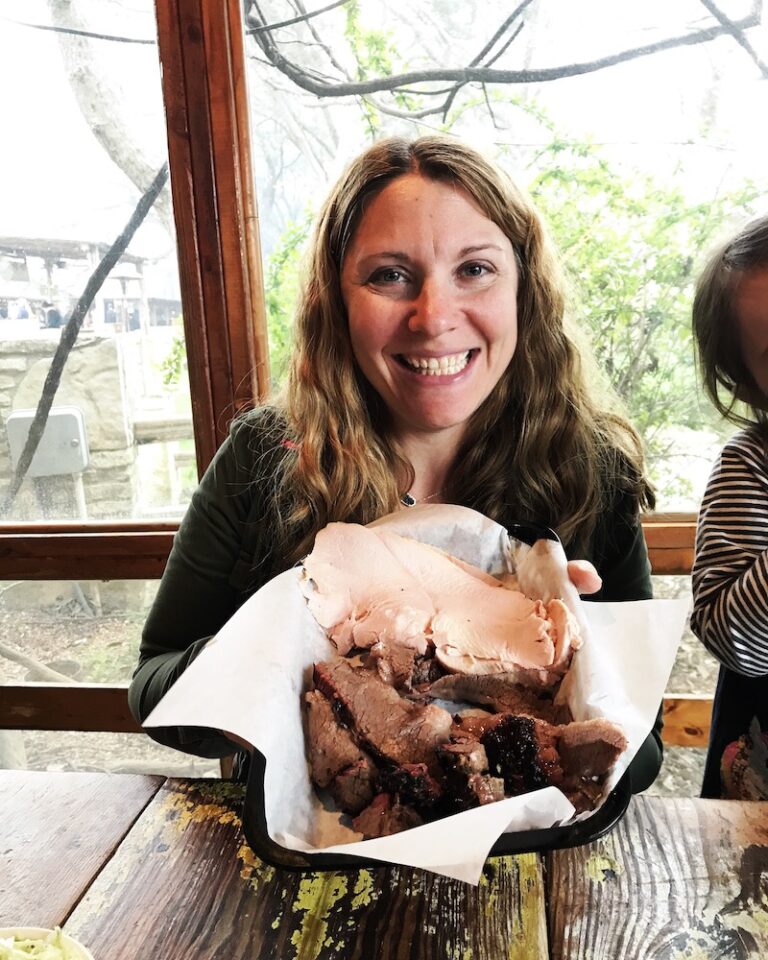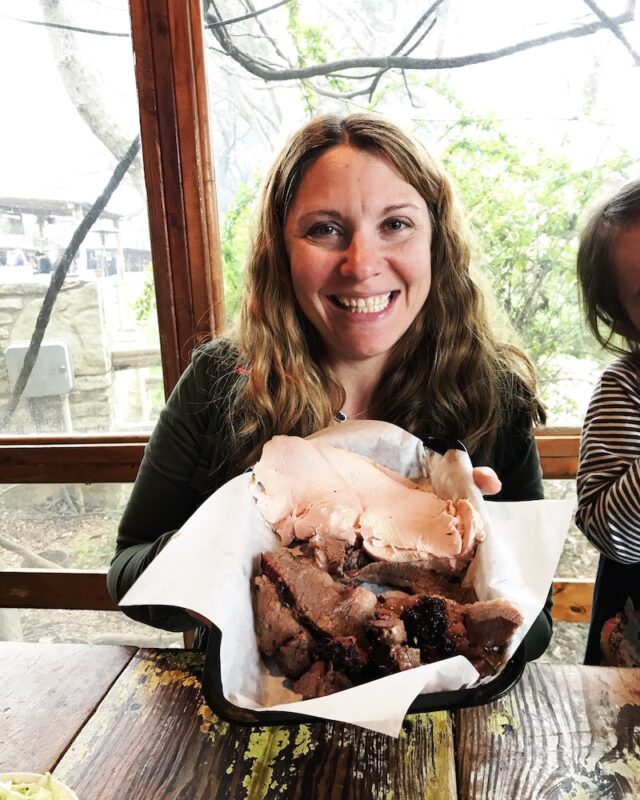 If there's one thing you can't do enough of, it's eating. The city overflows with awesome (and affordable) food for every palate.
Torchy's Tacos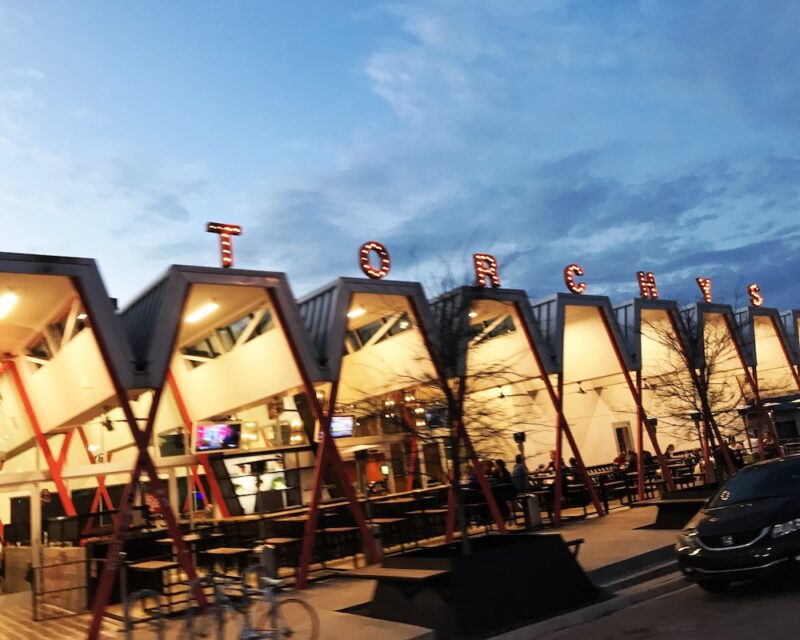 Torchy's is a staple of the Austin dining scene, and you can't miss its SoCo outpost pictured above. The main attraction is the tacos, which range from simple to sophisticated and cost just a few dollars each. You also can't miss the queso, which is one of Austin's local specialty foods. Torchy's is extremely kid-friendly thanks to the menu offerings, coloring sheets, speedy prep time and low-key outdoor dining.
In addition to the SoCo location, there are now a dozen other locations around Austin.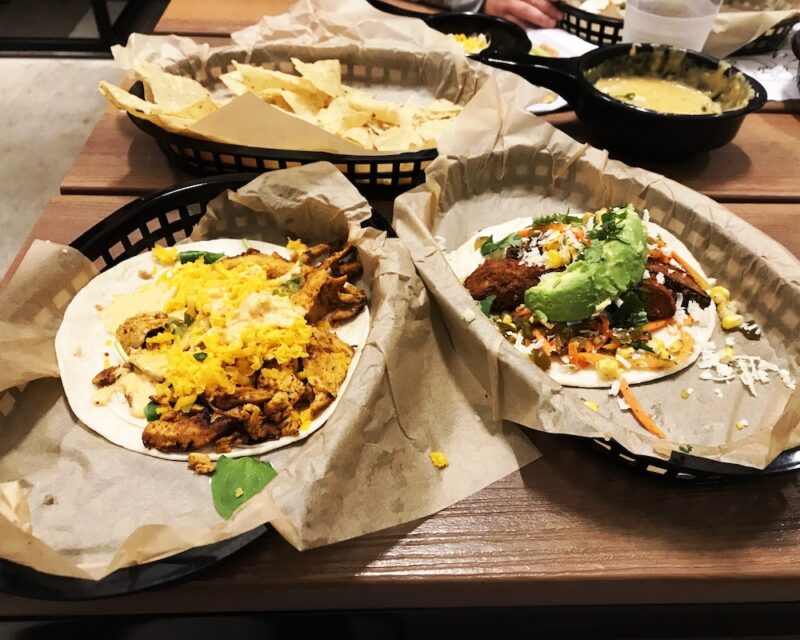 Juan In A Million
One (apparent) mistake we made in Austin was skipping over Juan in a Million. In our defense, we drove by after we'd already eaten and there was a line out the door. But we've heard great things and can't wait to try it on our next visit! Whether at Juan in a Million or Torchy's, you'll want to be sure to try one of Austin's legendary breakfast tacos.
Black's BBQ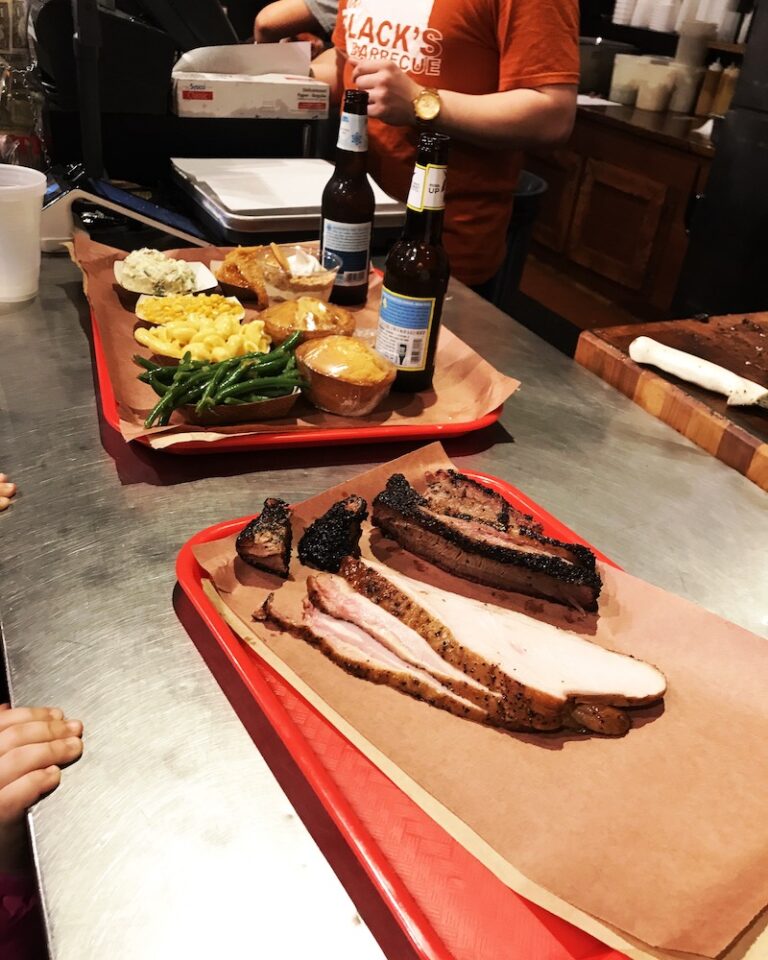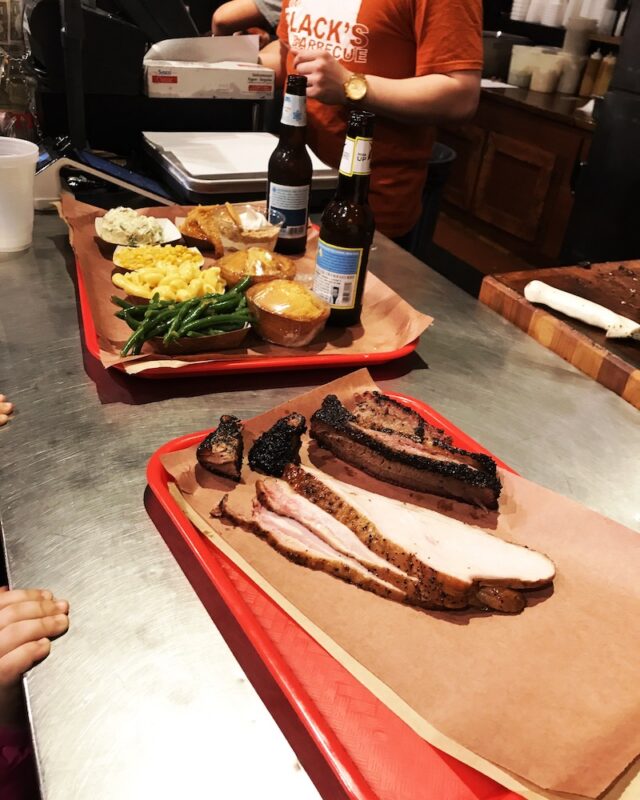 Black's BBQ is conveniently located in the heart of Austin and serves up typical BBQ fare cafeteria-style. It can get pretty busy, so be prepared to wait in the line for a bit (sorry, kids!). But I promise the food is worth it.
Gus's Fried Chicken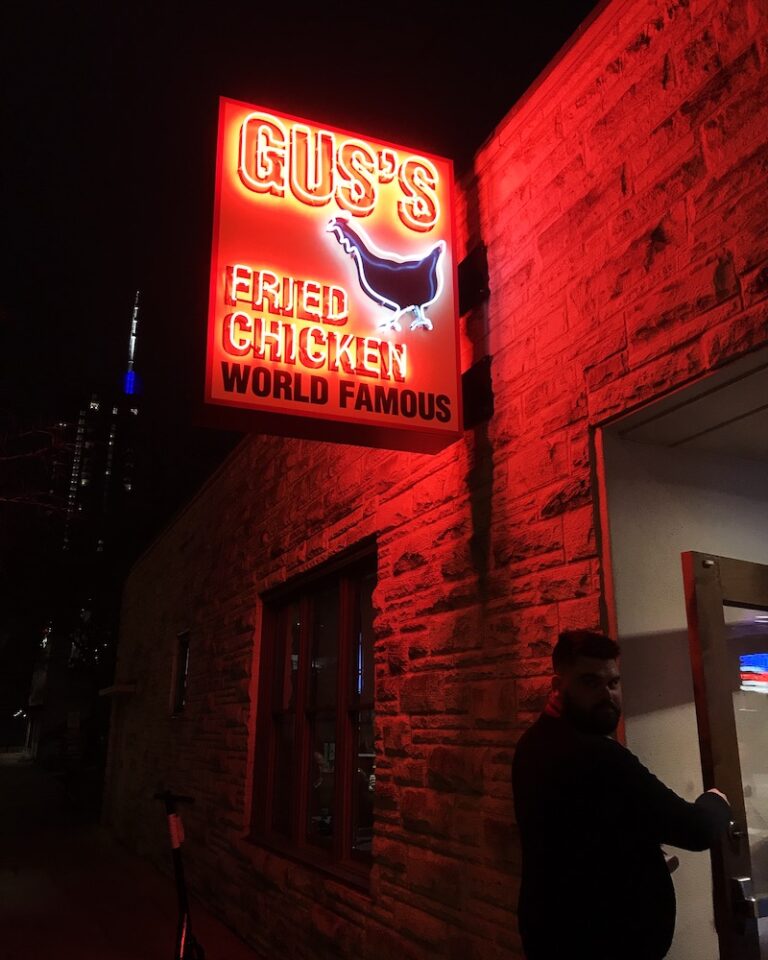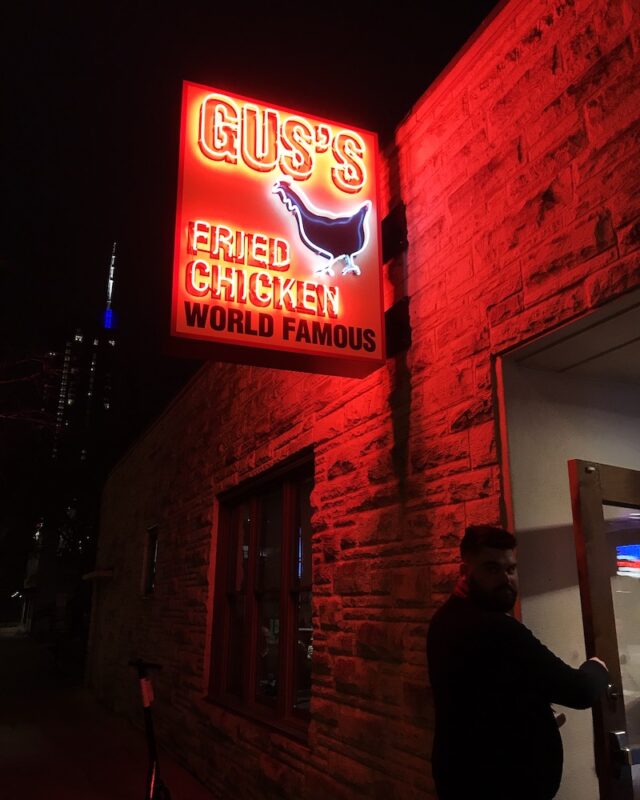 If you've had your fill of BBQ and tacos, pay homage to Austin's southern flavors at Gus's Fried Chicken in downtown Austin. It's not fancy, but the food is unquestionably delicious and the decor is covered in corny chicken jokes and kitsch – perfect for a low-key family dinner.
Home Slice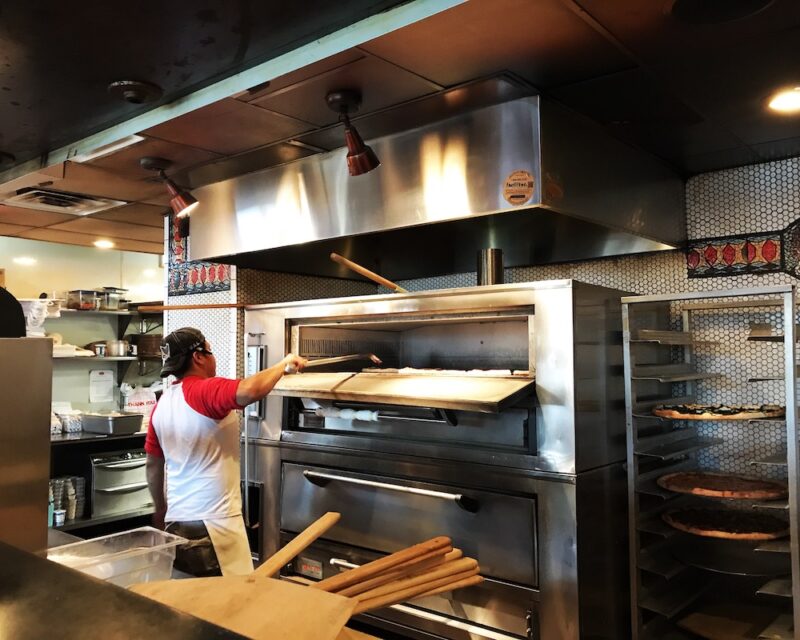 Home Slice Pizza on South Congress is fairly new and extremely popular – with good reason. It's excellent quality, classic NY pizza that you can buy by the slice for a quick stand-up lunch or take home by the pie for dinner at your nearby Airbnb.
Gourdough's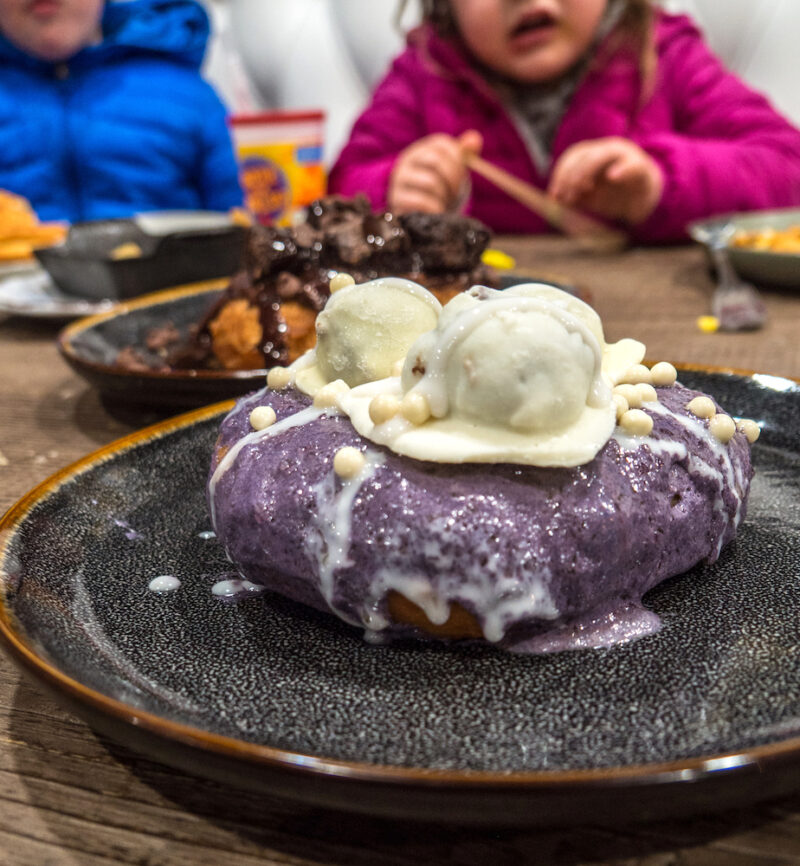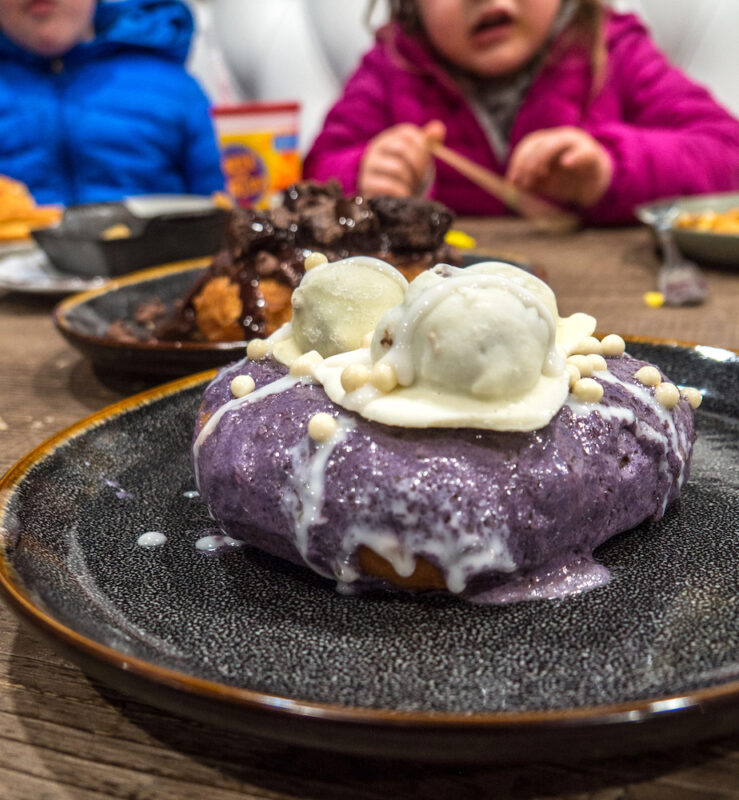 Ok, so what about dessert? You can't miss the donuts and other indulgent treats at Gourdough's Public House on S Lamar. And yes, you should add the scoop of famous Texas-made Blue Belle ice cream.
Amy's Ice Cream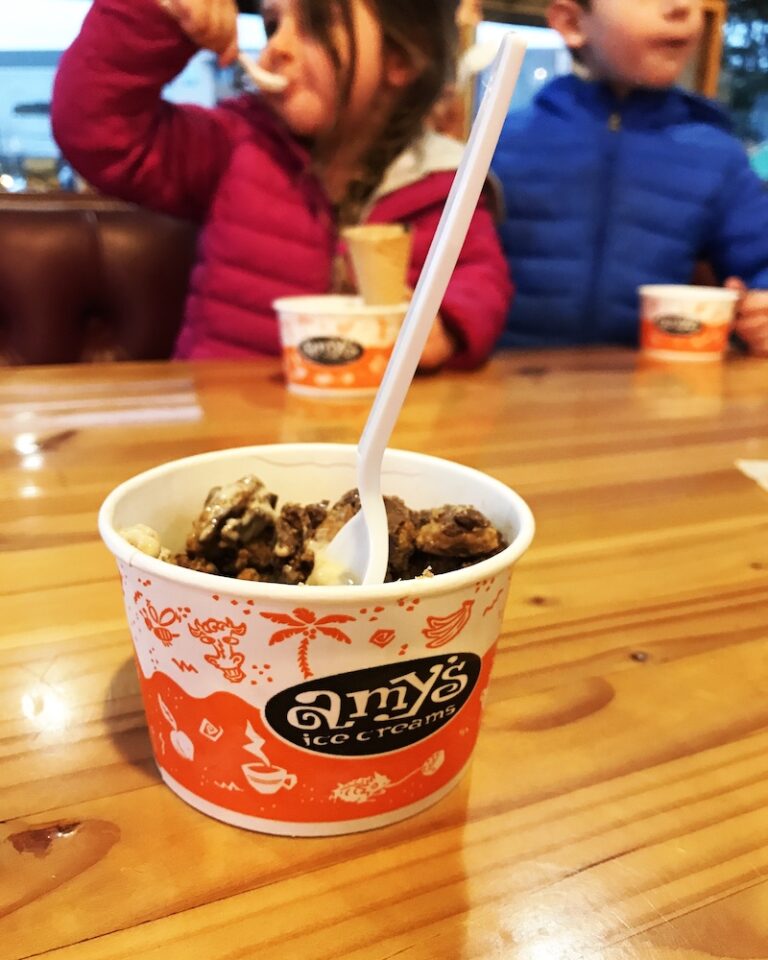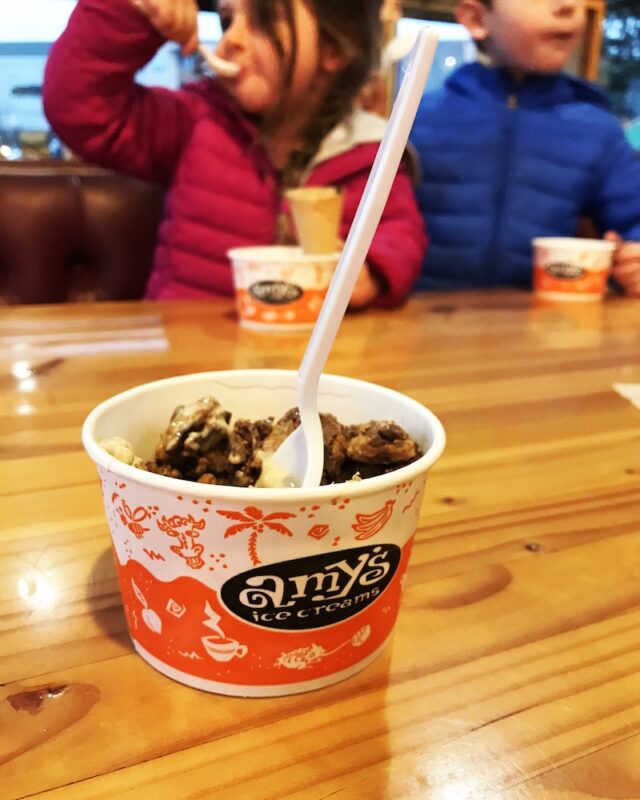 Amy's may just be the best ice cream in Austin – so say many locals we spoke to. It's a fun spot with plenty of options to please kids and adults of all ages. Their flavor rotation contains regionally-inspired specialties like Mexican vanilla, avocado chile lime, roasted peach and honey and even bourbon pecan.
Still planning? Pin this for later!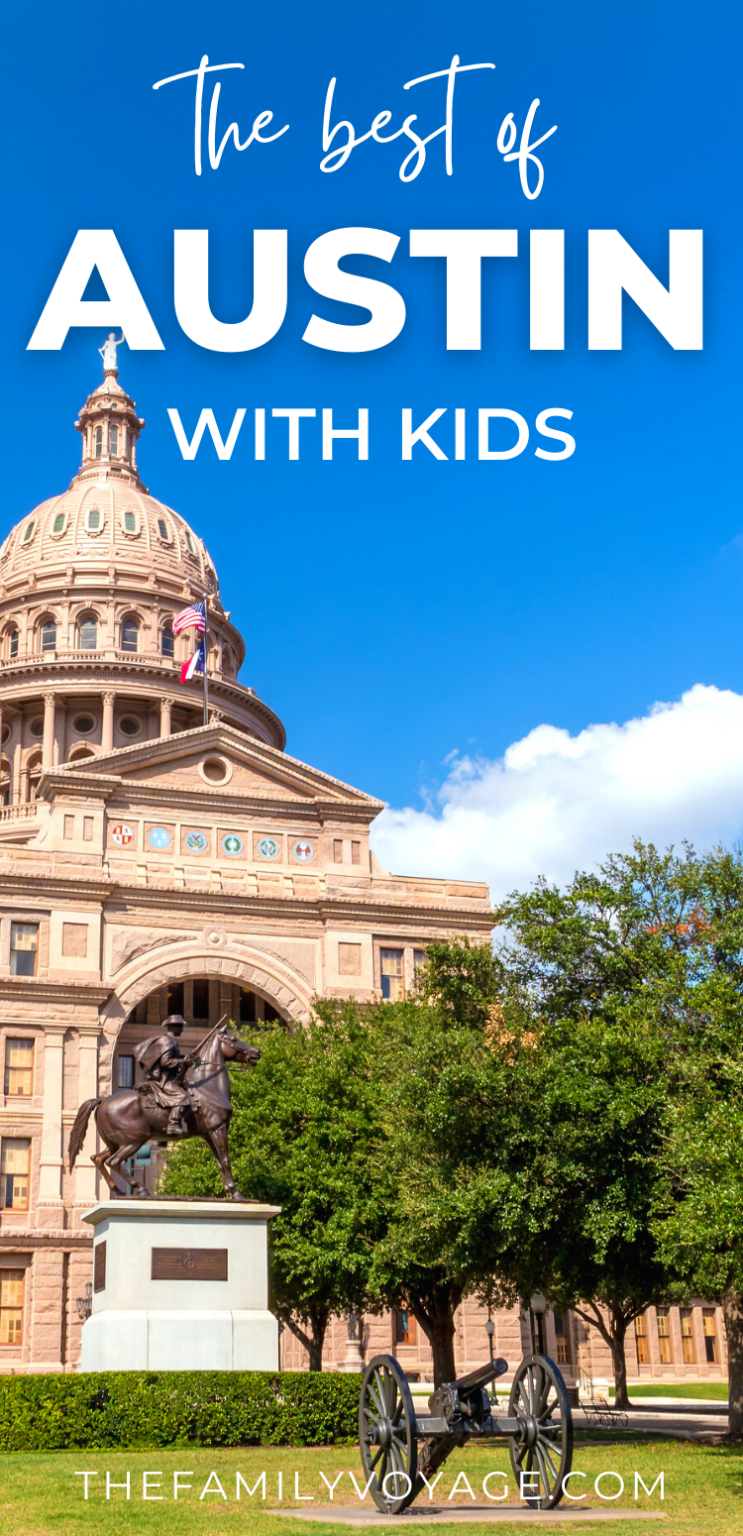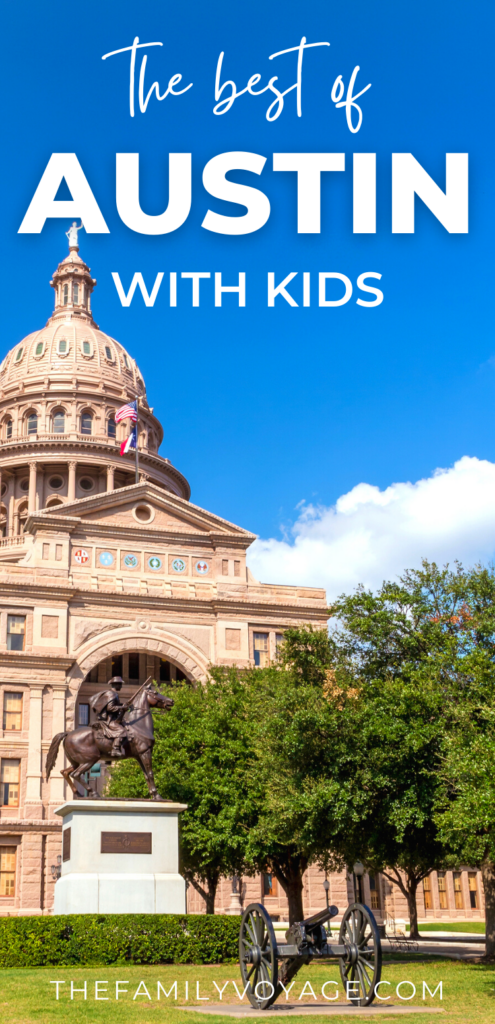 ---
Where to go next
Want to continue your family trip to Texas and around the Southwest? Check out these articles for more inspiration:
Texas:
New Mexico:
Arizona:
Want to get more helpful travel tips like this? Sign up for our email list!