After a year of traveling around the US visiting so many National Parks, Monuments and Historic Sites we get it. The National Parks are truly "America's best idea". What should you get for the National Park lover in your life? These National Park gifts will definitely bring a smile to their faces!
One of the best things about National Parks is that they offer something for everyone, whether they're hikers, landscape lovers, history buffs or solace seekers. We have plenty of National Park gift options to suit all types of visitors, whether you're looking for something to remind them of an old favorite or a gift to inspire them to visit a new place. Be sure to let us know in the comments if you've found something else that's amazing.
Buy a National Park pass – the best National Park gift!
One of our favorite National Park gift ideas is the gift of the National Parks themselves: buy a National Park pass! For just $80, the America the Beautiful pass will grant your favorite nature lover access to 2,000 of the best spots across the country for a full year from the date of their first visit.
Just one pass will get an entire carload of people in (or two adults and two kids at places like Muir Woods where you pay per person). Order a pass today; we won't judge you if you order one for yourself too!
National Park passport
One of the best National Park souvenirs you can get at any park you visit is the free stamp to go in your National Park passport! It makes for a completely personal experience, especially since some big parks have different stamps available for each area where visitors can hike. This is one of the best National Parks gifts for people who plan to spend a lifetime exploring America's treasures.
If you're buying a gift for a kid who will be visiting lots of National Parks (especially a fourth grader, who can get a free annual pass through the Every Kid in a Park program), consider the Junior Ranger passport book option, which has even more great activities and illustrations.
A Personalized National Parks keychain
This is such a fun gift for a National Parks lover! Pick a beautiful USA-made keychain (or necklace) and then help your recipient start their National Parks token collection by picking up all the ones you know they've visited. I love that it's one of the most practical National Park themed gifts and that they'll it see every day to remind them of the adventures they've had and the ones yet to come. It's easy to order more tokens down the line too.
National Park memorabilia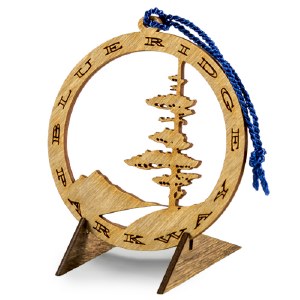 A few years ago, America's National Parks celebrated their centennial and ever since then we've seen a proliferation of extremely cool National Park memorabilia. You'll find everything from ornaments to mugs to posters and more at the official eParks store! These are wonderful gifts for people who love National Parks and want to be reminded of their favorites even when they're back home.
A National Parks board game
We're a family of board game lovers, and we're so glad we got our hands on Trekking the National Parks! It's a true family favorite and a great way for kids (5+) and adults alike to learn more about America's National Parks.
It has some similarities to Ticket to Ride (one of our other favorite games), but adds a few layers of complexity and changes . Each park's card has a photo from the park and gives a little snippet about the park's history or interesting facts. This is a great family gift for a National Park lover.
If you want to go more traditional, there's even a National Parks Monopoly. Everything about the game is parks themed, from the properties to the money to the game tokens. Our family loved testing this one out as well!
For National Park lovers who are traveling light and can't bring a whole board game, check out this great National Parks Trivial Pursuit game! It'll be great for those who are up for a challenge, especially with coverage of battlefields and cultural and historic sites.
Books make the perfect National Park gifts
There are plenty of great books out there to inspire National Parks lovers to plan their next visit. Check out these great choices to add to your gifting list.
I have a soft spot for this one since we used it to plan our Southwest road trip! It's filled with inspiration for National Parks visitors of all types.
If you know someone who's deep into planning an epic visit to our country's parks, this is the book to get them. It provides absolutely every detail they'll need to know for their visit – trails, where to stay, restaurants, road trip routes and more!
Shopping for someone who's got Yellowstone on their bucket list? These Yellowstone itineraries make the perfect gift so they can stop dreaming and hit the road! Since it's a digital book, this is a great option for someone who lives for away. If they're close by or you'll be seeing them soon, you can always have a copy printed and bound for handy reference.
This book is filled with gorgeous, artistic, retro-style posters advertising the National Parks. It would make a great coffee table book, or the real devotees can even frame their favorite pages to decorate a home or office.
These two books (here and here) got our kids through many an hour on our family's months of road tripping around America, while also getting them geared up for the parks we'd be visiting. They're on the must-buy list for kids heading to National Parks!
National Parks scratch map
Scratch maps are all the rage these days, but now you can get this one that highlights all the National Parks that you (I mean, "your friend") have been to! Especially if there's a big road trip in the works, this gift will be a great way to memorialize it.
National Parks wall calendar
Keep the inspiration of America's National Parks always at the forefront with a wall calendar showcasing stunning photos of places your favorite National Park traveler has been… or dreams of going. This "calendar for a cause" is produced by the National Parks Foundation to help fund their important efforts to protect America's treasures.
National Park shirts and hats
Whether wearing it out on the trail or around town, this whole line of National Parks t-shirts and hats will be a great pick. You can chose designs that are specific to their favorite park or ones that pay homage to the whole system.
Outdoor inspired stickers
Ok, this last one isn't strictly "National Parks themed" but it's too good not to include, especially if need to do a lot of gifting on a strict budget. It's one of the least expensive best gifts for National Park lovers. This huge pack of waterproof vinyl stickers is fun, good looking, and works out to a ridiculously low price. You could make one National Park lover very happy with a new Nalgene decorated with a few of them!
Looking for more ideas? Check out these other gift guides:
–10 unique travel-themed home decor gifts
–Romantic gifts for lovers
–The most useful gifts for travel families
–Our favorite travel essentials
–Inspiring books for travelers
Still shopping for just the right National Parks gift idea? Pin this for later to come back!
Find more great gift ideas at Gifting Genie