What do you give the travel-loving love of your life when you're trying to save all your pennies for the next big adventure or you're stuck at home thanks to a global pandemic? It turns out there are some awesome travel-themed gifts out there that won't break the bank and are unlikely to collect dust in the closet next to the fourth-string suitcase you never use. We've rounded up some of our favorite romantic travel gifts, ranging from inspirational to sentimental gift ideas for her and him – because the great thing about travel is that it's universal!
An evening of travel inspiration
Sharing common goals is an important foundation for any relationship. Instead of a fancy dinner out that you'll both forget next month, order in some Thai food, open a bottle of wine and spend your evening getting inspired by a great book like Where to go When. We had this book on our coffee table for years and always loved flipping through it.
It's a great at-home date idea: cheap, fun, and just as useful if it's wishful thinking or turns into real travel planning. It's one of our favorite romantic travel gifts, especially when you're early in your relationship. You'll both walk away knowing a little more about each other and maybe even agreeing on your next vacay goal!
A taste of the exotic – without going far
If your partner is a foodie traveler, there's no better gift than a cooking class or even a beautiful cookbook from a favorite (or goal-worthy) country. We usually book in-person cooking classes on Groupon to get great deals – and don't forget to go through Rakuten (formerly ebates) to get tons of extra cash back in your pocket (usually 3%, but as of this writing it's up to 10%). Get $20 back on your first purchase here.
But since it's 2020, you can even do cooking classes online! They're all structured a little differently, but I guarantee you'll have fun. Check out these great online cooking classes from experts around the world. You can find just about any cuisine and the prices are extremely reasonable.
If you can't find the right cuisine to match your partner's schedule, buy one of these great cookbooks and plan a surprise cooking evening – with all of the ingredients already on-hand, of course. Pssssst… if you're short on time for shipping, lots of these are available for download too!
Looking for more practical options? We've got those too.
Sentimental gift ideas for the travel couple
Want a special way to remember your trips? Give your honey a framed photo (or dozen) from your special trips together! There are a lot of great ways you can do this depending on your budget, time and creativity. The most basic option is a personalized picture frame like this one, which is nice because it can work equally well at home or at the office (for the sloooow boring days when you'd rather be dreaming of basically anything other than work).
Want to get fancier and still have that ever-empty wall space in your apartment? Everyone's favorite e-commerce behemoth now lets you customize and order a high-quality canvas print! So pick your most special, wall-worthy photo and get ordering ASAP.
Another great option – if you want something a little more subtle than a photo on the wall – is this fun Map of our Hearts art piece. It's made of two different maps and completely customizable to showcase your love story around the world! The options are endless. It's one of my favorite romantic gift ideas!
You can pinpoint the place where you met and the place where you honeymooned. Or maybe you come from different countries and want to keep a piece of your homes nearby – and close to each other. Choose from different color schemes and tons of different cities and countries to make a creation all your own. Click here to customize.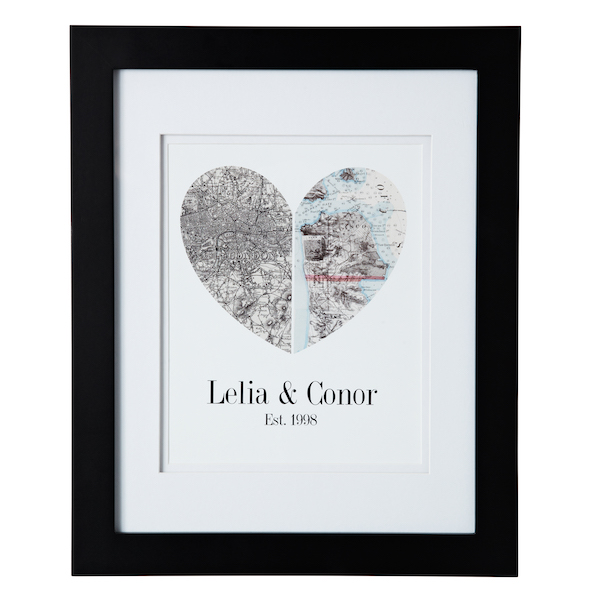 Find more unique travel-themed home decor gifts
Feeling really inspired? Head over to Shutterfly and create a whole book of your adventures together or even just from one special trip. Ronnie once surprised me with a book from our "second honeymoon" trip to France and it was amazing to relive those memories – even though it was years later. You'll find tons of great coupons over on their website and you can get cash back through Rakuten (formerly eBates) – sign up here for $20 back!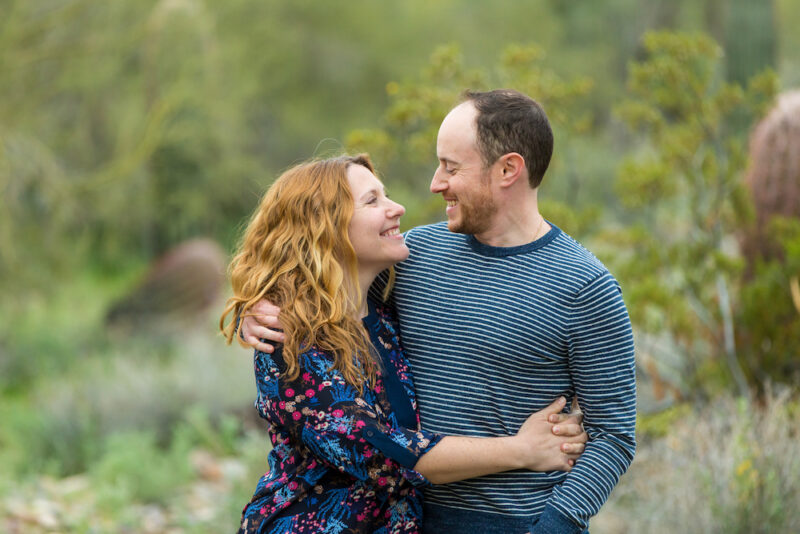 Don't have any awesome travel photos yet? Give each other the gift of memories by booking a Flytographer session! What's that? you say. Flytographer is a company that connects travelers all over the world with top-notch professional photographers in their destinations. We're so thrilled that we did a Flytographer session on our last visit to the Southwest, one of our favorite regions. You can choose how many photo locations, how long you want the session to be and, of course, your individual photographer. I love flipping through the online portfolios on their site to see each photographer's style and get inspiration for different places to take photos! Save $25 on your first session with our unique code, FAMILYVOYAGE. If you're not sure yet on the where of your next trip, you can snag a gift card now and use it once you decide.
Another option for destination photography is to check good old Groupon. We've booked plenty of on-location family sessions that way and always had great results. These photographers are generally starting out and building a portfolio, but there are plenty of talented folks available. Don't forget your extra cash back through Rakuten!
Want to get more helpful travel tips like this? Sign up for our email list!
Pretty presents for travel lovers
How about a pretty reminder of wanderlust for her? My buddy Brittany over at B. Stamped Jewelry offers unique travel gifts for women over in her shop. And her prices are extremely reasonable! You can pick from leather wrap bracelets, cuffs, necklaces, keychains, magnets and more. Check out all of the great options on her website or customize something from her etsy shop.
You can also help your partner track her favorite destinations – by continent, country, or national park – on a beautiful necklace from The Wander Club. I love that it's simultaneously pretty, practical and sentimental. It's easy to order more tokens down the line too. It's one of the best travel-themed gifts for her!
Time together – the most romantic travel gifts of all
Of course the best gift is each other, right? If your schedule and budget allow, there's nothing better than sneaking off for a weekend together to someplace that allows you to relax and recharge – in whatever way is meaningful to you both. Choose a romantic weekend getaway or a secluded mountain retreat.
You don't even have to go far. How about a walking tour in your own city for a new staycation adventure? There are so many amazing romantic travel gifts that don't cost a lot of money.
What will you be gifting to the #1 travel lover in your life?
Looking for more ideas? Check out these other gift guides:
–10 unique travel-themed home decor gifts
–Best gifts for National Parks lovers
–The most useful gifts for travel families
–Our favorite travel essentials
–Inspiring books for travelers
Find more awesome gift ideas at Gifting Genie