I've visited Hawaii plenty of times for a mainlander and I love it. Unfortunately my travels have never taken me to Kauai, one of the more laid-back Hawaiian islands (you can read a comparison of the different islands here). Today I'm turning it over to an expert, my friend Marcie Cheung. She's visited Kauai dozens of times and even has an entire website dedicated to Hawaii travel!
Marcie's used her decades of experience to put together the perfect Kauai itinerary for 3 days. This is a great option for visitors who are considering island-hopping in Hawaii, people visiting Hawaii on a cruise, or even those who are planning 4 or 5 days in Kauai but want to build in some relaxing beach time. Marcie has even written an amazing guidebook for visiting Kauai with kids!
---
I've been to Kauai more than 30 times. I know that sounds like a lot, but we started going when I was in elementary school. My grandma owned a condo there and we went to visit her. After she passed away, my family would go once or twice a year. My mom actually moved over there about 10 years ago, so now I bring my family to Kauai every year.
Because we've been so many times, I've come up with a 3 day Kauai itinerary that covers all the top Kauai attractions, best places to eat, and a few of my personal favorite places on Kauai. Since you cannot do a circle island tour of Kauai (the road doesn't connect), it's best to focus on one shore per day.
Before we get started, I highly recommend that you check the weather each morning. If it's raining on the North Shore, start with the South/West Shore itinerary (it's usually sunny there.) If it's foggy, don't bother driving to Waimea Canyon (you won't be able to see anything.)
This Kauai itinerary is geared for people who are island-hopping from Oahu, Maui, or the Big Island. However, it also makes a great plan for people spending 4 or 5 days in Kauai who want some days in-between to relax and revisit their favorite spots.
Ok, let's dive in!
Tips For Your Kauai Vacation
Renting a car on Kauai is strongly recommended. Taxis and Uber are available, but add up quickly. There is a bus that runs to the major hotel areas and stops at the airport, but it doesn't allow large luggage. Check here for the best rental car prices.
Be sure to check for road closures before you arrive. The island basically has one highway that goes most of the way around the island, and you'll want to plan your schedule based on any restrictions.
The North Shore of Kauai is known for its intense winter swells. Unless you're an experienced surfer, don't attempt the waves there! They won't be pleasant for splashing around either.
If you want to pick up sunscreen, souvenirs or snacks check out Walmart in Lihue, just a few minutes from the airport. They also have a well-stocked grocery section in case you want to pick up breakfast or lunch foods to save money in Hawaii.
Speaking of sunscreen, make sure you bring reef-safe sunscreen everywhere you go in Hawaii!
Don't overpack. All of Hawaii is extremely casual and you probably won't wear half of what you bring. Check out this list of Hawaii essentials to make sure you have what you need.
Psssst… don't forget to pick up this guidebook! It'll be your best friend on Kauai:
Where To Stay On Kauai
Choosing the right place to stay on Kauai really depends on what you're looking for.
If you want save money on your accommodations and groceries by staying at a vacation rental, check out these top-rated cheap places to stay on Kauai. Cheap is relative, of course.
Use the interactive map to find vacation rentals and hotels in Kauai
Where to Stay on the East Shore of Kauai
The East Shore tends to draw a lot of families and budget travelers. There are a bunch of great condo options with full kitchens. And it's really easy to drive up North or South depending on your itinerary and the weather. There are tons of places to stay in Lihue and Kapa'a.
Use the interactive map to find vacation rentals and hotels on the East Shore of Kauai here
Here's a great budget-friendly option in Kapa'a to consider:
Location: Waipouli Beach (Kapa'a)
Max guests: 4
Beds: Queen (bedroom 1), Queen (bedroom 2)
Bathrooms: 2
Outdoor living: walking distance to Waipouli Beach; two lanais (one with BBQ)
Extra features: coin-op laundry in complex, beach gear
Parking: free parking on-site
Where to Stay on the South Shore of Kauai
The South Shore is one of the most popular places to stay on Kauai because it's got the sunniest weather on the island. It's also where the majority of Kauai resorts are located, as well as boutique shops and high end restaurants. There are plenty of great places to stay in Koloa (which includes popular Poipu Beach).
Use the interactive map to find vacation rentals and hotels on the South Shore of Kauai here
Where to Stay on the North Shore of Kauai
A lot of people are drawn to the North Shore because it's absolutely stunning. There are a few awesome snorkeling beaches, but the rest of them tend to have rough water that isn't great for swimming. And during the winter months, the roads tend to flood making it difficult to drive around the area. The main towns to stay in are Princeville and Hanalei.
Use the interactive map to find vacation rentals and hotels on the North Shore of Kauai here
Here's a wonderful vacation rental in Princeville to consider: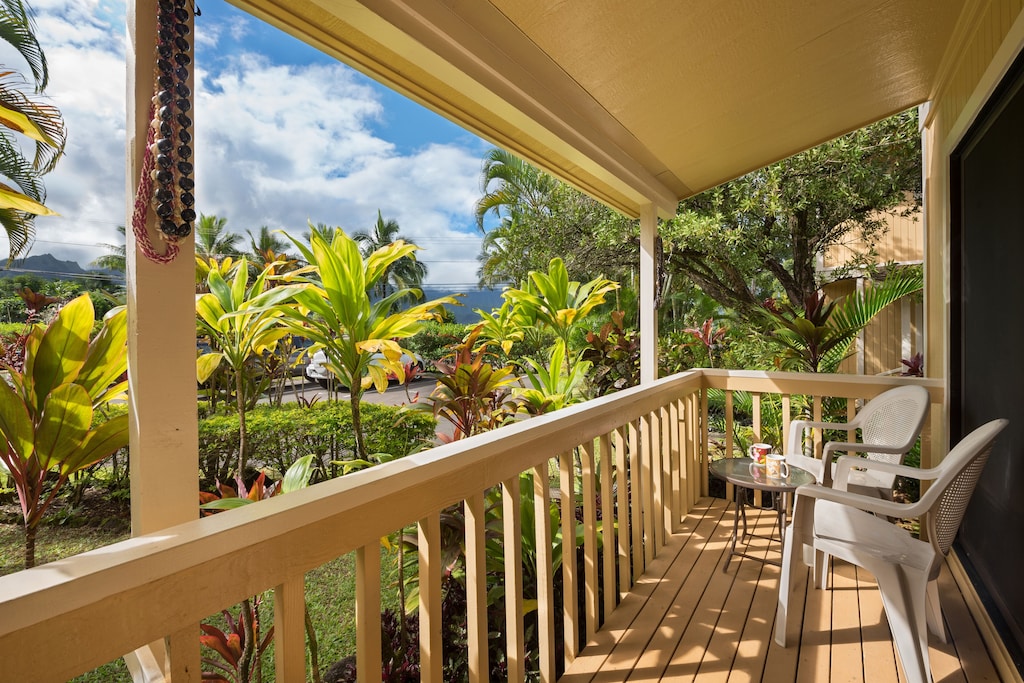 Location: Hanalei Hideaway (Princeville)
Max guests: 4
Beds: King (bedroom 1), Queen (bedroom 2)
Bathrooms: 2
Outdoor living: stunning mountain view lanai, quick drive to North Shore beaches
Extra features: in-unit laundry, snorkel/beach gear, boogie boards, cooler, high chair, baby gate
Parking: free parking on-site
---
3 Day Kauai Itinerary
Day 1: North Shore Kauai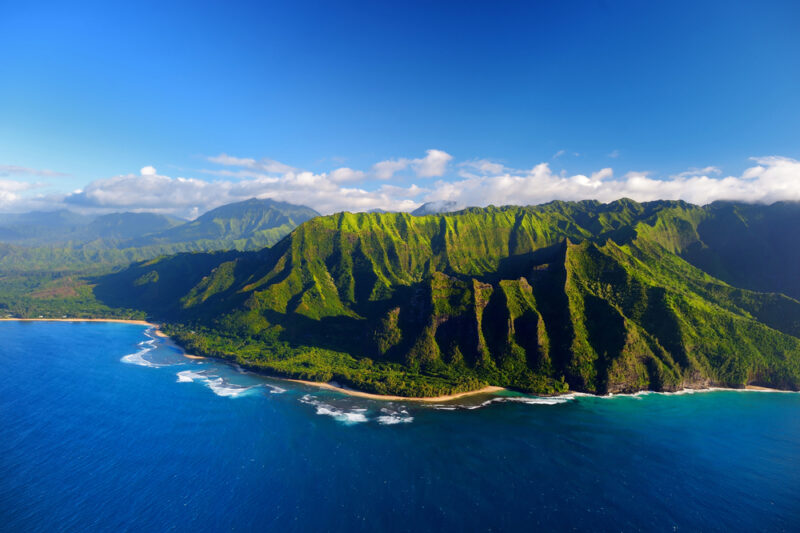 The North Shore of Kauai is famous for its gorgeous coastline. You'll even pass by Lumihai Beach, where Mitzi Gaynor famously "washed that man right out of [her] hair" in South Pacific. This is also the rainy side of the island and there has been massive flooding there the past few years. It's really important to check the weather and road conditions before you go.
Drive up to Ha'ena Beach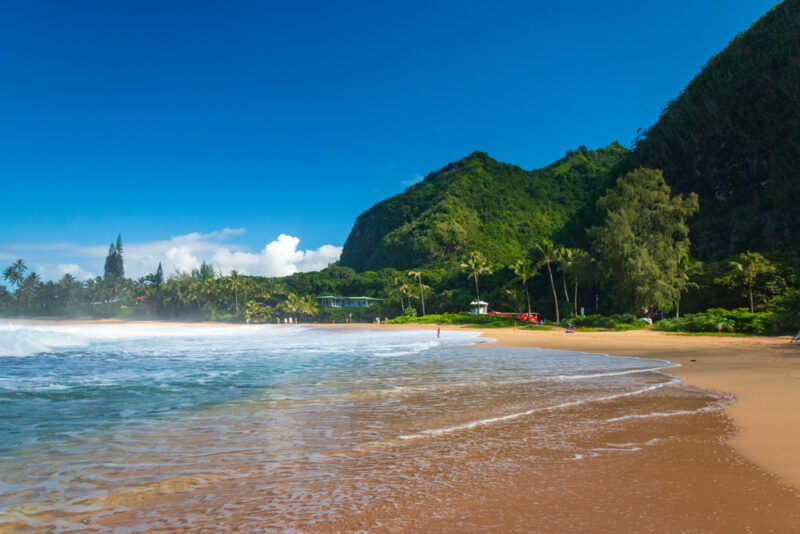 This is as far as you can go on the North Shore of Kauai. The road literally ends at Ha'ena Beach. I suggest heading straight here so that you can look out the window on the drive and decide where to stop on the way back. Plus, it will be less crowded if you head straight there in the morning.
If you are looking for a great Kauai hike with an epic view, plan on hiking to Hanakapiai Falls. The hike starts at Ha'ena. It's part of the Na Pali Coast and this is where you can get the ultimate Instagram shot. The hike is about 8 miles roundtrip, so it's best to do it early in the morning so it doesn't take up your entire day.
Otherwise, walk up to see an ancient Hawaiian heiau that is built to honor Laka, the Hawaiian goddess of hula.
Note: You need to make advanced reservations to enter and park at Ha'ena Beach Park.
Hanalei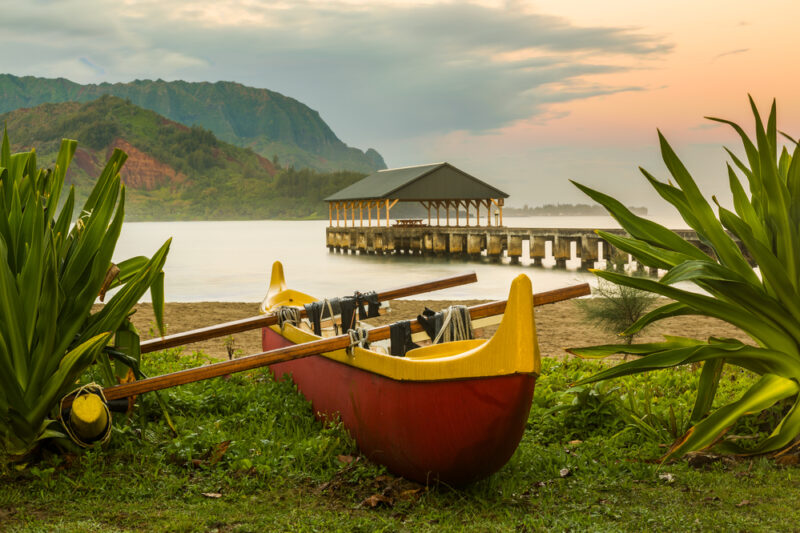 Hop back in your car and head to Hanalei. This is a super cute (and hipster-chic) North Shore Kauai town. This is where a lot of The Descendants with George Clooney takes place along with Soul Surfer, the Bethany Hamilton story.
You'll want to get out and take a photo in front of the Wai'ola Hui'ia Church. It's a green church with stained glass windows and it's featured in a ton of Kauai artwork. It's simply stunning.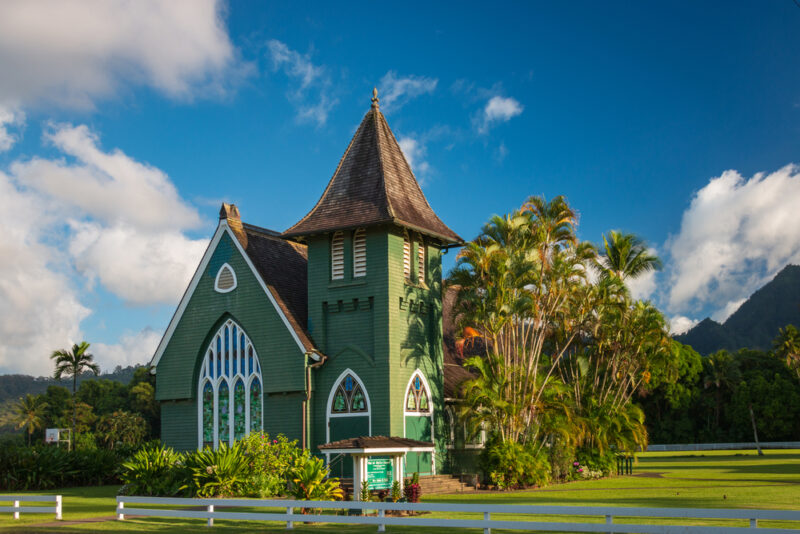 Then, drive to the Hanalei Pier. The beach here is so calm and peaceful and the gentle water is great for swimmers of all ages and abilities. This is a great beach to walk along the sand. The pier usually has a couple of local fishermen on it, so be respectful of that. Hanalei Bay is a great spot to do a picnic lunch, if you've brought food along. However, Hanalei has some amazing food that I highly recommend you try.
There's a cluster of food trucks along the highway in Hanalei that are worth a stop. My favorite is the Hanalei Taro and Juice Co. They have a bowl that has kalua pork, poi, and lomi lomi salmon layered together and it's outstanding!
Make sure to save some room for shave ice. Wishing Well Shave Ice has my favorite Kauai shave ice. They use organic syrup and top it with freshly cut fruit. Personally, I always order my own (it's soooo goooood!) but you can also share.
Still planning your trip? Check out Marcie's incredible Kauai with Kids guidebook!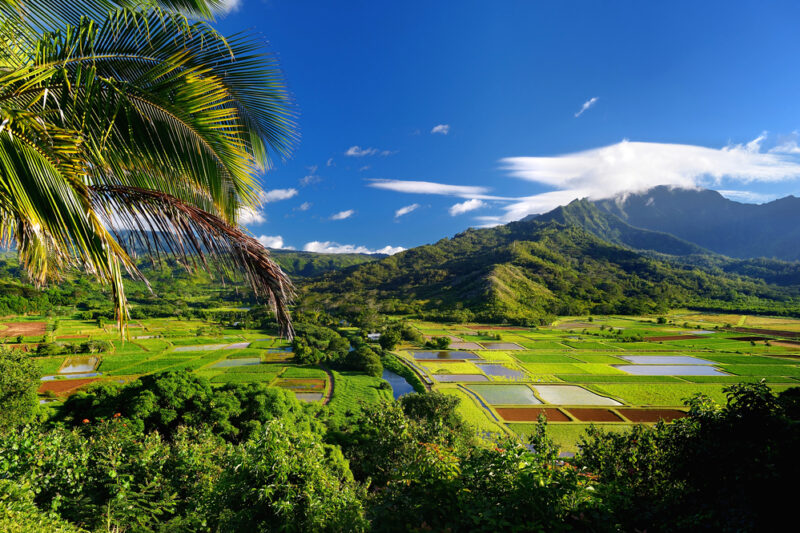 There's also a fantastic scenic lookout over Hanalei Valley that's worth a stop. It shows a bunch of taro fields and it kind of looks like a patchwork quilt, making it one of the best photo stops on your Kauai 3 day itinerary. Hanalei grows a ton of taro and you'll drive past several fields on your way down to Kilauea. There are also some one lane bridges, so make sure to follow the rules.
If you end up coming back to Hanalei later in your trip, make a point to have dinner at Tahiti Nui. Their food is outstanding and they often have live Hawaiian music and hula dancing.
Kilauea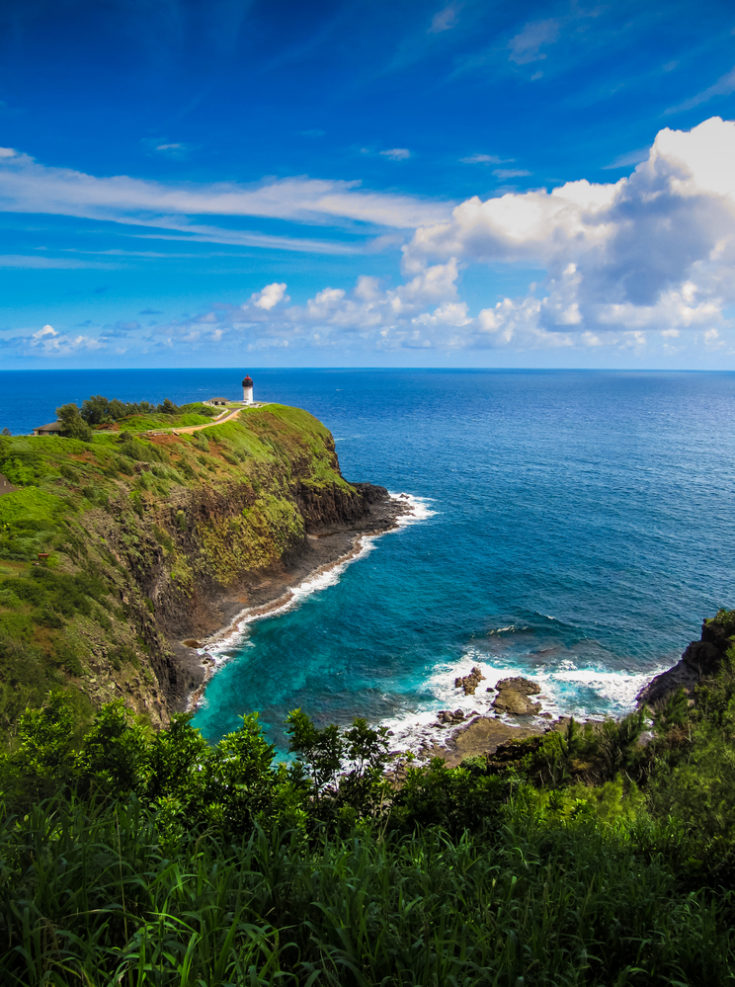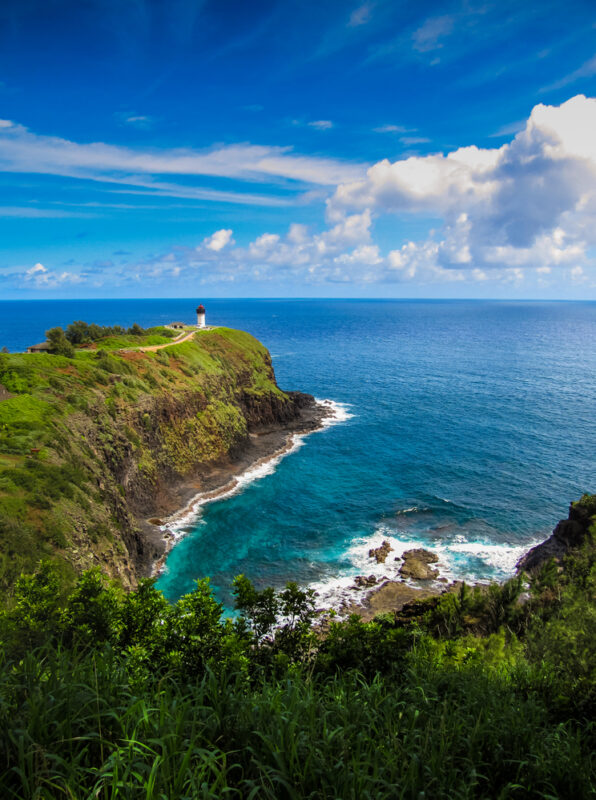 Insider tip: While this may sound a bit unconventional, just bear with me. Head to the 76 gas station in Princeville and order a pizza to go. There's a little take-out restaurant there. They shipped over a pizza oven from NYC and they make some of the best pizza I've ever had. You probably won't be hungry yet, but the pizza can hang out in the car while you do a bit more sightseeing.
First up is Kilauea Lighthouse, another top Kauai attraction that's featured on many postcards of the island. The lighthouse is more than 100 years old and it makes for a cute photo backdrop. You can sign up for a free lighthouse tour, which happens a few times each week. You'll also find a wildlife refuge, which is a top spot for birdwatching on Kauai.
Next, head to Na Aina Kai Botanical Garden. You can explore yourself or join one of their many tours. If you are heading to Kauai with kids, you'll definitely want to spend time exploring their Children's Garden, which features a cool gecko maze.
If you haven't already dug into your pizza, now is a good time to enjoy it and rest up for another day of adventure on Kauai!
Day 2: East Shore Kauai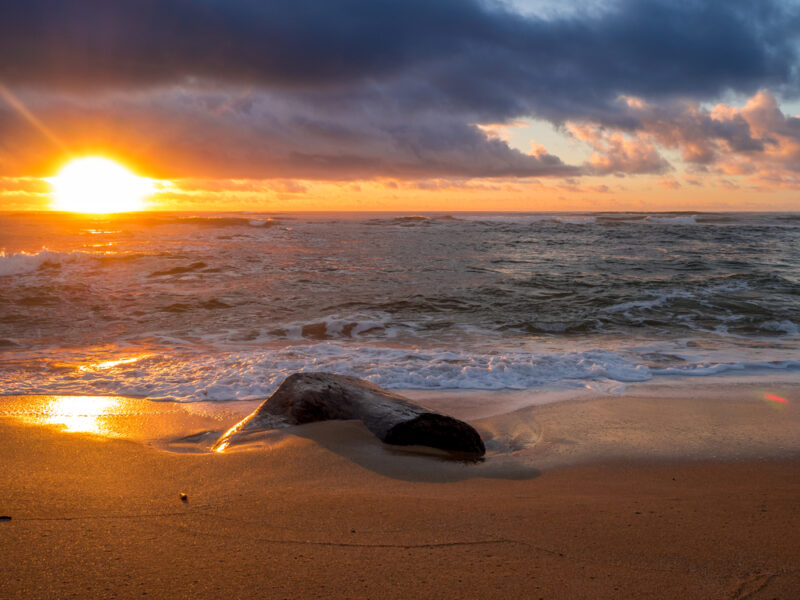 The East Shore of Kauai is where most of the residents live and it's also where Lihue Airport is located. If you're staying more than a couple of days, you'll probably want to hit up Walmart or Costco for groceries or spend time at Kukui Grove Shopping Center.
Sunrise
The sun rises in the East so it should be no surprise that the East Shore has the best sunrises on Kauai. You really can't go wrong with heading to any beach to watch it. Lydgate Beach Park is a pretty easy one to get to and they have a big parking lot. But really, any of them will do.
Coffee at Java Kai or drinks at Kauai Juice Co.
One of the best coffee shops on Kauai is Java Kai. It's located in a trendy area of Old Kapaa Town and they make some incredible coffee creations and offer tasty breakfast items. You can eat there or take your breakfast over to the bike path and do a morning walk while you enjoy breakfast on the go.
If you aren't a coffee drinker, pop next door to Kauai Juice Co. Not only do they have some incredible cold pressed tropical juices, but they also make their own kombucha infused with island flavors like lilikoi (passion fruit.) They sell them bottled, so grab a few to enjoy later in the day.
They also have the cutest Instagram wall featuring colorful pineapples that is just screaming for you to take a photo in front of it.
Kayak on Wailua River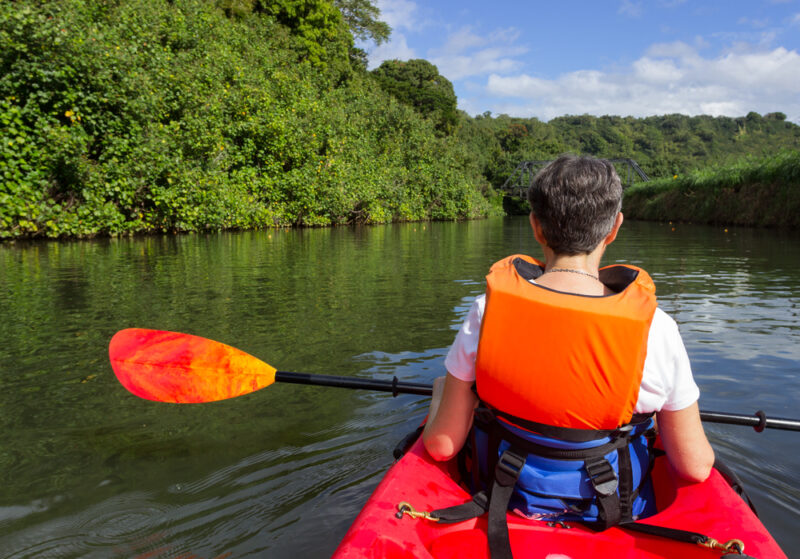 If you are up for an adventure, head to Wailua River for some of the best kayaking on Kauai. You can rent your own kayak or sign up for a kayak tour. This one will even take you to a secret waterfall!
Hike Sleeping Giant
Alternatively, if you want to hike on Kauai you can head for Sleeping Giant. The trailhead is in a residential area, but you'll hike up the mountain and get great views. It's about 2 miles to get up to the lookout point and then 2 miles back down to your car.
Lunch at Mark's Place in Puhi
If you want to experience a real Hawaiian plate lunch, you have to check out Mark's Place in Puhi. It's in the middle of an industrial area and you will feel like you are in the wrong place before you get there. They have some of the best Hawaiian food I've ever had. I'm partial to their beef stew and my husband can't get enough of their loco moco. Plus, they offer yummy baked treats like butter mochi and cookies that will knock your socks off.
Luau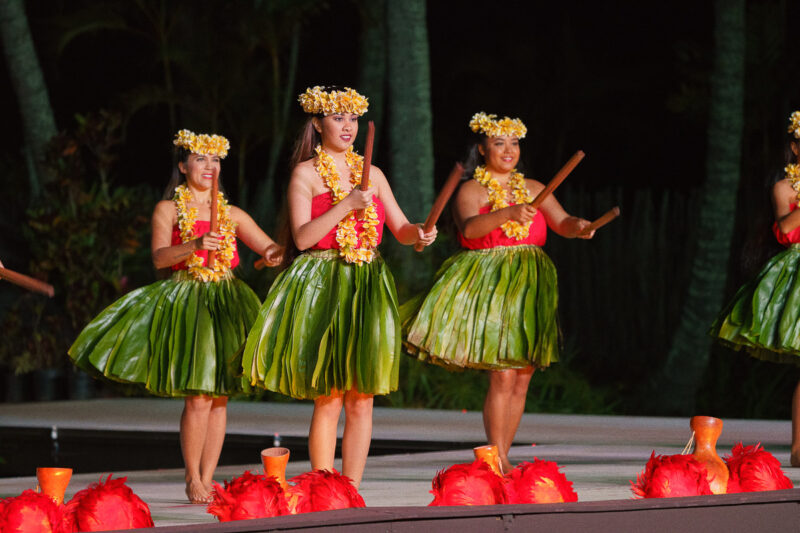 You'll want plenty of time to head back to your hotel to get cleaned up for your luau. It's a great excuse to get dressed up in Hawaii!
While there are tons of great luaus on Kauai, two of them offer really cool bonus features you can't find at other Hawaiian luaus.
We've been going to the Smith Family Luau since I was a kid. They do a nice job of showcasing both Polynesian and Asian cultures in their show. But what sets them apart is that they also offer a boat tour to Fern Grotto before your luau. You'll take a really calm boat ride on the Wailua River to the grotto and then listen to Hawaiian music and watch hula dancing on the boat ride back. Once you get to the luau, you can hop on a tram that will take you all over their gorgeous grounds. There are tons of great photo spots. Check out more details here, including schedule and pricing.
If you are heading to Kauai with young kids, Luau Kalamaku is a great option. They have a train ride you can take around Kilohana Plantation and learn about Hawaiian fruits and even feed some animals. The entertainment is more of a theatrical performance that shows the journey from Tahiti to Hawaii. It will remind you a little bit of Disney's Moana, as they take you on the ocean journey. Click here for more details and tickets.
Day 3: South/West Shore Kauai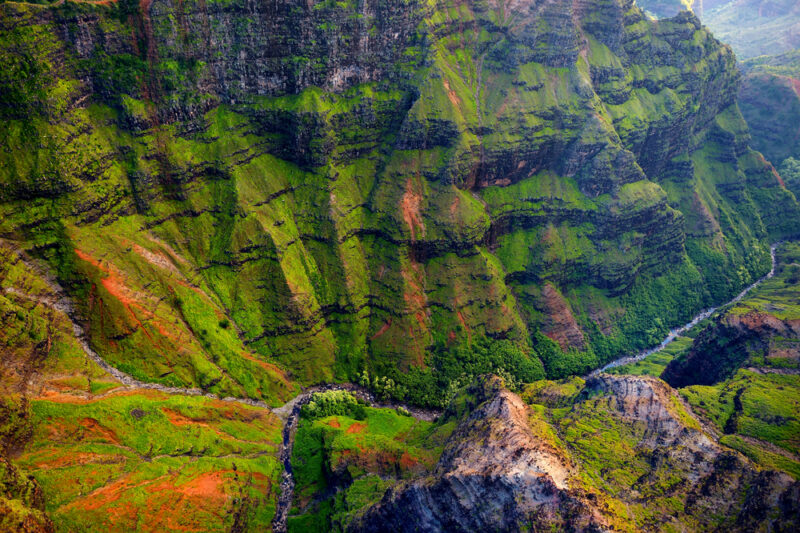 The South Shore of Kauai is known for being the "sunny side" and it's where you'll find another one of Kauai's top attractions: Waimea Canyon.
Waimea Canyon
Nicknamed the "Grand Canyon of the Pacific," Kauai's Waimea Canyon is truly a marvel. The road to get up here is a bit windy so don't try to drive too fast. Along the way, you'll see some bright red dirt and a little bubbling brook/mini waterfall. Get out of the car and get a closer look. Just be sure you aren't wearing your favorite clothes because the red dirt will stain. Trust me.
Once you get to the parking lot, you'll be able to head to the viewing platform for a great view of the canyon. If you have the time and energy, there are tons of great hiking trails and scenic viewpoints. Otherwise hop back in the car and continue up to Kokee.
Kokee
Kokee State Park is just North of Waimea Canyon and it also offers a ton of great hiking trails. It also has 2 amazing scenic viewpoints of the Na Pali Coast: Kalalau Lookout and the Puu O Kila Lookout. There's also a lodge and museum there where you can learn a bit more about the area. Because of its high elevation, it can get pretty chilly up there. So, bring a light jacket or sweater.
Shrimp Station in Waimea
This should put you right about in time for lunch. My favorite place to eat on the West Shore of Kauai is Shrimp Station. Here, you get to eat Kauai shrimp on a picnic table next to the highway. It doesn't get more authentic than that! While they offer a ton of shrimp options, I love their coconut shrimp. It's so flavorful and hits the spot!
Menehune Ditch and Swinging Bridge
After lunch, head over to the Menehune Ditch and see where, according to legend, the "little people" of Kauai created a stone ditch in just one night. Right across the street from the Menehune Ditch is the Waimea Swinging Bridge. This one is a lot of fun to cross and does actually swing a bit. It's a quick stop, but it's still fun!
Hanapepe Town
Next up is Hanapepe, Kauai's "biggest little town." It's basically just one road that loops around, but they have several cute art galleries, boutiques, and restaurants. Japanese Grandma's Cafe is a hidden gem if you want a little after-lunch snack. There's also a lot of street art here. A favorite is the Lilo & Stitch wall. The movie was set in Hanapepe, so you'll see little nods throughout the town.
Kauai Kookie Factory
Continue on to Kauai Kookie Factory in Ele Ele. This is the factory where they make some of the best Hawaiian cookies. They have a factory store where they have the cheapest prices on all kind of Kauai Kookies, including ones not distributed anywhere else. Plus, they offer yummy samples!
Waikomo Shave Ice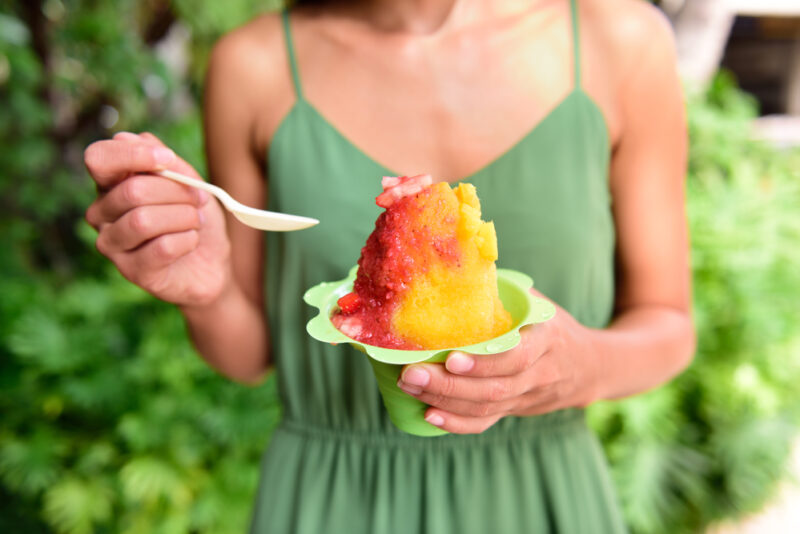 If you're up for another sweet treat, head to Waikomo Shave Ice. This is one of my favorite places to get shave ice on the South Shore. It's located in an unassuming parking lot, but their flavors are on point! They also have organic syrups and you can get your shave ice in a cute coconut cup.
Spouting Horn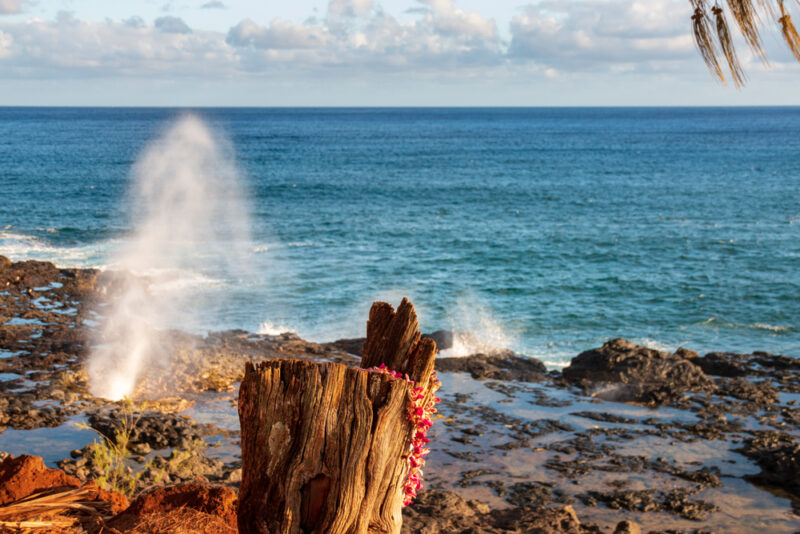 Another popular thing to do on Kauai is see the famous blowhole Spouting Horn. This is where water shoots up through the rocks to create an impressive gush of water. How high the water goes really depends on the weather and how choppy the ocean is. You might need to stand around for 10 or 15 minutes to get a good one on a calm day.
There is also a whole wall of vendors, so it's a neat place to take kids if they are itching to buy a Kauai souvenir somewhere.
Dinner at Merriman's at the Shops at Kukui'ula
Your last stop should be the Shops at Kukui'ula. This is the newest shopping center on Kauai and has tons of fabulous boutique and amazing restaurants. They also have a culinary market once a week with live music that is a lot of fun.
One of our favorite places to eat there is Merriman's because they make the best Mai Tai I've ever had. It has lilikoi foam on top and it's pure heaven! Their food is also outstanding and incorporates locally grown ingredients.
It's the perfect way to end 3 glorious days on Kauai!
About Marcie
Marcie Cheung writes the Hawaii travel site Hawaii Travel with Kids and the family travel site Marcie in Mommyland. You can follow her on Instagram, Facebook, Pinterest, and YouTube.
Planning your trip to Kauai: The Garden Isle
Don't miss these other helpful articles and resources as you plan your unforgettable 3 days in Kauai!
See all of our Hawaii travel planning resources in one place

Travel planning resources:
Compare rental car prices for Hawaii
Buy a top-rated travel insurance policy
5 simple money-saving hacks for booking.com

General Hawaii resources:
How to visit Hawaii on a budget
Renting a car in Hawaii: 10 things you NEED to know
What to pack for Hawaii
Is a cheap GoPro knock-off worth it?

Hawaii with kids:
What's the best Hawaiian island for families?
Is it worth visiting Hawaii with a baby?
Ultimate packing list for Hawaii with kids
Top 10 things to do with kids on Oahu
The best snorkel gear for kids of all ages

Oahu resources:
Best Oahu travel guide book
Perfect 7 day Oahu itinerary
Where to stay on Oahu
Family-friendly Oahu vacation rentals
Cheap Places To Stay On Oahu
10 Fun Things to do on Oahu for $10 or less
Getting the most bang for your buck on your Go Oahu discount card
Insider tips for visiting the Polynesian Cultural Center
The best beaches on Oahu (and why to visit them)
Where to find the best shave ice on Oahu
The best easy hikes on Oahu
North Shore Oahu complete visitors guide
Kayaking to the Mokes with Twogood Kayaks
Family-friendly kayaking with Holokai Adventures
Visiting Pearl Harbor

Maui resources:
Best Maui travel guide book
Perfect 3 day Maui itinerary
Cheap Places To Stay On Maui

Big Island resources:
Best Big Island travel guide book
Perfect 5 day Big Island itinerary
Cheap Places To Stay On the Big Island

Kauai resources:
Best Kauai travel guide book
Perfect 3 day Kauai itinerary
Cheap Places To Stay On Kauai
Still planning? Pin this for later!