If there's any National Park that holds a special place in my heart, it's Shenandoah. Growing up as a kid in northern Virginia, our family visited Shenandoah National Park every year. It's a quick 70 mile drive from DC, making it the perfect family day trip from Washington DC – whether you live in the area or you're visiting for the first time. If you want to dive deeper, you can easily spend a few days exploring the park too.
But little did I know that our family's trips down Skyline Drive were just scratching the surface of all the amazing things to do in Shenandoah National Park with kids! That's why I asked a fellow family travel writer to give us her best ideas for visiting Shenandoah with kids. I've taken my own kids a few times (as you can see in the photo above) but it turns out there's still so much we haven't explored.
With this guide, you can get started planning your family's Shenandoah National Park adventure. We'll help you find the ideal place to stay near Shenandoah National Park, figuring out what to bring to Shenandoah National Park and (of course) what you can't miss once you're there.
Still planning? Pin this for later!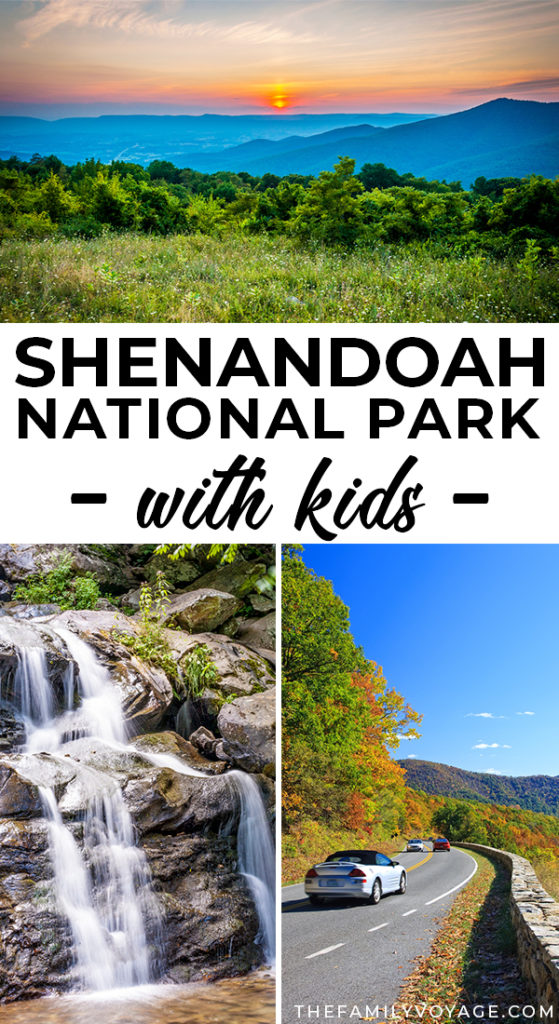 ---
Lodging Near Shenandoah National Park
While lots of families just take a day trip to Shenandoah National Park, there's enough to keep you busy for a few days if you stay nearby.
Shenandoah National Park isn't big, but it is long and narrow. There are four distinct entrances to the park: Front Royal (north), Thornton Gap and Swift Run Gap (central) and Rockfish Gap (south). If there are no crowds along Skyline Drive and you rarely stop, it takes about 3 hours to drive from Front Royal to Rockfish Gap; when the leaves are turning, the drive could easily stretch beyond 4 hours since leaf peeping in Shenandoah National Park is so popular. The northern part of the park is often busier with day trippers from Washington DC.
Because the park is somewhat spread out, it may be most convenient to stay roughly in the middle for easiest access. Staying near the center of Shenandoah National Park also gives you easy access to visit Luray Caverns. There are also some wonderful, unique places to stay near Shenandoah National Park's southern tip. Read below about some of the top Shenandoah National Park cabins and hotels near Shenandoah National Park.
Use the interactive map to find vacation rentals and hotels in Shenandoah, Virginia
---
Best Places to Stay Near Luray, Virginia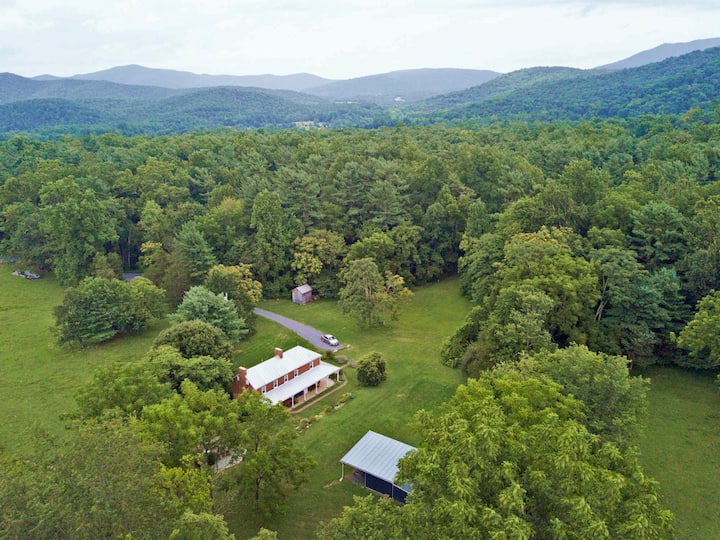 Do you want to add some luxury to your visit to Shenandoah? Don't miss these options owned by hosts Ryanne and Jay! Their luxury Shenandoah National Park rentals look absolutely perfect. They've renovated and modernized two homes in a secluded spot near Luray Caverns and also provide all the kids travel gear you might need upon request – from cribs to high chairs and more. They're also a great option if you want a pet-friendly rental near Shenandoah National Park.
Check out their two gorgeous rentals, just 20 miles from Thornton Gap and 10 miles from Luray Caverns:
–Modern Farmhouse (sleeps 6, 3 bedrooms/1.5 bathrooms)
–Modern Mid-Century Home (sleeps 6, 3 bedrooms/1.5 bathrooms)
If you're more interested in Shenandoah National Park hotels, look no further than Hotel Laurance. The family-friendly rooms are extremely spacious and come equipped with a kitchenette – though you may not need it since the hotel is walking distance to many Luray restaurants.
Getaway House Virginia
If you want to add a visit to Charlottesville to tour Monticello, consider checking out the swanky "tiny houses" at the Getaway House "DC" location in Stanardsville. It's on the east side of the park, just 15 minutes from the Swift Run Gap entrance. Getaway House VA is also just 30 minutes from Charlottesville, making it very convenient.
The Getaway House Shenandoah cabins are indeed tiny, but they're luxurious and feature an enormous window to bring the outdoors inside to you. There are also great amenities on-site like a private fire pit and picnic table for each cabin for the ultimate Shenandoah glamping experience.
---
Getting Around Shenandoah National Park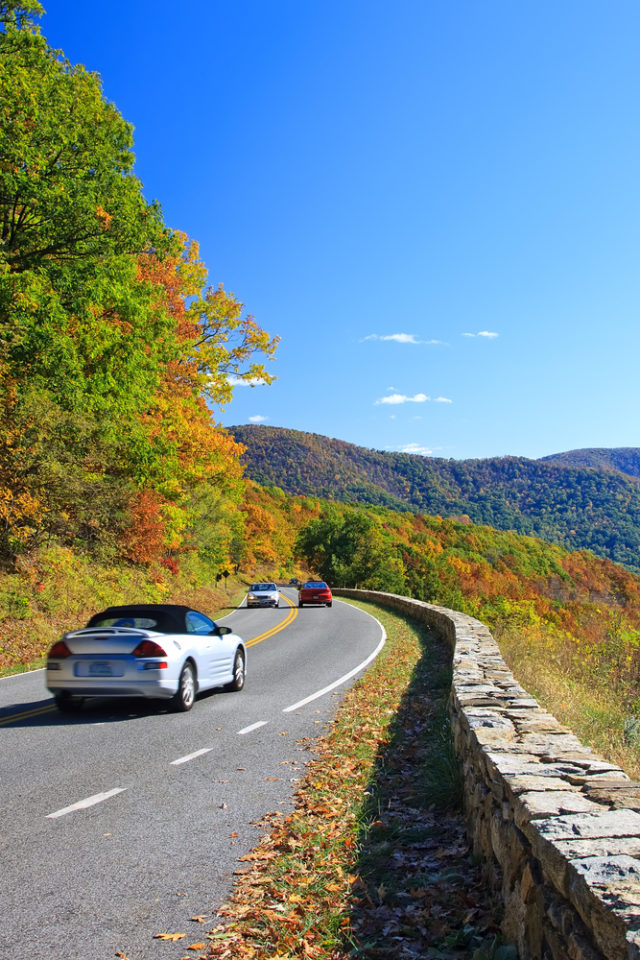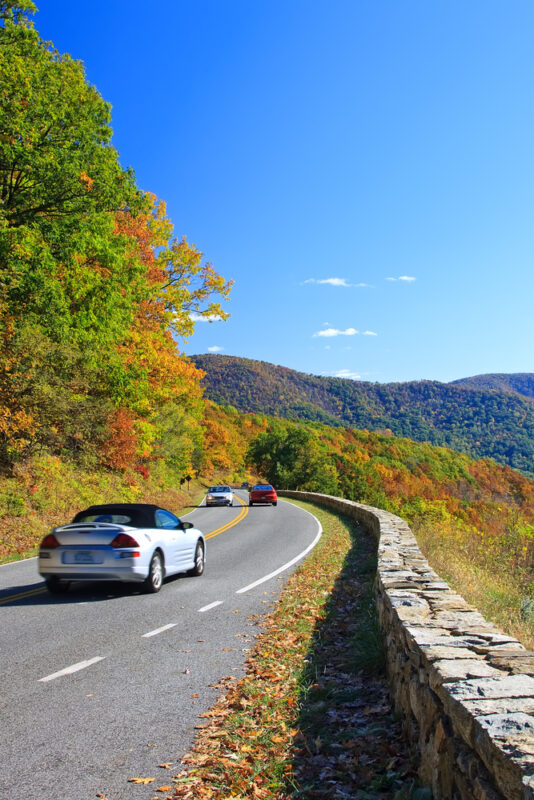 As I mentioned above, the absolute fastest you can navigate all the twists and turns of Skyline Drive with kids is around 3 hours. But that's on a weekday if you don't make a single stop. And where's the point in that!
But first things first: you need a car in Shenandoah National Park. Unlike some of the big parks in the west, there's no free shuttle system along the main route. You're on your own for transportation (apart from a few pricey taxi-like services that are geared toward those thru hiking the Appalachian Trail).
If you live in the region, it's no problem to drive your own passenger car along Skyline Drive. There are plenty of tight turns, but it's all high quality paved road.
For visitors flying in from elsewhere, the most affordable and convenient option is Dulles airport (IAD) – I've done the drive straight from the airport and it's almost exactly an hour. Reagan National (DCA) is just a few minutes further, though you run the risk of hitting DC traffic; that said, if you're combining a visit to Shenandoah with a trip to DC with kids, National is a great option.
If you're flying in to either IAD or DCA and need an extra pair of hands (especially helpful at IAD, with its mobile lounges, internal metro system and seemingly-infinite distances), check out SkySquad. Their assistants are airport-approved to meet you right at the gate and they can take you as far as your rental car! On the way back, they'll meet you at your car and help your family through security and right to the gate. We've partnered with them to give you 20% off using coupon FV20!
Other options to consider are Charlottesville-Albemarle (close but usually expensive) or Richmond (about 90 minutes and rarely less expensive than Dulles).
I recommend scoping rental car prices through RentalCars.com, as their comparison engine is really easy to navigate and it's often cheaper than booking directly with the rental car companies since they buy bulk days (YMMV, so be sure to compare). The cancellation policies through RentalCars.com are usually pretty generous, as I can personally verify.
Once in the Park, just take it slow and be prepared for tight turns and a decent number of hills. It's best to fill your tank before you enter the Park, but if need be there's gas in Shenandoah National Park about halfway down Skyline Drive at mile 51.
Pro tip: Make the most of your time driving around the region with the free RoadTrippers app. It helps you plan your route and shows you tons of unique stops along the way. Get $5 off RoadTrippers Plus with coupon BTR5QTP.
---
What to Bring to Shenandoah National Park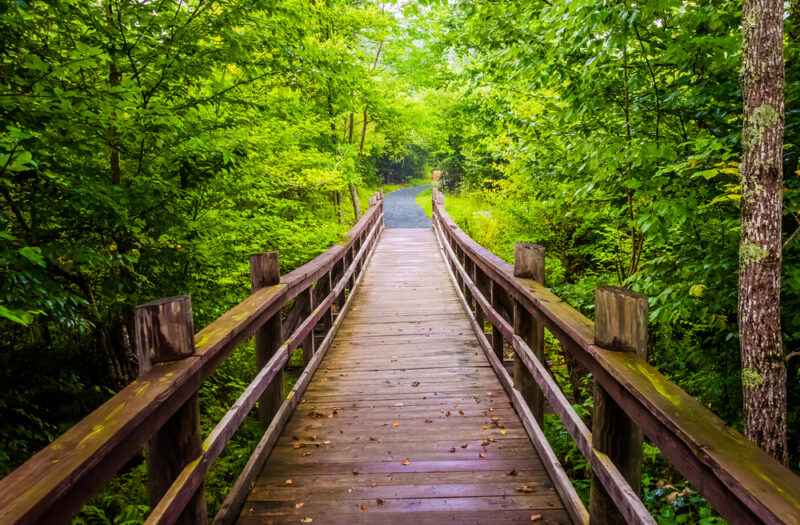 As with any hiking expedition, it's critical that you're prepared when you hit the trail.
Bring this gear with you for your day hikes:
-Hydration backpack ( his | hers | kids )
–Binoculars for bird watching and wildlife spotting
–Camera with zoom lens – you'll want a camera with a flexible range and manual controls to capture sweeping panoramas and bubbling waterfalls
-Snacks
–Sunscreen
–Bug spray since there are plenty of mosquitos and ticks in the park
–SPF lip balm
–Trekking poles if you plan to do some of the longer, steeper hikes
Recommended clothing for hiking in Shenandoah National Park:
-Lightweight hiking pants ( his | hers | kids)
-Multiple layers – tank/short sleeve plus long sleeves for sun protection and warmth
-Hat – Sunday Afternoons has amazing options for the whole family
-Packable rain jacket ( his | hers | boy | girl )
-Hiking shoes – for easier trails, running shoes or even trail runners will suffice
Check out these awesome gifts for National Parks lovers!
---
10 Perfect Things To Do In Shenandoah National Park With Kids
Contributed by Erin of Go Hike Virginia
Whether you and your kids like waterfalls, rock scrambles, historic sites or big views, Virginia's Shenandoah National Park has it all. The park wows with more than 500 miles of hiking trails, including a 101-mile section of the iconic Appalachian Trail that snakes through the park.
Motoring along the gently curving Skyline Drive that runs the length of Shenandoah National Park is a bucket list experience on its own, especially in fall when vibrant bursts of fiery orange and gold leaves are on full display. You'll find postcard-perfect views around every bend.
Whether you have just an afternoon or a few days for exploration and fun-filled Shenandoah National Park hikes, here's what to do with kids that will leave them eager for a return visit to this scenic park.
1. Hike to a Summit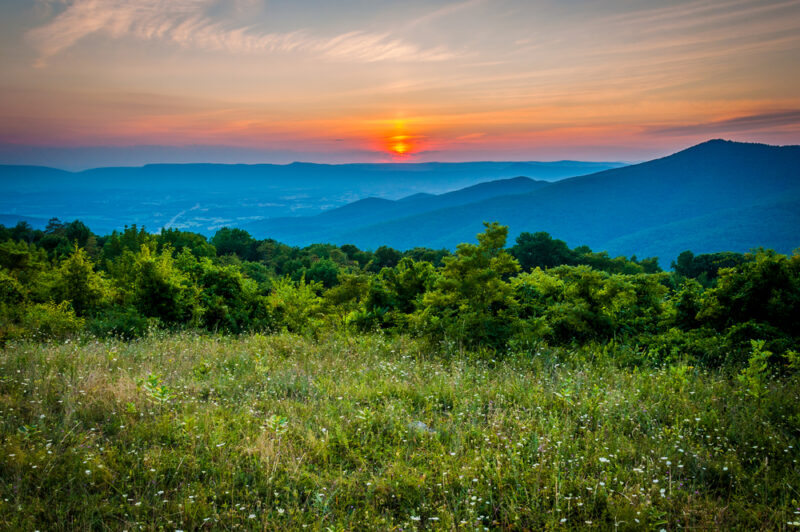 There are so many worthy summit views, but one of the easiest to reach is Hawksbill Summit. This also happens to be the highest point in the park (4,051 feet). There are three different ways to get there too, including the Hawksbill Summit Hike (1.6 miles) and the Hawksbill Loop Hike (2.8 miles). All are very manageable with kids in tow.
Fortunately there are tons of easy hikes at Shenandoah National Park – more than at most other parks of its size. Even some of the easiest hikes still offer stunning views of the Shenandoah Valley!
2. Chill at a Waterfall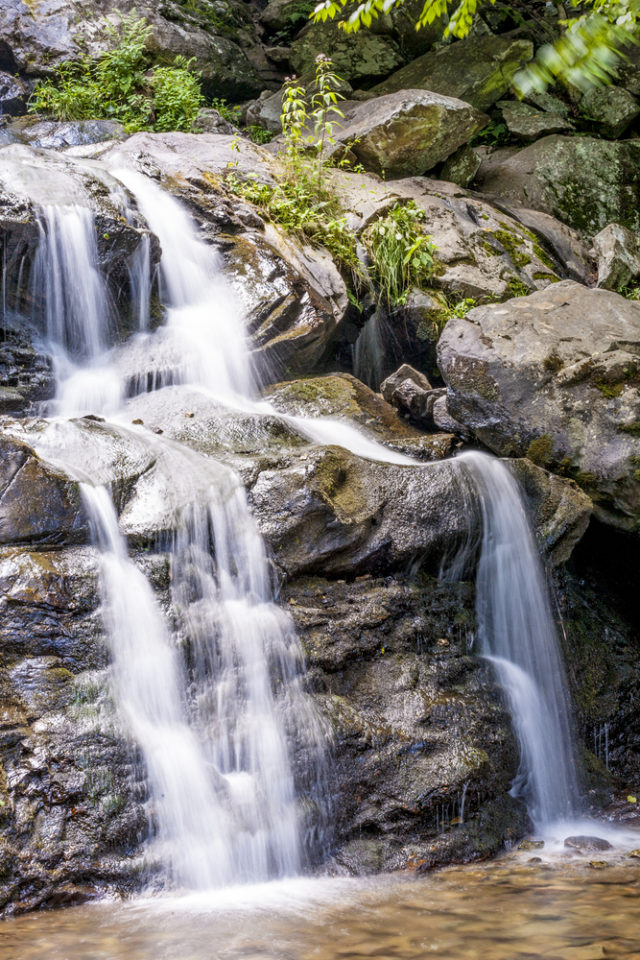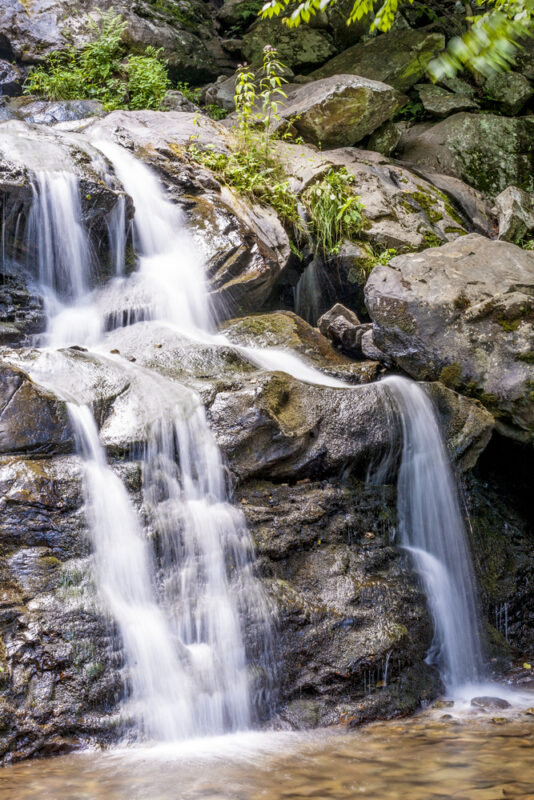 There are multiple waterfalls at Shenandoah National Park. One of the favorites is Rose River Falls. A 3.9-mile loop hike to Rose River Falls not only wows with a 67-foot cascading waterfall, but a dreamy swimming hole. The hike to the falls is beyond scenic as you stroll along a burbling stream called Hogcamp Branch.
Want to get more helpful travel tips like this? Sign up for our email list!
3. Conquer a Rock Scramble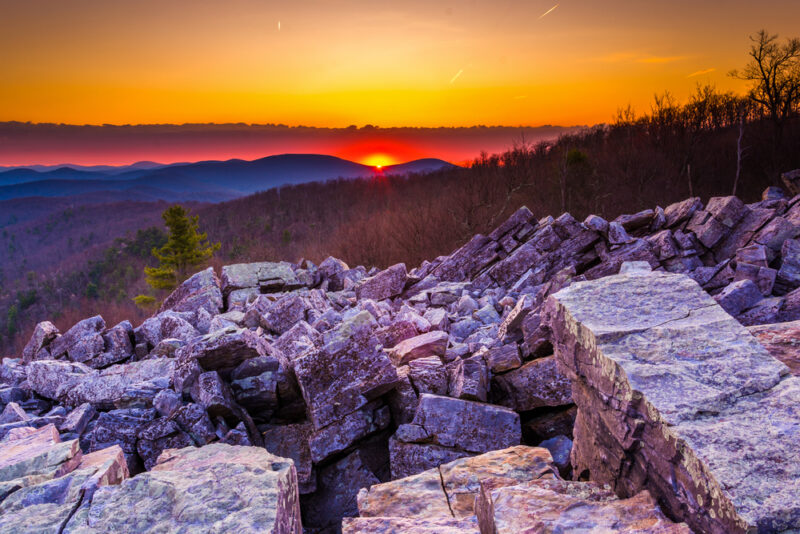 Kids love to scramble rocks and boulders. One of the best rock scrambles in the park is at Bearfence Mountain. This short, rocky hike is less than two miles round-trip but don't underestimate this trail, particularly the rock scramble. The final ascent can be tricky but your efforts will be richly rewarded with 360-degree views.
4. Clip Clop on a Horseback Trail Ride
See the foliage-filled Shenandoah Valley from a new perspective. As in, from atop a horse as you trot along green, leafy trails and across a mature apple orchard. Book a one-hour or 2.5-hour guided horseback trail ride inside the park at Skyland Stables. Hand-guided pony rides are available for small children.
5. Eat All the Blackberries
Well, maybe not all of them, but given Shenandoah National Park is well-known for thickets of blackberries along the hiking trails and park roads, you'll want to sample this tasty purple berry. Get a scoop of blackberry ice cream at Big Meadows Wayside or order up a slice of mile-high blackberry ice cream pie at Skyland Resort.
6. Become a Junior Ranger
Pick up a Junior Ranger Activity Book at one of the park's two visitor centers, including Dickey Ridge Visitor Center (milepost 4.6) and Harry F. Byrd Sr. Visitor Center (milepost 51). Kids complete six activities and attend one ranger program in order to earn a Junior Ranger badge. You can also download the activity book.
7. Dig Into How the Park was Created
Inject learning into your visit at the Byrd Visitor Center. Explore historical and wildlife displays, then go deep into the story behind the park's creation through an interactive exhibit called "Within a Day's Drive of Millions." This exhibit shares the critical work of the Civilian Conservation Corps in establishing this park.
8. Stop at Gram-Worthy Overlooks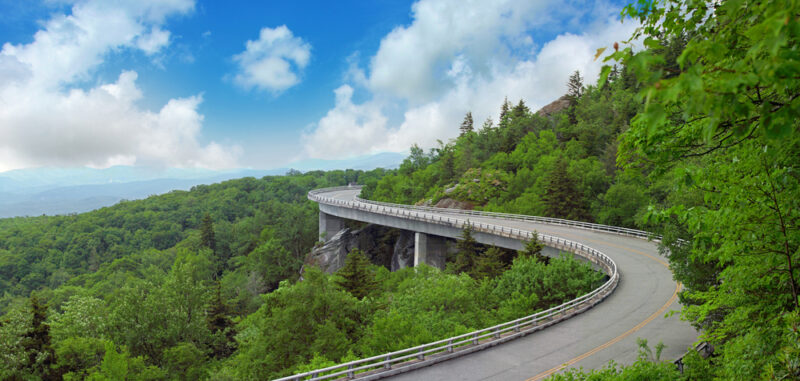 Skyline Drive boasts 75 overlooks, each one more picturesque than the last, all wowing with gram-worthy views. In the fall, red, orange and yellow foliage dominate the landscape. A few of the best overlooks on Skyline Drive include include Gooney Run Overlook (milepost 6.8) and Mary's Rock Tunnel Overlook (milepost 32.4).
9. Keep Your Eyes Open for Wildlife in Shenandoah National Park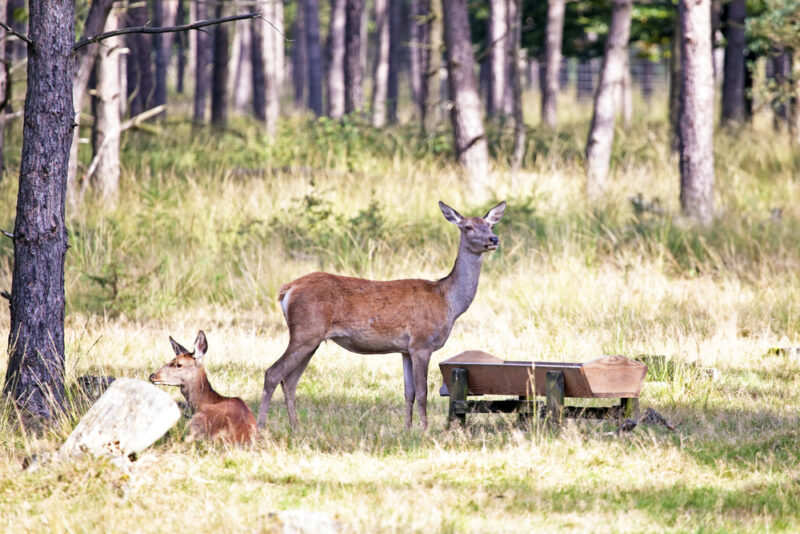 Shenandoah National Park is well-known for its abundance of wildlife across its nearly 200,000 acres. On any given day, you may see white-tailed deer, woodchucks, raccoons and chipmunks, even black bears. Be sure to observe these wonderful creatures from afar as you explore this spectacular national park – find helpful safety tips here.
10. Settle in for a Ranger Program
Ranger-guided programs may have been cancelled for 2020 (thanks a lot, covid), but once they start back up again kids will be floored as they learn all about plants, animals, wildflowers and ecosystems, even the night sky. It's well-worth your time to learn first-hand from a dedicated park ranger about what makes this park so special.
Enjoy your visit to Virginia's Shenandoah National. It's truly a wonderland that's only more magical when explored with children.
About Erin
Erin Gifford is a national park enthusiast and author of Go Hike Virginia, a hiking blog dedicated to sharing the best hikes in Virginia, including a wide range of kid-friendly hikes.
Still planning? Pin this for later!