What's the best shave ice on Oahu? It's a matter of opinion, of course, and everybody's got one. But one of the advantages of traveling with kids is that they consider dessert to be its own food group – with recommended daily allowances to fulfill – so we had ample opportunity to scour Oahu for the top shave ice spots. We didn't have any shave ice that was bad, but of course not all desserts are created equal. Here's our (highly subjective) ranking based on our many samples: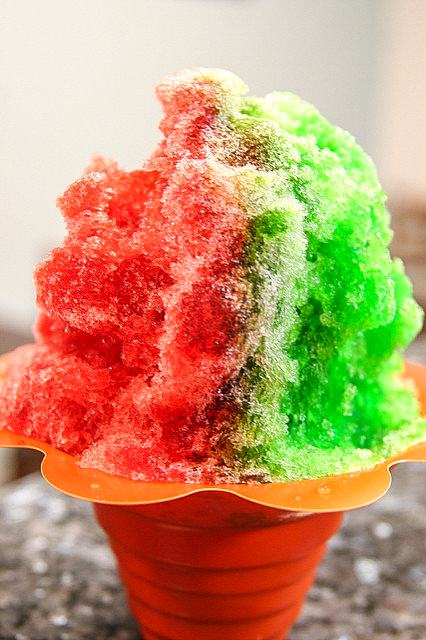 #5 Kokonuts
I'll be honest (since that's what we do here): Kokonuts in Koko Marina was something of a disappointment. It was the least smooth of all the shave ice we tried on Oahu, though the flavors themselves were pretty good. The prices are reasonable at $3 for a small (though this only includes two flavors) and $3.50 for a medium – they have some shockingly large sizes on the menu and I can only imagine that it would take an entire family to polish off their $7 supreme size.
Kokonuts is a good choice if you have people in your group who aren't into shave ice, as there are plenty of other options on the menu. It's also the best option if you're hiking on the southern part of Oahu, like Makapu'u Lighthouse or Koko Head, or you've just wrapped up snorkeling at Hanauma Bay.
Read more: All about renting a car in Hawaii
Are you craving a cold, sweet treat yet? Check out these great quotes about ice cream (yes, that "other" frozen dessert) to pass the time until you can get to Hawaii for some shave ice.
#4 Kailua General Store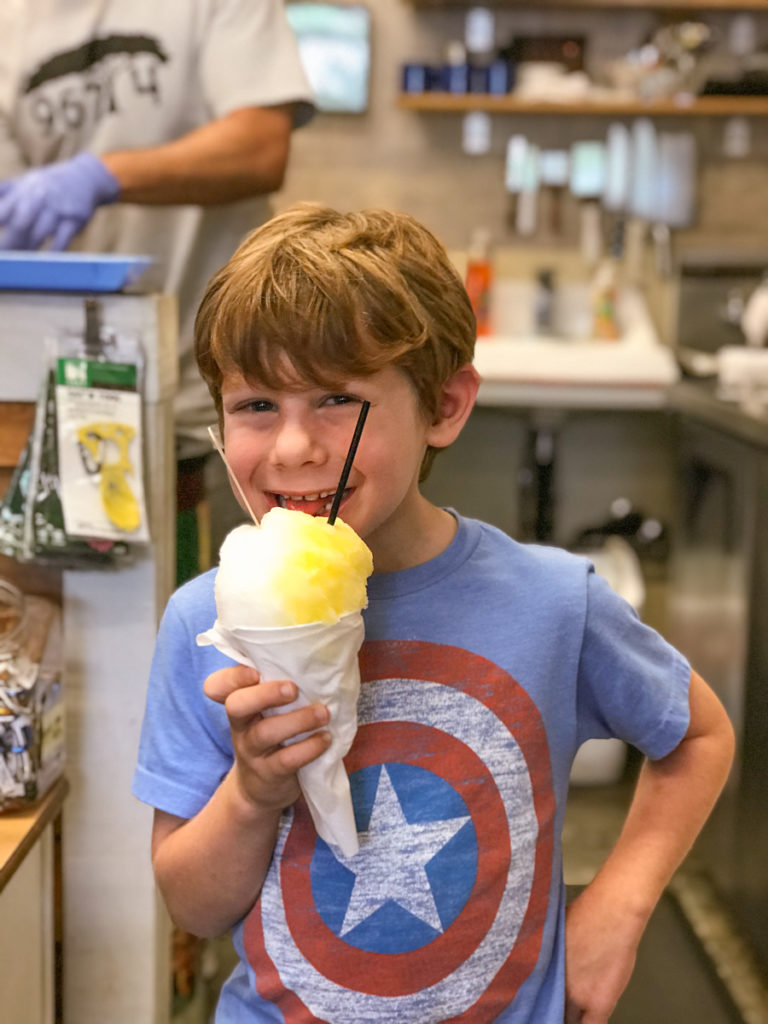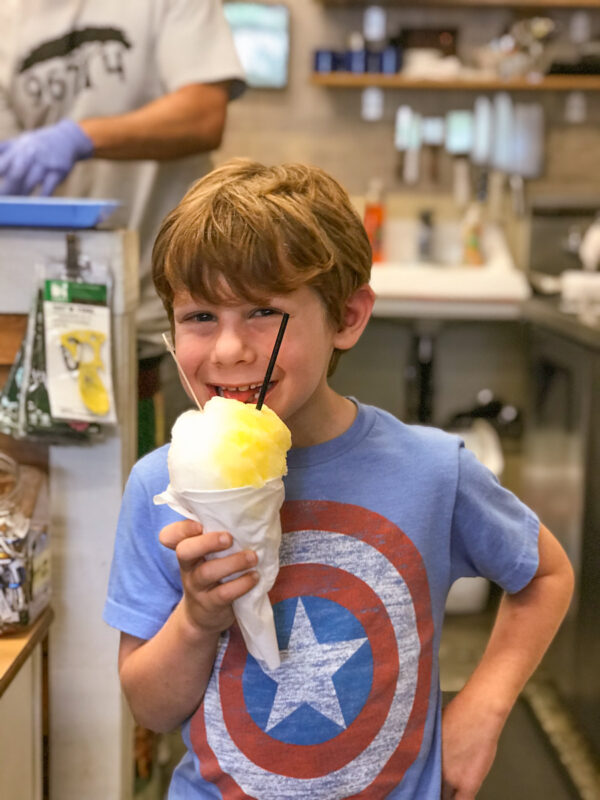 Here's one most visitors (and some locals) may not know about: Kailua General Store (right in the middle of Kailua town) has a shave ice counter in the back! For a place that doesn't specialize in it, the result was pretty darn good (though I 100% disagree with Ronnie's choice to get root beer flavor). Since it's not their primary line of business, call or go a little while before closing in case they're running low on ice. The prices are extremely reasonable: $2 for keiki, $2.50 for regular. While you're there, it's a great opportunity to do some light souvenir shopping – they have some great options for the whole family and even small books and toys for the kids.
Check out more awesome things to do on Oahu with kids
#3 Island Snow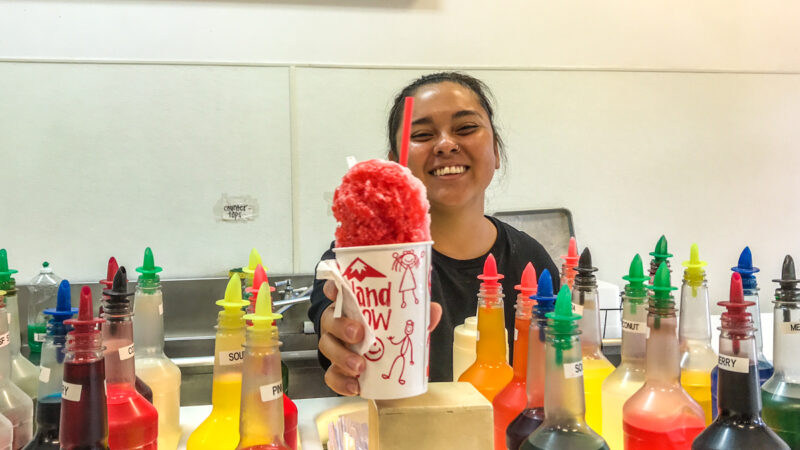 Island Snow in Kailua is an odd combination of clothing store and shave ice shop – at first we thought we'd gone to the wrong store! The shop has gained serious PR points in the last few years as word has gotten out that it's President Obama's go-to (though you'll find lots of shave ice shops around the island with 44's smiling photo plastered on the walls). We thought it was pretty good – fluffy "snow-like" ice and lots of delicious flavors to choose from – but also quite expensive compared to other options in the area: $4.25 for keiki, $4.50 for regular and $4.75 for large. Each cup does include a scoop of vanilla ice cream on the bottom if you want, which is a plus for some, but we were frustrated by the up-charges for so many options. For instance, if you want the extra special Dave's macadamia ice cream, that'll be another 75 cents.
Most irritatingly, there's a $1 charge for the "natural" flavors that don't have all of the chemical stuff in the regular flavors. I get that these are higher quality syrups. But some of the traditional flavors are only available in "natural", while some are only available in regular. If you want guava or mango or lychee in your Hawaiian shaved ice, prepare to spend an extra dollar even if the other two flavors you want are only on the regular menu. That puts the minimum price at $5.25 for a kid's size if you want certain flavors, which definitely takes some of the joy out of indulging in a little treat when you've got a few kids with you and no one's willing to share. Maybe they could make prices a little more reasonably by charging 25 cents per natural flavor (or just lowering their base prices?).
Visiting Hawaii on a budget? Find all the hacks you need right here.
#2 Matsumoto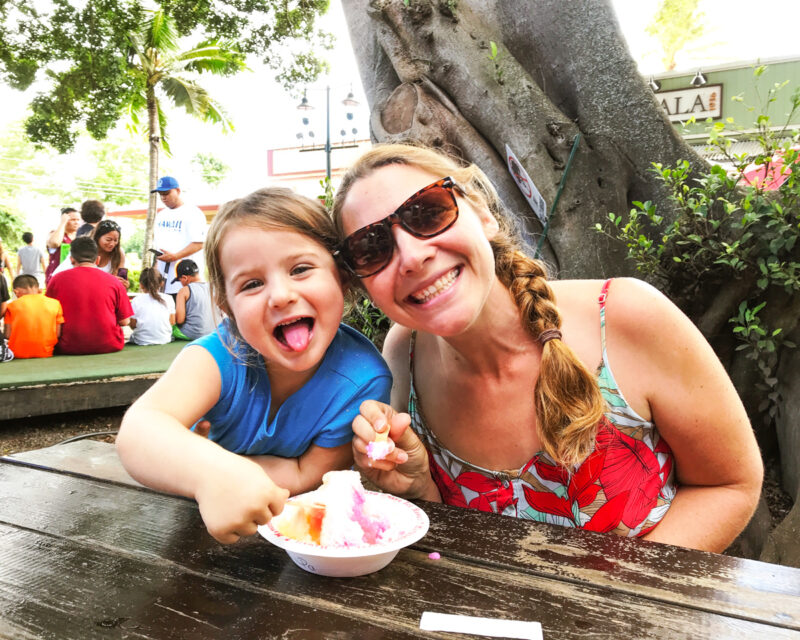 Matsumoto in Haleiwa is probably the most famous shave ice on Oahu, and the lines out the door (and all the way through the courtyard) are telling. This place is busy. But is it worth the hype? We thought it was pretty darn good, with nice texture and more flavor choices than you'll find anywhere else on the island. Those flavors are a little more subtle than some others we tried, and the coconut is oddly pink (not a little pink, but bright bubblegum pink). Playing hugely in Matsumoto's favor are the rock-bottom prices: just $3 for a small (which is enough to feed an adult and a child) and $3.50 for a large (which should be renamed "enormous").
If you have more time on the North Shore of Oahu, head across the street for Aoki's – we later heard that it's even better than Matsumoto and never as busy!
Read more: where to stay on Oahu
Use the interactive map to find vacation rentals and hotels in Oahu, Hawaii
---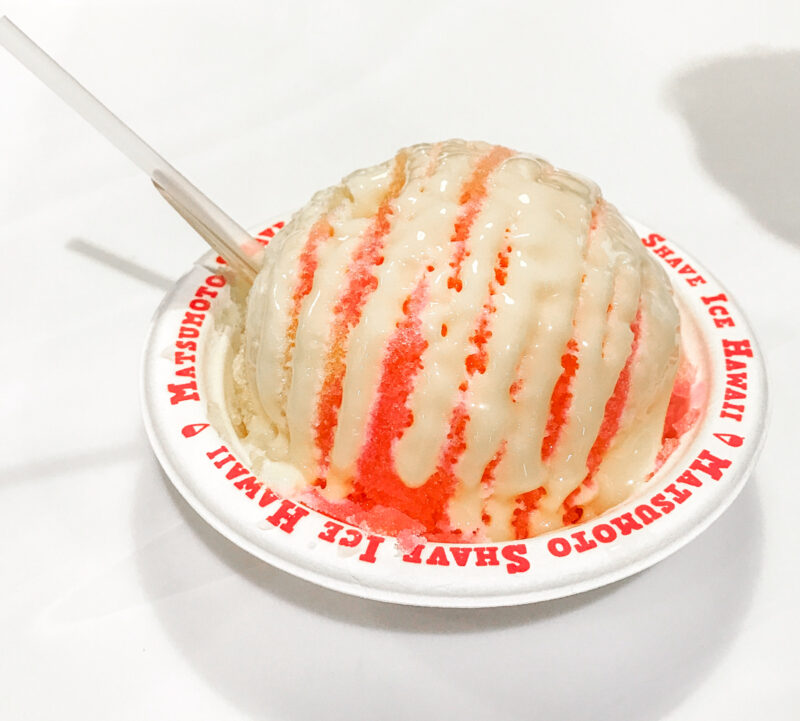 #1 Waialae Shave Ice & Bubble Tea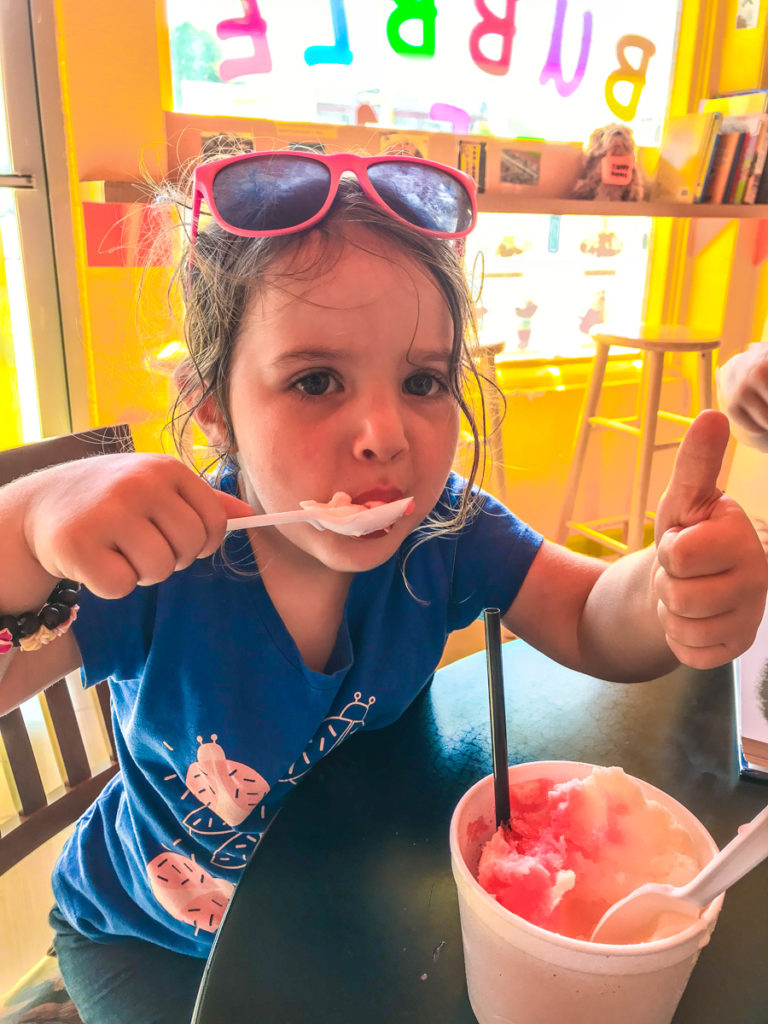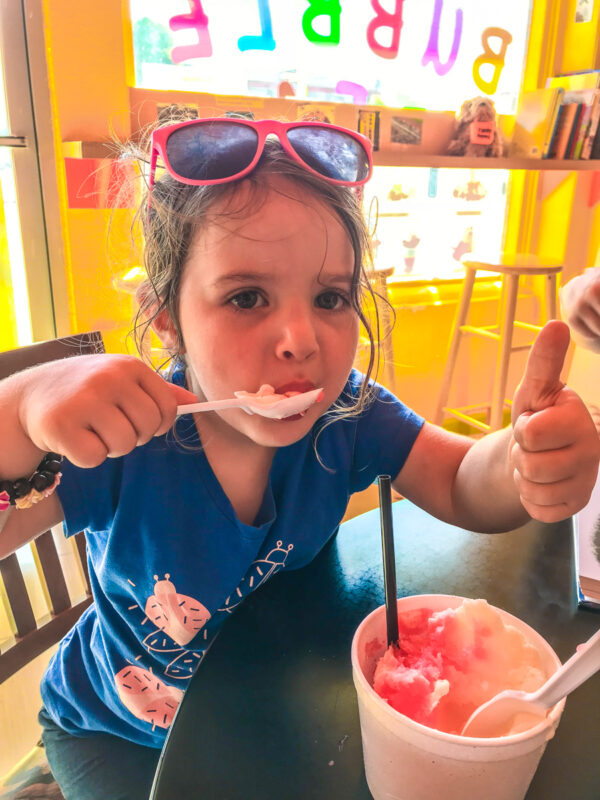 You see the thumbs up and the look of serious determination as she scarfs li hing mui (sour plum) topped with condensed milk? It was so good that she couldn't pause to smile or verbalize her feelings.
After conquering Diamond Head in the midday sun, you totally deserve to cool off with some shave ice (or bubble tea, if that's your thing). I'm so so glad that we passed the overpriced stands in the Diamond Head parking lot and headed for nearby Waialae Shave Ice & Bubble Tea right there in a residential neighborhood of Honolulu. We thought it was the best shave ice on Oahu! They offer soft and fluffy ice combined with wonderful flavors, some of which we hadn't seen in many other spots.
When you step inside, it's clear that this is a local favorite. There are love notes from school kids plastered on the wall and a stack of books to keep the little ones entertained. They even have some really inexpensive souvenirs in the shop too – and you'll have plenty of money to buy them, since a one-flavor keiki size shave ice is just $1.50! You can also get a typical small with three flavors for $2.75, and adding condensed milk on top (you have to try it at least once) is just 50 cents extra.
Street parking can be a little tough to find, but there are a few metered spaces in front (and we may have parked at the bank nearby). Bring cash to pay for your treats and say 'hi' for us!
Read more: your perfect 7 day Oahu itinerary
Where to stay on Oahu
Now that you've figured out which shave ice shops are on your must-visit list, it's time to choose where to stay! Use this detailed guide to help you decide, and in the meantime here are a few quick picks by area:
If you prefer to stay in a vacation rental, you can also check out some of the best cheap places to stay on Oahu and the best places to stay in Oahu for families.
Missing Hawaiian shave ice too much? Make it at home on your own!

There you have it! Hopefully you'll get out there and do your own (un)scientific research to find more top shave ice spots on Oahu. Did we miss your favorite? Let us know in the comments below.
More resources to plan your trip to Hawaii
See all of our Hawaii travel planning resources in one place

Travel planning resources:
Compare rental car prices for Hawaii
Buy a top-rated travel insurance policy
5 simple money-saving hacks for booking.com

General Hawaii resources:
How to visit Hawaii on a budget
Renting a car in Hawaii: 10 things you NEED to know
What to pack for Hawaii
Is a cheap GoPro knock-off worth it?

Hawaii with kids:
What's the best Hawaiian island for families?
Is it worth visiting Hawaii with a baby?
Ultimate packing list for Hawaii with kids
Top 10 things to do with kids on Oahu
The best snorkel gear for kids of all ages

Oahu resources:
Best Oahu travel guide book
Perfect 7 day Oahu itinerary
Where to stay on Oahu
Family-friendly Oahu vacation rentals
Cheap Places To Stay On Oahu
10 Fun Things to do on Oahu for $10 or less
Getting the most bang for your buck on your Go Oahu discount card
Insider tips for visiting the Polynesian Cultural Center
The best beaches on Oahu (and why to visit them)
Where to find the best shave ice on Oahu
The best easy hikes on Oahu
North Shore Oahu complete visitors guide
Kayaking to the Mokes with Twogood Kayaks
Family-friendly kayaking with Holokai Adventures
Visiting Pearl Harbor

Maui resources:
Best Maui travel guide book
Perfect 3 day Maui itinerary
Cheap Places To Stay On Maui

Big Island resources:
Best Big Island travel guide book
Perfect 5 day Big Island itinerary
Cheap Places To Stay On the Big Island

Kauai resources:
Best Kauai travel guide book
Perfect 3 day Kauai itinerary
Cheap Places To Stay On Kauai
Oahu guidebooks
Still planning? Pin this article for later!