You could spend a lifetime exploring Oahu's coastline and still might not hit all of its stunning, diverse beaches. So why limit yourself to Waikīkī? Get out there and explore some of the best beaches on Oahu – and we'll tell you why you should go to each one! Read on to decide which ones to add to your Hawaii beach bucket list.
Everyone's beach needs are different, so these aren't ranked! Instead we're listing them going clockwise around the island from Honolulu – but catch some of our top picks at the end.
Use the interactive map to find vacation rentals and hotels in Oahu, Hawaii
---
Ala Moana beach park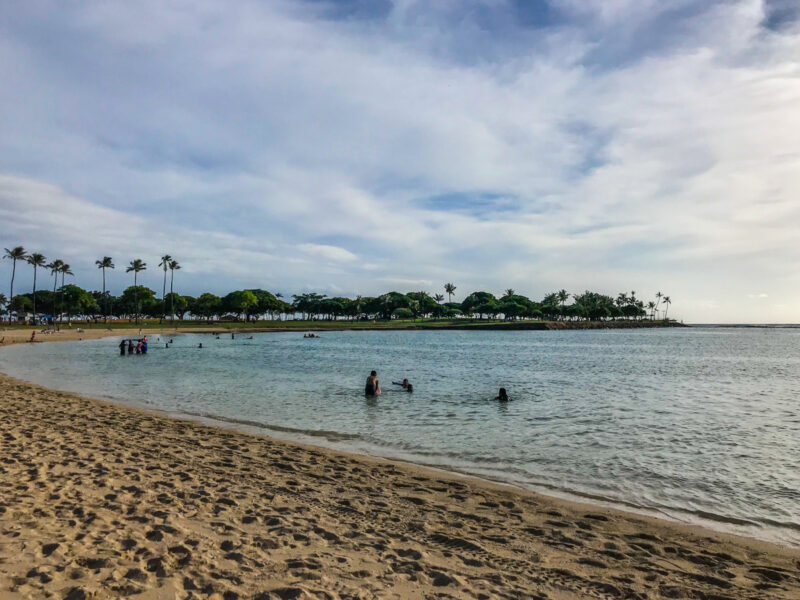 You don't have to stray far to find a beach that's equally beloved by tourists and locals alike! Ala Moana beach park, right across from the famous shopping center, is a great choice if you want a relaxing afternoon. The calm lagoon is almost like a swimming pool! It's not too crowded and offers plenty of parking. The totally flat water makes this the best beach on Oahu for babies and toddlers, and it's also perfect for learning to SUP or watching a magical Hawaiian sunset. Several locals told us they think it's one of the best beaches in Honolulu – and it's right in the middle of town.
Free parking. Full services on-site.
Haleiwa beach park
Haleiwa is probably the best-known and most popular town on the North Shore, with its food trucks, boutique shops and, of course, the famous Matsumoto shave ice. But what about the beach? Like so many beaches along the North Shore, it's rather steep through the sand and into the water – making for some decent waves. Surf schools meet there sometimes, so it can be a great place to learn but may be a little crowded. We found it ok, if a little rough, for boogie boarding. If you come in the afternoon, hit Haleiwa Beach House for a fantastic dinner and killer sunset view!
Free parking in the attached lot. Full services on-site.
Read more: You can't visit the Hawaii without stopping for shave ice at one of these top spots
Sunset Beach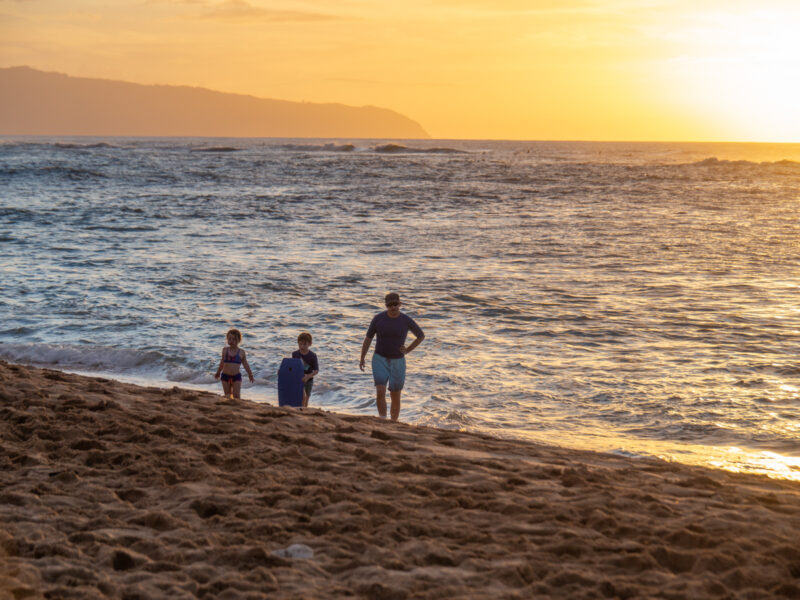 Just up the (very congested) road from Haleiwa is world-famous Sunset Beach. Like the rest of the coast, it's a somewhat steep beach and entry and that makes for more wave breaks. This is a great place to watch accomplished surfers navigate the epic winter swells! If you've had a little experience boogie boarding, give it a try here for a bigger challenge. Go in the late afternoon and bring a picnic dinner… after all, there's a reason it's called Sunset Beach. If you like to relax and take it all in, this is one of the best beaches on the North Shore of Oahu – and maybe the best sunset on Oahu too!
Try finding parking in one of the spaces facing the beach off the road, but be careful since traffic can be heavy. If that's all full, park across the street near the playground. There are no services at this beach but there's a food truck sometimes.
Read more: Everything you need to know before renting a car in Hawaii
Kualoa Beach Park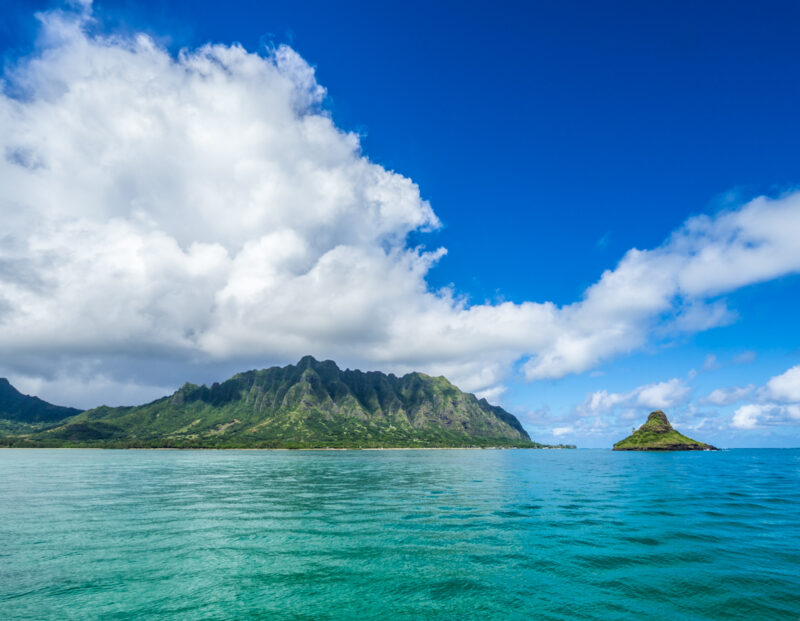 What makes Kualoa beach park a special spot? The views! This beach is right next to Chinaman's Hat (Mokuli'i) and is the ideal spot for launching a kayak if you rent one and want to head out there. Turn the other way and you're nearly in the majestic Ko'olau mountain range. The beach park has a lot of grass and picnic tables, but a fairly narrow strip of sand leading into calm waters with a shallow entry. You'll spot some locals camping, having barbecues or hosting birthday parties but overall it's extremely quiet. If you head to the southern end of the beach park (just keep driving straight when you enter) there's some lovely beach and you can snorkel or paddle out to a sea turtle colony! Pro tip: that strip toward the end of the beach connects with Kualoa Ranch's "Secret Beach"!
Free parking in the attached lot. Full services on-site.
Kailua beach park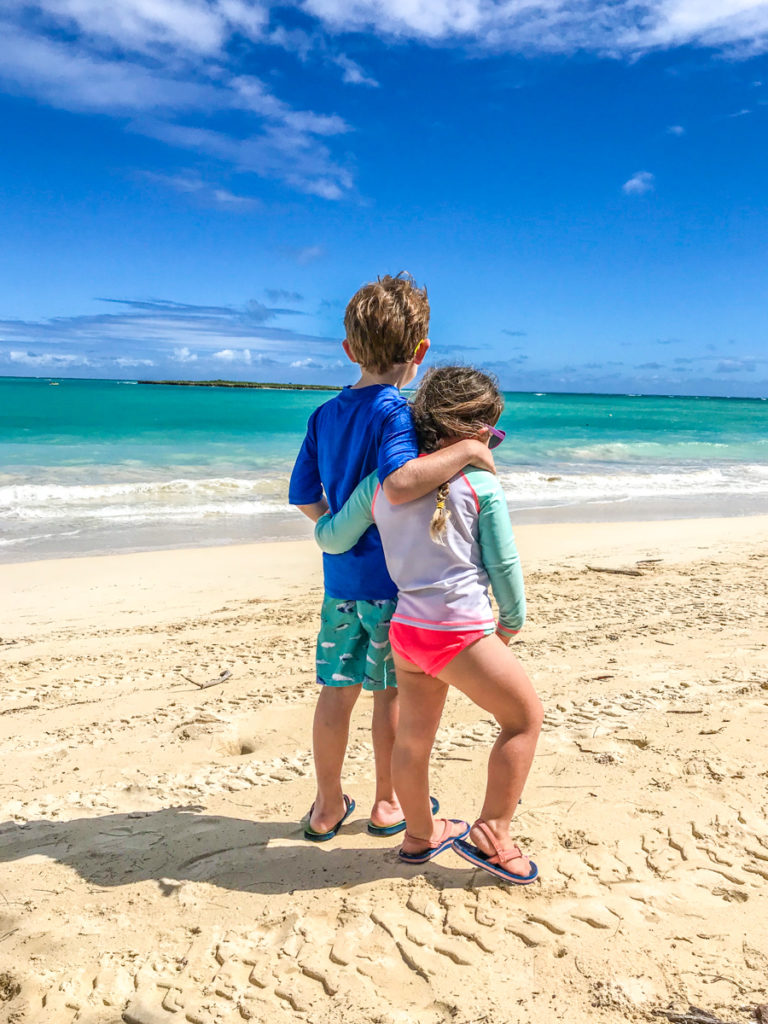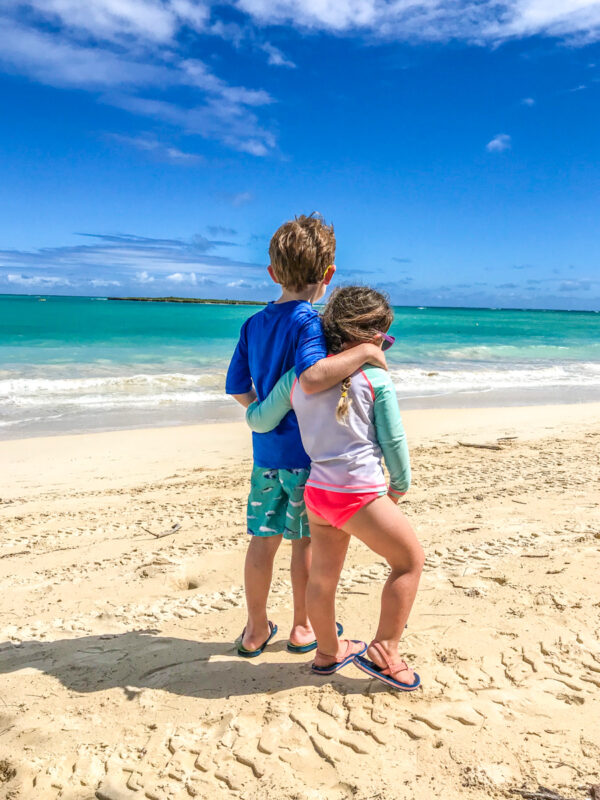 Kailua beach park is fairly well-known and can get busy at times (but not packed like some other spots). This is a great beach for "general" beaching on the east shore of Oahu: wonderful sand, calm enough water for casual splashing or kayaking to the Mokes but enough waves in some spots for some great boogie boarding. Don't go here after heavy rains, as run-off from the canal will make the water "unappealing" (the photo above was before any substantial rains, so the water was crystal clear).
Free parking in the attached lot. Full services on-site
Lanikai beach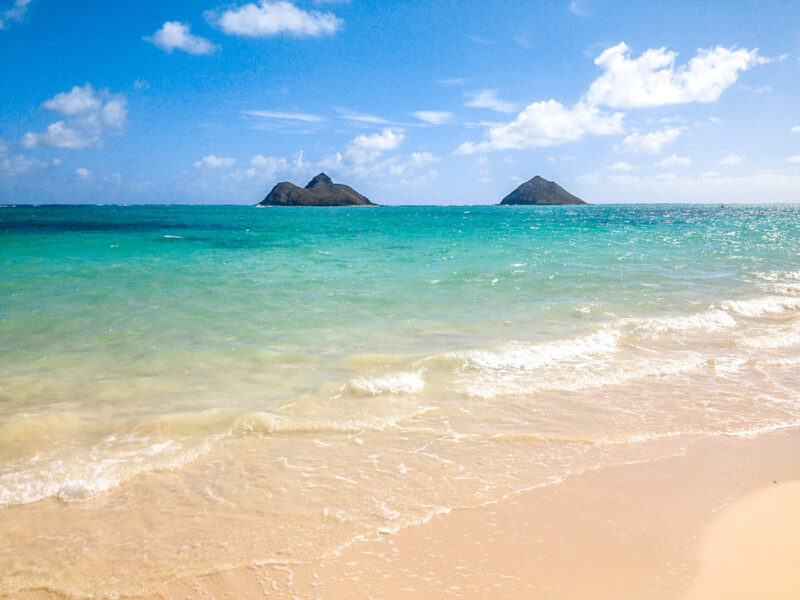 Lanikai beach just might be my favorite beach on Oahu. It's just next door to Kailua, but offers a totally different experience! Thanks to the shape of the coastline, Lanikai has flat turquoise water dotted with mounds of coral just a few meters out. Lanikai beach snorkeling is fantastic! It's best suited to those who are at least moderately comfortable in the water, and fins are very helpful if you aren't a strong swimmer as you'll be going pretty far out. The tranquil water and soft white sand also make it one of the best Oahu beaches for kids and among the prettiest beaches on the east side of Oahu. It's also that rare combination, one of the only excellent snorkeling beaches on Oahu where you can enjoy both snorkeling and stunning time on the sand.
This is not a beach park. Park on the neighborhood streets but be mindful of signs and avoid the weekends, as Lanikai is popular with locals too. There are no services at this beach.
Check out more awesome things to do on Oahu with kids
Bellows field beach park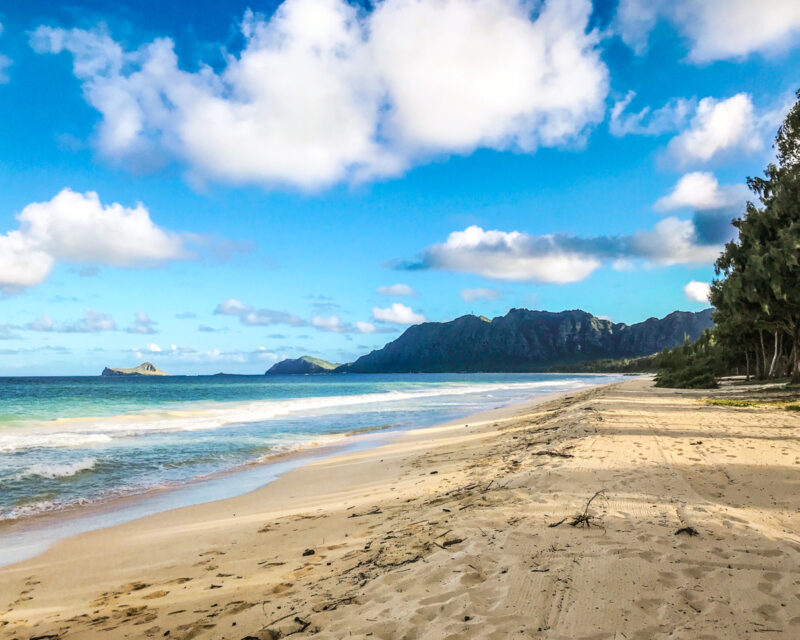 Bellows Airfield is definitely one of the more secret beaches on Oahu! This is government property used for testing, but on the weekends it's open to the public for recreation. There's a lot to love about Bellows.
First off, there's tons of parking everywhere, just drive through the massive ironwood trees like everyone else – back into your spot for easy trunk access.
Second, it's huge. There will be other people there on Saturday and Sunday, but there's plenty of room for everyone. Many people consider this among the best beaches in Oahu simply because it's so much less crowded than almost every other option.
Third, it's a great place to meet locals and have a chat. Bellows is a great beach for boogie boarding on Oahu and even for beginning surfers.
Tons of free parking everywhere but you'll need a car to get there; continue past all the camping areas to the day use area, which is the last parking section. There are services near the camping area. Bellows opens Friday at noon, but most locals are still at work so go then to have it all to yourself.
"Baby Makapu'u"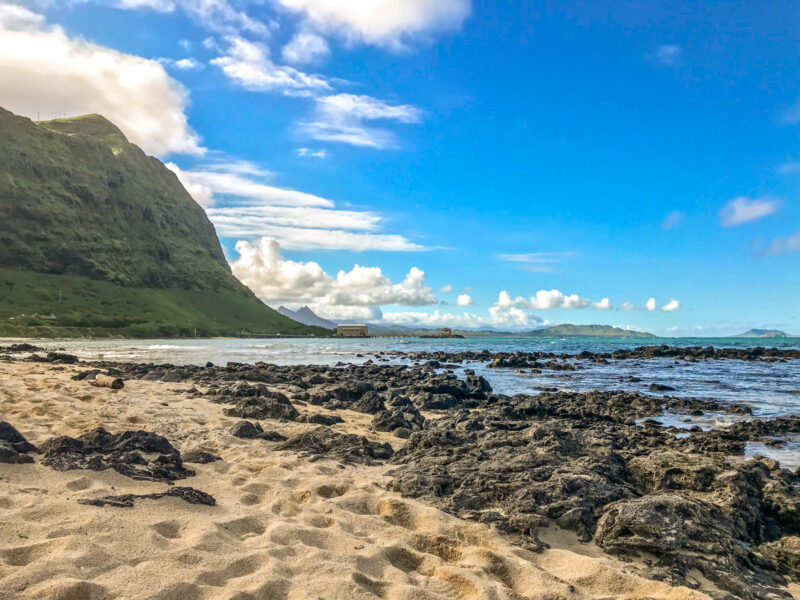 Want a really unique experience off the beaten path? Head to Baby Makapu'u, just south of the research pier (you won't find it labeled on your GPS, so check out our map below). The beach is small and sandy, but there are awesome tide pools for kids and adults alike! The big pool in the middle is great for snorkeling (we even saw several humuhumunukunukuapua'a), while the small ones to the side are perfect for kids to splash and play. On the weekend this will be crowded with locals, but it's pretty quiet on weekdays making it one of the best snorkel spots on Oahu if you're trying to avoid crowds. If you plan to snorkel, reef shoes are helpful hear.
Small free parking in the attached lot. There are no services at this beach.
Hanauma Bay
Hanauma Bay isn't the best beach on Oahu, but it may very well be the best place to snorkel on Oahu! There are just so many fish and they're all different types and sizes. The setting of the Bay from above is picturesque as well. Hanauma Bay is awesome for kids or those new to snorkeling, as you can just stand in the water and put your head down to watch the fish passing by – no swimming necessary!
There's a lot of effort to protect Hanauma Bay, as it's been put through the ecological ringer over the last few decades. Make sure you plan your logistics appropriately.
-Hanauma Bay is closed on Tuesdays to give the ecosystem a day off.
-When you visit the first time, you must view the introductory video. If you might return within a year, put your name on the list after the movie. For subsequent visits, you can bypass the movie by showing your ID in the exhibit room.
-Make sure to bring reef-safe sunscreen like this one.
-You can rent adult snorkel gear at the beach. It's BYO for the kids, so check our guide for reviews of kids snorkel gear that works.
-We strongly recommend reef shoes at Hanauma Bay! Fins are overkill.
-We got a hot tip from a volunteer that the best sea life is all the way to the left when you get down to the bay, near the rock wall. He was right!
-Guide books tell you to go at 7am, but that's when the tour buses from Waikīkī go! We went three times in the afternoon (2pm and later) and never faced crowds.
What does it cost to visit Hanauma Bay?
Admission is $7.50 per adult and kids are free… but everyone is free after 4pm! Visibility won't be as good as the morning, but we still had a great afternoon session on our last day in Paradise. The catch is that you must be out of the water by 5:30pm and the parking lot gate closes at 6pm sharp. The last public bus leaves around 5:15 from outside the gate, so the free session is best for those with their own wheels (parking is $1, but not staffed for payment after 4pm).
Parking costs $1 and can sometimes fill up, it will depend on the time of year and time of day. There are full services at Hanauma Bay, including a snack bar, gift shop, snorkel rental stand, showers and more.
Check out more hot tips for visiting Hawaii on a budget
Maunalua Bay beach park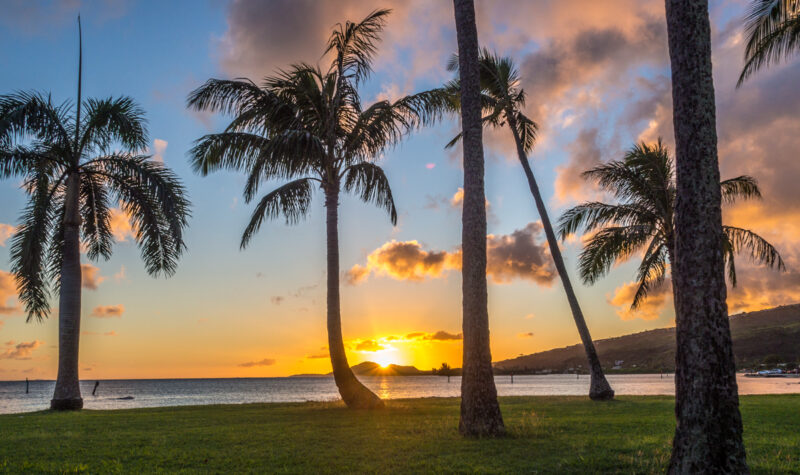 I confess: we never actually hit the sand or the water at Maunalua Bay beach park, right across the street from the Hawaii Kai shopping center – and most people don't. So why does it make the list? Because it's an absolutely epic place to watch those stunning Oahu sunsets! The bay is tucked between Koko Head and Diamond Head, so you can watch the sunset over interesting terrain rather than just the open ocean.
Best beaches on Oahu, Hawaii
Best places to snorkel in Oahu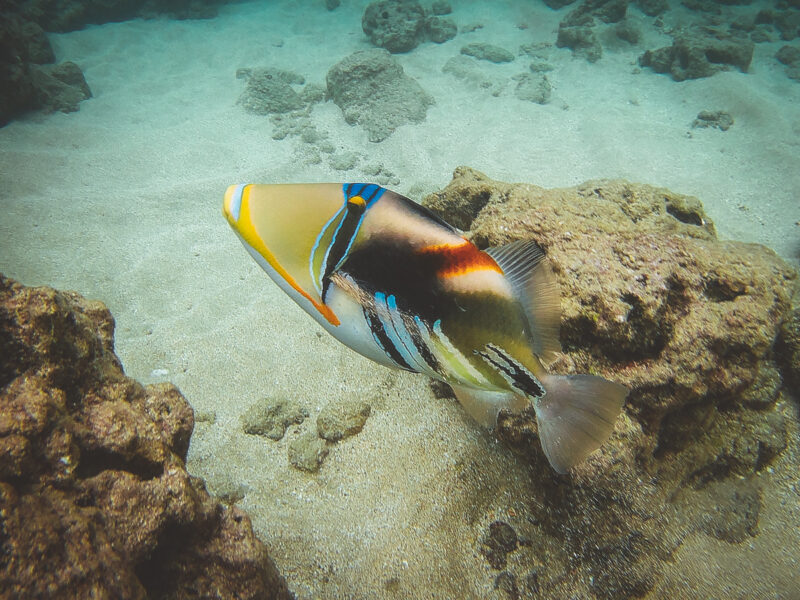 Tie between Hanauma Bay and Lanikai
They both have their logistical challenges but I love them both! I give the edge to Hanauma Bay for diversity of fish, but Lanikai has more room to move around in the water and it's just gorgeous.
Best beach for boogie boarding on Oahu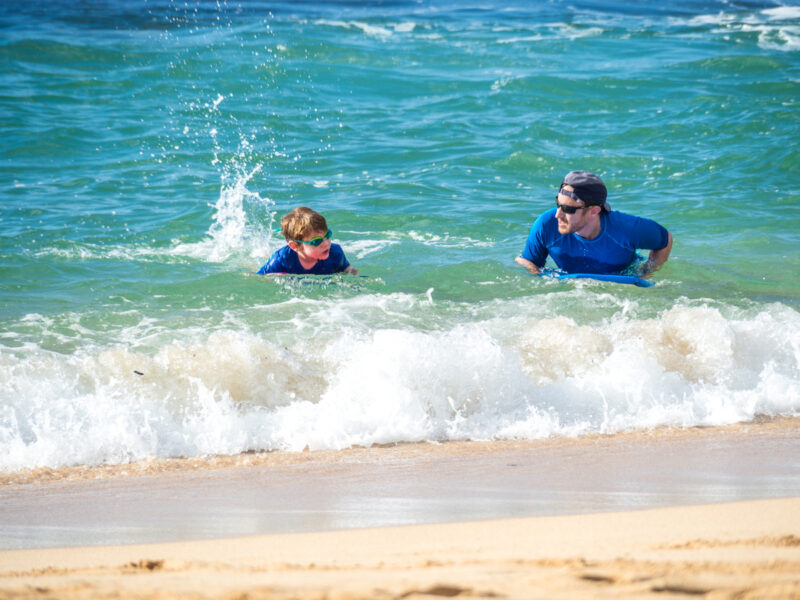 Bellows Field beach park
Always plenty of waves to go around, plus you can either have the whole place to yourself on a Friday or meet friendly locals on the weekend!
Most beautiful beach in Oahu
Lanikai beach
Turquoise water, white sand beach and lush green mountains. Need I say more?
Best Oahu beach for toddlers and babies
Ala Moana beach park
It's basically an oversized swimming pool.
Best beach for sunsets on Oahu
Sunset Beach
Obviously. But Maunalua Bay is up there!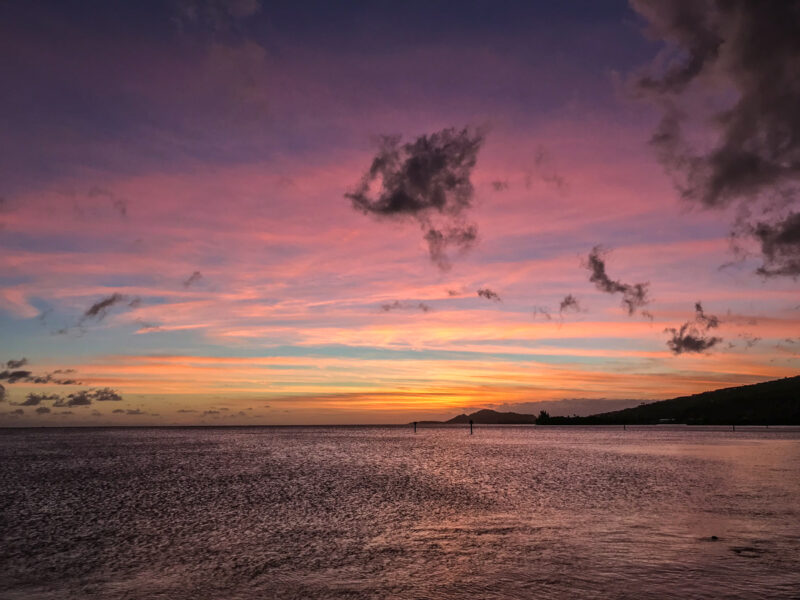 Looking for the best places to surf (or watch surfing)? Check out this great rundown from local expert Amy!
Mapping the top beaches in Oahu
Where to stay on Oahu
Now that you've figured out which beaches are on your must-visit list, it's time to choose where to stay! Use this detailed guide to help you decide, and in the meantime here are a few quick picks by area:
If you prefer to stay in a vacation rental, you can also check out some of the best cheap places to stay on Oahu and the best places to stay in Oahu for families.
What to bring to the beach on Oahu
Read more: Check out our complete Hawaii packing list here
Reef-safe sunscreen – Hawaii has recently passed a strict law requiring sunscreen sold on the island to be reef-safe by 2020 to protect the fragile ocean ecosystems. No need to wait, though; you can do your part today by using reef-safe sunscreen. It's even in the rules at places like Hanauma Bay!

SPF lip balm – There is nothing worse than sunburned lips (ask me how I know) so keep them healthy and soft with SPF lip balm.

UV rash guard – A great way to minimize your sunscreen use (and so much more convenient for activities like snorkeling and boogie boarding) is to wear a UV rash guard. Check out these cute ones!

Beach bag – What's in a beach bag? A whole lot! We love Logan & Lenora bags since they have built-in waterproofing and these awesome totes have a spot for everything. This may very well be the perfect beach bag, plus it makes a great carry-on for your flight.

Towel – Obviously you'll want some sort of towel the beach, but most hotels don't want you to bring theirs. You can always buy a regular beach towel at a local shop and leave it behind, but we often find it more convenient to just bring our compact travel towels.

Beach mat – We were lucky that our HomeExchange house came stocked with beach mats and they kind of spoiled us! There are two advantages: it's extremely easy to shake the sand out of them before you load up the car, and you don't need to wash it (and get your washer/dryer clogged with sand). It may not be practical to bring a straw beach mat in your carry-on, but nowadays you can pick up compact alternatives like this one.

Snorkel gear – You can rent snorkel gear if your really short on space, but if you can spare a little room then bringing at least a mask and snorkel will save you money and hassle. You can just keep them in your rental car in case you stumble on that perfect cove as you drive around the island, no need to search for a rental shop. Don't forget your Oahu fish chart so you know what you're looking at!

Underwater camera – We didn't bring an underwater camera to Hawaii, but after just a few days we regretted the decision and had this one sent via Amazon Prime! It's probably not as high quality as the more expensive alternatives, but for the bargain price tag it gets the job done. Check out our full review or buy your own today.
If visiting with kids:
Packable beach bucket set – Most beaches on Oahu have great sand for kids to play in! Ours love an old-fashioned bucket and shovel set, and this is a great choice to buy once and bring with you on every vacation.

Kid snorkel gear or goggles – While it's easy enough to rent adult snorkel gear, sets that actually fit kids are much harder to find. Check out our reviews of the best kids snorkel gear.

Reusable swim diaper – If your child isn't potty trained, skip the Splashers and get an eco-friendly reusable swim diaper. Oahu is an island, so there's no great spot for diapers to sit for the next 500 years! The entire premise behind swim diapers is that they contain solid waste only, while liquid flows right through – this is true of both disposables and reusable, as you don't want your kid swimming around in a soggy, saggy, saturated diaper. Buy one or two reusable diapers and call it a day. If they're soiled, just dump the contents in the toilet (check the side of any disposable diaper package and you'll see those instructions) and then wash in the tub or washing machine. If there's no solid waste, a quick rinse with water is fine! These are a great option.
More resources to plan your trip to Hawaii
See all of our Hawaii travel planning resources in one place

Travel planning resources:
Compare rental car prices for Hawaii
Buy a top-rated travel insurance policy
5 simple money-saving hacks for booking.com

General Hawaii resources:
How to visit Hawaii on a budget
Renting a car in Hawaii: 10 things you NEED to know
What to pack for Hawaii
Is a cheap GoPro knock-off worth it?

Hawaii with kids:
What's the best Hawaiian island for families?
Is it worth visiting Hawaii with a baby?
Ultimate packing list for Hawaii with kids
Top 10 things to do with kids on Oahu
The best snorkel gear for kids of all ages

Oahu resources:
Best Oahu travel guide book
Perfect 7 day Oahu itinerary
Where to stay on Oahu
Family-friendly Oahu vacation rentals
Cheap Places To Stay On Oahu
10 Fun Things to do on Oahu for $10 or less
Getting the most bang for your buck on your Go Oahu discount card
Insider tips for visiting the Polynesian Cultural Center
The best beaches on Oahu (and why to visit them)
Where to find the best shave ice on Oahu
The best easy hikes on Oahu
North Shore Oahu complete visitors guide
Kayaking to the Mokes with Twogood Kayaks
Family-friendly kayaking with Holokai Adventures
Visiting Pearl Harbor

Maui resources:
Best Maui travel guide book
Perfect 3 day Maui itinerary
Cheap Places To Stay On Maui

Big Island resources:
Best Big Island travel guide book
Perfect 5 day Big Island itinerary
Cheap Places To Stay On the Big Island

Kauai resources:
Best Kauai travel guide book
Perfect 3 day Kauai itinerary
Cheap Places To Stay On Kauai
Oahu guidebooks
Still planning? Pin this article for later!