The beauty that surrounds you on the island of Oahu is straight from a postcard. Stunning jagged mountains, white sand beaches and the purest blue ocean your eyes will ever see. Depending on which coast you're on, the water can be inviting or menacing. We were fortunate to take to the inviting waters of the windward coast with Twogood Kayaks (recently renamed to Sun & Salt Adventures) for a full day Oahu adventure: a Mokolua Islands kayak tour. The "Mokes" (the abbreviated local name for the offshore islands of Moku Iki and Moku Nui) are small twin islands off of Lanikai Beach, and if you squint on a clear day out there you can see Molokai and Maui next door.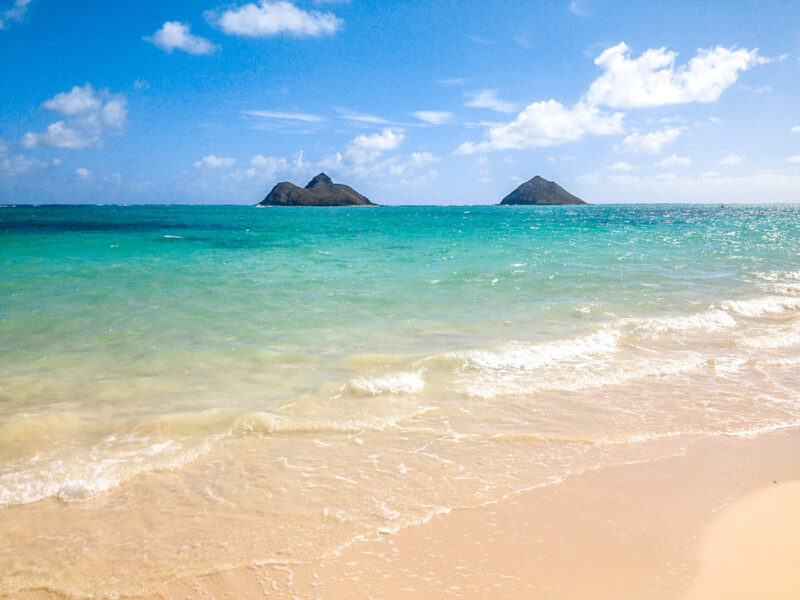 Use the interactive map to find vacation rentals and hotels near Mokolua Islands
---
Twogood Kayaks Mokolua Islands kayak tour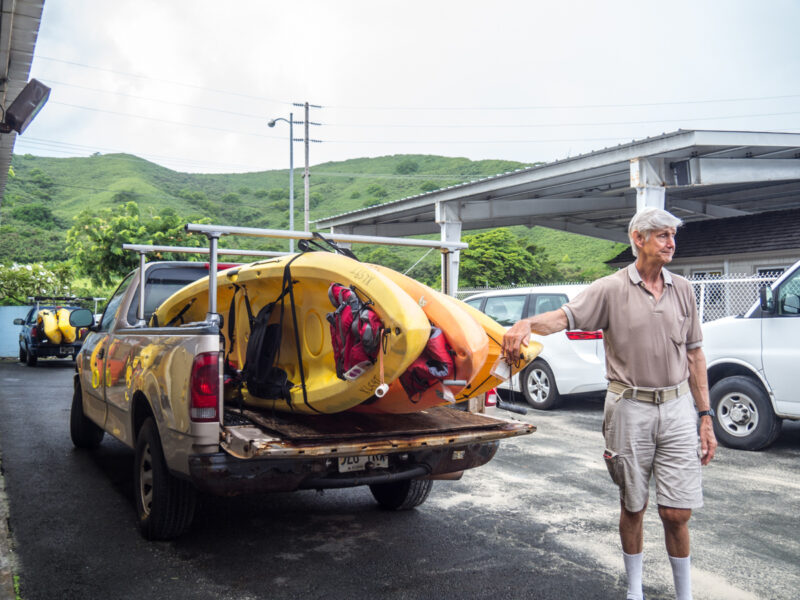 Our day began with an early morning arrival at Twogood Kayaks in Kailua. We were warmly greeted by Bob Twogood and his phenomenal staff. Bob has over 35 years of experience and it shows. Our communication in advance of the excursion with Bob was timely and easy. For your convenience, Twogood Kayaks will pick you up from your hotel if you do not have a rental car and they will shuttle you to and from the beach. Every step of the way, the warm and friendly team wants to make sure that you are comfortable and can focus on enjoying the experience.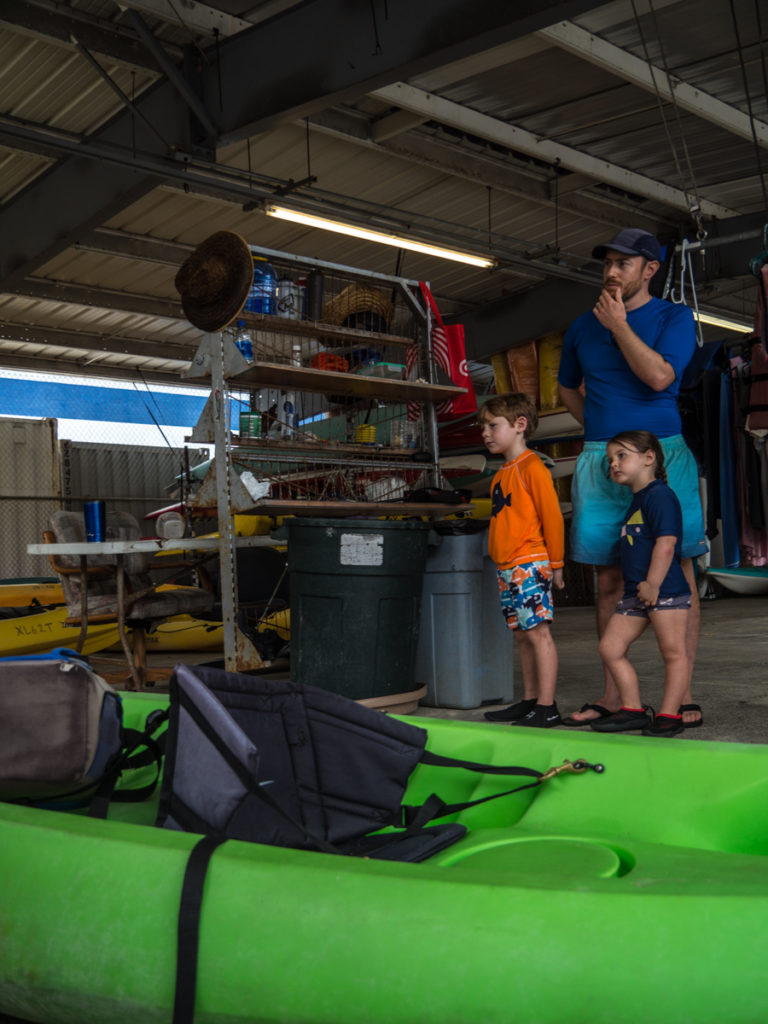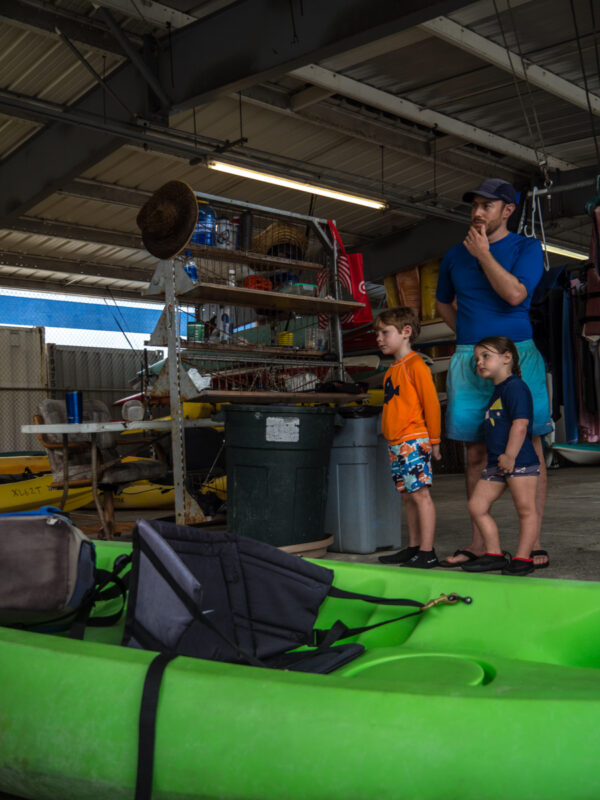 Our guides for the day, Ben and Tyrone, made sure we got situated with our gear which included snorkel masks, flippers, safety vests, watertight bag for valuables and reef shoes (which can be rented for a minor additional fee). A waterproof cooler with water and sandwiches were also provided as part of the tour. There were a total of 8 adventurers in our group for two guides, which was a great ratio.
We came to the excursion with our two little ones (4 and 7 yo) and we were happy to find out that they had life jackets and reef shoes that fit our kids perfectly (we even went back the following week to rent life jackets to go snorkeling elsewhere on the island). We opted to use our own snorkel gear for the kids since they can be tough to fit – check out our top picks here.
Safety is the number one priority at Twogood Kayaks. After we were situated with our gear, Ben and Bob went through a thorough safety overview which included guidelines for how to properly wear your safety vest, kayak paddling 101, what to do in case your kayak flips over and a host of other scenarios. They patiently answered all of our group's questions. If you're interested in getting your own life vest for kayaking and other water sports, check out these great options.
After the completion of our safety briefing we drove to Kailua beach. Wait, I thought you said the Mokes are off of Lanikai Beach? Lanikai Beach only has parking in the adjacent neighborhood and has completely forbidden commercial tours from launching there in an effort to cut down congestion. Because of this restriction, all of the tours to the Mokes launch from nearby Kailua Beach (which adds a whopping 2 miles of paddling in each direction!).
But even Kailua Beach, with its abundant parking, fully-stocked bathrooms and abundant shower stations, isn't so straight-forward. Similar to neighboring Lanikai, a local law was passed that prevents tour companies from operating at the public beach; however, a compromise was reached that allows them to run tours from the beach if patrons are responsible for transporting their gear to and from the parking lot.
What does that mean for you? You have to help transport your kayak down to the water. It's not too bad and can be done by either one or two people for a double kayak, but if you'll have trouble with this aspect make sure to let Bob's team know when you're booking. Fortunately there was a great esprit de corps in our group and everyone helped out those who had trouble pulling the kayaks. The same rule applies for Kailua Beach kayak rentals: you have to get it to the water (basically) on your own.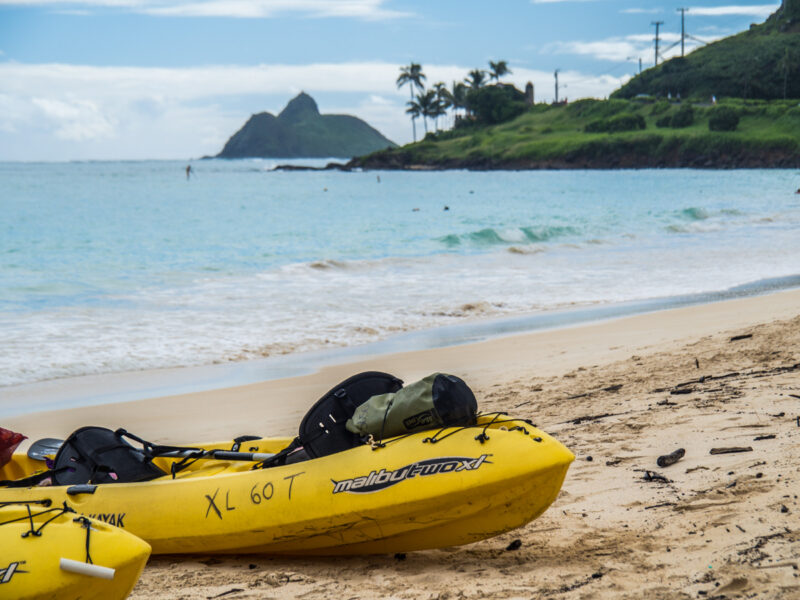 What's it like kayaking from Oahu?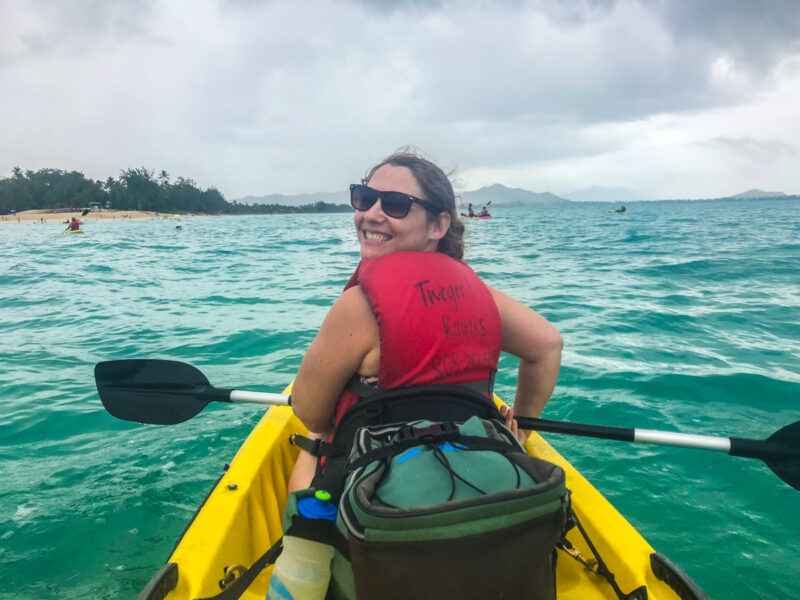 The Mokes are 2.5 miles off-shore from Kailua Beach; fortunately the seas were very calm and we didn't encounter any major waves. The views of Oahu from the kayak were simply stunning! Every step of the way our guides, Ben and Tyrone, were pointing out interesting formations and sharing fascinating facts about the area. Fortunately for us, each guide took one of our kids in their kayak – impromptu date day for us. The guides were wonderful with our kids and they completely bonded.
After about an hour of paddling, we pulled onto the beach of Moku Nui, parked our kayaks and got situated. The Mokes are part of the Hawaii State Seabird Sanctuaries, so activities in and around the islands are restricted. After we enjoyed our delicious lunch Ben and Tyrone took us on a 45 minute hike around the island. Some of the hike required scaling between rocks. Nothing was too overwhelming but it is important to note that the hike is probably not the best option for anyone with physical limitations.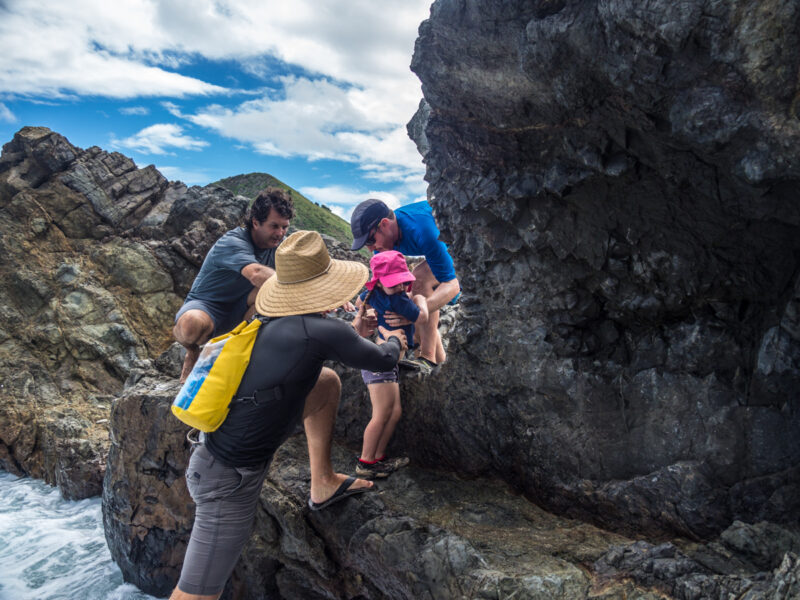 One of the most interesting parts of the hike was the Queen's Bath. Legend has it that Queen Lili'uokalani would come to The Mokes with her servants and hike up to the tide pool to bathe. Today it's said that the waters of the Queens Bath provide all those who enter with the blessing of a long life. Whether or not you believe the lore, it was exhilarating to dive in!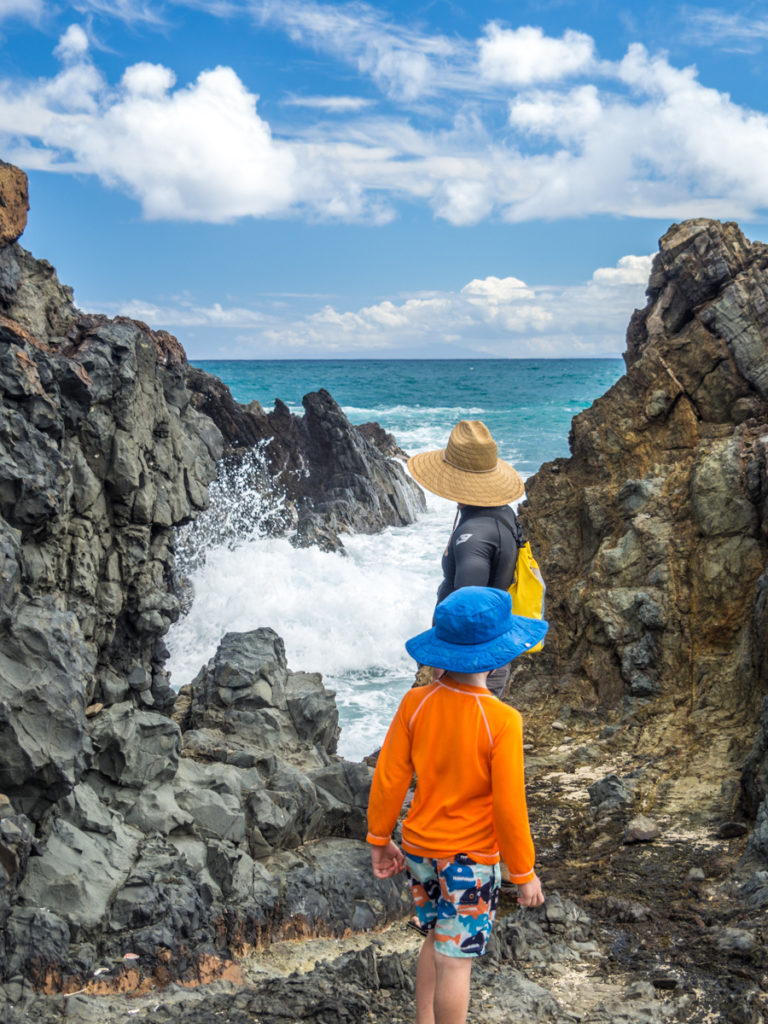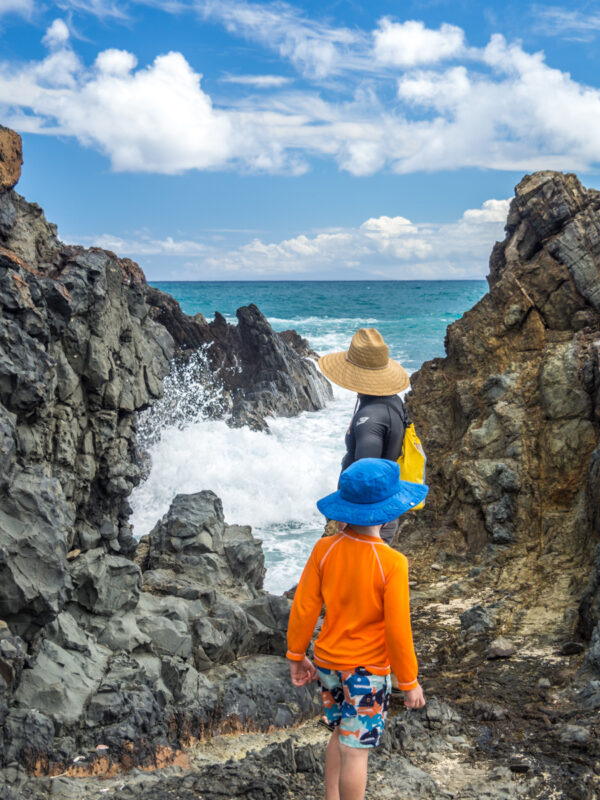 Upon returning from the hike it was time to get our snorkel gear on and head into the water. Moku Nui is one of the premiere places to swim with turtles on Oahu. They hang around the island and feed off the coral. We wore our life vests while snorkeling because the water is a little rough near the Mokes due to the waves in the small channel between the two islands.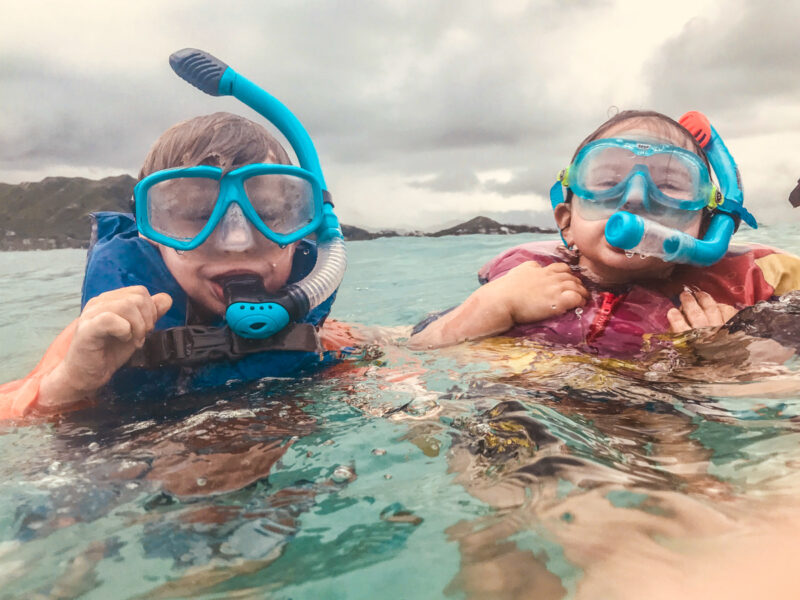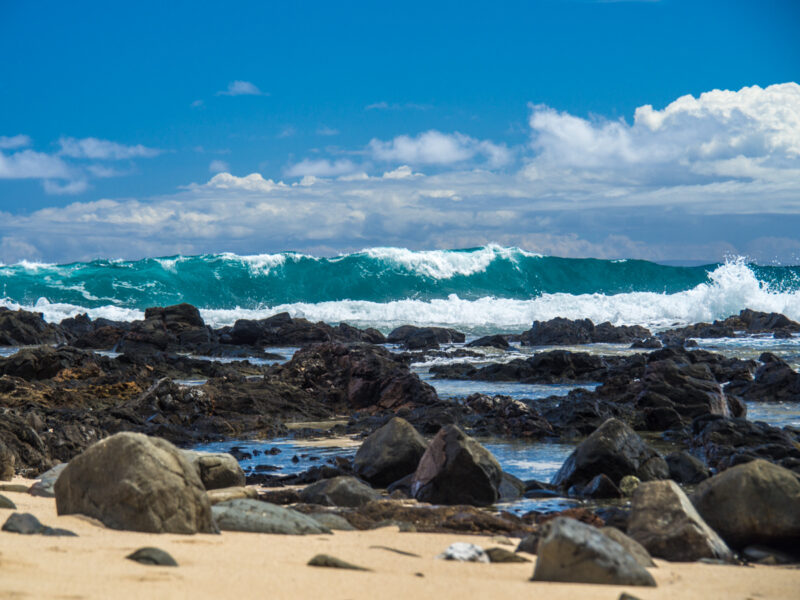 The kids (and adults) loved seeing the honu. They are magnificent creatures that gently glide through the water. On a personal note, the opportunity to swim with sea turtles on Oahu was so special – first, because every time Melissa and I have gone snorkeling together and she's spotted a turtle, I've missed it; and second, it was the first time Jacob was game to try snorkeling! Watching your kids conquer a new challenge and find joy in the things you like doing is always an amazing feeling. Before we knew it, nearly an hour had passed in the water and it was time to pack up and paddle back.
Check out more awesome things to do on Oahu with kids
Up for a real adventure? Adrenaline junkies can go with one of the guides into the channel to surf the waves in a kayak! Melissa went out with Ben and we could hear her screams – a mix of terror and thrill – back on shore as they went zooming past thanks to the power of an eight foot wave.
We concluded our day with a gentle paddle back to shore, counting our blessings that the winds had treated us favorably. The paddle back was a little quicker, and once we got near Flat Island in Kailua Bay Jacob even had a taste of some kayak surfing! And 4 year old Shoshana? In one of the funniest moments of our time on Oahu, she was lulled to sleep by the gentle motion of the kayak… and stayed asleep once we reached the beach, and as Tyrone guided the kayak up the canal, and then as he pulled the kayak up the hill to the truck. The girl can sleep on any kind of boat and only woke up when the rain started.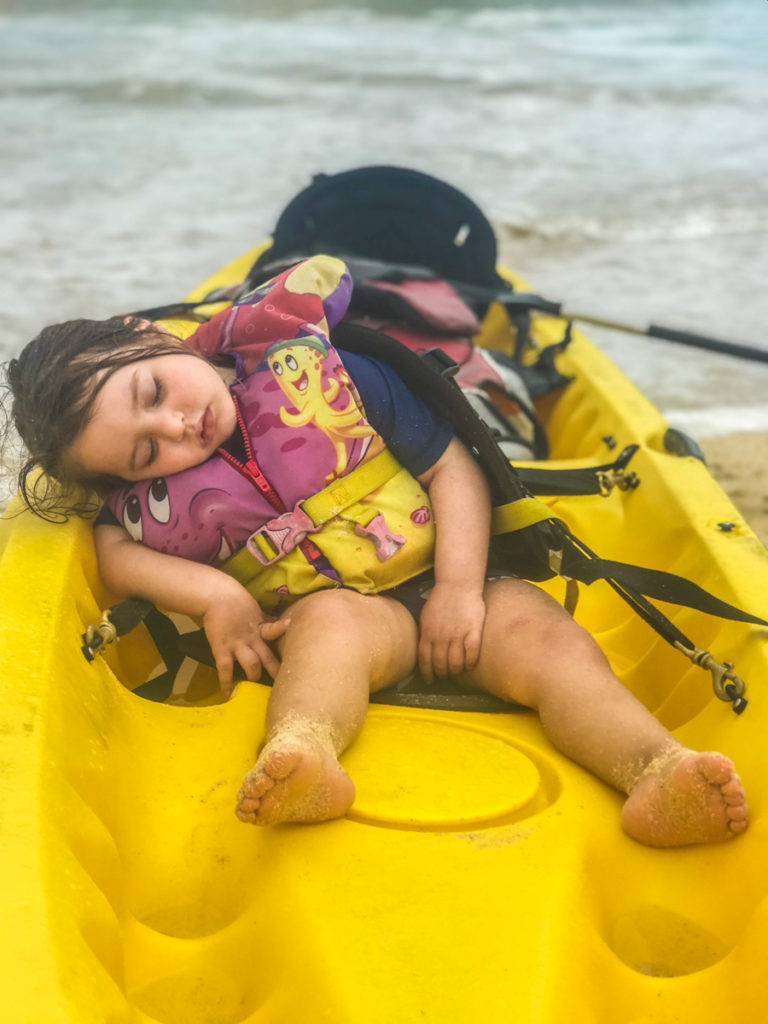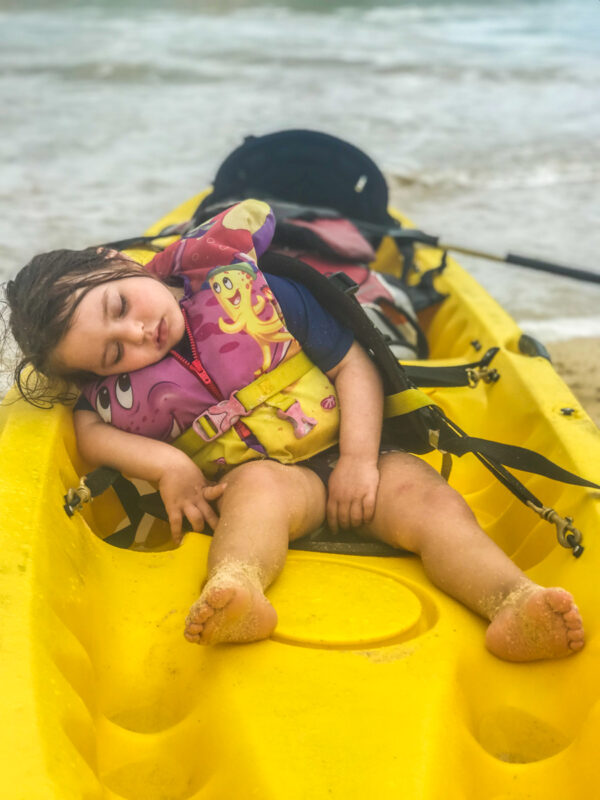 We took with us tons of photographs, great stories and memories that will last a lifetime. If you are visiting Oahu, do yourself a favor and schedule a tour with Twogood Kayaks. You won't be disappointed.
Details for Twogood Kayaks tours on Oahu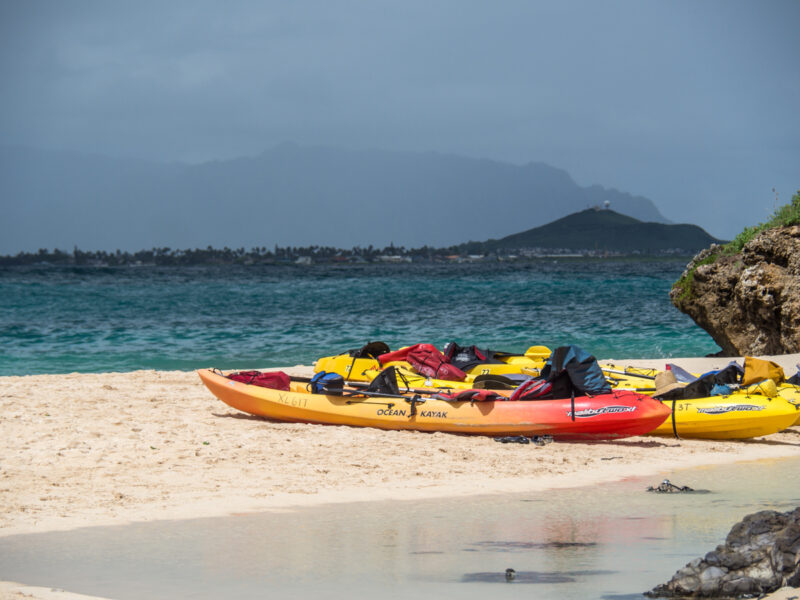 -Kayak tours from Kailua, but pickup at Waikiki hotels is available
-5 hour duration
–This tour requires a moderate level of fitness. The guides do an excellent job of teaching efficient paddling technique, but you'll be out on the water for nearly an hour in each direction (it's fine to take breaks!). You also have the opportunity to hike and snorkel at the Mokes – entry is from the beach, but the water is quite deep.
-If you're more interested in Kailua Beach kayak rentals, Twogood Kayaks can provide that too! Bob knows the island like the back of his hand and can recommend plenty of options based on your interests and experience. They have pads and can mount your kayak on any rental car!
What to bring for a Mokolua Islands kayak tour
The good news is that all basic safety equipment and kayaking and snorkel gear is provided! There are just a few things you should bring:
Reef-safe sunscreen
Hawaii has begun cracking down on sunscreens that can damage its delicate coral reef ecosystems, outright banning some chemicals over the next few years. Be sure to shop wisely, especially for a trip like this when you'll be swimming amidst the corals. Check out our new favorite that we discovered while we were in Hawaii.

UV rash guard
Don't risk a painful shoulder sunburn! Make sure to wear a UV rash guard for kayaking and snorkeling – trust us.
Towel
You won't really need a towel during the excursion, but it's nice to have one afterward so you can dry off before you go for shave ice.
Underwater camera
We didn't have an underwater camera when we went on our Twogood Kayaks tour, but we immediately regretted it and went on Amazon to have one shipped to us in Hawaii. We couldn't stomach the GoPro price tag, but this one was a great compromise for our needs. Click here to read our complete review.
Kid-sized snorkel gear
Twogood Kayaks does a great job of providing kid-sized gear, but if your little one is especially young or hard to fit, check out our top kids snorkel gear before your trip to Hawaii.
Thank you to Twogood Kayaks for hosting our tour; all opinions are our own.
More resources to plan your trip to Hawaii
See all of our Hawaii travel planning resources in one place

Travel planning resources:
Compare rental car prices for Hawaii
Buy a top-rated travel insurance policy
5 simple money-saving hacks for booking.com

General Hawaii resources:
How to visit Hawaii on a budget
Renting a car in Hawaii: 10 things you NEED to know
What to pack for Hawaii
Is a cheap GoPro knock-off worth it?

Hawaii with kids:
What's the best Hawaiian island for families?
Is it worth visiting Hawaii with a baby?
Ultimate packing list for Hawaii with kids
Top 10 things to do with kids on Oahu
The best snorkel gear for kids of all ages

Oahu resources:
Best Oahu travel guide book
Perfect 7 day Oahu itinerary
Where to stay on Oahu
Family-friendly Oahu vacation rentals
Cheap Places To Stay On Oahu
10 Fun Things to do on Oahu for $10 or less
Getting the most bang for your buck on your Go Oahu discount card
Insider tips for visiting the Polynesian Cultural Center
The best beaches on Oahu (and why to visit them)
Where to find the best shave ice on Oahu
The best easy hikes on Oahu
North Shore Oahu complete visitors guide
Kayaking to the Mokes with Twogood Kayaks
Family-friendly kayaking with Holokai Adventures
Visiting Pearl Harbor

Maui resources:
Best Maui travel guide book
Perfect 3 day Maui itinerary
Cheap Places To Stay On Maui

Big Island resources:
Best Big Island travel guide book
Perfect 5 day Big Island itinerary
Cheap Places To Stay On the Big Island

Kauai resources:
Best Kauai travel guide book
Perfect 3 day Kauai itinerary
Cheap Places To Stay On Kauai
Oahu guidebooks
Still planning? Pin this article for later!