A trip to Hawaii is never cheap, but once you get there you don't have to spend a ton of money to have a great time! Be sure to read our in-depth guide to planning a trip to Hawaii on a budget to start with, and then work your way through these cheap and free things to do on Oahu.
Where to stay on Oahu
Your exact itinerary depends somewhat on where you stay on Oahu – if you're staying more than a few days, use this guide to help you decide. Here are a few quick picks by area:
If you'd rather save money on your accommodations and groceries by staying at a vacation rental, check out these budget-friendly rentals on Oahu or these awesome family-friendly vacation rentals on Oahu.
Fantastic cheap things to do on Oahu
Rent a snorkel set for the day and explore Oahu underwater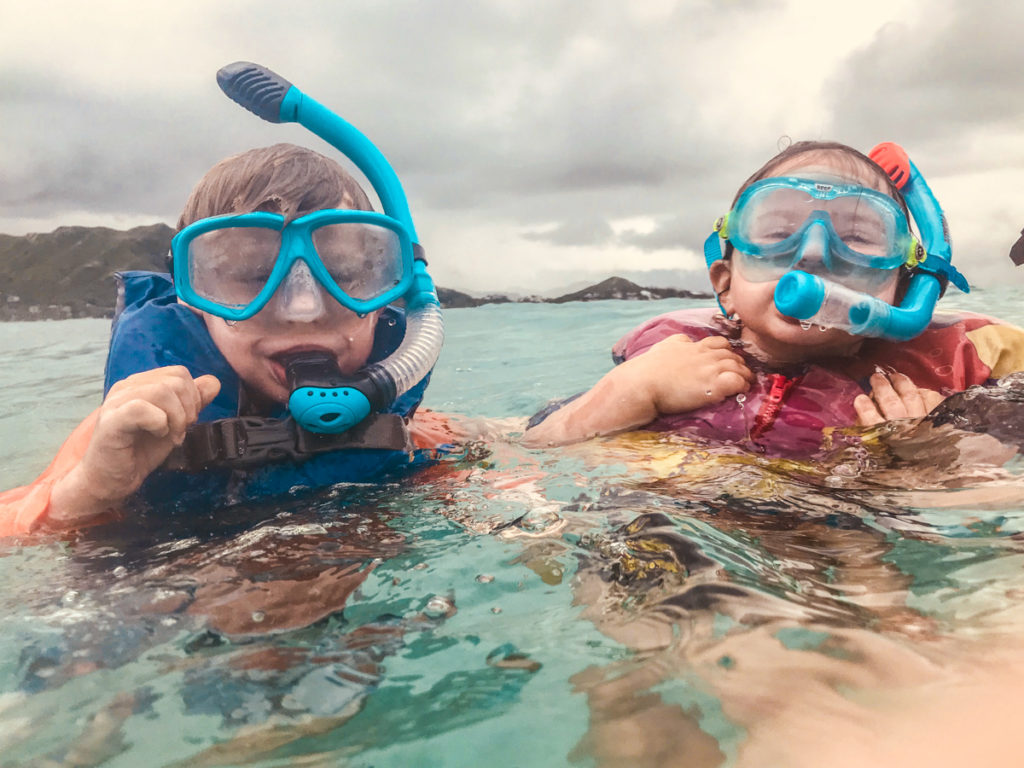 Snorkeling on Oahu is one of our favorite activities and it's one of the best cheap things to do on Oahu – and potentially even free! We've been lucky a few times and had free snorkel gear available at our Oahu vacation rentals. If you need to rent, here are the best options under $10:
Of course if you plan to do a lot of snorkeling, you'll be better off bringing your gear to use for your whole visit – check out our favorite snorkel gear for kids.
Where can you go snorkeling on Oahu for free? One of my favorite spots for beginners is Lanikai Beach, which has flat water and tons of coral close to shore. Another popular option is "Electric Beach" (officially called Kahe Point).
Read more: Best beaches on Oahu
---
Find serenity at the Byodo-In Japanese Temple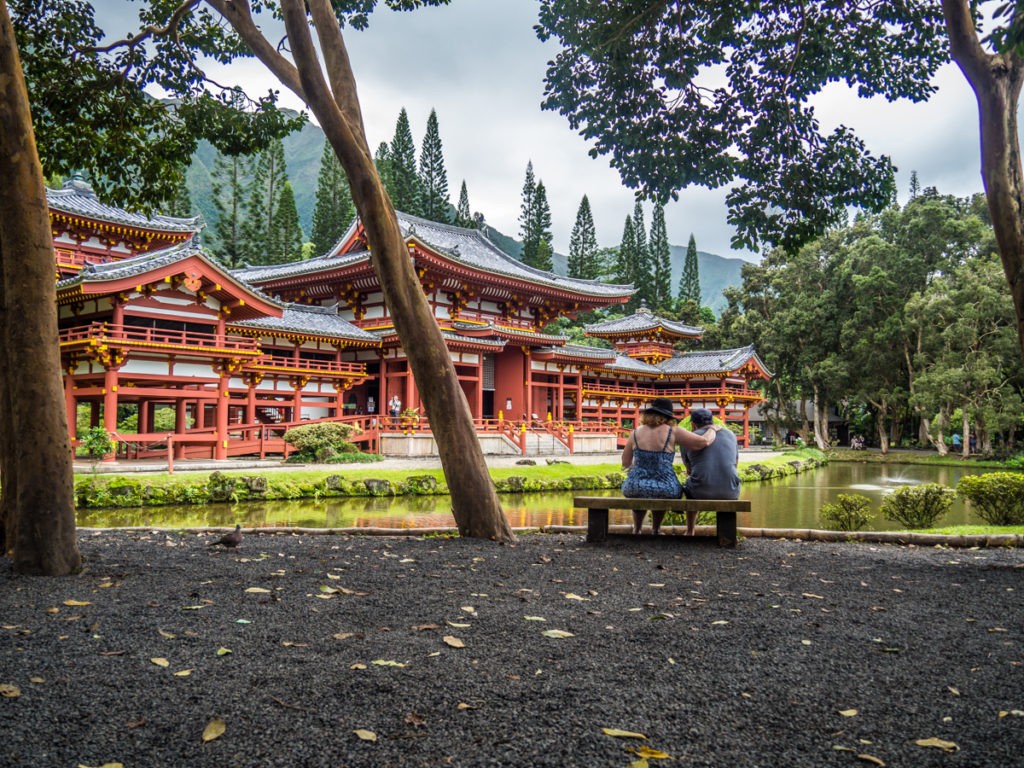 The Byodo-In Temple is a peaceful gem just a half-hour from the throngs of tourists that fill Waikiki. It is a replica of a 1000 year old temple in Uji, Japan and was built to commemorate 100 years of Japanese life in Hawaii.
It's a delight for visitors of all ages and religions. You can enjoy a reflective moment by the pond, giggle at the peacocks and koi fish, or ring the sacred bell to bring you blessings and long life.
Admission is $5 for adults and $2 for children.
Read more: The perfect 7 day Oahu itinerary
---
Eat some of the best poke you'll ever have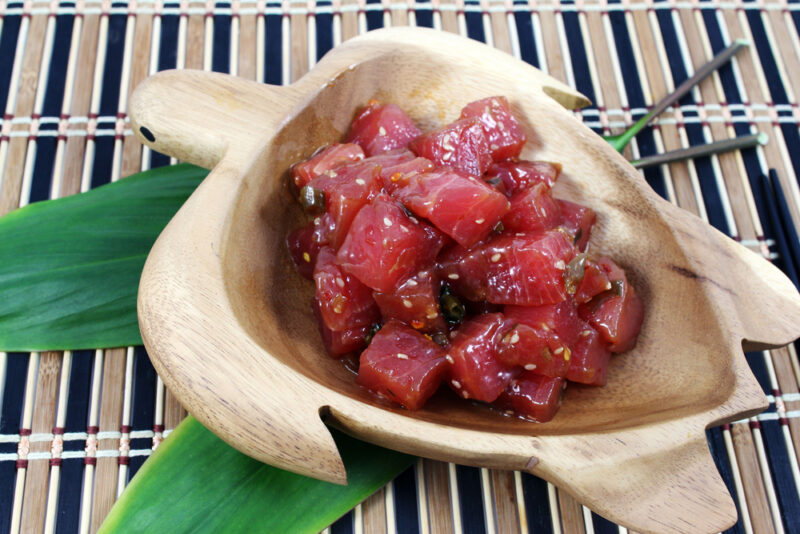 This isn't an actual photo of the best poke on Oahu… sadly, I gobbled it down way too fast from a takeout container in my rental car because it was just too good to wait. It's not fancy, but The Hibachi is widely regarded as offering the best poke on Oahu.
Which variety of poke to choose is a matter of personal preference. I'm partial to ahi ginger shoyu, which is thankfully usually the least expensive option. Depending on your poke budget and your appetite, you can either opt for a "mini bowl" with a scoop of rice and a single scoop of poke or just go for a half-pound of poke – either one should come in under $10. I won't judge if you go back for seconds.
---
Rent a boogie board and try some waves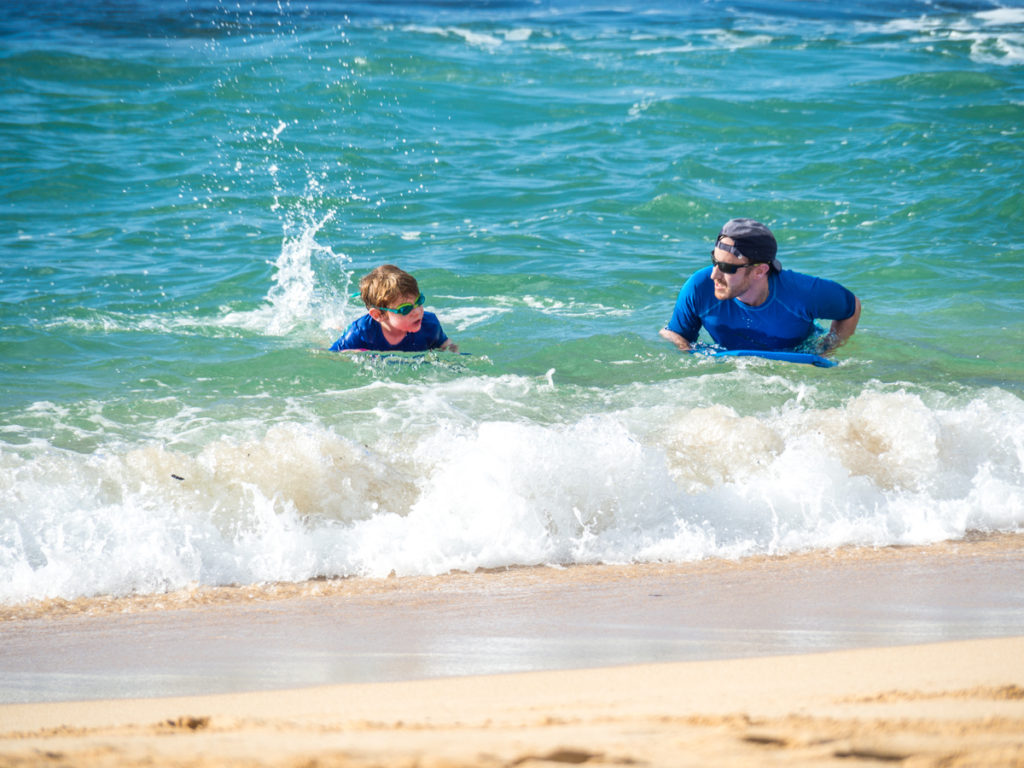 For just a few dollars, you can rent a boogie board for a couple of hours to give it a try! Check out Big Wave Dave in Honolulu or Twogood Kayaks in Kailua. If you're really lucky, you might encounter someone leaving the beach for the last time on their Hawaii vacation ane they'll just give you the boogie boards they purchased. We've been lucky enough to experience that and we've also had boards available at some of our vacation rentals.
The good news is that there's awesome boogie boarding all over Oahu! We especially like Kailua, Bellows, Haleiwa and Sunset Beaches.
Read more: North Shore, Oahu: Finding Magic on Hawaii's Busiest Island
---
Taste locally grown Oahu coffee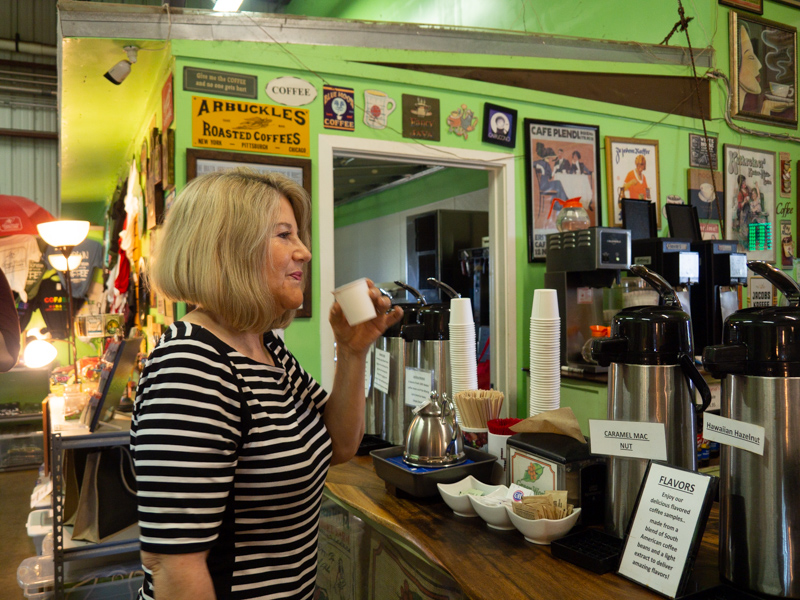 While "Hawaiian coffee" usually brings to mind Kona coffee on the Big Island, coffee is actually grown on all the islands of Hawaii (even if just in small batches). At Green World Coffee Farm, you can try coffee that's grown right there on Oahu and on some of the other islands. It's all roasted on-site daily.
Almost any day of the year you can stop in to sample a wide variety of coffees, grab a freshly brewed cup and even bring some beans home with you. Green World is a wonderful stop on a multi-generational trip to Hawaii because there's something for everyone. The shop not only has coffee and tea but also locally-made pottery, fun Hawaiian posters and display ads and unique souvenirs. You can even wander out among the arabica coffee trees to see how coffee grows.
Green World Coffee Farm is located just minutes from the Dole Plantation, so it's easy to plan a visit to both spots.
---
Awesome free things to do on Oahu
Take a scenic drive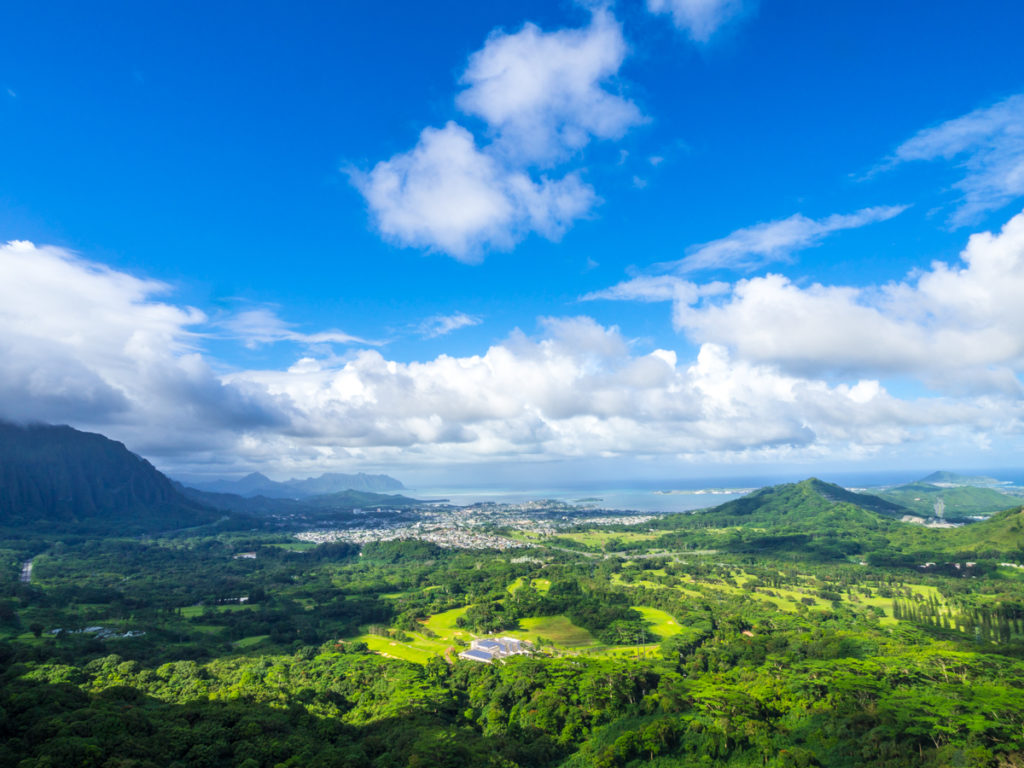 I'll say it loud and say it proud: Oahu is beautiful. It's also fascinating, with nearly two thousand years of human history layered all over the island. Even if you're staying in Waikiki, be sure to spend at least one day driving around the island to explore it.
If you've rented a car, there's no need to pay for an expensive "Circle Island Tour". A better bet is to go at your own pace and plan a route that hits the major highlights. You can even just stream a playlist of Hawaiian music and enjoy the view (we've done that more than a few times).
If you can stretch your budget to $15, a great option is to download the Grand Circle Island Tour from Shaka Guide. It includes 120 narration points and Hawaiian music in between for a perfect full-day adventure. For visitors who are feeling spendy, you can get a $30 package that includes all of the Oahu tours – including a tour of historic Honolulu and a walking tour of Waikiki. Click here to download the free app and see all Oahu tour options.
Read more: 10 things you need to know before renting a car in Hawaii
---
Enjoy an authentic hula show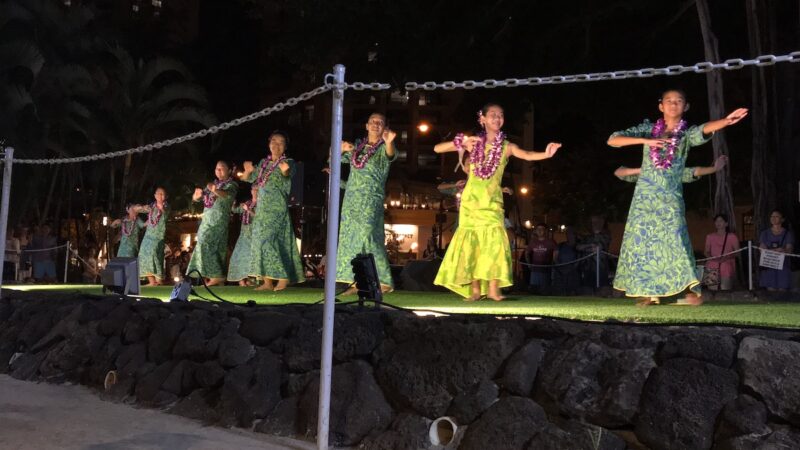 While most visitors will want to attend a luau on Oahu, you also have the opportunity to see an authentic luau completely for free! The Kuhio Beach hula show is held several evenings per week (during "normal times", that is) and features a torch lighting, blowing of the conch shell and then performances by several local hula groups of different ages.
Seating and standing room is first come, first served so you'll want to arrive early. If you're staying elsewhere on Oahu, give yourself an extra 30 minutes to find parking in Waikiki. It's extremely crowded!
Read more: Best things to do on Oahu with kids
---
Talk story with a Hawaiian auntie or uncle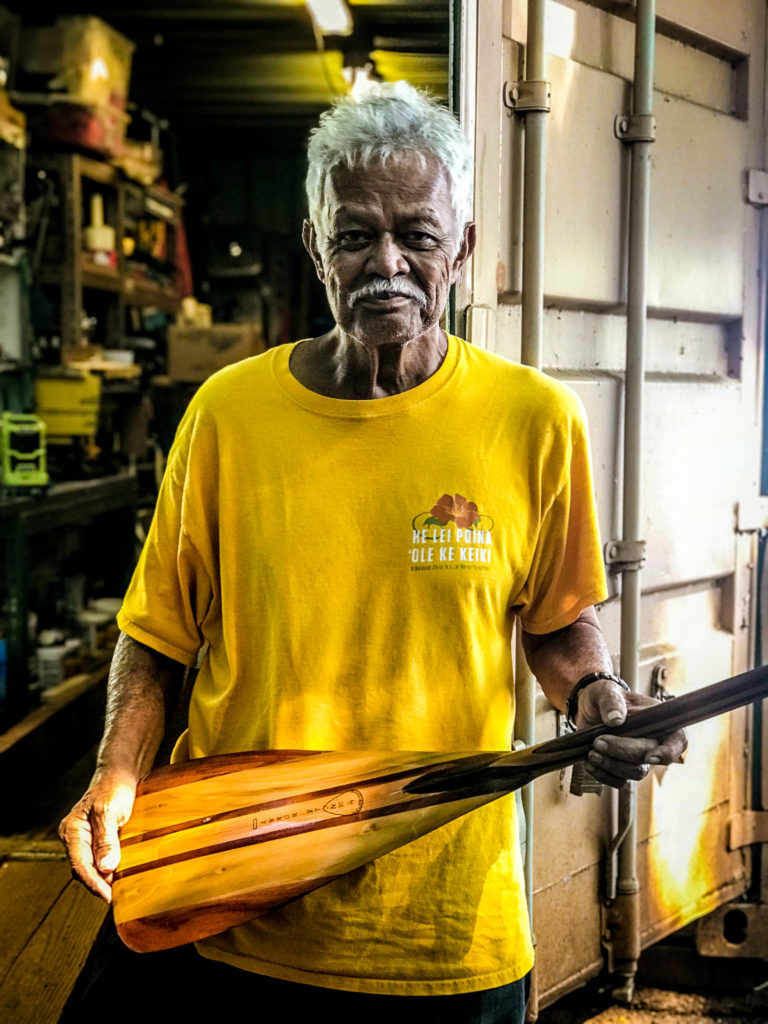 Sometimes the most meaningful experiences won't cost you a dime. By traveling slowly and remembering that we were guests on Oahu, we met some wonderful people who shared their stories and and the Aloha spirit. We met Hawaiians during hikes, at beaches, in their workshops and on playgrounds.
Of course it's important to remember that Hawaiian people are not tourist attractions – they're fellow humans and sometimes they want to "talk story" but sometimes they have their own busy lives and schedules. When given the opportunity, though, slow down and let yourself feel the Aloha spirit.
---
Lace up your shoes for a stunning hike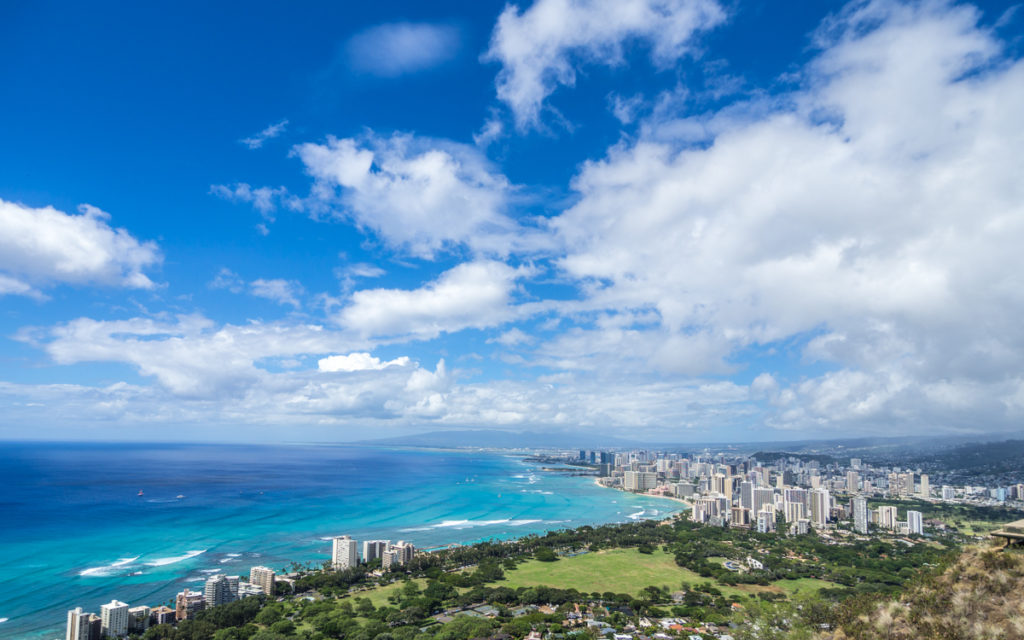 Oahu isn't just about white sand beaches. The island was formed by two shield volcanoes – one of them absolutely massive in size – and their remnants have left behind some amazing places to explore on foot. So velcro up your sneakers and take in the stunning scenery!
You can choose between muddy waterfall hikes, high-elevation hikes with awesome views and everything in between.
Read more: Best easy hikes on Oahu
---
Learn about the art of Japanese fish printing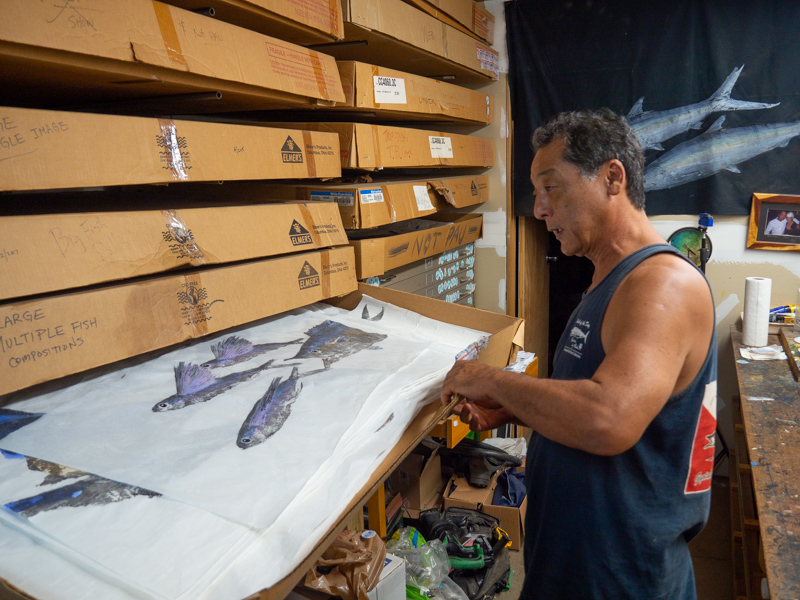 Long before sport fishermen took photos holding their biggest catches to show that they once caught a fish THIS BIG, Japanese fishermen documented their fishing success with gyotaku printing. This traditional documentary art involves covering the fish with ink and then pressing it into rice paper.
Today, the art form is kept alive by Naoki Hayashi in his studio in Kaneohe on the windward side of Oahu. Call Gyotaku by Naoki to see if there's a time when you can swing by his studio for a quick tour or to see him at work. You'll learn all about the history of gyotaku and the process behind his creations. His art is both beautiful and fascinating! You can even schedule a class or bring your own catch to him for printing as the ultimate (though not cheap) souvenir of your trip to Oahu.
---
Pay your respects at Pearl Harbor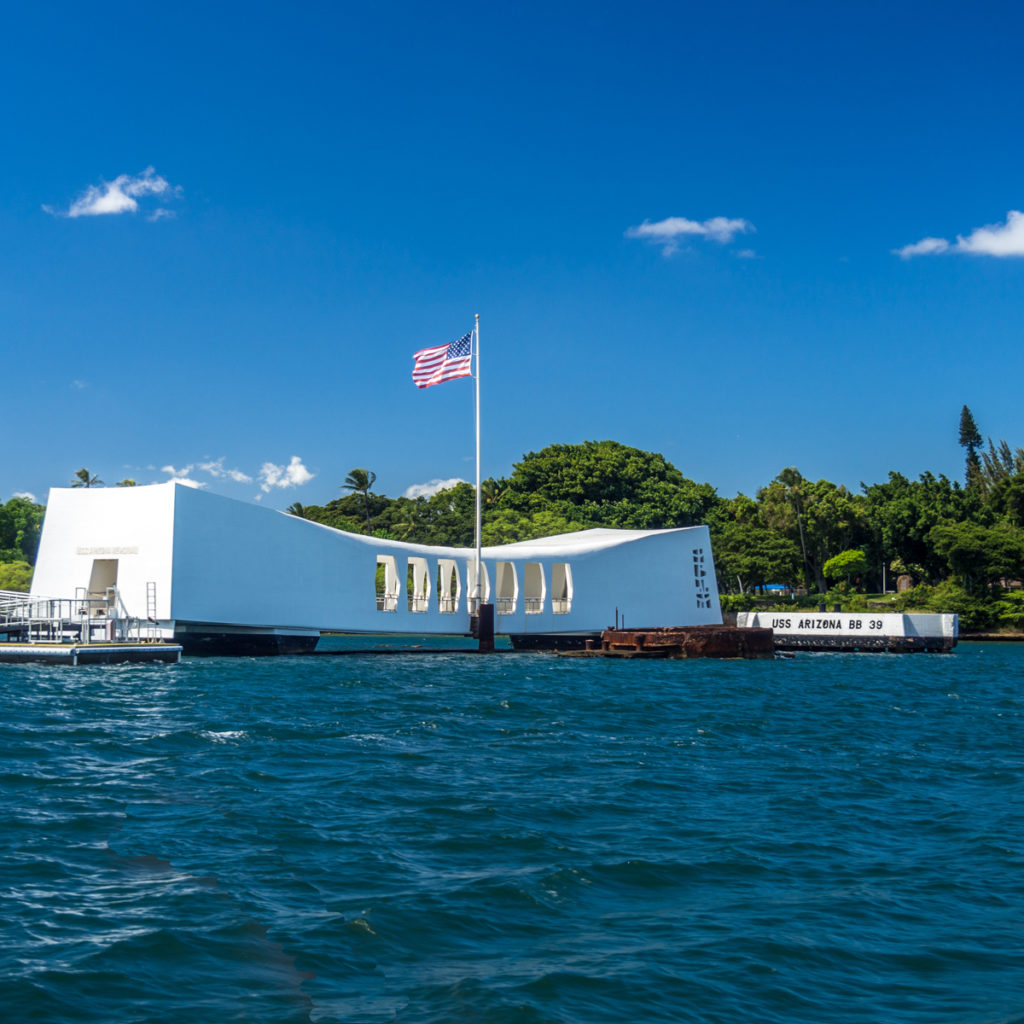 The attack on Pearl Harbor that precipitated America's entry into World War II was a crucial day in our country's history. Every visitor to Oahu should go to Pearl Harbor at least once to learn about the history and pay their respects to those who fell at the base.
While visiting the USS Arizona Memorial and associated museums is free, the only way to ensure a spot for yourself on a boat to the Memorial is by reserving a ticket in advance (there is a $1 per ticket reservation fee to cover website administration). There may be walk-up tickets available, but it's better not to risk it.
Read more: Tips for visiting Pearl Harbor
---
---
Still planning your trip to Oahu? Pin this for later!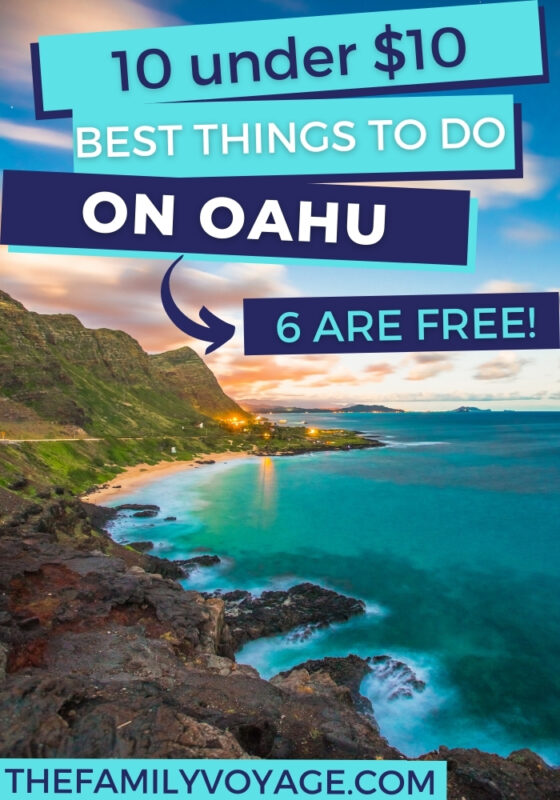 More Hawaii travel planning resources
See all of our Hawaii travel planning resources in one place

Travel planning resources:
Compare rental car prices for Hawaii
Buy a top-rated travel insurance policy
5 simple money-saving hacks for booking.com

General Hawaii resources:
How to visit Hawaii on a budget
Renting a car in Hawaii: 10 things you NEED to know
What to pack for Hawaii
Is a cheap GoPro knock-off worth it?

Hawaii with kids:
What's the best Hawaiian island for families?
Is it worth visiting Hawaii with a baby?
Ultimate packing list for Hawaii with kids
Top 10 things to do with kids on Oahu
The best snorkel gear for kids of all ages

Oahu resources:
Best Oahu travel guide book
Perfect 7 day Oahu itinerary
Where to stay on Oahu
Family-friendly Oahu vacation rentals
Cheap Places To Stay On Oahu
10 Fun Things to do on Oahu for $10 or less
Getting the most bang for your buck on your Go Oahu discount card
Insider tips for visiting the Polynesian Cultural Center
The best beaches on Oahu (and why to visit them)
Where to find the best shave ice on Oahu
The best easy hikes on Oahu
North Shore Oahu complete visitors guide
Kayaking to the Mokes with Twogood Kayaks
Family-friendly kayaking with Holokai Adventures
Visiting Pearl Harbor

Maui resources:
Best Maui travel guide book
Perfect 3 day Maui itinerary
Cheap Places To Stay On Maui

Big Island resources:
Best Big Island travel guide book
Perfect 5 day Big Island itinerary
Cheap Places To Stay On the Big Island

Kauai resources:
Best Kauai travel guide book
Perfect 3 day Kauai itinerary
Cheap Places To Stay On Kauai